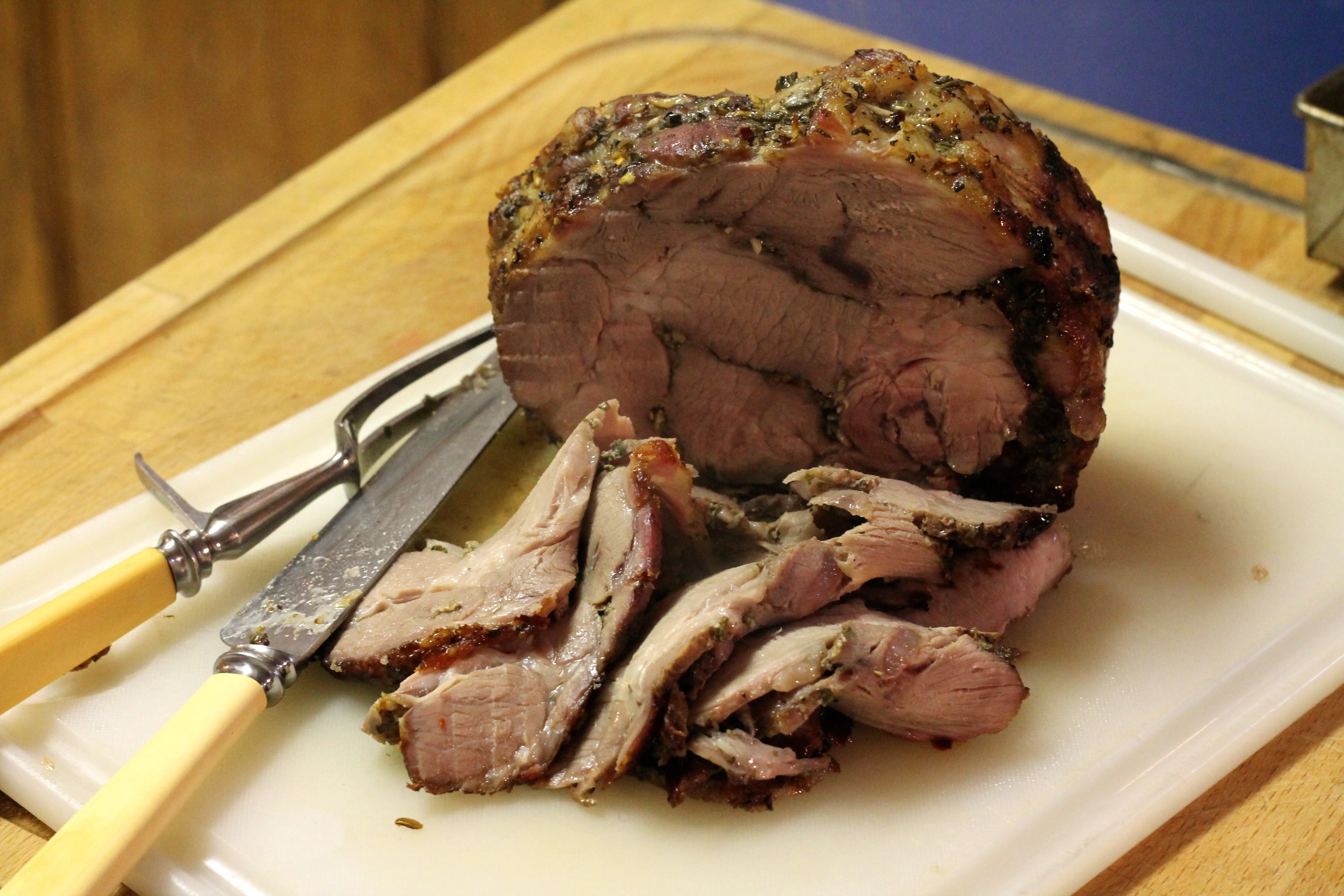 I've had porchetta on the brain ever since watching the episode of Diners, Drive-ins and Dive that featured the porchetta sandwich at Meat and Bread in Vancouver (I'm pretty sure Guy Fieri pronounced it as some combination of "too legit to quit"/"winner-winner-chicken-dinner"/"Flavourtown"). I've never been to Meat and Bread to sample their porchetta, but on Saturday of Easter weekend Nate and I checked out Roast Carvery in Victoria, which is a similar concept: big joints of beautifully roasted meat, sliced to order and piled on a soft and crusty artisan roll with minimal fuss for a truly transcendent sandwich experience. I had Roast's version of the porchetta sandwich, featuring crispy crackling, provolone cheese, sautéed broccoli raab, and a good dose of salsa verde along with the succulent porchetta, and man oh man, I think it might have been the best sandwich I've ever had. So. Good.
(Also – the new Victoria Public Market at The Hudson where Roast is located is pretty rad! I could have spent an hour alone just tasting olive oils and vinegars (apricot white balsamic! cinnamon pear dark balsamic!) and definitely need to go back to browse through the whole place more thoroughly.)
Anyway, the idea of making porchetta at home was now firmly lodged in my head, and what better time to do it than for dinner on Easter Sunday. Real, authentic porchetta is a pretty big to-do: traditionally it involves an entire deboned pig, rolled up with layers of meat, stuffing, fat, and skin, then roasted on a spit, although it has been adapted to use a giant pork loin wrapped in an even giant-er slab of pork belly (both of which are probably special order butcher items), often with some kind of stuffing, roasted for many hours and then hit with high heat to crisp up the pork belly crackling. It also feeds an army, whereas I only needed to feed Nate and myself (plus leftover for sandwiches!), so I was on the look out for something a bit simpler that didn't involve sourcing pork belly on the late Saturday afternoon of a holiday weekend. Luckily, I had already bookmarked several porchetta recipes, one of which used easy-to-find pork shoulder and substituted the pork belly for slices of panchetta (Italian-style bacon, available in almost every deli case), and Dinner with Julie steered me in the direction another delicious-sounding pork shoulder porchetta with an easy salsa verde.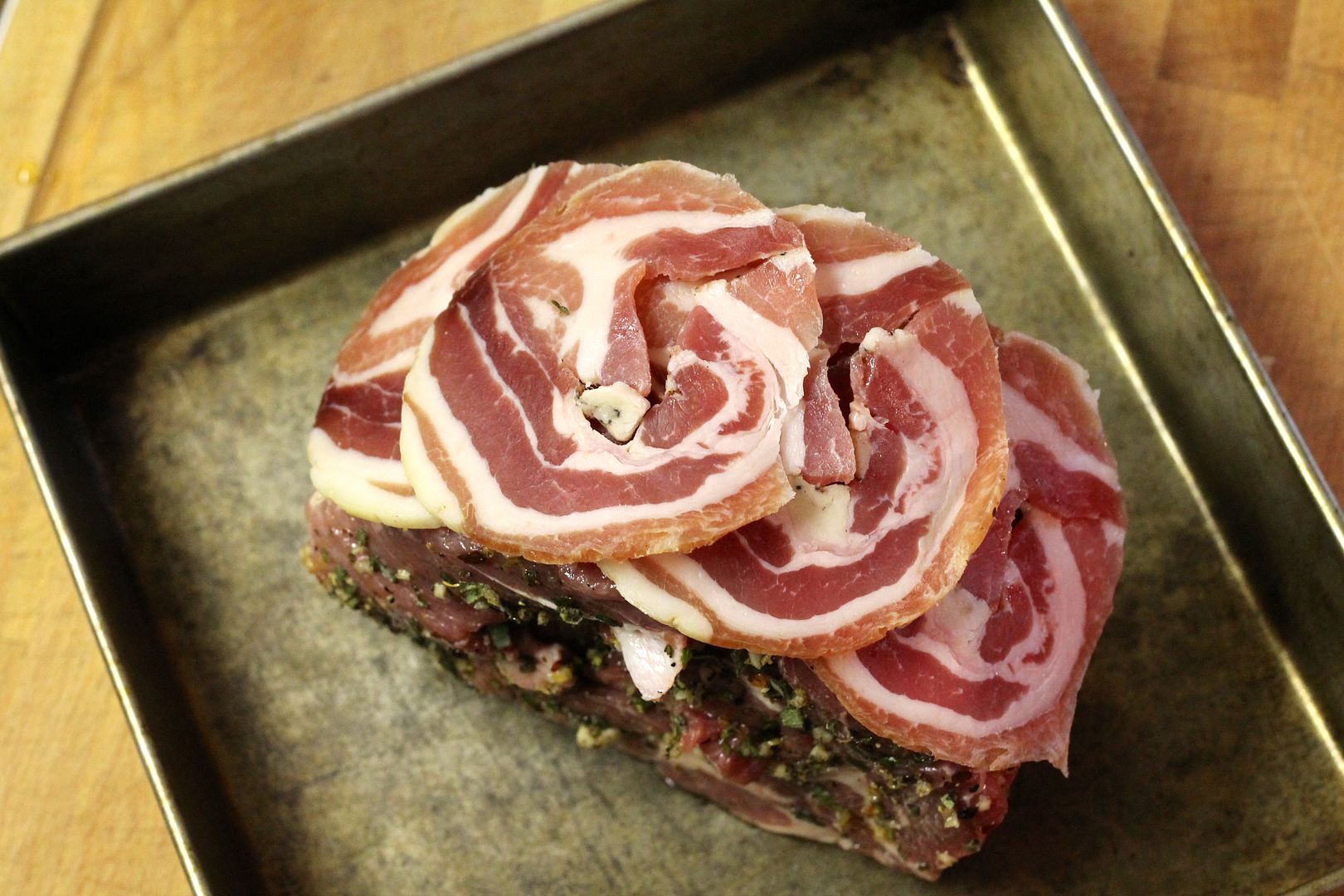 While real porchetta might be a bit of a production, porchetta-style roast pork is not complicated at all. If you buy boneless pork shoulder, all you need to do is unroll it and give it a few slices with a sharp knife to butterfly it out flat. Douse it with olive oil and a fragrant herb rub, roll it back up, tie it with string, and top it with a few slices of panchetta, overlapping like the scales of a fish. Bake it on high heat to crisp up the panchetta, then roast low and slow for a few more hours. While it roasts, you whip up a vibrant salsa verde in the food processor: fresh herbs, garlic, lotsa parsley, a little anchovy paste, lemon, red wine vinegar, and olive oil combine to make a bright, tangy sauce when drizzled over the rich pork. To die for!
Alongside I served roasted potatoes, garlicky-sautéed kale and purple sprouting broccoli (both successfully over-wintered in my garden!), and spinach salad with strawberries, goat cheese, and pecans.
In my opinion, though, the very best way to eat it is in a sandwich. I used Barbara's Foolpoof Overnight Rolls recipe to make buns especially for this purpose: chopped-up slices of leftover pork, a good drizzle of salsa verde, sautéed broccolini, and some white cheddar cheese (or provolone if, unlike me, you remember to buy some). Heaven on a bun!
Porchetta-style Roast Pork Shoulder with Salsa Verde
Adapted from Bon Appetit and Food52. The 1 1/4 kg (2 3/4 lb) pork shoulder I used would easily serve 4-6 people – feel free to scale the rub recipe up or down to accommodate whatever size roast you are using. The method will remain the same.
"Porchetta"
In a small bowl, mix together the herb rub:
1 tbsp chopped fresh rosemary
1 tbsp chopped fresh sage
3 chopped garlic cloves
1 tsp kosher salt
1 tsp cracked black pepper
1/4 tsp chili flakes
1/4 tsp fennel seed, crushed with a mortar and pestle
zest of half a lemon
Take a 1 1/4 kg (2 3/4 lb) boneless pork shoulder and butterfly it with a sharp knife to lay it out flat.

Drizzle it with about 1 tbsp olive oil, then sprinkle evenly with 2/3 of the herb rub. Roll the pork back up and secure with a few pieces of butcher's twine.
Rub the outside with another 1 tbsp olive oil and the remaining herb rub. Place in a roasting pan and cover the top with 4 pieces of panchetta, sliced the thickness of bacon, overlapping them like shingles.
At this point the pork can be covered in plastic wrap and refrigerated for several hours or overnight, if necessary.

Preheat the oven to 450˚F (425˚F convection roast) and roast the pork for 20 minutes, then reduce the heat to 325˚F (300˚F convection roast) and roast for another 1 1/2 – 2 hours, until the internal temperature is between 150˚ and 160˚F (about 1 hour per kg or 30 minutes per lb). Cover the pork with foil and let rest for at least 15 minutes before carving into thin slices and drizzling with salsa verde.

Salsa Verde
In the bowl of a food processor, pulse until finely chopped:
1 tbsp loosely packed fresh whole sage leaves
1 tbsp loosely packed fresh whole rosemary leaves
2 cloves garlic
Add:
2 cups loosely packed Italian parsley leaves
zest and juice of half a lemon
1 tbsp red wine vinegar
2 tsp anchovy paste (I guess this is optional if you really hate anchovies, but it doesn't make the salsa verde taste fishy – it just gives a nice umami flavour)
Give it a whiz to combine, then with the motor running, slowly pour in 1/2 cup olive oil. You should end up with a loose saucy consistency. Season to taste with salt and pepper, then transfer to a bowl. Can be covered and refrigerated overnight if necessary – bring to room temperature before serving.