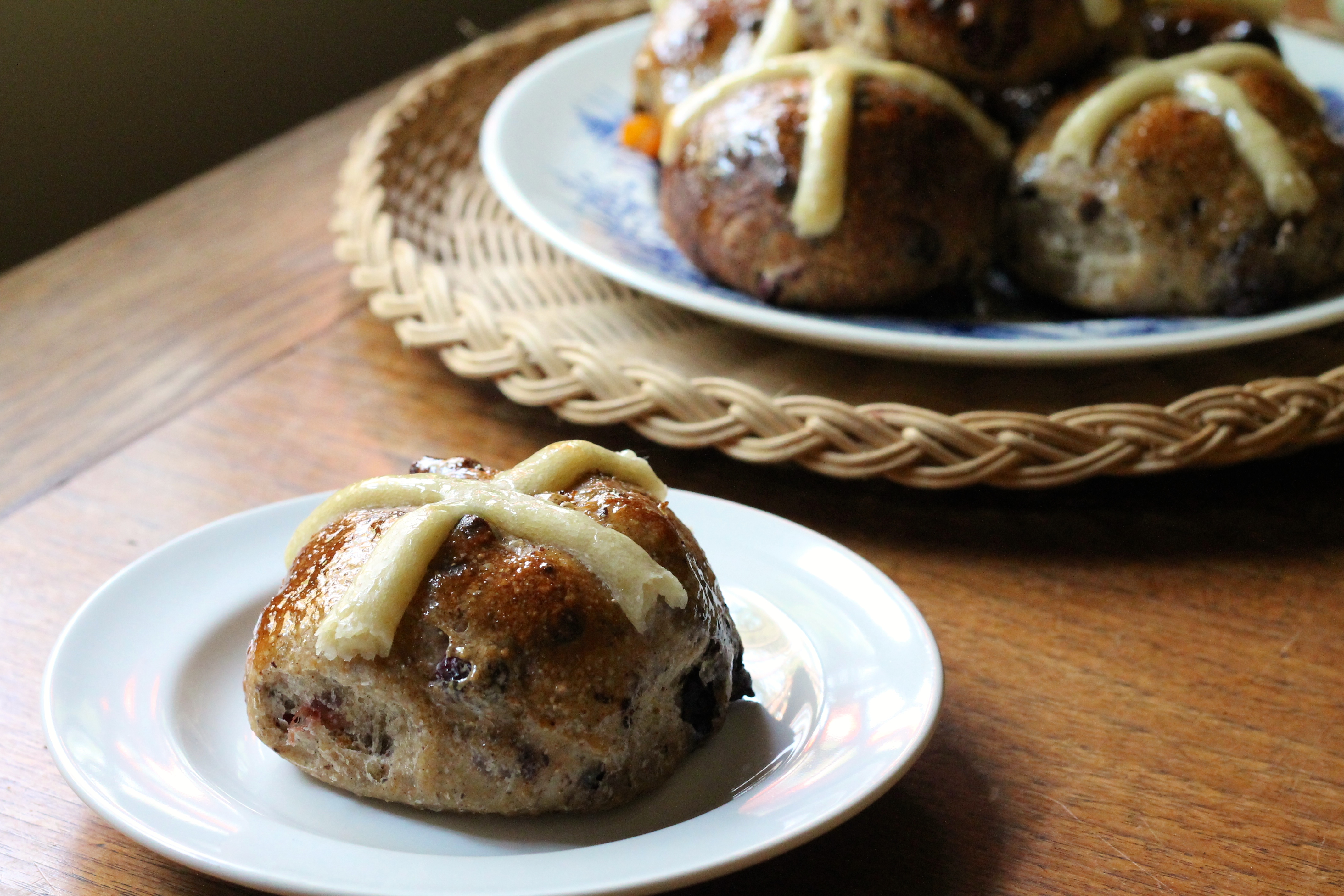 As I pointed out last month, Christmas cookies and hot cross buns are about the only seasonal things I manage to post about with any punctuality… and seeing as today is Easter Sunday, hot cross buns are most definitely on the menu. This month's Sourdough Surprises project was sourdough hot cross buns, which I also tackled last year with a chocolate porter version. I decided to go a similar route this time around, adapting a recipe that used hard apple cider to make an overnight sourdough levain. And, because for me, Easter is all about chocolate, I added a generous amount of dark chocolate chunks to the dough.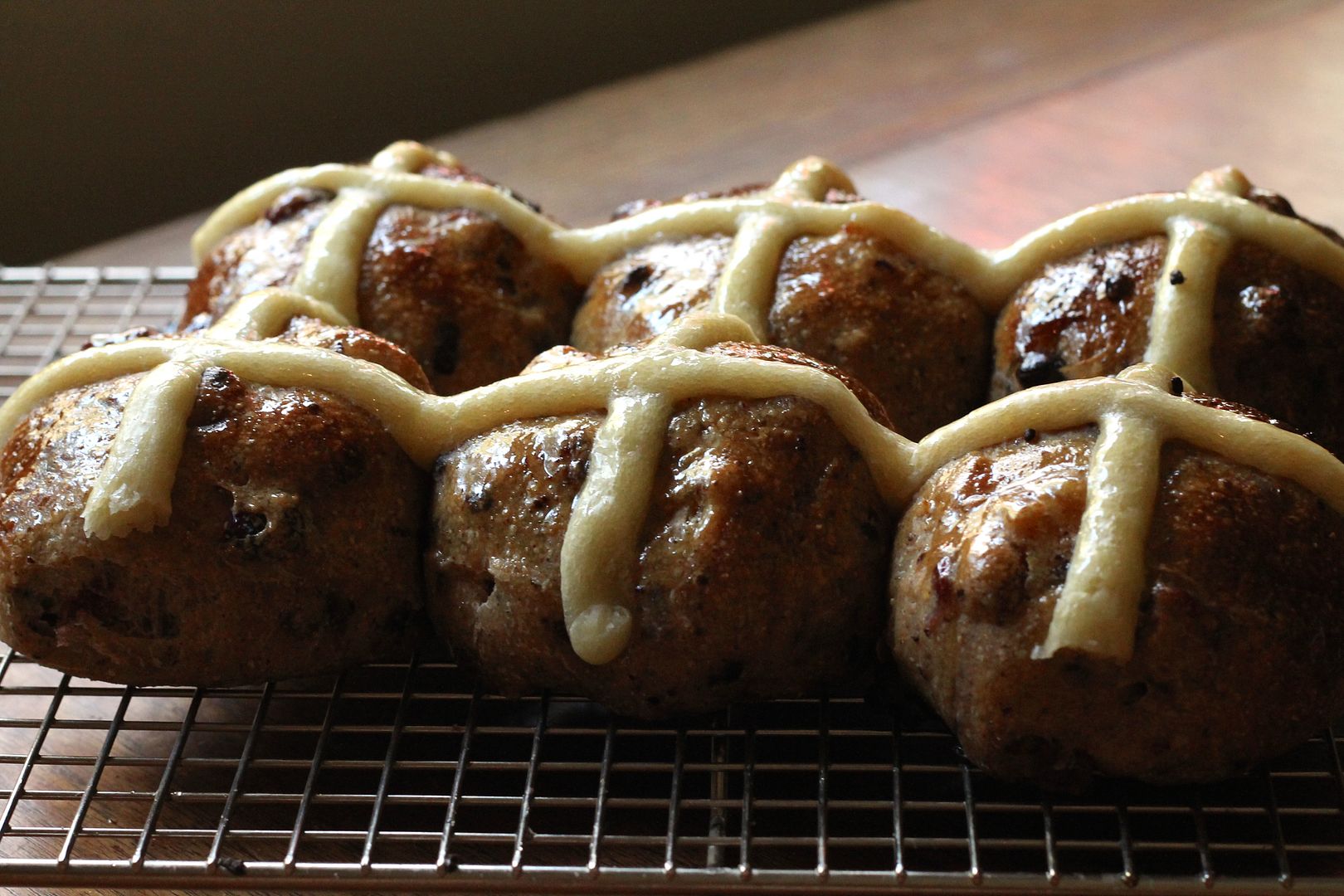 While these hot cross buns turned out to be quite delicious, their preparation was not exactly smooth sailing. First, the overhead light in my kitchen died (like, more-than-just-replace-the-lightbulbs dead) the morning I planned to make the dough, which meant that I was taking photos of the process with what amounted to mood lighting, so please excuse the wild fluctuations in light and picture quality in this post. Second, upon taking it out of the cupboard, I discovered that the candied orange peel I'd intended to use had gone moldy (luckily I had an orange in the fruit bowl and used some fresh grated zest instead). Third, as with last year's buns, they took much longer than I expected. I should know by now that my sourdough starter likes to take its sweet time (especially in a dough enriched with fruit and spices, which can have a retarding effect on sourdough and yeast), but it still took all day for the first rise even when I tried to speed things up by putting the dough in a very warm place. So once again, these were a 36-hour project and yet another lesson in patience! And fourth, as I popped the buns into the oven, I realized I'd completely forgotten to add any butter to the dough. They turned out just fine without it, thanks (I think) to the fat in the yolks of the two eggs in the dough, but everything is better with butter, hot cross buns included.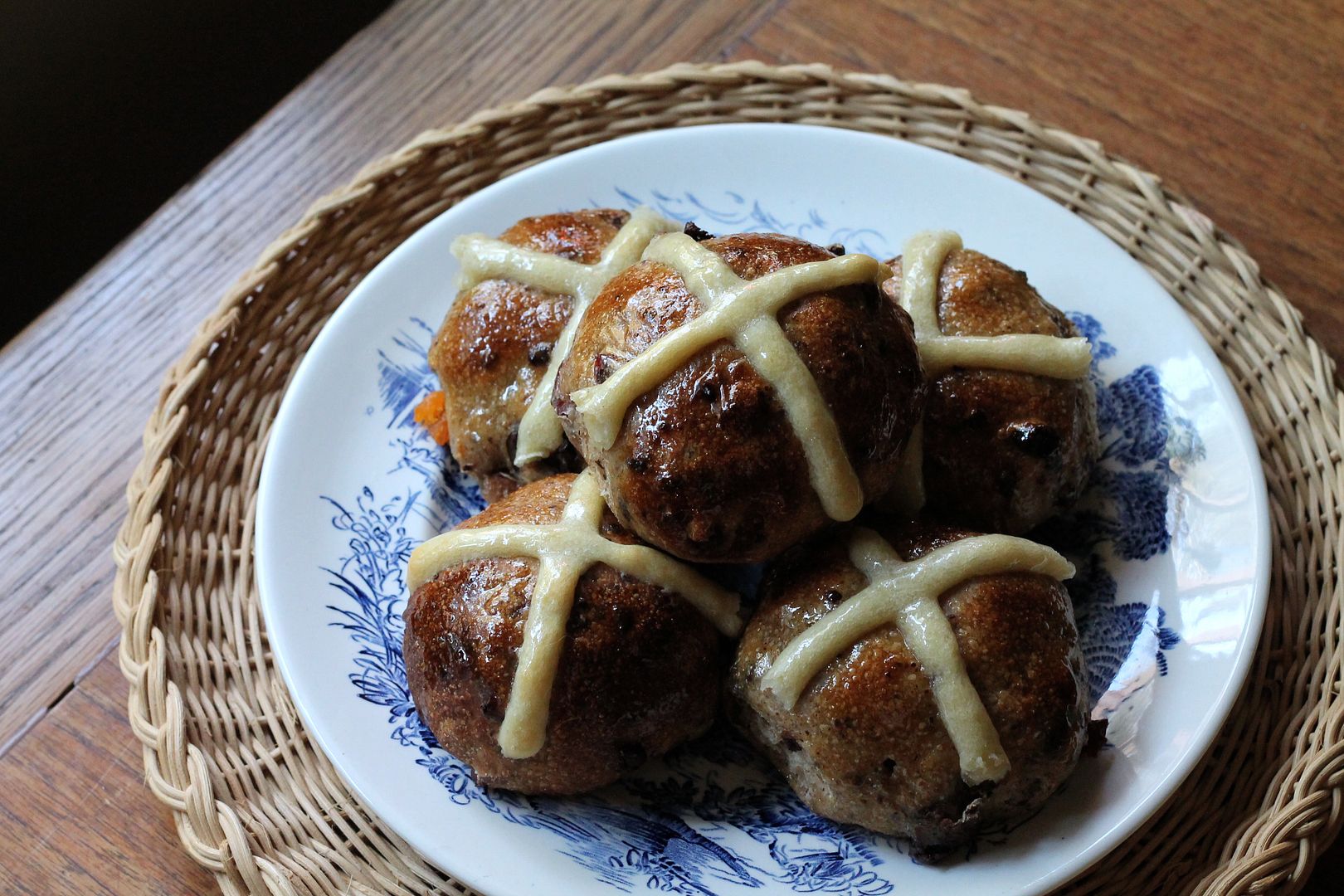 That said, for all the mishaps along the way, these are some tasty hot cross buns. Spicy, fruity, chocolatey, and flavourful, they are completely superior to anything you can buy at the store and well worth the effort. However, I like homemade hot cross buns so much that it's painful to have to wait so long for them to do their sourdough thing, so I think next Easter I might go back to the yeasted version again (this one perhaps?) to save myself some suffering!
For more Easter goodness, check out the hot cross buns made by the other Sourdough Surprisers:
 Sourdough Hot Cider Cross Buns with Chocolate Chunks
Adapted from Dan Lepard. Makes 12 buns.
Evening of Day 1
Prepare the levain by mixing together:
100g bubbly sourdough starter (100% hydration)
150 ml hard apple cider (such as Merridale Apple Cider)

100g bread flour
75 g whole wheat flour
Cover and let ferment overnight at a cool room temperature – it should be nice and bubbly by the morning.
Morning of Day 2
In a medium bowl, combine:
200 g dried fruit, such as chopped apricots, cranberries, raisins, and diced candied orange peel (if you don't have any candied orange peel, add 1 tsp grated orange zest to the fruit mixture)
100 ml boiling water
Let the fruit soak up the water for a few minutes until it looks plump, then stir into the fruit:
2 eggs
40 g melted unsalted butter
50 g honey
Stir the fruit mixture into the cider levain and set aside.

In a large bowl, combine:
250 g bread flour
25 g corn starch
1 tsp each cinnamon, allspice, and ginger
1/2 tsp cardamom
1 tsp salt
Add the fruity levain mixture to the flour along with 100 g chopped dark chocolate.

Stir to combine into a sticky dough, then turn it out onto a lightly oiled surface (I used my silicon baking mat) and knead it 10-20 times, just to get the gluten formation started. This dough's high hydration level means it will do most of the work for you, without having to knead.

Place the dough back in the bowl, cover with plastic wrap, and let it rise at room temperature until doubled (several hours).

Afternoon/evening of Day 2
Gently knock back the dough and turn it out onto your work surface. Divide the dough into 12 equal portions (about 100 g each), shape each into a ball, and place about an inch apart on a baking sheet lined with a silicon mat or parchment paper. Cover lightly with plastic and let rise overnight at a cool room temperature, until the buns are almost touching.

Morning of Day 3
Preheat the oven to 425˚F (400˚F convention). To make the crosses on top of the buns, mix together:
150 g all purpose flour
50 m vegetable oil
about 125 ml water (add more or less as needed to get a pipeable consistency)
Scoop the paste into a Ziplock bag, snip off a corner, and pipe lines on the risen buns.
Bake in the preheated 425˚F (400˚F convention) oven for 15-18 minutes, until browned on top and hollow-sounding when tapped. Let cool on a rack.
While the buns are cooling, combine in a small saucepan:
25 g granulated white sugar
25 ml water
Bring to a simmer to melt the sugar, then brush the glaze over the almost-cooled buns.
Serve split and spread with butter. Store leftover buns in an airtight container for up to 4-5 days (they toast up fantastically).