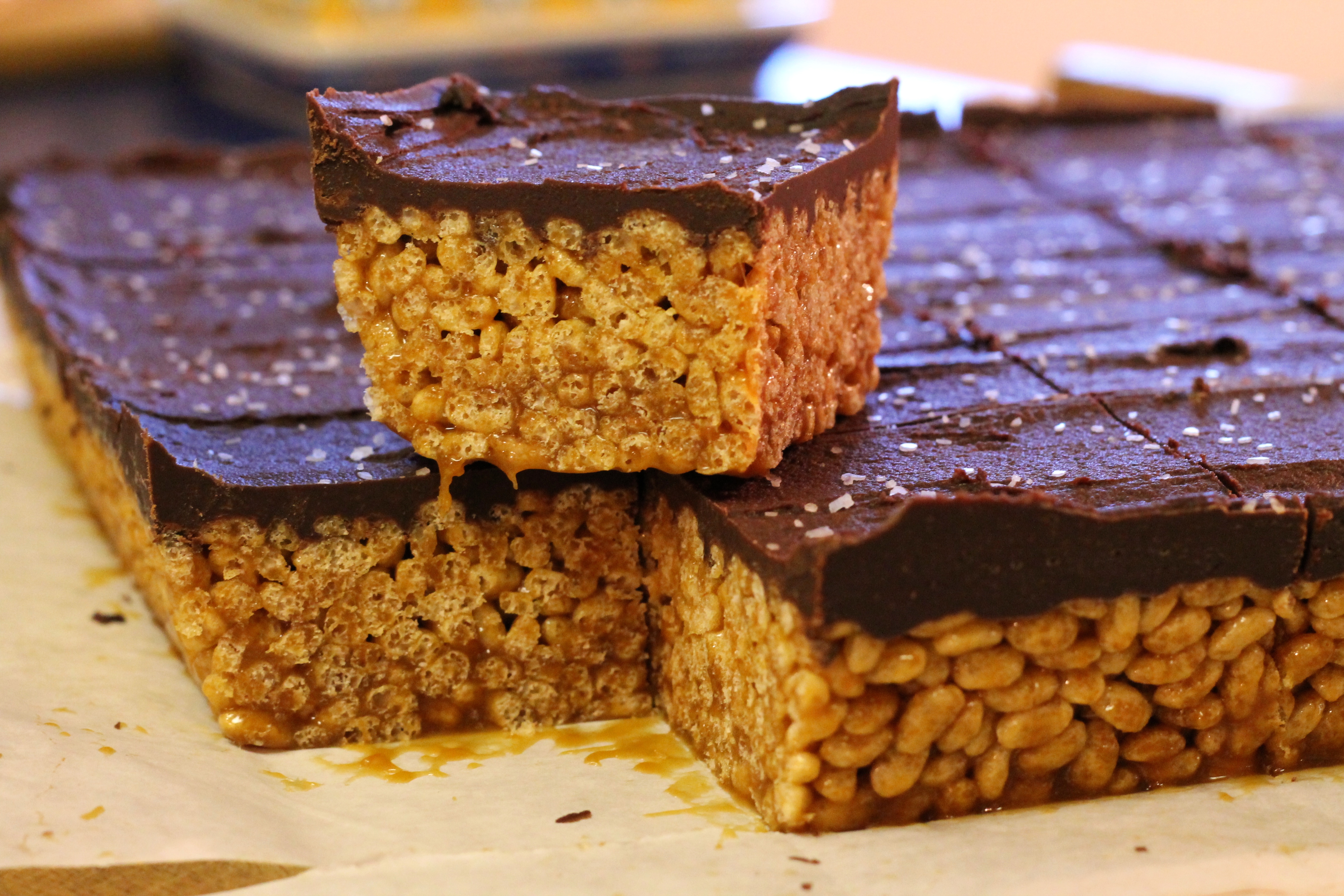 Two weekends ago I went on a canoeing/camping trip in the Gulf Islands, where I was specifically tasked with bringing dessert for one of the evenings. My plan was to make "campfire fondue", which consists of melting a handful of chocolate chips in a little package of foil beside a campfire, and then dipping fruit (oranges and banana chips in this case), squares of pound cake, and toasted marshmallows in it. Alas, we ended up waiting out high winds for two nights on Portland Island where fires are not allowed, and then had to cut the trip short by a day because the wind was only supposed to get worse (it was a very exciting journey home!), so unfortunately my campfire dessert never happened. Which meant that I had a whole bunch of marshmallows and chocolate chips on my hands after the trip.
When I got home, I was suddenly consumed with a desire for salted caramel something, and the abundance of marshmallows in the cupboard suggested rice crispy squares. Luckily, other people have already combined the two, so I had something to work with. The recipe I based these on made a cheater caramel with brown sugar, but I wanted real caramel, which is just as simple as cooking sugar until it darkens and turns into something completely delicious. Normally I'd try to claim that using organic whole grain brown rice crisp cereal like I did would practically make these squares a health food (they are gluten-free, after all!), but the caramel combined with marshmallows means they contain way too much sugar to even pretend otherwise. However, the salt helps to temper the sweetness, and the bittersweet dark chocolate on top (I used chocolate chips because I had a lot to use up, but higher quality chocolate would obviously be a good choice) helps makes them a little more sophisticated than regular marshmallow rice crispy squares (and by "a little more sophisticated" I mean really, really good).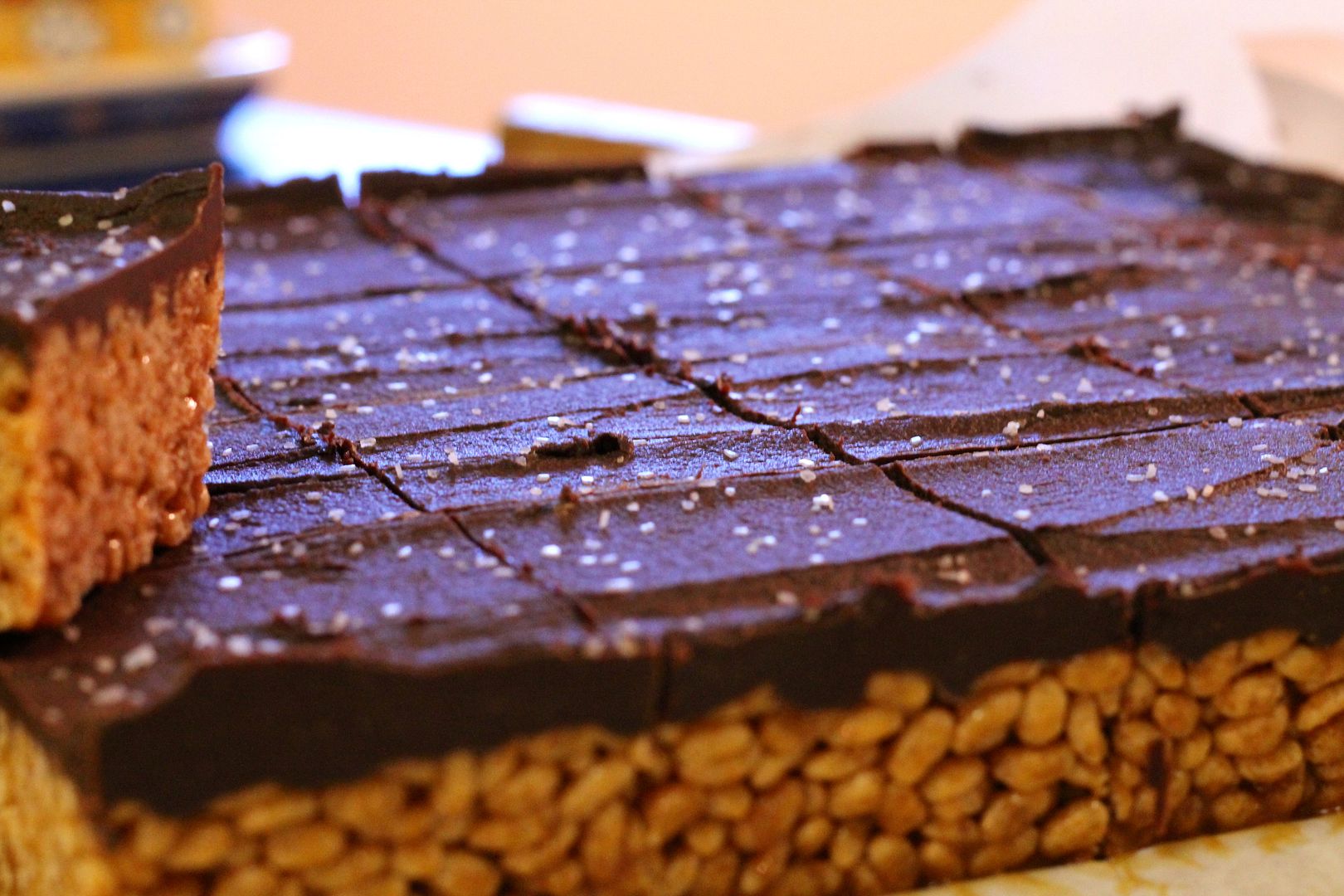 These treats are a study in textural contrasts: smooth chocolate on top and crunchy rice crisp cereal in the middle, held together by caramel that has taken on the unique stretchy-gooey consistency of marshmallow. My favorite part about these is the way some of the caramel seeps to the bottom of the square, making a sticky layer of deliciousness. I shared these squares with lots of people, and they pretty much all agreed that they are awesome. Do yourself a favour and make them!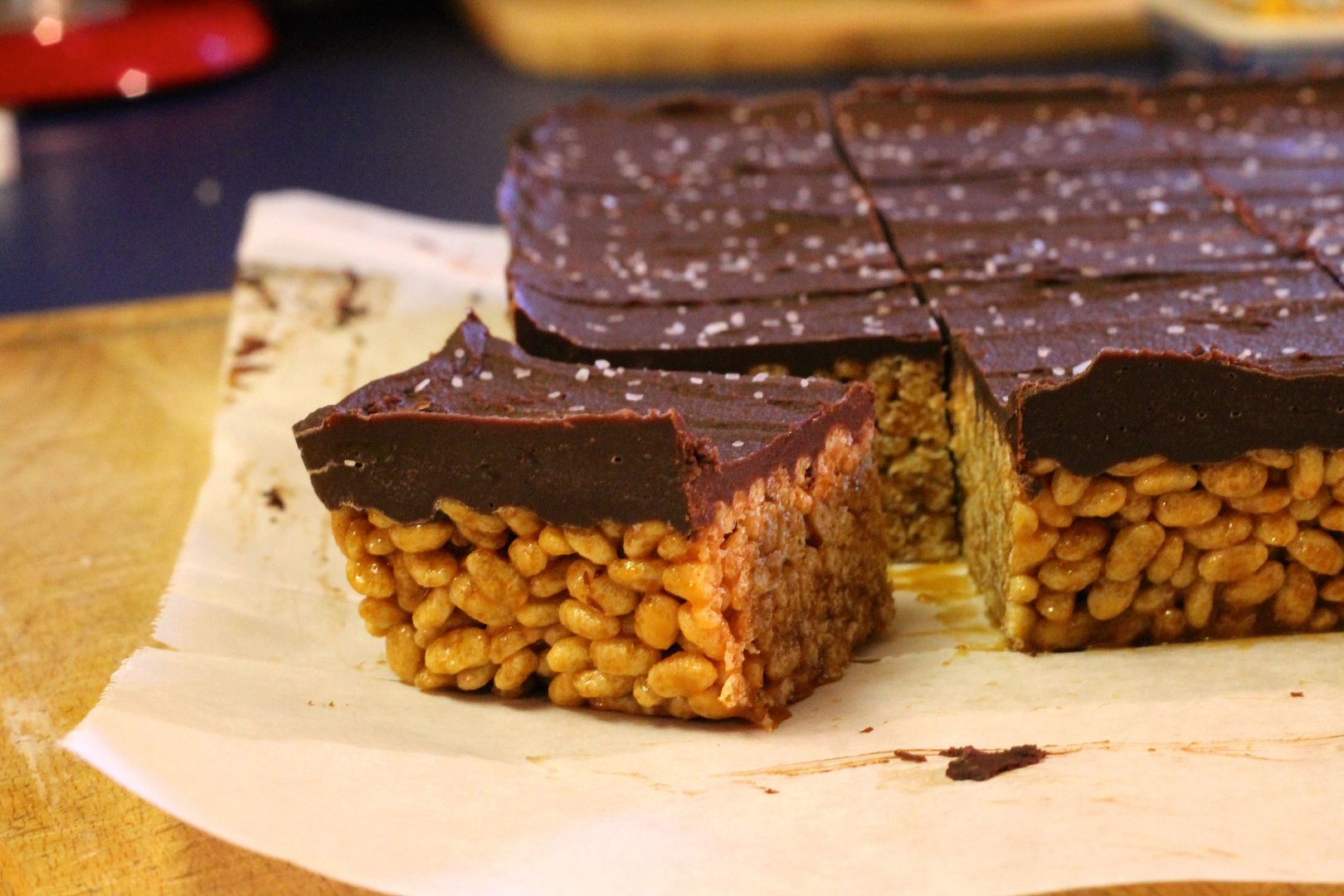 Salted Caramel & Chocolate Rice Crispy Squares
Makes one 9″ x 13″ pan of rice crispy squares (about 24 squares). Adapted from Allrecipes.com.
Line a 9″ x 13″ pan with parchment paper and butter the paper well, especially on the bottom of the pan (these squares like to stick!).
In a medium-sized, heavy-bottomed saucepan, melt 1 cup granulated white sugar over medium to moderately-high heat, stirring occasionally to help the sugar melt evenly. Cook until the sugar turns a dark amber brown and smells like caramel (watch it carefully – it goes from perfect to burnt pretty quickly), then remove it from the heat.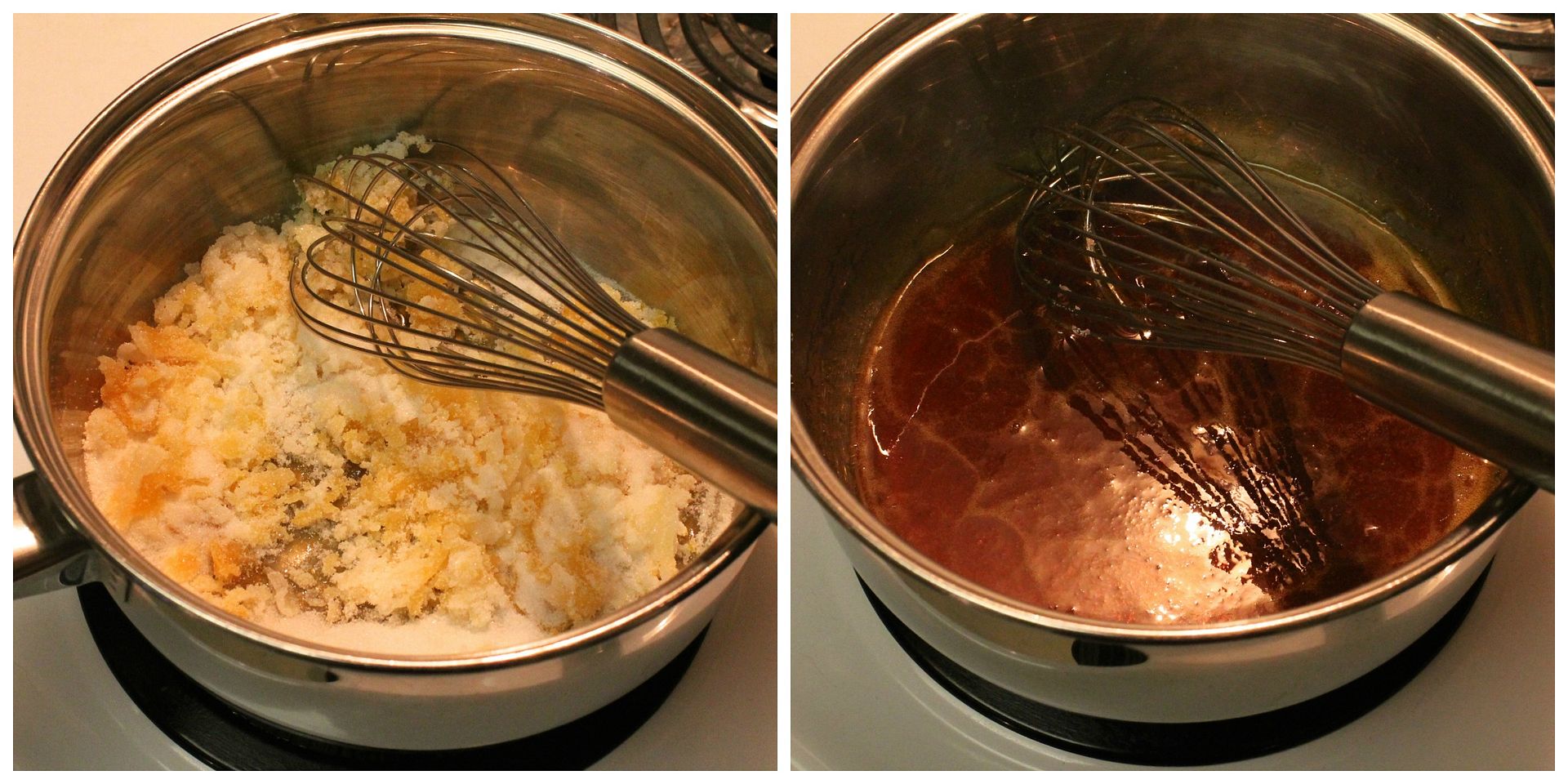 Immediately stir in 6 tbsp unsalted butter, cubed. It might bubble up vigorously, so be careful. Stir to combine, then pour in 1/2 cup heavy cream and stir.
Return the pot to low heat and continue stirring until the caramel is smooth. Add 2 tsp kosher salt and set aside.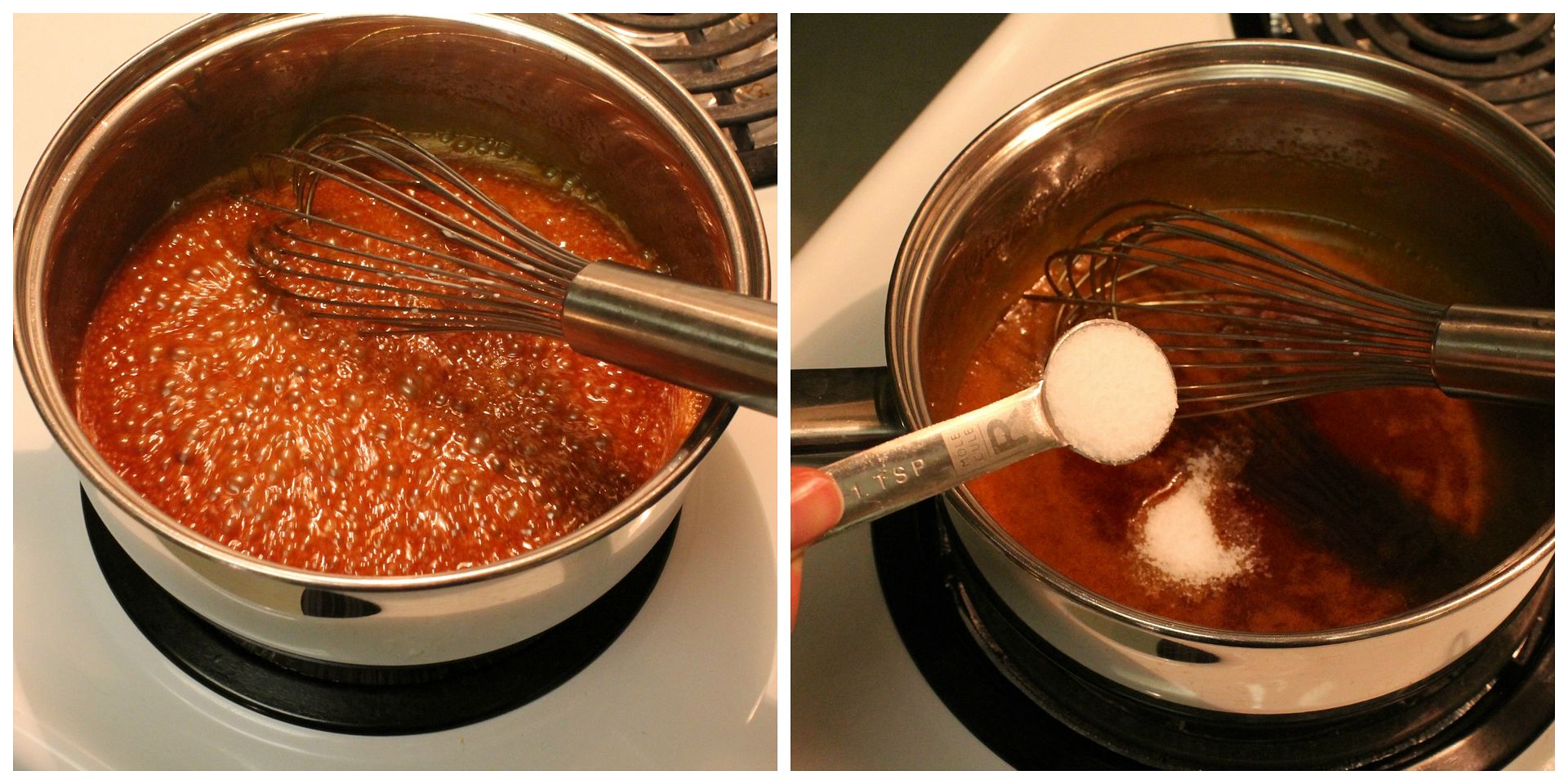 In a very large pot (I used the one I boil pasta in) over low heat, combine:
1/4 cup unsalted butter
16 oz marshmallows
Stir until the marshmallows start to melt, then pour in the salted caramel sauce.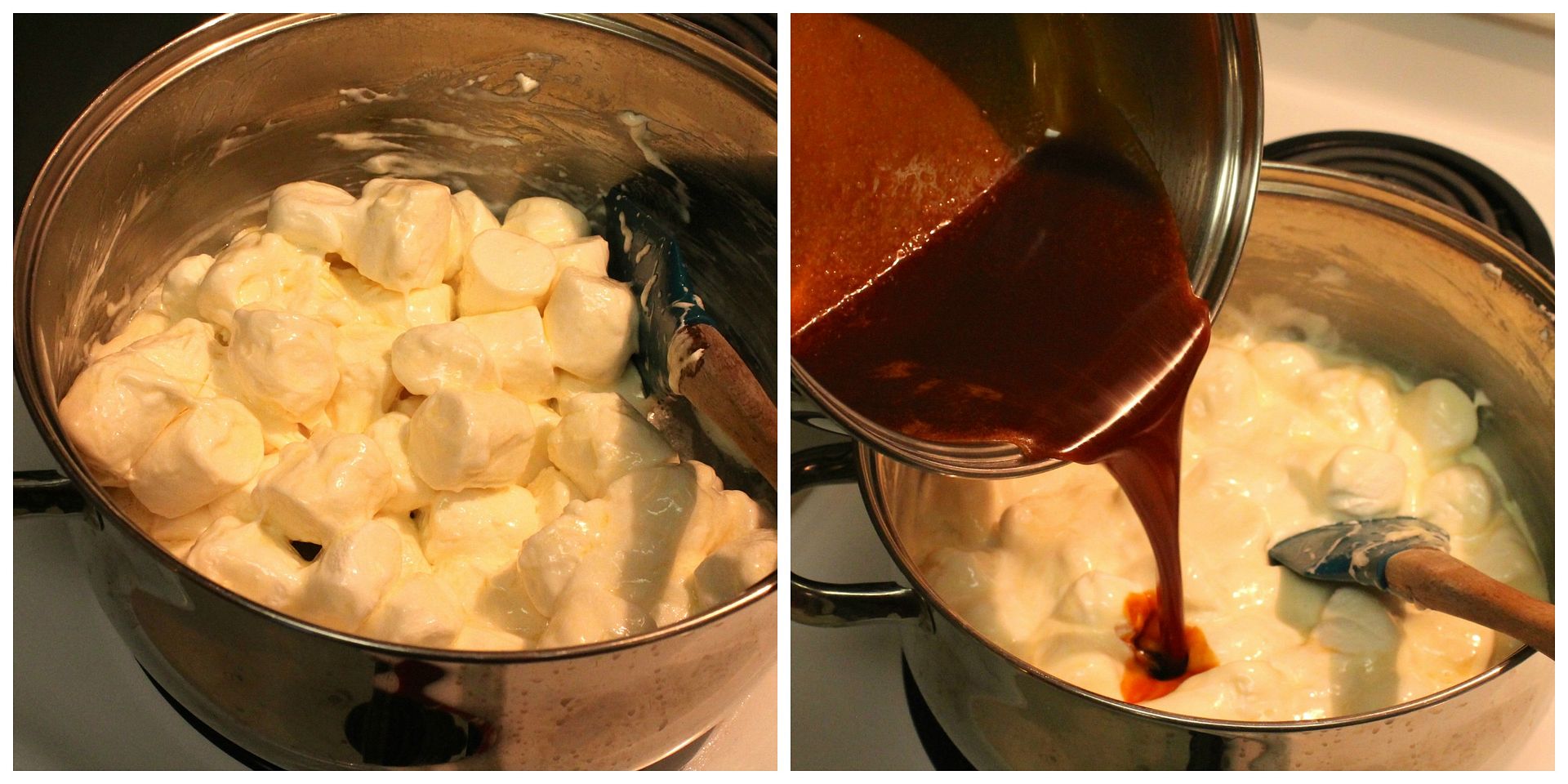 Add 1 tsp vanilla extract and stir until the marshmallows are completely melted and the sauce is smooth.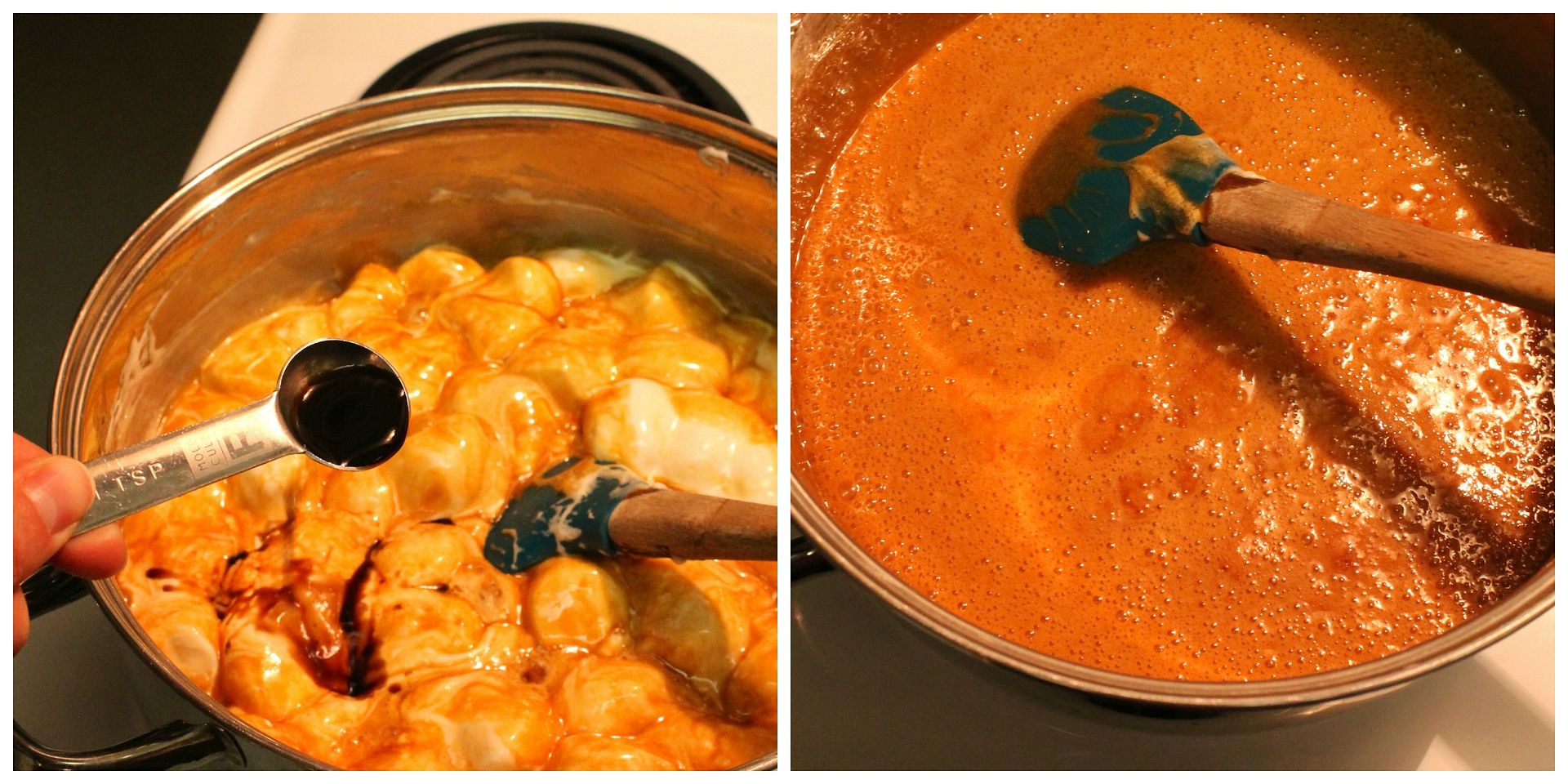 Add 12 oz crisp rice cereal and stir until all the cereal is evenly coated. Pour into the prepared pan and spread evenly. Set aside.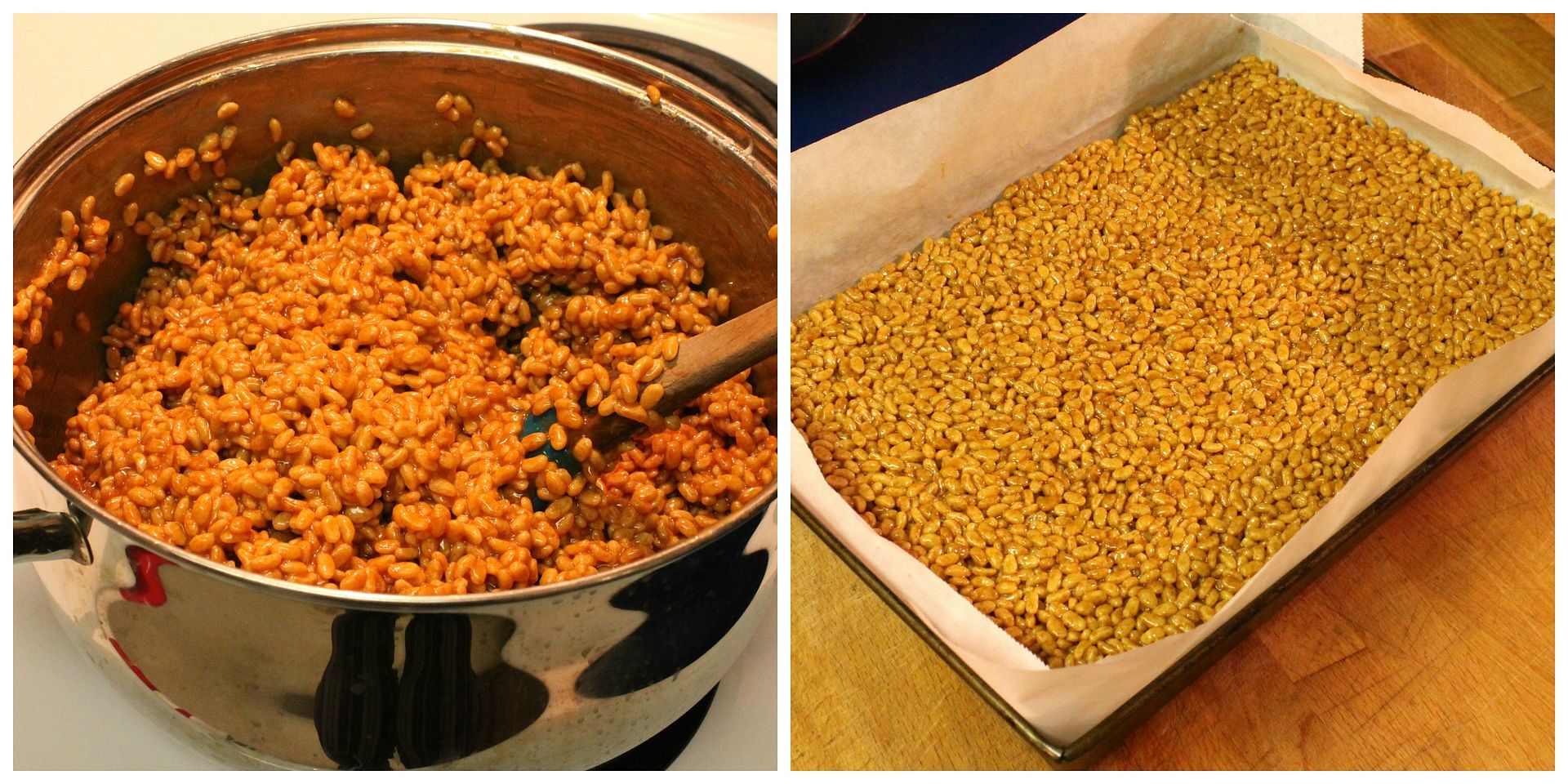 In a small pot over low heat, melt together:
2 cups chopped chocolate/chocolate chips
2 tbsp heavy cream
1 tbsp butter
When the chocolate is melted and smooth, spread it over the rice crispy squares.
Sprinkle with about 1/2 tsp kosher salt, then chill until completely cool and set. Remove from the pan and cut into squares. Store in an airtight container at room temperature.