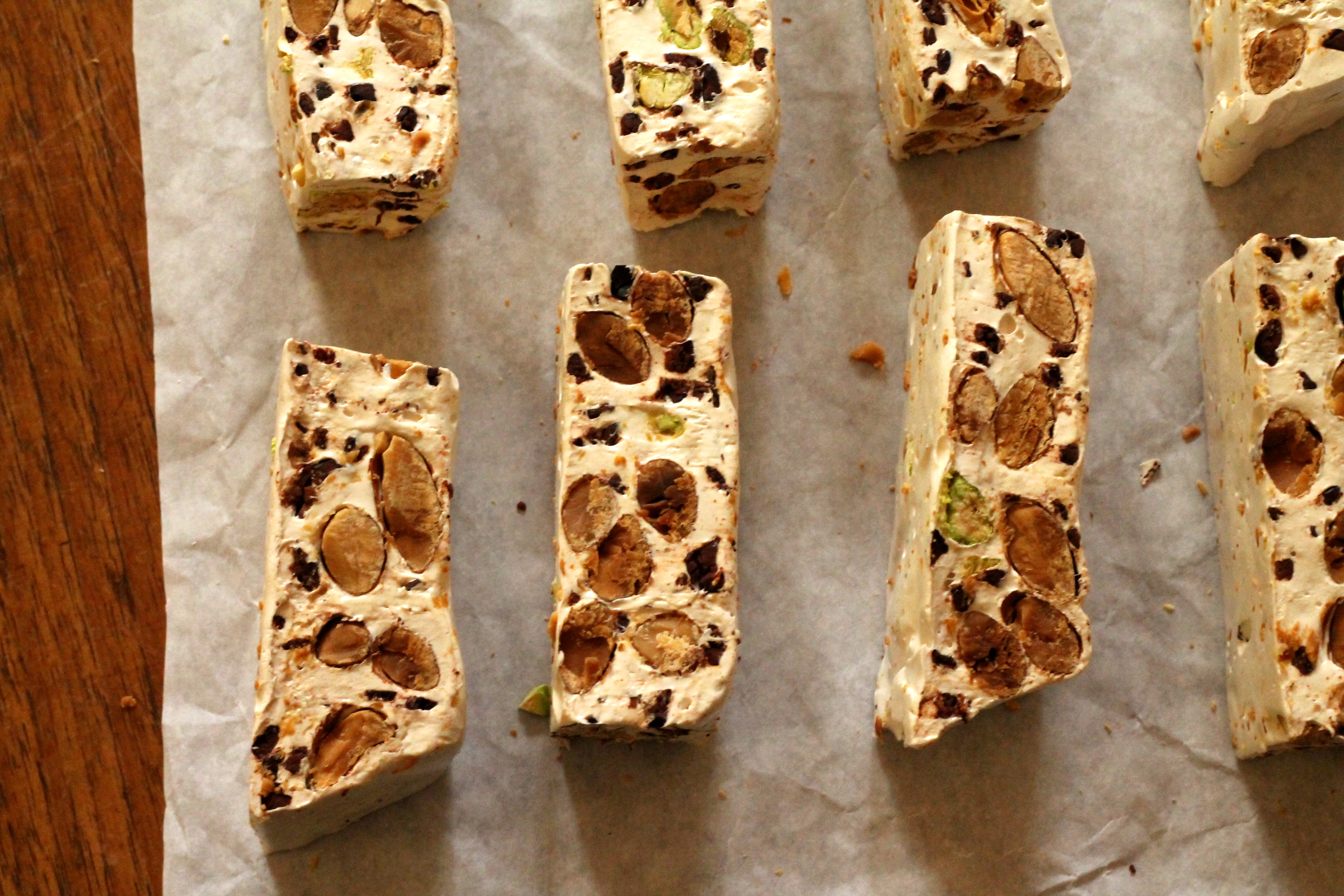 The March 2014 Daring Bakers' challenge was hosted by Rebecca of BakeNQuilt. She challenged us to learn to make classic nougat and to make it our own with our choice of flavors and add-ins.
Nougat is not something I'd ever contemplated making before this month – the only real experience I've ever had eating it is inside a Toblerone bar, so I wasn't exactly sure what I was in for. Nougat is, in our host Rebecca's words, "an aerated candy made from sugar, honey, egg whites, and nuts", which can range in texture from "chewy, soft, and tender to hard and brittle". It's a mostly European confection (nougat torrone is the Italian kind), although it seems similar to divinity or divinity fudge in the Southern US, and if you've ever eaten a Mars or Snickers bar, you've had the watered-down industrial production version. When soft and chewy, traditional nougat is sort of like gourmet marshmallow for grown-ups. When hard and brittle, it's rock-solid enough to break a tooth on but still very satisfying when chiseled into small bits to savor (and it would be so good mixed into chocolate, à la Toblerone!).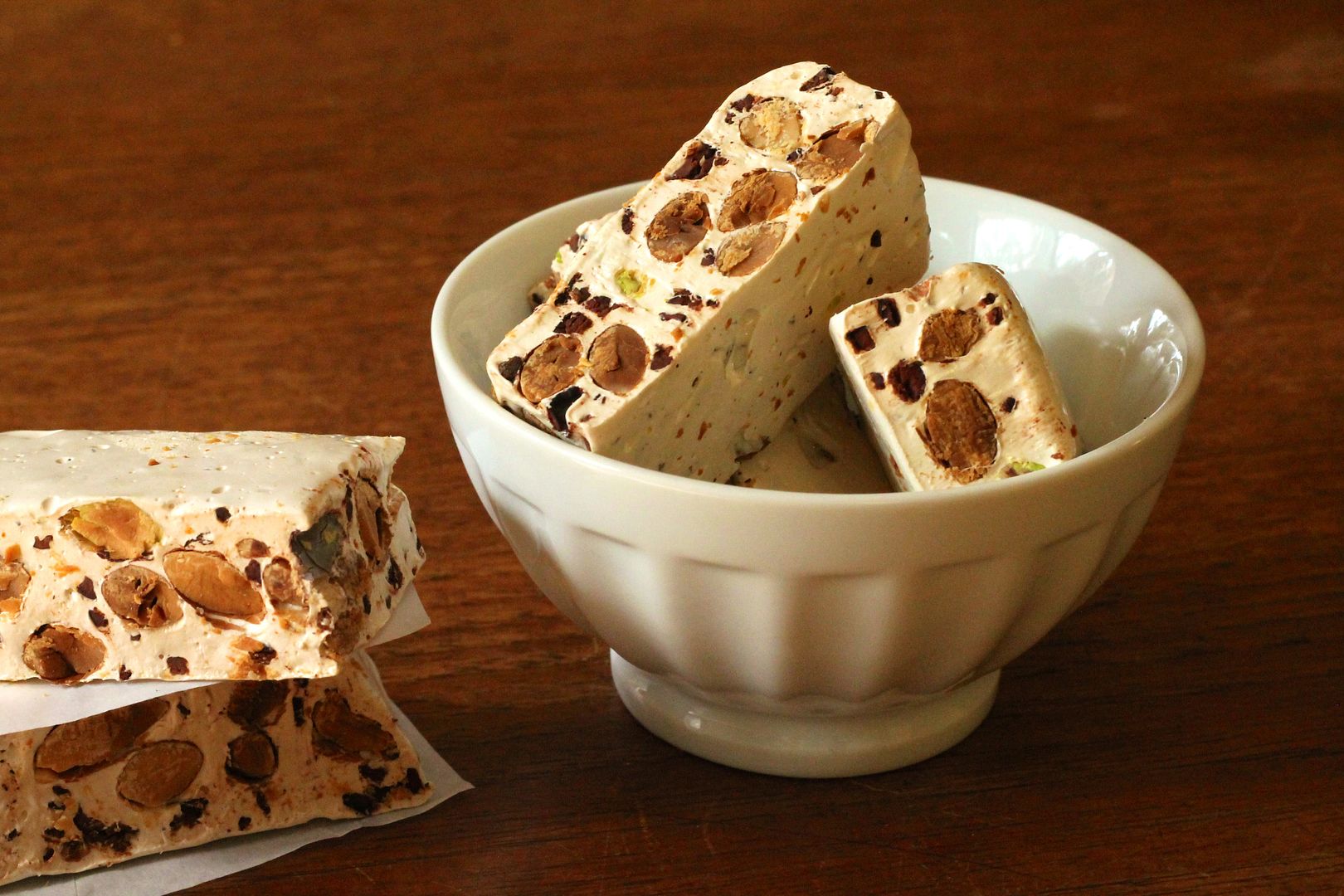 I know that sugar is not very good for you, but gosh darn if it isn't sort of like magic. Pouring a boiling hot syrup of granulated sugar, honey, and corn syrup into a softly whipped egg white meringue transforms it into a billowy cloud of candy goo that then hardens into a stiff confection to be sliced into pieces to show off a cross-section of nuts, in this case almonds, pistachios, and cocoa nibs. My nougat is more on the rock solid side of the scale, I think because my syrup was too hot – I kept taking it on and off the heat to get pictures (darn food blog!) so it might have gotten a little over-cooked, hence the hard texture. I made only half the original (this is reflected in the recipe below), and I still ended up with way more nougat than one person needs. In Europe it's traditionally made around Christmas for gifting, so I guess it makes sense to make lots to give away. Now I just need to find me some willing takers! 😉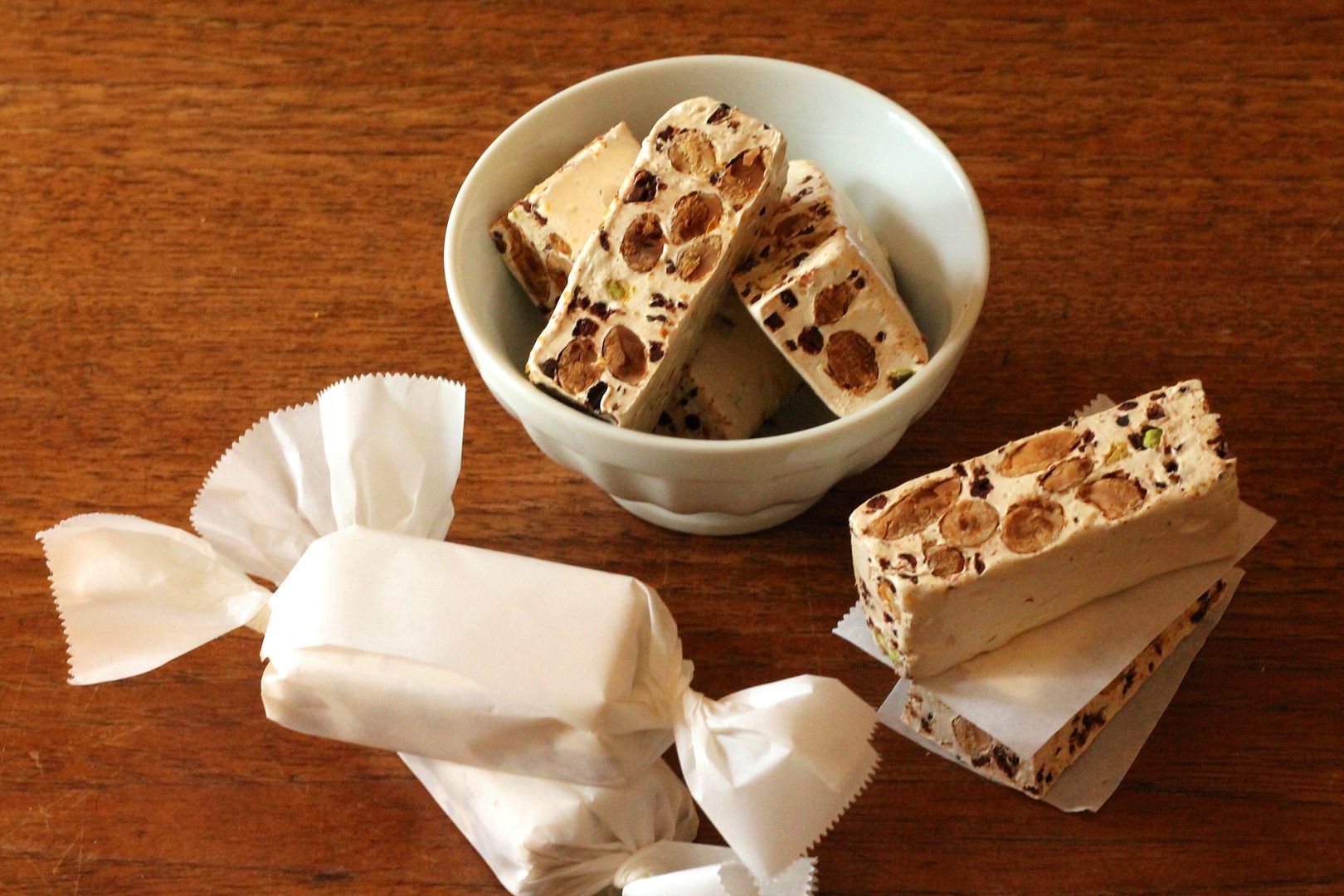 Rebecca, thank you for hosting this interesting challenge, so carefully presented with greatly detailed instructions – something extremely important when making candy – and for all your great feedback and support on the forum. For all the nougat recipes made this month, check out the Daring Kitchen. And while you're there, see the original challenge as set out by Rebecca for lots of good info and tips on making nougat..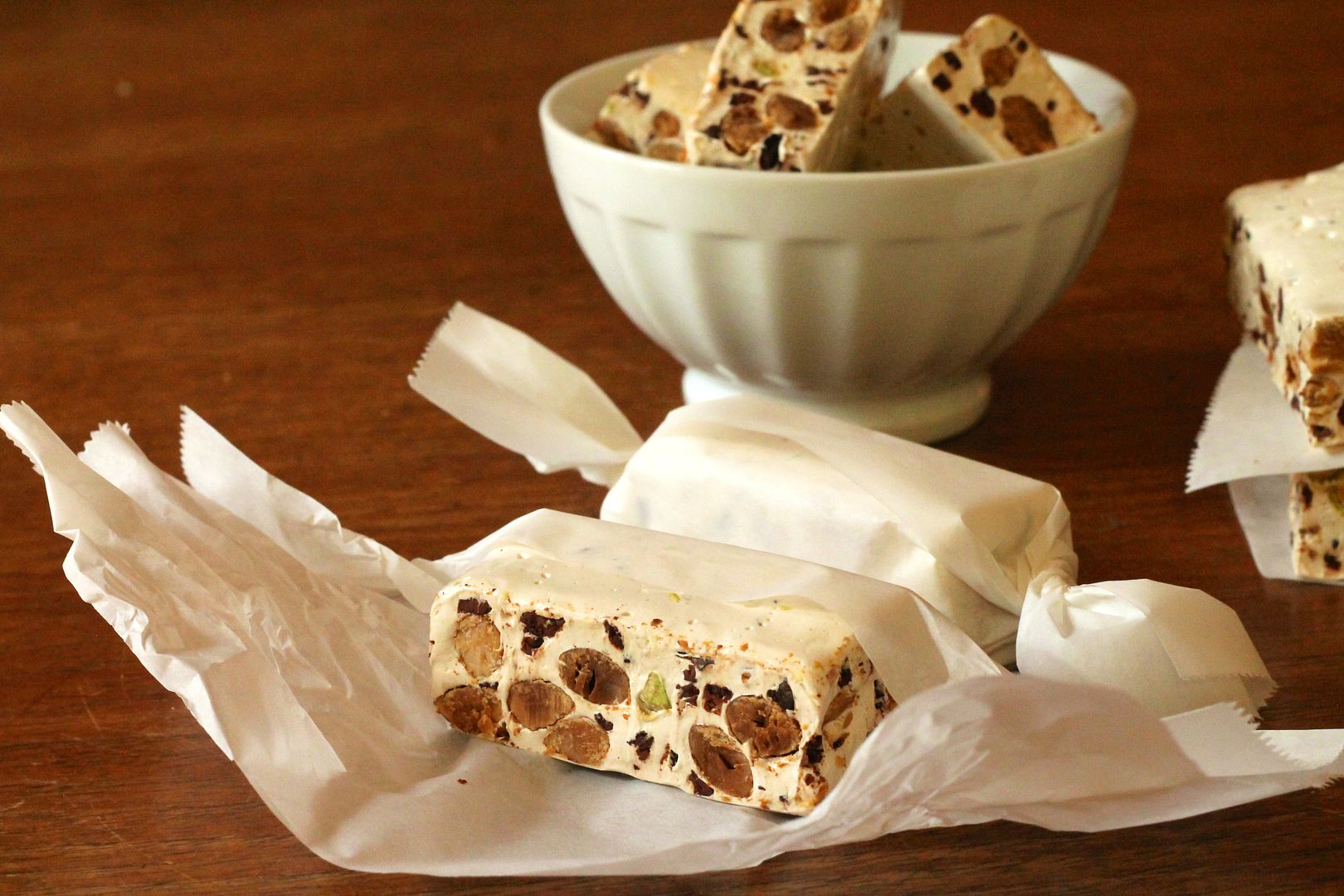 Nougat Torrone with Almonds, Pistachios, and Cocoa Nibs
Adapted from Chocolate and Confections by Peter P. Greweling. Makes one 8″ x 8″ pan.
Important things to know about making nougat:
You definitely need an electric mixer (preferably a stand mixer) and a candy thermometer.
It's best made on a cool, dry day – heat and humidity will effect the texture, and tend to make sugary things melt.
Read through the recipe start to finish a few times before starting – it's not as complicated as it might look, but there are several things that happen at once so you need to understand what you're doing and when.
Minimize distractions – that boiling sugar syrup needs your full attention. It's very hot and can boil over/burn/whatever if you're not careful. Also, once you add it to the meringue, you need to work relatively quickly before it sets and gets too stiff to work with.
Traditionally, nougat torrone is covered top and bottom with edible rice wafer paper. If you can't find it (I couldn't and didn't want to order it online) parchment paper does the trick and peels right off once the nougat is cool and set.
Line a 8″ x 8″ square baking pan with parchment paper on the bottom and sides. Cut a square slightly larger than 8″ x 8″ (this will be what you use to press the nougat flat into the pan). Set aside.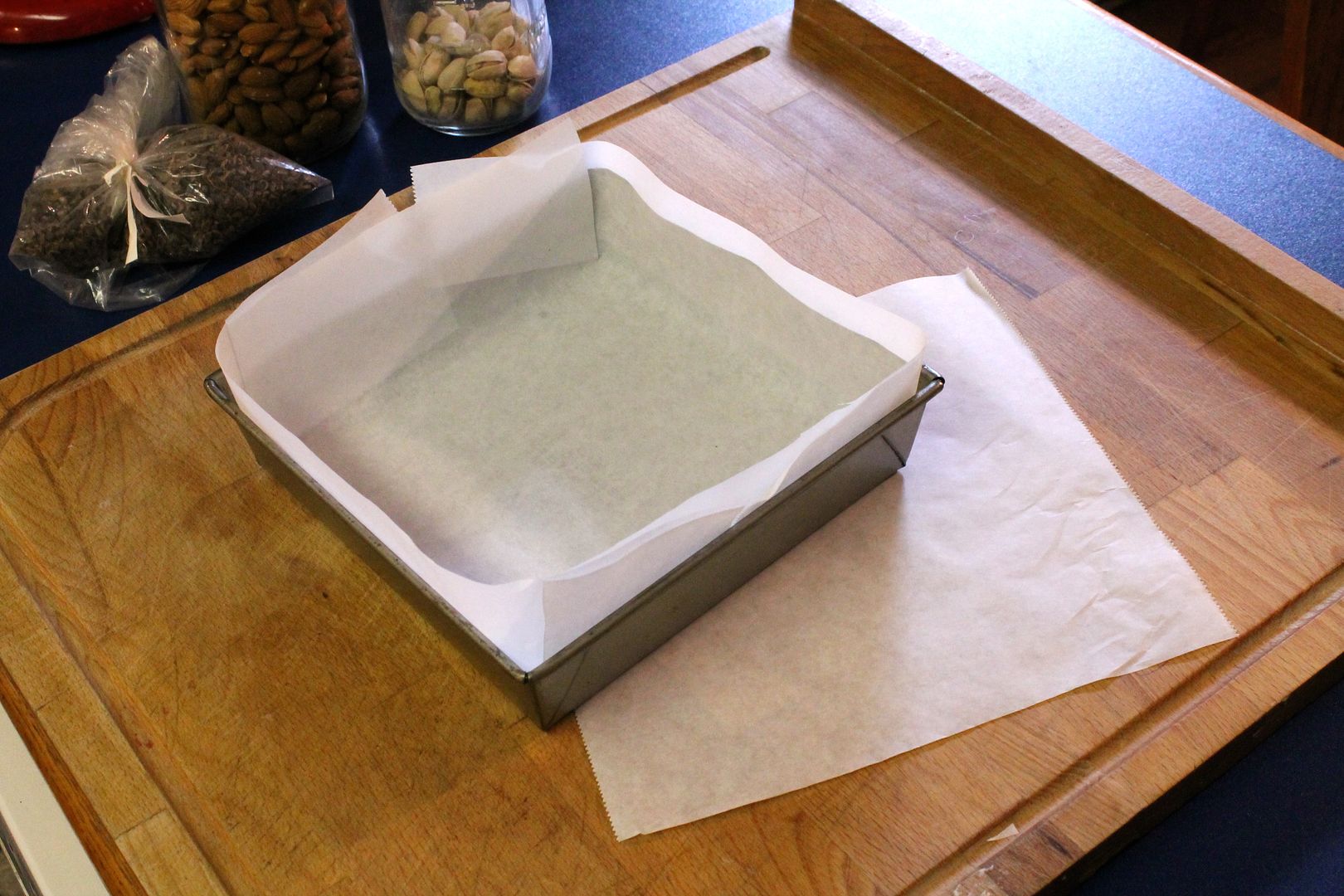 Preheat the oven to 350˚F. Spread 1 1/2 cup whole almonds on a baking sheet and put them in the oven to toast for about 10 minutes. When they are golden and fragrant, turn off the oven. Add 1/2 cup shelled pistachios and 1/2 cup cocoa nibs to the baking sheet and pop it back in the (turned off) oven to keep warm (this will make mixing them into the nougat much easier).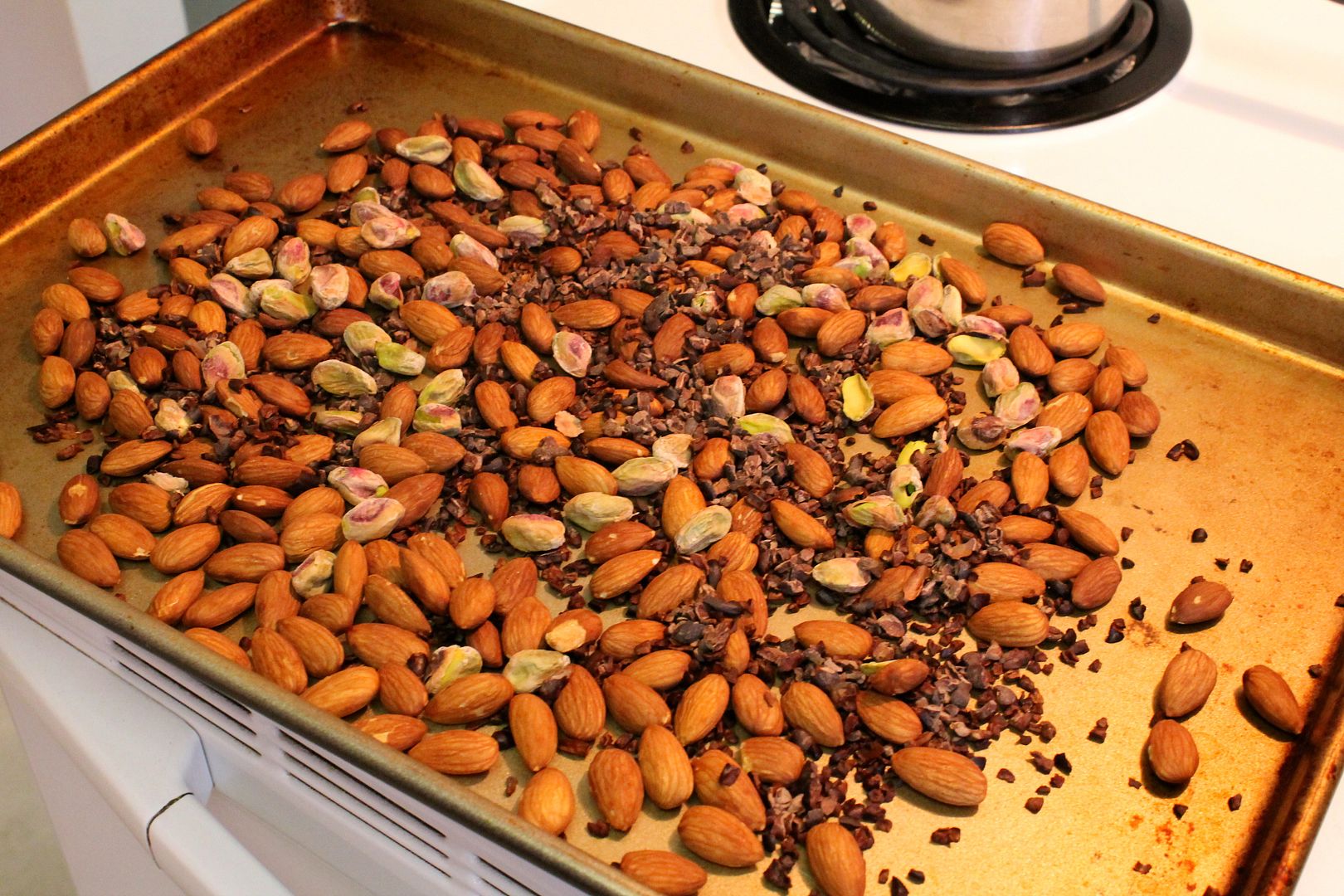 While the nuts are toasting/keeping warm, assemble the rest of the ingredients:
Wipe the bowl and whisk attachment of an electric mixer with a vinegar-dampened paper towel to remove any oily residue. In the bowl, place:
1 egg white
25 g (1/4 cup) granulated white sugar
1/4 tsp cream of tartar
Set aside (do not start whipping yet).
Place 250 g (3/4 cup) honey in a small pan on the stove and keep it just below boiling.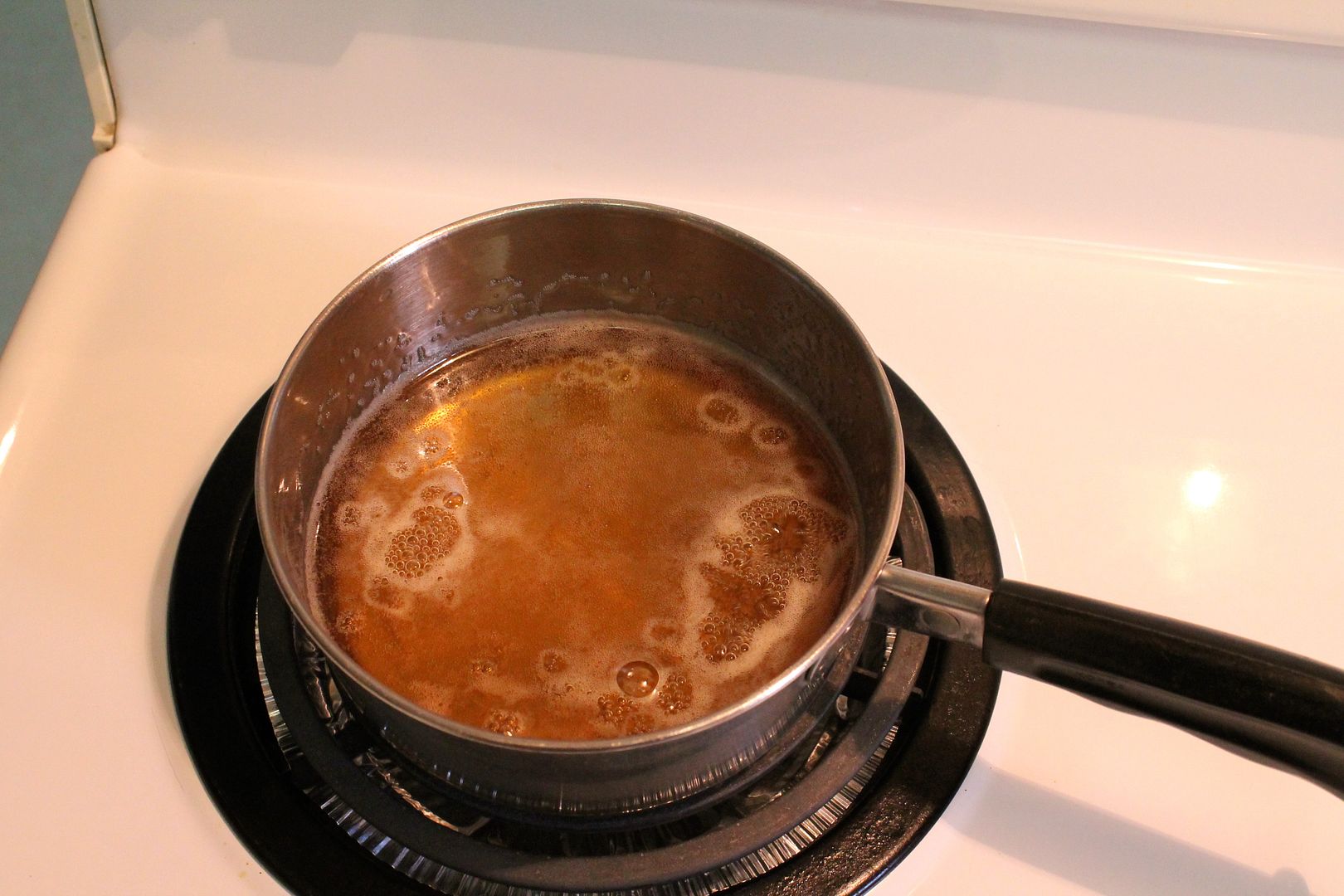 In a saucepan, combine:
300 g (1 1/2 cups) granulated white sugar
85 g (1/4 cup) corn syrup
1/4 cup water
1/2 tsp vanilla bean paste (or the seeds scraped from 1/2 a vanilla bean)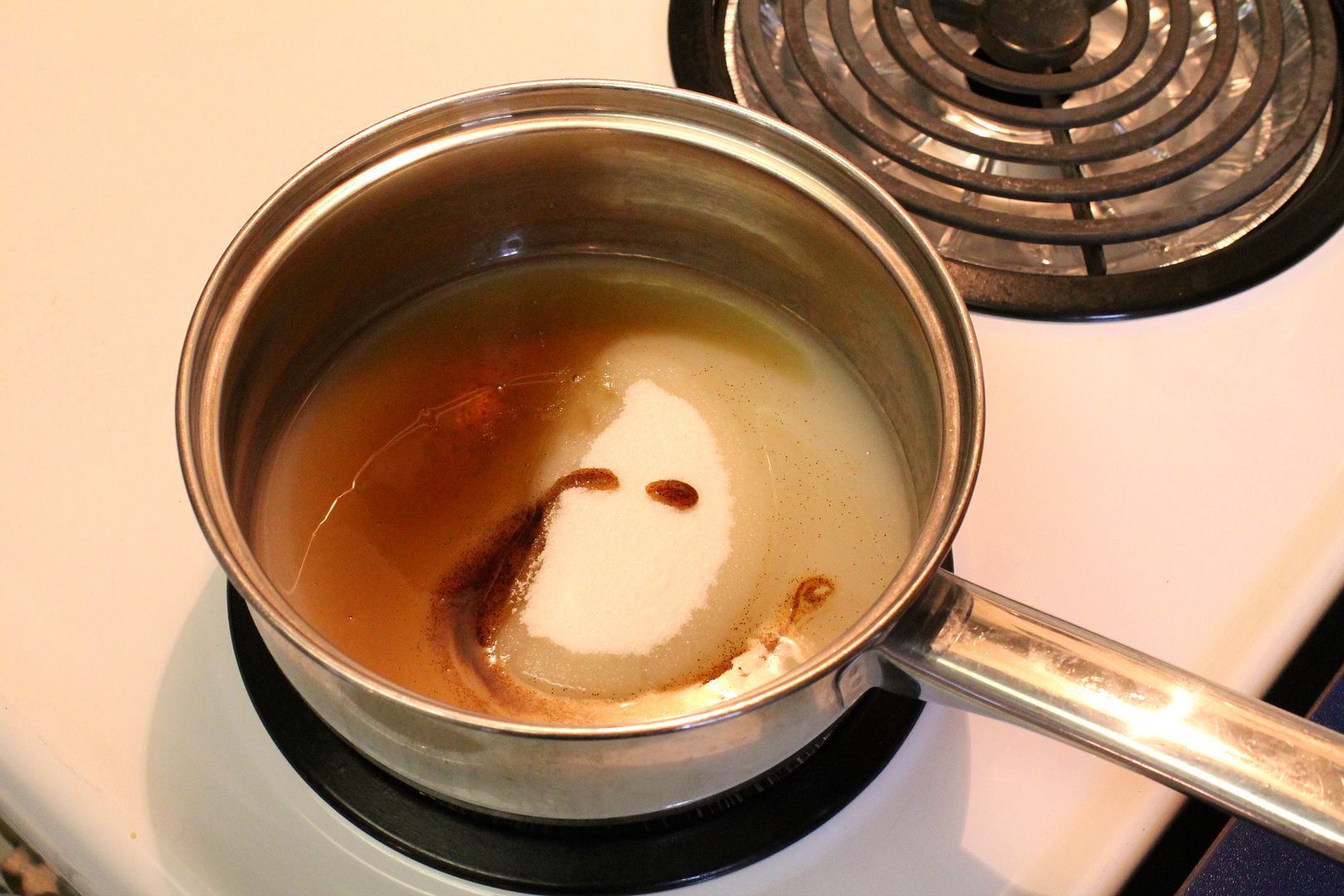 Bring the sugar mixture to a boil over high heat, then cover the pot and reduce the heat. Boil, covered, for 3 minutes.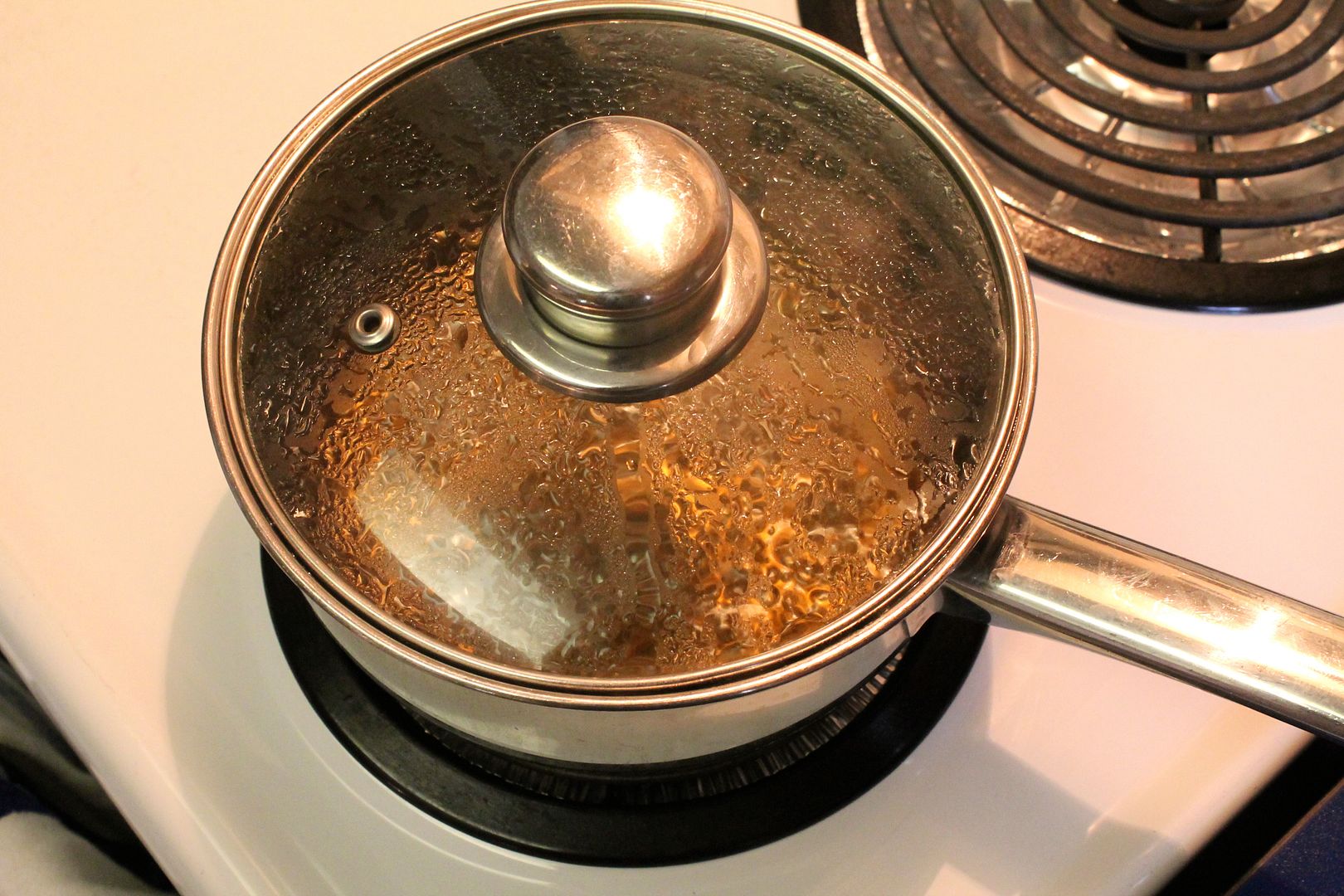 Remove the lid, increase the heat to high, and attach and candy thermometer to the side of the pot. Cook without stirring until the mixture reaches 290˚F/143˚C.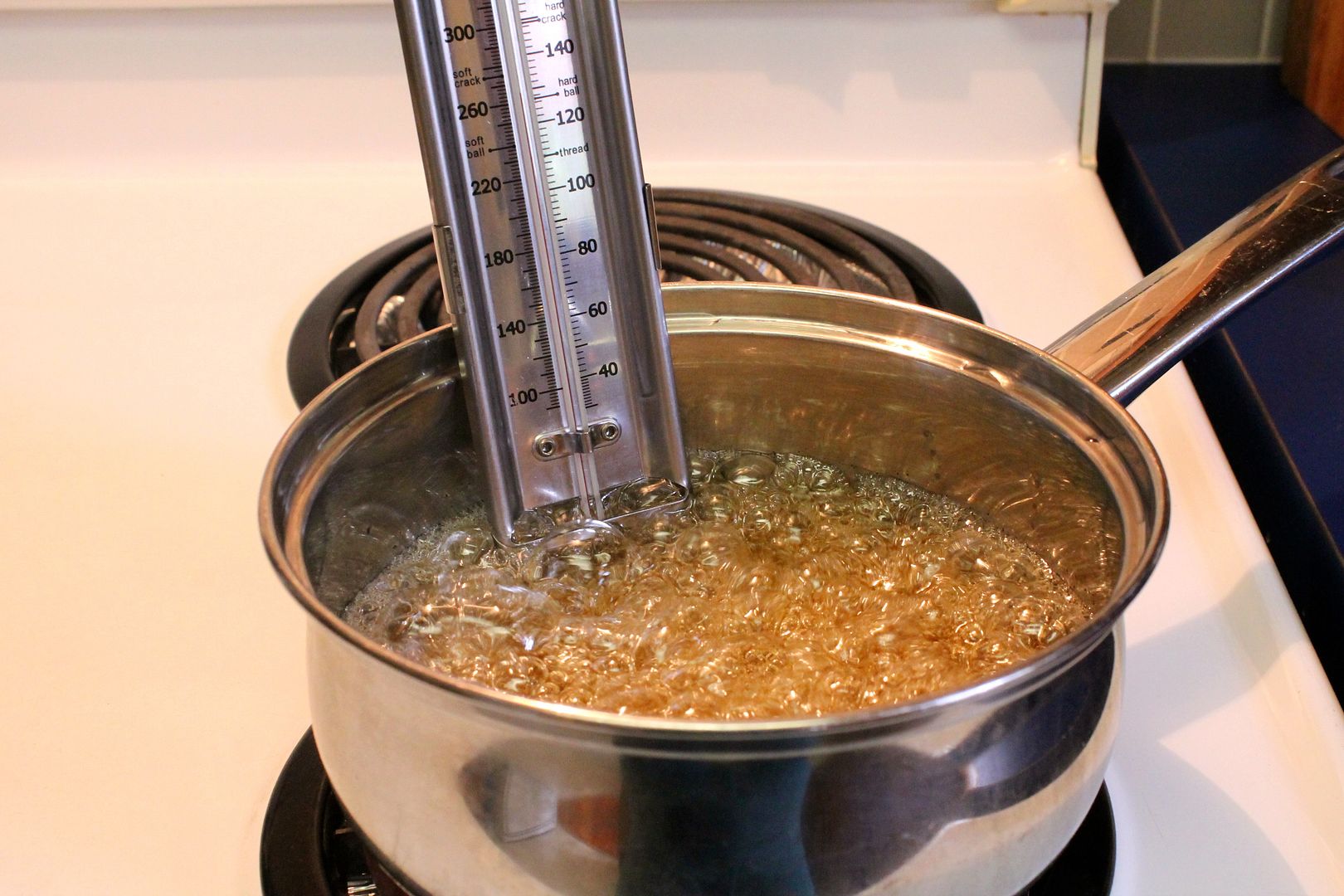 At this point, you will do these 3 things:
1) Take the syrup off the heat.
2) Turn the mixer on to high speed to begin whipping the egg white.
3) Pour the almost-boiling honey into the sugar syrup – it will bubble up when you add it, so pour slowly.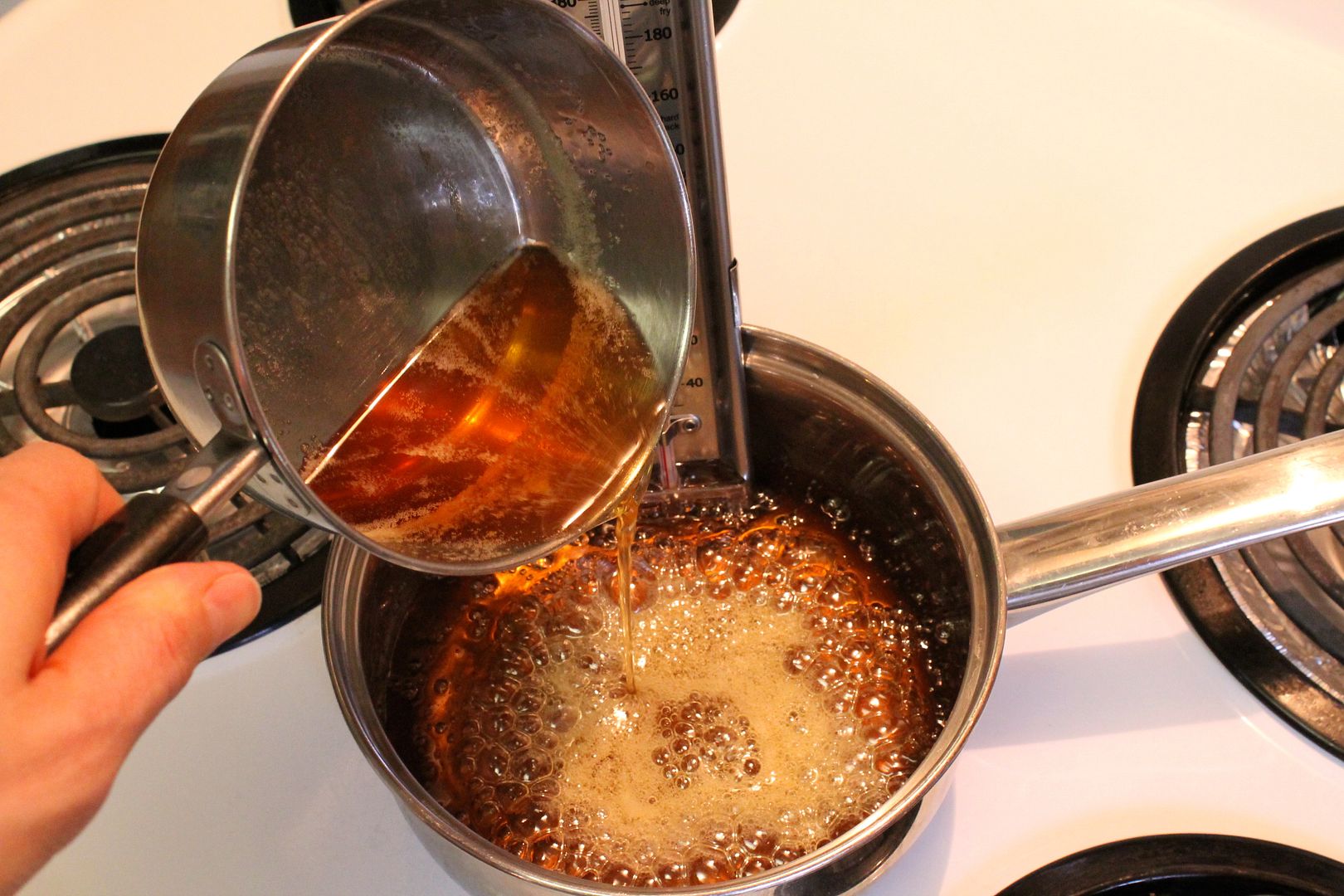 Return the sugar-honey mixture to high heat and cook without stirring until the mixture again reaches 290˚F/143˚C. By this point your egg whites should be a soft-peaked meringue.
With the mixer still on high, slowly pour the hot sugar syrup down the side of the bowl into the egg whites (pouring it directly onto the egg whites might cause them to collapse).
Whip the mixture on high speed for 3 minutes.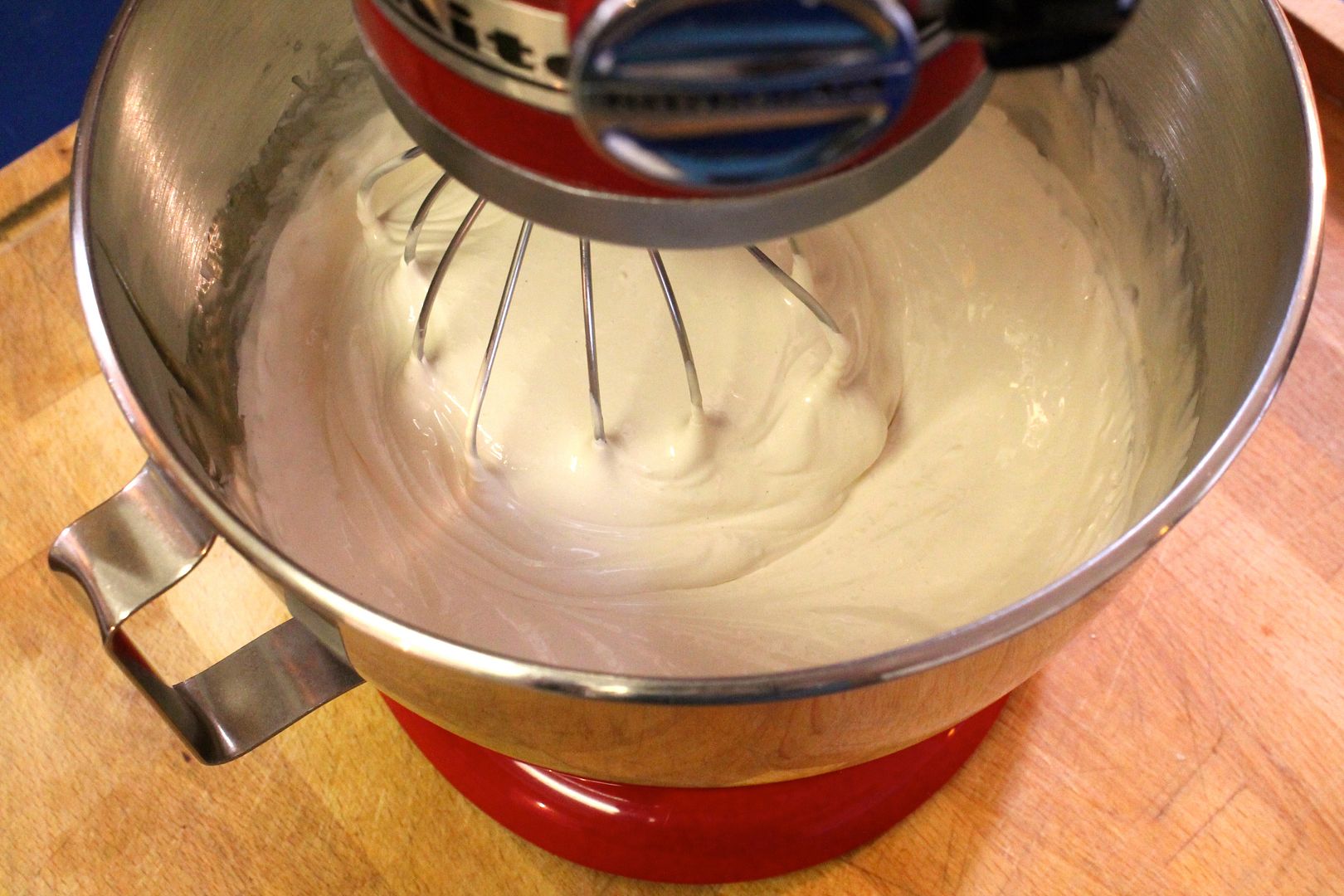 Stop the mixer and add 1 tbsp melted unsalted butter (or cocoa butter, if you can find it), then stir it in starting on low speed and increasing up to high again, until just combined (this will stop the butter from splashing out of the bowl).
Remove the bowl from the mixer and scrape off the whisk. Dump in the warm nuts and fold through with a sturdy spatula – try to work quickly as the nougat will start to harden from this point onward.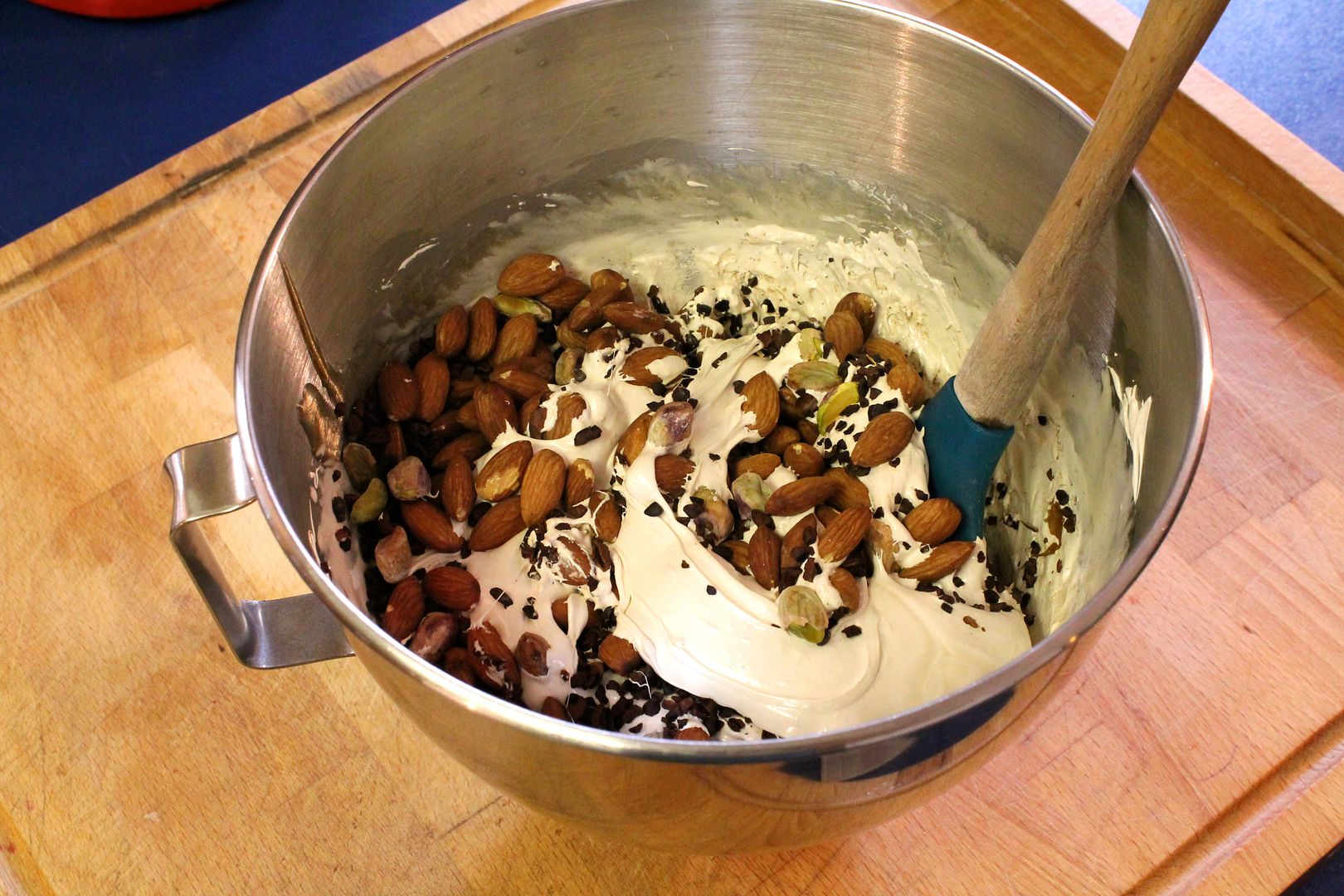 Scrape the nougat into the prepared parchment-lined pan and try to spread it out evenly with the spatula.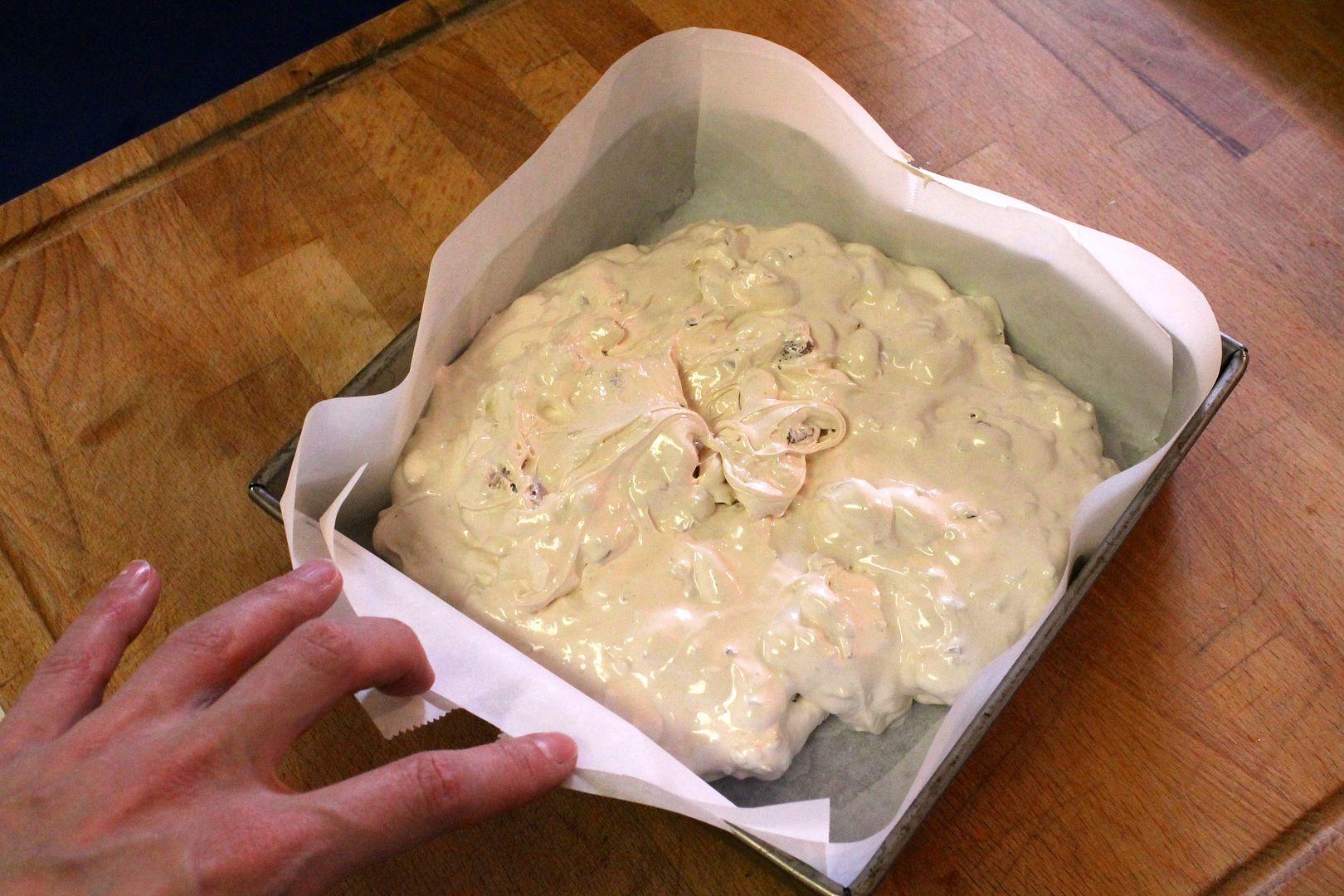 Place the square of parchment paper on top and press it out evenly with your hands (careful, it's hot). Set aside to cool until still warm to the touch, about 45 minutes (too long and it will be too hard to cut).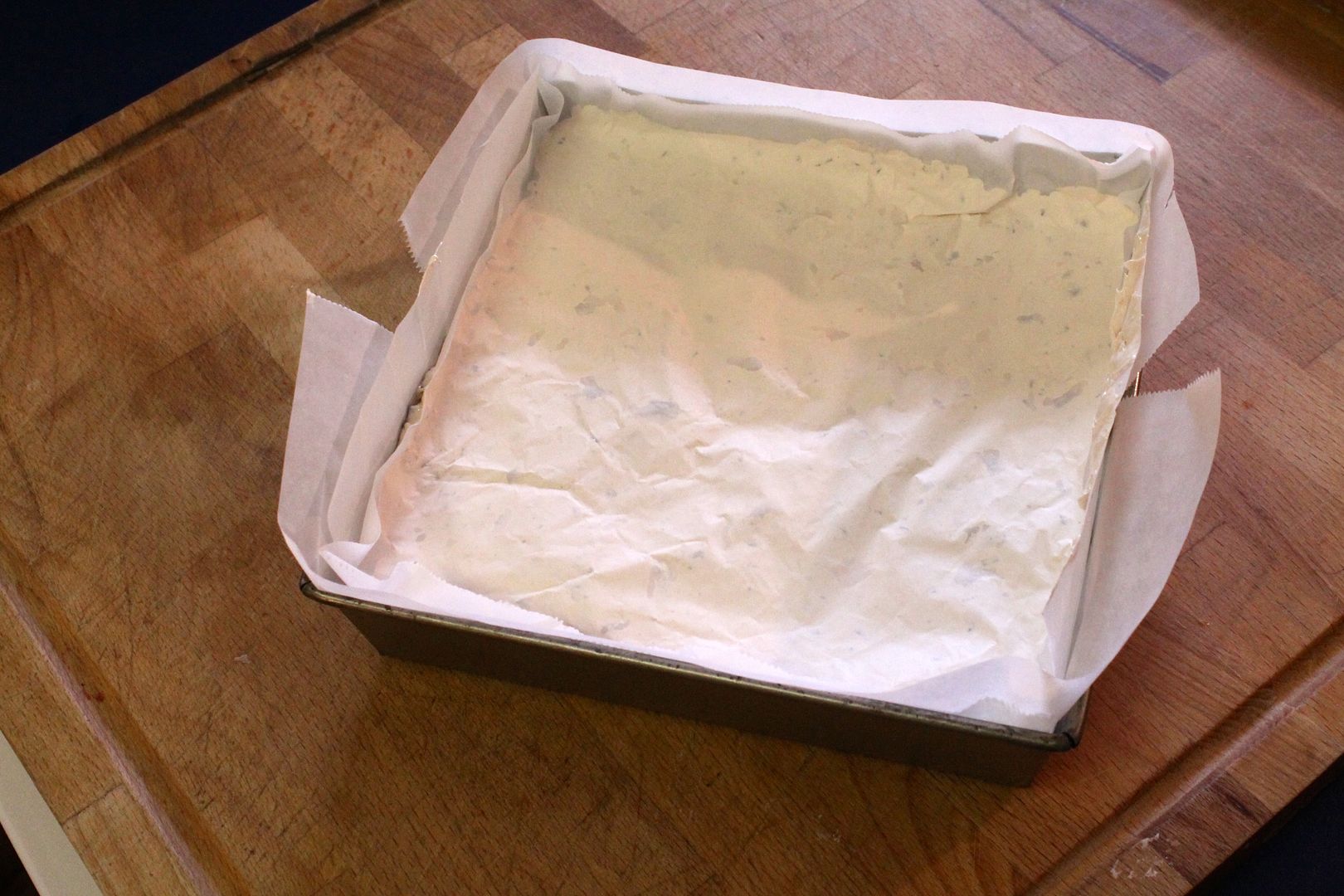 Peel the parchment paper off the nougat. With a large knife, slice the nougat into pieces – you can lightly oil the knife blade if it sticks.
Wrap the nougat pieces in parchment paper, or stack it in layers between paper, and store in an airtight container.