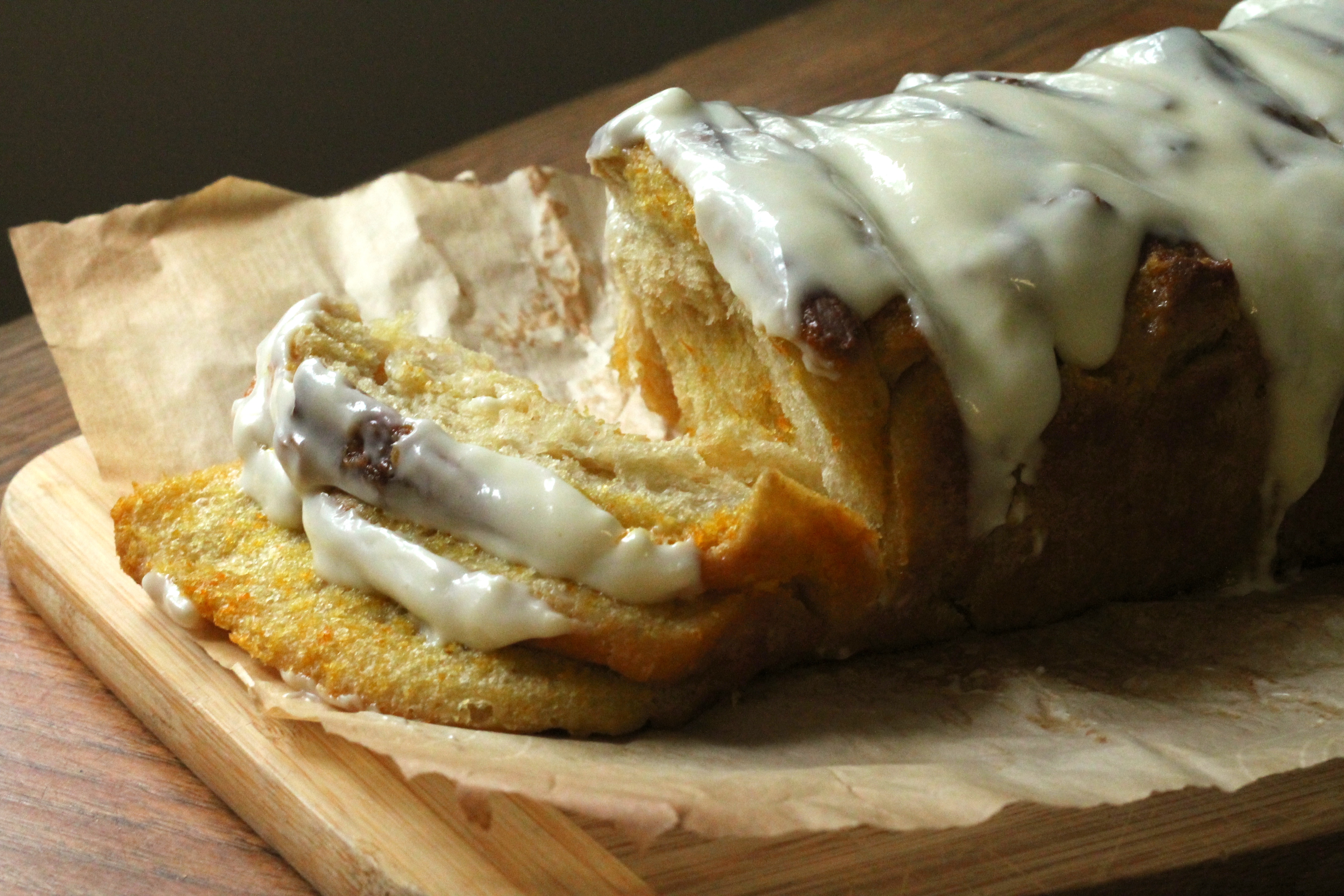 Fair warning: February is turning into a carb-heavy month around here. I personally have no problem with this – when it's this cold and disgusting outside, I want all the comfort food I can get, and this winter I'm putting those calories to good use with some good ol' strength training as per this idea. I guess you could say my personal fitness philosophy at the moment is eat the bread, lift the weights. For me, they balance each other out. Although when you're baking a lemon-scented pull-apart loaf with cream cheese drizzle that's made with sourdough to boot, the bread might have the upper-hand…
None of this is to say that all I eat is bread and carby baked goods. OK, I eat my fair share, as evidenced here, but the rest of my diet is mostly from scratch (just like the baking) and includes a good balance of leafy greens, fruit, veg, and protein – just so we're clear about why I don't weigh 300 pounds. 😉
But enough about vegetables. This bread. Oh my gosh, this bread. When Sourdough Surprises announced that February's project was monkey bread or pull-apart bread, I zeroed-in on this recipe immediately. Originally published on Leite's Culinaria as a yeast dough coffee cake by the esteemed Flo Braker, it boasts a whole comment section full of people exclaiming about how life-changingly amazing it is. So I had to make it. I converted it to sourdough, which resulted in a extremely exaggerated rising/fermentation time – whether it was because my house was too cold or because my starter wasn't very lively, it took about eight hours for the first rise, then it fermented overnight in the fridge and took another several hours in a warm spot to wake up and proof before baking. All told, it was a twenty-four-hour-plus labour of love. But it was delicious!
The dough was truly lovely to work with – soft and supple and scented with vanilla – and the combination of tons of lemon zest plus a little orange zest in the filling resulted in an almost marmalade-like glaze once baked. The ingenious method of forming the loaf by stacking squares of dough means you can pull off slices of the still-warm bread, which is extremely satisfying. Later, once the bread cools, it pulls apart less easily and instead I would recommend slicing it on a diagonal to get a lovely striped look. That is, if it lasts that long…
For more carb-heavy goodness, check out the other Sourdough Surpriser's breads at the link below. 😉
Sourdough Sticky Lemon Pull-Apart Loaf
Adapted from Leite's Culinaria. Makes 1 9″ x 5″ loaf.
Dough
In a small saucepan over low heat or in a microwave-safe bowl, combine 81 g milk and 57 g unsalted butter until the butter melts, then remove from the heat and cool to about 120˚-130˚F.
Meanwhile, stir together in the bowl of an electric mixer:
200 g all purpose flour
50 g granulated white sugar
5 g salt
Add the warm milk mixture along with 60 g active sourdough starter and 1 1/2 tsp vanilla. Stir with the paddle attachment to combine. One at a time, stir in 2 eggs. Gradually stir in an additional 87 g all purpose flour, mixing on medium-low speed until the mixture comes together in a soft, sticky dough.
Change to the dough hook attachment, and knead on medium speed until smoother and no longer sticky (add a little more flour if necessary). Place the dough in a lightly buttered bowl, cover with plastic wrap, and let it rise in a warm place until doubled in size. The timing of this will depend on the room temperature and strength of your starter – mine took a good 7 – 8 hours to double in size.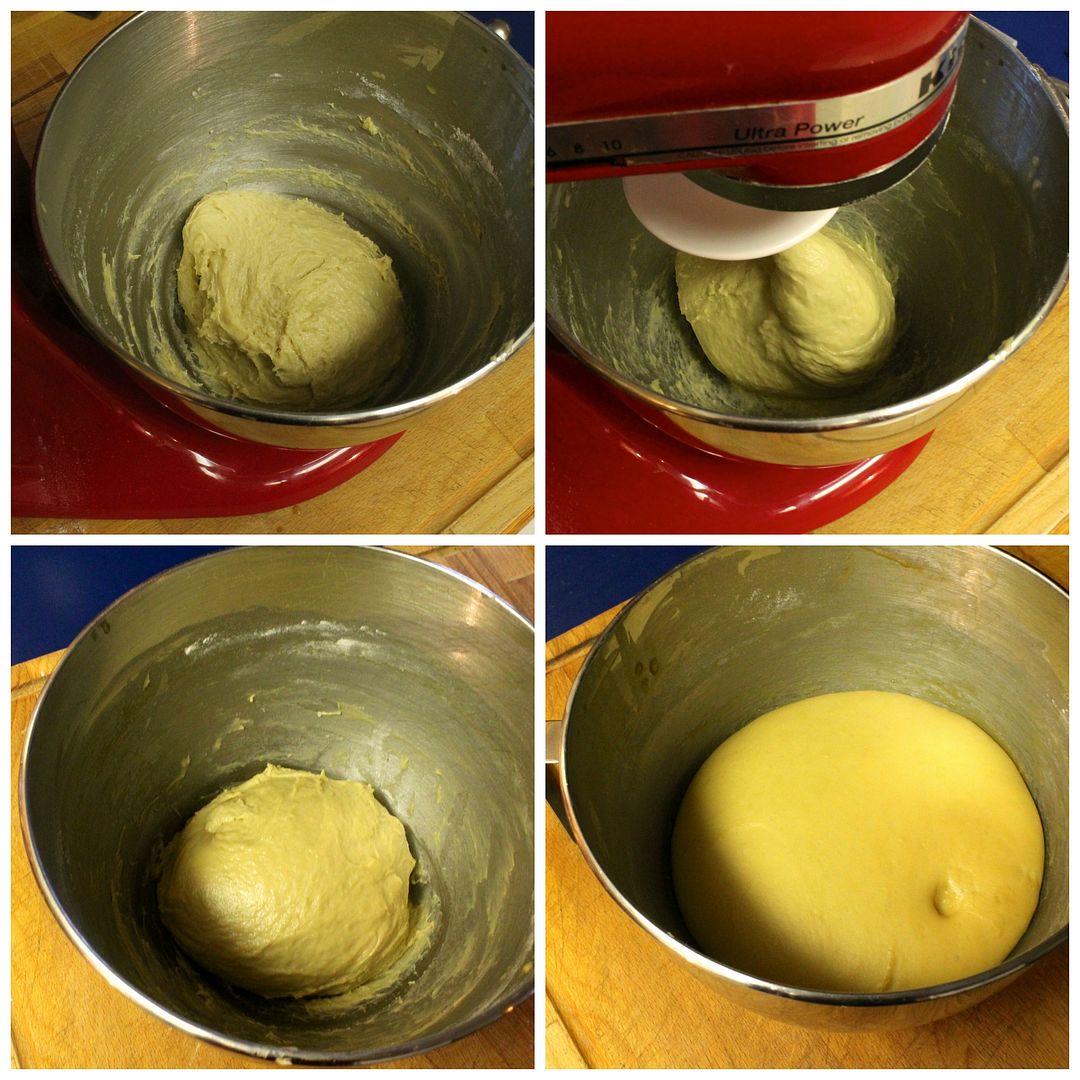 Towards the end of the rise, mix together the lemon filling.
Lemon Filling
In a small bowl, combine:
100 g granulated white sugar
3 tbsp (about 28 g) grated lemon zest (from 2 – 3 lemons)
1 tbsp (about 9 g) grated orange zest (from 1 orange)
Stir the citrus zest into the sugar to release some of the flavourful oils, then add 57 g soft unsalted butter and cream the mixture until soft and spreadable. Set aside while you roll out the dough.
Assembly
Line a 9″ x 5″ loaf pan with parchment paper. Butter the paper and set aside.
On a lightly floured surface, punch down the risen dough and roll it out into a 20″ x 12″ rectangle. Spread it evenly with the citrus-butter mixture. Cut the rectangle across its width into 5 even strips, then stack them on top of each other. Cut the stack into 6 even pieces, each about 4″ x 2″. Stack the layered dough in the prepared loaf pan like index cards, cut edged up – it might be a tight fit lengthwise, but the dough will have room to rise and grow width-wise. Cover with plastic wrap and place somewhere warm to proof. Again, this will take several hours but will depend on the temperature and your starter. At this point you can also refrigerate the loaf overnight and then let it proof at room temperature for several hours the next day before baking. When the dough is puffy and remains indented when poked with a finger, it is ready to bake.
Preheat the oven to 350˚F. Bake the loaf in the middle of the preheated oven for 30-35 minutes, until golden brown and hollow-sounding when tapped (you can cover the loaf with foil if it is browning too much). Cool the loaf in the pan for 10 – 15 minutes while you make the cream cheese glaze.
Cream Cheese Glaze
In a small bowl, cream together 85 g cream cheese and 35 g icing sugar until smooth. Add 18 g milk and 18 g lemon juice (1 tbsp each) and mix until smooth.
Remove the still-warm loaf from the pan, peel the parchment paper off the sides, and pour the glaze over the top. Spread it out, letting it drip down the sides. Serve warm by pulling off slices, or at room temperature by cutting into pieces on the diagonal with a bread knife.