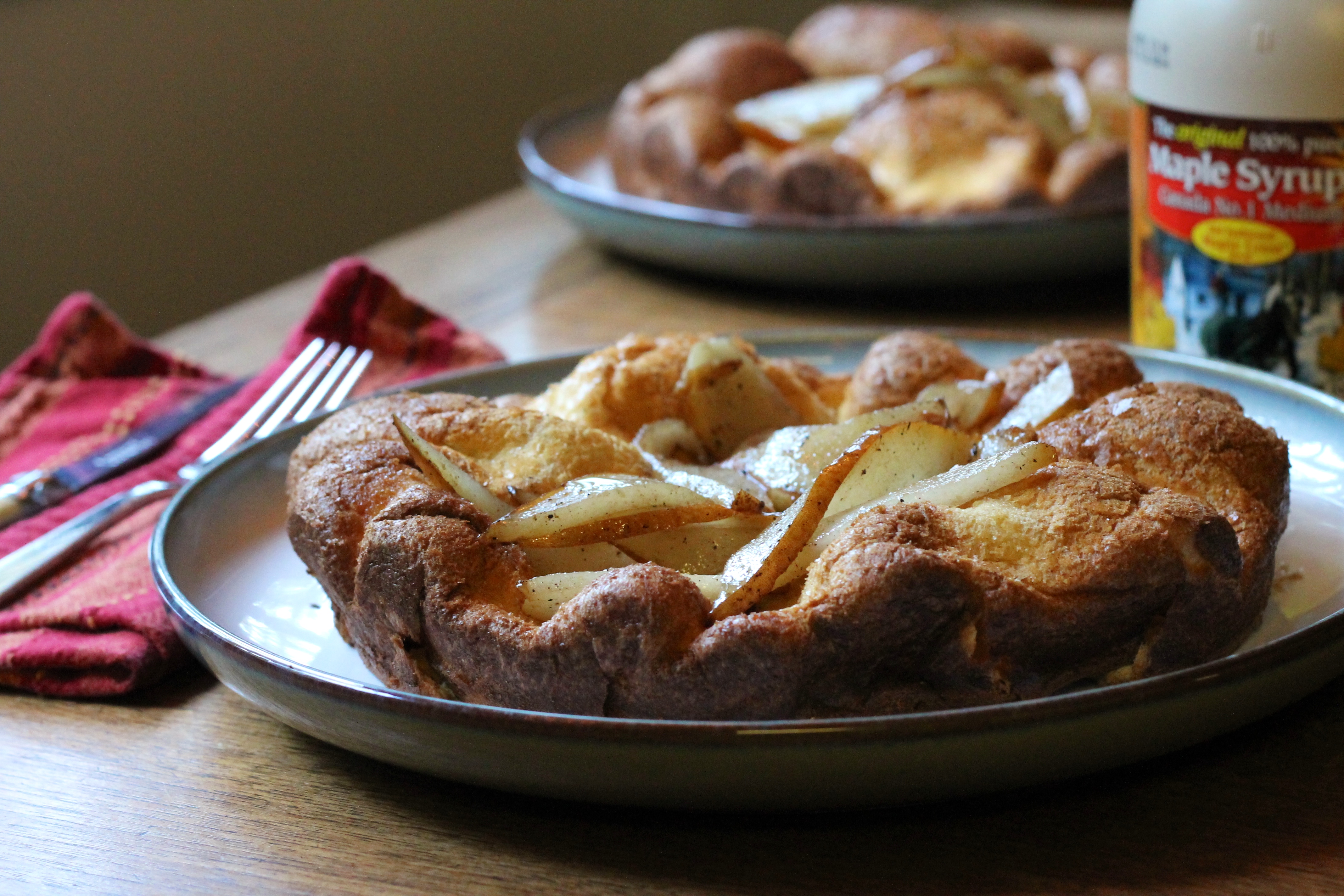 On rushed weekday mornings, breakfast is by necessity a simple affair consisting of whatever takes less than five minutes to throw together that I can wolf down before rushing out the door to work. So on weekends, I take advantage of those long, lazy mornings to make things like pancakes, waffles, bacon, eggs, or homemade bagels. Conveniently, those long, lazy mornings also have good light for photos, which is more than I can say for the dark, early, winter afternoons that currently follow…
I've had the idea of a Dutch baby – aka German pancake, made from a thin, crêpe-like batter that puffs up when baked in the oven – in my head for a long time, and given my recent success with popovers – sort of a cousin of the Dutch baby – I figured I'd finally give it a try. There are a ton of recipes out there, but I went with the one on Smitten Kitchen, because I trust everything that comes out of Deb's kitchen. The batter whirls up in a few seconds in the blender, and I was amazed with what I pulled out of the oven thirty minutes later: it had baked up into all these amazing peaks and valleys, perfect for catching pears sautéed in browned butter and, of course, plenty of maple syrup. The small amount of buckwheat I added to the batter gave the Dutch baby some texture, and its crisp outside contrasted with its custardy inside.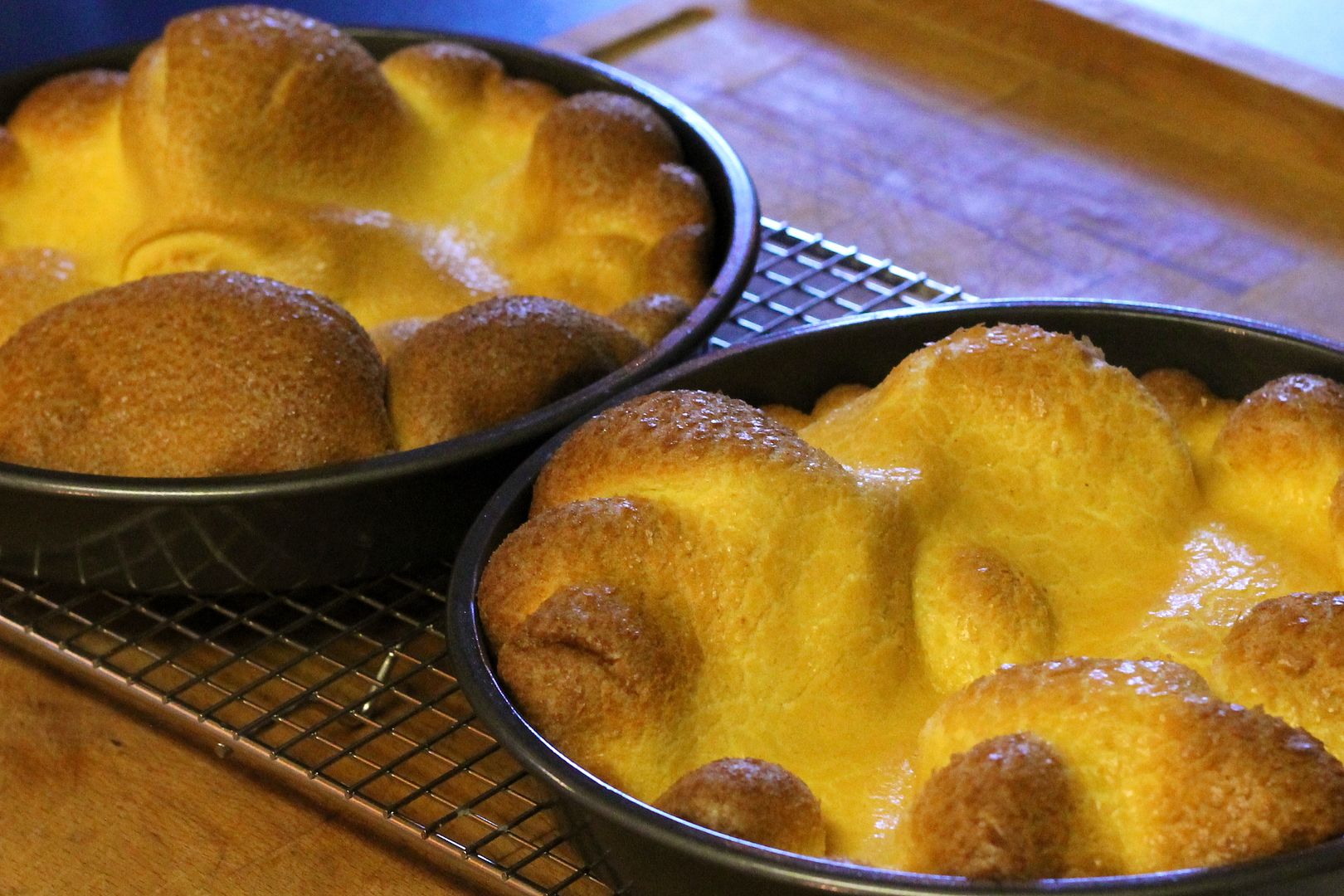 Pears are my winter fruit of choice, and the decision to cook them in brown butter was a warm, cozy, delicious one. However, given all the gorgeous citrus in season right now, I'm already imagining my next Dutch baby topped with a squeeze of lemon juice and (I know my aunt will disagree) a dusting of powdered sugar. Really, these would be good with just about anything on top!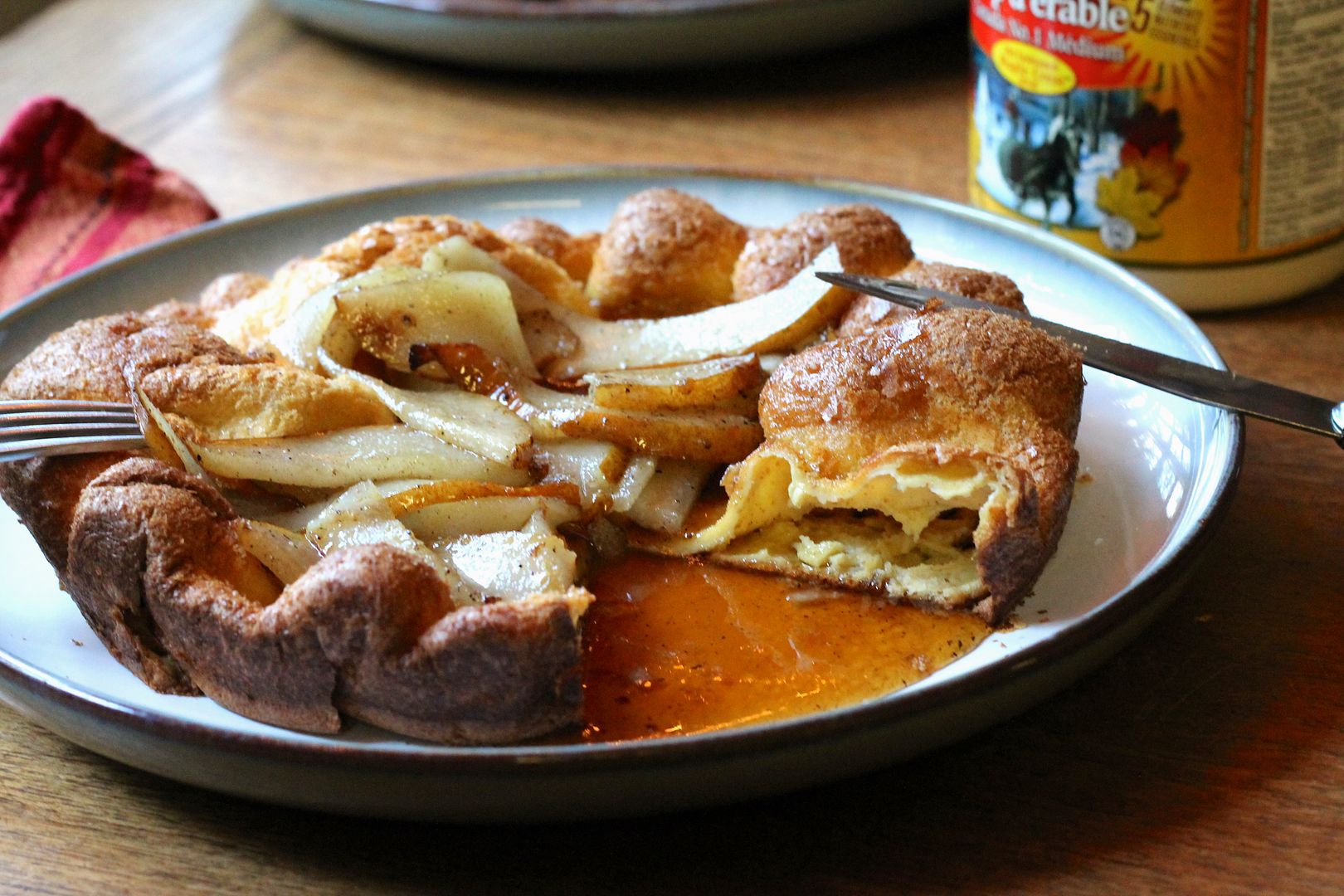 Today being Valentine's Day, you might have been expecting something heart-shaped, in which case I'll direct your attention to these Lemon Heart Danishes. However, I'm pretty sure your Valentine will be pleased if you make them a Dutch baby for breakfast (you could even make it in a heart-shaped pan! 😉 ).
Buckwheat Dutch Baby with Brown Butter Pears
Adapted from Smitten Kitchen. Makes 2 9″ round Dutch babies, or 2 – 4 servings, depending on how hungry you are. If you don't have buckwheat, I'm sure any other whole grain flour would be fine, or just use all all-purpose.

Preheat the oven to 400˚F and liberally grease two 9″ round cake tins with butter. Set aside.
Place 4 eggs in a blender jar and mix on "stir" until light in colour.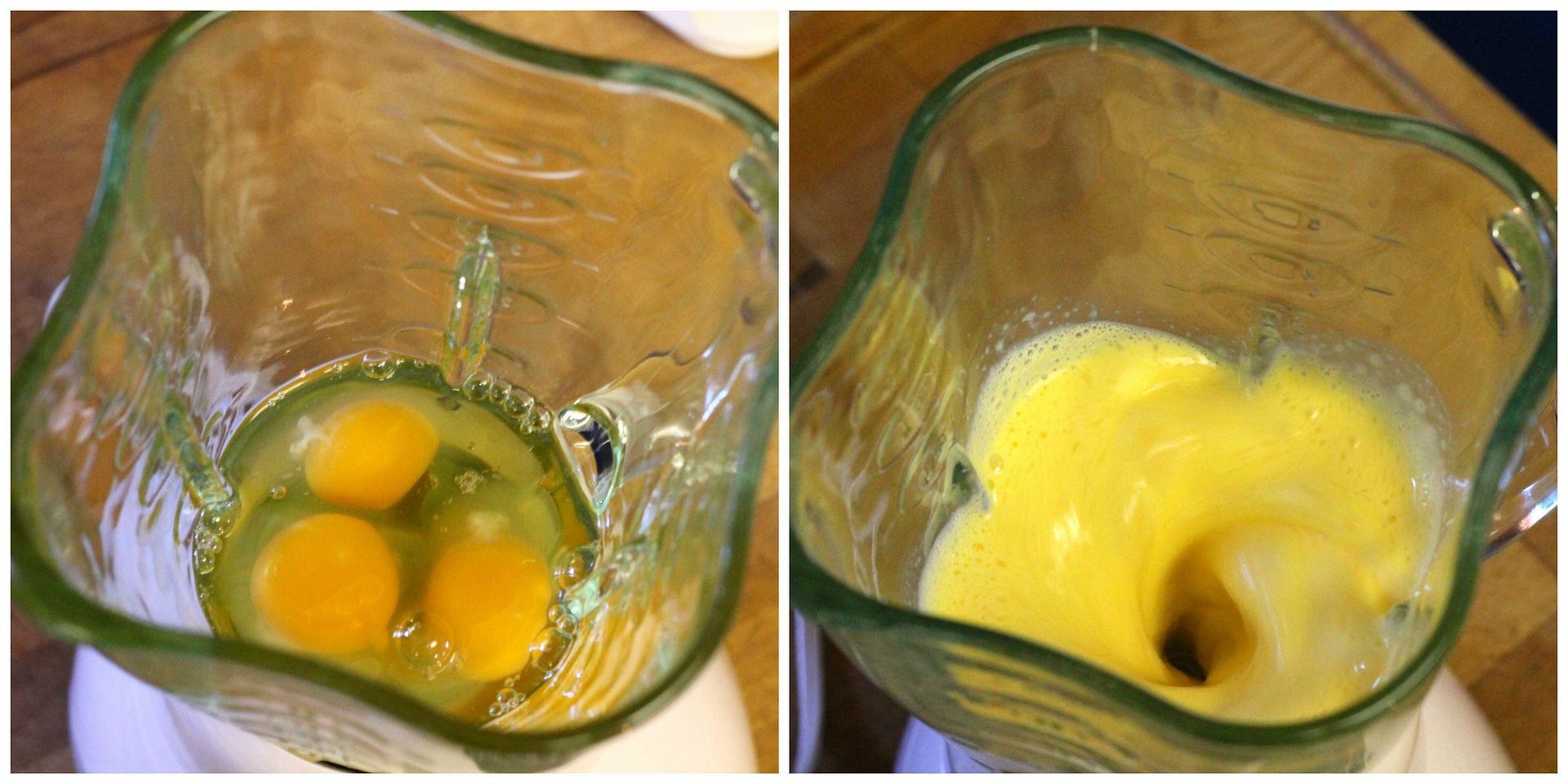 Increase the speed on the blender by one step. Sift together:
2/3 cup less 2 tbsp all purpose flour
2 tbsp buckwheat flour
Add the flour to the blender, followed by:
2/3 cup milk
1 tbsp granulated white sugar
2 tbsp softened unsalted butter
1/2 tsp salt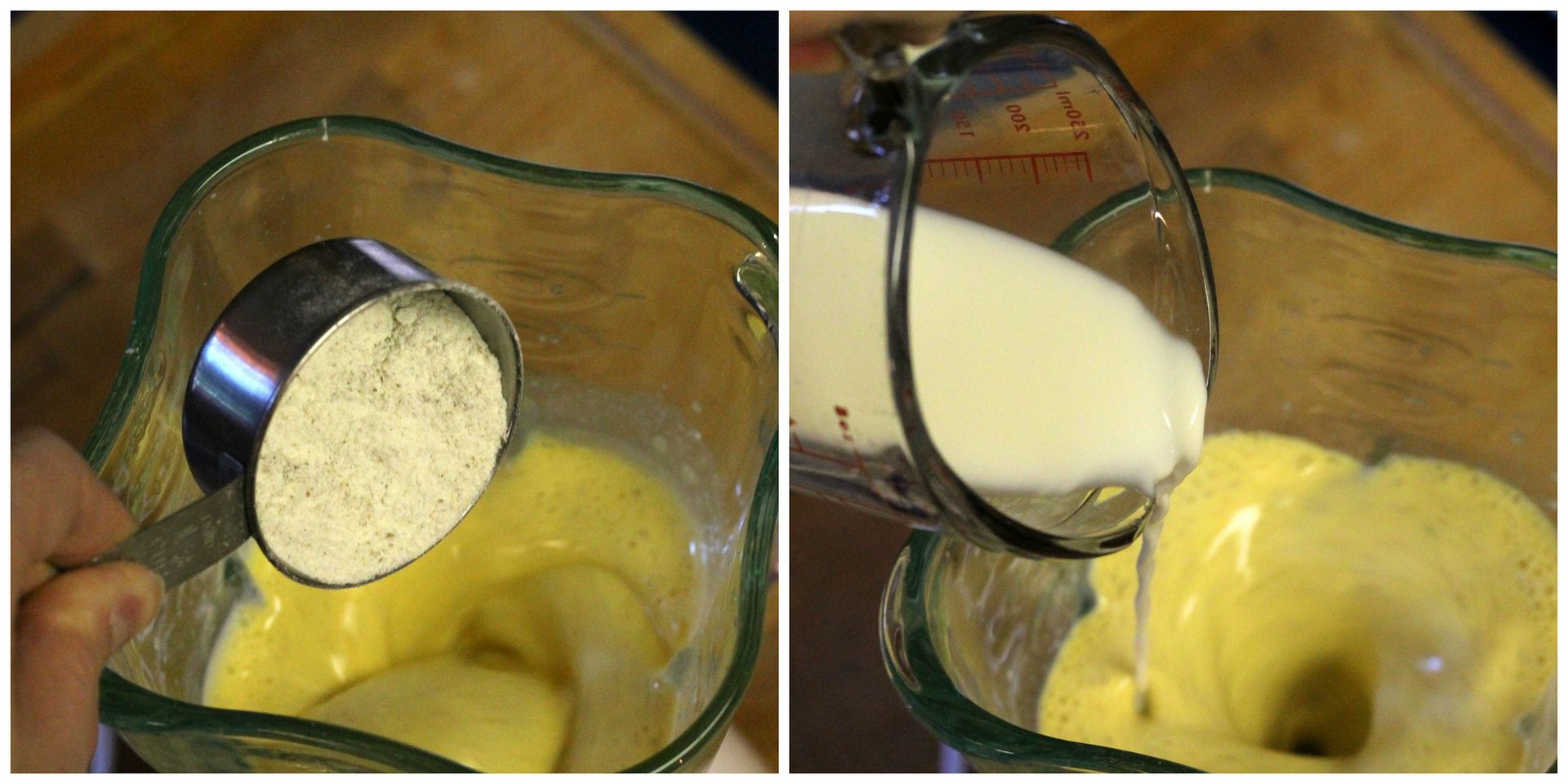 Blend until well combined. Pour into the 2 prepared pans and place in the oven.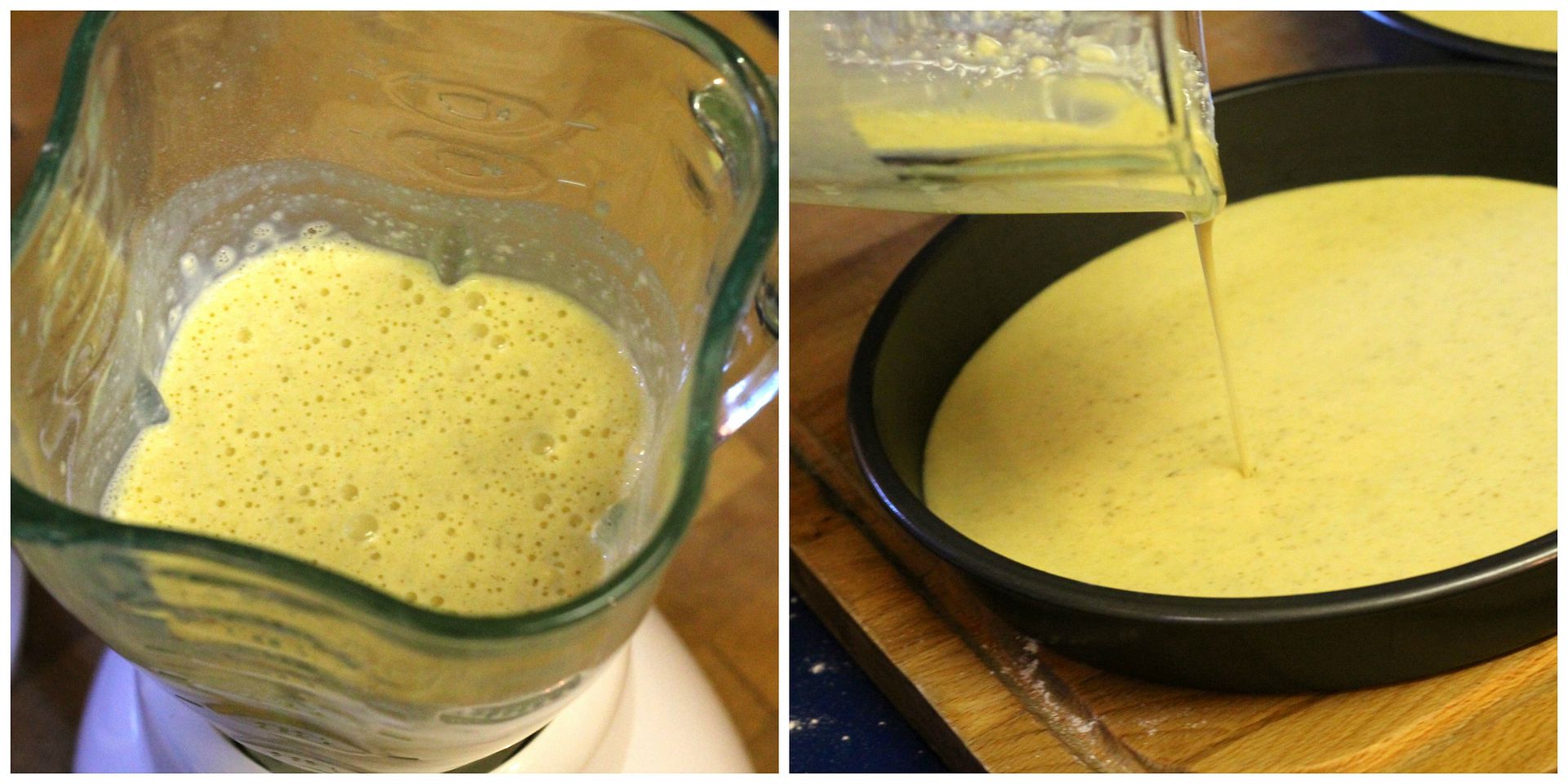 Bake for 20 minutes in the preheated 400˚F oven, then reduce heat to 350˚F and bake for 10 more minutes until golden brown and puffed. Ease the baked pancakes out of the pans with a flexible spatula and serve immediately topped with brown butter pears and maple syrup.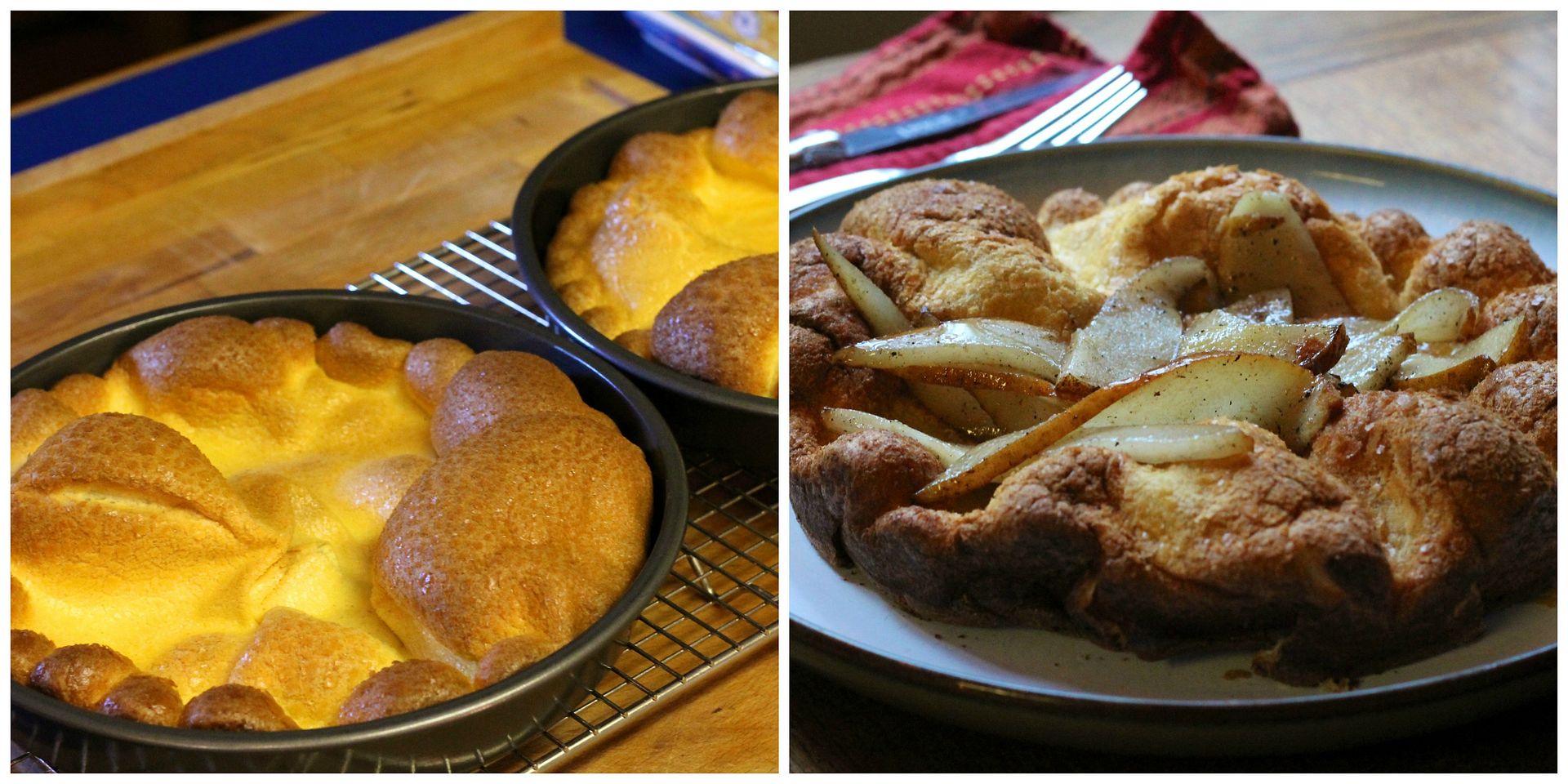 Brown Butter Pears
In a medium frying pan, melt 2 – 3 tbsp unsalted butter over medium heat and cook until it starts to turn brown and smell nutty.
Toss in 1 thinly sliced pear and sauté, stirring gently so as not to break up the pears, until just softened. Spoon the pears and butter over top of the warm Dutch baby.