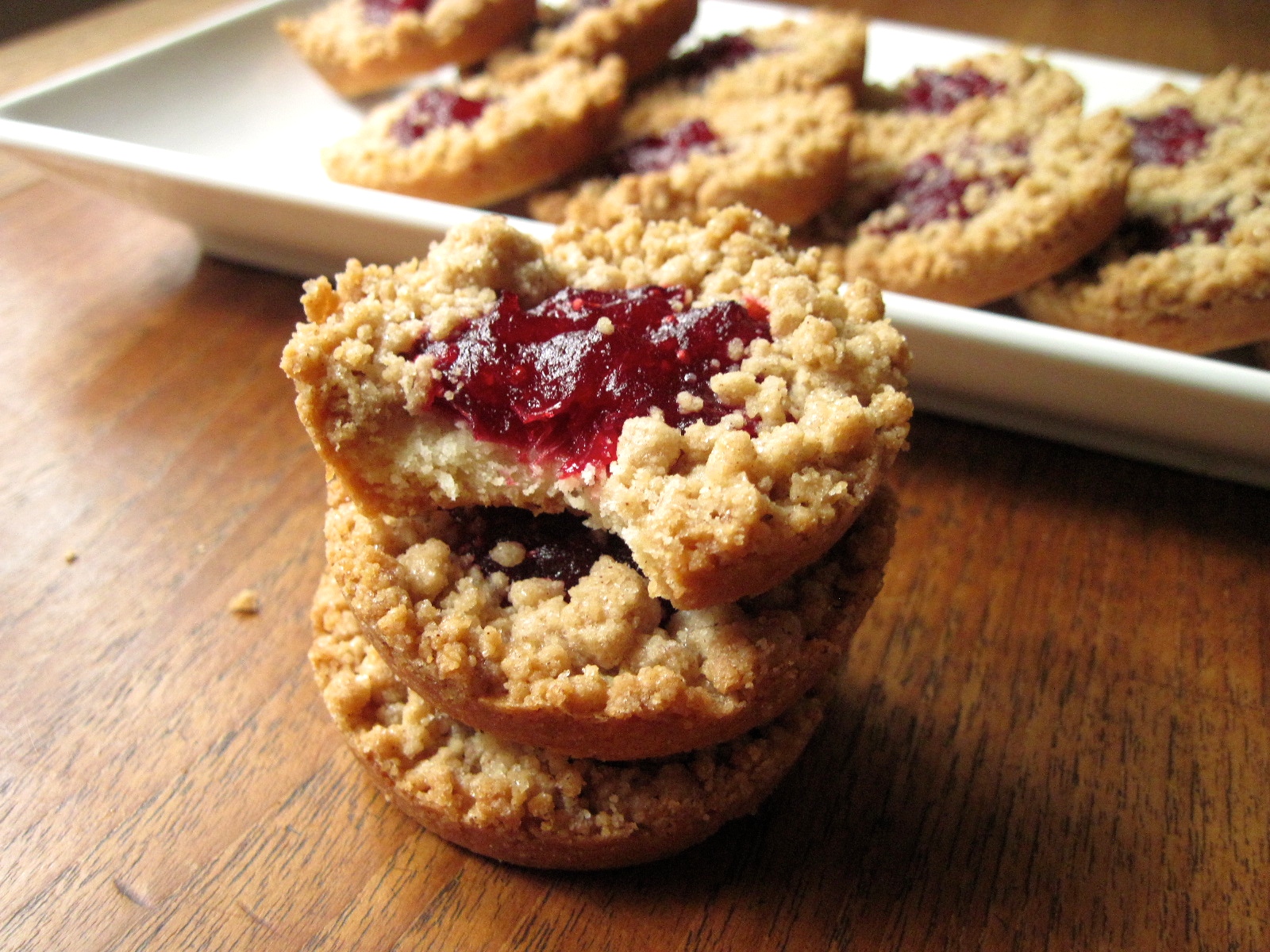 This year I am thrilled to be part of the Great Food Blogger Cookie Swap, wherein food bloggers from all over the globe bake cookies and mail them to each other. It's a fun way to "meet" other food bloggers, and really, what better thing is there to receive in the mail than a package of homemade cookies?
As with all baking decisions, I agonized for a while over what kind of cookie to make, but my mind was made up pretty quickly when I remembered the recipe in Bon Appétit for Jammers from Dorie Greenspan's gourmet cookie company, Beurre & Sel. They are a deliciously simple combination of a buttery French sablé cookie topped with jam (homemade cranberry-orange jam, in this case) and topped with a sprinkle of struesel, which I spiced with a little cinnamon for some seasonal appropriateness.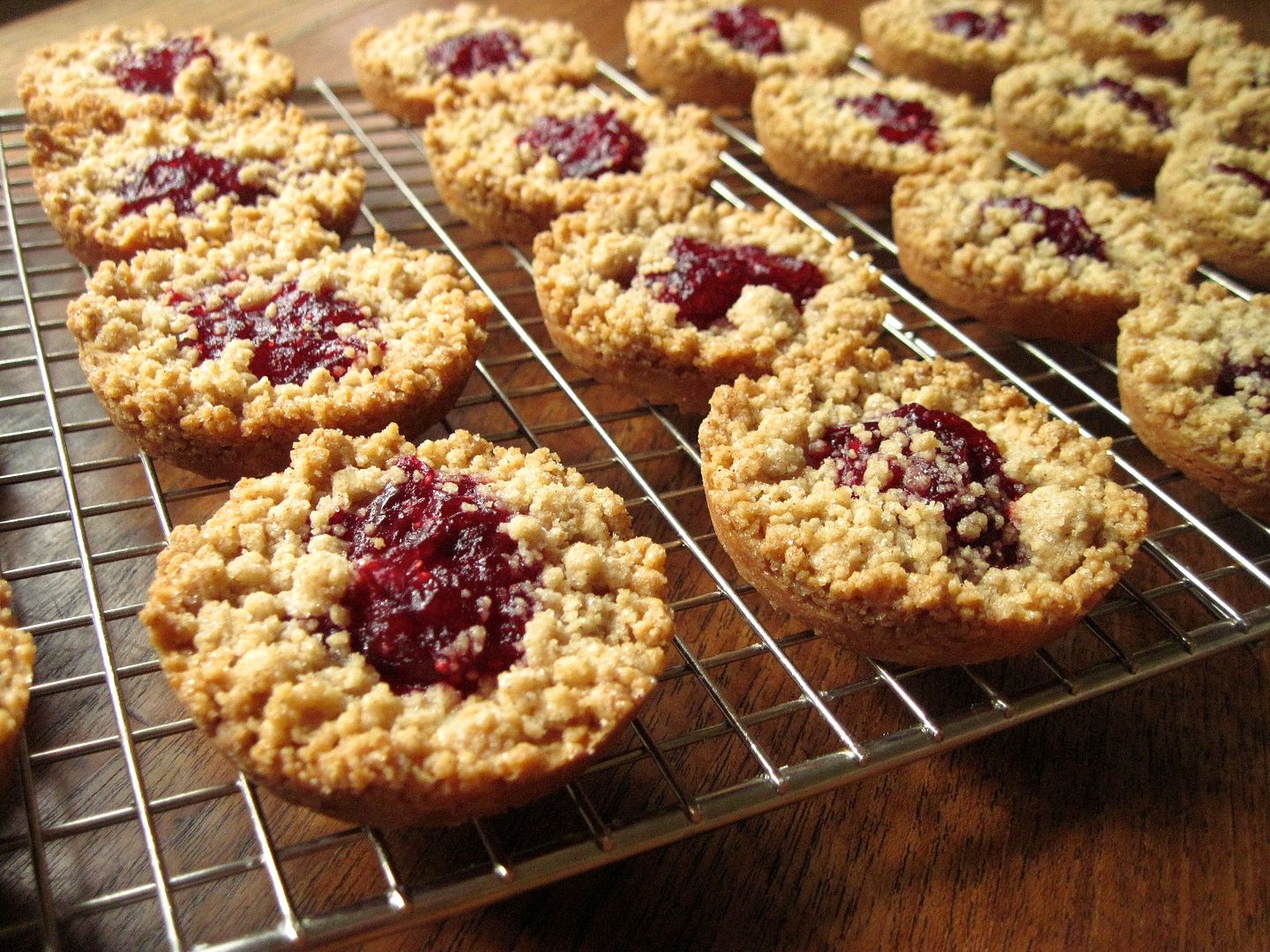 Simple components aside, the actual making of these cookies took me about four times longer than it should have, because they are made in muffin tins to preserve their perfectly round shape, and when you only have one muffin tin, there's only so many cookies you can crank out at a time. However, I was exceedingly happy with how they turned out, and both Nate and I agreed that they were delicious. This is definitely a recipe I will be making again and again – just think of all the different flavours you could create!
I carefully wrapped the jammers in waxed paper, secured them in boxes (they came with cupcake holders, which were perfect for keeping the cookies in place), and sent one dozen each to three fellow Canadian bloggers: Amanda of Once Upon a Recipe, Cheri of Kitchen Simplicity, and Rhonda of Olive & Ruby (named after her grandmothers – cool, right?). These ladies have beautiful blogs and I look forward to exploring them in more depth.
In return, I received parcels of cookies from three other Canadian food bloggers. Ailynn of My Life Made Sweet sent some gorgeous raspberry s'mores cookies – raspberry marshmallows on homemade graham crackers, all dipped in chocolate – that lasted barely two days between me and Nate. Kathy of Eat Halifax sent some deliciously chewy hazelnut meringue cookies covered in chocolate (such a good combination!), and Amy, blogger at The Snack Department, and German, an artist, sent some tasty minty chocolate chip cookies that are perfect with a glass of milk – or better yet, a mug of hot chocolate. My favorite part about Amy and German's package was the adorably teeny card they sent, complete with a hand illustrated "Special Delivery" graphic. 🙂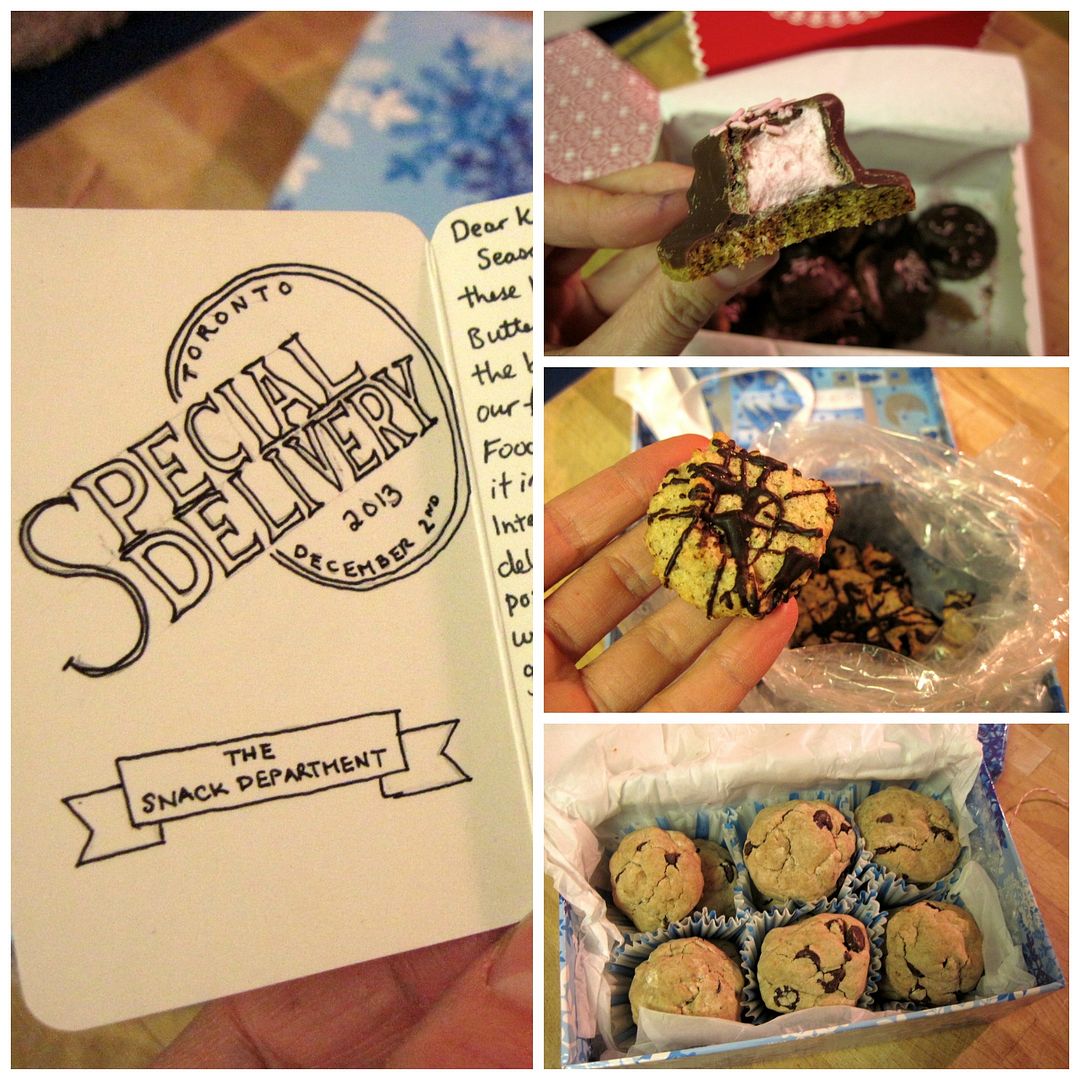 For someone who loves Christmas cookies as much as I do, what better way to kick off the holiday season? 😀 Thanks for the cookies, everyone – I can't wait to check out your blogs!
If you want to see all the cookies that were baked and swapped this year, there will be a round-up posted on the cookie swap organizers' blogs on the 16th. 🙂 And if you want to participate in the swap next year, head over here to sign up for notifications.
Cranberry-Orange Christmas Jammers
Adapted from Dorie Greenspan's Beurre & Sel Jammers in Bon Appétit. Makes 34 cookies. I've simplified the method quite a bit to eliminate rolling out, chilling, and cutting the dough, instead just pressing it straight into the muffin tin (thanks to this tip). I've also increased the amount of struesel topping because I definitely ran out about three-quarters through the batch! I was going for precision with these cookies, so I weighed out the dough for each cookie, but you don't have to be that anal about it. Lastly, I would recommend using two muffin tins for baking if at all possible, unless you have a whole lot of time on your hands!
Cranberry-Orange Jam
Adapted from Epicurious. Makes about 2 cups.
Cut 1 mandarin orange (or other small, thin-skinned orange) into chunks, then toss in a blender or food processor and process until more or less smooth. The immersion blender did a not-so-great job of this – use a real blender or food processor if you've got one.
Pour the puréed orange into a large saucepan along with:
12 oz fresh or frozen cranberries (about 3 cups)
1 cup granulated white sugar
1 cup water (I'm pretty sure I forgot to add this, so my jam was extra thick)
1 cinnamon stick
Bring to a boil over medium heat, then reduce the heat and simmer. Mash the cranberries with a fork or potato masher to make a chunky jam. Cook until the jam thickens, which shouldn't take long thanks to all the pectin in the cranberries. Remove the cinnamon stick and pour the jam into a bowl or jar and allow to cool before proceeding with the cookie recipe. Leftovers should be refrigerated in an airtight container and enjoyed on toast.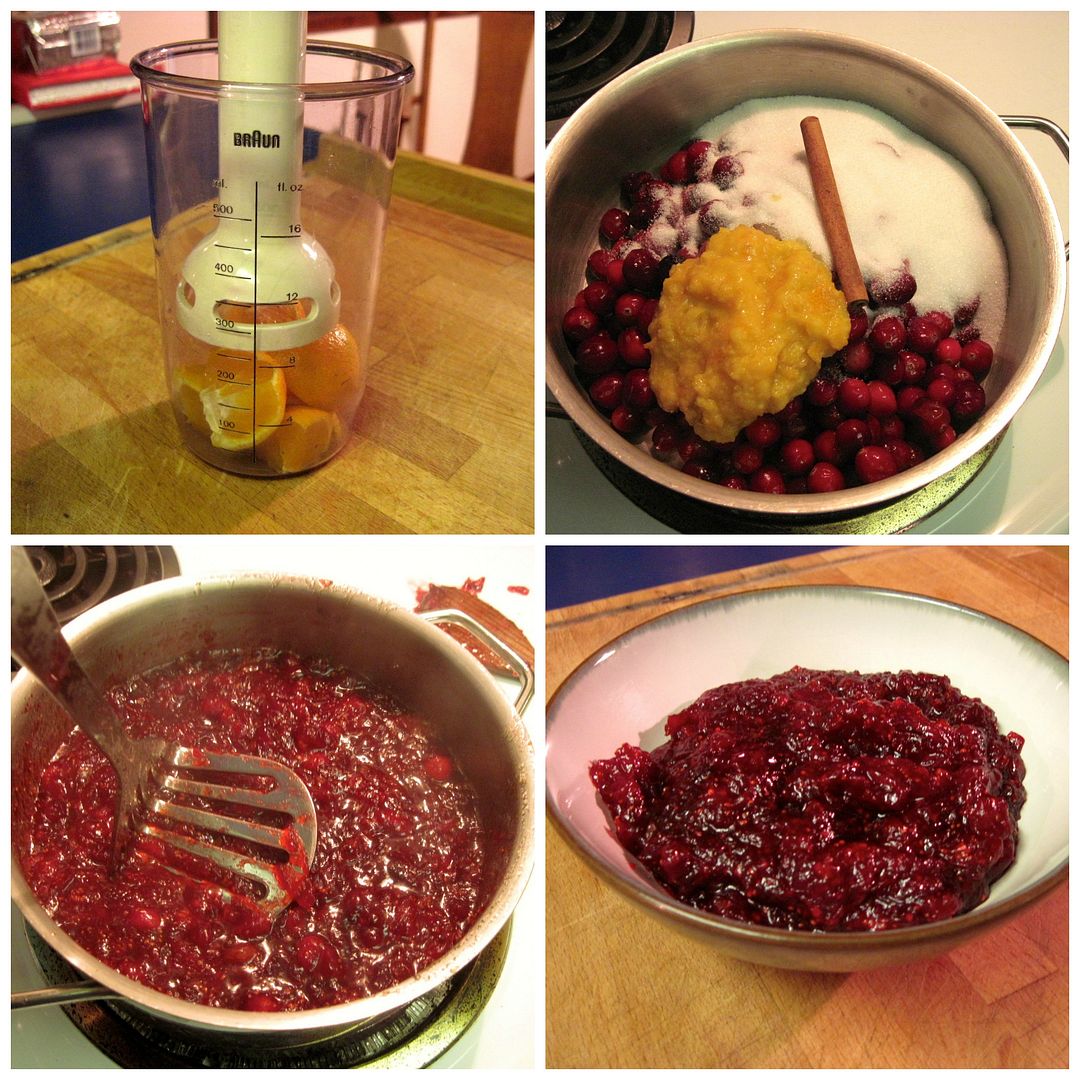 Brown Sugar-Cinnamon Struesel
In a medium bowl, mix together:
1 cup + 2 tbsp all purpose flour
1/4 cup granulated white sugar
1/4 cup packed brown sugar
1/2 tsp ground cinnamon
scant 1/2  tsp fine sea salt
Add:
8 tbsp chilled unsalted butter, diced small
scant 1/2 tsp vanilla extract
Rub the butter and vanilla into the flour mixture until very well incorporated – it should be in small clumps. Refrigerate the struesel while you make the dough, then run a fork through the struesel to break it into small clumps.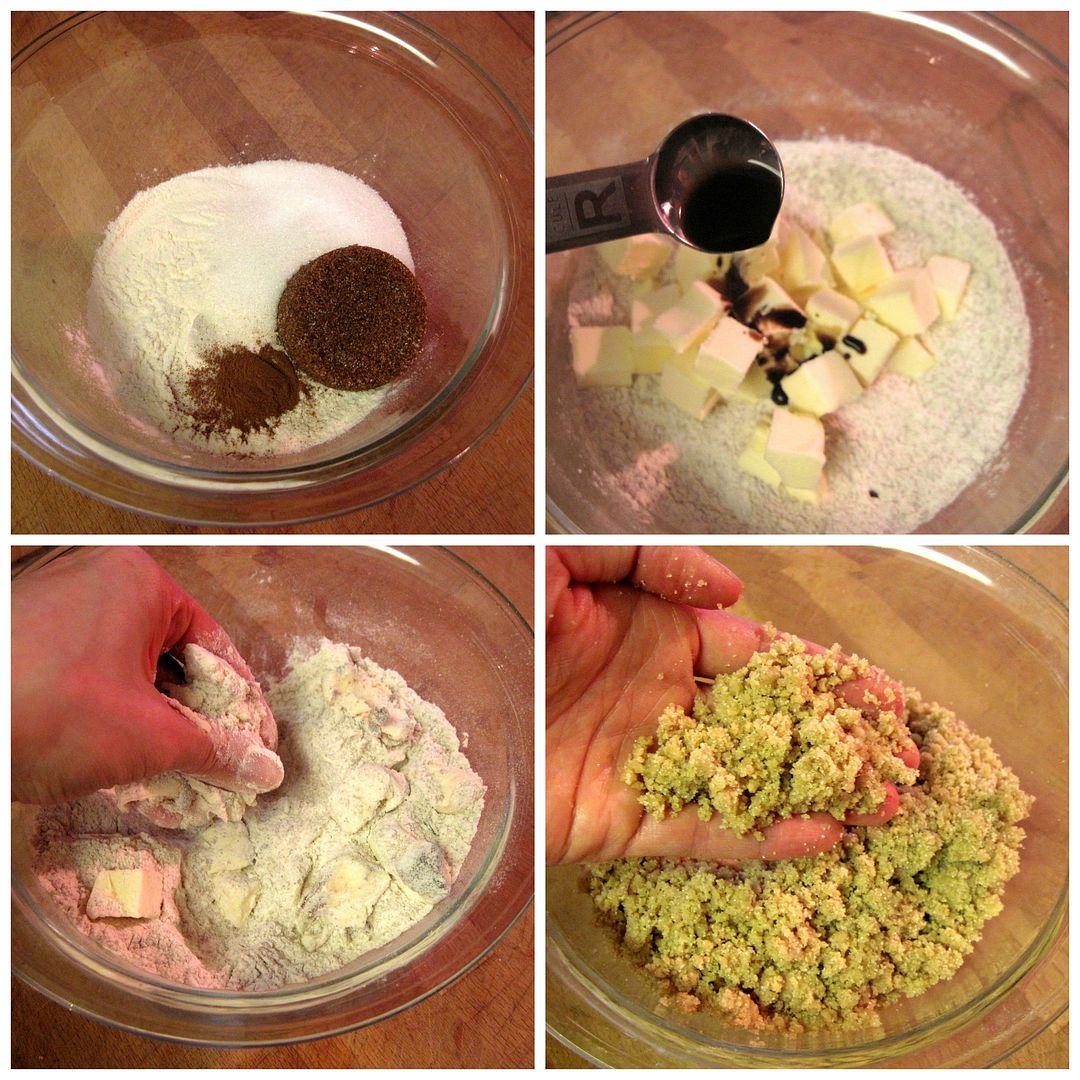 Cookie Dough
Preheat the oven to 350˚F.
In the bowl of an electric mixer with the paddle attachment, beat 1 cup room temperature unsalted butter on medium speed until very smooth and creamy. Add:
1/2 cup granulated white sugar
1/4 cup powdered sugar, sifted
1/2 tsp fine sea salt
Beat until well blended, scraping down the sides of the bowl with a spatula, then beat in:
2 large egg yolks, at room temperature
2 tsp vanilla extract
Once combined, stir in 2 cups all purpose flour and mix until just incorporated.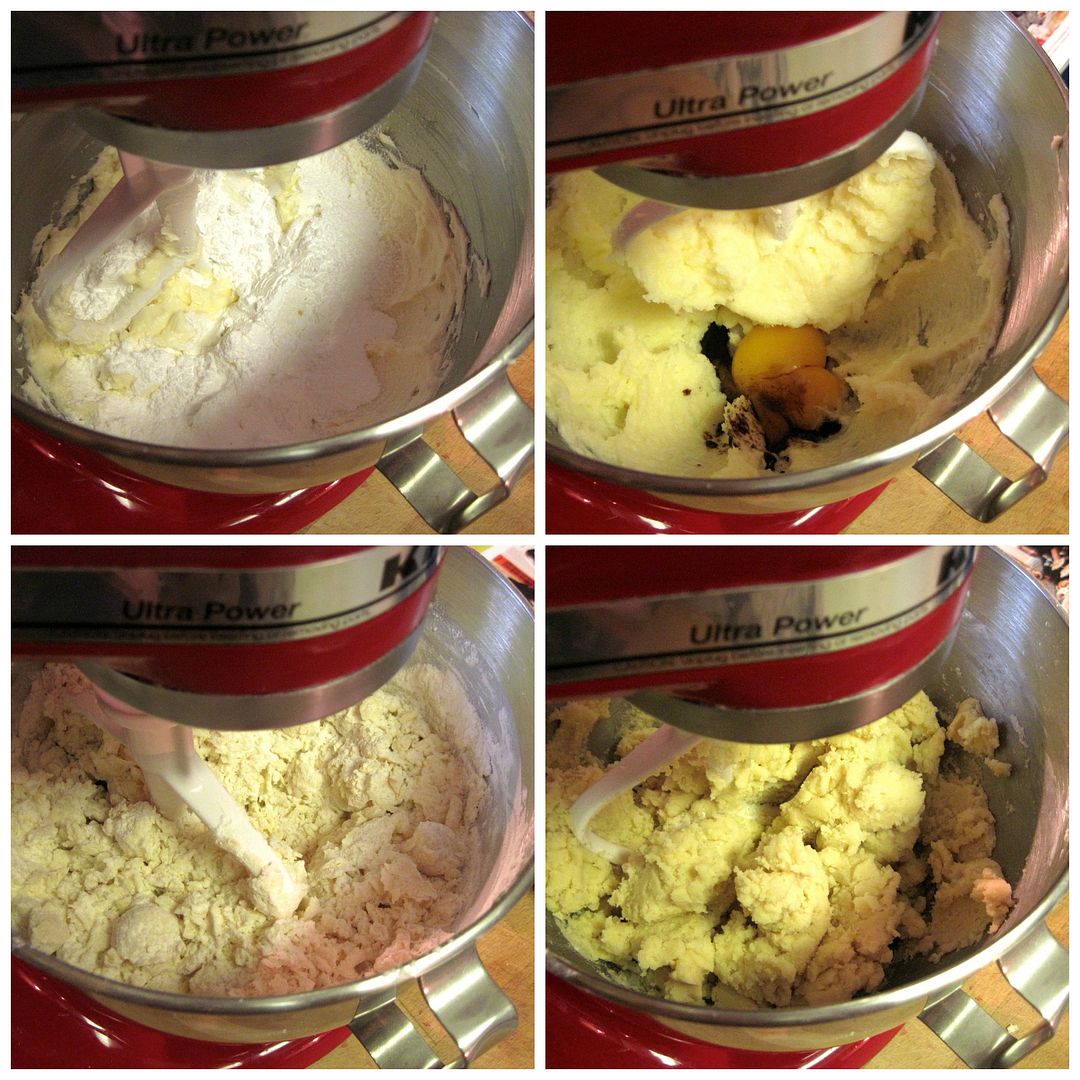 To assemble, evenly press a walnut-sized knob of dough (20 grams if you're being precise about it) into the bottom of each muffin cup. Chill the the freezer for about 10 minutes until firm. Top each disc of dough with 1 tsp cranberry-orange jam (you'll need a generous 1 cup total), then sprinkle 1 tbsp brown sugar-cinnamon struesel around the edge of each cookie without covering the jam.
Bake in the preheated 350˚F oven for 20 – 25 minutes, until golden around the edges. Let cool for 15 minutes in the muffin tins before trying to remove (trust me!). Run a knife around the edge of the cookies and pop them out to cool completely on a rack. Store in an airtight container at room temperature.