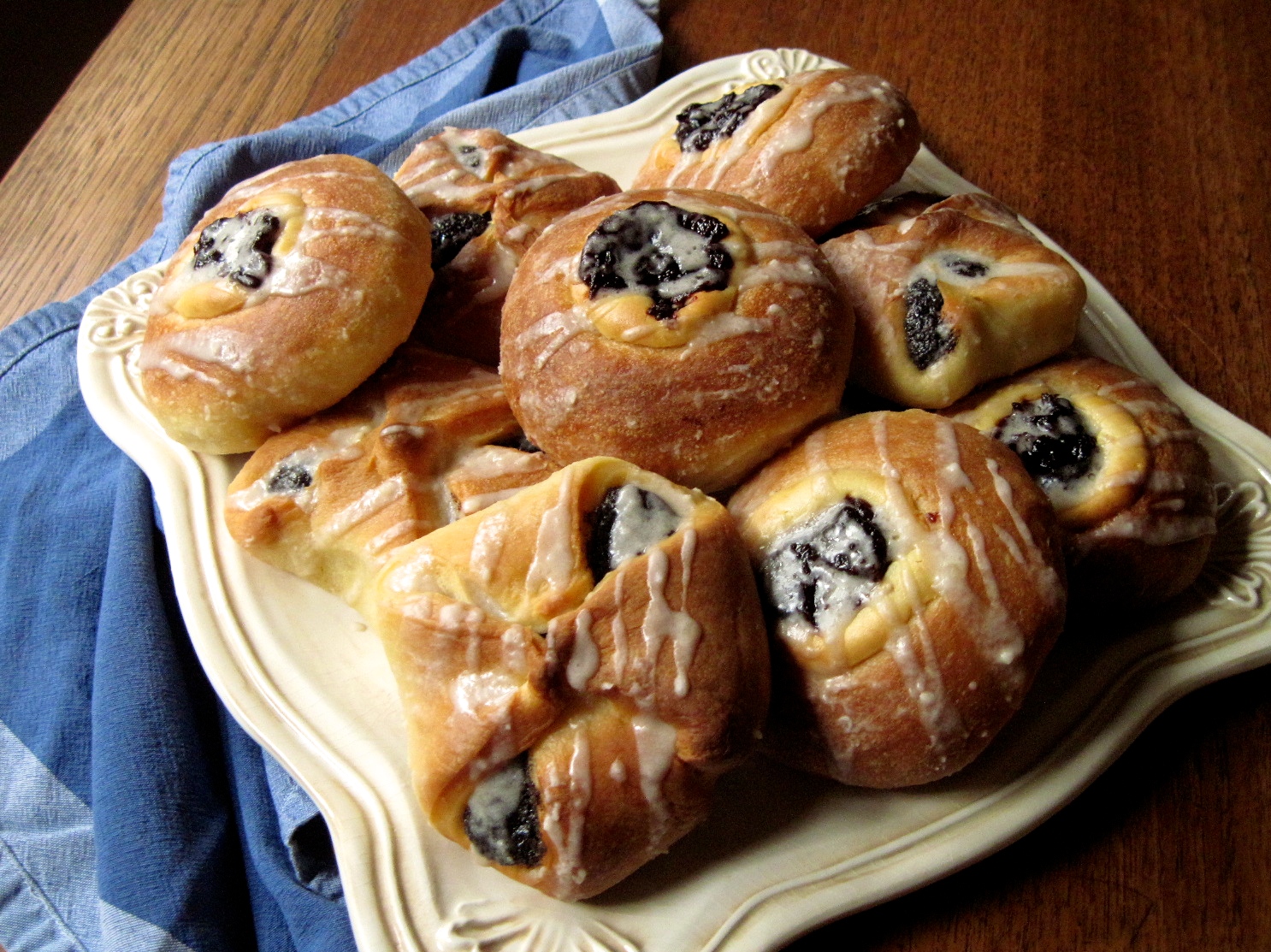 I'd never heard of a kolache until I saw a recipe posted on the Homesick Texan blog for strawberry cream cheese kolaches (written in response to the awful explosion in West, Texas) with an interesting back story of how this Czech pastry got so popular there. Apparently lots of Czech immigrants settled in the "Czech Belt" of central and south-central Texas, and now the kolache – a yeasted pastry usually with a fruit filling, sort of like a danish but without the laminated dough – has become widely available at bakeries, gas stations, and truck stops and is synonymous with road trips for many Texans. Like the doughnut and the cupcake, it is gaining popularity outside of Texas as well with unique, artisan interpretations both sweet and savoury.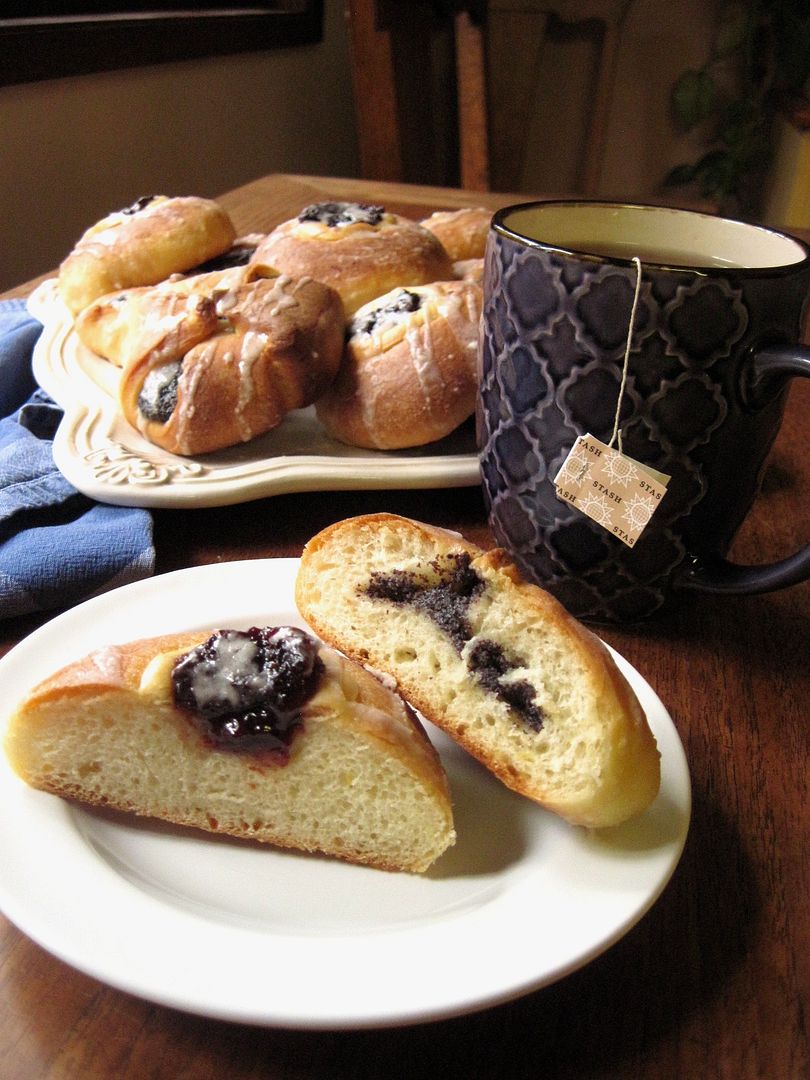 Kolaches were chosen as this month's Sourdough Surprises project, and despite their growing popularity, there were zero sourdough kolache recipes to be found. Now that the Sourdough Surprise bakers have tackled it, however, there will be dozens of sourdough varieties to choose from. I went searching for "the best" recipe I could find, and came up with Claudia Matcek's State Grand Champion Poppy Seed Kolaches, winner of the 1987 Texas State and Burleson County Championship as well as the 1996 Burleson County Grand Championship. How's that for best recipe? (Also: kolaches are a big enough deal in Texas that they have their own festivals and championship baking contests! How's that for awesome?!)
I halved Claudia's recipe, converted it to grams, converted it to sourdough, and took some inspiration from Simply Recipes' kolaches by adding lemon and nutmeg to the dough. If you do a Google image search for kolaches, most of what you will see are rings of dough around a sweet filling, but a few of them are shaped as little square packages with the corners pinched into the middle. I made a half-batch of rings filled with candied orange-cream cheese and cinnamon-plum jam, and the other half-batch of squares with a traditional poppy seed filling. They are both really good, but I think I prefer the cream cheese/plum jam combo for the tartness of the jam. One important note about the filling is that if you are using jam, it should be quite firm – runny jam will just spill out during baking.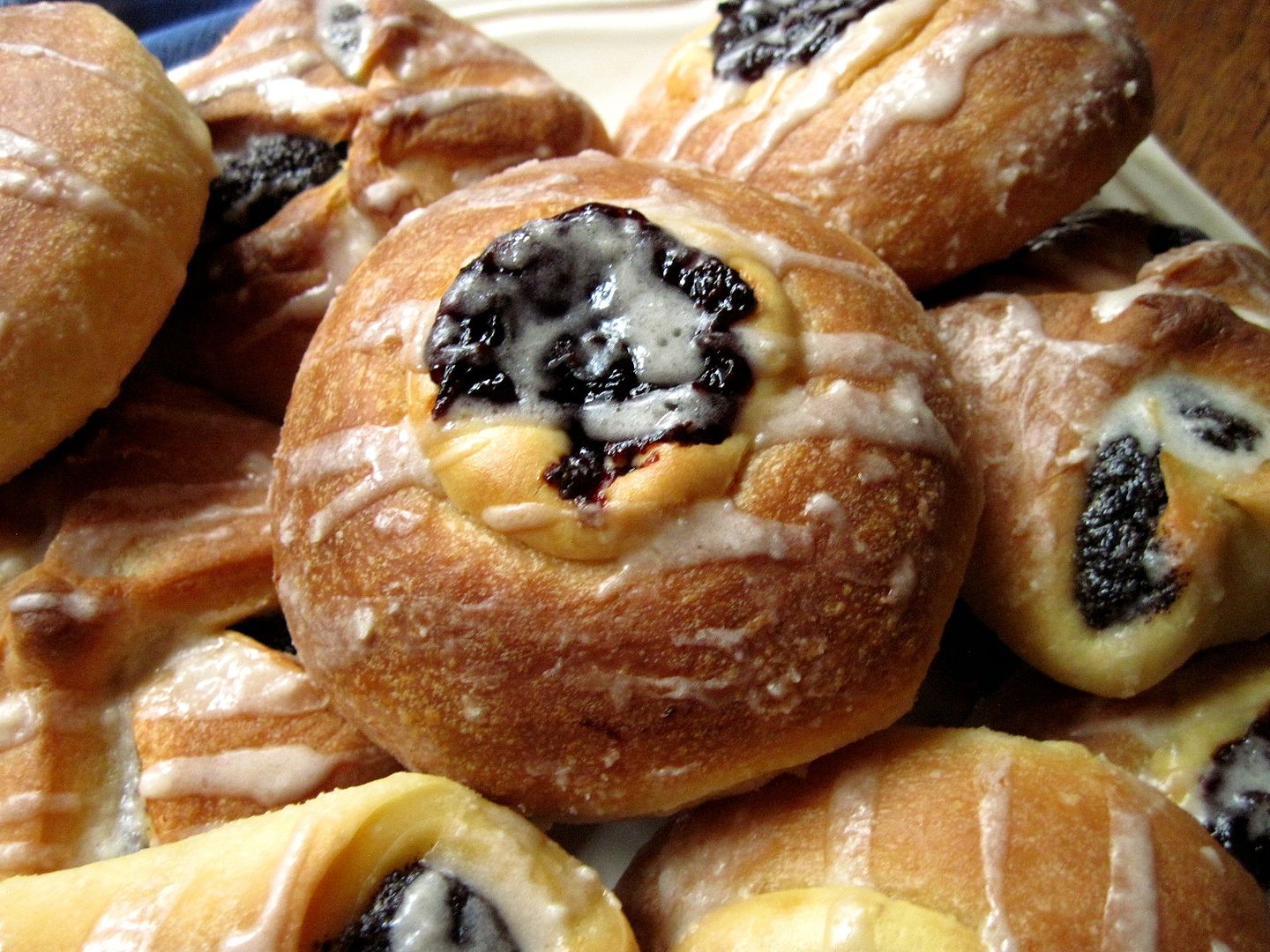 My kolaches came out a little bit denser than I imagine they should be, so don't add too much flour and give them plenty of time to proof properly. The pastry itself doesn't taste strongly of sourdough, but it has that mature, rich flavour that comes from a natural leaven. I took an entire weekend to make these kolaches – mixed the dough up on Saturday evening, let it rise/bulk ferment overnight, shaped it Sunday morning, and then left it to proof for a few more hours before baking. My kitchen is on the chilly side (especially in November) and I'm sure that you could make this process happen much faster if you had a warm spot to put the dough – but remember that when working with yeast (commercial or naturally-occurring), time equals flavour!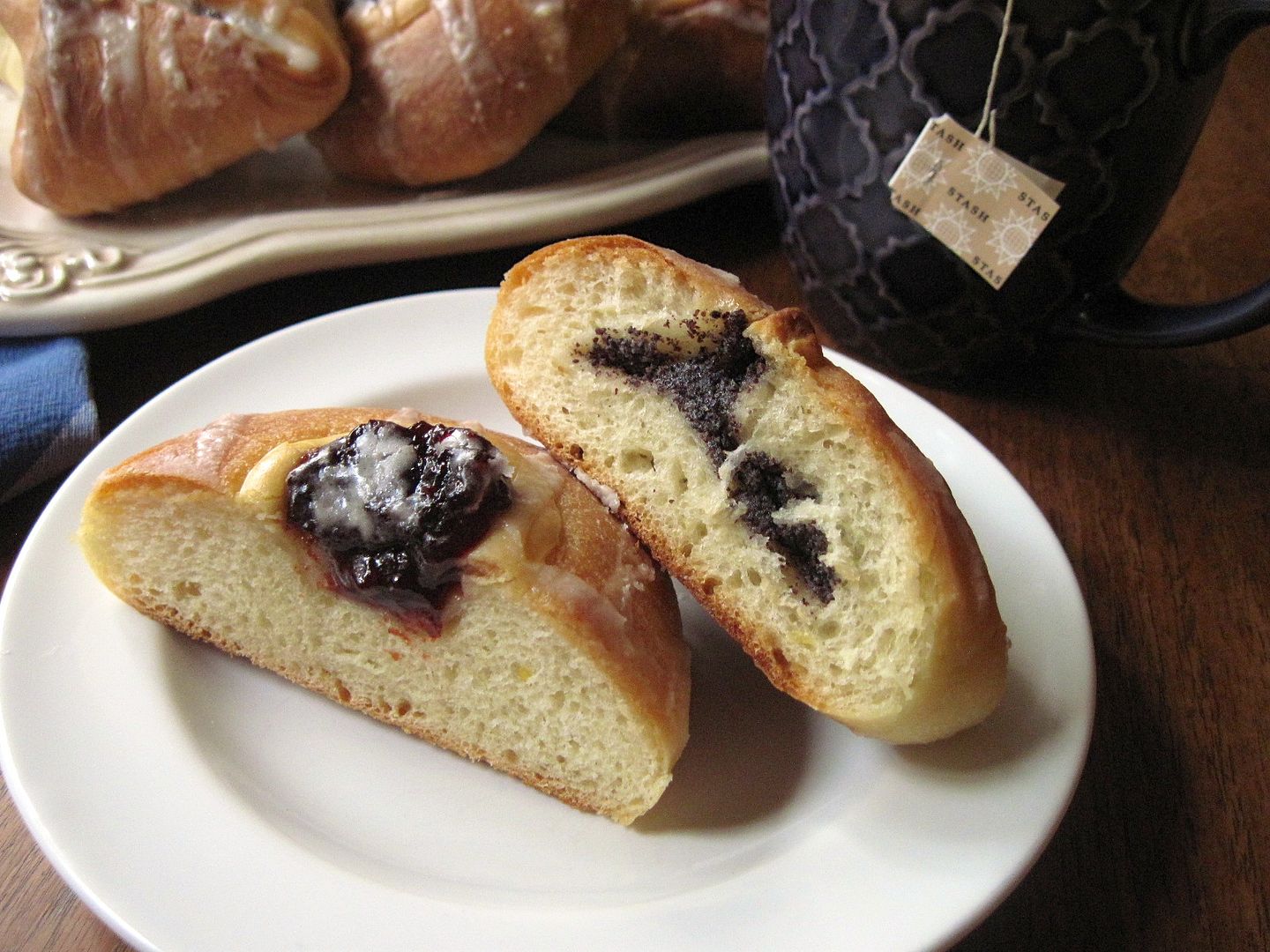 Thanks Robyn for suggesting kolaches as this month's project – it's always fun to learn about a new kind of food. 🙂 Check out the link below for a gallery of sourdough kolaches made by the Sourdough Surprisers this month.

Sourdough Kolaches
Heavily adapted from Claudia Matcek's State Grand Champion Poppy Seed Kolaches. Makes 12 pastries.
Dough
in a small pan, heat 215 grams milk until almost boiling. Remove from the heat and stir in:
60 grams butter
50 grams granulated white sugar
Set aside until cooled to lukewarm, then pour into the bowl of an electric mixer along with 125 grams mature sourdough starter.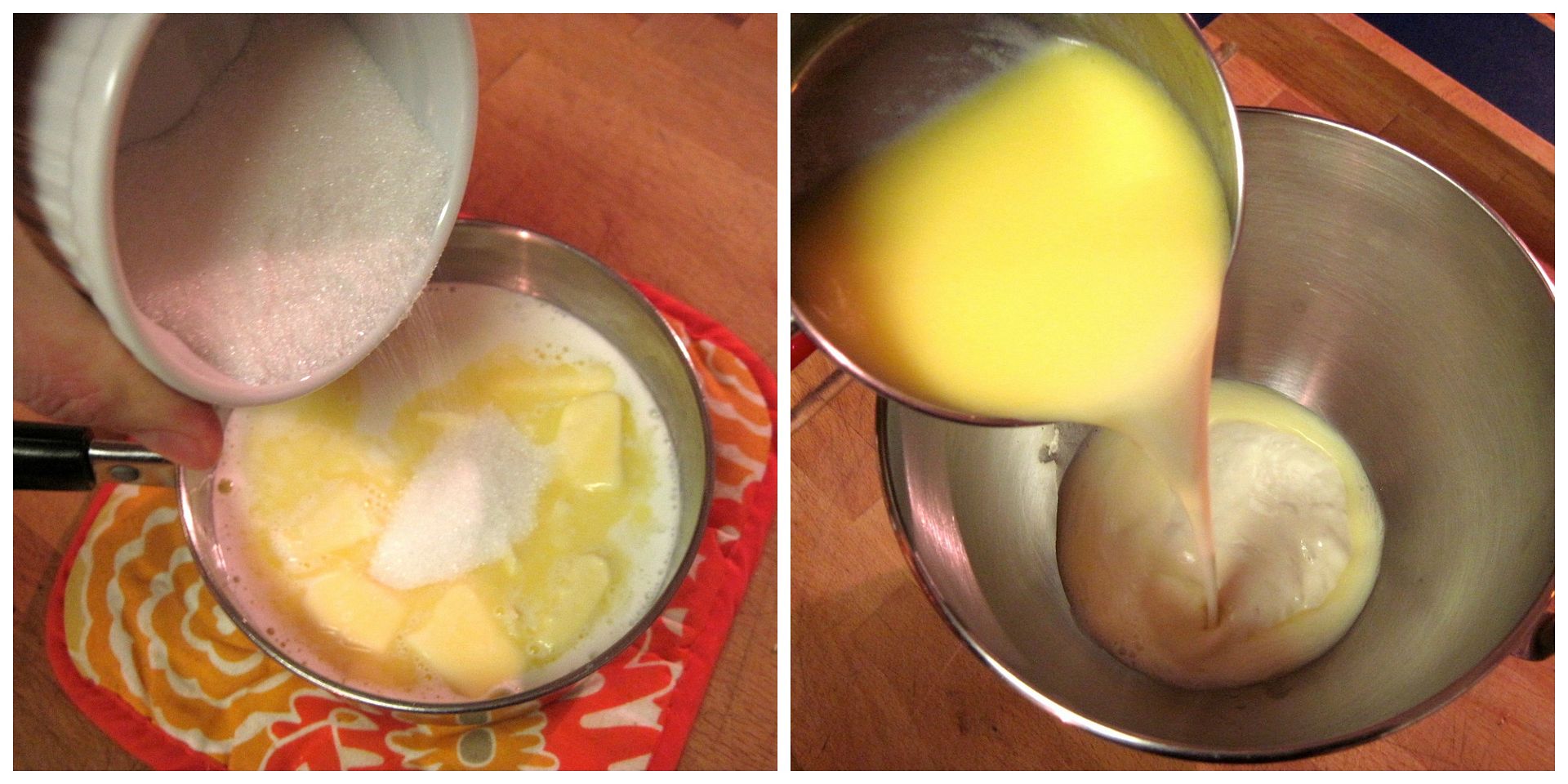 Stir to dissolve the starter, then add:
330 grams all purpose flour
1 egg yolk
3 grams / 1/2 tsp salt
1/2 tsp vanilla extract
gated zest from 1/2 a lemon
1/4 tsp grated nutmeg
Mix with the dough hook on low speed to combine into a shaggy dough, then gradually add up to 65 grams all purpose flour to get a soft dough that cleans the sides of the bowl. You might not need all of the extra flour.
Knead on medium speed until the dough is smooth, soft and stretchy, but not overly sticky (about 10 minutes).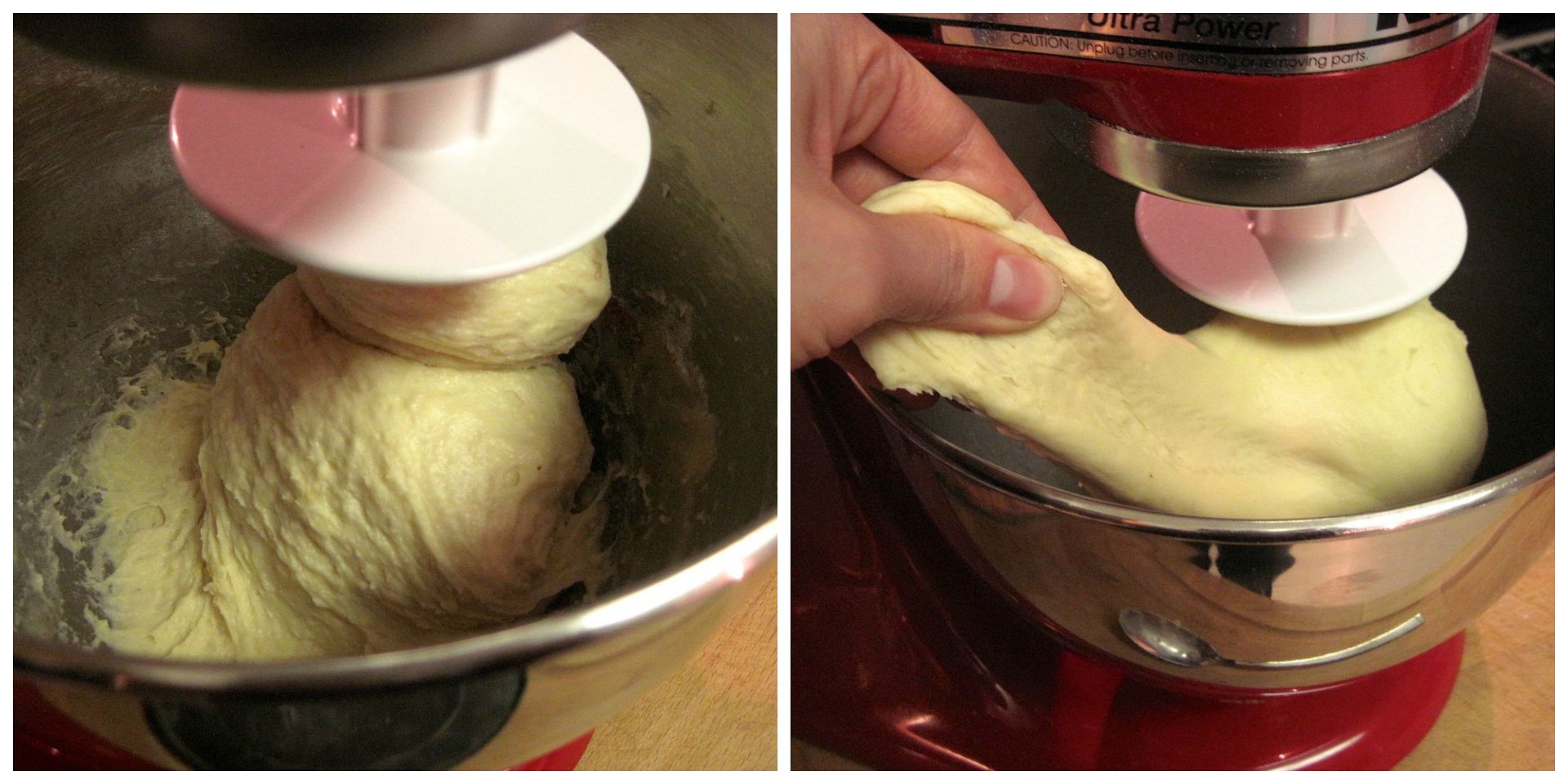 Place the dough in a buttered bowl, cover with plastic wrap, and let rise until doubled. This can take place overnight at a cool room temperature or in the fridge, or probably 2 – 3 hours in a warm place, depending on the strength of your starter.
Once the dough is risen, scrape it out of the bowl onto a lightly floured surface, flatten it down to re-distribute the yeasts, and divide it in half. Have about 1/3 cup melted butter at hand.
To make square kolache parcels, roll each half of the dough into a 12″ x 8″ rectangle. Cut into six 4″ squares. Place 1 tbsp of the filling of your choice (see below) in the middle, then bring the 4 corner of the square into the middle and pinch to seal. Brush with melted butter, cover with plastic wrap, and and let proof until the dough springs back slowly when poked (at least 1 hour in a warm place – this took closer to 3 hours in my cold kitchen!).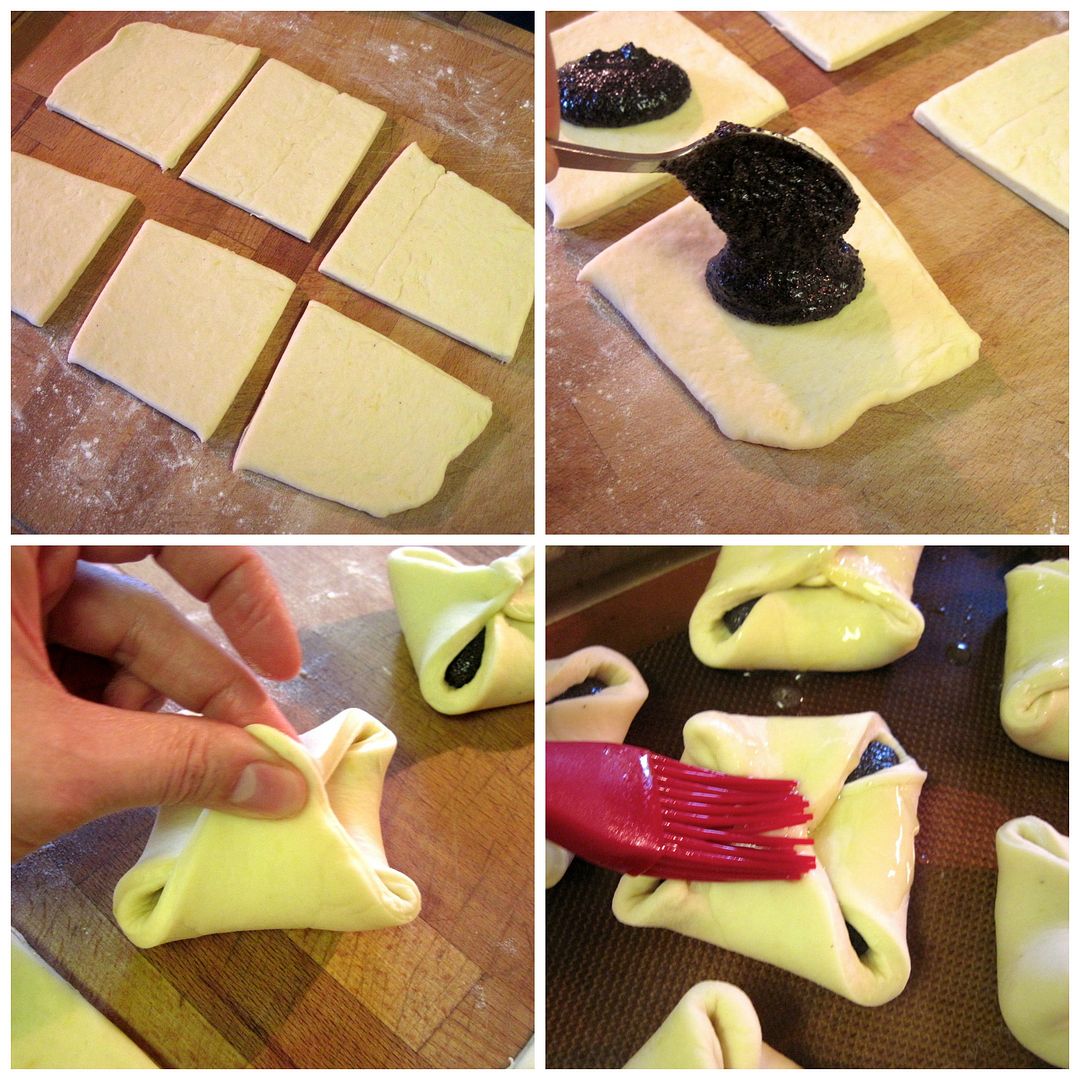 To make kolache rings, divide each half of the dough into 6 pieces. Roll each into a ball, then flatten each ball into a 3-inch round disc. Place on a lined baking pan, brush with melted butter, cover with plastic, and proof as above. When proofed, use your finger to make an indent in the middle of each disc, leaving a 1/2″ ring around the edge. Fill with 1 tbsp of the filling of your choice (see below).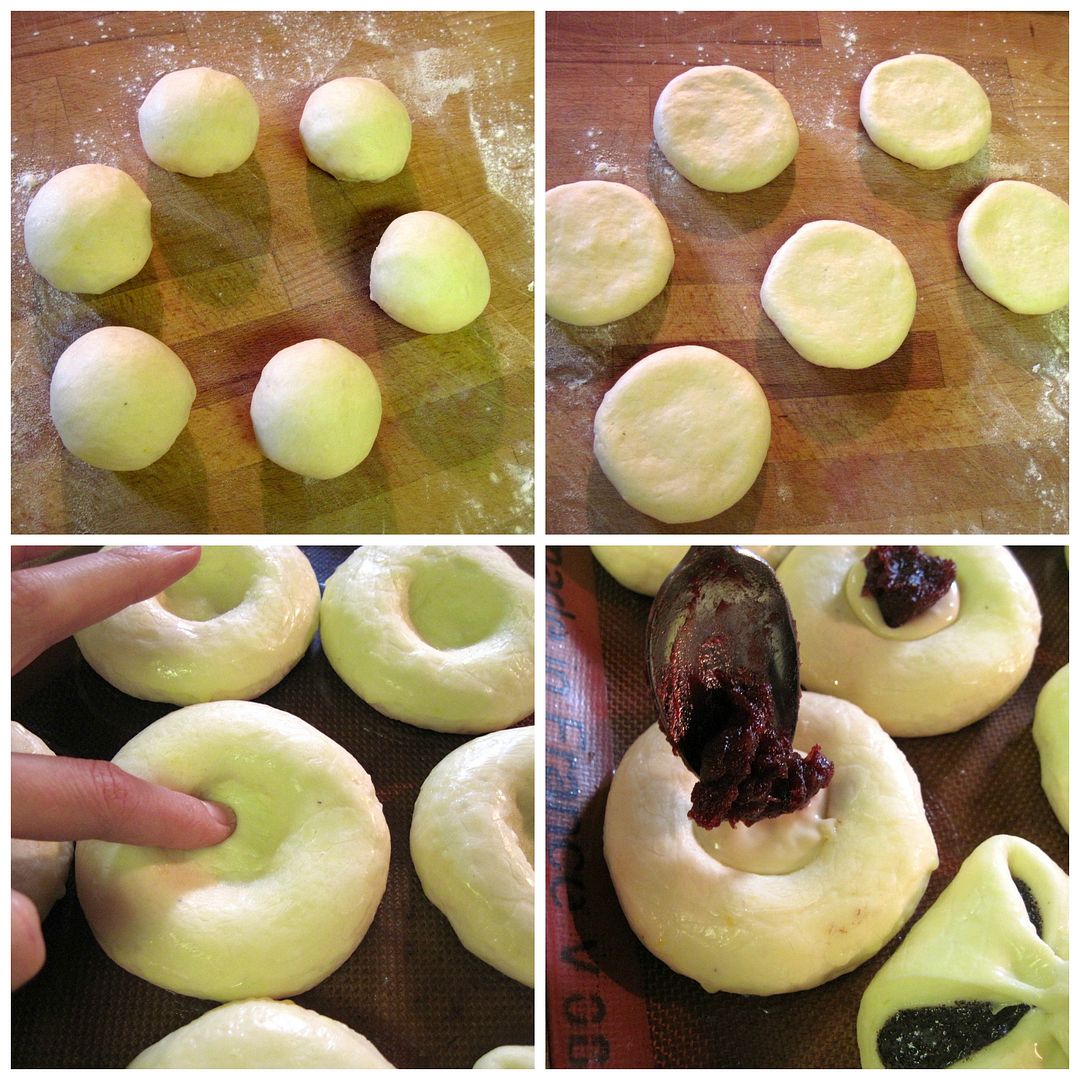 To bake, preheat the oven to 350˚F. Bake the proofed, filled kolaches for about 25 – 35 minutes, until puffed and golden brown. Place on a rack to cool and brush with the remaining melted butter. Drizzle with glaze, if desired.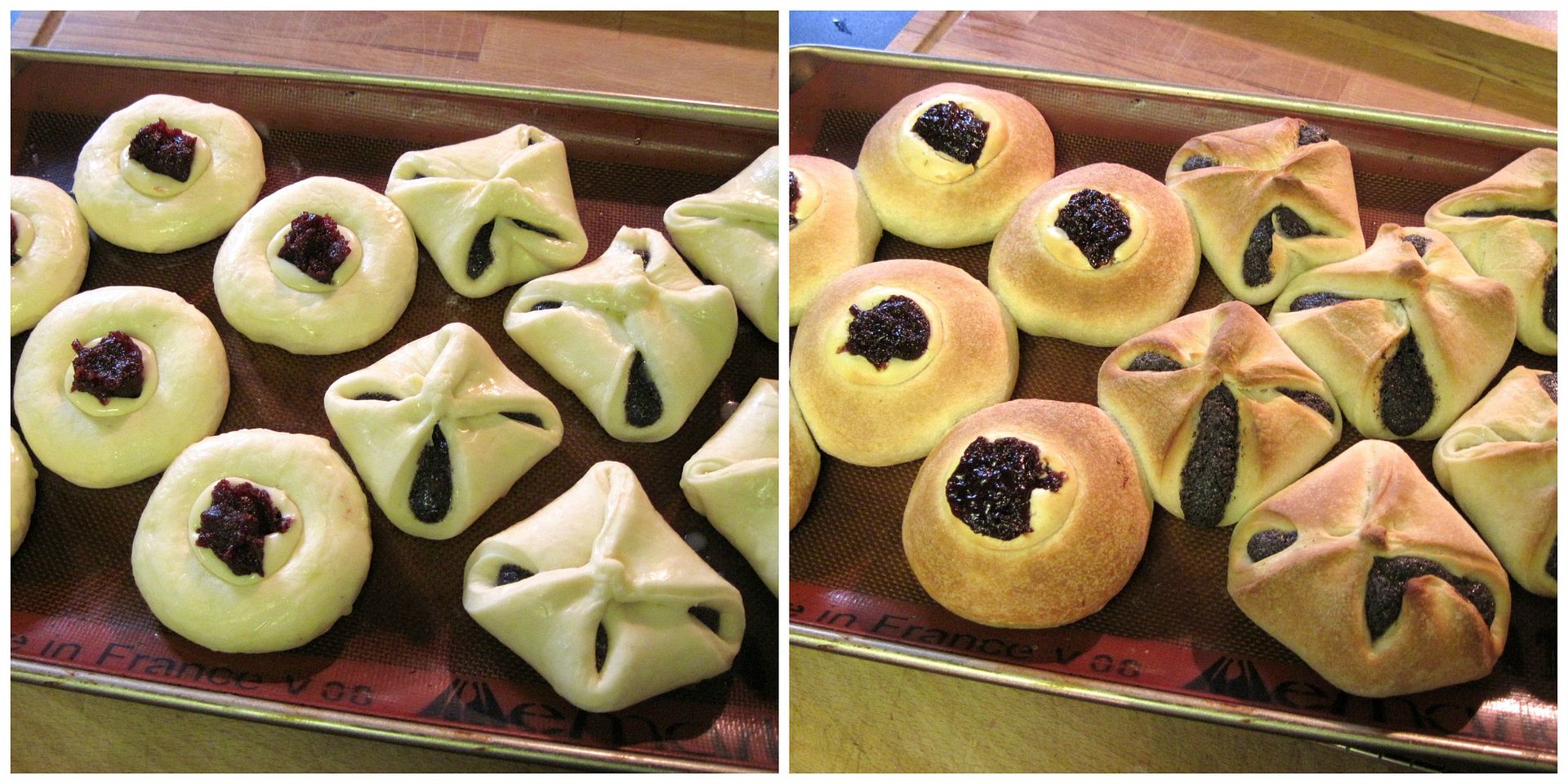 Glaze
In a bowl, mix together:
3/4 cups icing sugar
1 tbsp melted butter
1/4 tsp vanilla extract
Add 1 – 1 1/2 tbsp milk to make a runny icing with the desired consistency, then drizzle over the kolaches and let set for a few minutes.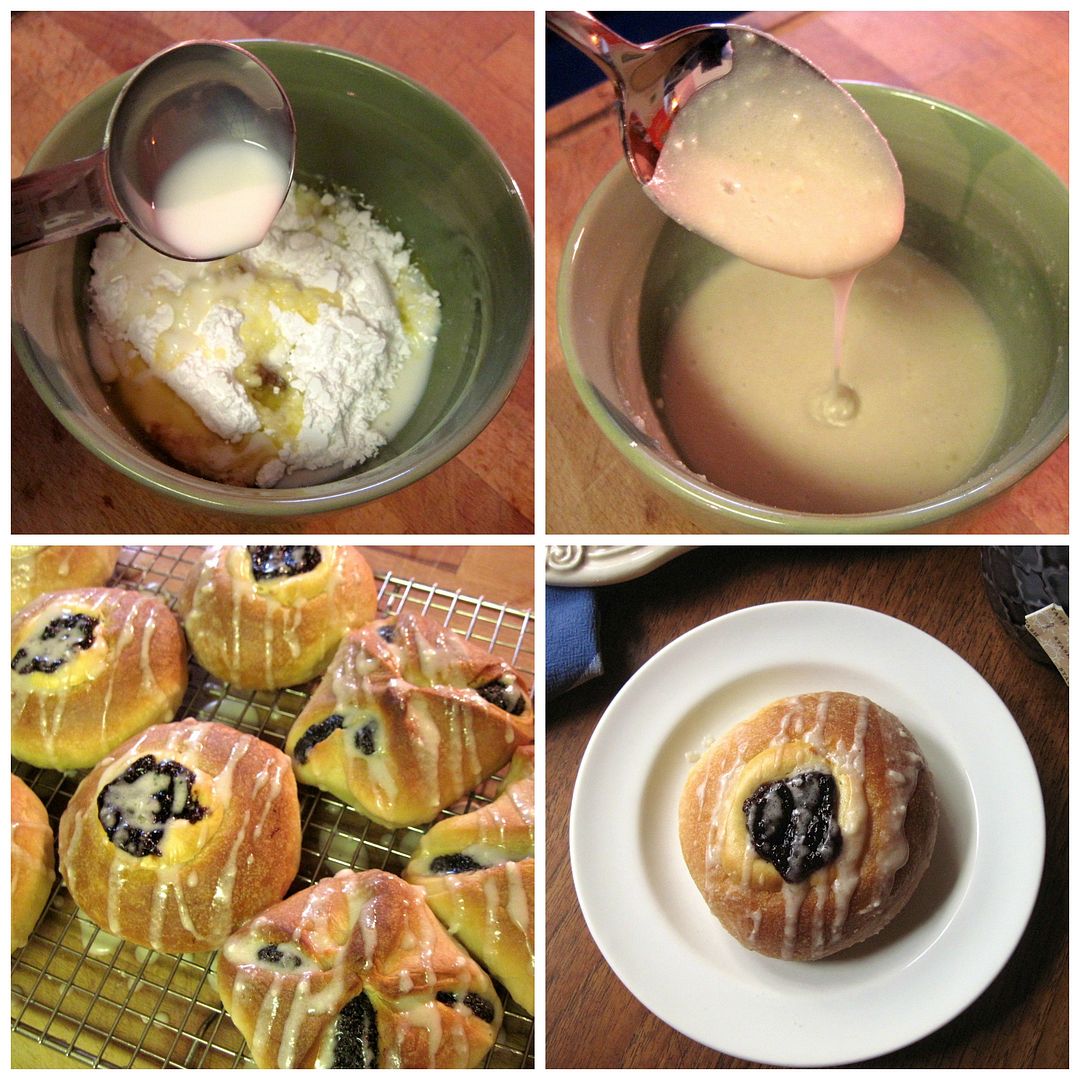 Poppy Seed Filling
For better flavour, next time I'd replace the sugar with honey, adding it directly the milk instead of mixing it with the poppy seeds first. Makes enough to fill 12 kolaches.
In a small bowl mix together:
6 tbsp poppy seeds, ground in a food processor (I used a coffee grinder for this)
1 tsp all purpose flour
1 1/2 tbsp granulated white sugar
pinch salt
Bring 1/2 cup milk to a boil in a small saucepan then whisk in the poppy seed mixture and continue boiling until thick. Remove from the heat and add:
1/2 tsp vanilla
1/2 tsp unsalted butter
Let cool completely before using to fill the kolaches.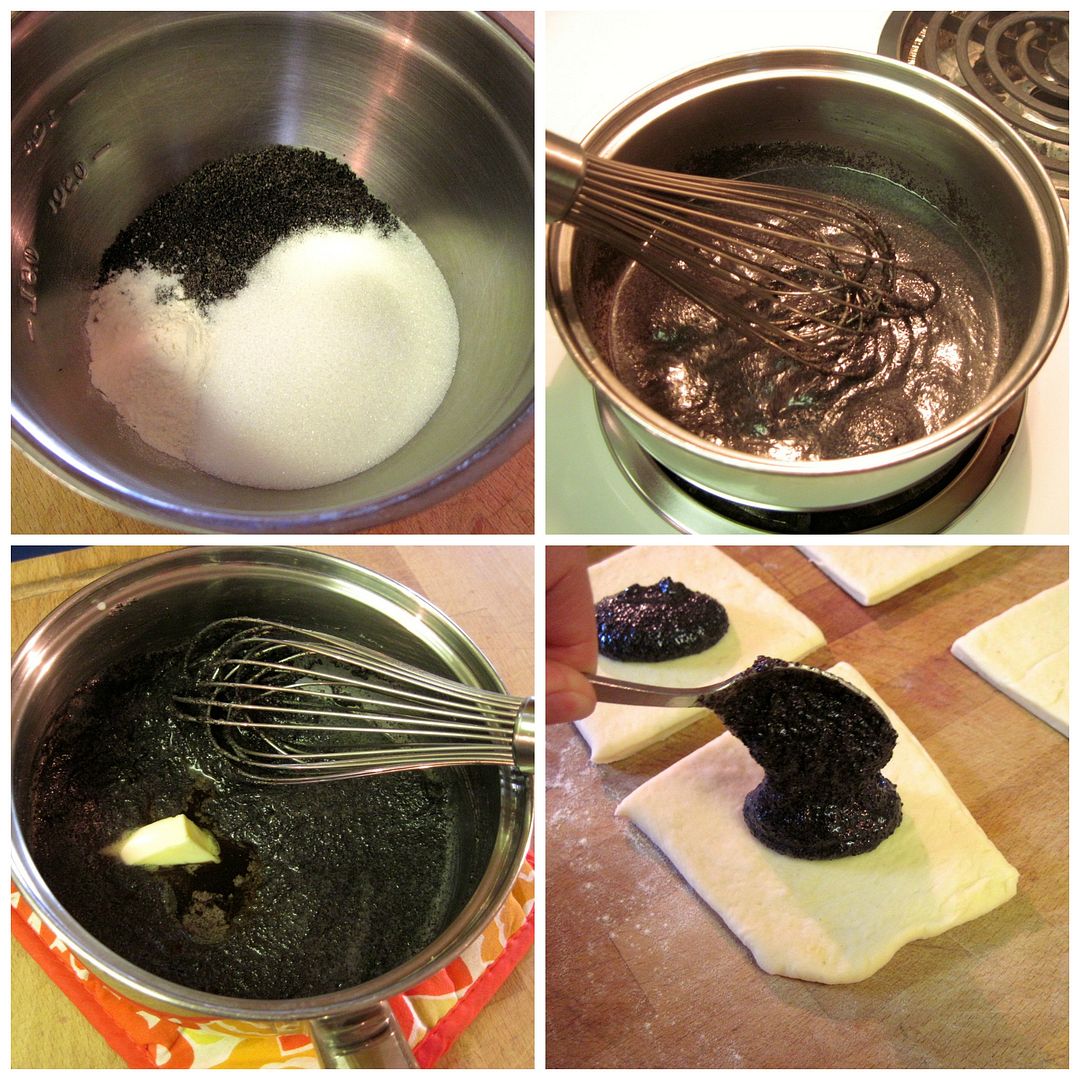 Cream Cheese and Jam Filling
Adapted from Homesick Texan. Makes enough to fill 12 kolaches.
In a medium bowl, cream together:
4 oz spreadable cream cheese, at room temperature
2 tbsp granulated white sugar
When the cream cheese is light and fluffy, add:
1 1/2 tbsp all purpose flour
1 egg yolk
1/4 tsp vanilla extract
optional: 1 tbsp candied orange peel or 1/2 tsp grated citrus zest
Mix together until well combined. To fill the kolaches, you will also need about 1/4 cup of firmly set jam. Place 1 heaped tsp of the cream cheese filling in the middle of each kolache and top with 1 heaped tsp of jam.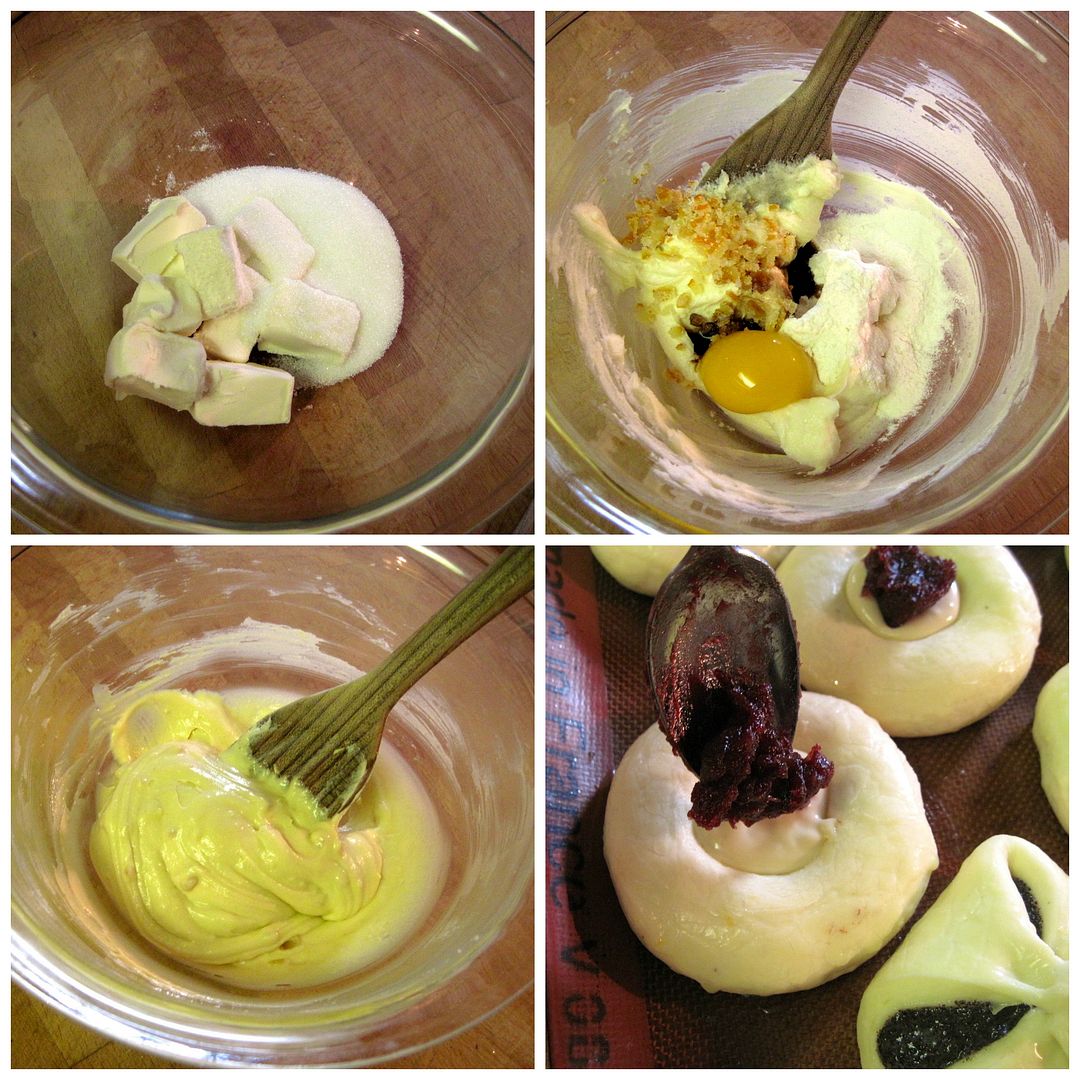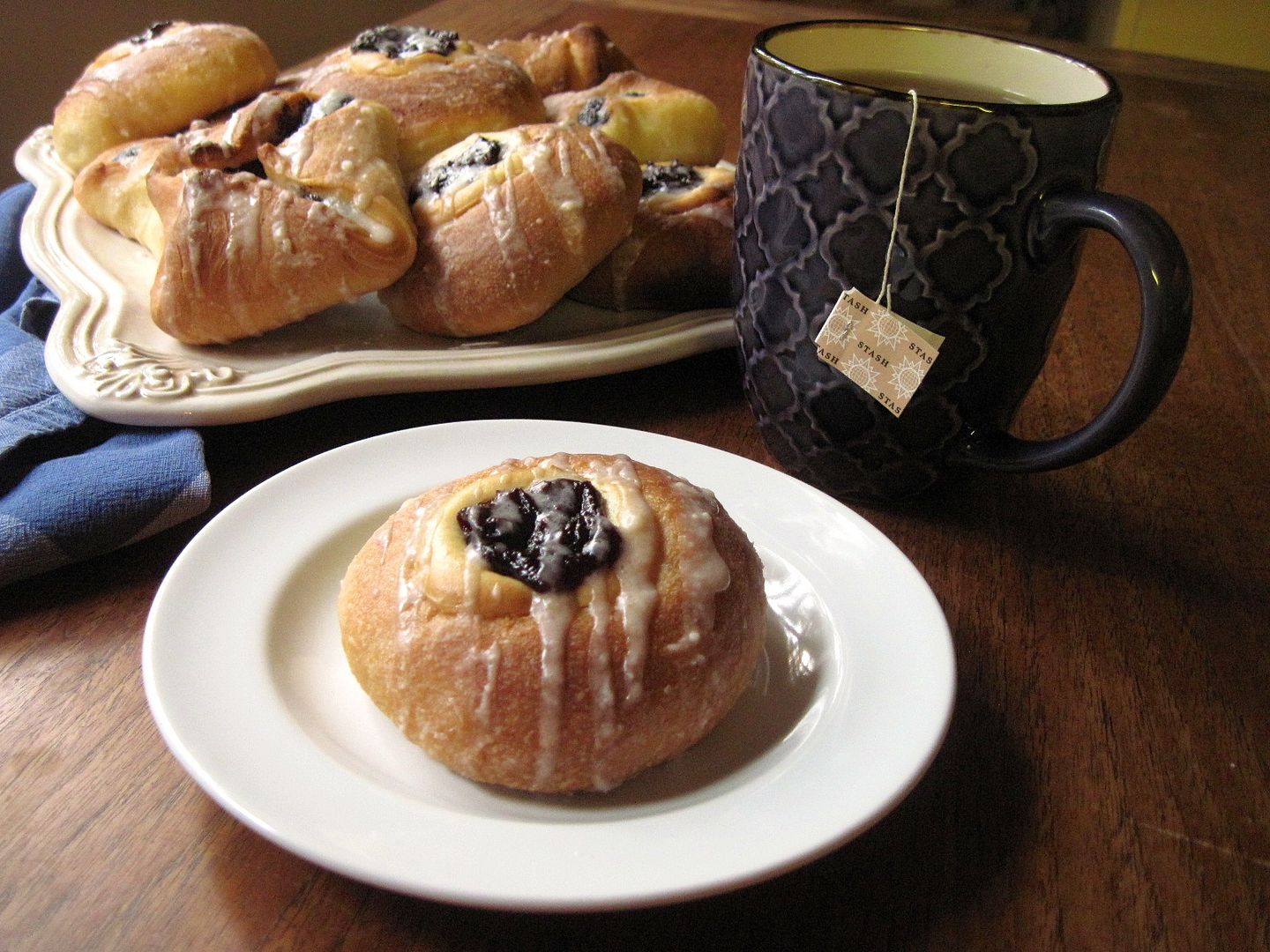 This post has been YeastSpotted  and submitted to Barbara and Sandra at Panissimo, hosted this month by Michela.