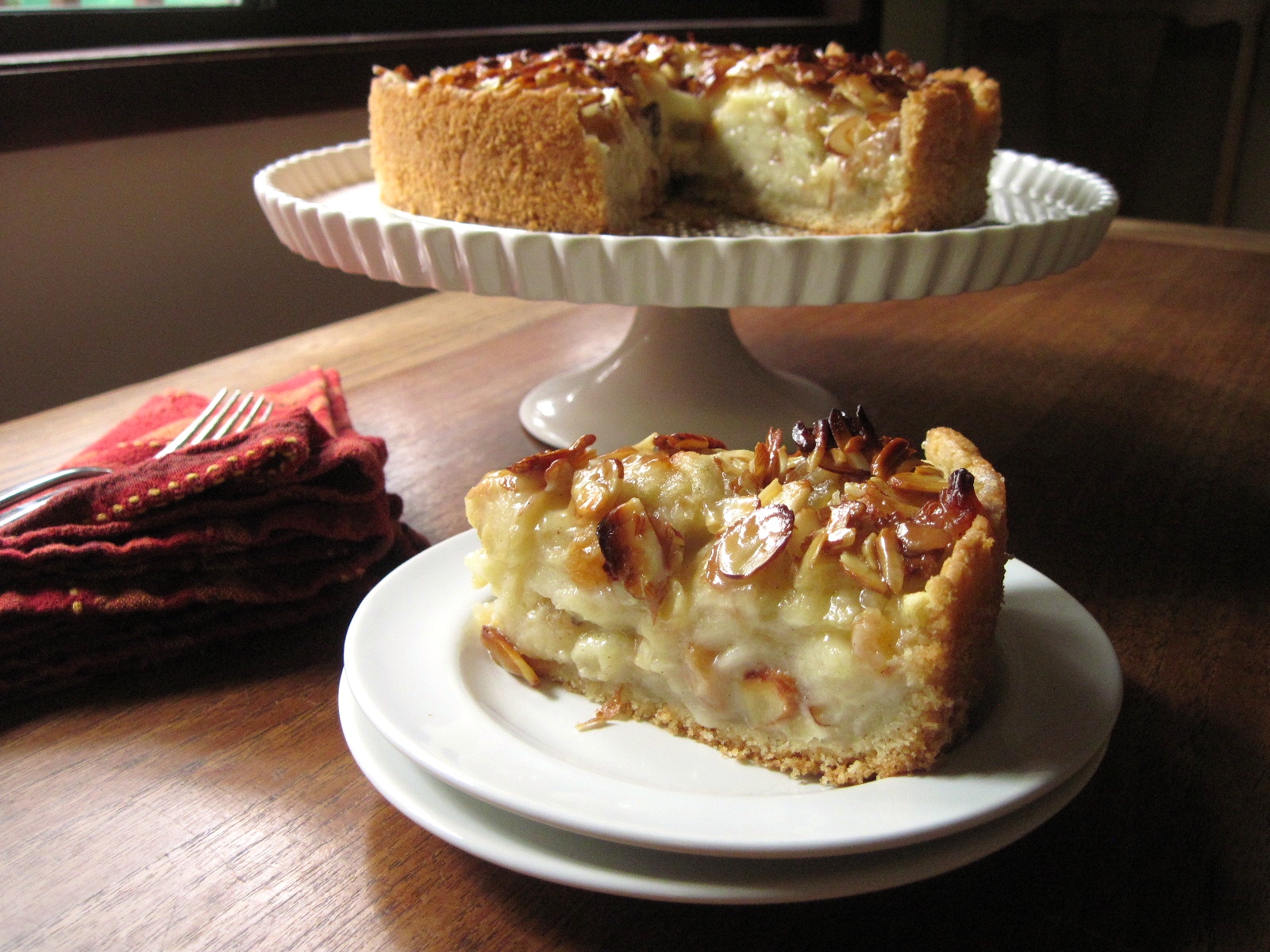 The Canadian Food Experience Project began June 7, 2013. As we share our collective stories through our regional food experiences, we hope to bring global clarity to our Canadian culinary identity. Visit Valerie's blog, A Canadian Foodie, on the 15th for a round-up of this month's posts.
As usual, I'm a few days late with this month's Canadian Food Experience Project post… but it's because I wanted to get this recipe right before sharing it. This month, Valerie has asked us to talk about the Canadian harvest and what it means in our lives. For me, the harvest means apples. For as long as I can remember, autumn has brought with it falling leaves and a large box of apples sitting in one corner of the kitchen, perfuming the house with their sweet-tart scent, until either my Mum finally got around to making apple sauce or apple crisps, or I baked them into pies. When I was young, the apples came from my grandparents' trees, and in more recent years they came from friends of my parents. This year, I scored some truly gigantic Bramley apples from a co-worker's trees.
The apple in Canada has a long and important history, much like the apple in the USA (which is a seriously fascinating story: did you know that Johnny Appleseed was a real person?) While the Pilgrims introduced the apple to the States, the apple was brought to Canada by Samuel de Champlain and the French when they came over to colonize New France in the early 17th century. Because these settlers came from overcrowded countries where drinking apple cider was often safer than drinking water, apple orchards were planted on farms to keep up with the demand for cider. In 1811 on his farm in Upper Canada, John McIntosh discovered a certain variety of apple that he named the McIntosh apple. The McIntosh was so widely cultivated and became so popular that in 1984, when Apple Computers introduced their new home computer, they called it the Macintosh after the Canadian McIntosh apple. See? Important history!

This year, rather than my favorite apple pie, I decided to try something new with my apple windfall. I've had my eye on the apple and almond tart in the Whitewater Cooks with Friends cookbook for over a year now, and I finally took the opportunity to make it. I made it twice, and the second time I tweaked the method quite a bit and re-jigged the ingredient ratios sufficiently so that I think I can call this "my own" recipe, but credit is due for the inspiration. This tart has a crumbly, cookie-like crust plus a layer of sweet almond paste under a filling of sliced apples, scented with vanilla and lemon and studded with raisins, all topped off with a honey-almond topping. It is simply delicious: a little fancier than apple pie, but still extremely comforting and perfect for fall.
Harvest Apple and Almond Tart
Adapted heavily from Whitewater Cooks with Friends by Shelley Adams. Makes one 9" round tart, about 8 servings.
Almond Paste
Makes 1 1/2 cups, which is twice the amount needed for the tart. Wrap the remainder in plastic and freeze for the next time you make this tart.
In the bowl of a food processor, process a heaping 1 1/2 cups blanched, slivered almonds until finely ground (or just use 1 1/2 cups ground almonds). Add 1 1/2 cups icing sugar and pulse to remove any lumps. Add:
1 egg white
1 tsp almond extract
pinch salt
Process until it starts to clumps together. Gather the almond paste into a ball and divide it in half. One half (3/4 cup) will be used for the tart, the other half can been frozen for later.
Pastry
In the bowl of a food processor, pulse to combine:
1 cup all purpose flour
¼ cup granulated white sugar
1 ½ tsp baking powder
 pinch salt
Add 1/4 cup cold unsalted butter, cubed, and pulse until the mixture resembled bread crumbs.
Whisk together:
1 egg
1 tsp vanilla bean paste, or vanilla extract, or the seeds scraped from ½ a vanilla bean
Pour the egg mixture over the flour mixture and pulse until it begins to clump together into a dough. Turn out onto a lightly floured surface and knead gently to gather into a ball. Wrap the pastry in plastic wrap and chill for a few hours or overnight. (If you haven't already, now is a good time to make the almond paste.)
Preheat the oven to 400˚F. Roll the chilled pastry into an 11-inch circle between two floured pieces of waxed paper. This a very sticky, delicate dough, so both waxed paper and flour are necessary. I peeled off the waxed paper every so often and sprinkled the dough with more flour, just to make sure it didn't stick.
Line a 9-inch springform pan with the pastry, pressing it about 1 1/2 inches up the sides. This is a delicate job, so don't be frustrated if the pastry tears – just patch it up with your fingers and press it smooth. Prick the pastry all over with a fork and put it in the freezer to chill until firm, about 15 minutes.
Line the chilled pastry with foil and fill it with pie weights or dried beans. Bake in the preheated 400˚F oven for 15 minutes, until the sides are set. Gently remove the foil and pie weights and bake another 5 minutes, until the bottom of the pastry is dry. Remove from the oven. Reduce the oven temperature to 350˚F. Meanwhile, prepare the apple filling.
Apple Filling
Peel, core, slice a scant 3 lbs baking apples (such as Bramley, Cox's Orange Pippin, McIntosh, or Granny Smith) and place the sliced apples in a large pot. Toss together with:
1/3 cup granulated white sugar
1/3 cup golden raisins
1/4 cup melted unsalted butter
1 tbsp all purpose flour
zest and juice of 1/2 a lemon
1 tsp vanilla bean paste, or vanilla extract, or the seeds scraped from 1/2 a vanilla bean
Cook the apple mixture over medium heat for 5 – 7 minutes, until the apples start to release some juice and the "sauce" coating them is thick and opaque and no longer flour-paste-y looking.
Assembly
Chop the 3/4 cup almond paste into little bits and sprinkle it evenly over the bottom of the par-baked pastry. Pour the apple mixture over top and spread it out evenly.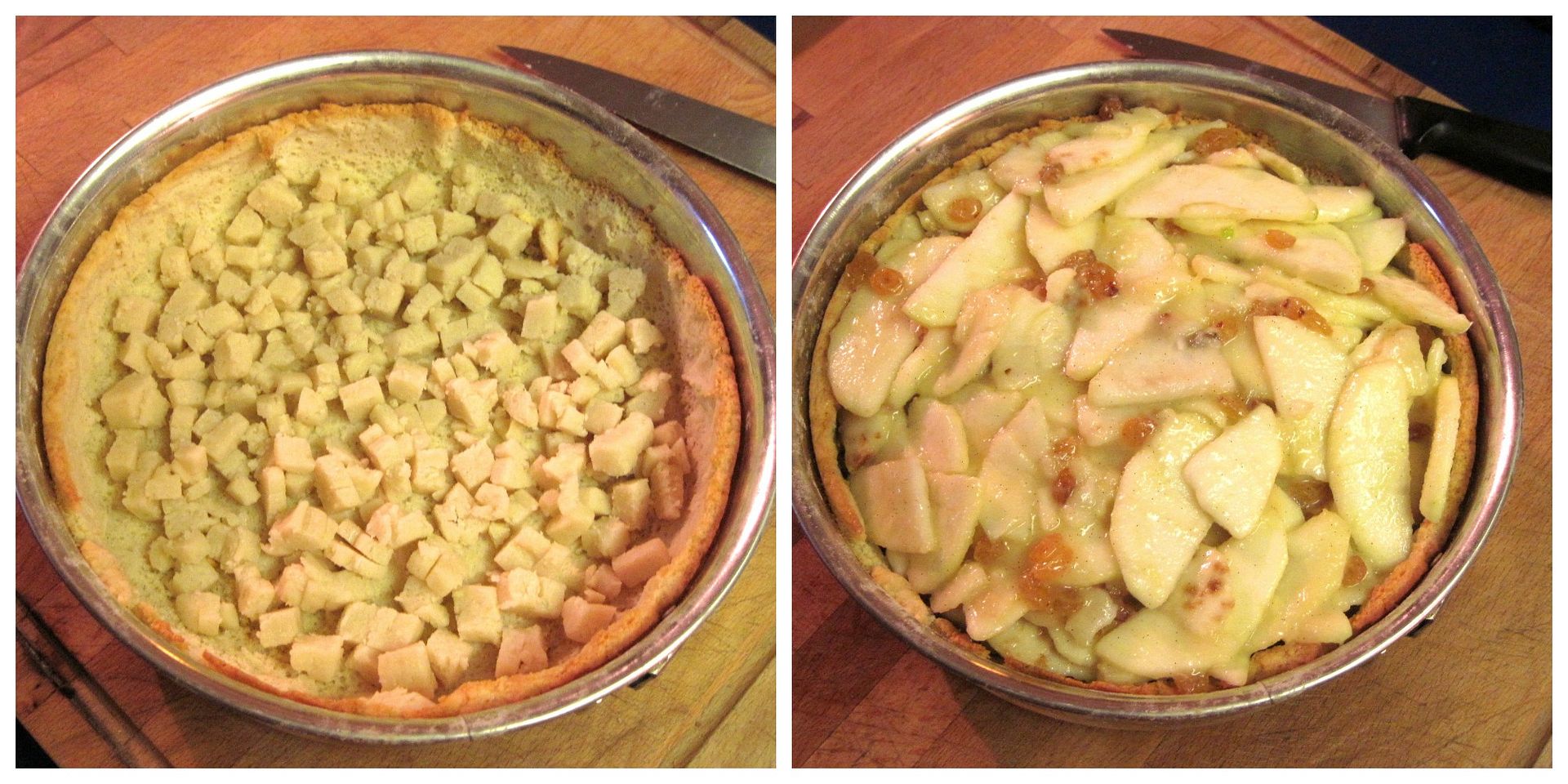 In a small saucepan, bring to a boil over medium heat:
1/4 cup unsalted butter
3 tbsp whipping cream
1 1/2 tbsp honey
pinch salt
Boil without stirring for 2 – 3 minutes, then add 3/4 cup sliced almonds and boil for another minute.  Spoon the almond mixture over the apples and spread it out evenly.
Bake the tart in the preheated 350˚F oven for 40 minutes, until the apples in the middle are soft. Allow to cool to room temperature (or just slightly warm) before running a knife around the edge of the tart to loosen it and then removing the sides of the pan. Cut into slices and serve with vanilla ice cream or a dollop of vanilla whipped cream.