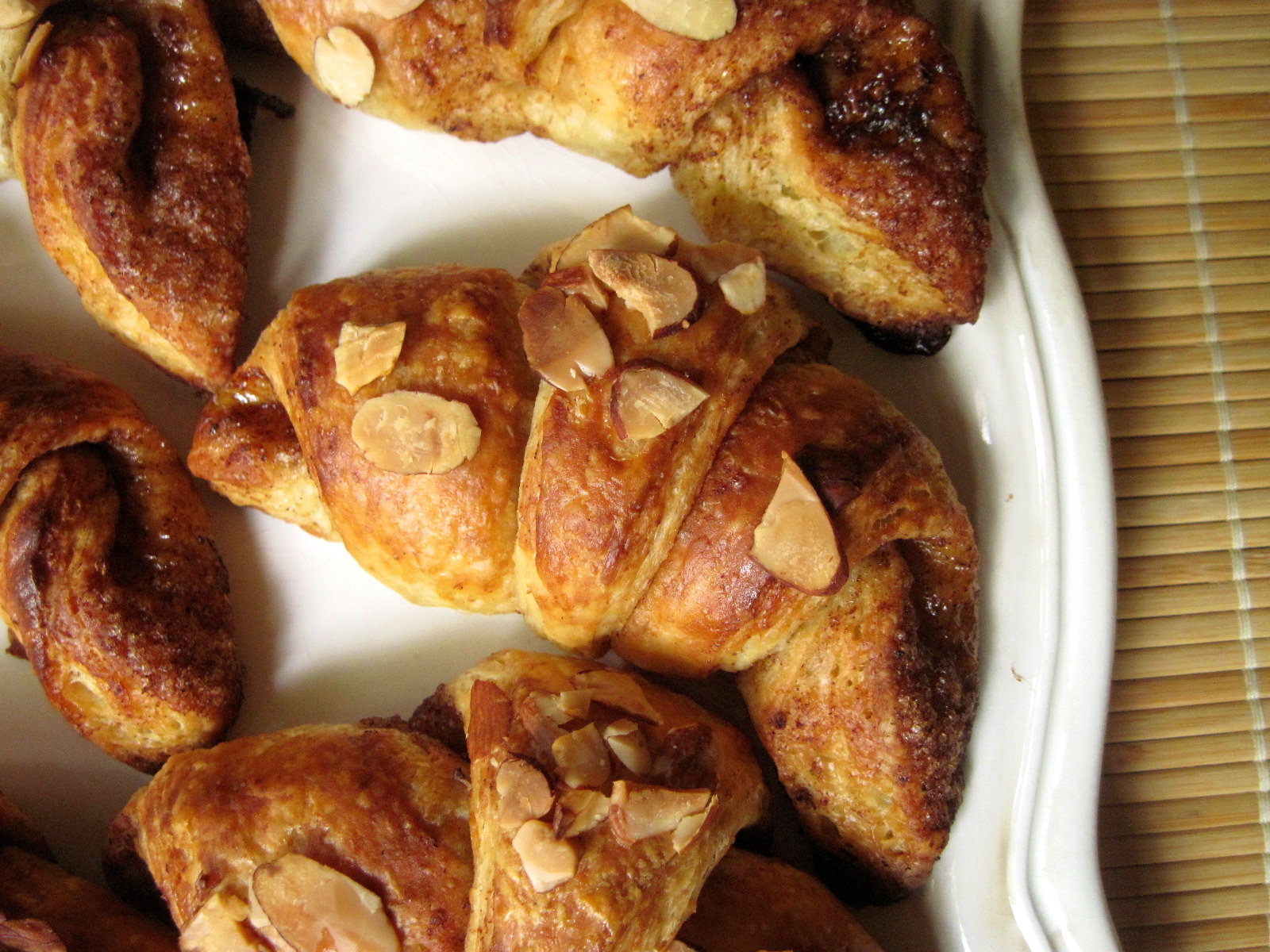 I've been holding out on you. I made these danishes back in full summer, but with their warm notes of spice and orange, they seemed too cozy and autumnal to share just then. But now, since yesterday was the Fall Equinox and Nate has already had to go up on the roof to clear off the maple leaves (that's why it's called "fall", right?), it's danish time!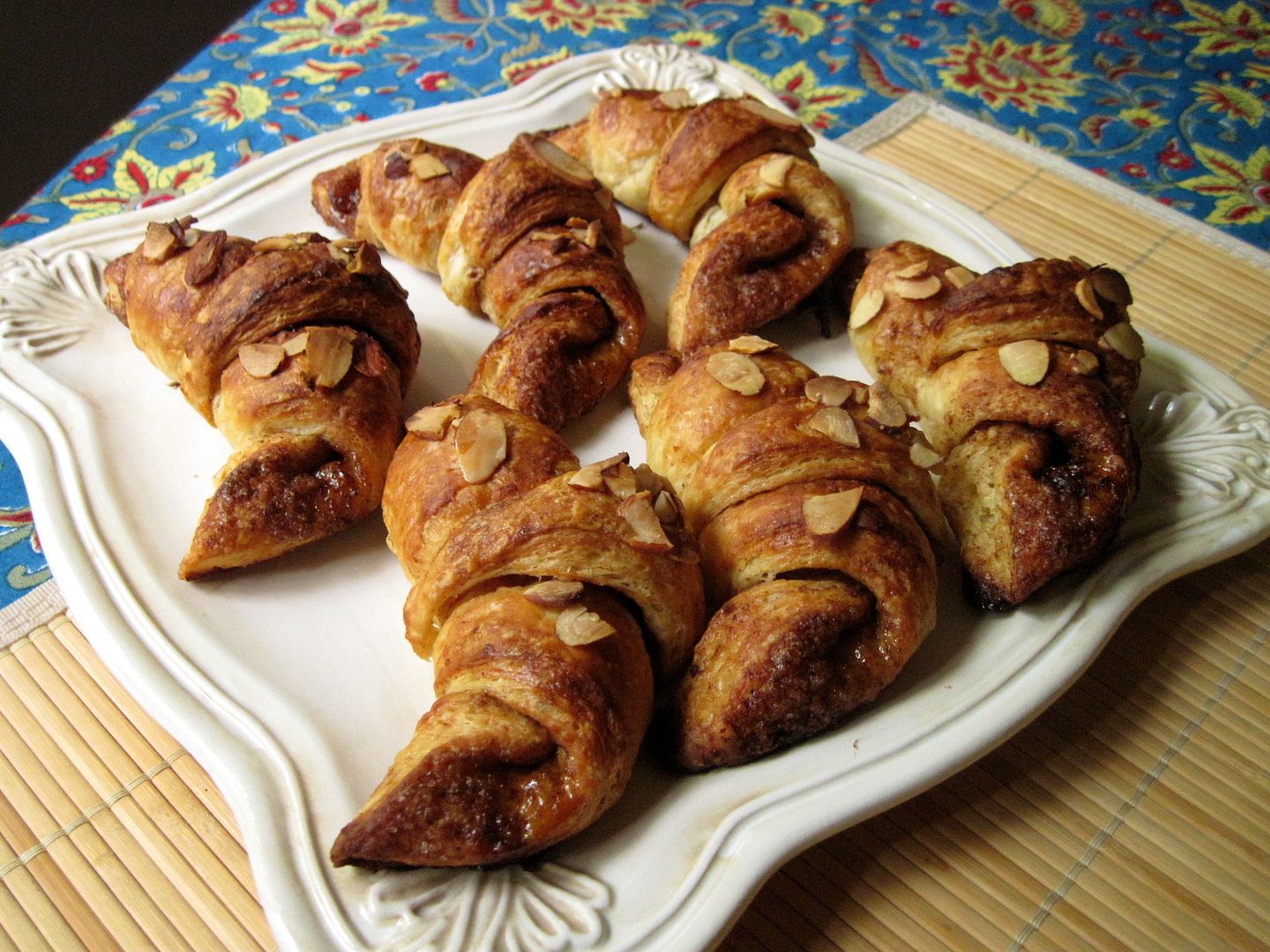 Despite their crescent shape, these are danishes, not croissants. The difference (according to me, anyway) is that a croissant is a flaky, layered pastry with a soft, more bread-like interior, whereas a danish is made with more butter between the layers, making it crisper all the way through. These danishes also have swirls of spice and an almond-flavoured dough (plus browned butter), making them sort of like a cross between an almond danish and a cinnamon bun. Yeah, pretty yummy.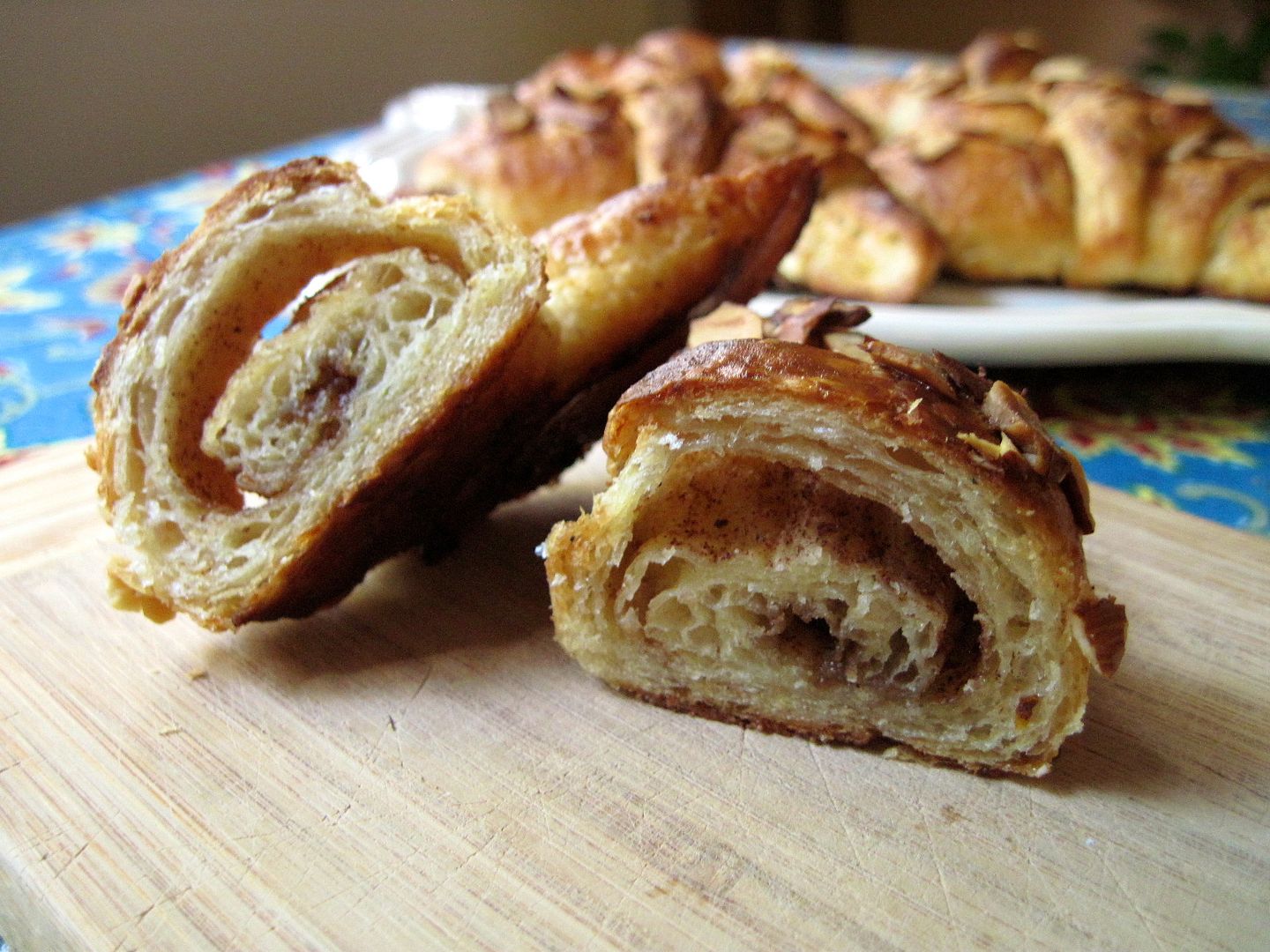 I assembled these late one evening to take to our friends' house for breakfast the next morning. My brain was not functioning very well when I was rolling them up, and I forgot to sprinkle the dough with the spiced sugar mixture until after I'd already cut all the triangles, so you'll have to use your imagination in the process pictures below because I did things the hard way (ie, sugaring each individual triangle… d'oh!) rather than the easier way that I describe in the recipe (ie, sugaring the entire rolled-out dough before cutting it). Either way though, these were really good and they disappeared quickly from the breakfast table!
Sugar & Spice Almond Danish Crescents
Adapted from Seven Spoons. Makes 12 crescents.
Quick Danish Dough
In a large bowl, mix together with a whisk:
1 1/2 cup bread flour
3/4 cup whole wheat flour
2 1/4 tsp instant yeast
1 tsp kosher salt
1 tbsp sugar
With a pastry cutter, cut in 1 cup cold unsalted butter, diced, until in pea-sized bits.
In a small bowl, mix together:
1/4 cup warm water
1/2 cup milk, room temperature
1 egg, room temperature
1/2 tsp almond extract
Make a well in the flour mixture and pour the egg mixture in the middle. Stir together quickly (just until all the flour is incorporated) to combine into a shaggy, lumpy dough. Cover the bowl with plastic wrap and refrigerate overnight or up to 2 days.

Before proceeding, let the dough sit at room temperature for 10 – 15 minutes to take some of the chill off. Turn the dough out onto a floured surface and roll it out into a long rectangle, about 8″ x 14″, then fold it into thirds like a letter. Turn it 90˚so one of the short ends is facing you, roll out into a rectangle, and fold it into thirds again. Repeat 3 more times for a total of 5 folds, refrigerating as needed after folding if the butter starts to get too soft. Chill for about 30 minutes before assembling the crescents.

Filling
In a saucepan over medium high heat, melt 1/4 cup unsalted butter and cook it until it browns and smells nutty. Pour into a bowl and set aside until cool but still liquid.
In a bowl, mix together:
1/4 cup granulated white sugar
1/4 cup brown sugar
the grated zest of 1 orange
11/2 tsp ground cinnamon
1/2 tsp ground ginger
1/4 tsp ground cardamom
1/8 tsp grated nutmeg
a good pinch of kosher salt
Set aside.

Assembly
Roll the chilled dough out on a lightly floured surface into a 10″ x 20″ rectangle. Trim off the edges to make them perfectly straight, then (contrary to what is shown in the pictures) brush the dough with the browned butter and sprinkle it evenly with the spiced sugar, pressing the sugar gently to adhere it to the dough. Cut the dough into 6 rectangles, then cut each rectangle in half on the diagonal to make 12 triangles.
Working with one piece of dough at a time, gently stretch the triangle to make the long sides more equal. Cut a small notch in the center of the triangle's base, then roll up the dough into a crescent, directing the first roll out towards each side to encourage a semi-circular shape. Place the crescents on a baking sheet lined with a silicon mat or parchment paper, cover with plastic wrap, and let proof at room temperature until almost doubled in size, about 45 minutes to 1 hour. OR, you can proof them slowly in the fridge overnight, then let them come to room temperature the next morning while the oven preheats (this is what I did).

Preheat the oven to 375˚F. Brush the proofed danishes with an egg was (1 egg mixed with 1 tbsp water) and sprinkle the tops with some sliced almonds.

Bake the danishes for about 20 minutes, until puffed and golden. Remove to a rack to cool slightly. Can be served warm or at room temperature.