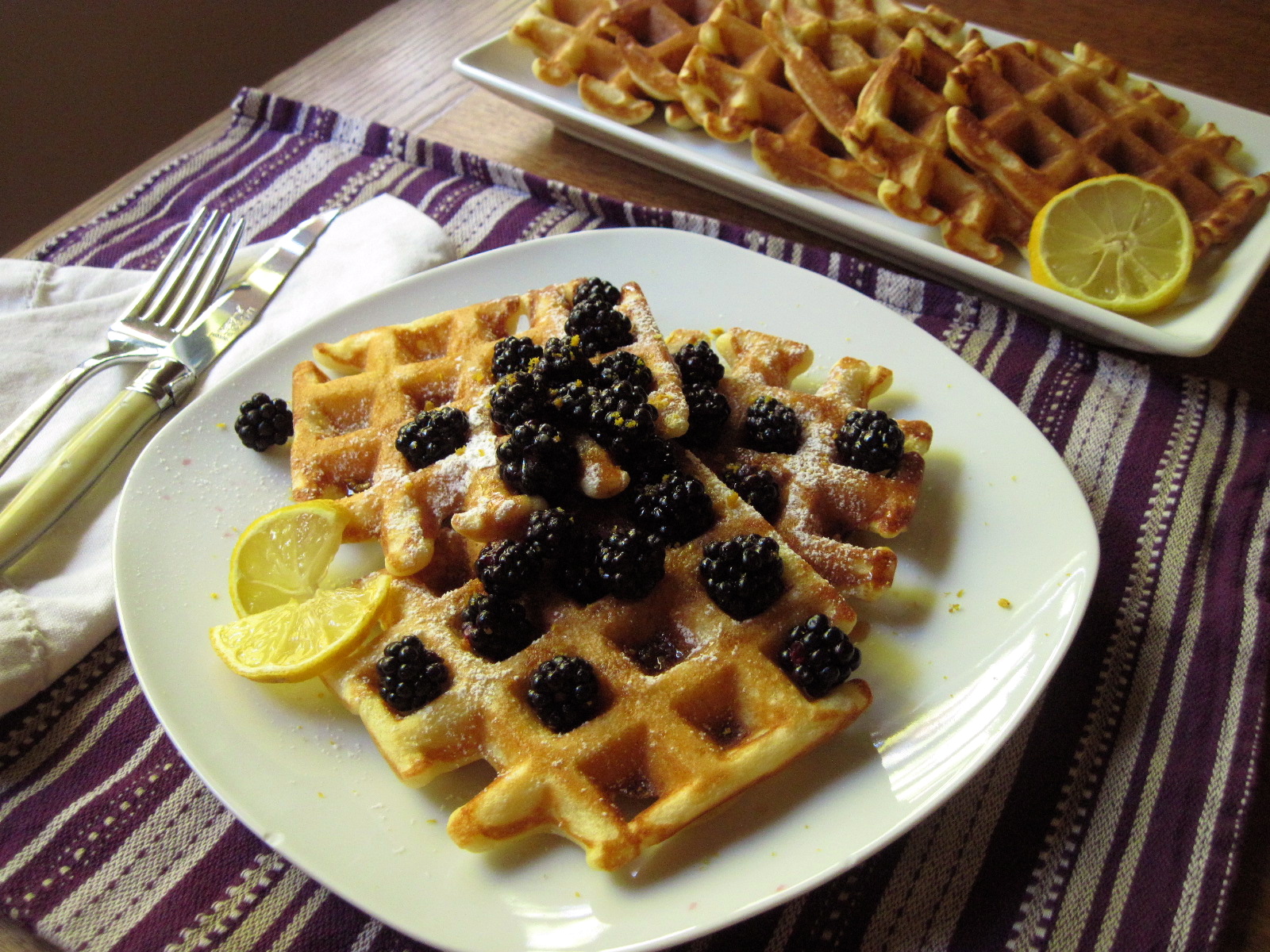 Since receiving a waffle maker from Santa-Nate last Christmas, I've experimented with a lot of waffle recipes. In particular, I've been looking for a really great overnight yeasted waffle recipe, one where you mix up an enriched yeast batter, let it rise and develop flavour overnight, then add eggs and baking soda (for extra leavening power and a light, airy texture) in the morning before cooking the waffles. I made one recipe that came with the waffle maker, which was pretty good, and twice I tried the famous recipe from Marion Cunningham's Breakfast Book, via Smitten Kitchen, with middling success. The first time I made it I intended to serve waffles to our breakfast guests, but the batter seemed to have given up the ghost and died during its overnight rest*, so I tossed it and had to whip up a quick non-yeasted recipe instead. I tried it again a second time (because the recipe has such great reviews), this time tweaking a few things, for a much better result. But still not quite the overnight yeasted waffles of my dreams (although, thanks to those glowing reviews, I will probably try again to capture the magic).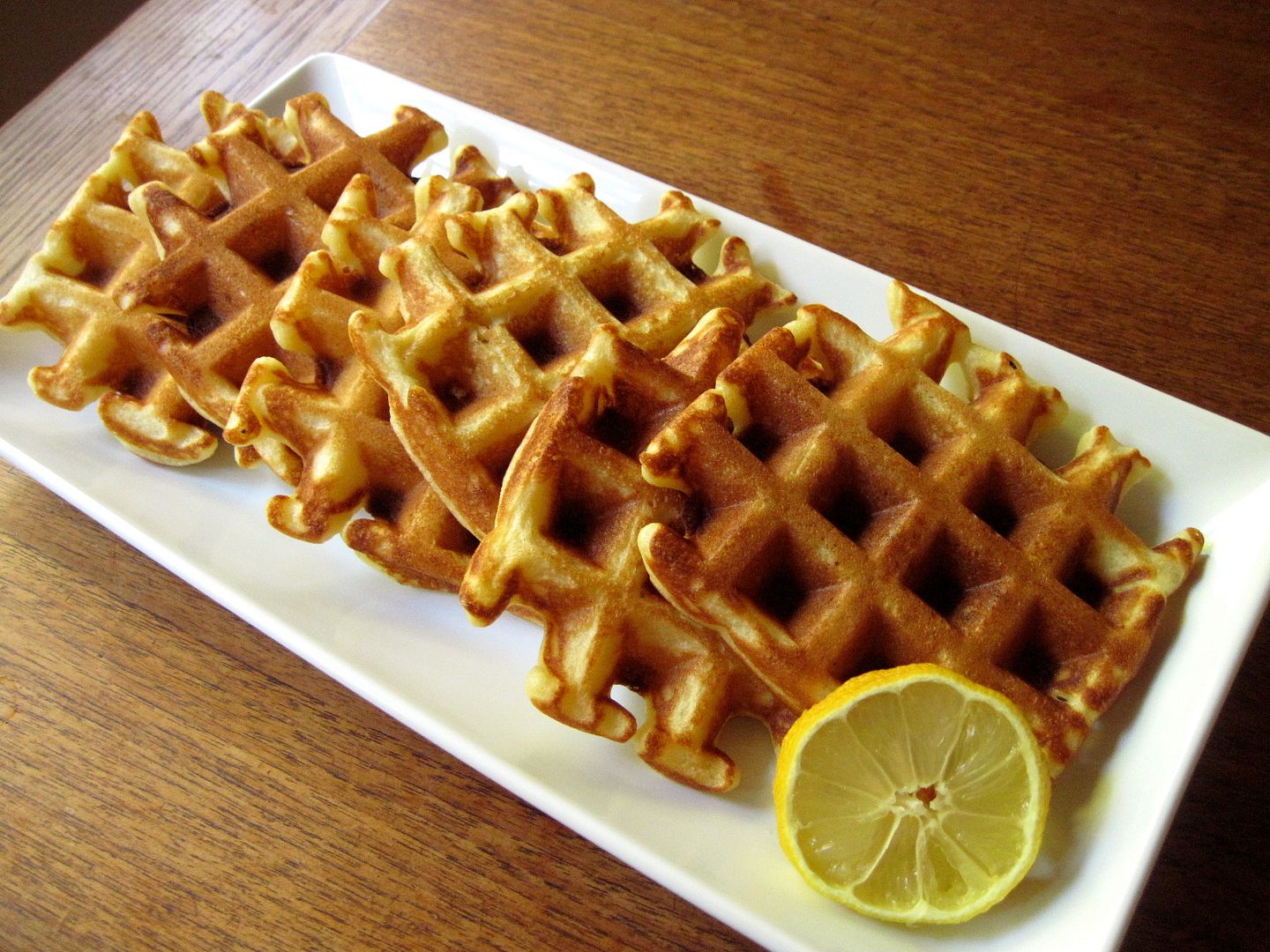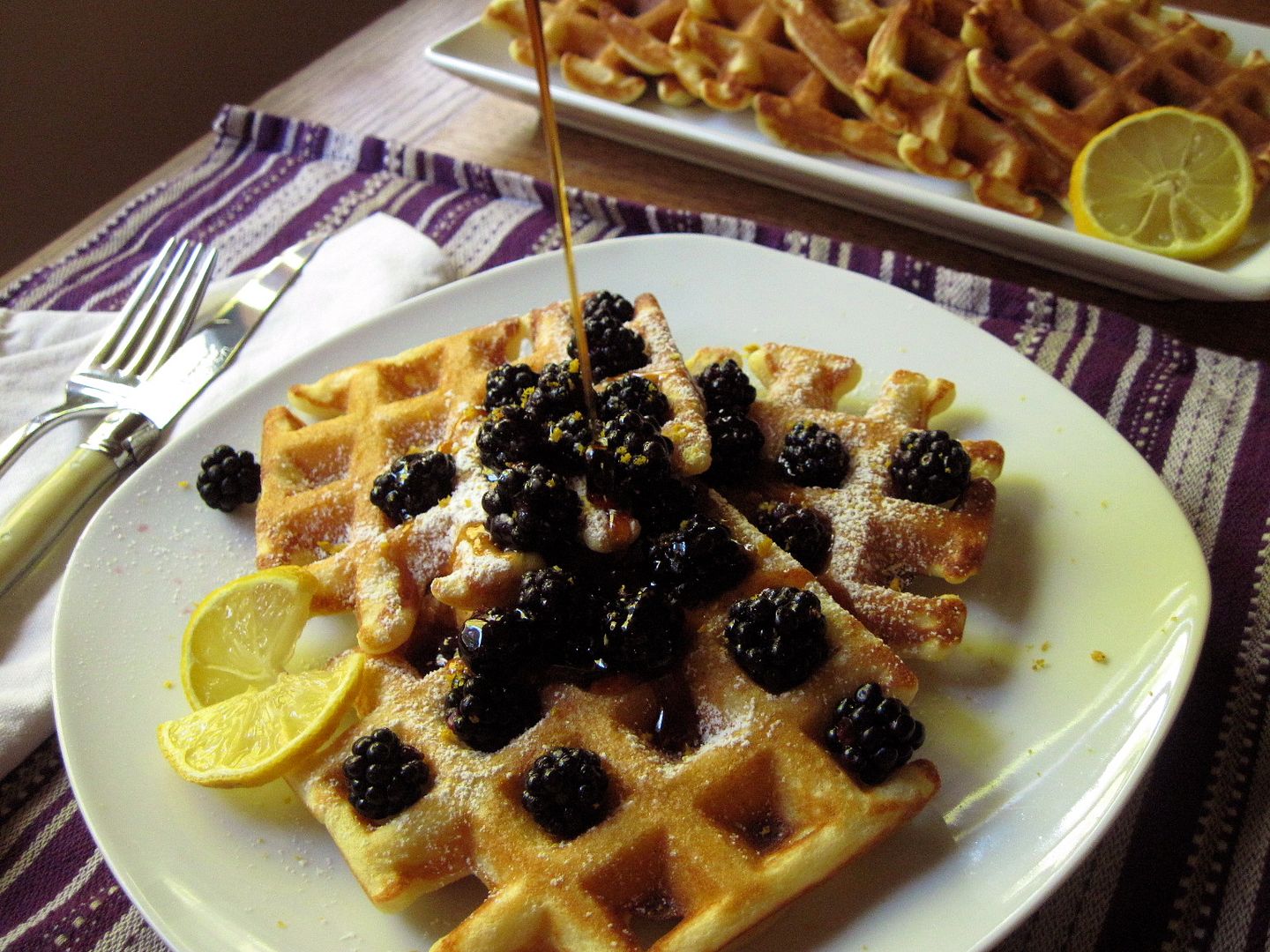 The Sourdough Surprises project this month gave me an excuse to try a sourdough version, and after some searching, I came across a Nancy Silverton recipe on Breadtopia. This recipe also has a ton of rave reviews, and I'd say they are well deserved. After those delicious sourdough crêpes with lemon and sugar, I decided to add some lemon zest to the batter and was rewarded with a delicious lemony waffle with a complex sourdough undertone. Powdered sugar, maple syrup, and blackberries on top made this one special breakfast and a great reason to keep my sourdough starter well fed for future batches of waffles!
*Turns out it is supposed to look super funky the next morning and this is not an indication that the batter has died. Hindsight is 20/20. 😉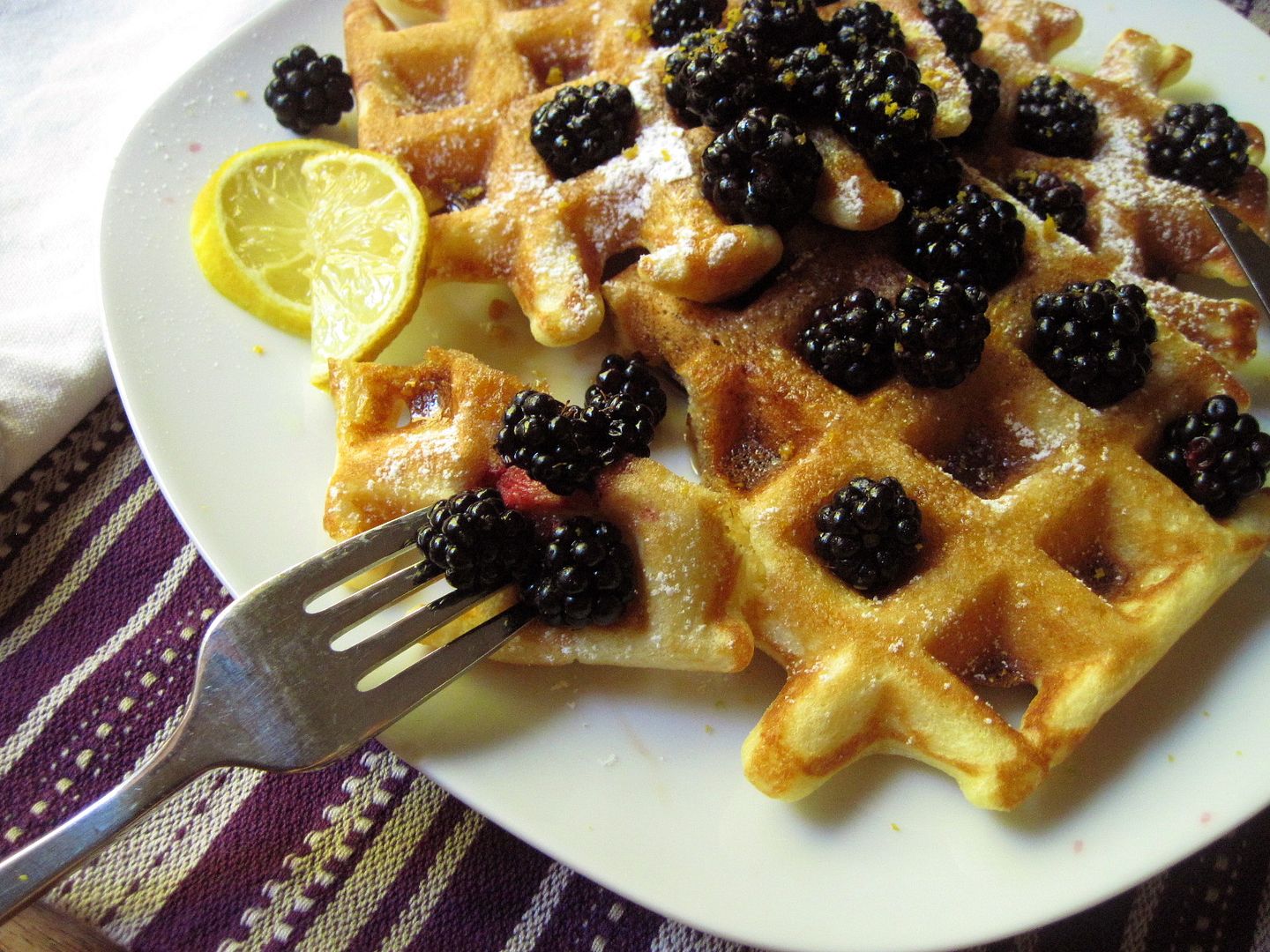 Click the link below to check out the other waffles served up by the Sourdough Surprisers this month! 🙂
Overnight Sourdough Lemon Waffles
Adapted from Nancy Silverton's Breads from the La Brea Bakery, via Breadtopia. Yield depends on your waffle iron, but this will probably serve 4 people.
In a large bowl, mix together until dissolved:
9 oz (1 cup) mature sourdough starter
8 oz (1 cup) milk, at room temperature
Stir in 4 oz (1/2 cup) melted and cooled butter, then add:
6 oz (1 1/2 cups) all purpose flour
1 tbsp packed brown sugar
1 tsp salt
the grated zest of 1 lemon
Mix until smooth, then cover the bowl with plastic wrap and let it sit out on the counter overnight.
In the morning, the batter will be slightly puffy and kind of separated/congealed-looking. In a small bowl, whisk together:
2 eggs
1/4 tsp baking soda
Whisk the egg mixture into the batter.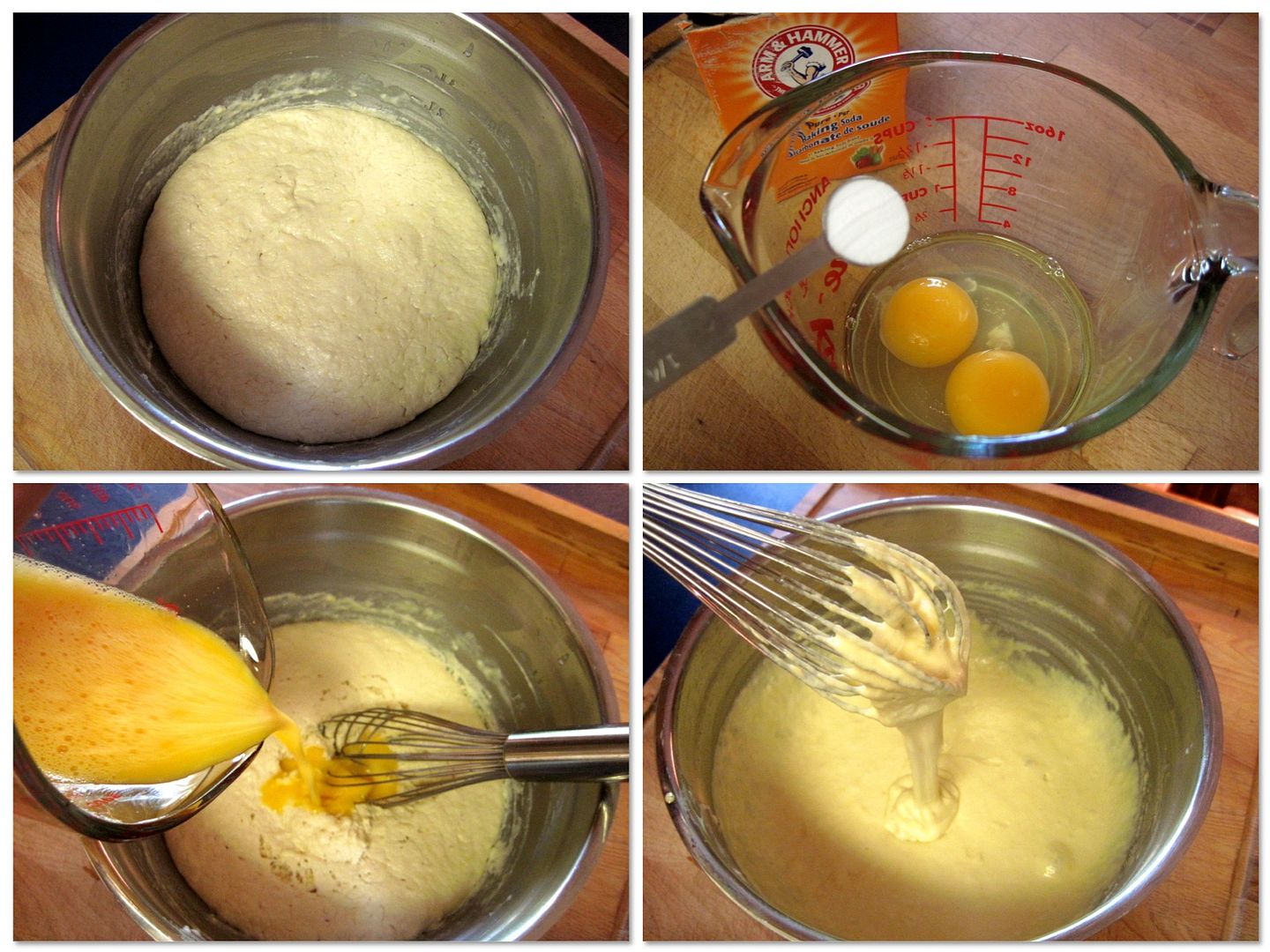 Pour the appropriate amount into your waffle maker. Cook on high heat until golden brown and risen. You can keep the waffles warm in the oven, stacked on a rack in a baking sheet. Serve with butter, syrup, extra lemon zest, and the fruit of your choice. Powdered sugar makes everything better, too.