Aparna of My Diverse Kitchen was our August 2013 Daring Bakers' hostess and she challenged us to make some amazing regional Indian desserts. The Mawa Cake, the Bolinhas de Coco cookies and the Masala cookies – beautifully spiced and delicious! 🙂
I love Indian food but I've never done any Indian baking, so this was an eye-opening challenge in that respect. Aparna set us a beautiful challenge to make a cake (the Mawa cake) and one of two kinds of cookies/biscuits. Never one to turn down an opportunity for cake, I made it early in the month… and then ran out of time for the second half of the challenge, ie: the cookies. 🙁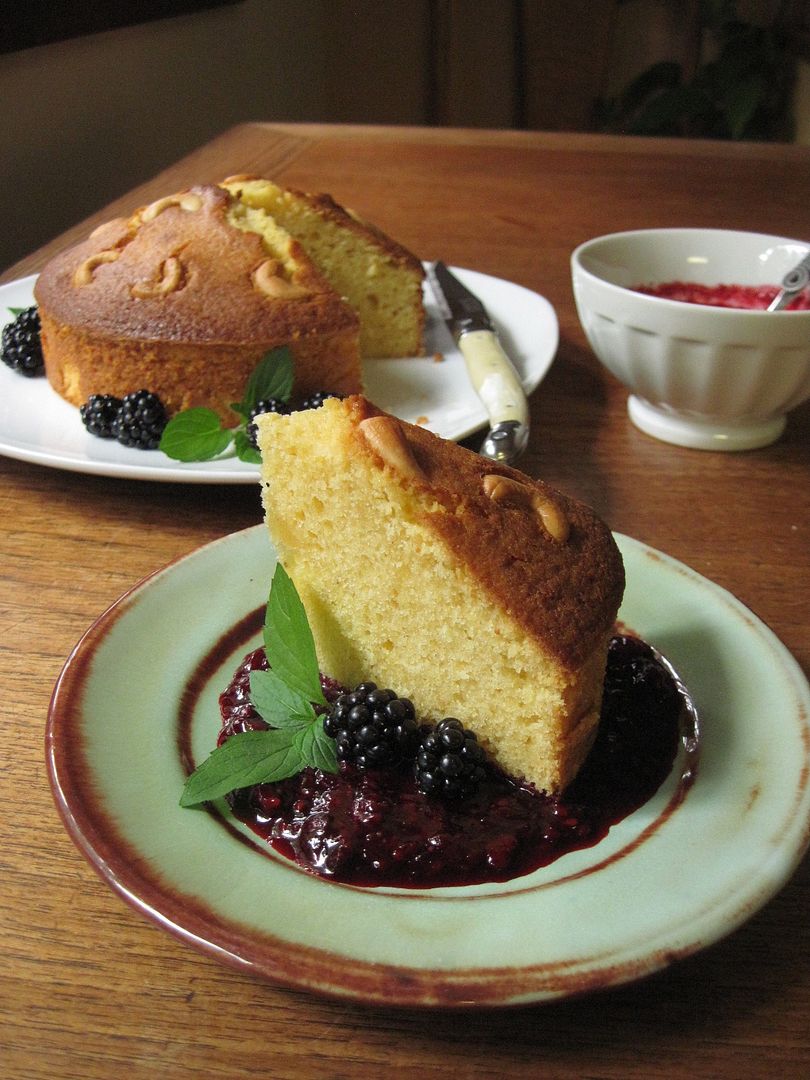 While none of the recipes Aparna gave us were very technically challenging, they do use some unique preparation methods and ingredients. The Mawa cake (pronounced mah-vah) contains an ingredient called Mawa (go figure!), which is condensed milk solids. Ever wonder what would happen to a pot of milk if you simmered it slowly for two or more hours, down to almost nothing? The answer is Mawa. I was expecting something akin to dulce de leche, but instead it's much more just… solid milk, and it gives a nice milky flavour to what is essentially a cardamom pound cake topped with cashews.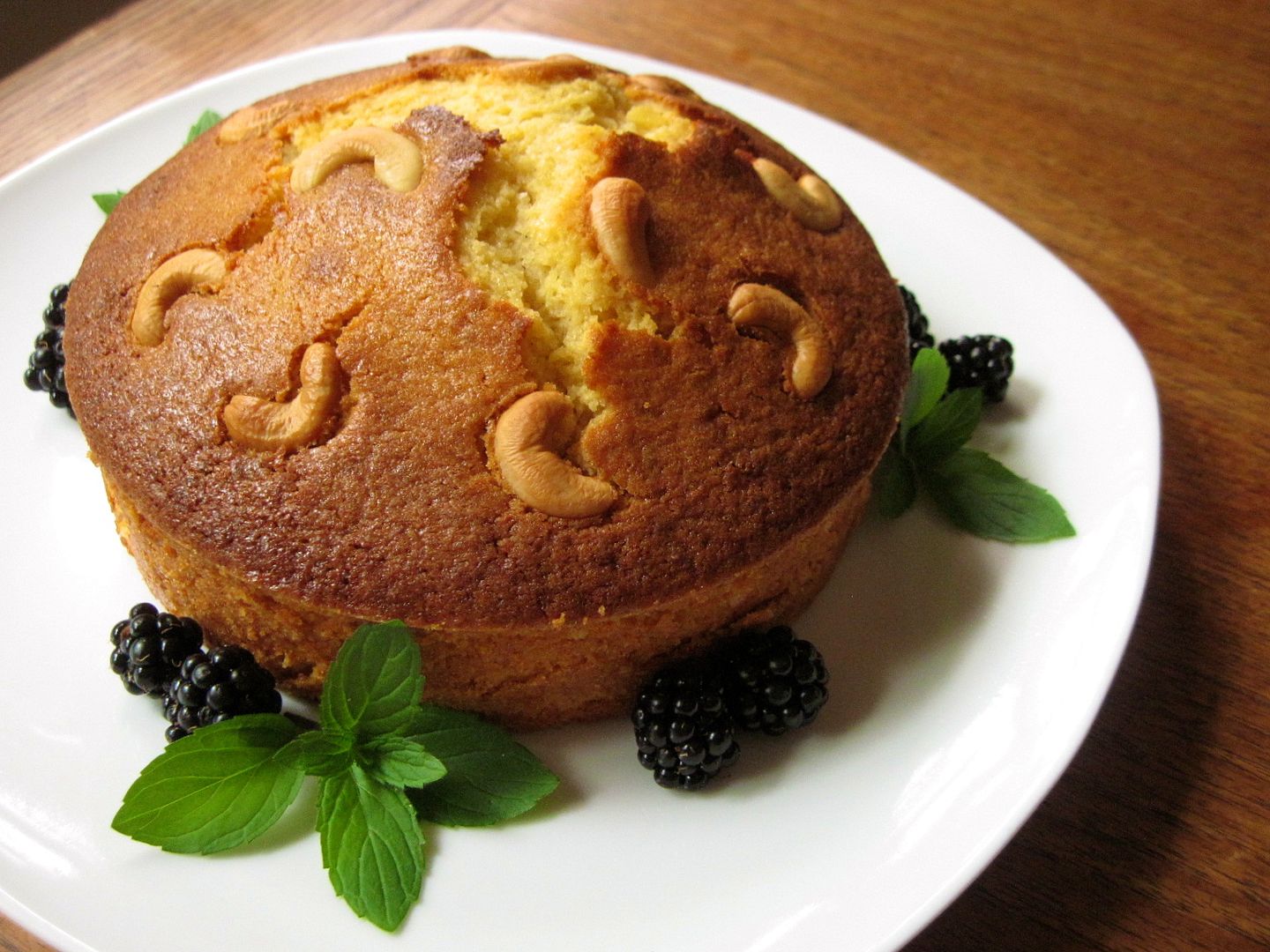 At Aparna's urging, I ground my own fresh cardamom from the green pods for the first time – and HOLY SMOKES is the fresh stuff ever amazing! Hundreds of times better than pre-powdered cardamom. Use a mortar and pestle to crush the whole pods, shake out the little black seeds and discard the green husks, then crush the seeds into powder.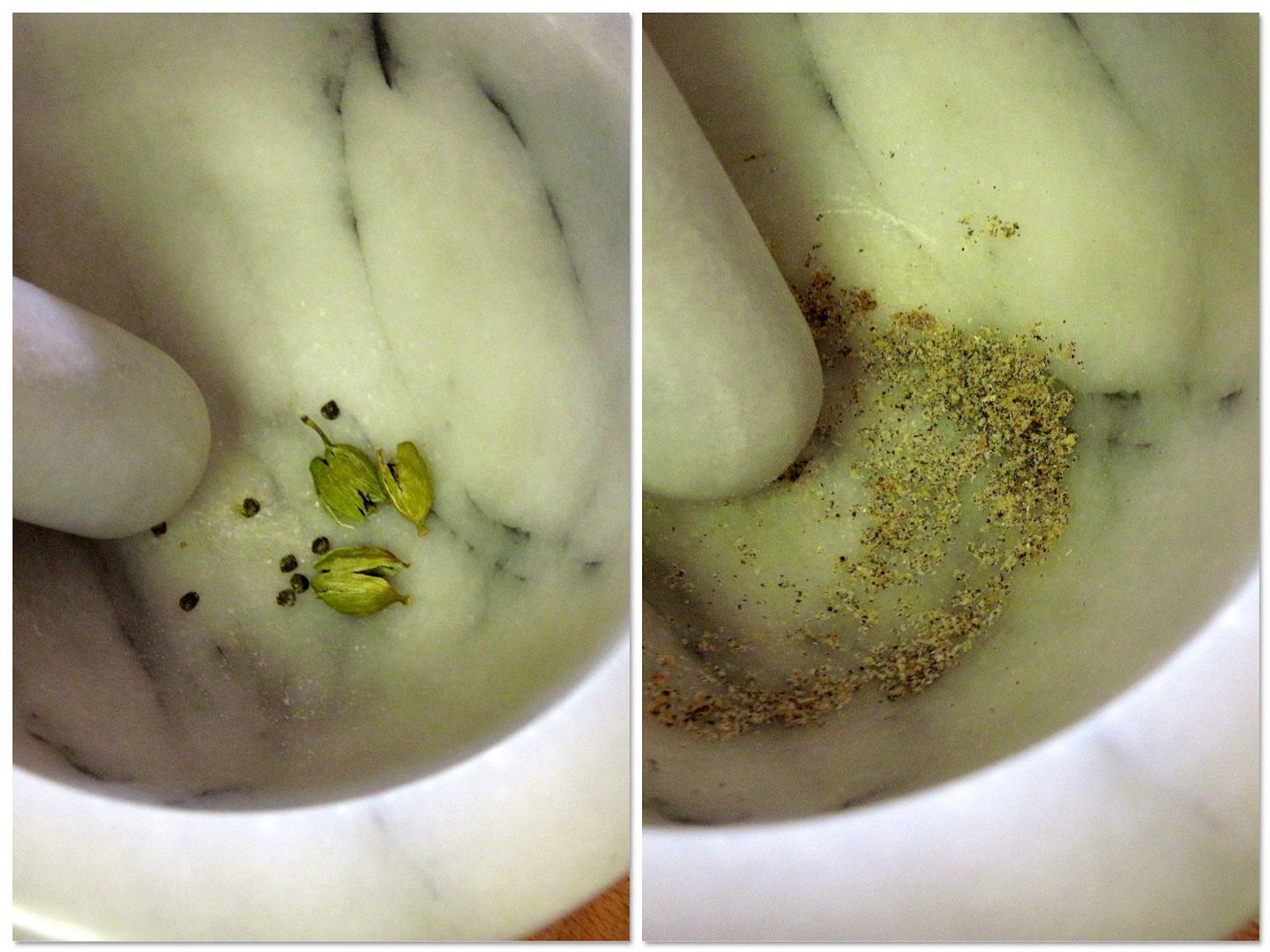 Cardamom is a relatively new discovery for me, and I really really like it: it is bright and green and sort of piney, with a bit of citrus in there too. Ground fresh, it is super pungent and aromatic. Because of how strong it seemed when fresh, I didn't use very much in the cake – I didn't want to overdo it – but once baked, the flavour was quite subtle, so I would use more cardamom next time. But other than that, the cake was perfect: dense but not heavy, finely crumbed, and it actually seemed to get better (and the cardamon flavour a little stronger) after a few days. I made a simple blackberry sauce to serve with it as a dessert, but I also enjoyed several slices plain with a cup of tea. Now I understand the appeal of "tea and cake"!
Aparna, thanks for hosting this month! A really interesting cake – I'm sorry I didn't get a chance to make one of the cookies. Maybe I'll try the Bolinhas de Coco one of these days. For the original recipes and a slideshow of the other cakes and cookies made by the Daring Bakers this month, check out the Daring Kitchen. 🙂
Mawa Cake
Recipe by Aparna. Makes one 6″ round cake (half the original recipe), about 6 or 8 modest servings.
Mawa
In a medium-sized pot, bring 2 cups whole milk to a boil (watch it carefully because it will want to foam over). As soon as it boils, reduce the heat to medium and simmer the milk until it reduces to about 1/4 of its original volume (1 1/2 – 2 hours). Turn the heat down to low and continue cooking it at a low simmer, stirring occasionally to keep it from sticking to the bottom of the pan. Eventually the mixture will start to thicken and become lumpy as the milk solids form and it will start to look a little bit darker and caramelized. Stir it more frequently as it gets thicker to prevent it from burning.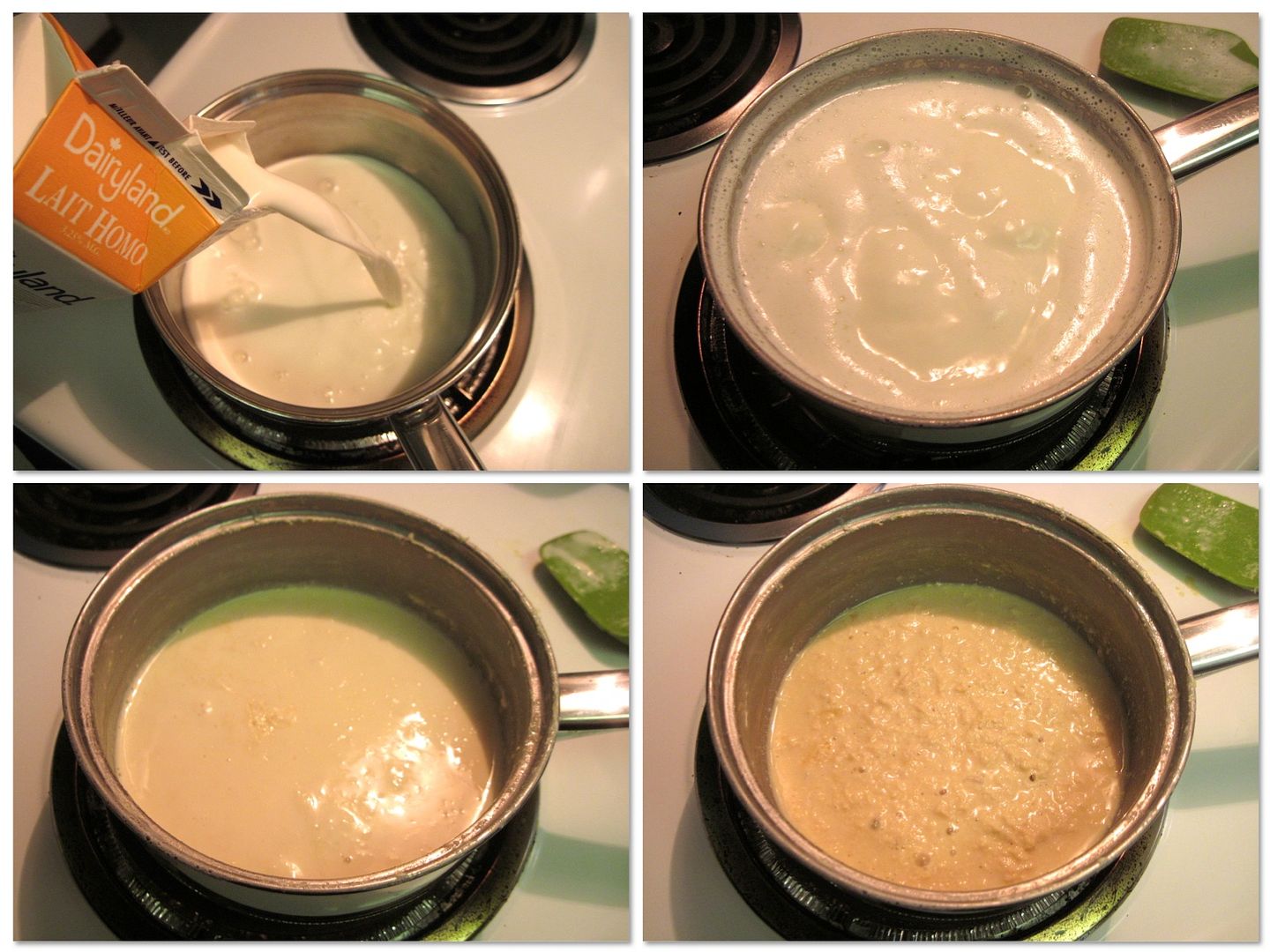 Keep cooking the Mawa until there is no visible liquid left in the pan but the Mava is still moist (this whole process took about 2 1/2 hours for me). Scrape the Mawa into a bowl and let it cool before continuing with the cake recipe. The Mawa can also be covered and refrigerated for up to 2 days (bring it to room temperature before proceeding with the recipe).
(This made about twice as much Mawa as I needed for the cake recipe below, but I think it varies with the type/quality of milk used. I froze the remaining Mawa for a future cake.)
Cake
Preheat the oven to 350˚F. Grease the bottom and sides of a 6″ springform pan and line the bottom with parchment paper. Set aside.
In the bowl of an electric mixer with the paddle attachment, cream together on medium-high speed until very light and fluffy:
1/4 cup unsalted butter, soft
6 tbsp crumbled, packed Mawa, at room temperature
1/2 cup + 2 tbsp granulated white sugar
One at a time, beat in:
1 egg + 1 egg yolk, at room temperature
With the mixer at low speed so it doesn't splash everywhere, add:
1/2 tsp vanilla
1/4 cup milk, at room temperature
Stir until well combined, scraping down the bottom and sides of the bowl occasionally.
In a small bowl, whisk together:
1 cup cake flour
1/2 tsp baking powder
1/4 – 3/4 tsp freshly ground cardamom (1/4 tsp for very subtle flavour, 3/4 tsp for bold flavour – I would use about 1/2 tsp next time)
Add the flour mixture to the creamed mixture and stir on low speed, scraping down the bottom and sides of the bowl to make sure everything is well mixed. Scrape the batter into the prepared springform pan and top it with a handful of cashew halves (place them gently on top of the batter so they don't sink).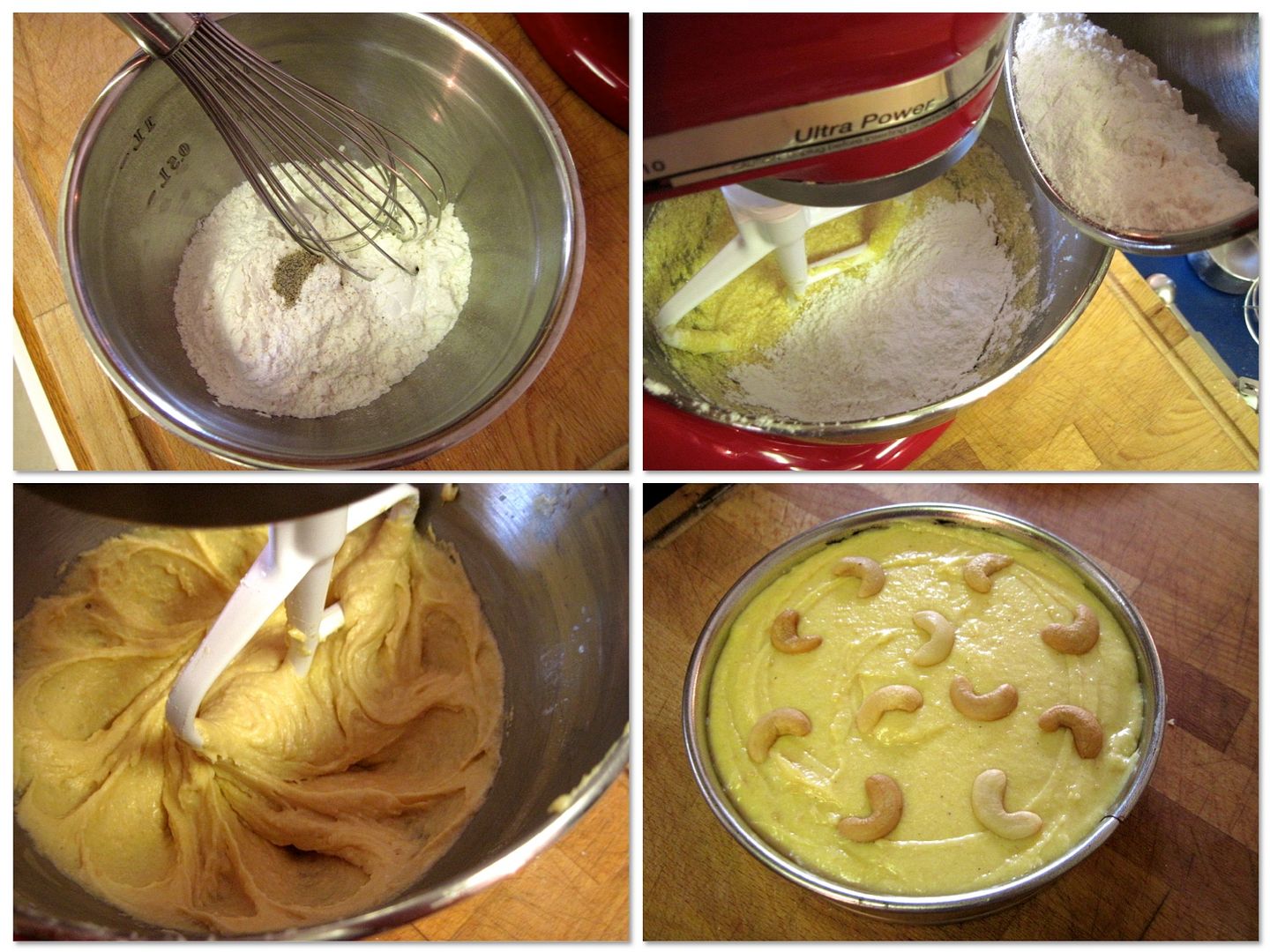 Bake the cake in the preheated 350˚F oven for 50 – 60 minutes, until a skewer inserted in the middle comes out with a few moist crumbs sticking to it. Cover the cake with foil if it seems to be browning too much (I did this at the 40-minute mark). The cake will rise up in the middle and most likely crack, giving it a characteristic rustic look (ie, it's supposed to look like that!). Let the cake cool in the pan for about 10 minutes before running a knife around the edge, releasing the cake from the pan, and removing the parchment paper from the bottom. Cool completely on a rack before slicing. Will keep at room temperature in an airtight container for several days.

Blackberry Sauce
In a small saucepan, simmer together:
a large handful of blackberries
a spoonful of honey (or to taste)
a dash of water
 Cook until syrupy, squashing the berries a bit with the back of a spoon, then allow to cool. Serve with slices of the Mawa cake.