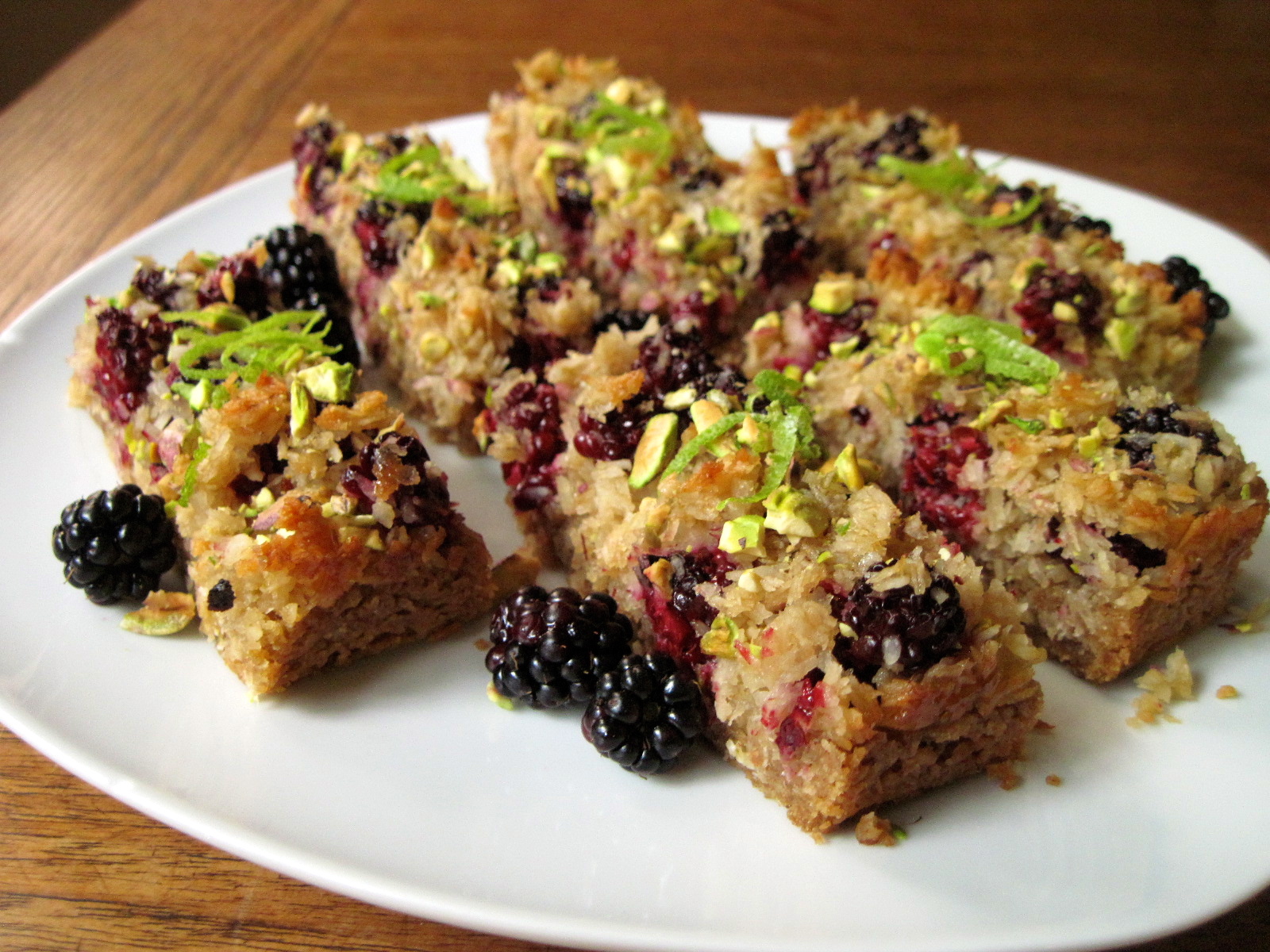 Blackberries are a sure sign of summer to me. I usually go berry picking towards the end of August, but all the sunny hot weather we had in July means that the earliest berries are ripe, so over the weekend I was out with my bucket, lurking in the neighbourhood ditches, picking blackberries. The berries right now are still quite small, with a good tart pucker to go with their sweetness, and if the unripe berries on the bushes are anything to go by, it's going to be a great blackberry year.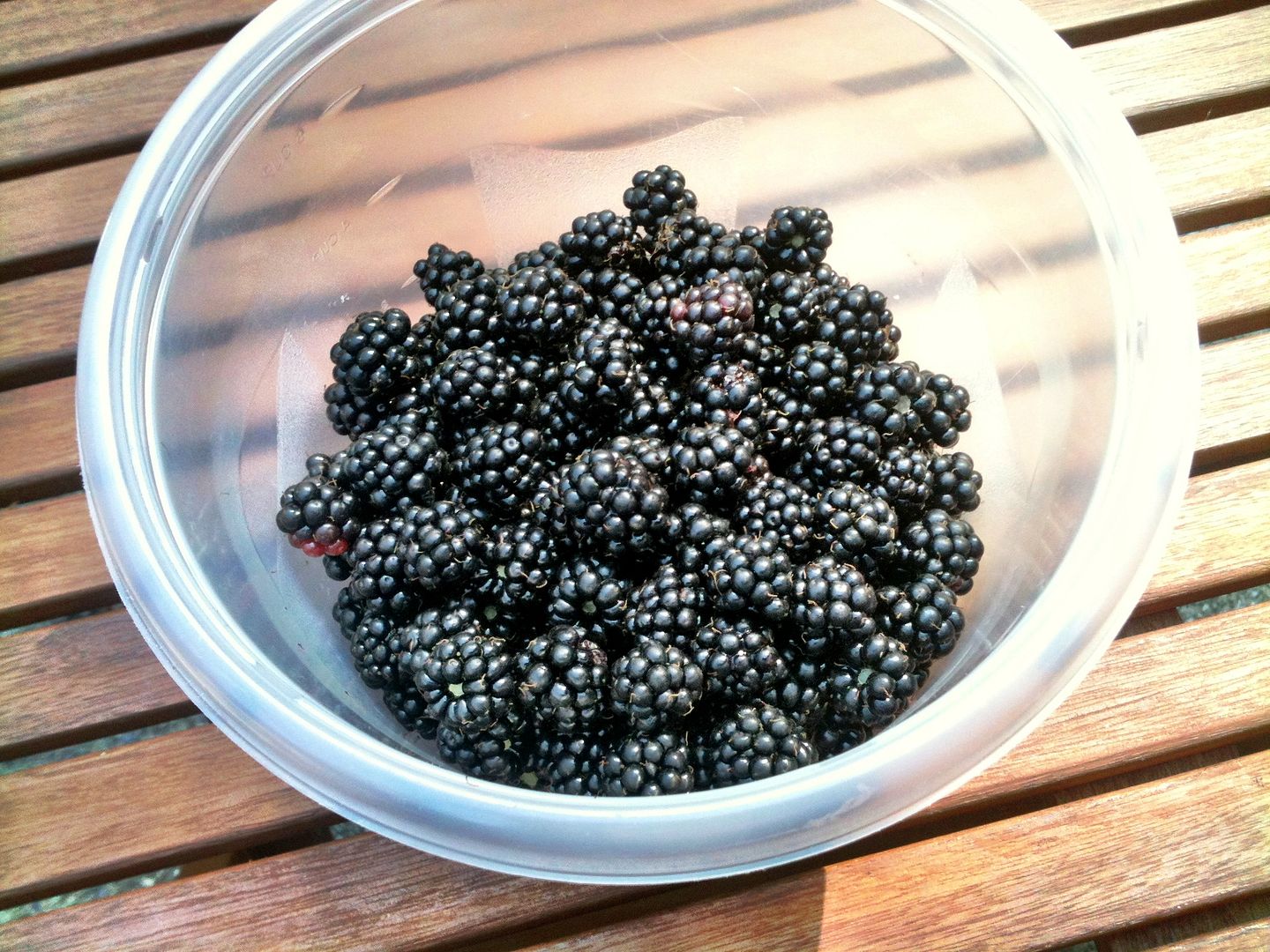 Which is good, because there are a lot of blackberry things I want to make. Like this blackberry-apricot jam, and this peach pie with blackberries instead of blueberries, and perhaps some blackberry hand pies. But first on my list was these coconut macaroon bars with blackberries. I bookmarked the recipe last year (or was it two years ago?) and this first bout of berry picking was triggered after coming across it again.
Originally imagined as a tart, I made them in an eight inch square pan and added a bit of lime zest to give them some extra brightness along with the coconut and blackberries. The base is a sort of coconutty shortbread, satisfyingly buttery and chewy, and the topping is a moist coconut macaroon dotted with jammy, tart blackberries. The lime zest is subtle so I've upped the amount used in the recipe, but it brings a nice bright contrast to the sweetness of the bars, and adds a beautiful green colour along with the crushed pistachios on top.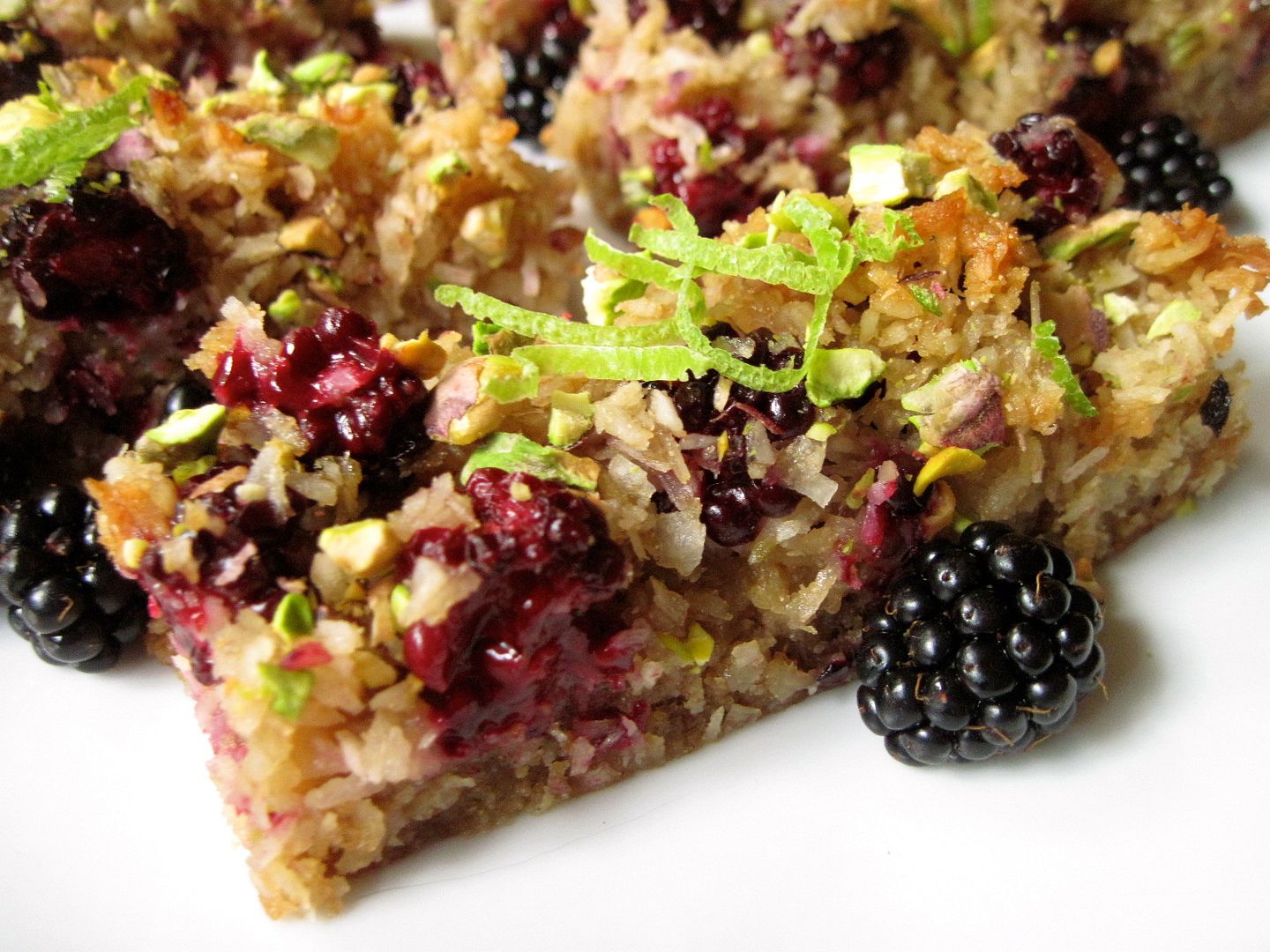 These are probably meant as a dessert, but we've just been eating them out of the pan as a snack. So good! They're pretty versatile as well and could be made with almost any berry – raspberries or cherries would be particularly nice, perhaps with lemon instead of lime. But if you can get your hands on some blackberries – freshly picked and still warm from the sun – this is a wonderful way to use them. 🙂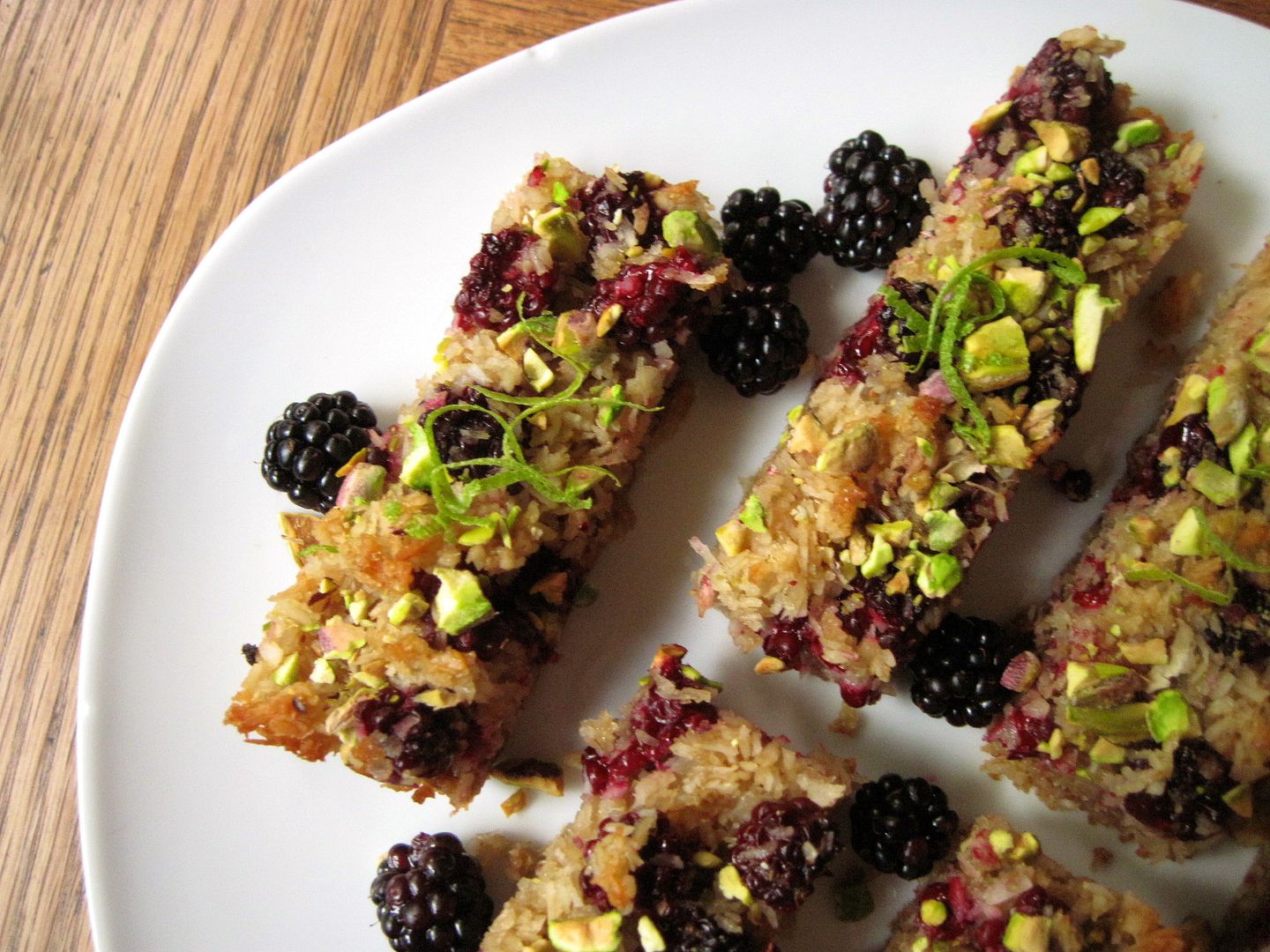 PS – Have you seen this tip on how to keep berries fresh for longer? It's brilliant and works like a charm. I've used it a few times with raspberries (and now blackberries) and they last at least a week in the fridge without getting moldy!
Blackberry Lime Coconut Macaroon Bars
Adapted from Smitten Kitchen, who adapted them from Super Natural Everyday by Heidi Swanson of 101 Cookbooks (see her cherry version). Makes one 8″ square pan giving 12 servings.
Crust
Preheat the oven to 350˚F. Line the bottom and sides of an 8″ square pan with parchment paper, then grease the paper with butter. Set aside.
In a medium bowl, mix together:
1 cup + 2 tbsp spelt flour (or white whole wheat flour or whole wheat pastry flour)
1/2 cup + 1 tbsp unsweetened shredded coconut (the finer the better – I could only find medium but it worked well)
1/2 cup + 1 tbsp lightly packed brown sugar
generous 1/4 tsp fine grain sea salt
Add the zest of 1 small lime and mix well. Stir in 6 tbsp melted butter until the mixture is evenly moistened, then press it into the prepared pan in a flat, even layer. Bake in the preheated 350˚F oven for about 15 minutes, until just starting to look golden brown at the edges. Let cool slightly while you prepare the topping.
Topping
In a medium bowl, combine:
1 1/2 cups unsweetened shredded coconut (again, the finer the better)
6 tbsp lightly packed brown sugar
3 egg whites
zest of 1/2 a small lime
a good squeeze of juice from 1/2 a lime
Stir to mix, then set aside.

Arrange 6 oz fresh blackberries evenly over the surface of the crust. Because my berries were wild, they were quite small and numerous and they covered most of the crust, so the original instructions of dolloping the macaroon topping in between the berries without covering them completely didn't work so well (it would be fine with larger berries though). Instead, if your berries are small, spoon half the macaroon topping over the crust in small dollops, scatter berries over top, then dollop the remaining topping evenly between the berries. Bake in the preheated 350˚F oven for 25 – 35 minutes until the topping starts to brown, then let cool completely in the pan.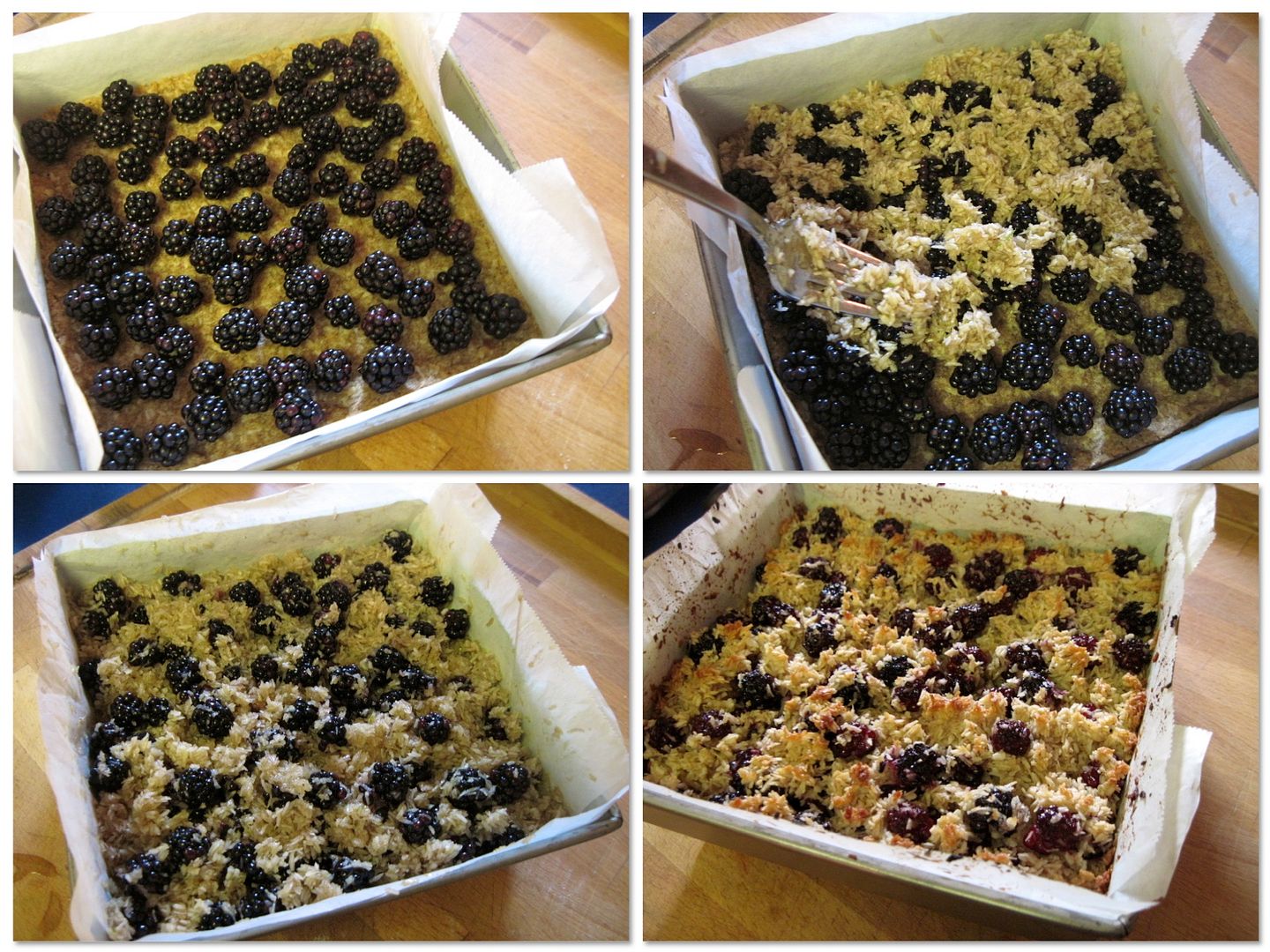 Remove the cooled bar from the pan using the parchment paper as handles. Use something heavy (ie: the bottom of a cast iron skillet) to crush 1/4 cup shelled pistachios and sprinkle them over the bars. Cut into 12 rectangles and garnish each with a few ribbons of lime zest.