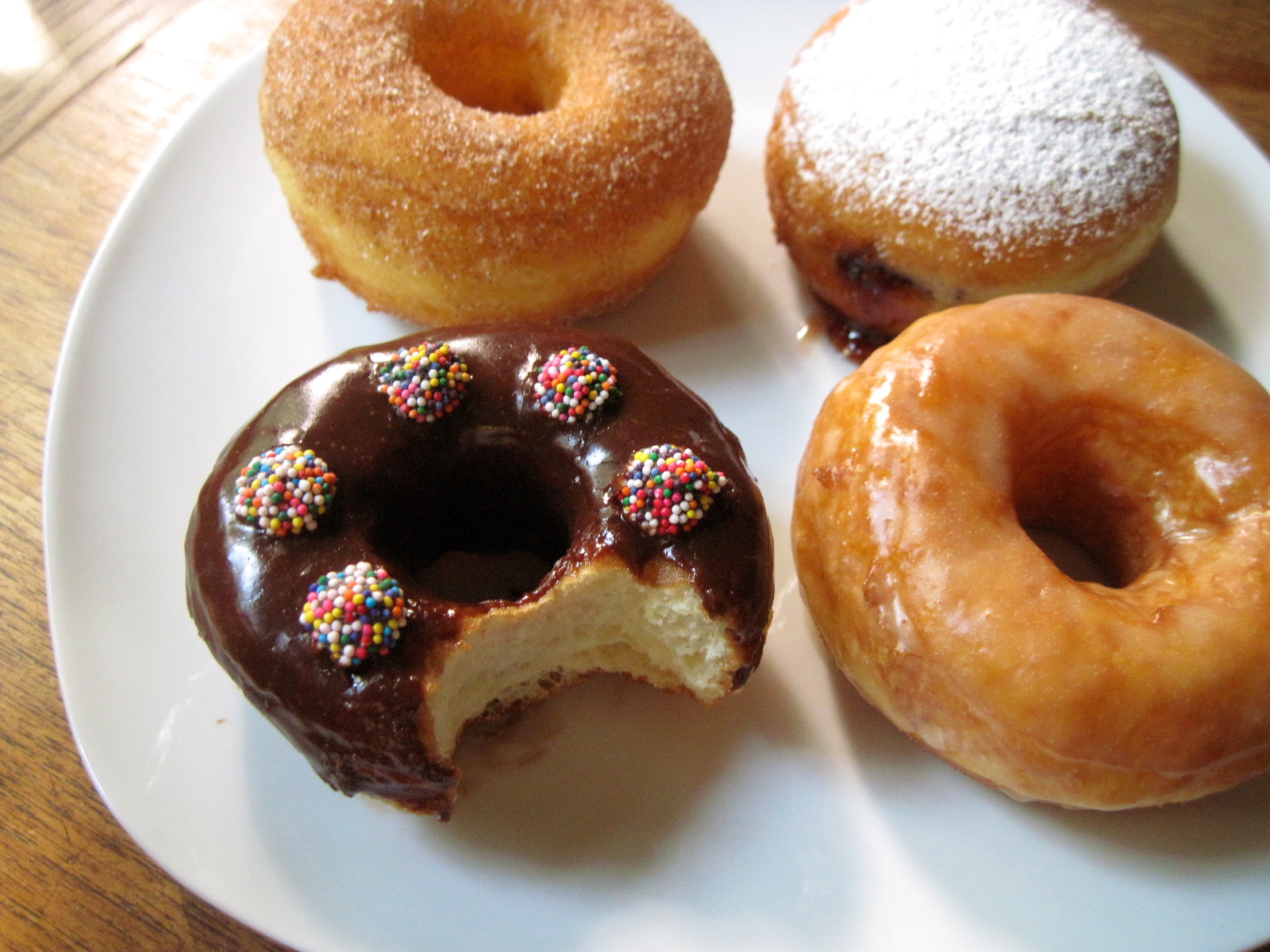 In a "celebration" of past Daring Baker and Daring Cook challenges, Lisa challenged all of us to search through the Daring Kitchen archives and pick any one we'd like! The REAL challenge was picking which delicious recipe(s) to try!
You hear that? The "REAL" challenge? Was it ever! For someone who becomes paralyzed with indecision when faced with life-altering choices such as which flavours to use in a cake (yeah, I'm that cool), the most challenging part about this month's challenge was most definitely just choosing what to do. I was thinking croquembouche at first, or perhaps éclairs, or maybe something with ice cream, but eventually I decided on yeasted doughnuts. This was a decision fraught with anxiety though, let me tell you: I desperately wanted to make them (they're on the list!) but I figured that deep-frying in the middle of July was kind of a silly move, and being that one batch of doughnuts makes over two dozen, I knew that I would have at least twenty-three more doughnuts than would ever be necessary. But I went ahead with it anyway 😉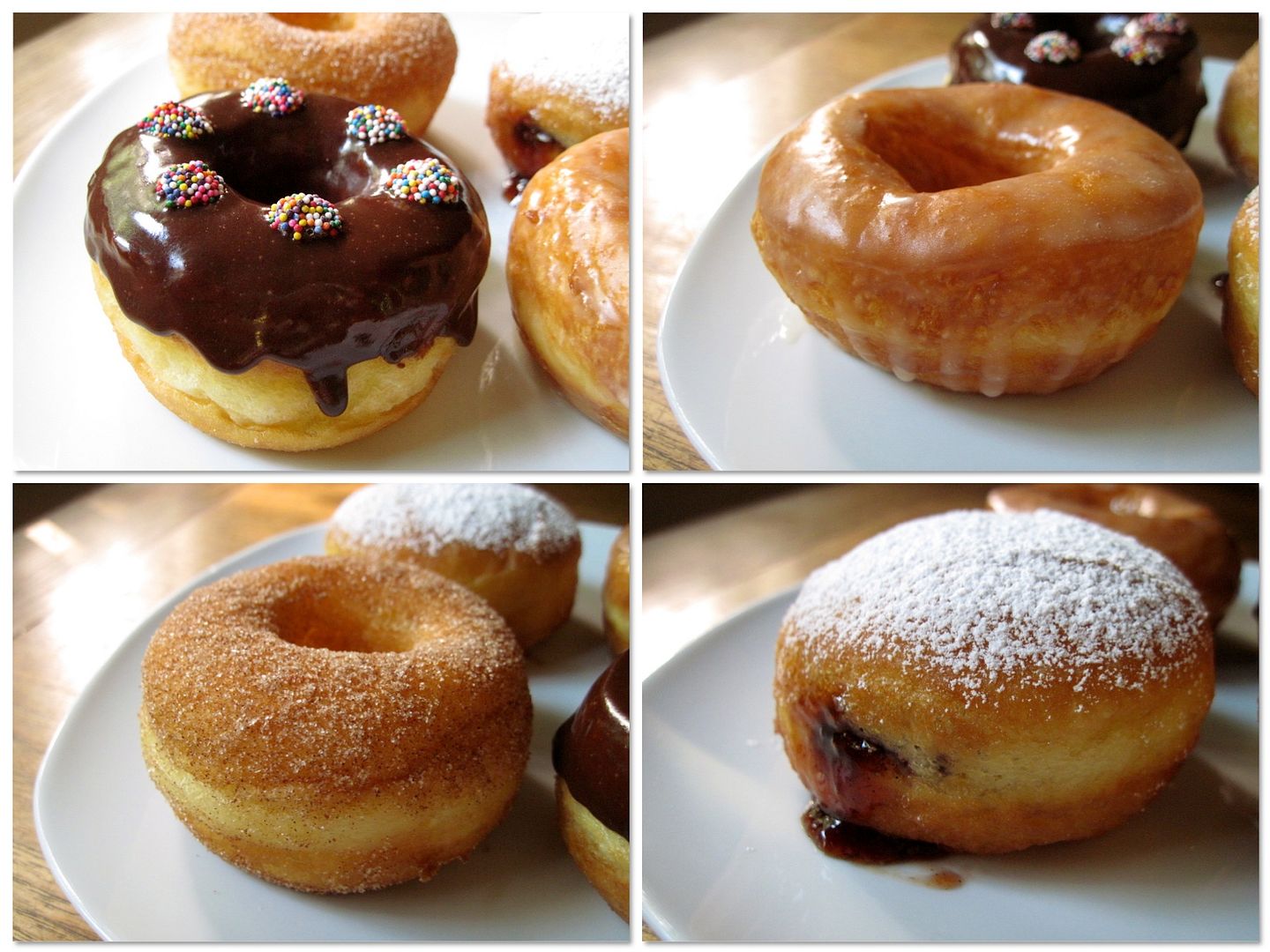 As I started mixing the dough, I told myself, "Just make half a batch." But I didn't listen. I made a full batch of dough, and then as I was cutting out the doughnuts, I told myself, "Freeze half for later." But again, I didn't listen, and then I interrupted myself with a mad dash to the corner store for vegetable oil after I realized that the 3 liter container in the cupboard was actually mostly empty. As I was frying my twentieth doughnut and the golden brown rings were starting to pile up around me, I accepted the fact that I was going to end up with a boatload of doughnuts and my line of thought changed to, "Who the heck am I going to give all of these to?!"
When I bit into a warm cinnamon-sugar covered doughnut hole (just like a mini-doughnut at the fair!), I briefly considered eating all twenty-seven doughnuts myself…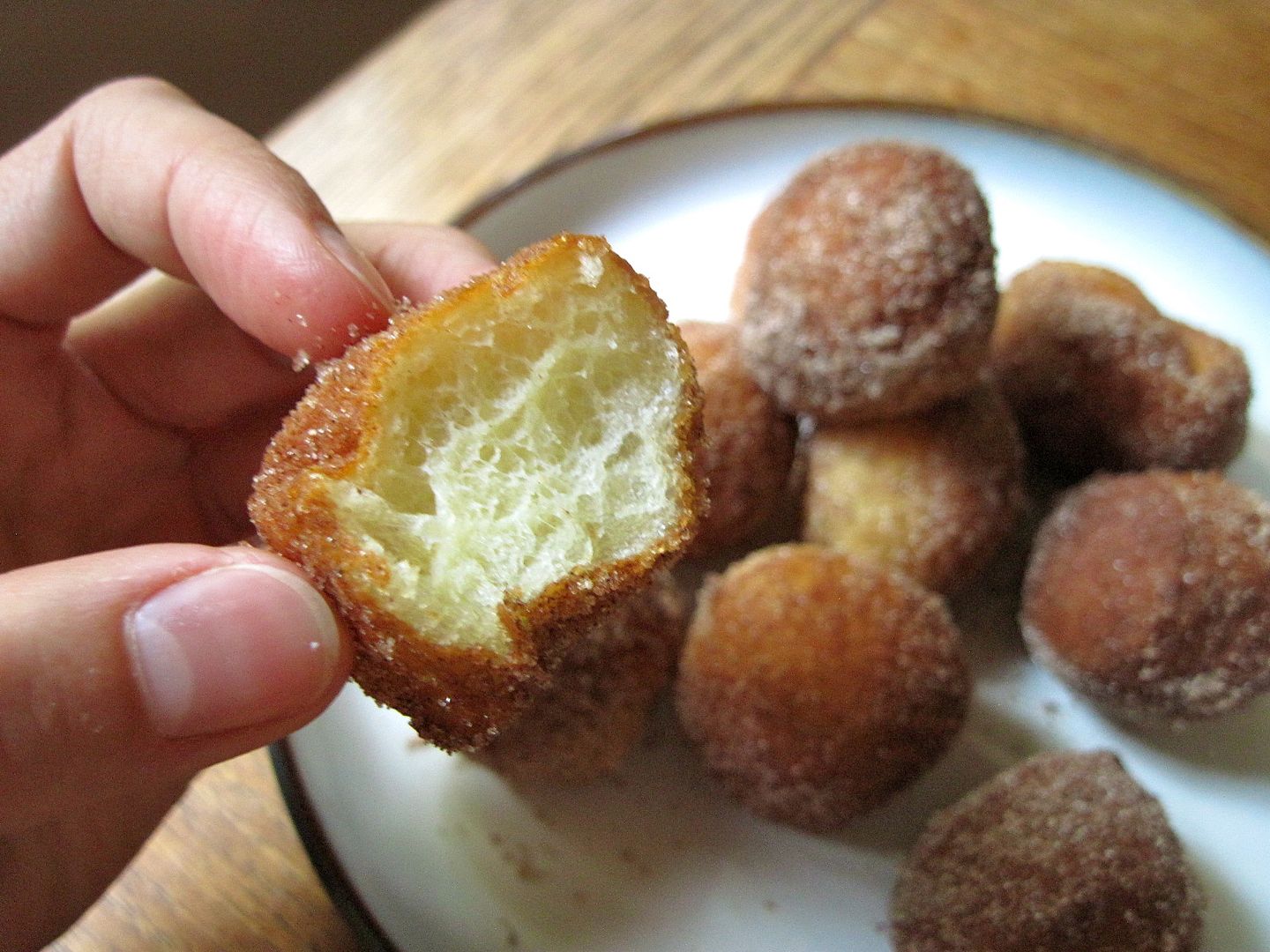 …but then my sanity (or whatever shreds remained after deciding to embark on this journey) returned and I ended up giving some to Nate's family and some to my friend Aaron (whose wife is probably still mad at me. 😉 ) Nate, bless him, only uttered a few incredulous "Oh my god!"s when he walked in on me in full doughnut production, and when I confessed that this was probably the most ridiculous thing I'd ever made, he assured me that, "No it isn't! You made a bacon caramel cake!" That's why I love him 😉
But these doughnuts? Totally worth it. They were light, airy, and slightly chewy on the inside, not at all greasy on the outside, and they tasted amazing. The fresh nutmeg in the dough is what does it – it doesn't make them taste like nutmeg, but rather exactly the way the best yeasted doughnut should taste. Frying them wasn't a hassle, either – just keep an eye on the temperature of the oil, which should be at 365˚F for optimal, non-greasy results. Frying the doughnut holes, on the other hand, was a giant pain – they were so full of air that they didn't want to stay flipped over, so it was really hard to get them evenly browned all over. In hindsight, I would probably skip them altogether for their annoying-ness factor (even though it was kind of fun to have homemade Timbits!)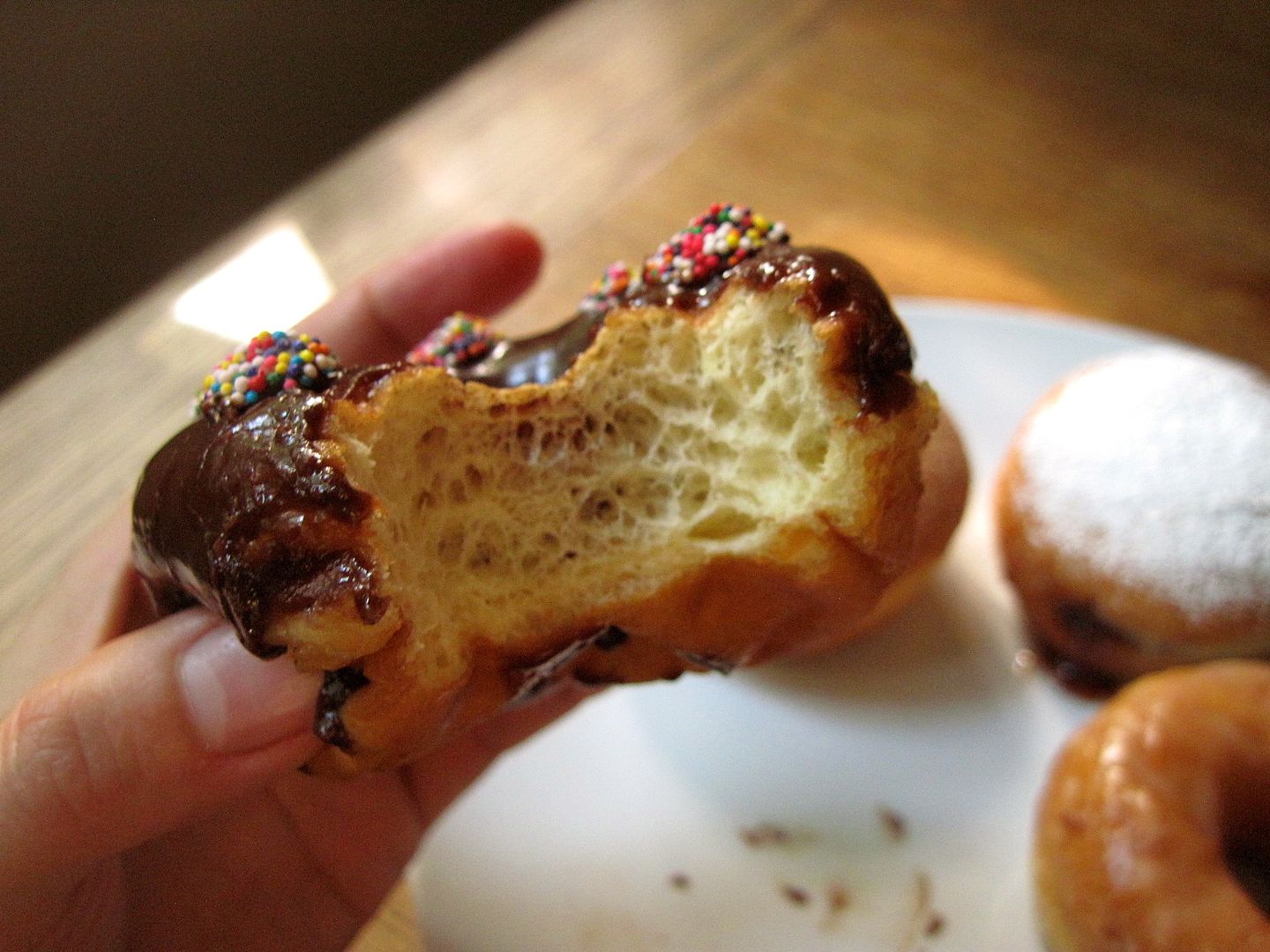 So will I make doughnuts again? Yes, definitely – but probably only half a batch, and definitely only when I have a crowd to feed 😉 Thanks to Lisa for the opportunity to take on a past challenge, and check out the Daring Kitchen for a slideshow of what everyone else made this month!
Yeasted Doughnuts
From the Daring Bakers October 2010 challenge – adapted slightly from Alton Brown's recipe (here's a great video of him making these doughnuts on Good Eats). Makes just over 2 dozen doughnuts, plus doughnut holes, if you have enough patience for them 😉 I would HIGHLY recommend making only half a batch unless you are feeding, like, 25 people.
Dough
In the bowl of an electric stand mixer, mix together:
1/3 cup warm water
4 1/2 tsp active dry yeast
Leave for about 5 minutes, until thick and foamy.
Meanwhile, mix together:
1 1/2 cups warm milk
1/3 cup butter, cubed
Set aside, stirring occasionally, until the butter is melted, then pour into the foamy yeast mixture. Stir with the paddle attachment to combine.
Measure out 23 oz (4 2/3 cups) all purpose flour. Add half the flour to the mixer bowl, along with:
2 large eggs, beaten
1/4 cup granulated white sugar
1 1/2 tsp salt
1 tsp freshly ground nutmeg (I used a bit less than this and wish I'd used the full amount)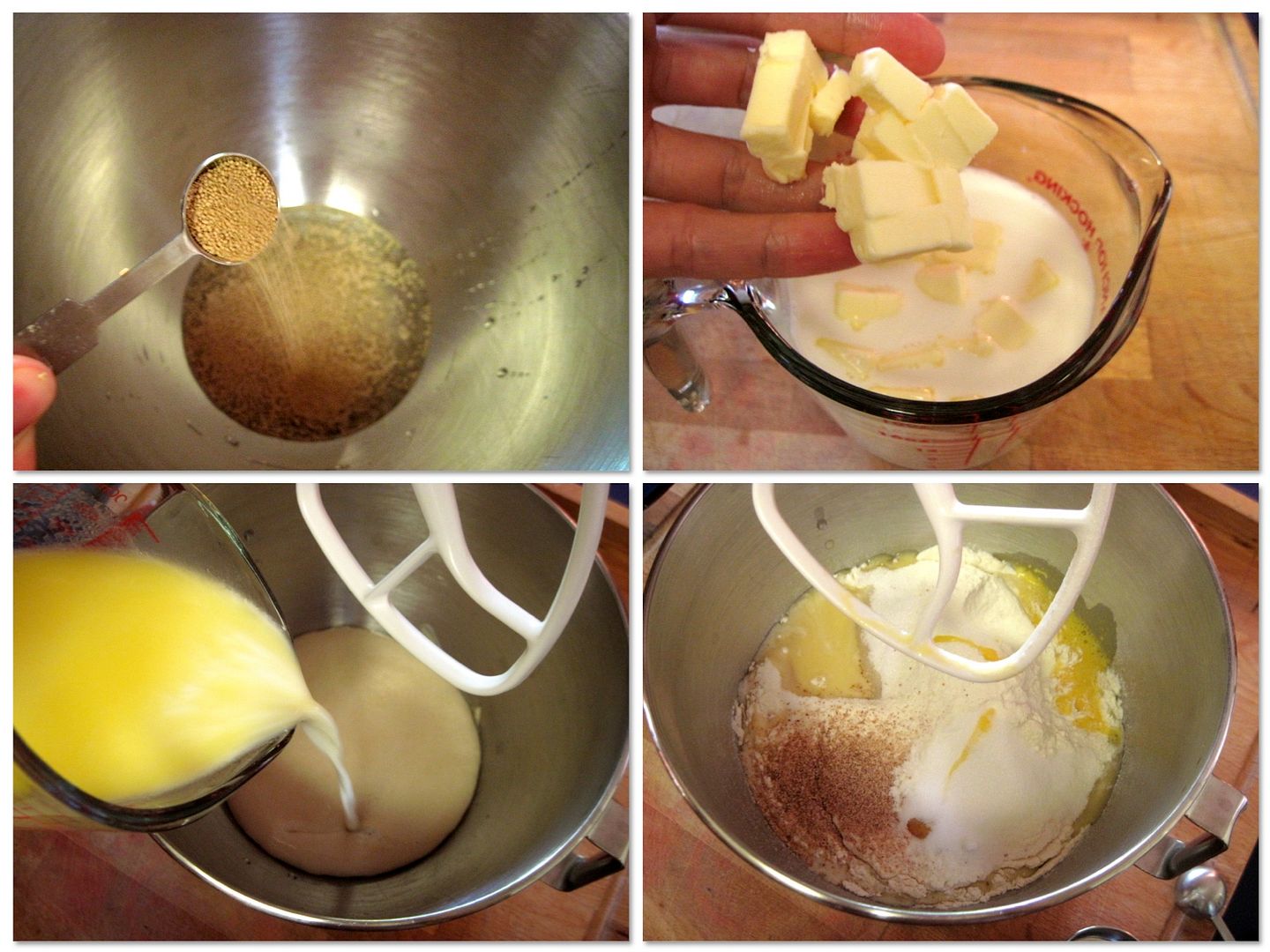 Stir on low speed to prevent the flour from flying all over your kitchen, then increase to medium speed and mix until you have a smooth-ish, liquidy batter. Add the remaining flour and mix again until you have a sticky, well-combined dough. Swap the paddle for the dough hook and knead on medium speed for a few minutes, until the dough pulls away from the sides of the bowl (it will be sticky and that is good, but I had to add a few spoonfuls of flour at this point). Scrape the dough into an oiled bowl, cover it with plastic, and set aside to rise until doubled (about an hour).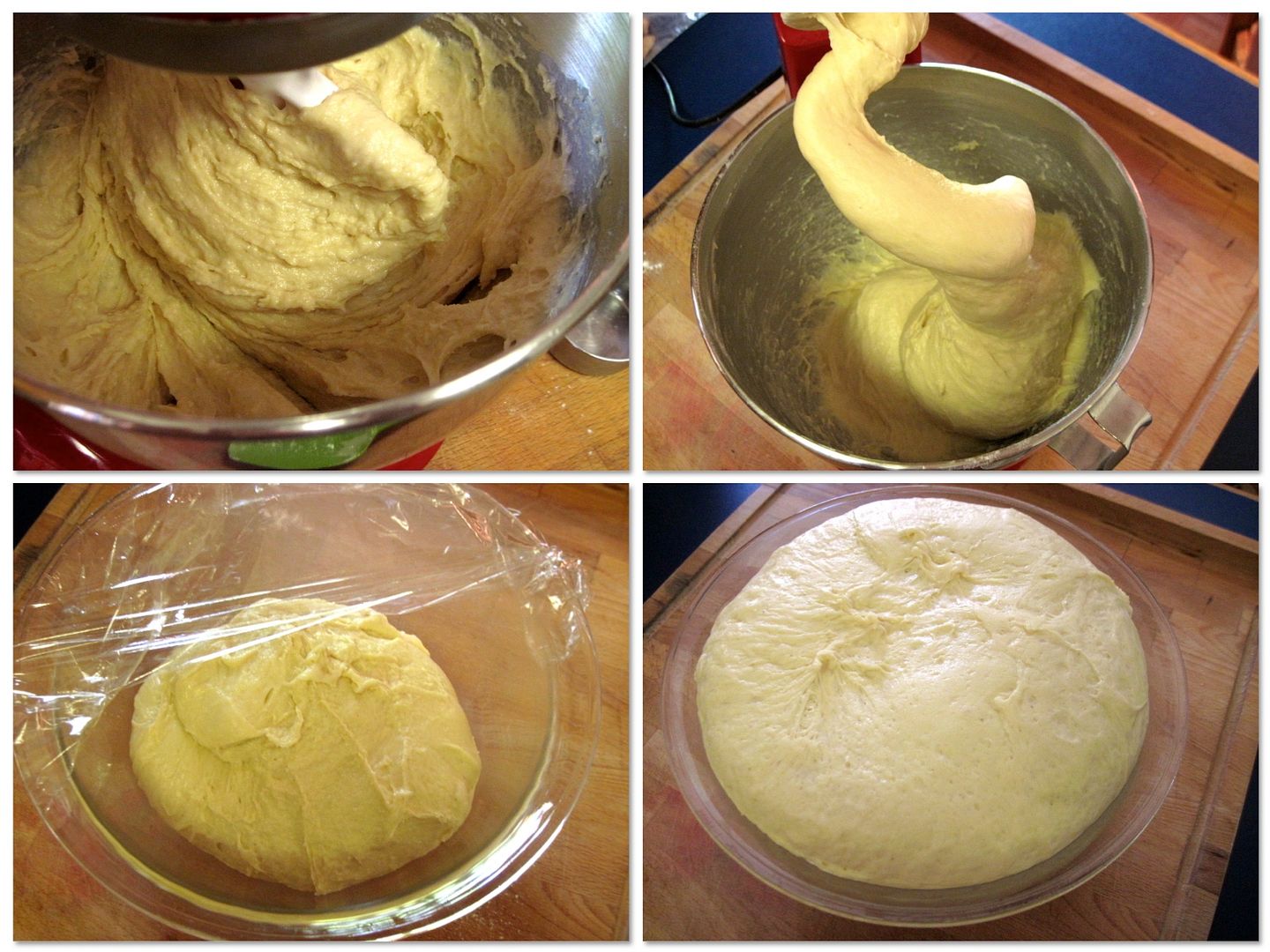 Gently turn out the dough onto a floured surface and pat it flat with your hand. Fold it in half, then in quarters. Pat it flat again and repeat, then tuck all the edges underneath and shape it into a neat round. This will redistribute the yeast in the dough and make the doughnuts rise nice and evenly. Cover it with an upturned bowl and let the dough rest for about 30 minutes.
Once it has rested, roll the dough out to just under half an inch thick (3/8 of an inch). Use a doughnut cutter to cut rings of dough, or you can use any 2 1/2″ circular cutter plus the bottom of a large piping tip to cut out the holes (ideally about 1″ in diameter). (For jam-filled doughnuts, skip the hole.) Lay the cut doughnuts and doughnut holes on a floured baking sheet, about an inch apart to give them room to expand without touching (or they will stick together).
Cover with a tea towel and proof for about 30 minutes, until puffy.
Meanwhile, heat 3 inches of vegetable oil (for me, this was close to 3 liters) in a large, heavy Dutch oven over medium/medium-low heat until it reaches 365˚F (a candy/deep fry thermometer is really important here). Set a cooling rack upside down on top of some paper towels on a baking sheet – this will allow the doughnuts to drain without becoming soggy.

One at a time, gently place the doughnuts in the hot oil, waiting a few seconds after each doughnut, and cook on both sides until deeply golden brown (1 – 2 minutes per side). Remove to the cooling rack. Because the dough is quite sticky, I found it easiest to place the doughnuts in the oil with my hands (very carefully), and the best tool for flipping and removing the doughnuts was the handle of a wooden spoon. Repeat with the doughnut holes, if you are so inclined. Let the doughnuts cool for about 15 minutes before glazing/filling/rolling in sugar.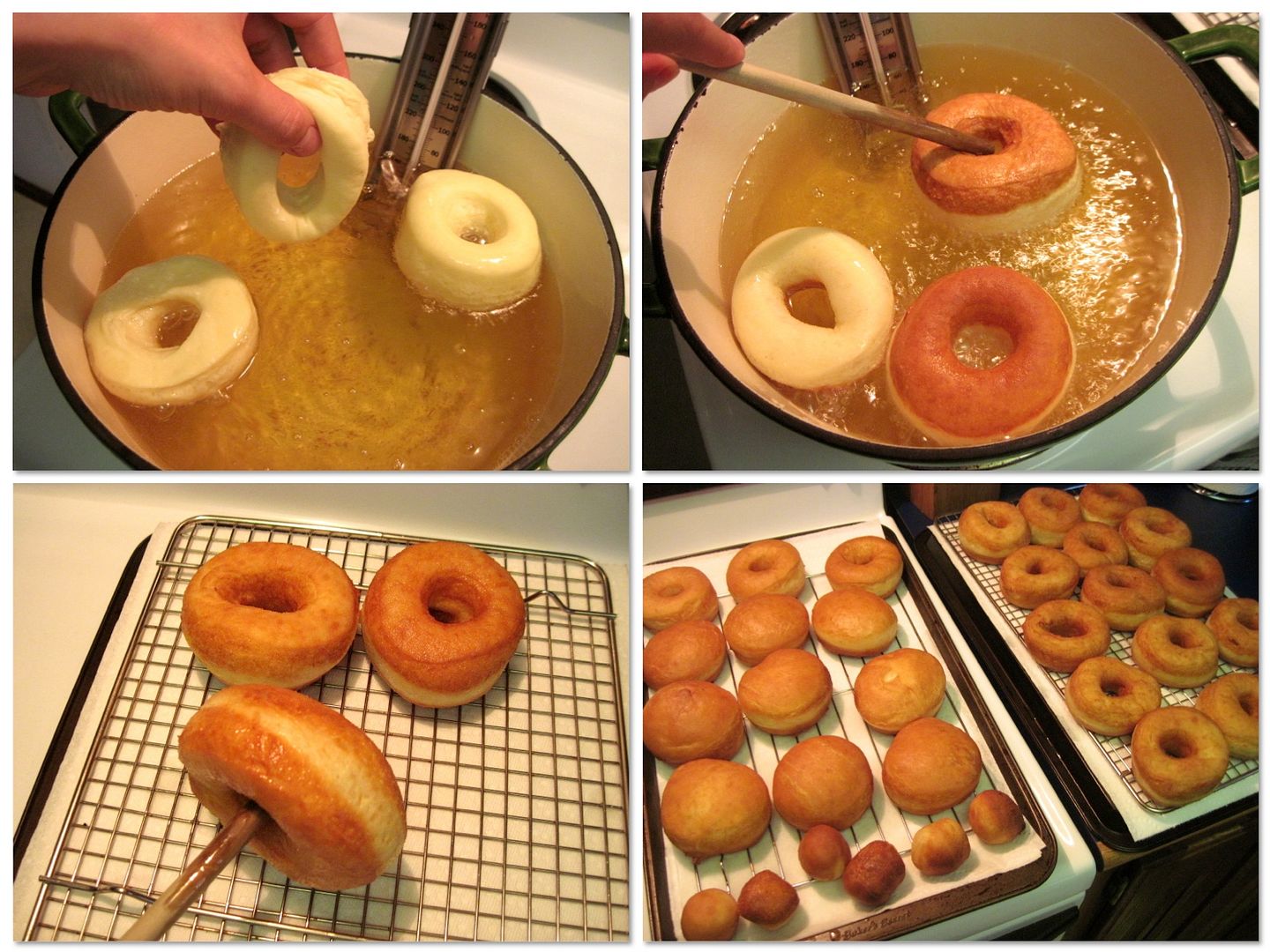 Glazing/Filling/Rolling
Each glaze variation given will make enough for an entire batch of doughnuts. I made one batch of plain glaze, poured half of it into a bowl and added the honey, then made the rest into half a batch of chocolate glaze.
For Plain Glaze, combine over low heat in a saucepan until warm:
1/4 cup milk
1 tsp vanilla
Sift 2 cups icing sugar and add to the warm milk, stirring slowly and gently with a whisk until smooth (you don't want to be too vigorous or you'll get too much air in the glaze, which will make it harden and fall off the doughnut when you bite into it). Dip the top of each doughnut into the glaze while it is still warm, and then place the doughnut on a tray to let the glaze set.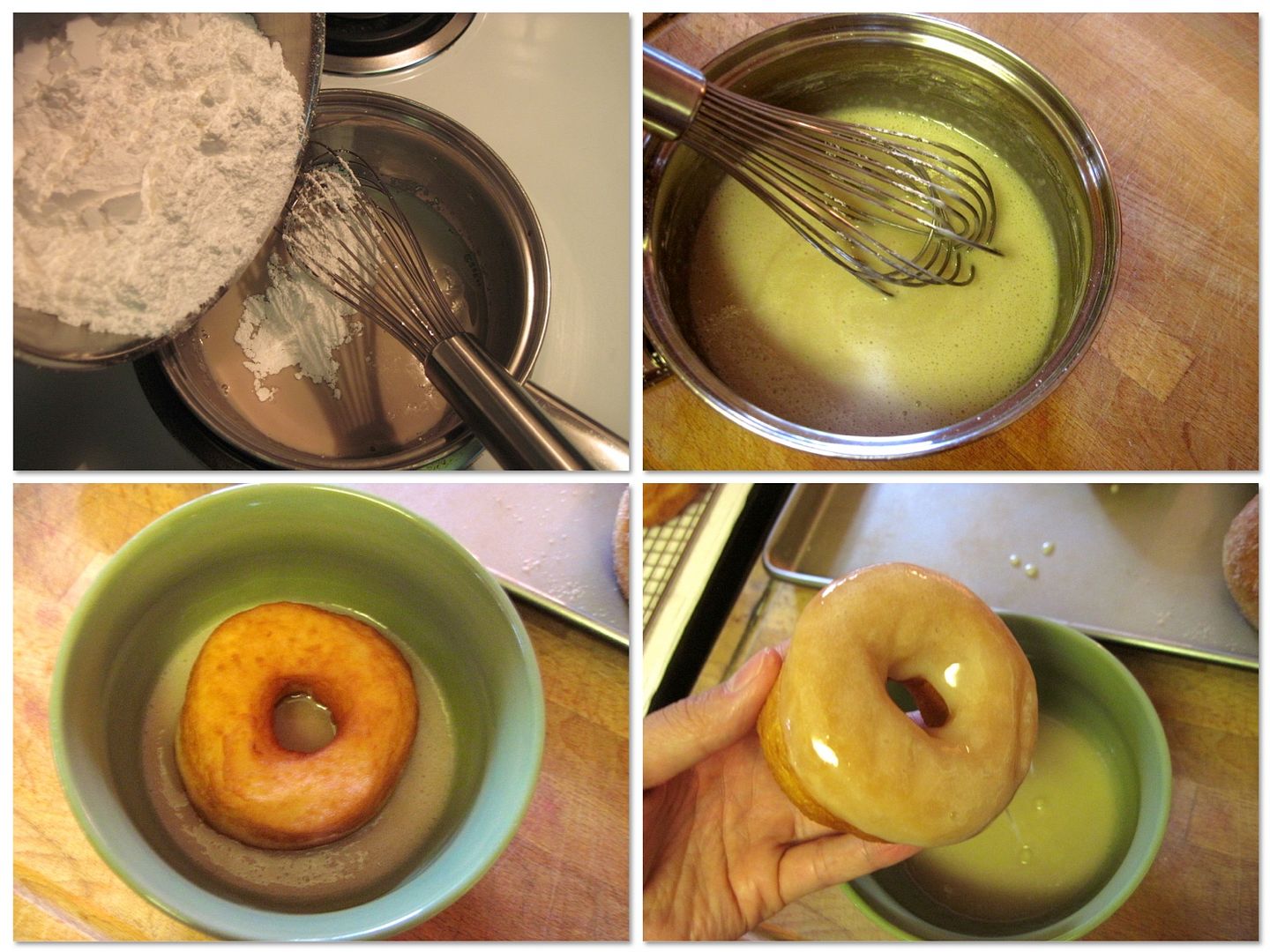 For Honey-Vanilla Glaze, stir 1 1/2 tbsp honey into the Plain Glaze.

For Chocolate Glaze, with the saucepan still over low heat, add to the Plain Glaze:
1/2 cup unsalted butter, cubed
1 additional tsp vanilla
1 tbsp corn syrup
pinch salt
Once the butter is melted, stir in:
4 oz bittersweet chocolate, chopped
Stir gently just until melted, then dip the doughnuts as described above. If desired, decorate with sprinkles or candies before the glaze sets.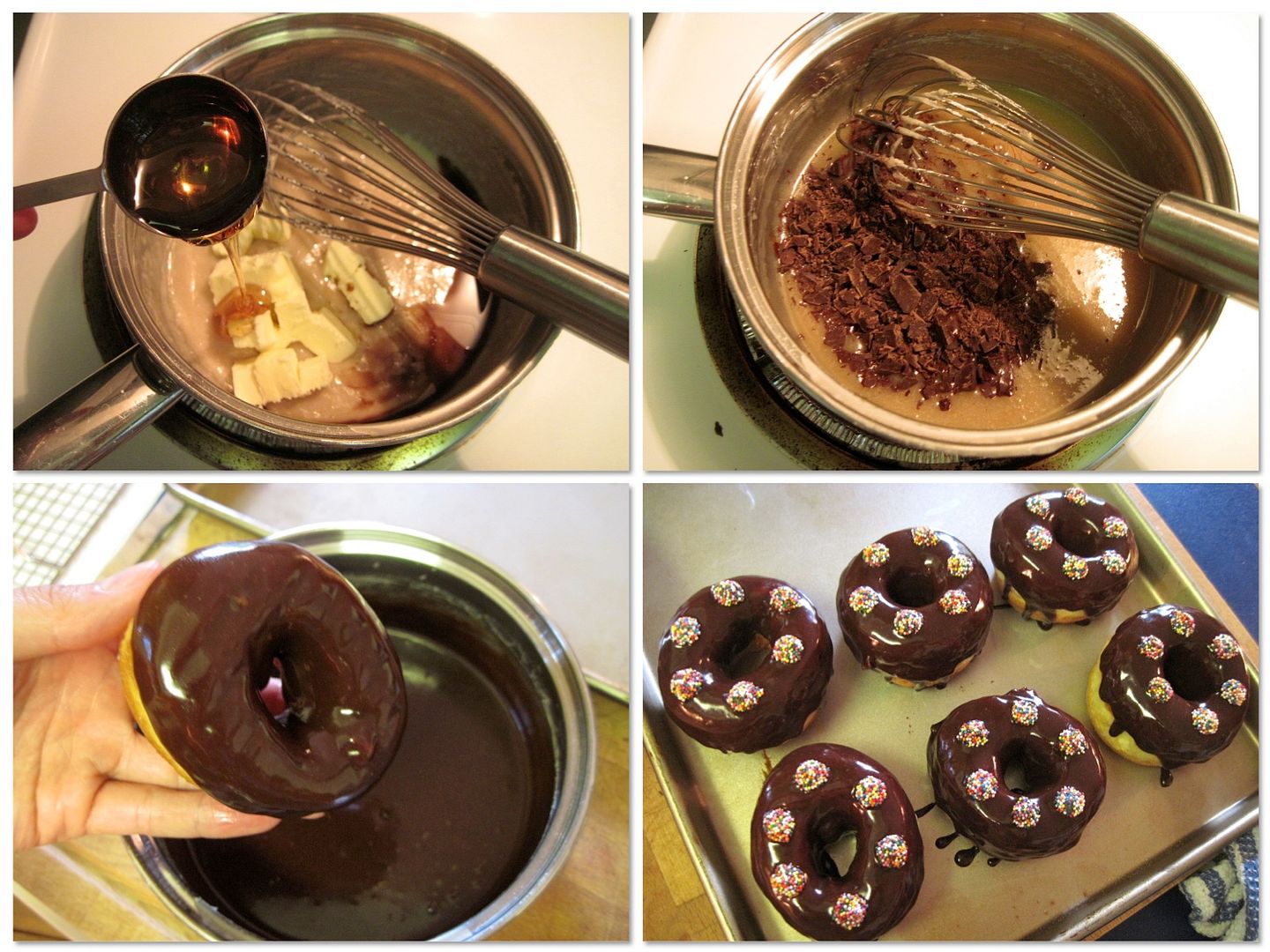 For Jam-Filled Doughnuts, do not cut a hole in the middle of the doughnut. Fry as above. Once cooled, poke a paring knife into the side of the doughnut to make a little pocket. Fill a piping bag with jam, poke the tip into the cut you made, and pipe the jam into the doughnut. Dust the tops of the doughnuts with icing sugar.
For Cinnamon-Sugar Doughnuts, mix together granulated white sugar and a big pinch of cinnamon (just eyeball it!) in a bowl. Gently press the doughnuts into the sugar mixture on both sides.

The doughnuts are best eaten the day they are made – they don't keep very well, hence my big worry about who would eat them all!