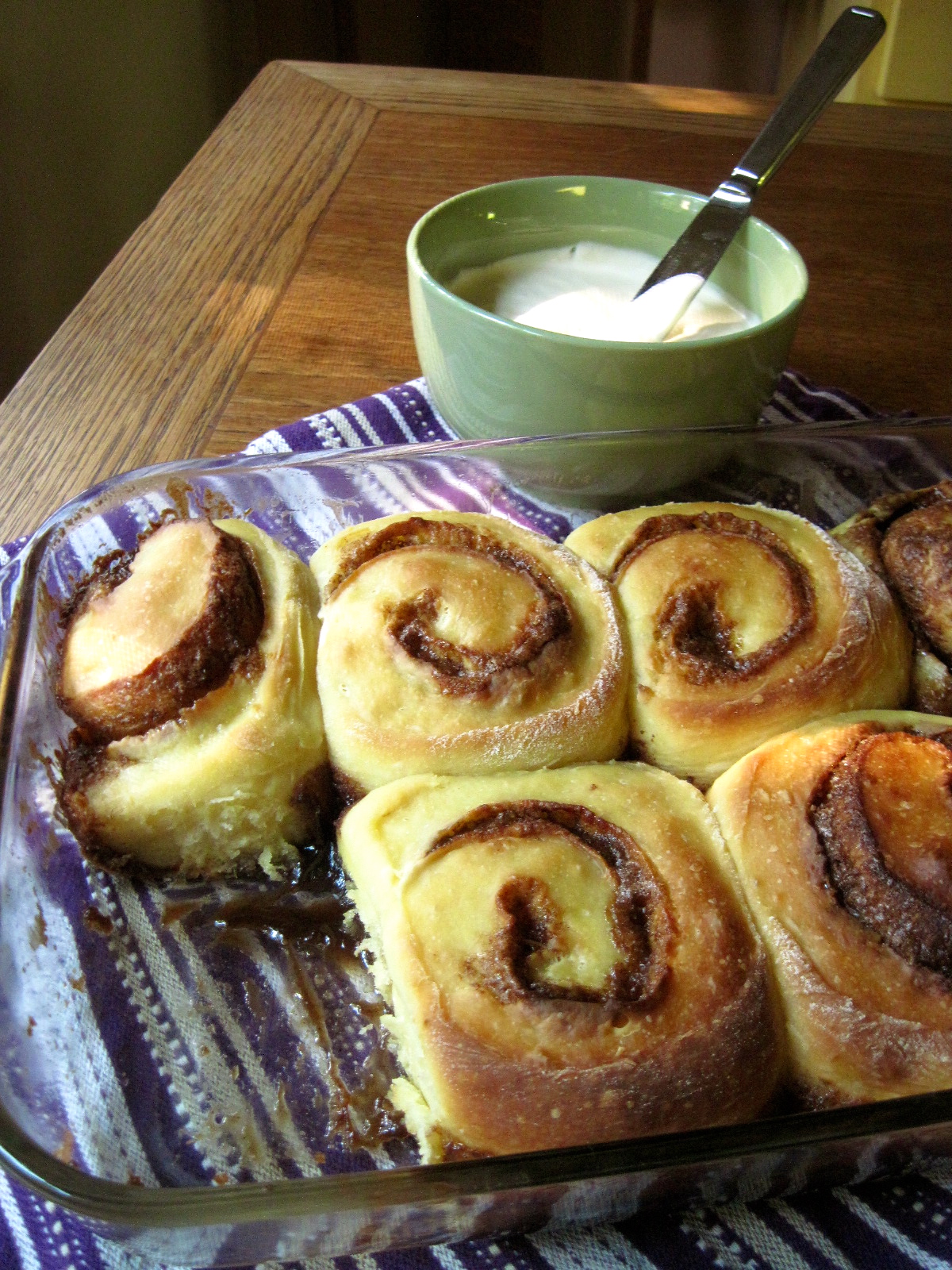 You know those absolutely huge cinnamon buns – the ones the size of your face – that you find at hotbeds of food culture like the mall food court? These are like those in size only – they taste a million times better (that's a mathematical fact, I can assure you).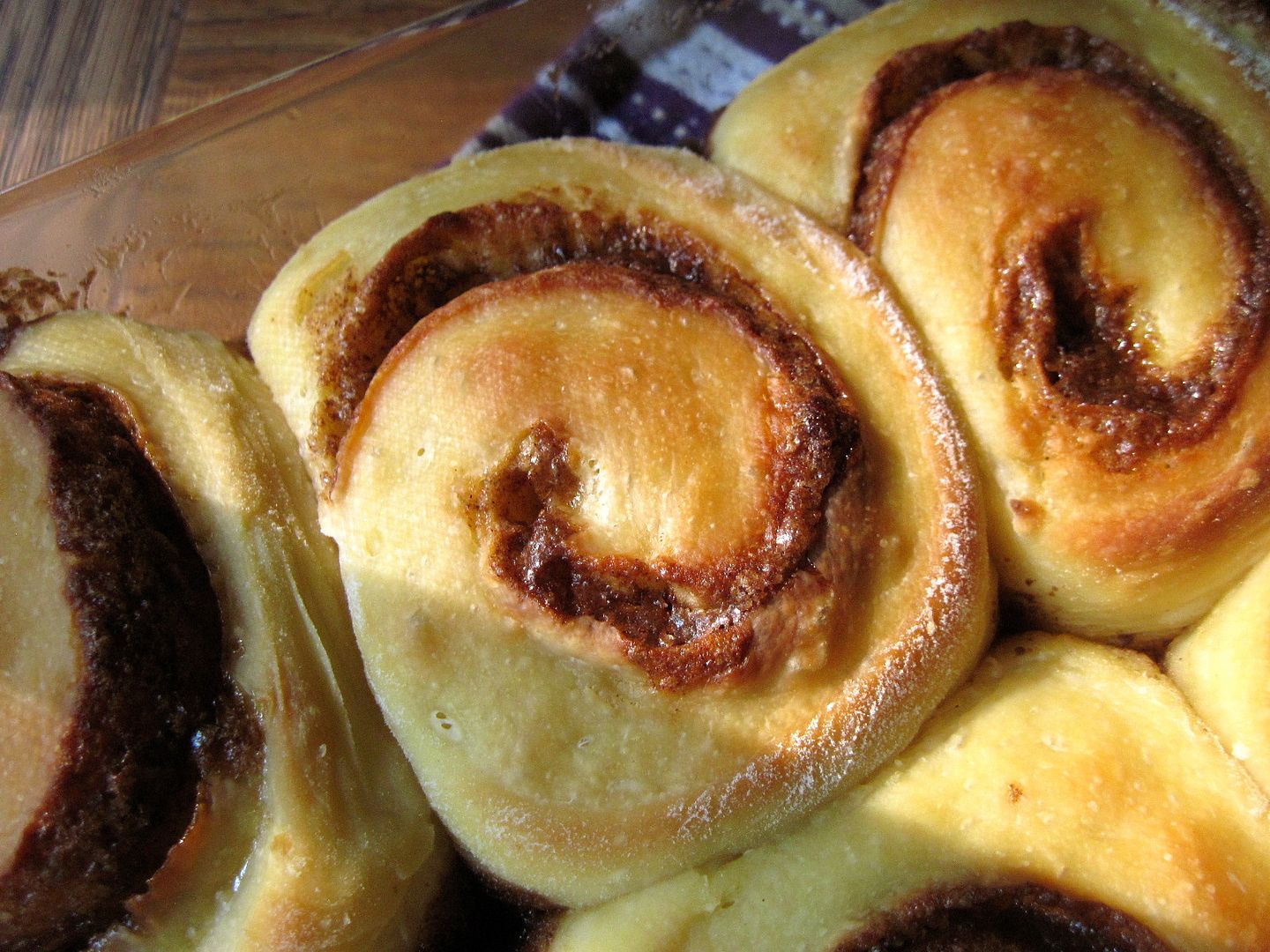 These cinnamon buns are indeed colossal in size, but they are also fairly colossal in flavour – but then, they should be, seeing as they take about three days to make! As with any sourdough recipe, they require a good amount of time, but most of it is just letting the dough hang out and do its thing, which means you can go off and do your thing, too. If you do a little bit of planning before starting these, you can easily have them fresh out of the oven for breakfast one morning, however I am guilty of not always planning my baking exploits very well so it didn't work out that way for me – but I can now tell you on good authority that the dough is pretty forgiving and you can throw it in the fridge to wait for you if its schedule doesn't mesh with yours.
So what's so special about these buns, other than the fact they they are huge and take forever? Well, for one, they have a very intriguing secret ingredient: mashed potatoes. This helps make the dough extra light and soft. The enriched dough is also made in a totally unique way: rather than mixing the butter into the already-formed dough, which is the normal brioche method, the butter is first creamed with sugar, eggs, and milk, and then the starter and flour are added. Weird but it works! You end up with an incredibly sticky, soft dough – almost more of a batter, really – but it makes for some amazingly tender and voluminous buns.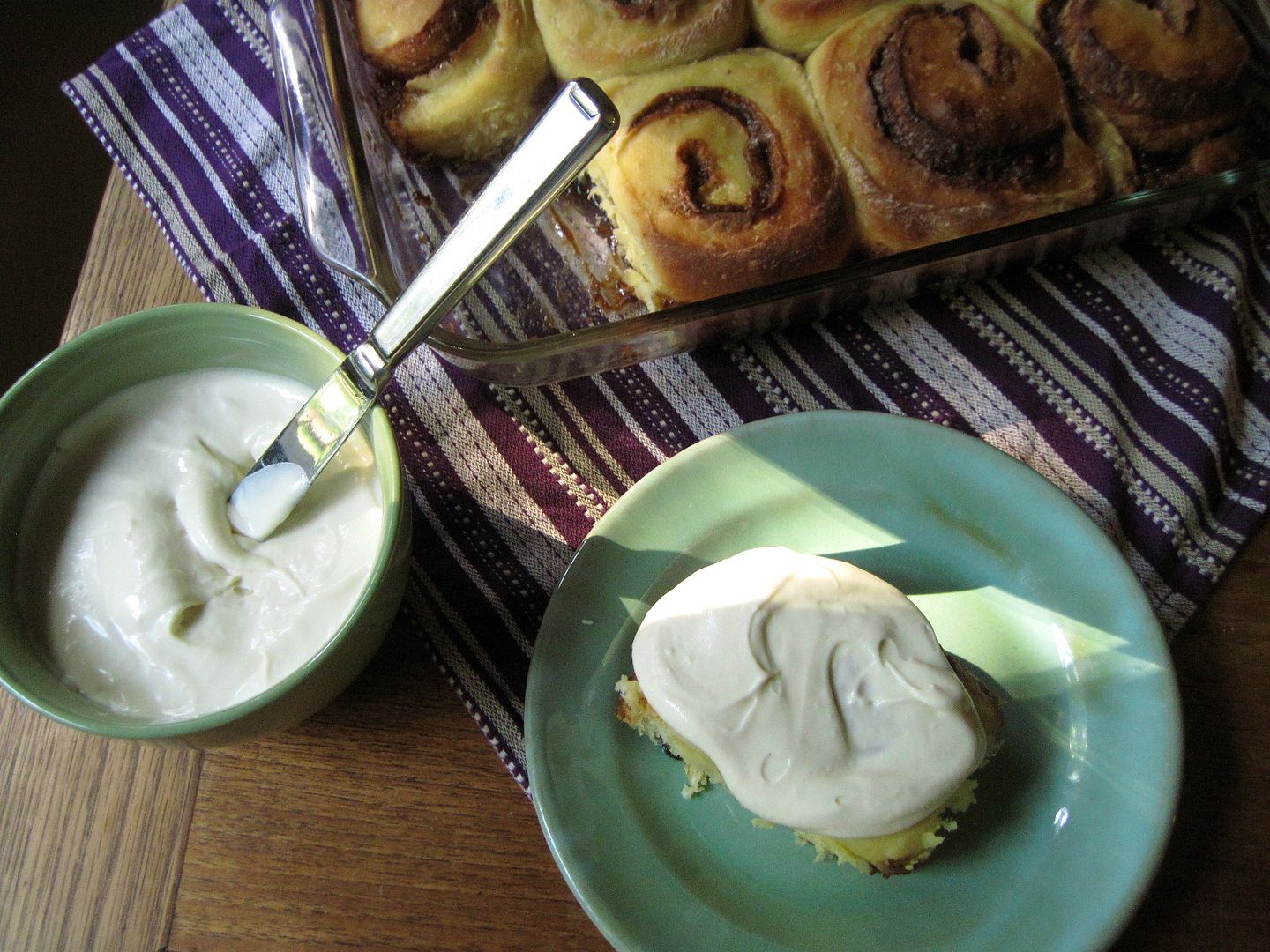 The dough is sweetly vanilla-scented with all the complex flavours of a long fermentation process, the cinnamon-sugar filling melts into caramel-y puddles beneath each bun, and the cream cheese frosting… well, putting it on a warm cinnamon bun is a dangerous, dangerous thing. I dove into this bun with both hands (a fork would have been a better idea), licking my fingers with abandon and barely pausing long enough from stuffing my face to wipe off one hand to take a picture. Yup, they're GOOD.
This is a Sourdough Surprises project, and boy am I glad the ladies in charge picked this recipe! Lengthy but worth it, I'd say 🙂 Check out the link below for all the other delicious sourdough cinnamon (and other!) buns made this month.

Colossal Sourdough Cinnamon Buns
Adapted from Not So Humble Pie and Mountaindog @ The Fresh Loaf. Makes 8 giant buns, which is from only half the original recipe yielding 12 buns (I can only imagine how big those ones must have been!!) The ideal schedule for these buns is mix the levain in the evening of Day 1, make the final dough the morning of Day 2, let it rise all day, fill and shape the rolls in the evening, let them proof overnight in the fridge, then bake in the morning of Day 3. Or something like that!
Levain
In a large bowl, mix together:
75 grams 100% hydration mature, active starter
170 grams water
170 grams all purpose flour
Mix the water into the starter first, followed by the flour. Cover and let ferment overnight.

Final Dough
The next morning, cream in the bowl of an electric mixer with the paddle attachment:
57 grams unsalted butter, soft
When the butter is light and fluffy, add:
1 egg + 1 egg yolk
21 grams honey
12 grams (1 tbsp) vanilla
65 grams mashed potato (just straight mashed potato – no butter or cream added, about 1 small potato's worth)
Continue creaming the mixture, scraping down the sides of the bowl, until well blended (don't worry if it looks curdled).

Switch the paddle attachment for the dough hook and add:
97 grams milk
415 425 grams levain (the whole amount) (you will have a little bit of levain leftover – just throw it back in with your starter) *edited Oct 26, 2013
Mix until well blended – the butter might curdle badly at first, but it will be OK. Just keep mixing and eventually it will come together in a lumpy-looking batter.

Mix together:
350 grams all purpose flour
10 grams salt
With the mixer on medium-low, gradually add the flour to the levain mixture. Mix until well-blended, scraping down the bottom and sides of the bowl a few times. The dough will be very soft and sticky. Cover the bowl and let it rest for about 20 minutes.

After 20 minutes, mix again for 2 – 3 minutes, until the dough is silky smooth but still very wet and sticky (resist the temptation to add more flour!)
Scrape the (incredibly wet and sticky) dough into a large buttered bowl, cover it, and let it rise somewhere cool (like the fridge) until doubled (8 – 12 hours, depending on the temperature). Give the dough a stretch and fold every 4 hours. The dough is much easier to handle and roll out when chilled, so if you haven't been rising it in the fridge, I would suggest putting it in there for at least an hour at the end of its rise.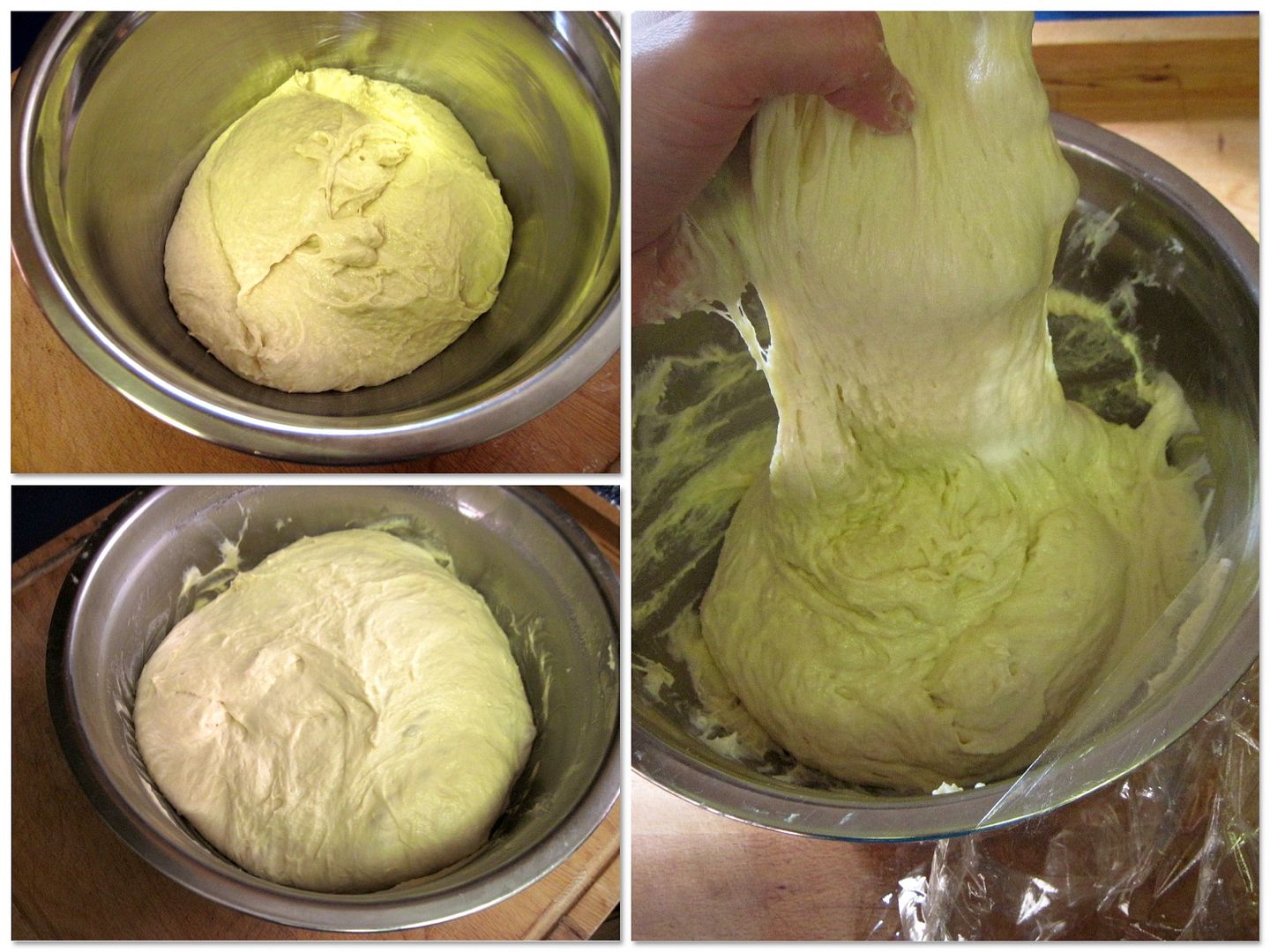 Towards the end of the rise, prepare the filling.
Filling
In a small bowl, mix together:
85 grams melted unsalted butter
43 grams heavy cream
6 grams (1 1/2 tsp) vanilla
In another bowl, combine:
225 grams brown sugar
3 grams (1 1/2 tsp) cinnamon
a pinch of freshly grated nutmeg
a pinch of salt
Set both bowls aside while you roll out the dough.

Once the dough has risen double, prepare a couche for rolling it out. If you don't have a real baker's couche, you can use a woven, fuzz-less cotton or linen tea towel. Sprinkle it VERY generously with flour and rub it into the cloth with your hand. Don't skimp on the flour, otherwise the dough WILL stick and it will be not very fun.
Turn the dough out onto the floured couche, sprinkle it with more flour, and stretch it into a rectangular shape. Use a floured rolling pin to even it out into a 9″ x 18″ rectangle.
Drizzle the butter-cream mixture over the dough and spread it out, right to the edges, with the back of a spoon. Sprinkle the brown sugar mixture evenly over top and spread it out in a similar fashion. Roll the dough up into a cylinder from one long end, using the couche to help with the rolling. Use a piece of thread or (non-minty) dental floss to cut the cylinder into 8 rolls. As you cut each one, transfer it to a buttered 9″ x 13″ baking pan.
Cover with plastic and let rise in the fridge until doubled (overnight) – or, if you're impatient like I am, in a warm place for a few hours.
Bake the rolls in a preheated 400˚F oven for 25 – 35 minutes, until they are 195˚ – 200˚F in the middle. Make the cream cheese frosting while the rolls cool in the pan. (You can brush them with a little melted butter to keep them soft, but I skipped this and they were fine.)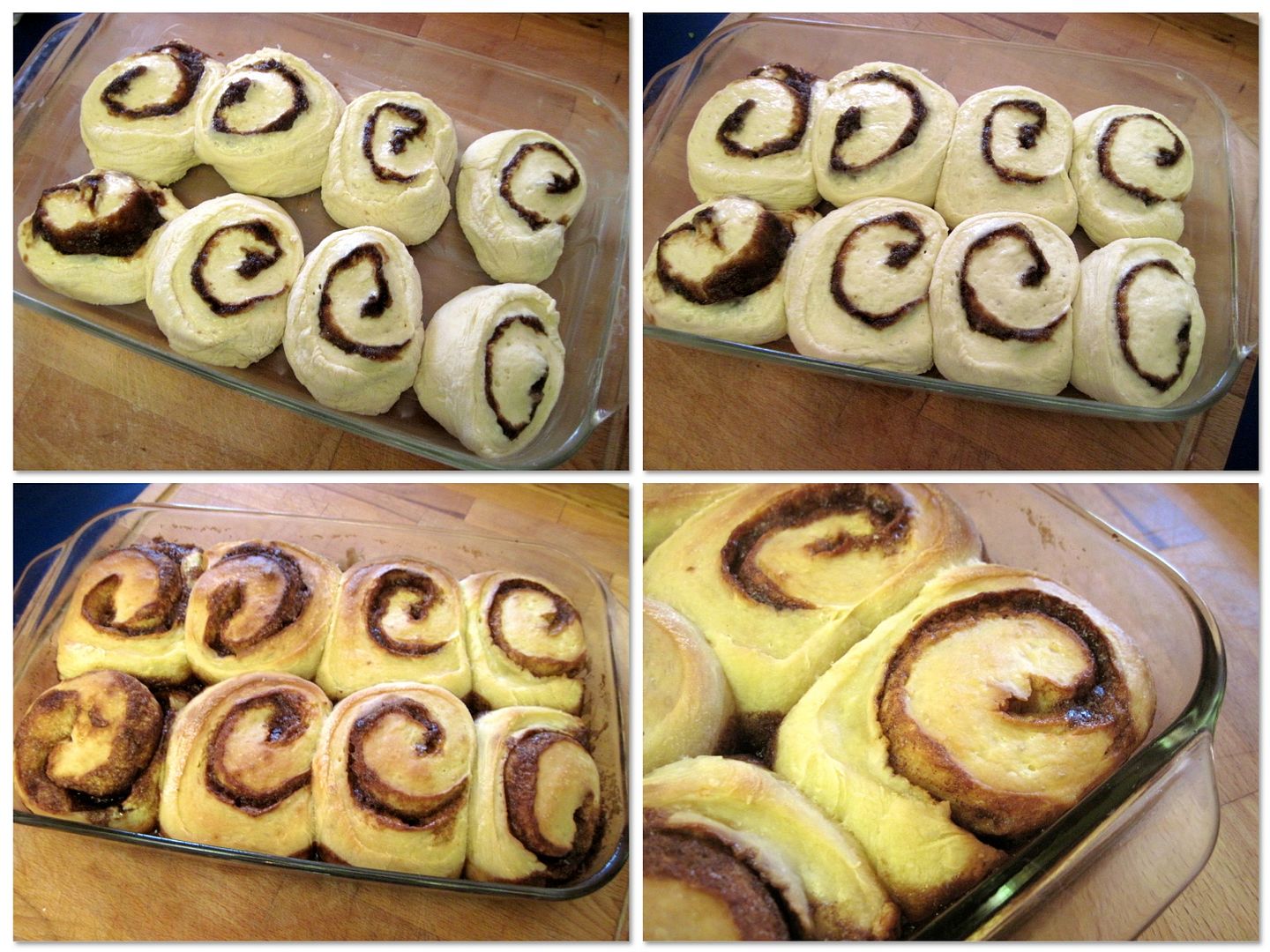 Cream Cheese Frosting
Adapted from Not So Humble Pie.
In the bowl of an electric mixer fitted with the whisk attachment, beat until smooth and light:
8 oz cream cheese
3/4 cup powdered sugar
1/2 tsp vanilla
Scrape into another bowl and clean off the whisk. Pour 1/2 cup of heavy cream into the mixer bowl and beat just until stiff peaks form. Add in the cream cheese mixture and beat quickly to combine (don't over-mix). It should be quite light and fluffy, however I used cheap cream cheese so mine never thickened up very well. But it still tasted awesome!
Slather an embarrassingly large spoonful of the frosting on a still-warm cinnamon roll and dig in. You're welcome.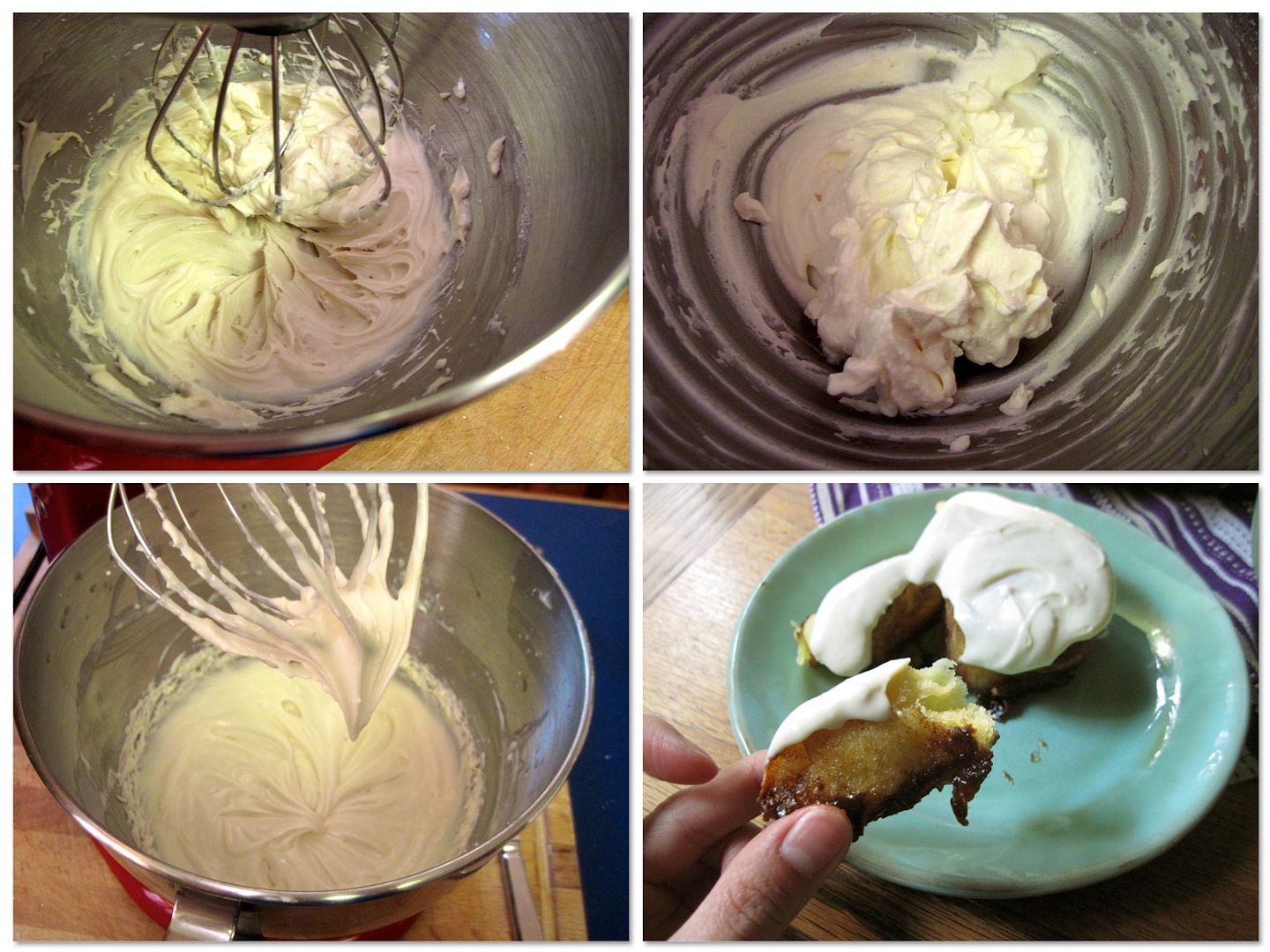 Store any leftover rolls unfrosted, covered in plastic wrap, at room temperature, for up to 2 days.
*     *     *
This post has been YeastSpotted and submitted to Panissimo, the bready brainchild of Barbara and Sandra, hosted this month by Sandra herself.