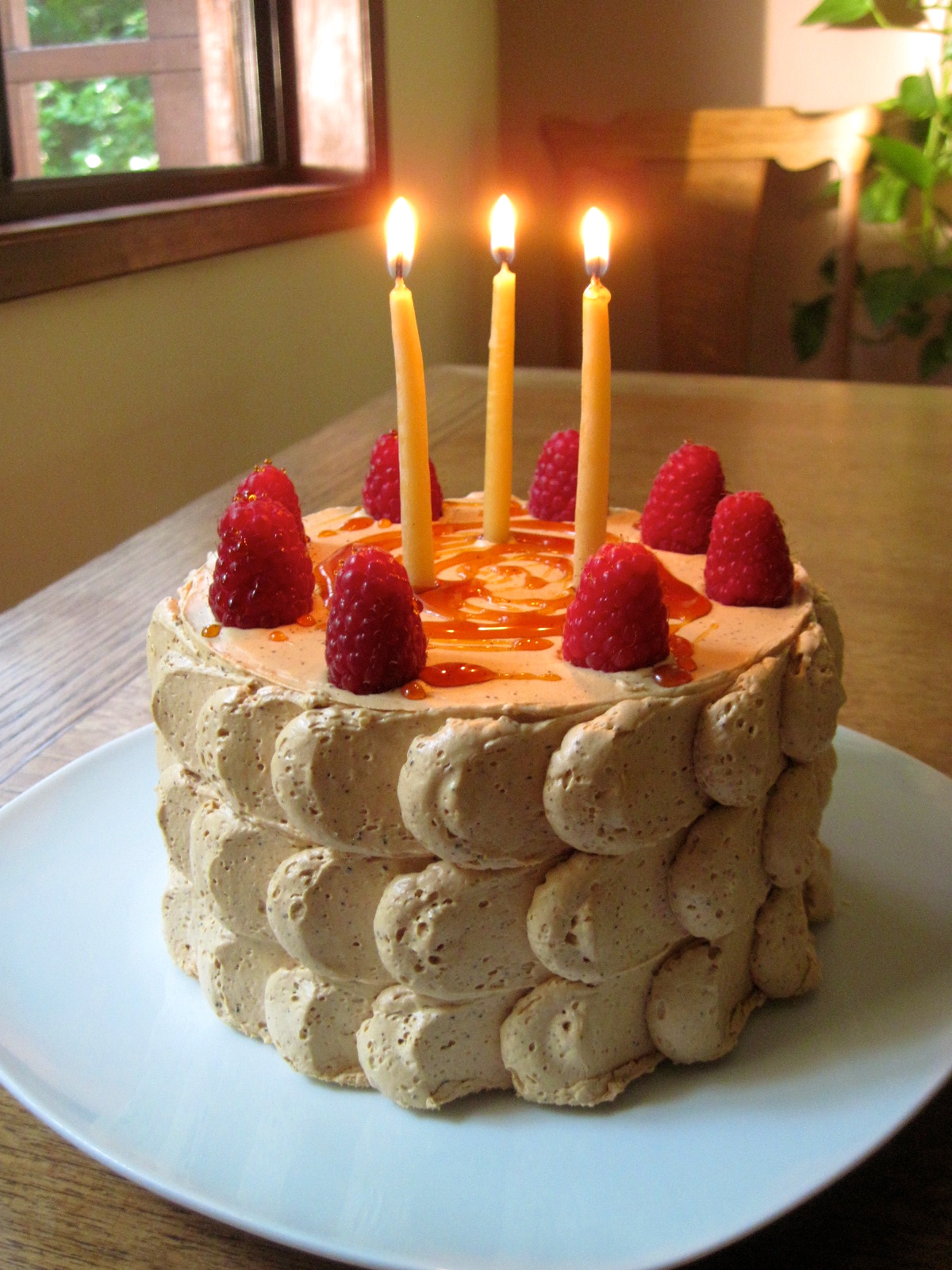 I turned thirty this past Sunday. Thirty. I know that age is just a number and I'm still plenty young, but it sounds a lot older than twenty-nine, somehow. It was a milestone, anyway, so there had to be an appropriate cake. As with every birthday cake I make, there was some agonizing over what kind it should be – but only a little. I already had it narrowed down between a crêpe cake or a caramel cake, and the caramel cake won. (But the crêpe cake is still on the list, because WOW.)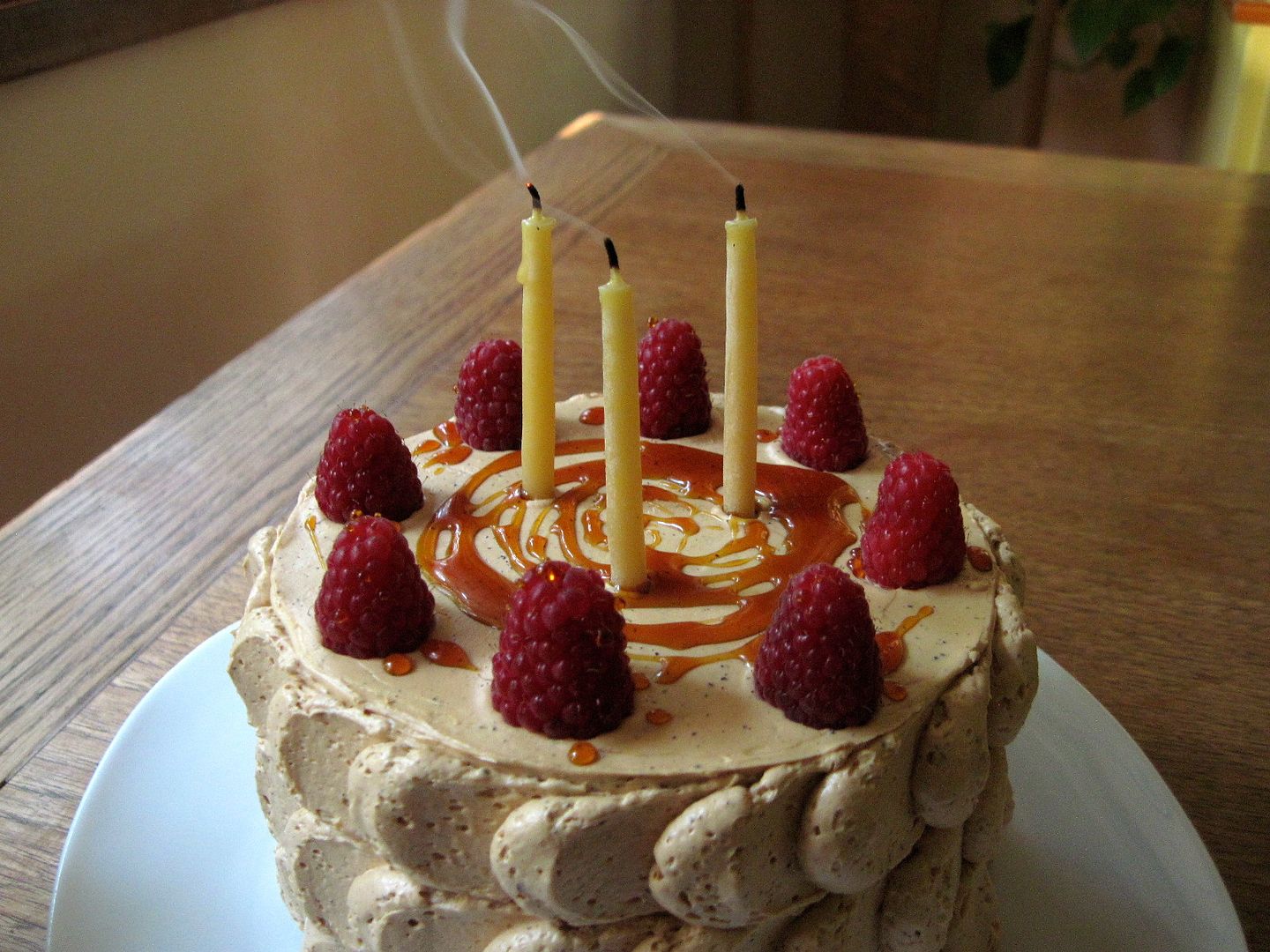 This caramel cake is from pastry chef Shuna Fish Lydon (great name, right?), and it's a little bit internet famous for being both delicious and kind of finicky to make (see this hilarious example). It was actually a Daring Bakers' challenge recipe way back in 2008, which is how I came across it. I had made a similar caramel cake previously, which involved (like this one) making a caramel syrup to infuse both the cake batter and icing, but I don't remember that cake being all that special, probably because I didn't cook the caramel long enough. Shuna's cake, however, is pretty awesome: dense but not heavy with a very pleasing texture, and deeply flavoured with the complexities of a well-cooked caramel. That is really the trick – cooking your caramel properly – otherwise it's just sugar syrup, and that doesn't exactly taste interesting.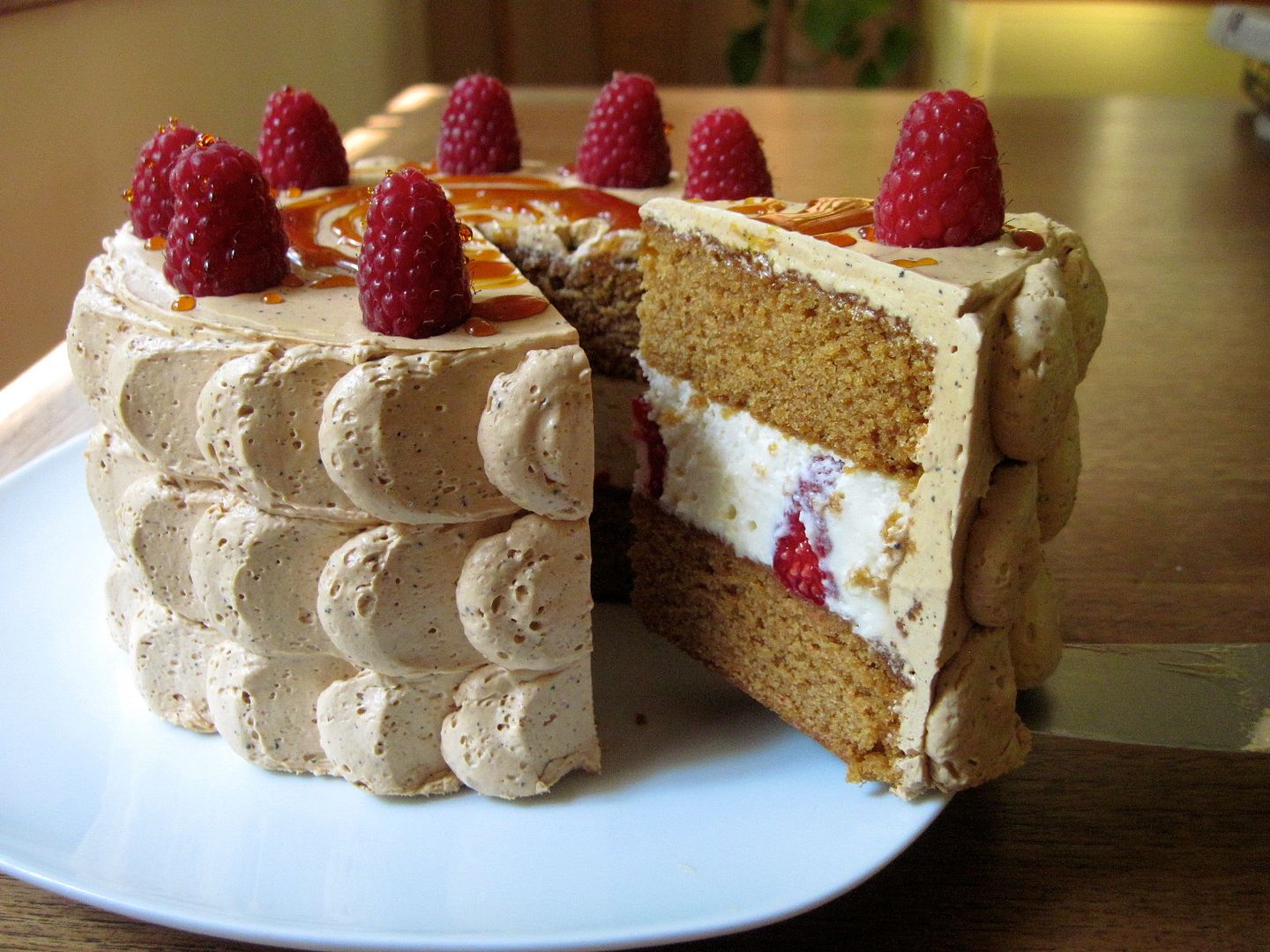 Shuna's original recipe makes a single thick 9-inch round cake and is smothered in a browned butter icing made with confectioner's sugar and more caramel. I halved the recipe to make two 6-inch round layers, and added a filling of whipped cream and raspberries to cut the sweetness that I knew the frosting would bring. I almost – almost – made Shuna's frosting as written, but my dislike of confectioner's sugar icing won out at the last minute and I turned it into a Swiss meringue buttercream frosting using browned butter instead. Which is probably one of the best things I've ever tasted: seriously flavourful with rich caramelization from both the browned butter and the caramel syrup, and oh so luscious.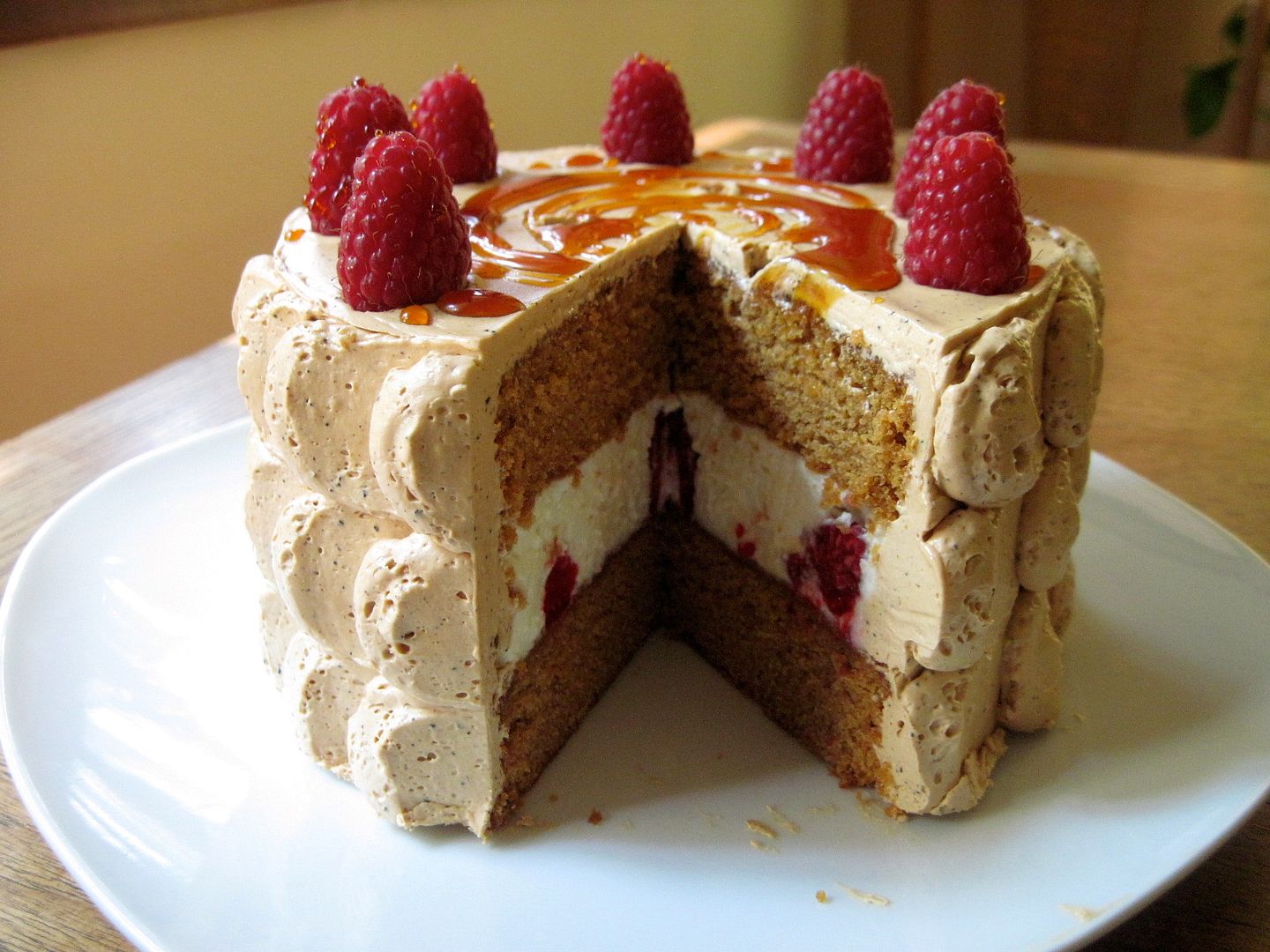 I tried out this ruffled/fish scale piping technique around the sides of the cake, which worked exceptionally well considering that I had just exactly enough frosting to finish the pattern. I literally ran out of frosting as I piped the last dot (and I was being extremely economical), so I've increased the amount of Swiss meringue buttercream by a bit so you'll have enough to do the job without having to be so parsimonious with the frosting 😉
The cake, whipped cream, raspberries, and frosting were a delicious (albeit very rich) combination – perfect for kicking off a new decade (my fourth! I guess that means I'm really an adult now, hey?) If I were to do one thing differently, I might crush the raspberries and swirl them through the whipped cream filling instead of leaving them whole, in order to spread their flavour out a bit more evenly, but as it was, I was pretty pleased with the way this cake looked and tasted 🙂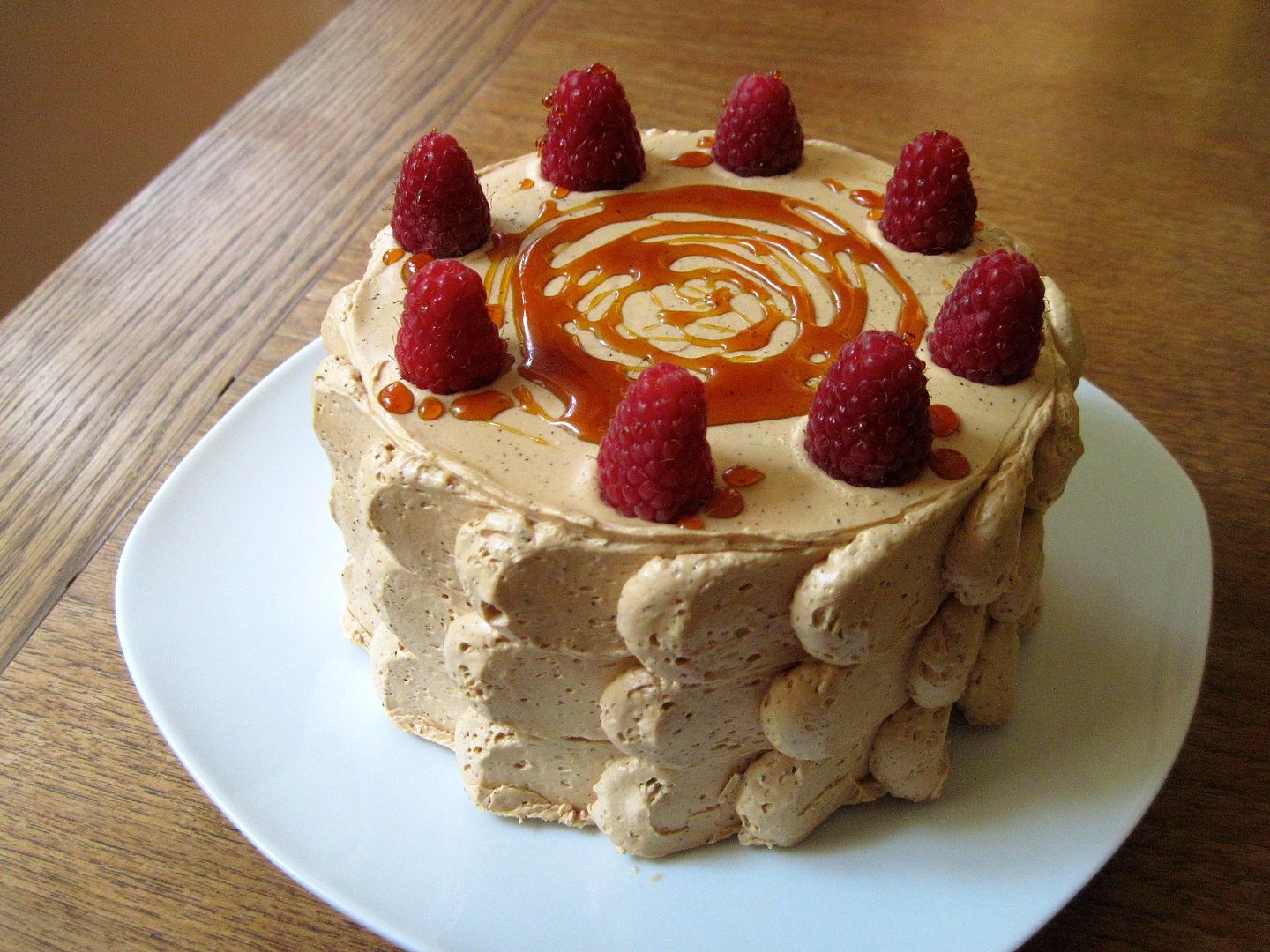 Caramel Cake with Raspberries and Cream
Cake adapted from Shuna Fish Lydon, cream filling adapted from Bon Appetit, buttercream ratios from Sweetapolita. Makes a 2-layer 6″ round cake (6 – 8 servings).
Caramel Cake
Caramel Syrup
Stir together in a medium pot with a heavy bottom:
1 cup granulated white sugar
1/4 cup water
Bring the mixture to a boil over medium-high heat, without stirring, and let it cook until it turns a dark mahogany colour. It's important to cook the caramel long enough to develop its flavour – it should be *just* starting to smoke very slightly, but shouldn't actually smell burnt. As soon as the colour is achieved, remove the caramel from the heat and very carefully pour in 1/2 cup water – the mixture will bubble and spit violently, so be prepared to step back (remember, the caramel is MOLTEN HOT). Once all the water is added and it is safe to be in the vicinity of the pot, return it to medium heat and stir until it reduced slightly to be sticky and syrupy. To test this, dip a spoon in the caramel, let it cool, and then rub some between two fingers – it should be the consistency of pancake syrup. (Whatever you do, DO NOT dip your fingers directly into the pot of hot caramel to test it – you will burn yourself badly.) Pour the caramel syrup into a bowl and set aside to cool completely.

Cake Batter
Preheat the oven to 350˚F. In the bowl of an electric mixer, cream together:
5 tbsp unsalted butter, softened to room temperature
1/2 cup + 2 tbsp granulated white sugar
Beat on medium-high speed until light and fluffy (it might seem dry and clumpy at first, but it will lighten up). One tablespoon at a time, add 3 tbsp cooled caramel syrup and mix until well combined.
With the mixer still at medium-high speed, stir in:
1 egg, at room temperature
1/2 tsp vanilla
Beat the mixture until well-incorporated, light, and uniform.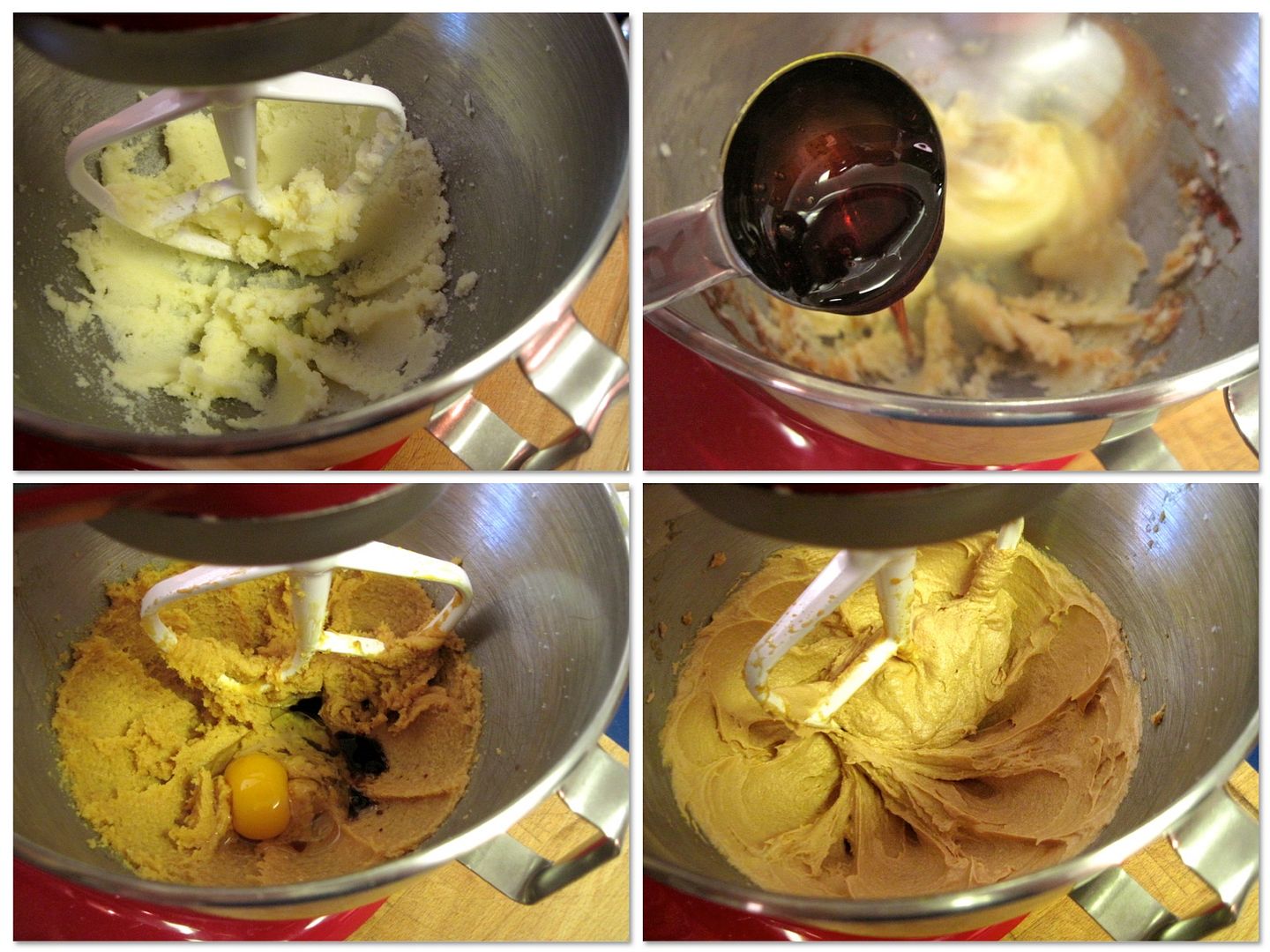 On a piece of parchment or waxed paper, sift together:
1 cup all purpose flour
1/4 tsp baking powder
pinch salt
Measure out 1/2 cup of milk, at room temperature.
With the mixer on it slowest speed, add 1/3 of the dry ingredients to the bowl (use the parchment paper to make a sort of spout). Once they are just incorporated, slowly pour in 1/2 the milk and stir just until combined. Scrape down the sides of the bowl and repeat with another 1/3 of dry and 1/2 the milk. Finish with the remaining 1/3 dry ingredients, scraping down the bowl as needed. Give the batter a few final folds by hand to make sure it is evenly mixed and uniform. (Don't worry if it looks slightly curdled after adding the milk – it will be fine.)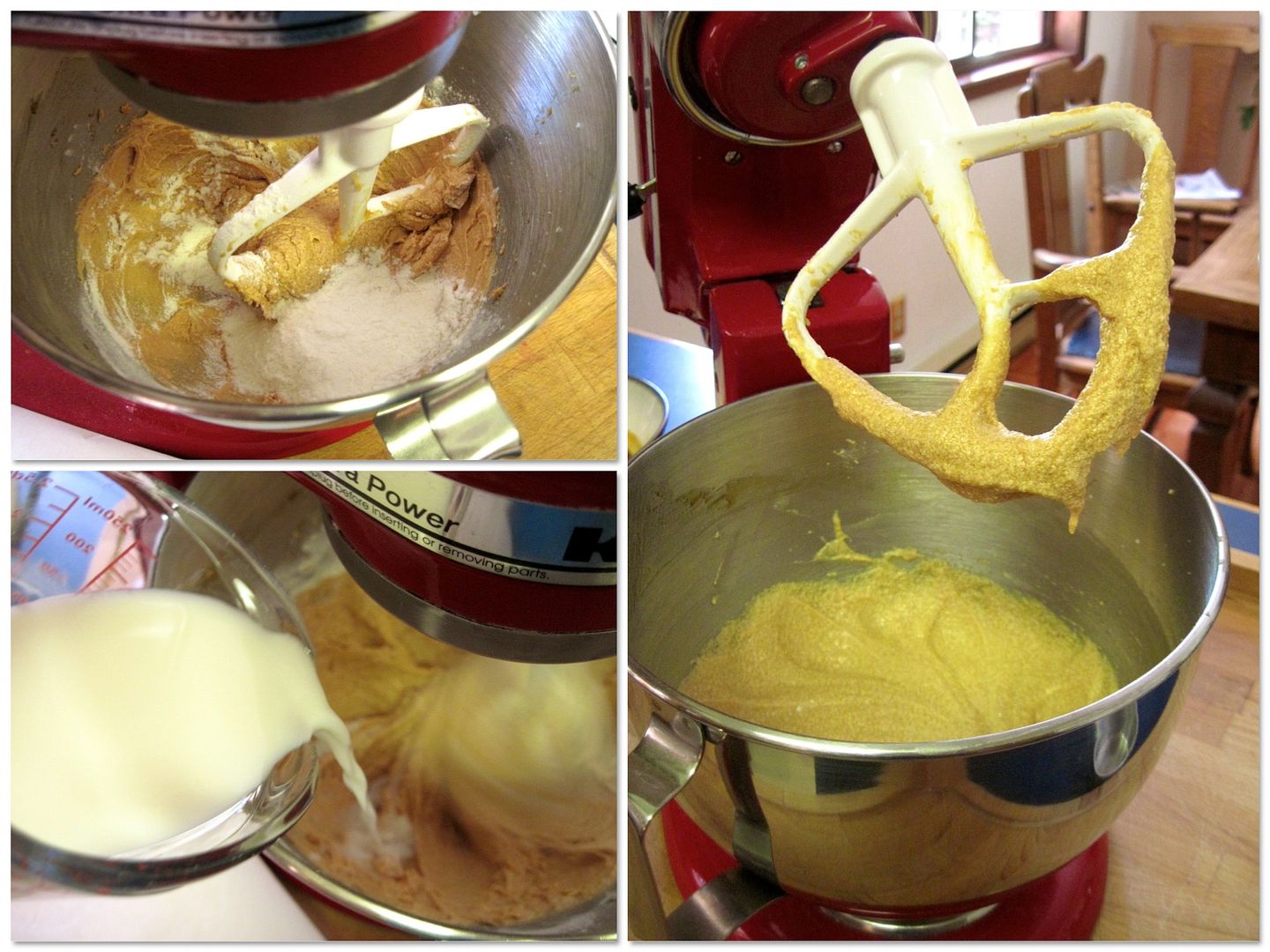 Divide the batter evenly between two 6″ round cake pans that have been greased and lined with parchment paper. Wrap the outside of each pan with a strip of damp towel to insulate it, and bake in the preheated 350˚F oven for 30 minutes, then rotate the pans and bake for another 15 – 20 minutes, until the cakes start to pull away from the sides of the pan and a skewer inserted in the middle comes out clean. Run a knife around the edge of the pan and invert the cakes onto a cooling rack. Peel off the parchment paper and let them cool completely. They can be wrapped and refrigerated for up to 3 days. I would recommend chilling before frosting the cakes, as it makes them slightly less crumb-y.
Whipped Cream Filling
In a small bowl combine:
1 tbsp water
1/2 tsp plain gelatin
Set aside to allow the gelatin to soften, about 10 minutes.
Meanwhile bring 1/4 cup heavy cream to a boil and add it to the softened gelatin. Whisk until smooth, then chill until cool (about 10 minutes), whisking frequently so you don't end up with cream jello. It will thicken quite a bit when cool.
Whip an additional 1/2 cup heavy cream until peaks form, then add:
the cooled gelatine mixture
1/4 tsp vanilla
1 tbsp confectioner's sugar
Beat until stiff peaks form (I somehow managed to overbeat the cream so it was kind of curdled – don't do that).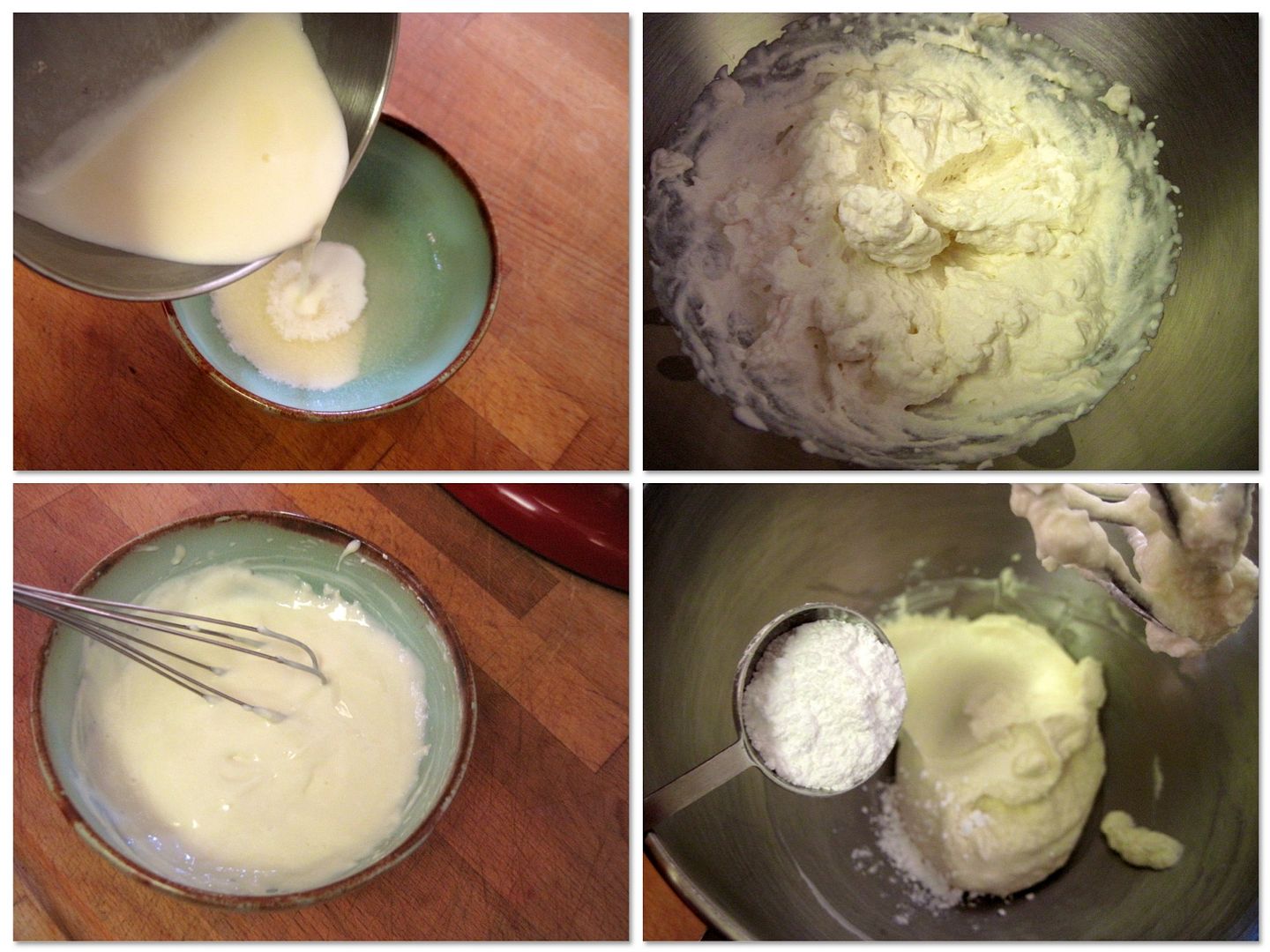 (At this point, you could crush a handful of raspberries and swirl them through the cream, or continue on using whole berries as I did.)
Browned Butter Caramel Swiss Meringue Buttercream
In a medium saucepan, melt 215 grams of unsalted butter over medium-high heat. Cook the butter (it will bubble vigorously) until it starts to smell nutty and turns a dark brown (use a spoon to move aside the foam so you can see the colour). Pour the browned butter until a shallow bowl (including all the little dark bits – those are major flavour!) and chill it until firm. Cut it into pieces and bring it to room temperature before using in the buttercream.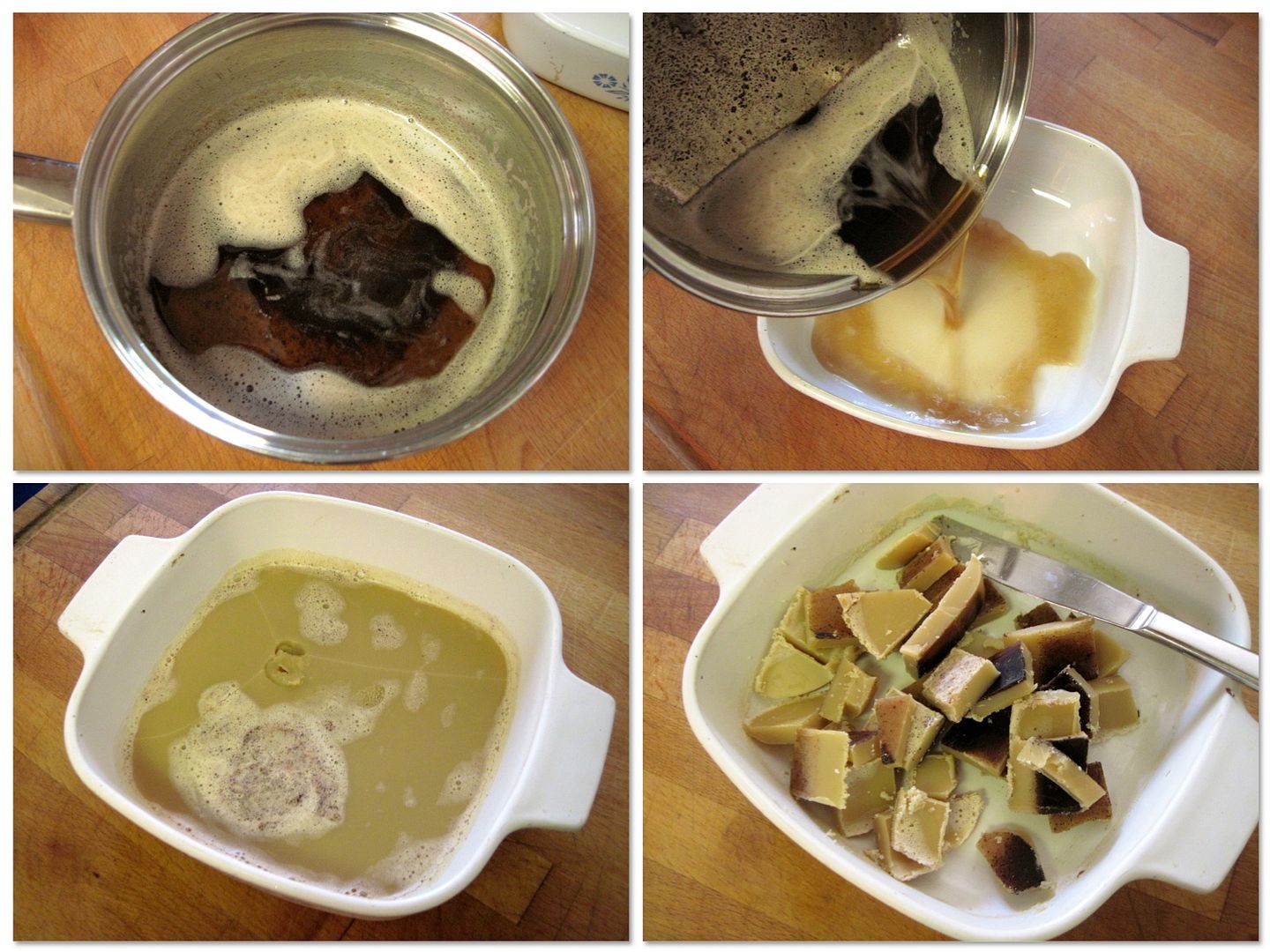 Moisten a paper towel with a little white vinegar and use it to thoroughly wipe the bowl and whisk attachment of an electric mixer to remove any traces of fat, which will mess with the ability of the egg whites to thicken properly.
In the clean mixer bowl, place:
95 grams egg whites
155 grams granulated white sugar
Place the bowl over a pan of simmering water à la bain marie and heat the egg whites, whisking constantly, until the sugar is dissolved and the mixture is hot to the touch (160˚F on an instant read thermometer). Place the bowl back on the electric mixer base and beat on medium-high speed with the whisk attachment until the egg whites form stiff, glossy peaks. Check the temperature of the egg white meringue with your finger – if it has not yet cooled to room temperature, keep stirring on low speed until it has. Do not proceed until it is completely cool, or it will just melt the butter!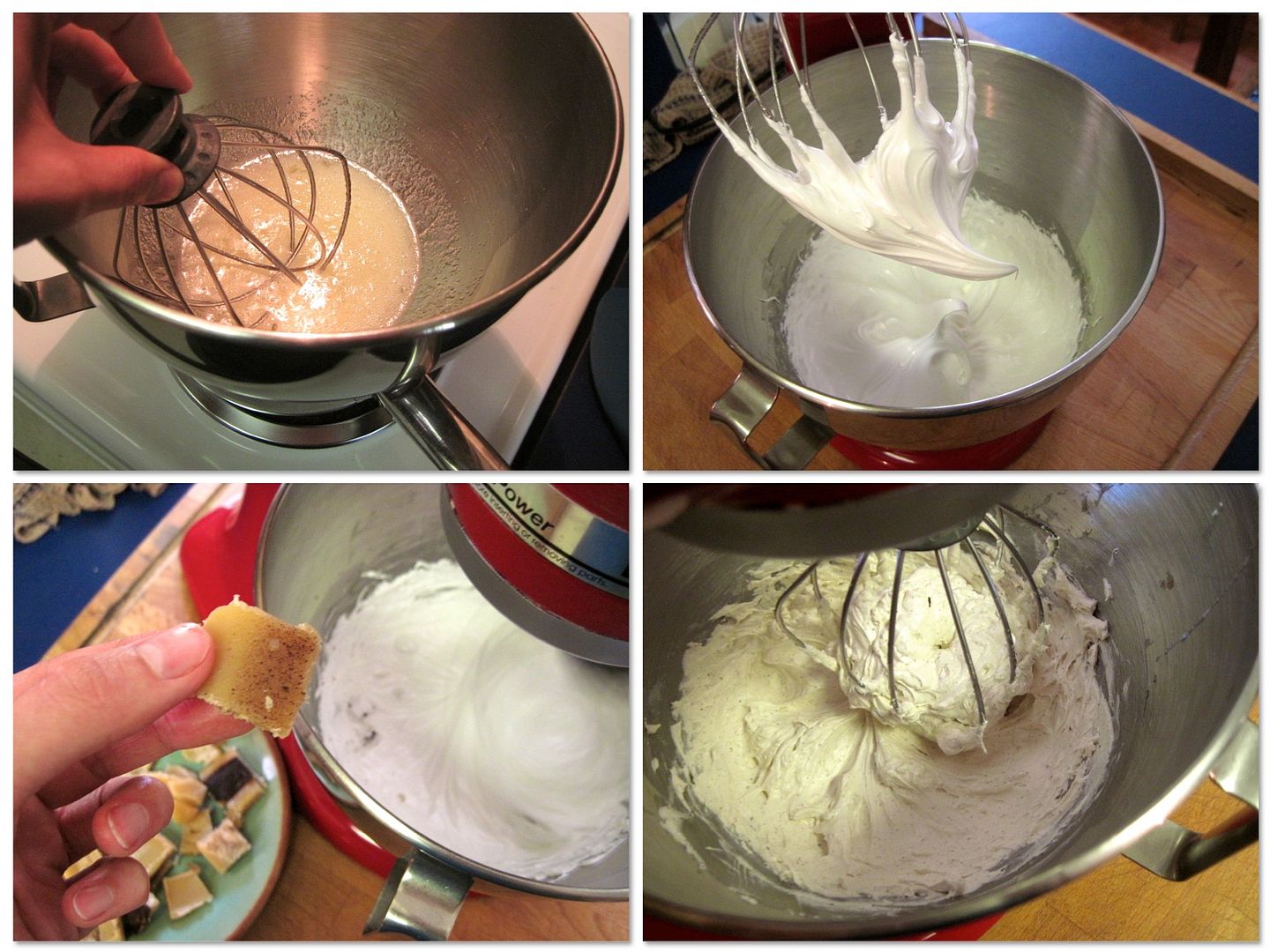 With the mixer on low speed, add the room temperature browned butter (see instructions above) one piece at a time to the meringue, allowing each piece to be incorporated before adding another. The meringue may fall and look weird but don't worry – just keep mixing and adding the butter. Once the butter is all added, increase the speed a little bit and mix until it comes together in a creamy, fluffy frosting (this happened really quickly for me). Add:
3/4 tsp vanilla
pinch salt
2 1/3 tbsp cooled caramel syrup
Mix on medium-high to incorporate, scraping down the sides of the bowl a few times to make sure it is well-mixed.
Final Cake Assembly
Place one of the cooled cakes on a serving plate protected with waxed paper and spread it with half the whipped cream filling. Press a handful of whole raspberries into the cream, then spread the remaining cream over top of them, making it as uniformly thick and even as possible right to the edges. Put the cake in the freezer for a few minutes to set the whipped cream filling.

Once the whipped cream filling has set, top it with the second cake layer. Spread the top and sides of the cake with a thin layer of the caramel buttercream – don't worry if it's messy, this is just the crumb-coat. Stick the cake in the freezer until the frosting is set.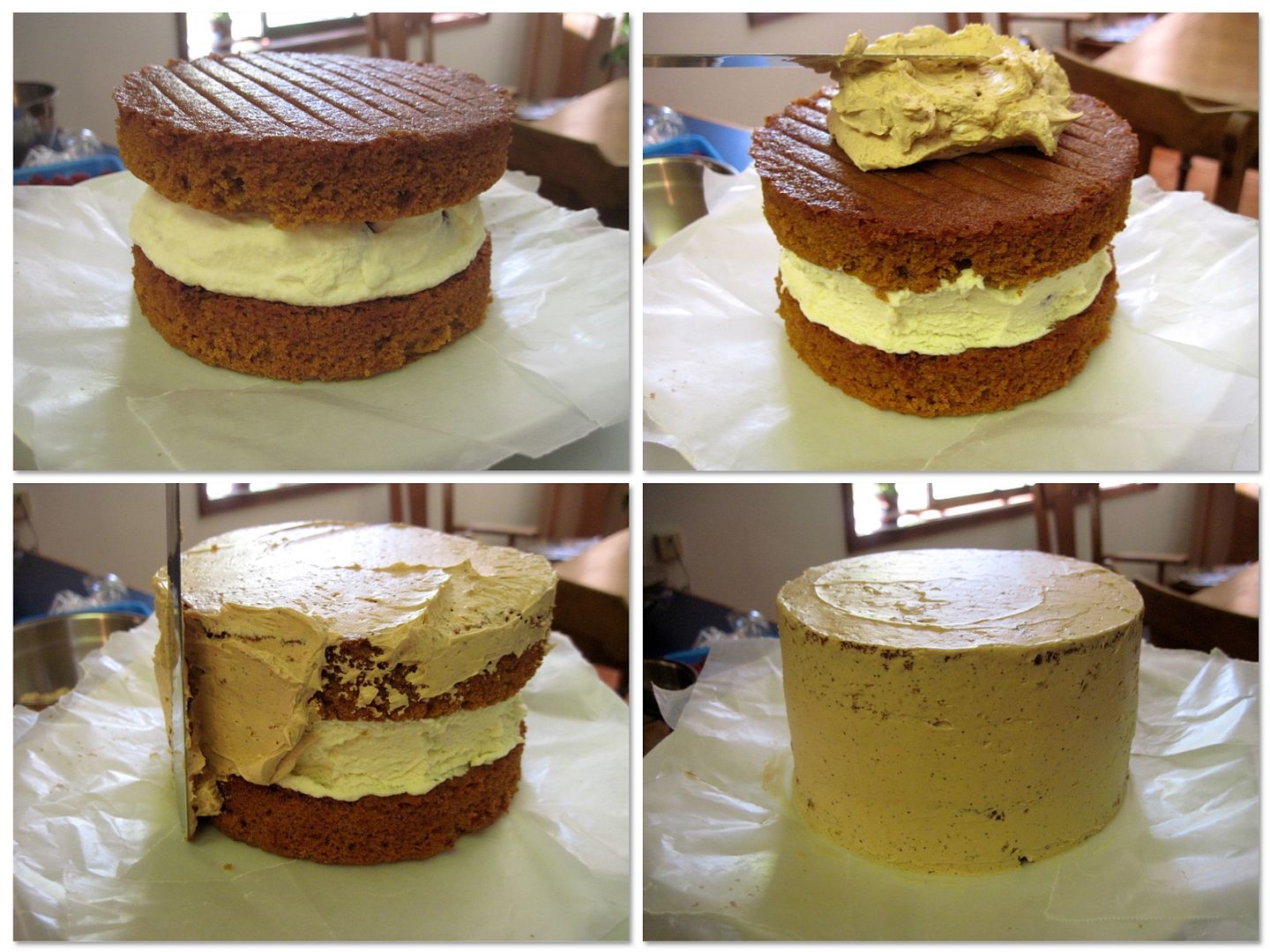 Spread a little more frosting over the top of the cake to make it smooth and even. Place the remaining buttercream in a piping bag fit with a large round tip (I used the plain coupler) and pipe three large dots in a vertical line on the side of the cake. Use the tip of a skinny spatula to gently drag the dots on one side. Pipe three more dots just beside the first ones, slightly overlapping their smeared tails (you can do them a little closer together than I did because you'll have more frosting!) Repeat the piping and dragging all the way round the cake. When you get to the end of the pattern, you can simply pipe 3 dots and leave them, or try to drag their tails as I did only sort-of successfully (this will be the back of the cake!)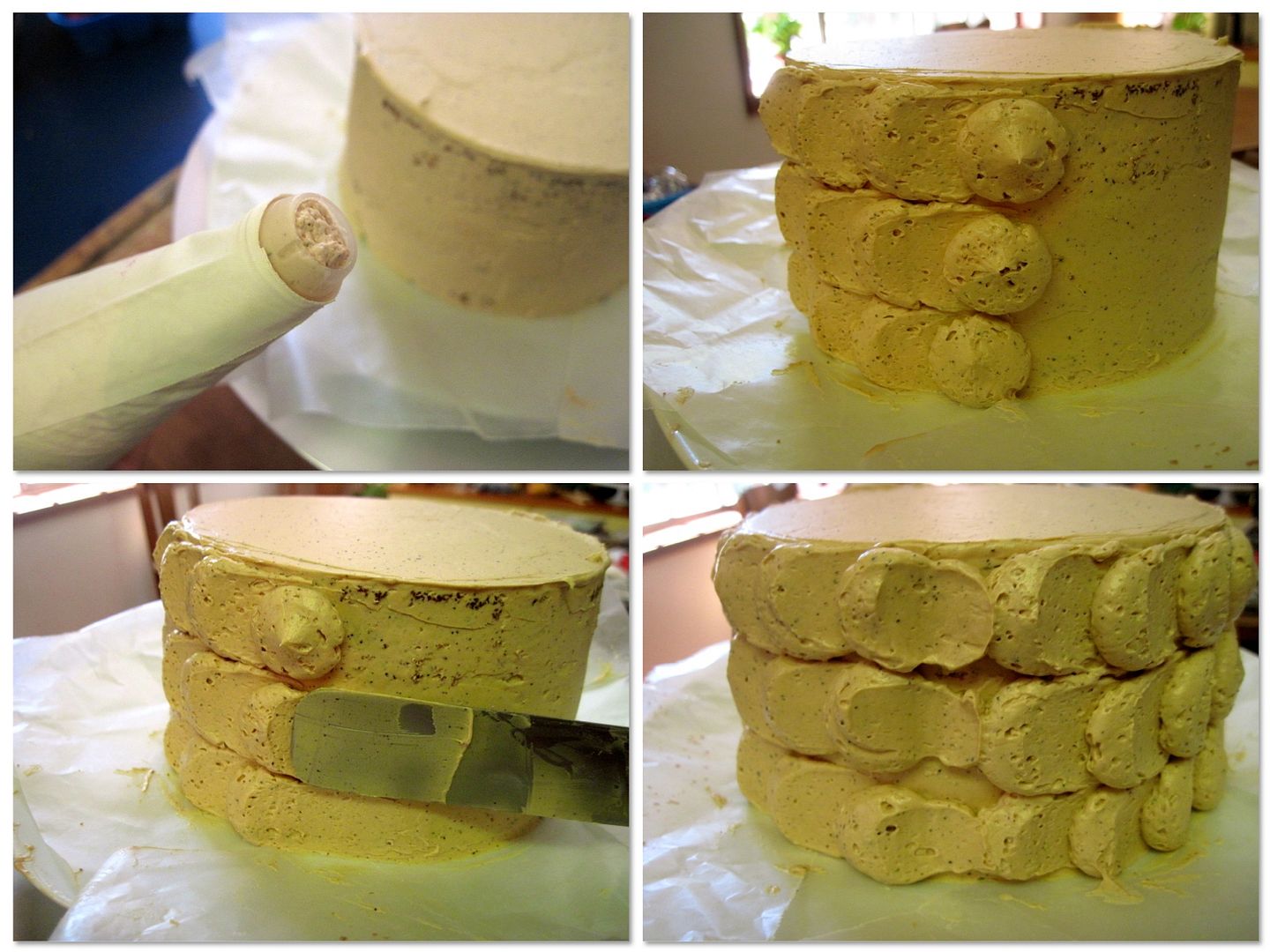 Top the cake with a few whole raspberries and drizzle it with some of the remaining caramel syrup. You can chill the cake to allow the flavours to meld a bit, but it is best served at room temperature, otherwise the buttercream gets quite firm.