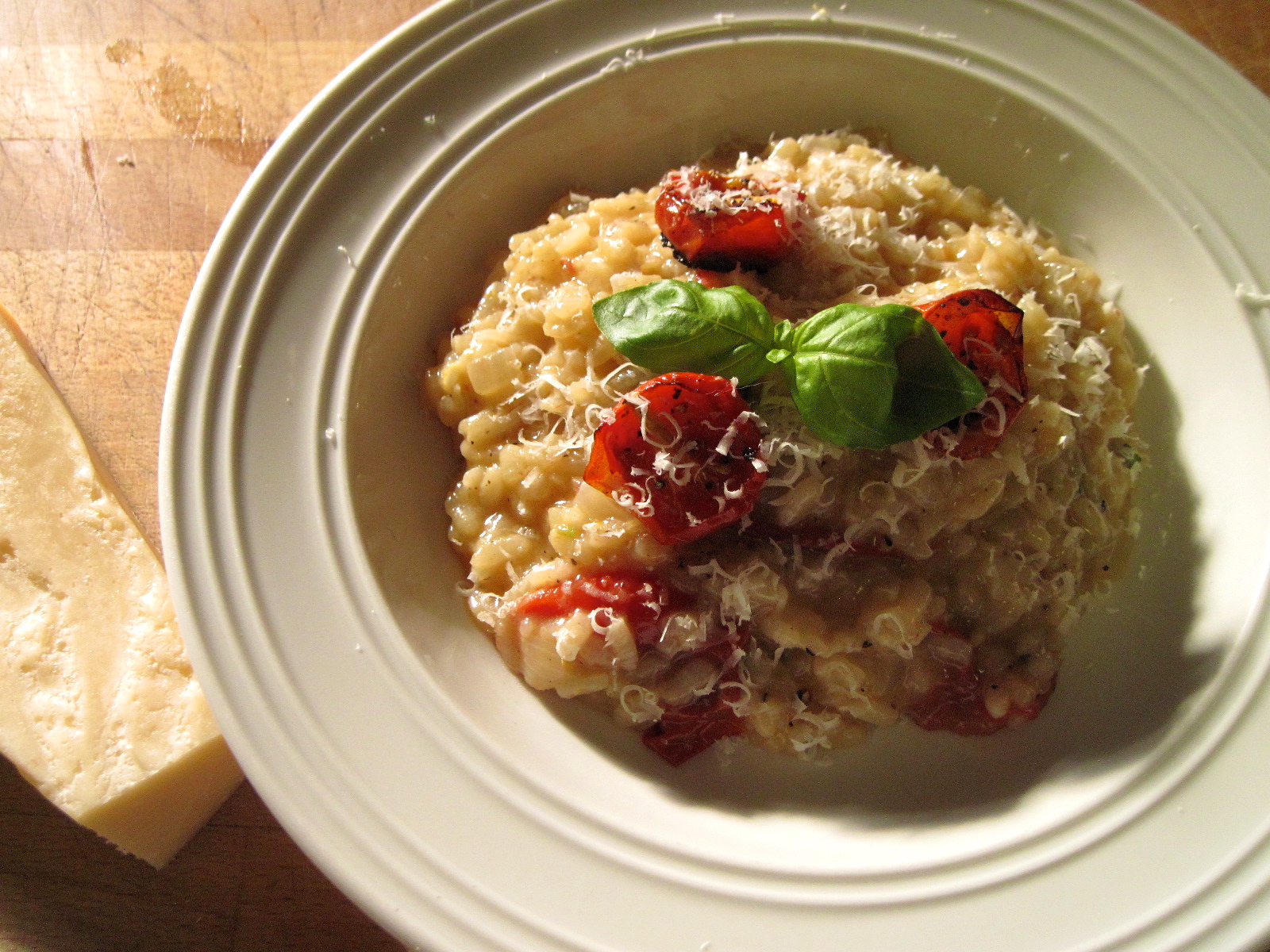 Summer is finally here. After a long, wet June, July has brought the sunshine: five straight days (and counting!) of temperatures in the high 20s, plus over the weekend I a) went swimming in the lake, and b) bought a pint of fresh raspberries. That pretty much settles it.
It also means that it's prime tomato growing season. This weekend in addition to a) and b) above, I planted some tomato plants in a very sunny spot beside the house, and hopefully towards the end of August, I will be rewarded with juicy, red, succulent fruit (says the girl who doesn't usually like tomatoes all that much). In the meantime, I'll be brushing up on my best tomato recipes.
Like this tomato basil risotto, spiked with a little bit of lemon zest and lots of parmesan cheese, inspired by Nick at Frugal Feeding. I made this a few weeks ago with store bought tomatoes, and while they were looking pretty good for being not-quite-yet-in-season, I still roasted them in the oven first to intensify their flavour. They brought a slightly tart sweetness to the final dish along with the herbaceous basil and bright lemon. Really, really yummy.
Risotto is a particularly good basic dish to have in your back pocket because it uses pantry staples and can be infinitely varied depending on what you have at hand, tomatoes and basil or otherwise. I've gotten to the point where I don't really need a recipe anymore, so what follows is more of a stream of consciousness than a traditional recipe (but my method is based on this recipe if you need more structure.) Anyway, if you have never tried to make risotto, consider this an encouraging kick in the pants 😉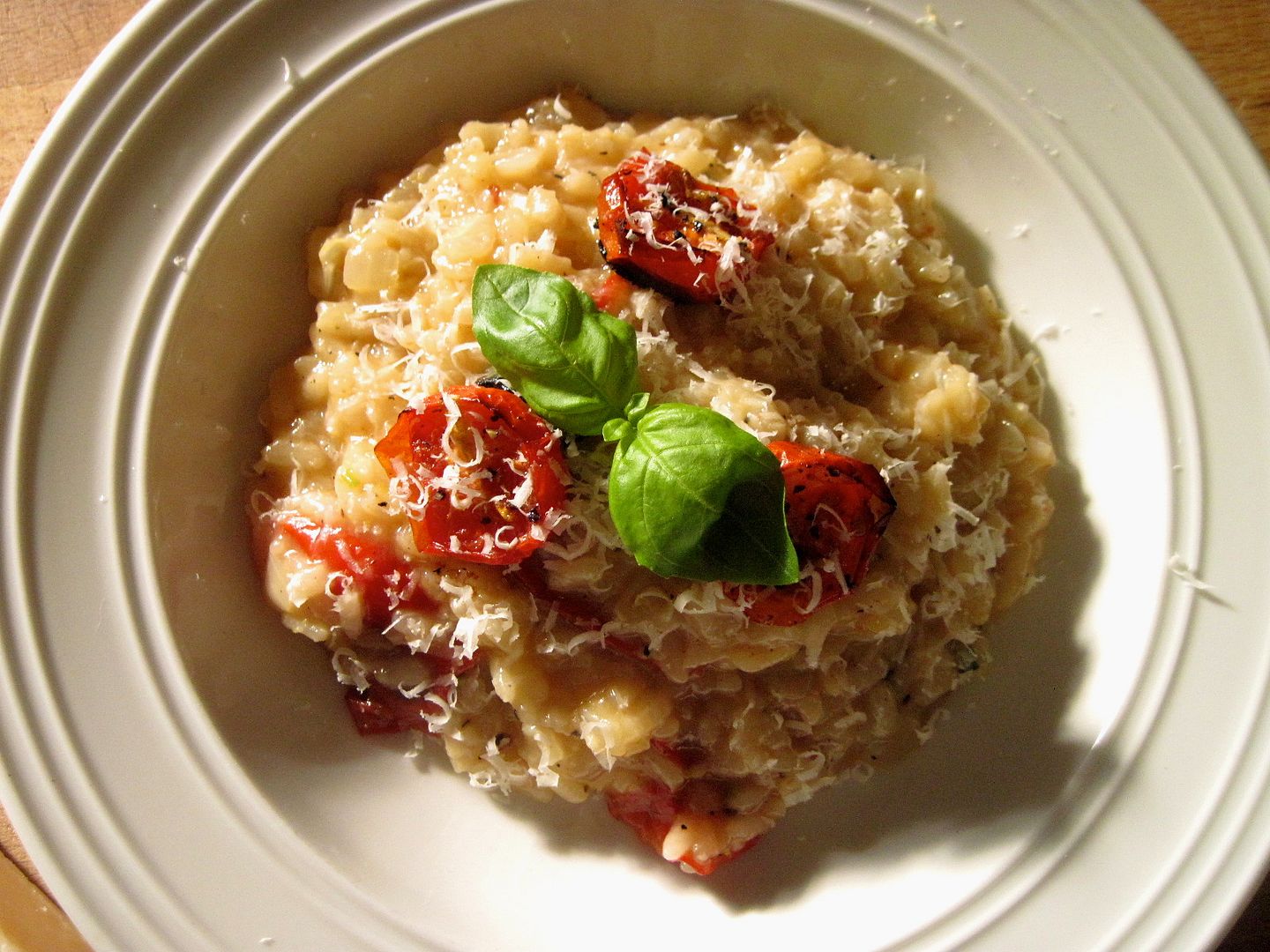 Tomato Basil Risotto
Makes 3 – 4 servings.
Halve a few handfuls of cherry tomatoes and arrange them, cut side up, on a baking sheet lined with parchment paper. Drizzle them lightly with olive oil and a sprinkle of salt and pepper and pop them into a 375˚F oven for about 30 minutes or so, until they look shriveled. Remove from the oven and set aside. (If you've got a little more time, see this post for truly slow-roasted tomatoes – they're like candy!)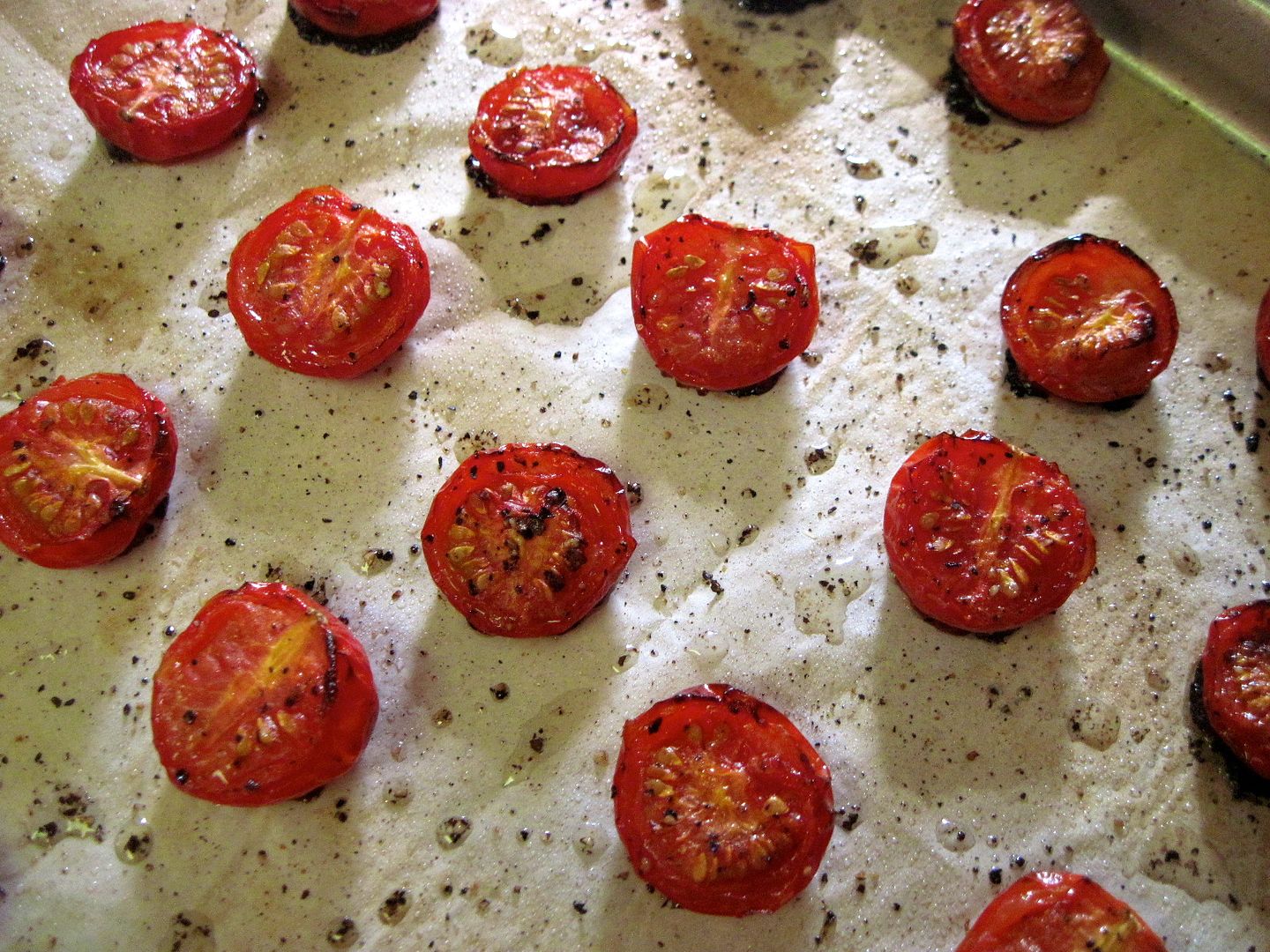 Meanwhile, set a saucepan with 4 cups of good quality chicken stock (homemade if you've got it – just not powdered stock, please!) on the stove, cover, and bring it to a boil, then reduce to low heat and keep hot. Chop 1 small onion into a small dice. Heat a medium sized, shallow pan (I use a small Dutch oven) over medium or medium-low heat and add a splash of olive oil and a dab of butter. When the butter foams, add the diced onion and sauté until translucent. Add 1 cup of arborio or other risotto-appropriate rice to the saucepan and stir it around to coat it with the oil and butter. Cook until the rice starts to look translucent around the edges and makes clinking noises like glass beads against the bottom of the pan. (If you run out of stock before the rice is cooked, you can just add boiling water.)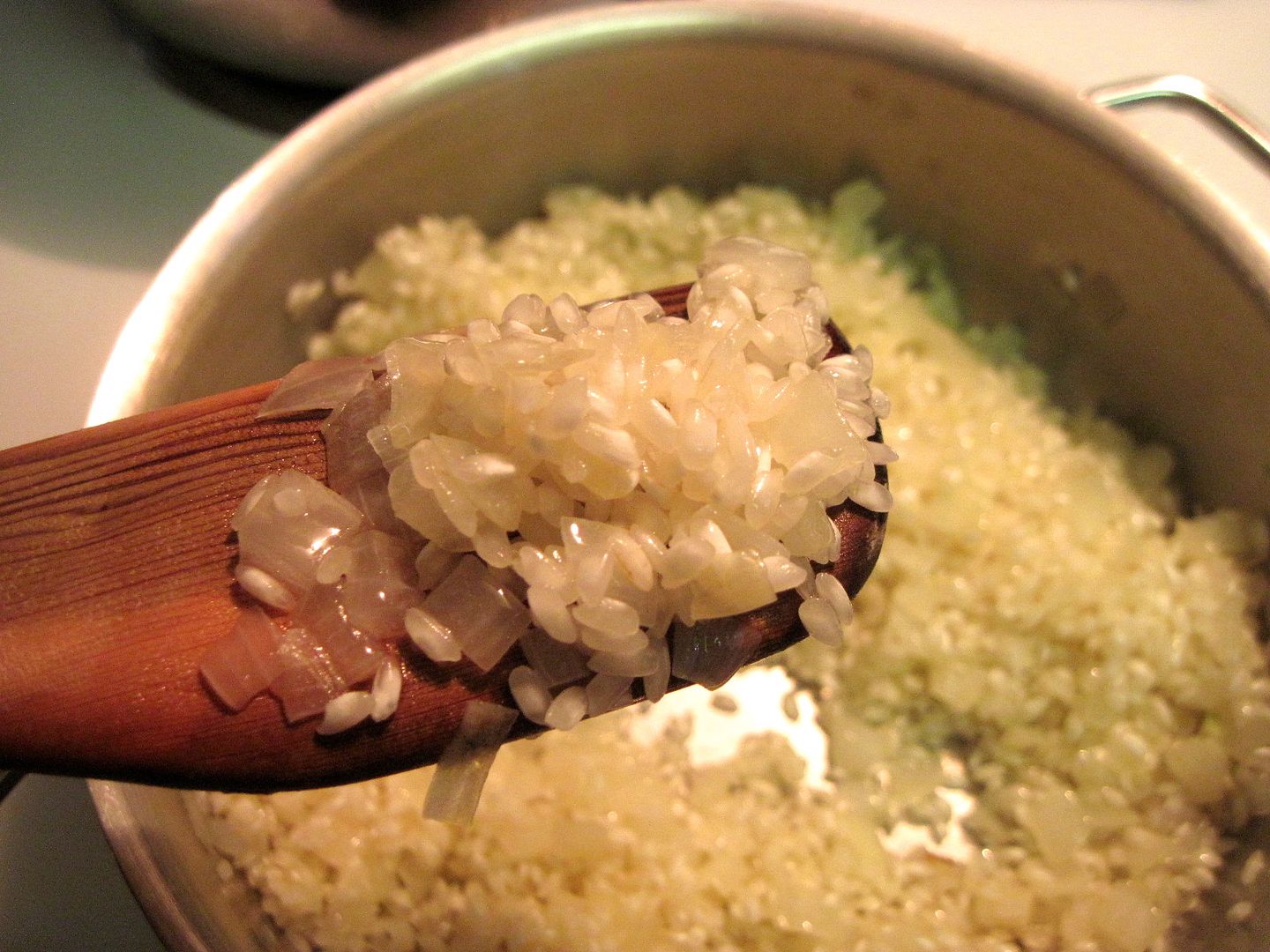 At this point you can add a splash of white wine to deglaze the pan and start cooking the rice, but I never have any around so I just add a ladle full of hot stock.
Stir and allow the liquid (either wine or stock) to evaporate, then add 2 ladles of stock, give it a stir, and allow it to simmer, stirring occasionally, until you can see the bottom of the pan when you stir.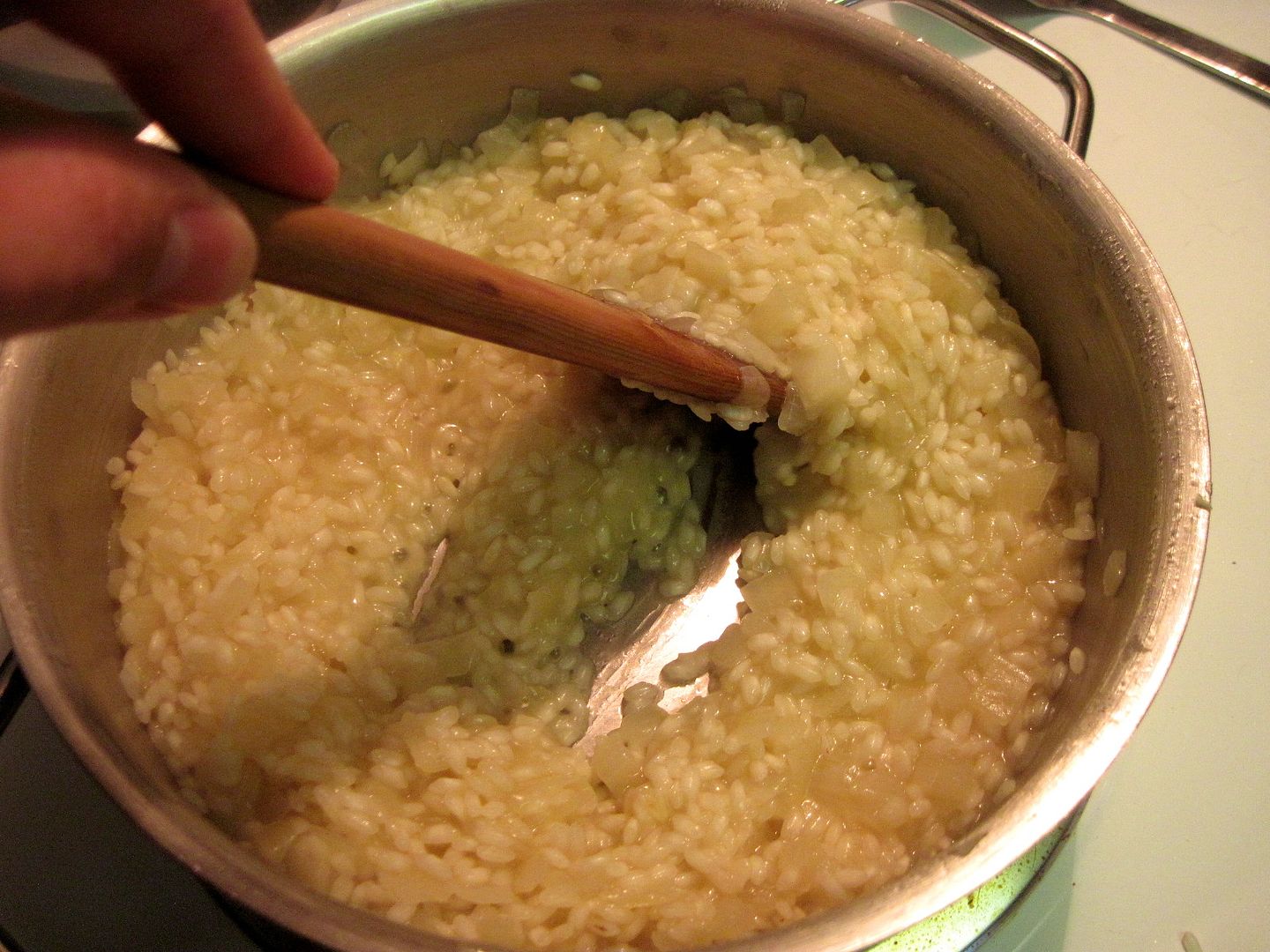 Add another few ladle-fuls of stock and repeat. (This technique is called "flooding" and it means you don't have to stand over the risotto constantly adding tiny amounts of stock and neurotically stirring – if that's your preferred risotto-making method, more power to you, but it's not my thing.) The trick is to always have the risotto at a gentle simmer – too much and the liquid will evaporate too soon, too little and it will turn to mush.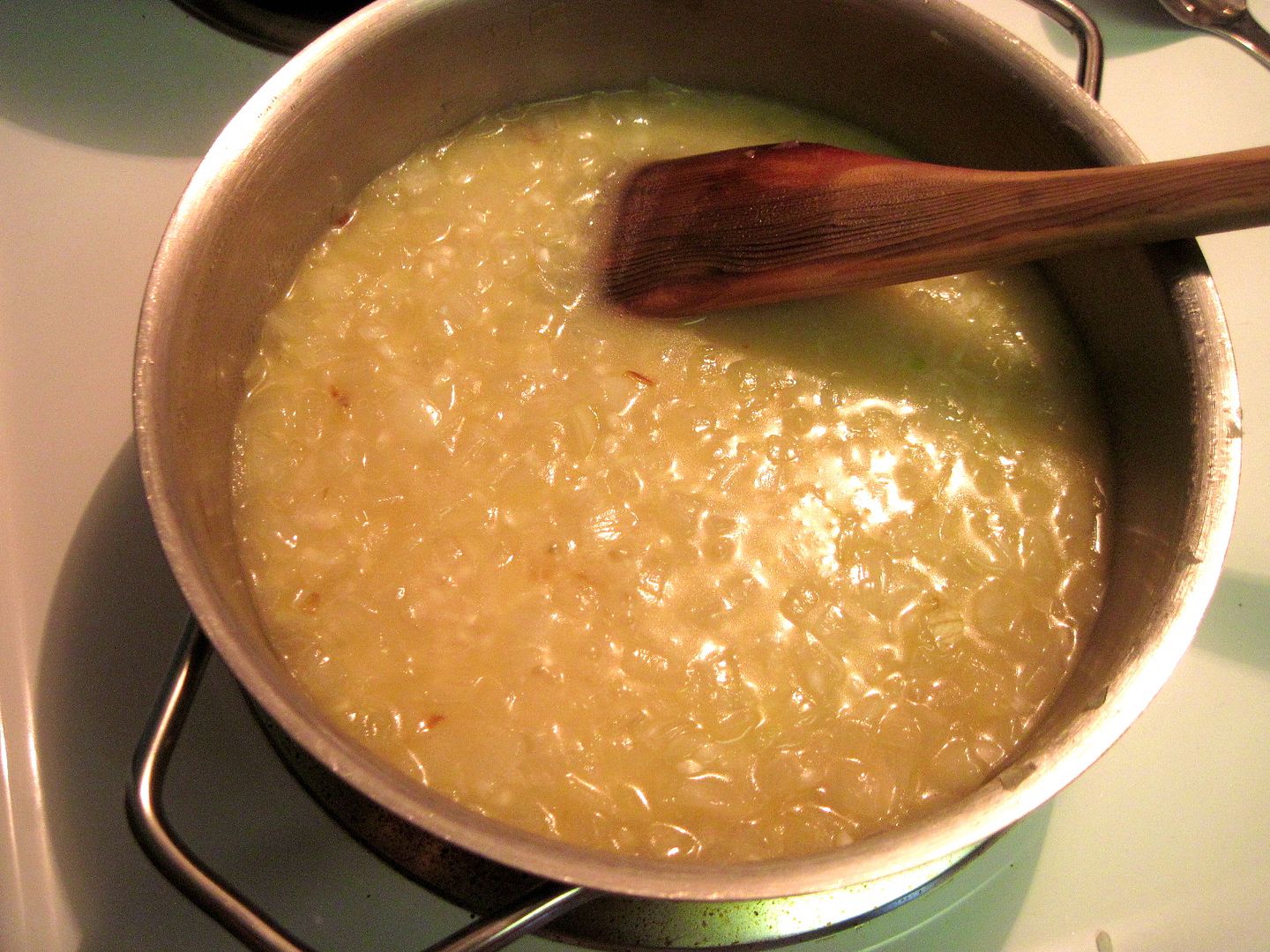 Continue adding stock and stirring until the rice is al dente (like perfectly-cooked pasta) and suspended in a sauce with the consistency of heavy cream. Add one final small ladle of stock and remove from the heat. Stir in:
a large pat of butter
the roasted tomatoes (save a few for garnish)
a good handful of basil leaves, torn or chopped into strips (reserve a few whole leaves for garnish)
a good handful of grated parmesan cheese
a bunch of lemon zest

salt and pepper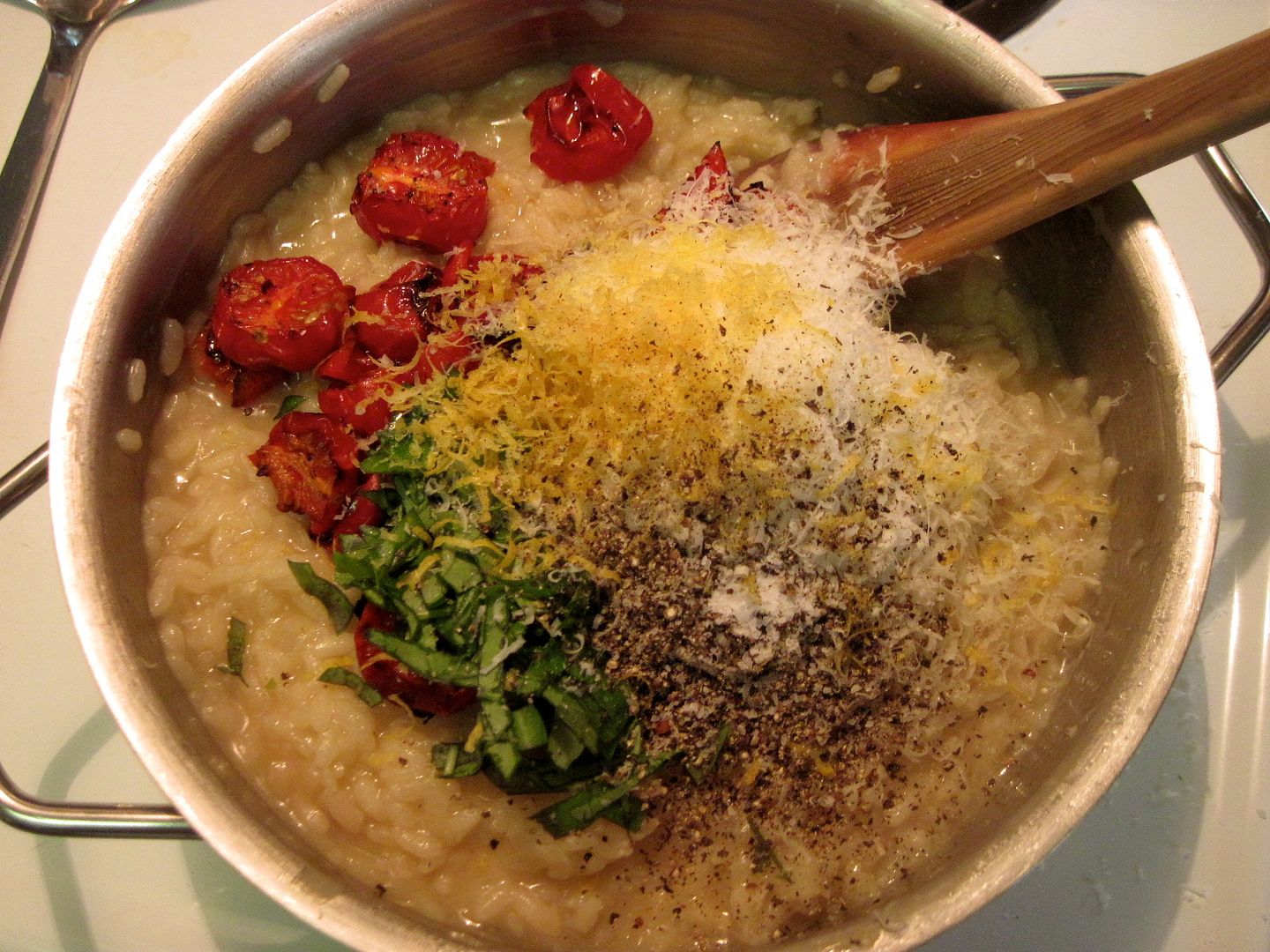 Put the lid on the risotto and allow it to sit for about 5 minutes to absorb the flavours.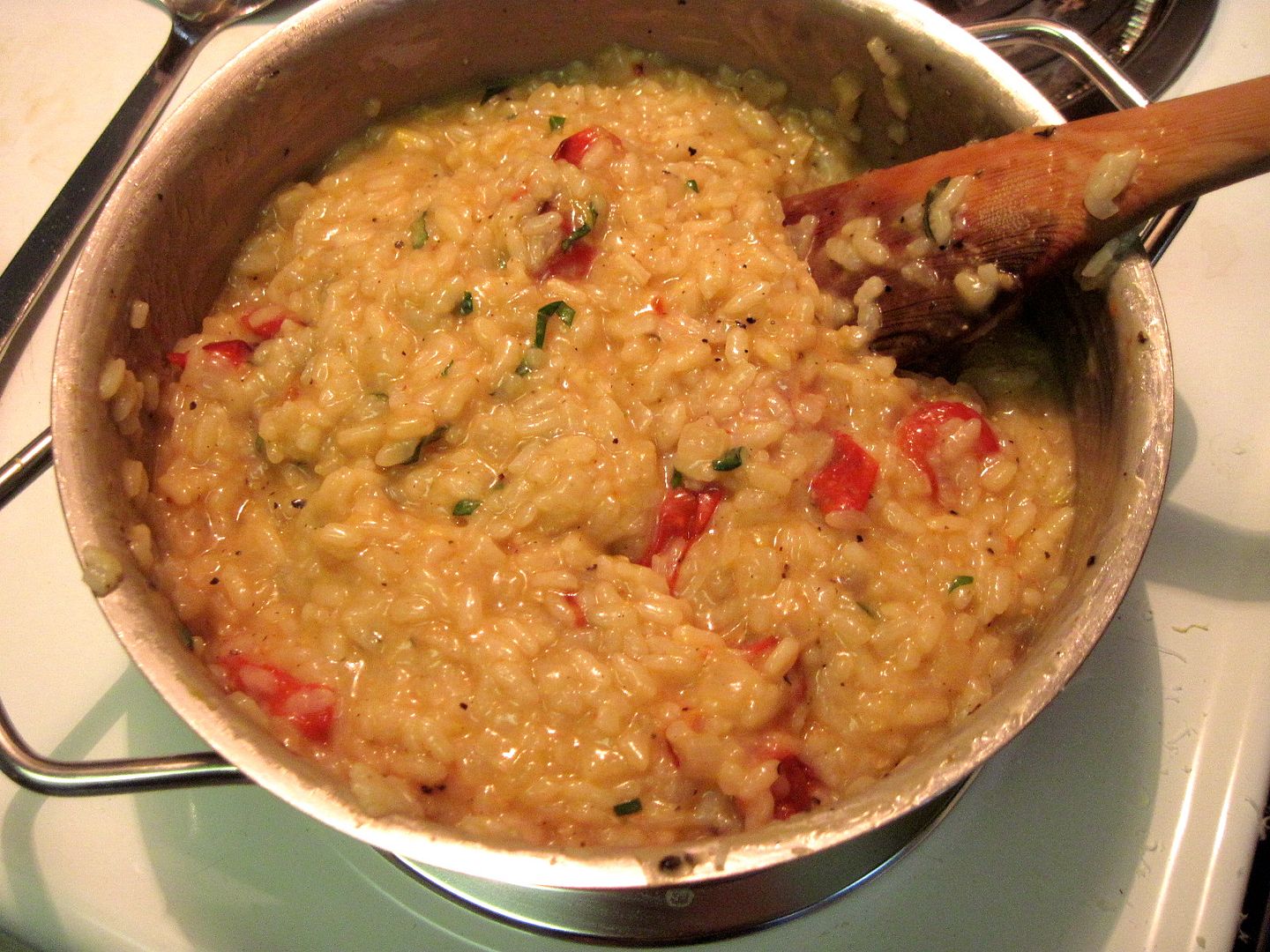 Serve topped with the reserved roasted tomatoes and basil leaves and extra parmesan cheese.