Rachael from pizzarossa was our lovely June 2013 Daring Bakers' host and she had us whipping up delicious pies in our kitchens! Cream pies, fruit pies, chocolate pies, even crack pies! There's nothing like pie! 🙂
As promised, the third and final installment of this month's Daring Bakers pie challenge. I think my inner chocolate lover unconsciously saved the best for last. (Part I and Part II, for your reading pleasure.)
This tart has a buttery, crisp pastry shell, a thin layer of deeply flavoured caramel, and a thicker layer of dark and velvety smooth chocolate mousse. It is pretty decadent but so worth it. I added some ground hazelnuts to the crust and topped the finished tart with hazelnuts dipped in caramel for added drama. Not that a tart this good needs extra drama, but the fact that I lead a fairly drama-free life makes me feel the need to bring the drama sometimes – if only to dessert.
Other than the candied hazelnuts, creating this tart is easy-peasy. You make an egg and sugar-enriched pâté sablée crust and blind bake it. You cook some sugar until it caramelizes, then add cream – which gets exciting with some violent bubbling, but no big deal – and BAM! you've got caramel. You mix together eggs, cream, and melted chocolate, layer it in the pastry shell over the caramel, and bake it. Let it cool and serve it to anyone you want to impress, because this will impress them like whoa.
And if you too want to bring the drama, you can make candied hazelnuts. You've already made caramel once today, why not do it again? This time, make sure you don't walk away from it, only to be brought back to the stove by the scent of burning sugar. Yeah, that was a fun pot to clean… Also, don't try this on a humid day. It's been raining here for what feels like weeks, and within a few hours, my beautiful caramel creations were starting to melt as they absorbed all the moisture in the air. But they served their purpose (DRAMA!) long enough to take a picture, and they tasted just as good in their half-melted state.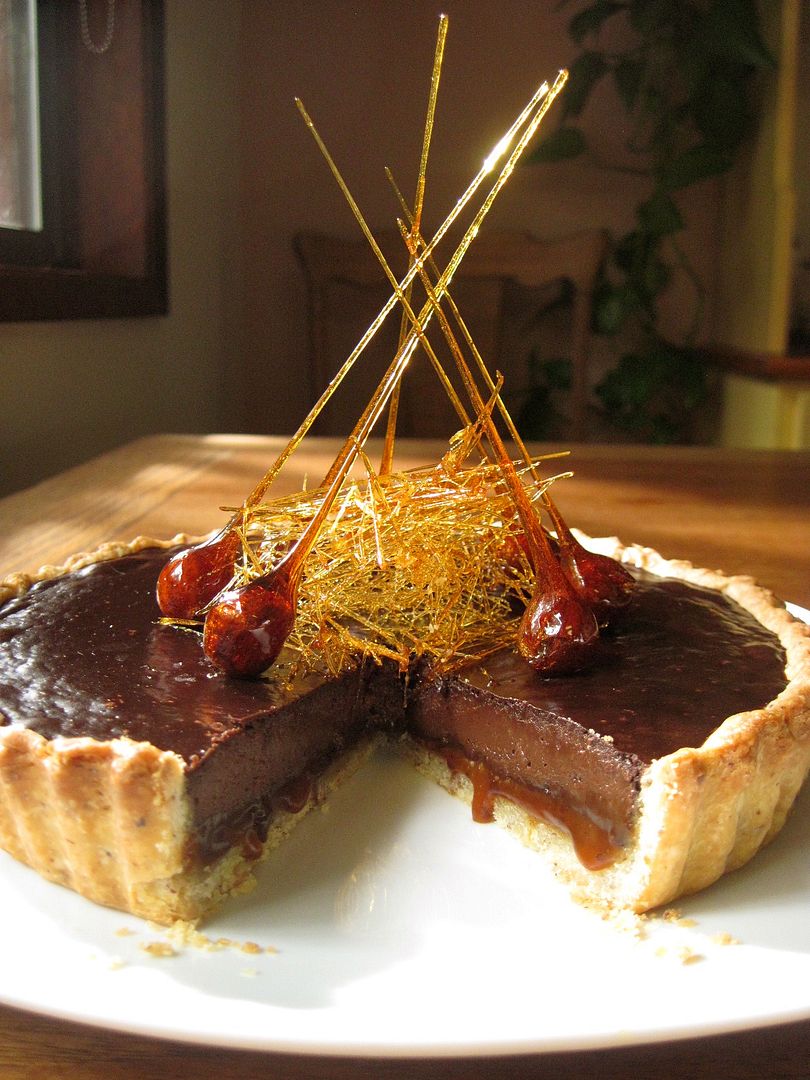 Thanks for introducing me to this recipe Rachael – soooo good!
Chocolate and Caramel Tart with Hazelnuts
Pâté sablée recipe adapted from Chef Simon, filling from Valéry Drouet's Chocolat. Candied hazelnuts adapted from De La Casa and Martha Stewart. Makes one 9 or 10″ round tart, about 8 servings. (Note: If my tart looks smaller than 9 or 10″ to you, that's because it is – I scaled-down this recipe to make a smaller 8″ tart, as seen in the pictures.)
Hazelnut Pâté Sablée
In a medium bowl, whisk together:
1 1/2 cups all purpose flour
1/4 cup ground hazelnuts
pinch of salt
Add:
9 tbsp (1/2 cup + 1 tbsp) cold unsalted butter, diced
Toss the butter in the flour to coat it, then get in there with your hands and rub the butter into the flour (more squishing than rubbing actually) until it looks like wet sand (sablée means sandy). If you hands are super warm and are just melting the butter, you can do this with a pastry cutter or in a food processor. Set aside.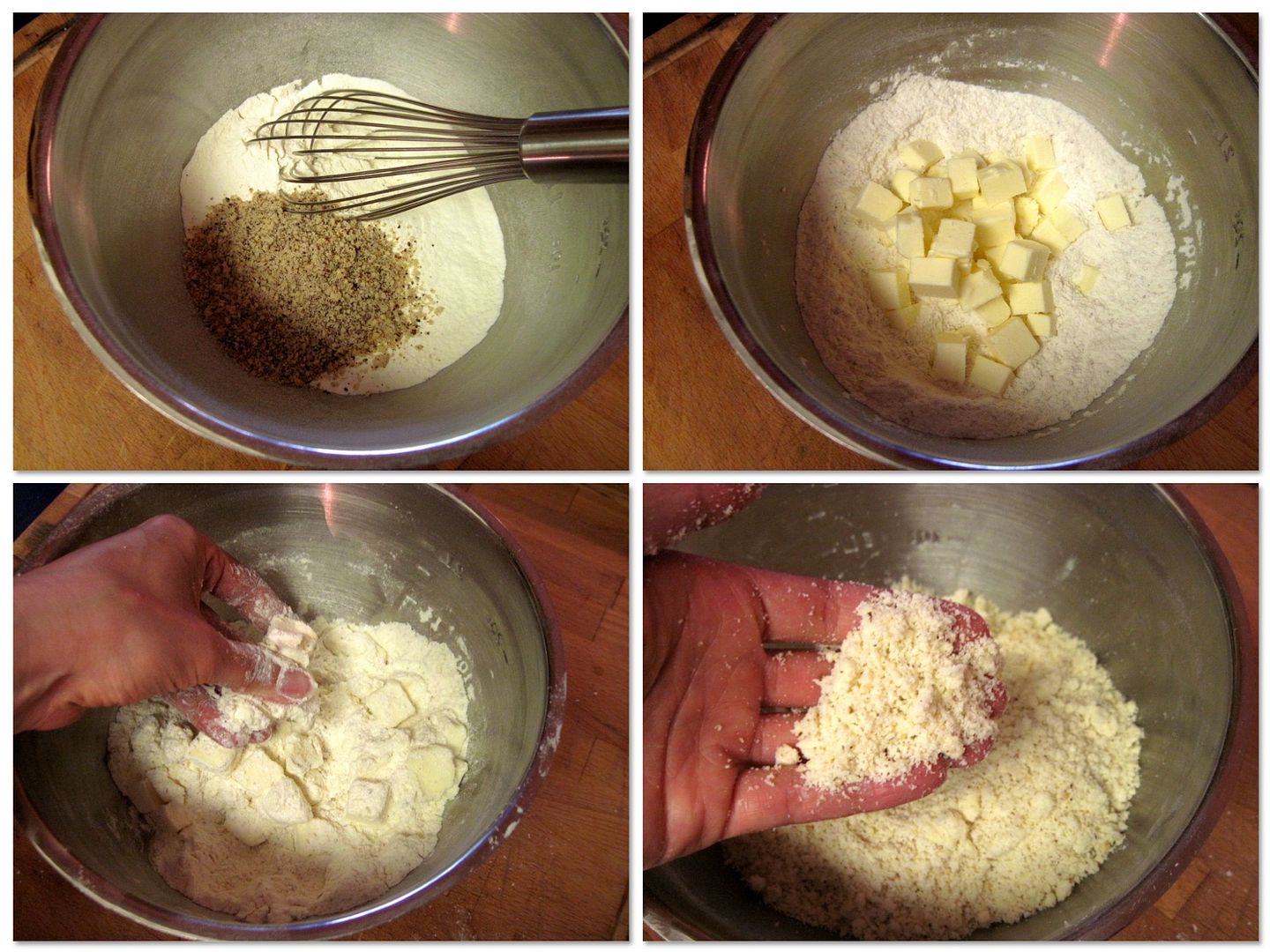 In a small bowl, whisk together until thick and pale yellow:
1 egg yolk
5 tbsp icing sugar
1 tsp water
Make a well in the center of the sandy flour and pour in the egg mixture plus 2 1/2 tbsp ice water. With a fork, fold/toss it all around until it begins to clump together.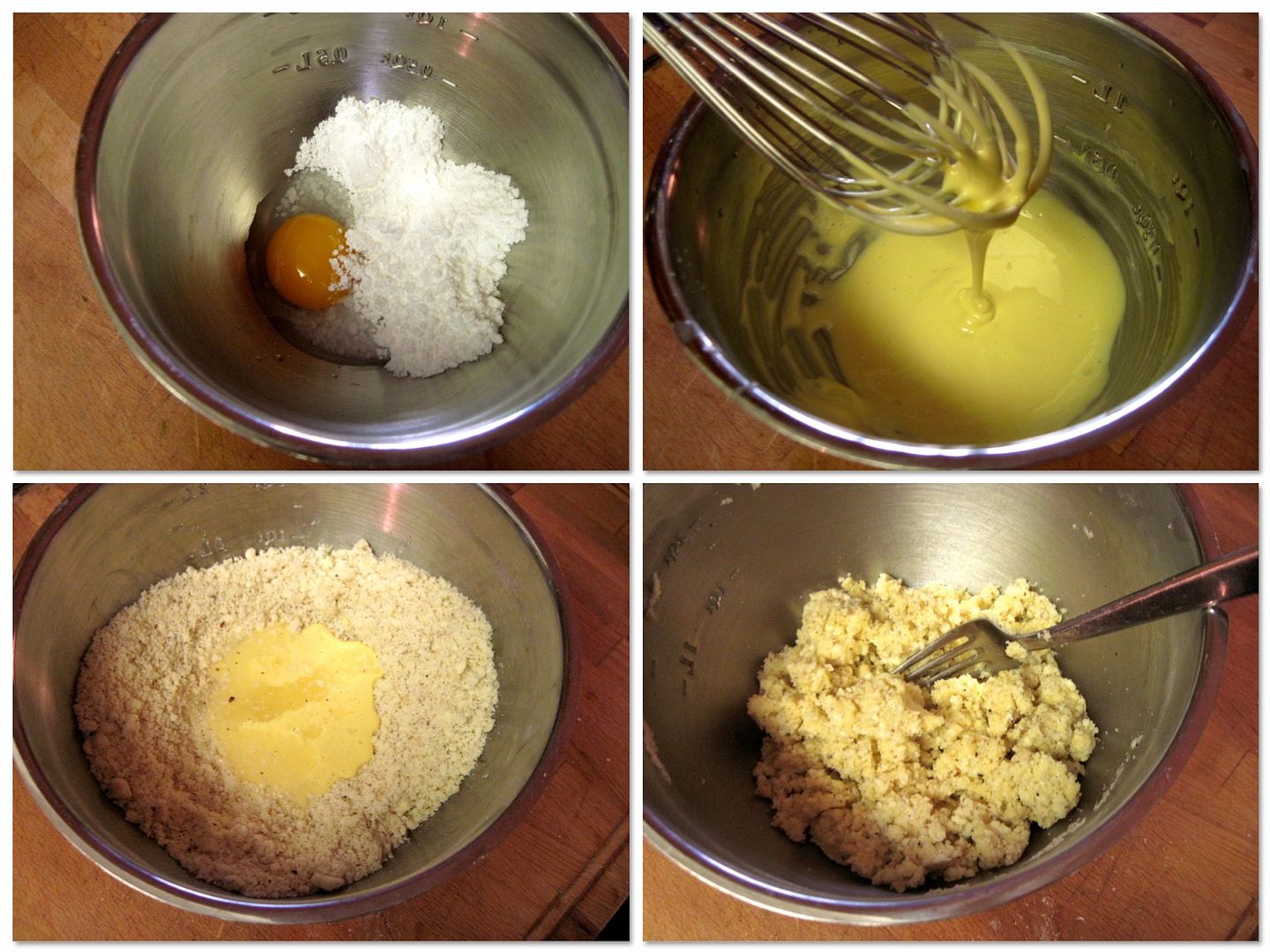 Turn the pastry out onto a lightly floured surface, gather it into a loose ball, and frissage it by smearing the dough across the work surface with the heel of your hand. In this case, you are working the mixture into a cohesive dough without developing the gluten. Gather up the dough and repeat once or twice, until you have a smooth, soft dough. Wrap the dough in plastic and chill for 30 minutes (or overnight, or freeze it in a Ziplock bag for later).
Roll the chilled dough out on a floured surface until it is large enough to fit a 9 or 10″ tart pan with a removable bottom. Press the dough into the bottom and up the sides of the pan, then roll the rolling pin across the top edge of the pan to cut of the excess dough. Prick it all over with a fork and freeze the pastry until firm while you preheat the oven to 350˚F.

Line the pastry with tin foil and fill with pie weights (dried beans work well). Place it on a baking sheet and bake in the preheated 350˚F oven for about 9 – 10 minutes, until set, then remove the pie weights and foil and bake another 6 – 10 minutes until the pastry shell is dry. Allow the pastry shell to cool on the baking sheet.

Caramel Filling
Sprinkle 7 tbsp granulated white sugar evenly over the bottom of a medium-sized heavy saucepan. Place it over medium heat and allow the sugar to melt and start to caramelize around the edges. Once most of the sugar has melted, you can stir it gently with a heat-proof spatula (stirring too soon will cause the sugar to seize up) until it is smooth. Cook the sugar until it turns a deep amber colour. Immediately pour in 7 tbsp hot heavy/whipping cream and stir, stir, stir. The cream will cause the caramel to bubble violently, so be very careful. You may end up with some chunks of hard caramel in your otherwise creamy sauce – just return the pan to low heat and stir until it's all smooth.
Allow the caramel to cool slightly, then pour/spread it over the bottom of the baked pastry shell while it is still pourable/spreadable.

Chocolate Filling
In a medium bowl, whisk together until smooth:
2 eggs
7 tbsp (1/2 cup less 1 tbsp) whole milk
Set aside.
In a saucepan, heat 3/4 cup + 1 tbsp heavy/whipping cream until just boiling. Add 200 g (scant 1 1/4 cup) chopped dark chocolate. Stir until the chocolate is melted and the mixture is smooth, then set aside to cool for a few minutes.
Stir the chocolate mixture into the egg mixture until smooth – do this as gently as possible so as not to get air in the mixture, which will cause it to puff up in the oven. Pour the chocolate mixture over the cooled caramel in the pastry shell.
Bake the filled tart at 350˚F for about 30 minutes, until the filling is set but still slightly wobbly in the middle. Cool completely, then garnish with candied hazelnut if desired and serve at room temperature.
Candied Hazelnuts
In a small, heavy bottomed saucepan, combine:
1/2 cup granulated white sugar
1/4 cup water
Bring to a boil over medium heat and cook without stirring (you can swirl the pan around gently if necessary) until it is light amber in colour. Remove the pan from the heat and allow the caramel to cool and thicken slightly.
Meanwhile, skewer about 10 hazelnuts onto the pointy end of toothpicks or BBQ skewers, and set up a cutting board or heavy book at the edge of your counter top to secure the ends of the toothpicks/skewers. Place a sheet of newspaper below to catch any dripping caramel.

Once the caramel has thickened enough (dip a toothpick/skewer into the caramel – when it slowly forms a thick drip and holds a string, it's ready), dip in the hazelnuts one at a time. Let most of the excess caramel drip off back into the pan, then when the drip forms a string, secure the end of the toothpick/skewer under the cutting board/heavy book. If the caramel thickens too much, re-warm it over low heat (I had to do this several times).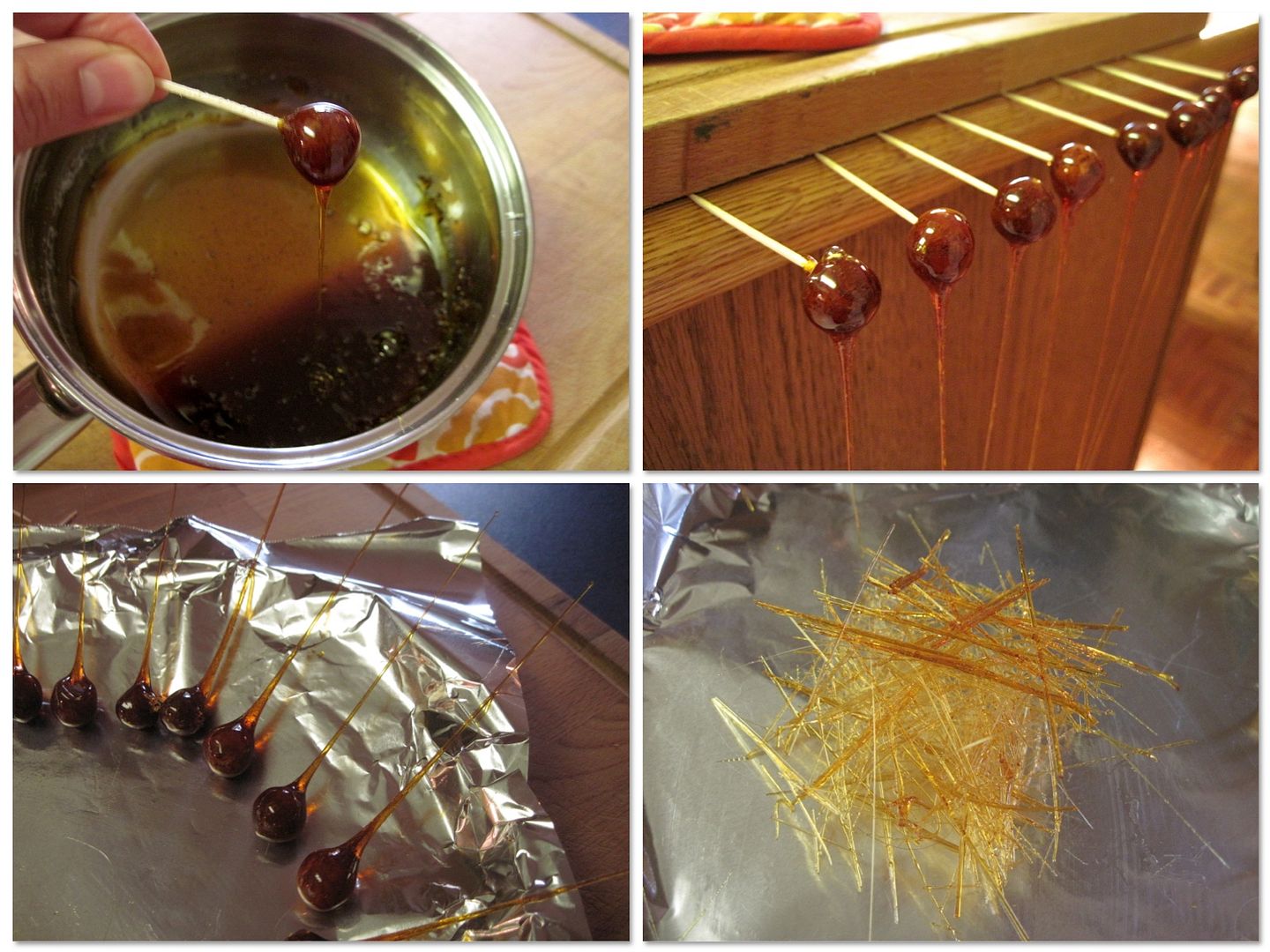 Allow the candied hazelnuts for dry for about 5 minutes, then carefully remove the toothpicks/skewers and break their tails off to the desired length (4″ was plenty). You will also end up with a lot of long, thin strands of caramel string – break into smaller lengths and pile it in the middle of the tart for even more drama!
The candied hazelnuts can be stored, uncovered, at room temperature, but should be used the day they are made (especially if it's at all humid!).