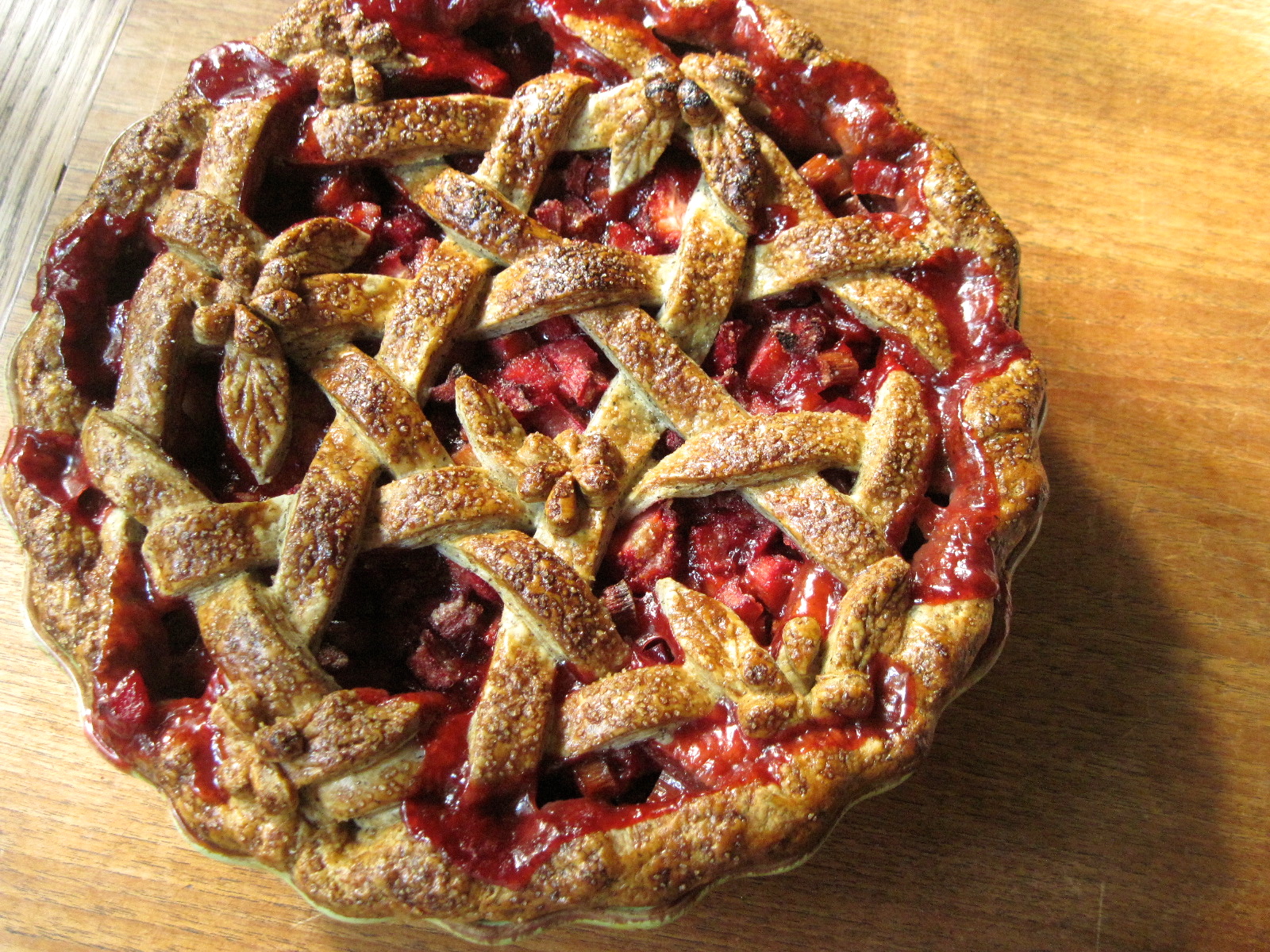 Rachael from pizzarossa was our lovely June 2013 Daring Bakers' host and she had us whipping up delicious pies in our kitchens! Cream pies, fruit pies, chocolate pies, even crack pies! There's nothing like pie! 🙂
The title of this post is a bit of a mouthful, but there's a lot going on in this pie (which is the second pie I made for the Daring Bakers Challenge this month). There's perfectly ripe strawberries and rhubarb, a pâté brisée crust enriched with sourdough starter and buckwheat flour, and a funky lattice pattern.
The last time I made a strawberry rhubarb pie, it was overly sweet and the tapioca pearls I used as a thickener turned it into more of a strawberry-rhubarb-tapioca pie, with the texture of the gelatinous pearls being much more evident than I wanted them to be. I used a different recipe this time with a larger fruit-to sugar ratio, added some lemon and orange zest (so tasty!), and used tapioca starch rather than pearls – that is, I ground up the pearls in an old coffee grinder until they were in a fine powder. They still thicken the filling, but give it no other texture other than, well, thickness. (I'm sure you can buy tapioca starch in the store rather than grinding it yourself, but I was using what I had.)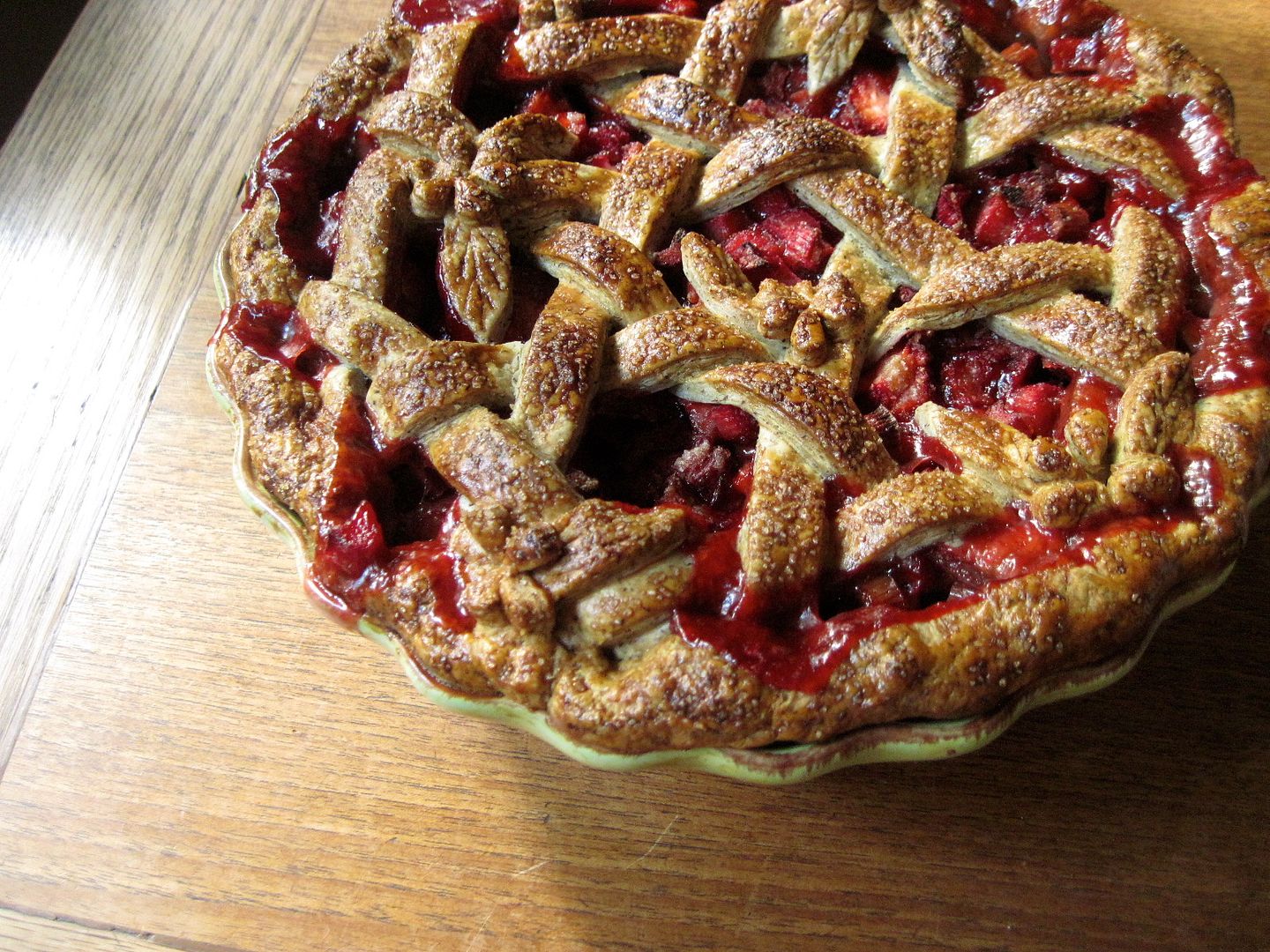 After making sourdough crêpes earlier this month, I've become mildly obsessed (more than usual?) with using my starter wherever I can because OMG the flavour!!! So I made the same sourdough pâté brisée I used for this cherry pie and added some buckwheat flour for interest. The word "buckwheat" is a misnomer – it is not any kind of wheat or grain at all, and is instead related to rhubarb, so it seemed appropriate for this pie. I couldn't taste it much, but I suspect its gluten-free nature helped keep the pastry light and flaky, plus it gave it a pretty, speckled look.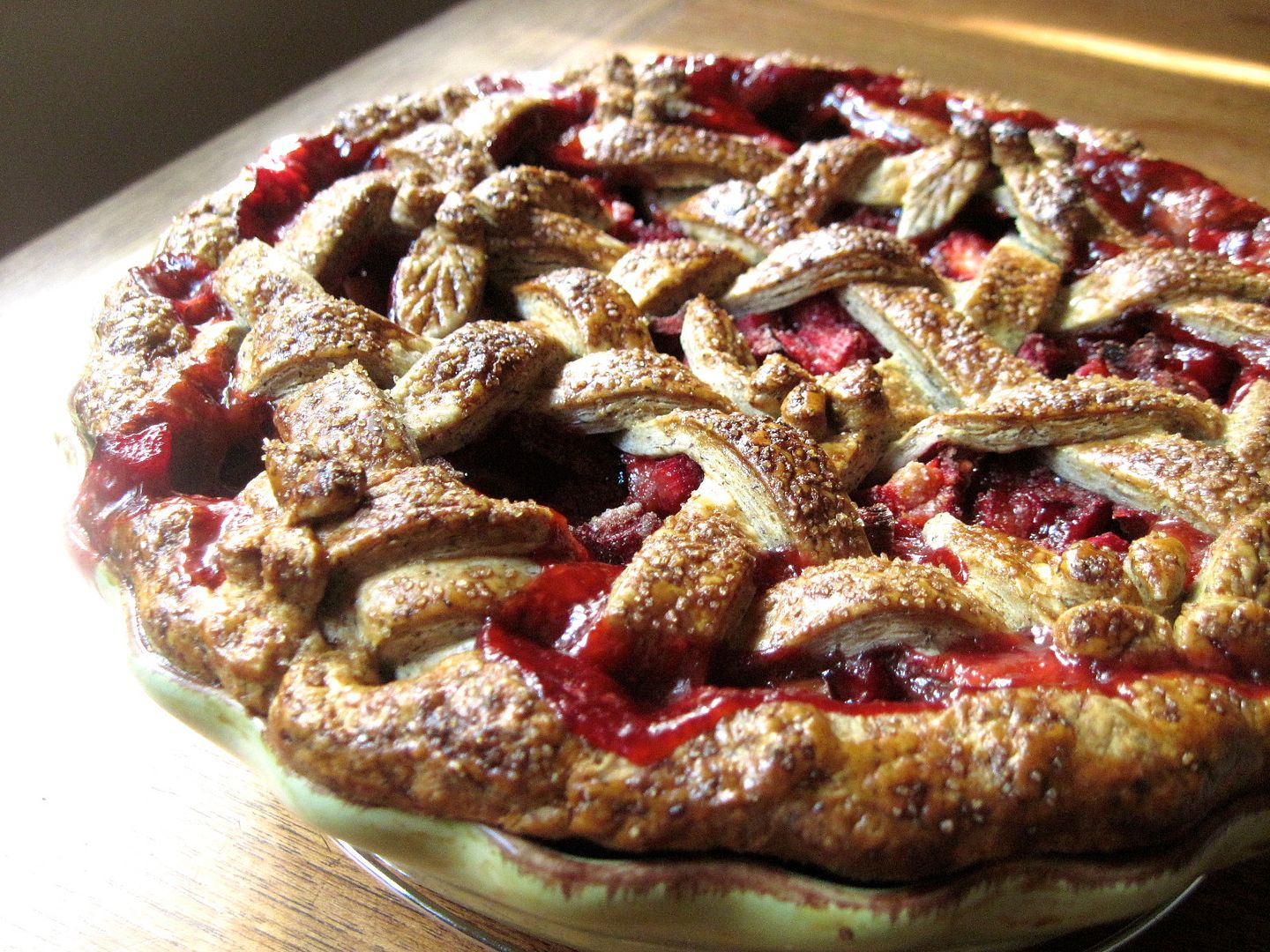 And then this lattice pattern… Being than this was a Daring Bakers Challenge, I went searching for something to challenge myself with. I found a lovely twisted lattice version, but this one, which is apparently a Shaker weave pattern, was my favorite. There were no instructions, so I practiced with strips of newspaper before trying it with pastry. While it looks complicated, it follows the same basic over-under pattern of any other weave or lattice, so once I had it figured out with paper, it was easy to translate to pie crust. And then I couldn't resist adding some leaves and flowers 😉
Of course, this pie would still be great with a regular pie crust and a traditional lattice topper – it's the filling that is particularly wonderful here. So if you've got some strawberries and rhubarb to use up, make this pie and cut yourself a slice.
Admire it from all angles.
And don't forget the vanilla ice cream.
Check back tomorrow for the third and final installment of this pie madness: Chocolate and Caramel Tart with Hazelnuts!
(Part I, Backberry-Maple Crostata, is here.)
Shaker Lattice Strawberry Rhubarb Pie with Buckwheat Sourdough Pastry
Sourdough pâté brisée adapted from The Bojon Gourmet, filling adapted from Smitten Kitchen. Makes one 9″ inch pie, 8 – 10 servings.
Buckwheat Sourdough Pâté Brisée
In a large bowl, combine:
1 2/3 cups all purpose flour
1/3 cup buckwheat flour
1 tsp salt
1 tbsp sugar
Add:
1 cup cold unsalted butter, diced
Cut it into the flour with a pastry cutter until it resembles coarse breadcrumbs. With a spatula, fold in:
8 oz (~1 cup) mature liquid sourdough starter (100% hydration)
Mix in the starter gently, folding it in with large strokes from the bottom of the bowl. When the mixture starts to clump together, dump it out on a lightly floured surface and gather it into a loose ball.
Frissage the dough – that is, smear it across your work surface with the heel of your hand, creating thin sheets of butter between layers of floury dough. Once it is all smeared out flat, use a bench scraper or metal spatula to fold the dough in thirds or quarters and repeat the frissage process once, maybe twice, more, until the dough is cohesive but not overworked – you don't want it to be elastic at all.
Split the dough in half and wrap each half in plastic. Chill for at least 30 minutes (or you can leave it overnight, or freeze it in a Ziplock bag for later use).
Strawberry Rhubarb Filling
In a large bowl, combine:
3 1/2 cups rhubarb, chopped in 1/2″ slices (about 1 1/2 lbs untrimmed stalks)
3 1/2 cups strawberries, hulled and sliced (about 1 lb whole berries)
1/2 cup granulated white sugar
1/4 cup brown sugar
1 tbsp lemon juice
1 tsp salt
1/4 cup tapioca starch (make your own by grinding tapioca pearls in a coffee grinder)
1 tsp grated lemon zest
1 tsp grated orange zest
Roll out one half of the chilled pastry on a lightly floured surface and line a 9″ pie pan with it, leaving at least an inch of overhang. Tip the filling into the pastry-lined pie plate and spread it out relatively flat. Dot the filling with some small pieces of unsalted butter.
Set aside and preheat the oven to 400˚F with a rack in the lower third of the oven.
Shaker Lattice Weave
Roll out the remaining pastry half into a rectangle-ish that is large enough to cover the pie. Cut out 12 strips, each 1/2″ wide. On a square of waxed paper, lay two strips parallel to each other, about 1 1/2″ apart. Lay two more parallel strips over the first two at about a 45˚ angle so as to make a diamond shape where they all intersect.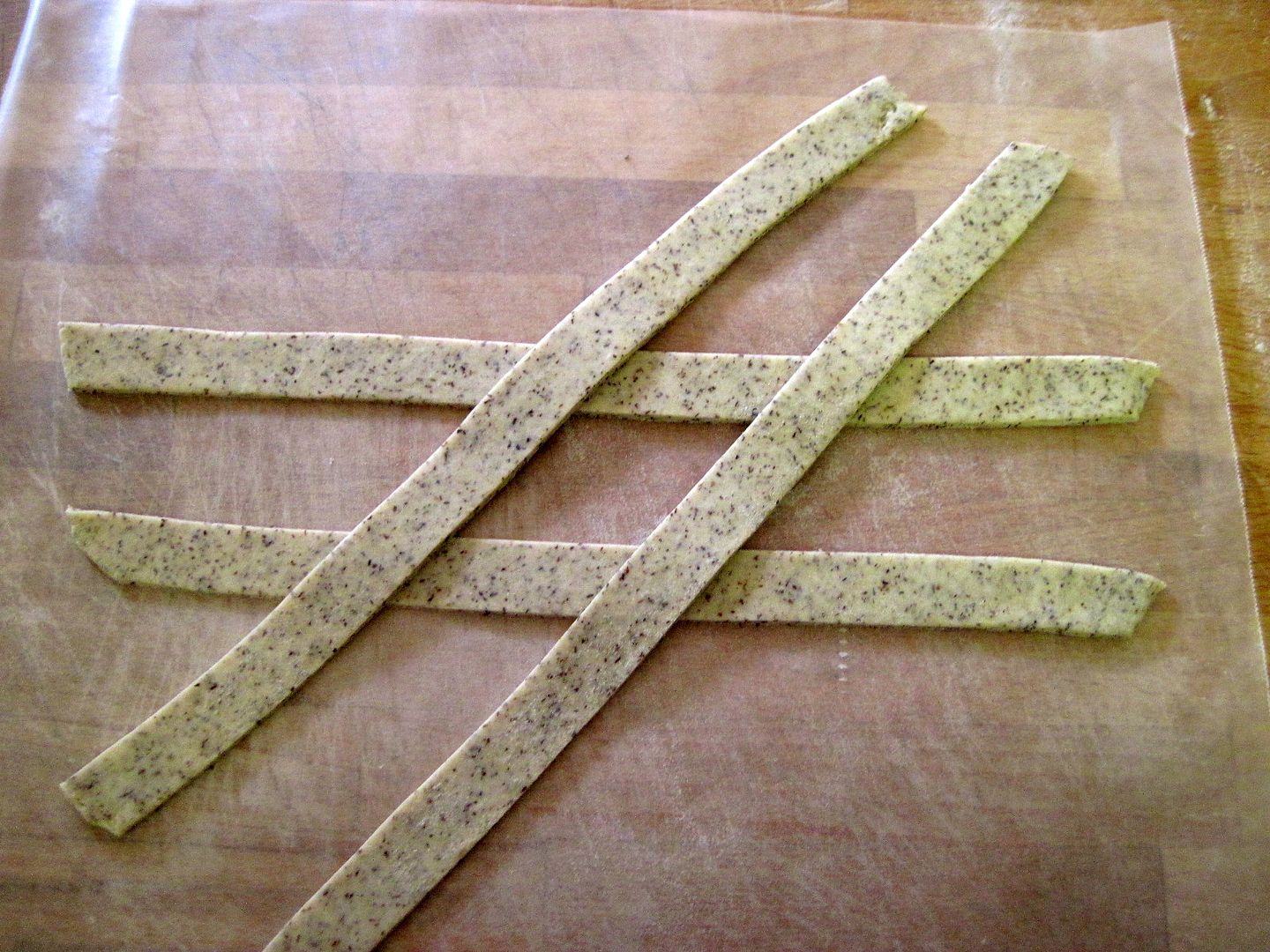 Interlace another strip at one pointy end of the diamond shape.
Repeat on the other side of the diamond. Now you have this woven 6-sided star shape.
To continue, interlace two more strips parallel to the first pair of strips you laid down…
Then two more parallel to the second pair of strips…
Then place a final two strips parallel to the third pair. Just remember the over-under-over-under pattern if you run into trouble. I would recommend practicing with strips of paper first.
Once you've got your weave all done, carefully lift up the wax paper it is sitting on and position it on top of the filled pie. Make sure it is centered properly, then slide out the waxed paper. Press the strips firmly onto the edges of the bottom pastry, then trim it to about 1/2″ overhang. Fold the overhang on top of itself and crimp the edge with your fingers.
If you want to get even fancier, cut out some leaves and flowers with the remaining pastry. Whisk together an egg wash (1 egg + 1 tbsp milk or water) and use it to glue the leaves and flowers to the pie, then brush it over the entire pastry top and sprinkle the pie with coarse sugar.
Put the pie on a baking sheet (very important in order to avoid pie juice burned to the bottom of your oven) and place it in the bottom third of the preheated 400˚F oven. Bake for 20 minutes, then reduce the temperature to 350˚F and bake for another 40 – 60 minutes, or until the juices bubble vigorously in the middle of the pie and the pastry is a deep golden brown (cover it with foil if it gets too brown before the juices bubble).

Let the pie cool completely (I always have so much trouble waiting!) so that the juices thicken before cutting into wedges.