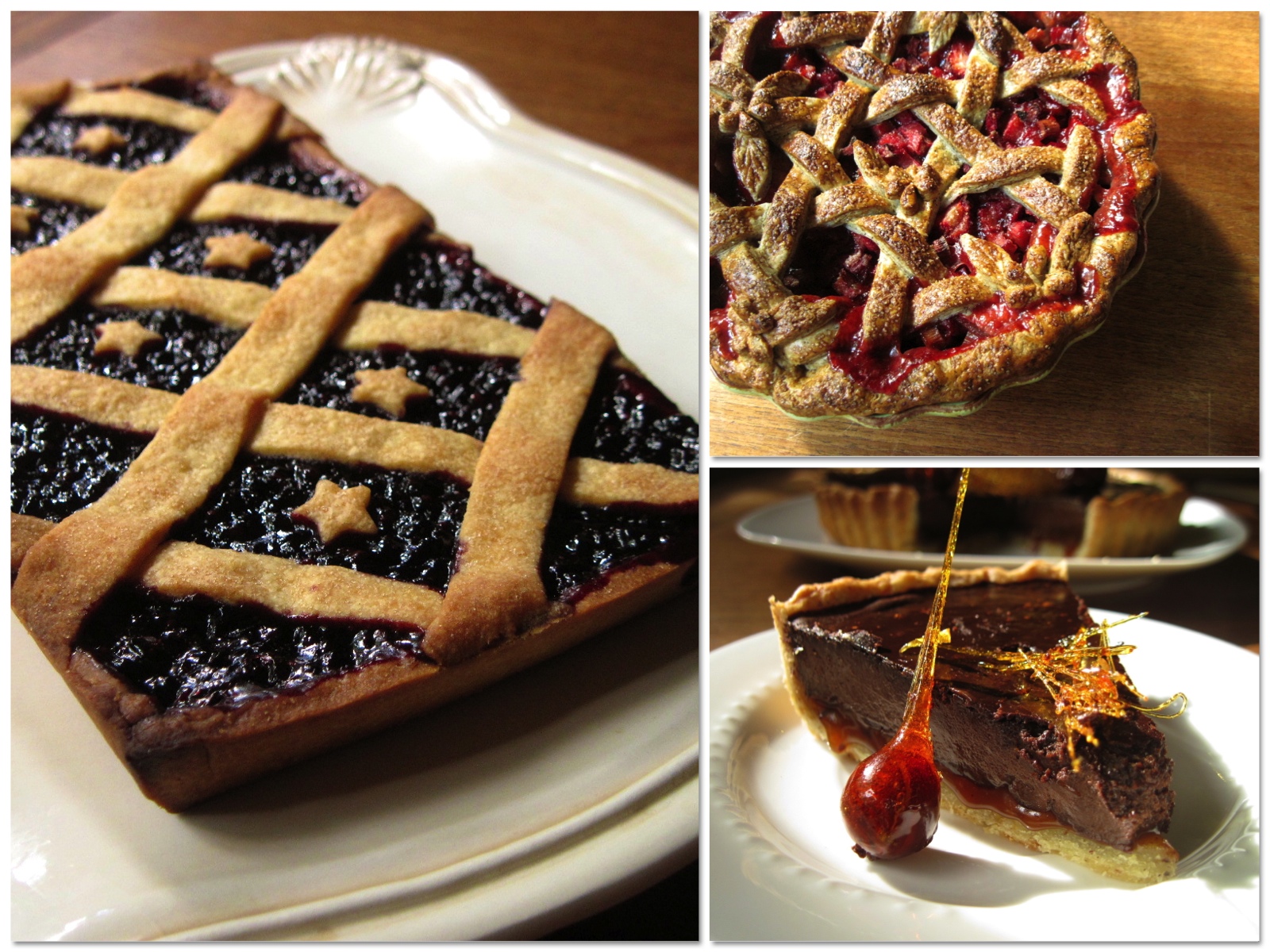 Rachael from pizzarossa was our lovely June 2013 Daring Bakers' host and she had us whipping up delicious pies in our kitchens! Cream pies, fruit pies, chocolate pies, even crack pies! There's nothing like pie! 🙂
I think pies have to be tied with bread for being my favorite things to bake, so I was totally down with the challenge this month. Rachael required us to make all the pie pastry ourselves, and gave us four different kinds of pies to choose from this month: the infamous Crack Pie from Christina Tosi of the Momofuku Milk Bar (kind of like a massive buttertart or pecan pie (without the pecans) in an oatmeal cookie crust), the Italian crostata di marmellata (a jam-filled affair made with an Italian pie crust called pasta frolla), a sinful chocolate and caramel tart (with an egg yolk- and sugar-enriched pâté sablée crust), and a good old double crust fruit pie (with a tender, flaky pâté brisée). I ended up making a blackberry-maple crostata, a strawberry rhubarb pie with a buckwheat-sourdough pâté briseé, and a chocolate caramel tart with hazelnuts. The Crack Pie is on the menu for the next barbeque or gathering I am invited to!
I have pretty much got the pastry-making process down (a cool kitchen, lots of butter, a good pastry cutter, folding and frissage to make flaky layers, and a chill in the fridge), so I had fun trying these new recipes and getting creative with decorations. Since I have three recipes to share, I'm going to dole them out over the next three days. First up is the Blackberry-Maple Crostata di Marmellata.
Italian pasta frolla, which makes up the base of a crostata, is more like a cookie dough than any pie crust I've ever made: instead of cutting cold butter into flour, you cream together soft butter, sugar, and egg, then beat in the flour. The resulting dough is quite delicate, but it can be rolled out and easily pressed into a shallow tart pan. I didn't have a proper tart pan, and in anticipation of a LOT of pies this month, I only wanted to make half the recipe, so I pressed the pastry into the bottom of a 9″ x 5″ loaf pan. It worked out very well actually, and the pastry is pretty delicious – scented with a little lemon and maple sugar, it is light and crunchy like the best shortbread or butter cookie.
A crostata di marmellata is filled specifically with jam (homemade blackberry, in this case) but you could also fill the pastry with fresh fruit, fruit curd, pastry cream, nut paste, or pretty much anything you fancy. With jam, a thin layer of filling is plenty because it is quite sweet, and the ratio of filling to crust gives the illusion of eating a big jam-filled cookie. A crostata is quite simple to make, but it tastes awesome and would make a great dessert. As with most pies, it can be as elegant or rustic as you want: no matter what, it will be delicious.
Thank you Rachael for this awesome challenge! 😀 As usual, there were some seriously gorgeous pies of all sorts made by the Daring Bakers this month, so be sure to stop by the Daring Kitchen to check them out. And come back tomorrow for Part II (Strawberry Rhubarb Pie with the fanciest lattice crust you ever did see) and the next day for Part III (Chocolate and Caramel Tart with Hazelnuts).
Blackberry-Maple Crostata di Marmellata
Adapted from Carol Field's "The Italian Baker", via the June 2013 Daring Bakers Challenge. Makes one 9″ round crostata, or you can halve the recipe below (as I did) and make a 9″ x 5″ rectangular crostata.
Maple Sugar Pasta Frolla
In the bowl of an electric mixer fitted with the paddle attachment, cream together until light and fluffy:
2/3 cup unsalted butter, at room temperature
1/3 cup maple sugar (or regular granulated sugar for a non-maple version)
The longer you cream the butter and sugar, the lighter and more delicate the dough will be. This makes for a great final product, but does make it harder to handle the dough. If you are planning an intricate lattice pattern, aim for a firmer dough with for a shorter creaming time.

To the creamed butter and sugar, beat in:
1 egg
1 tsp maple syrup (or vanilla extract)
1 tsp grated lemon zest (use the zest of the whole lemon for the non-maple version)
When combined, add:
1 2/3 cups all purpose flour
a pinch of salt
Stir just to combine the flour and bring the dough together – be careful not to over-mix. Gather the dough together, wrap it in plastic wrap, and chill in the fridge for 30 – 60 minutes.

Crostata Assembly
On a piece of lightly floured waxed paper, roll out 2/3 of the chilled dough until just large enough to fit a lighty greased 9″ round tart pan with a removable bottom (or, for a half-size crostata, a 9″ x 5″ loaf pan lined with parchment paper). Transfer the pastry to the pan and press it in, trimming the edges as necessary and forming a little bit of a lip to attach the pastry lattice to later. Prick the pastry all over with a fork, then chill for 30 minutes until firm (or freeze it if you're in a hurry).
Preheat the oven to 350˚F. Line the pastry with aluminum foil and fill it completely with pie weights or dry beans, pressing them right up against the sides to the pastry to prevent it from shrinking. Place the tart pan on a baking sheet and bake the pastry in the preheated oven for about 15 minutes, until set. Remove the pie weights and allow the pastry to cool, then remove the sides of the tart pan (or, for the half-size version, remove the pastry shell from the loaf pan using the parchment paper as handles). Place the partially baked pastry shell back on the baking sheet.

Preheat the oven to 400˚F. Fill the cooled pastry shell with 2 cups of blackberry jam. Roll out the remaining pastry and cut strips, then lay them over the jam to make a diamond lattice pattern. Press the ends of the pastry strips to the edge of the pastry shell. If desired, use tiny cookie cutters or aspic cutters to cut little decorations out of the remaining pastry.
Sprinkle the pie with a little bit of maple sugar, then bake in the 400˚F oven for about 20 minutes, until the lattice is golden.
If desired, mix together a glaze of 1/4 cup apricot jam and 1 – 2 tsp lemon juice and heat until it just comes to a boil. Strain through a fine mesh strainer if necessary, then brush it over the lattice while the pie and glaze are still warm (I skipped the glaze).
Allow the crostata to cool completely before cutting into wedges to serve.