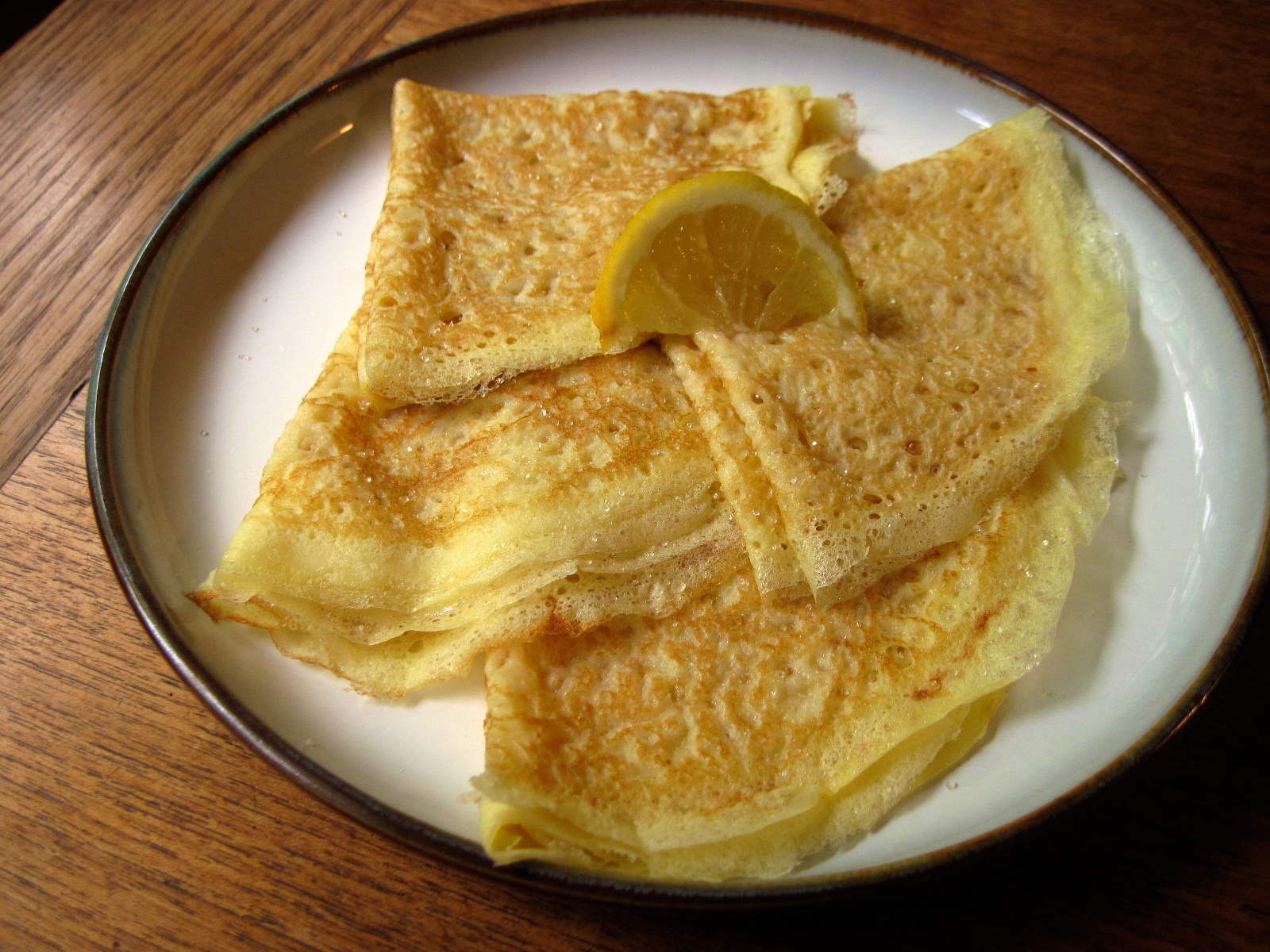 I've been making crêpes since I was a kid – they were one of the things along with cheese sauce (for macaroni) and chocolate sauce (for ice cream) that I learned to make without a recipe. My mum called them "leathery pancakes", which is a pretty apt description, and I remember sometimes eating them with a squeeze of lemon and sprinkle of sugar. As a kid I think I preferred them with lots of butter and syrup (or much more sugar than lemon, anyway), but now that my taste buds have matured (ha) I absolutely love pretty much anything lemon flavoured (anything, that is, except for fake lemon. Yech.)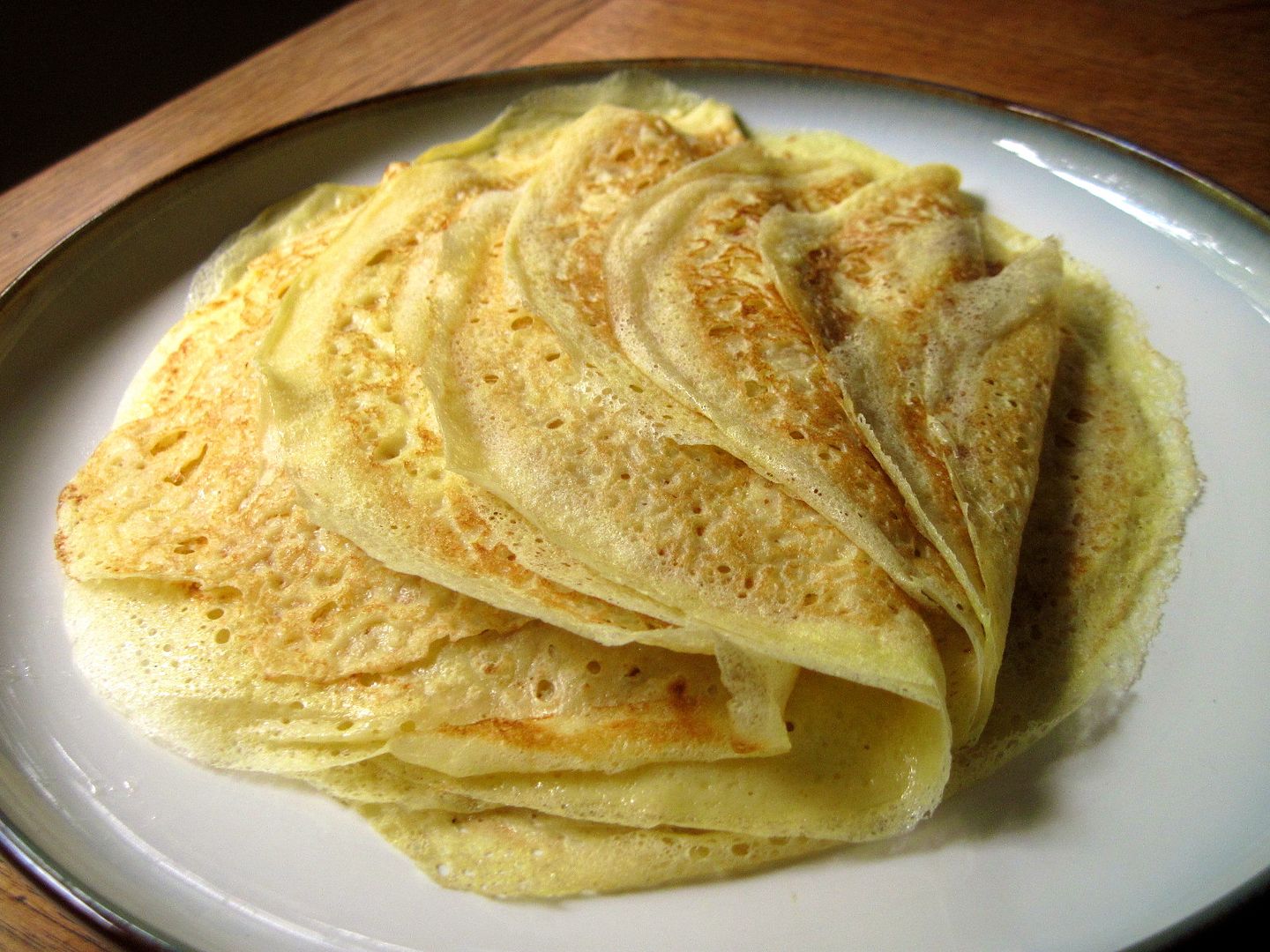 I came across a recipe for Delia Smith's pancakes on The Wednesday Chef several months ago. These are not pancakes in the fluffy, cake-like North American sense, but rather thin, delicate pancakes in the English sense – that is, they are basically crêpes – and they are served folded around lemon and sugar. Reading the recipe suddenly had me craving the exact combination of a delicate, crispy edged, slightly eggy crêpe, dripping with butter and lemon juice and crunchy with sugar, and I made them for breakfast the next morning. I ate the entire batch myself and enjoyed every buttery, lemony, sugary mouthful. They were the best crêpes I'd ever had.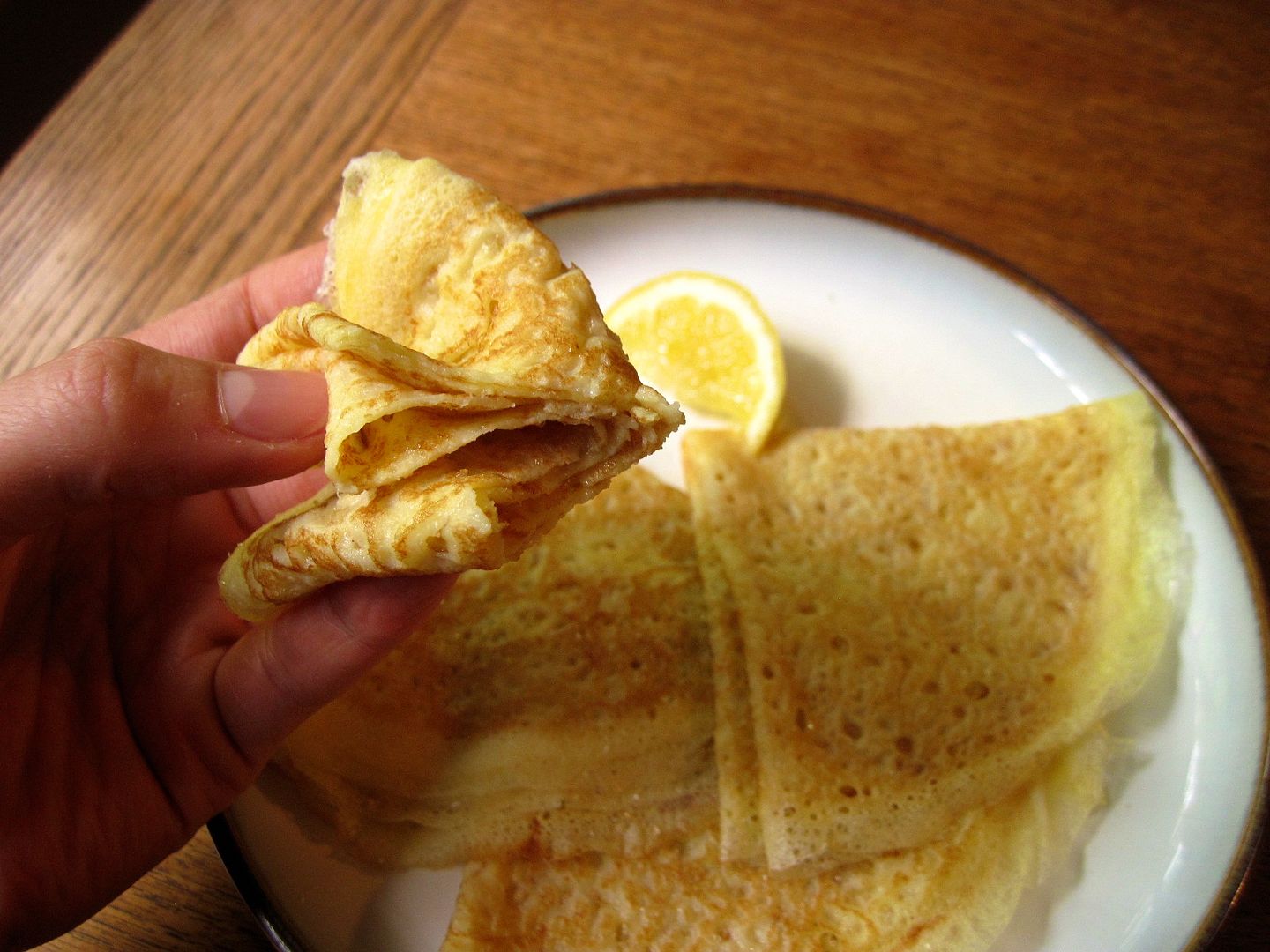 When sourdough crêpes were announced as the Sourdough Surprises project for June, I wasted absolutely no time in adapting Delia Smith's pancakes to use sourdough starter – in fact, it was still May when I made these! The addition of sourdough took a really good crêpe right over the top into the territory of sublime: the fermented depth of flavour gave them an extra richness that was just awesome, and now these are the best crêpes I've ever had. Full stop.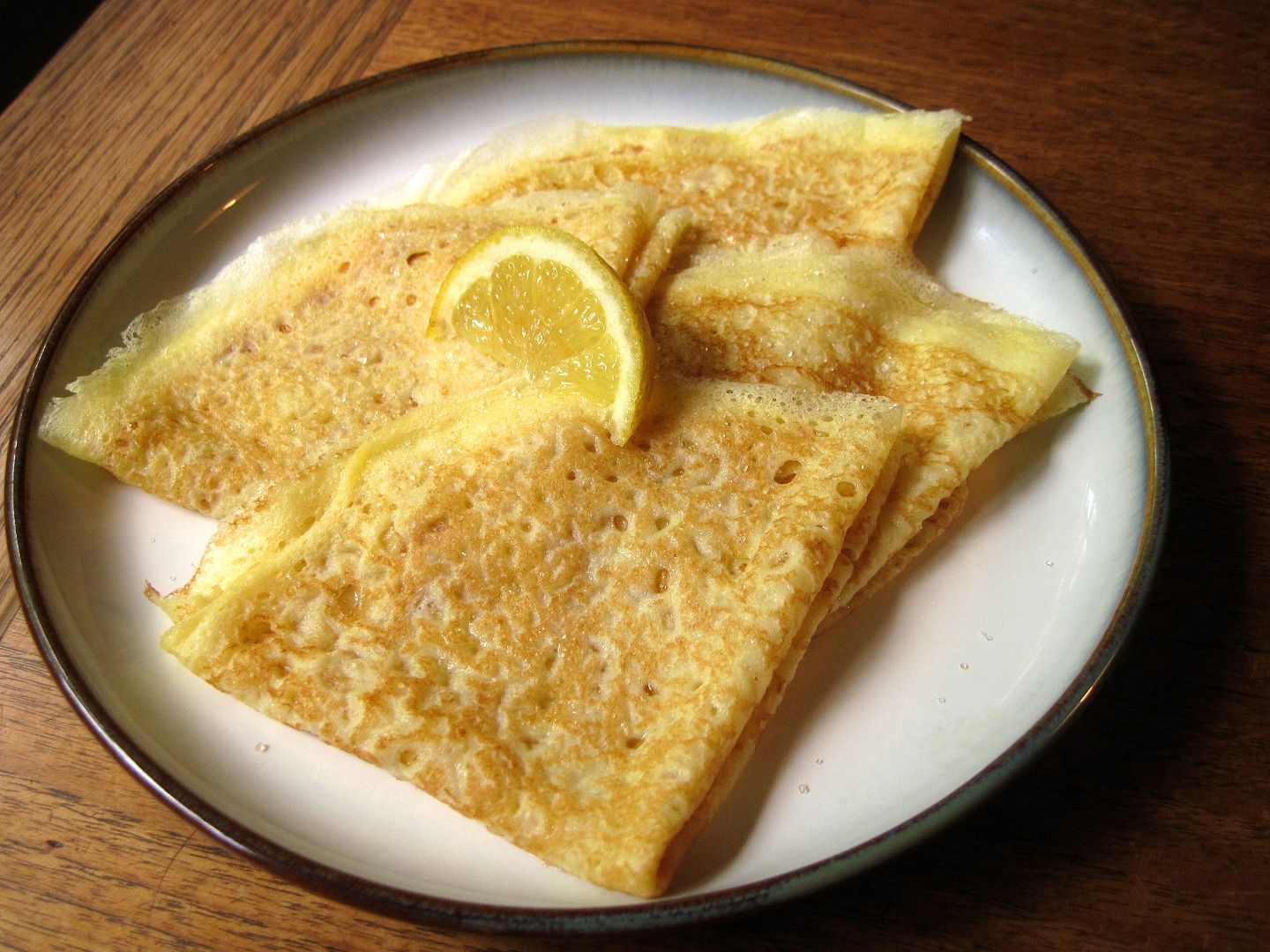 PS: After writing up this post, I made these again yesterday and I can assure you that they are every bit as good as I claim. When the batter hit the hot pan on the first crêpe and that slight sourdough tang wafted towards me, I did a little happy dance. So good.
Click the link below to see the other sourdough crêpes made by the creative Sourdough Surprisers this month!

Sourdough English Pancakes with Lemon and Sugar
Adapted from Delia Smith at the BBC, via The Wednesday Chef. Makes about a dozen crêpes, just enough for one hungry crêpe-lover but probably 2 or 3 more modest servings 😉 I use a 9″ stainless steel frying pan for these, and when it's heated to the right temperature, the crêpes cook perfectly and don't stick at all. It may take some experimenting to find that sweet spot for your particular pan. Feel free to make the crêpes any size, and use a non-stick frying pan if you need to!

In a bowl, whisk together until smooth:
8 oz mature sourdough starter (the more mature, the better the flavour – this is a perfect use for discard starter)
pinch of salt
2 eggs
Slowly whisk in 6 oz milk, and when totally smooth, add 2 tbsp of unsalted butter, melted and cooled. Again, whisk until smooth.
Heat a 9-inch frying pan (any size will do, actually) over medium heat until fully heated – a drop of water should sizzle violently and disappear almost immediately. Grease the pan with a little more unsalted butter, then pour about 3 tbsp of batter into the pan (I use a 1/4 cup measure, not quite full, as a scoop), swirling it around to coat the bottom of the pan completely. The first crêpe is usually a tremendous failure so don't be discouraged if it sticks or burns or stays raw – use it to gauge the temperature of your pan, and by the next few crêpes you'll get the hang of it. A properly heated pan will cook the batter on contact, giving it kind of a lacy appearance. When the edges start to dry out and the surface is set and no longer wet-looking (usually less than 1 minute), use a very thin and flexible spatula to lift up the edge and check if the bottom is browned. If it is, gently flip the crêpe over.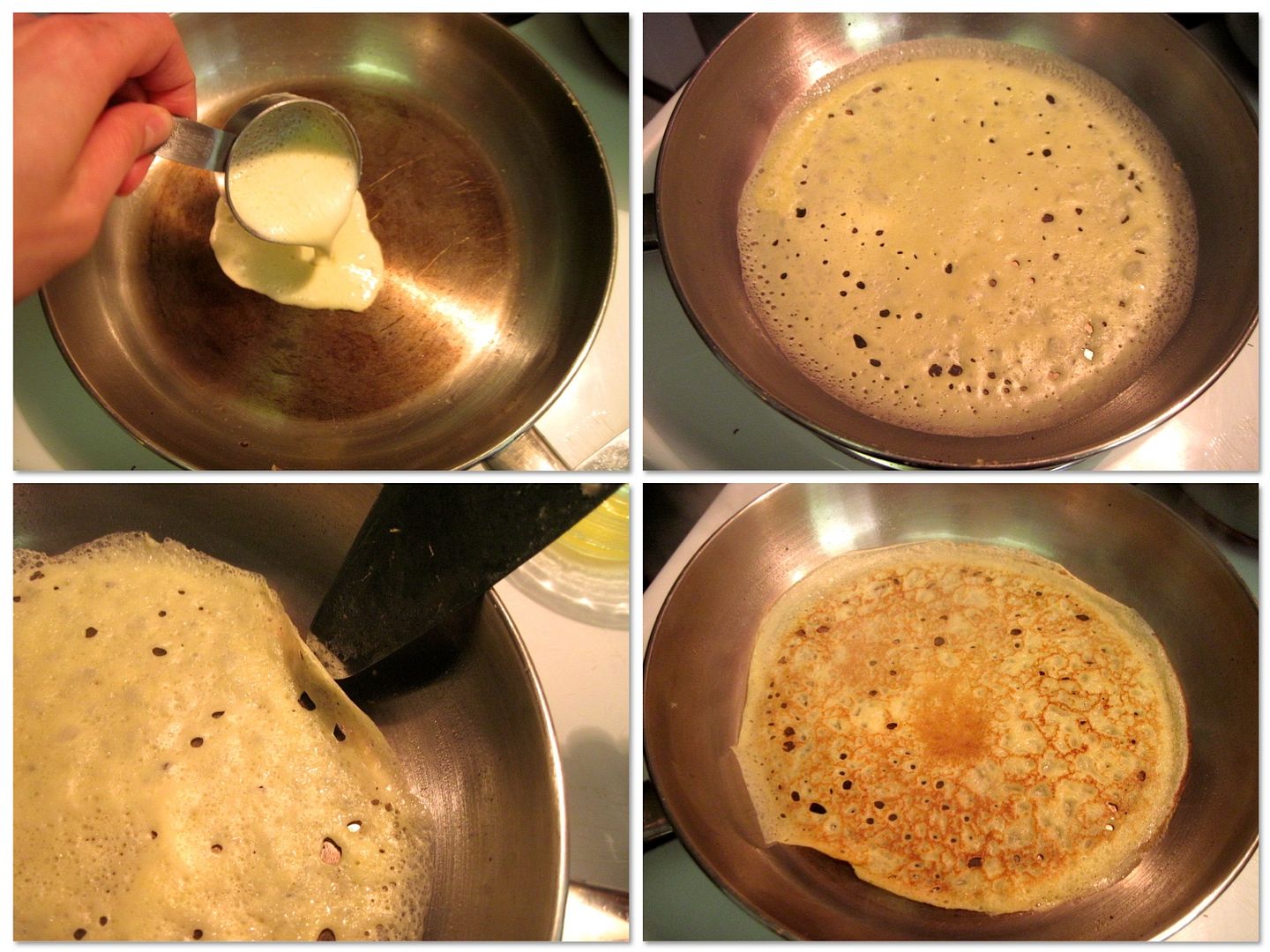 Cook for another few moments, until golden, then invert the pan over a plate to dislodge the pancake. Repeat with the rest of the batter, greasing the pan with butter as needed between crêpes.

To serve, sprinkle each crêpe with a little bit of granulated white sugar and a squeeze of lemon juice (and a little slick of melted butter, if desired), and fold them into quarters. You could do this as soon as they come off the pan and eat them one at a time while they are hot, or you could cook them all and keep them warm (under a tea towel on the counter, or covered in foil in a warm oven), then lemon-and-sugar them all in one go. Or you could do what I did and eat them cold, which didn't detract from their deliciousness one bit.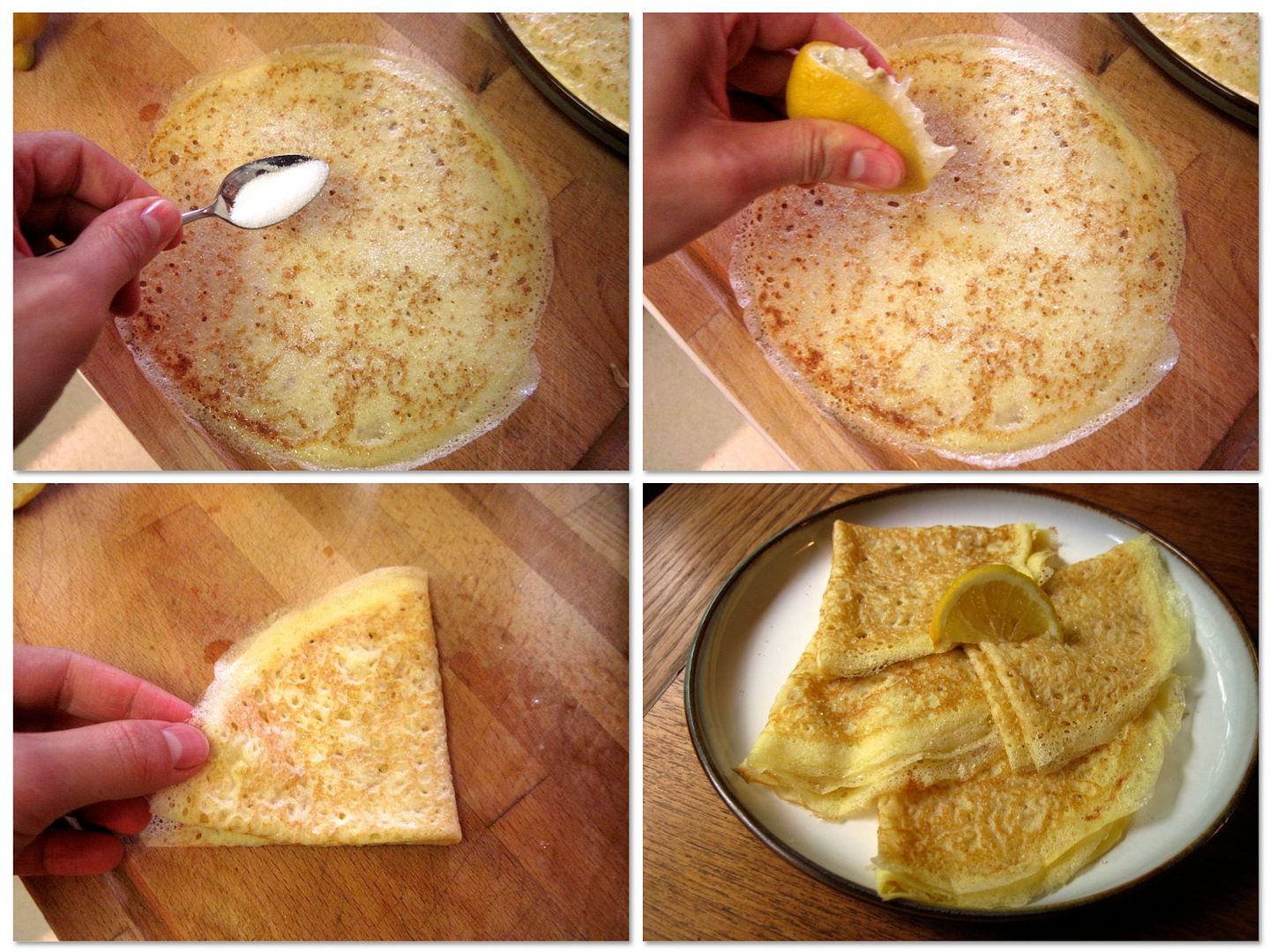 This post has been YeastSpotted!