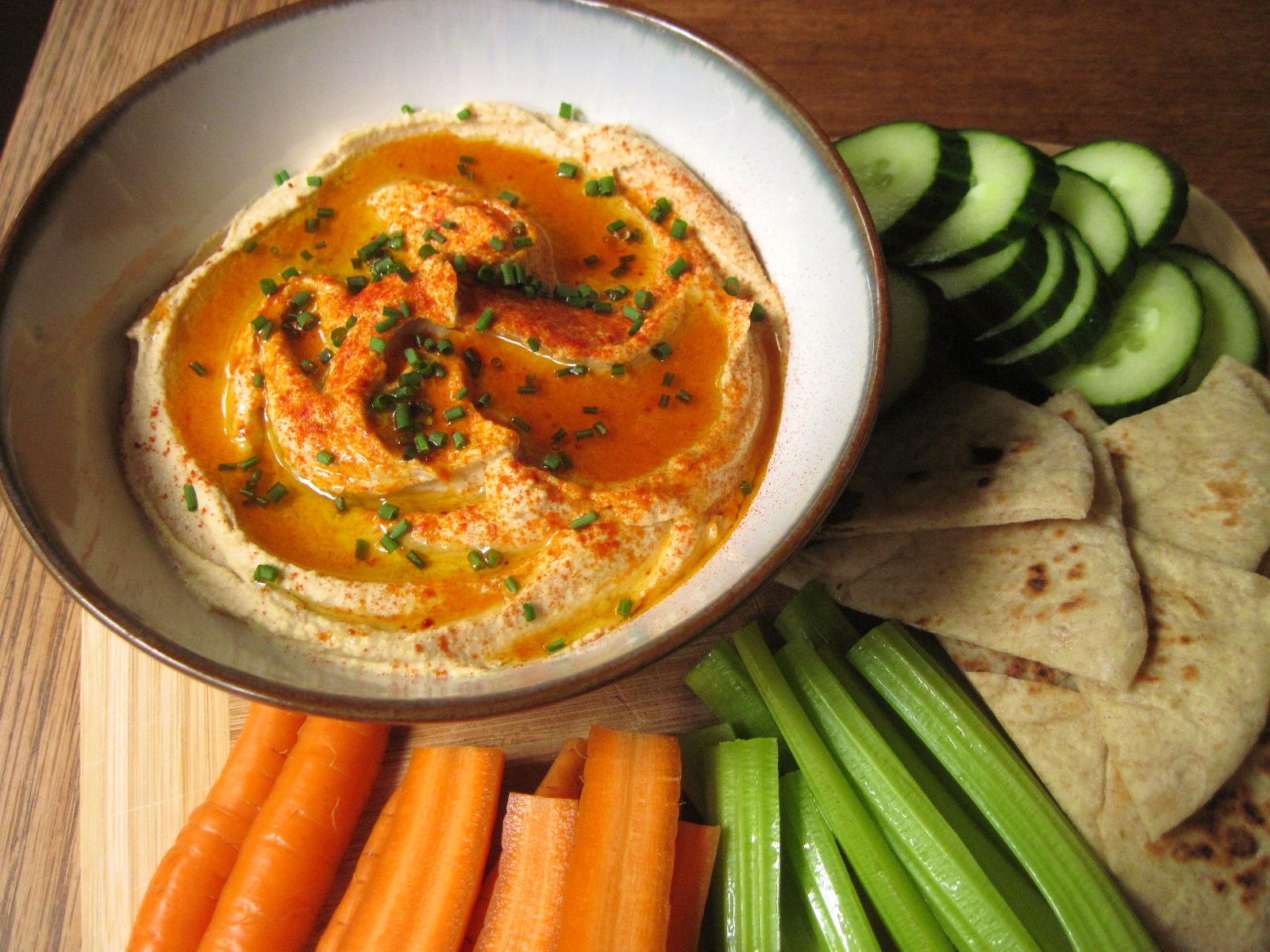 Sometimes you just need a platter full of vegetables and some garlicky hummus to dip them in. It's been ages since I last made hummus, and I've been wanting to try Smitten Kitchen's secret to making "ethereally smooth hummus". But I think I was also putting it off, because the thing is, the secret is kind of ridiculous and crazy-making: you have to peel the chickpeas, and that seems like a totally insane thing to do.
However, if you like to play with your food as much as I do, you might actually think it's kind of fun, in addition to being slightly ridiculous and insane. Popping each little chickpea out of its skin was strangely satisfying, and it didn't actually take much extra time, especially considering that hummus is very quick to make in the first place.
But the textural difference is pretty great: without the skins, the hummus ends up lighter and creamier and so much smoother than you thought possible. I know that some people prefer a chunkier hummus, but if you like it creamy, this is the method for you!
The Creamiest Hummus
Adapted from Smitten Kitchen, the basic premise of which can be used with any hummus recipe.
Drain and rinse 1 15-oz can of chick peas (garbanzo beans). Grasp one chick pea between your thumb, forefinger, and middle finger and squeeze it gently to pop it out of its skin and into the bowl of a food processor. I got into a good rhythm doing this with both hands. Discard the skins.

Blend the peeled chickpeas until they form powdery clumps, then add:
1/4 cup tahini
the juice of 1/2 a lemon
1 – 2 cloves of crushed garlic (I like garlicky hummus so I went with two cloves, but the flavour intensifies over time, so go easy if you're worried – you can always add more garlic later)
a good pinch of salt
Blend for a few more minutes, adding 3 – 4 tbsp of water a little at a time until the hummus is very light and creamy – it almost takes on a whipped consistency. Scrape down the sides a few times to make sure everything is evenly blended. Taste and add more lemon juice or salt as needed.
Once you get the desired taste and texture, it's best to refrigerate the hummus for at least 30 minutes, but I ate it immediately and it was really good. To serve, scoop the hummus into a bowl and drizzle the top with about 2 tbsp of olive oil. Sprinkle with smoked paprika (hot or sweet) and chopped fresh herbs of your choice. Serve with plenty of fresh vegetables and toasted pita bread wedges.