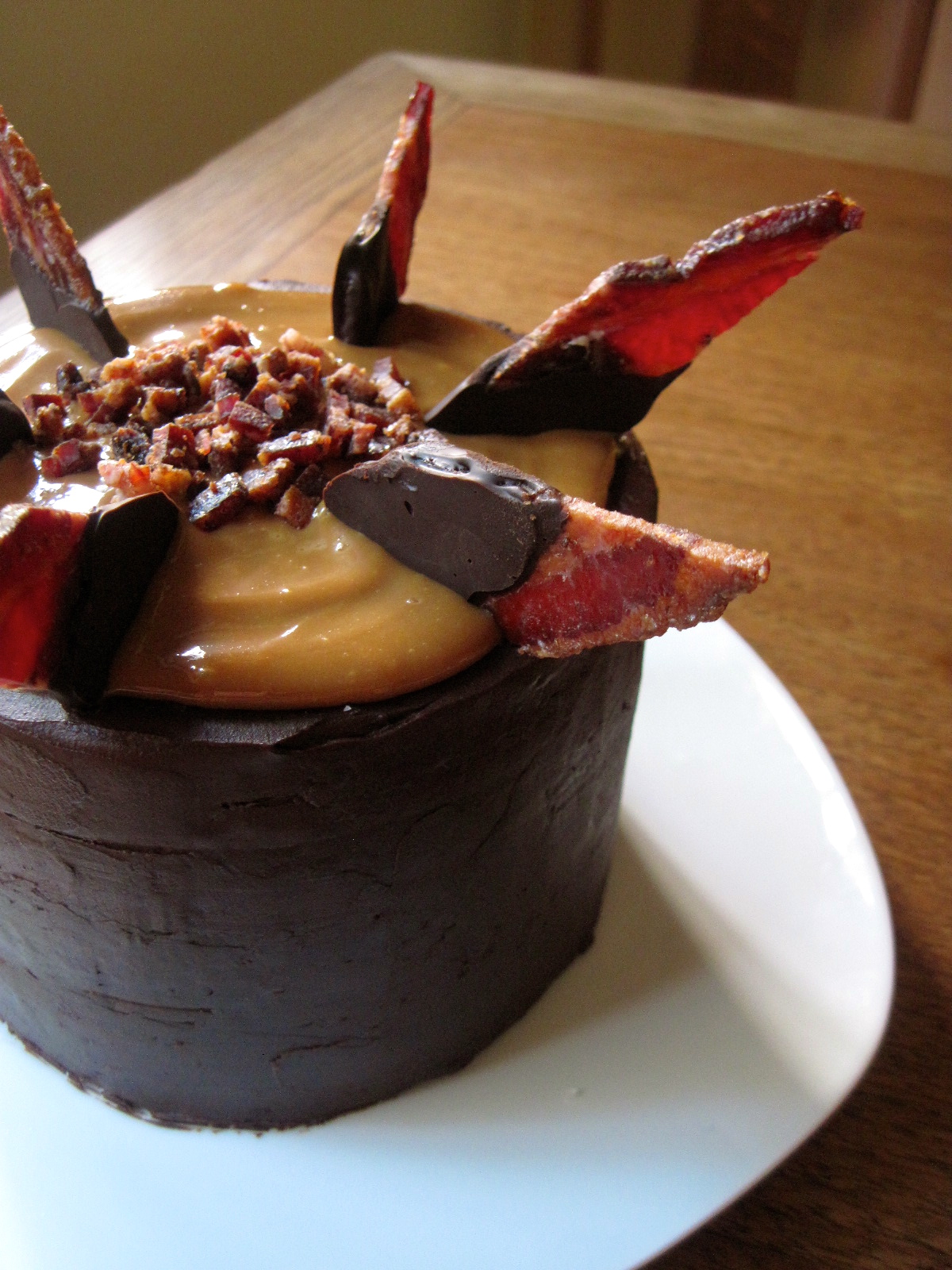 If you are on a diet, you might want to avert your eyes.
When I asked Nate a few weeks ago what kind of cake he wanted for his birthday, he gave me free reign to make whatever I felt like. I was all set to make a tres leches cake, but when I told him this the day before he didn't seem as enthusiastic about it as I was. So I asked him exactly what he wanted, and he gave me these particulars: chocolate, maybe some bacon, perhaps some caramel. Basically, "It should be… insane."
Normally I spend days planning how I'm going to make a cake, but I only had twenty-four hours to figure this one out. I thought the best plan of attack would be to add candied bacon to a chocolate and caramel cake, so with Martha Stewart's Salted-Caramel Six-Layer Chocolate Cake for inspiration, I made the Cooks Illustrated Ultimate Chocolate Cupcakes into two six-inch cake layers, sandwiched them together with a filling of salted dulce de leche and brown sugar-candied bacon bits, and frosted it with the richest chocolate frosting you've ever met. The result was as requested: insane.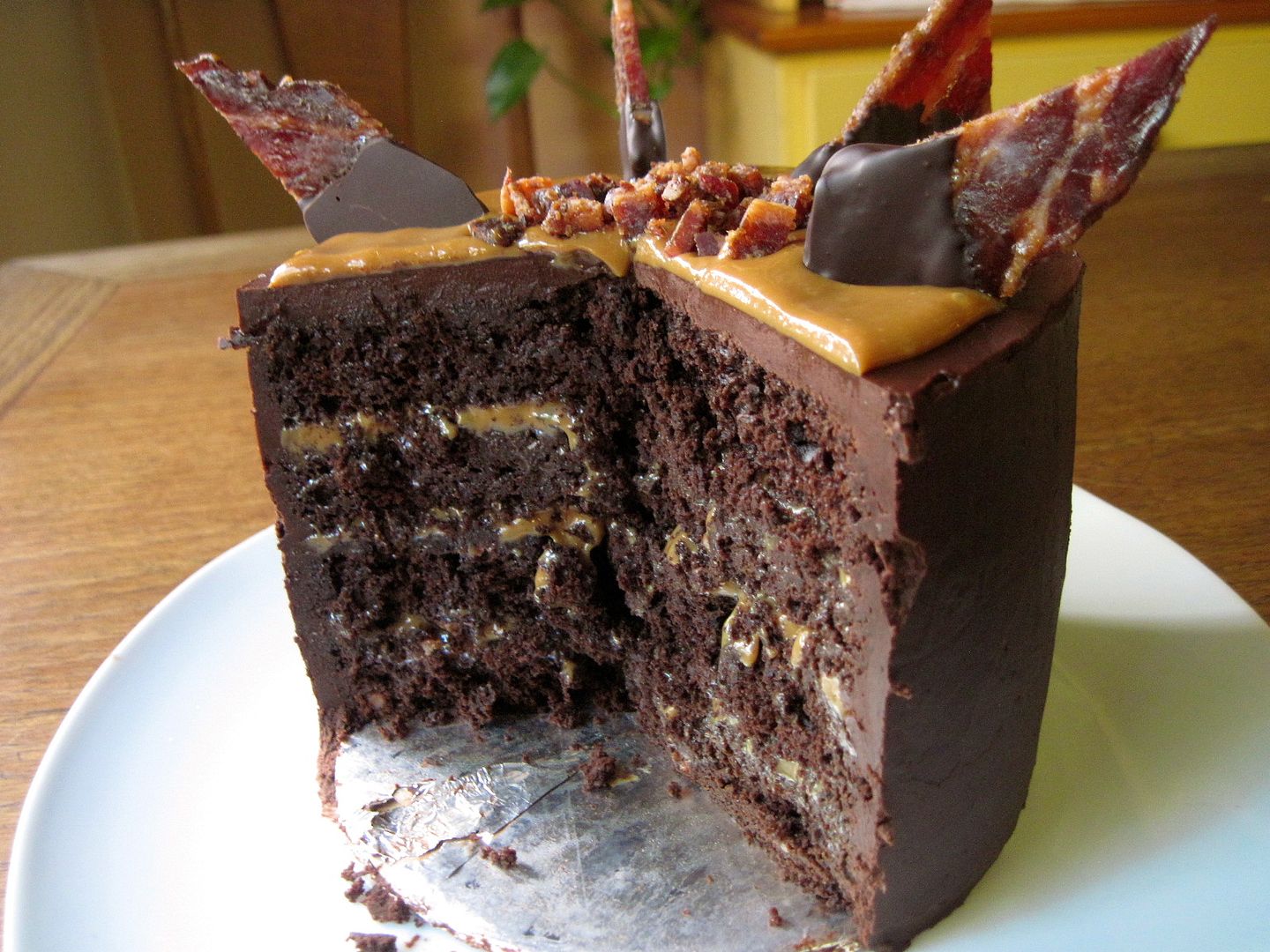 Have you ever had candied bacon? It's pretty amazing if you like the salty-sweet combo, and even more amazing dipped in chocolate. It plays two roles in this cake: chopped up and added to the dulce de leche filling between the cake layers, and the aforementioned chocolate dipped pieces on top. It becomes chewy in the filling rather than keeping its crunch, but it is no less delicious. And the chocolate dipped stuff is, well, insane.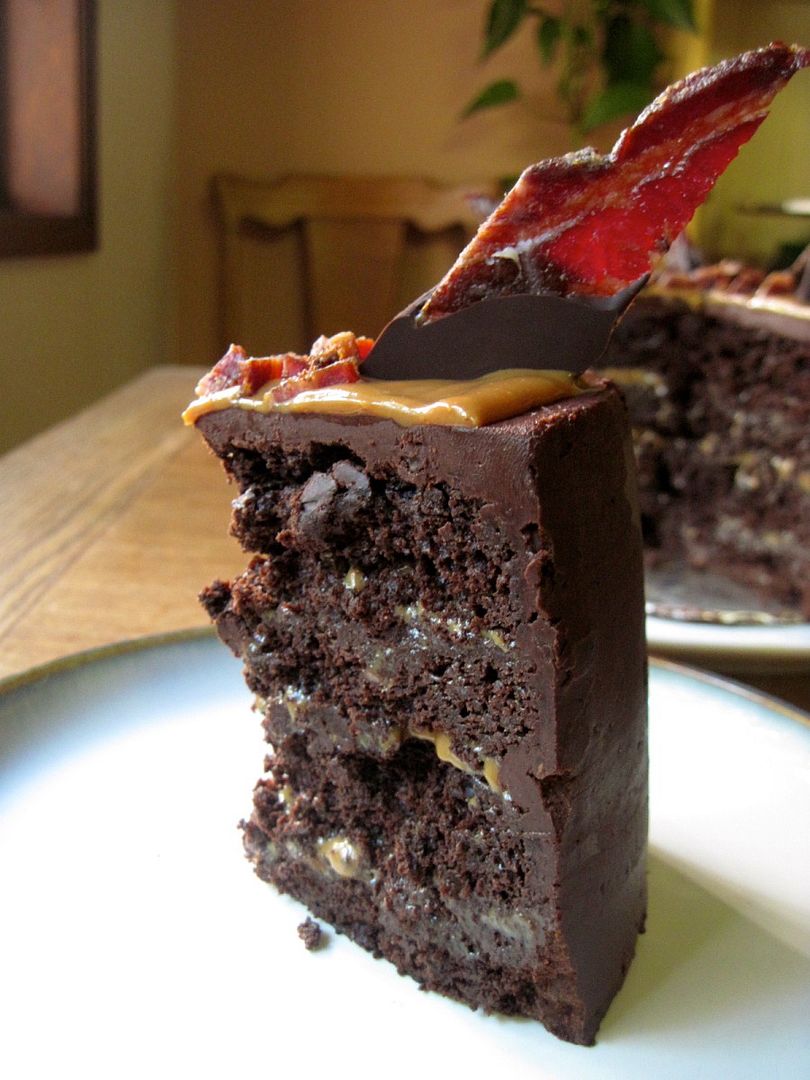 Beware though – while this recipe only makes a six-inch cake, it is incredibly chocolately and rich. Small pieces (accompanied by a large glass of milk) are plenty!
Chocolate Caramel Bacon Insanity Cake
Makes one 6″ layer cake, about 8 – 10 servings.
Dulce de Leche
Peel the label off one can of sweetened condensed milk, then place it in a pot and cover it with water so that it is completely submerged. Bring the water to a boil over medium-high heat, then cover, reduce to low, and simmer for 3 hours, topping up the water lever as needed to make sure that the can stays completely covered the entire time (otherwise there's a danger of it exploding). Once the 3 hours are up, remove the pot from the heat and let the can cool completely in the water, ie overnight. Once cool, scoop the caramelized contents of the can into a bowl, sprinkle it with a good pinch of flaky sea salt, and stir until smooth. (If necessary, stir in a few drops of milk to make it easily spreadable.)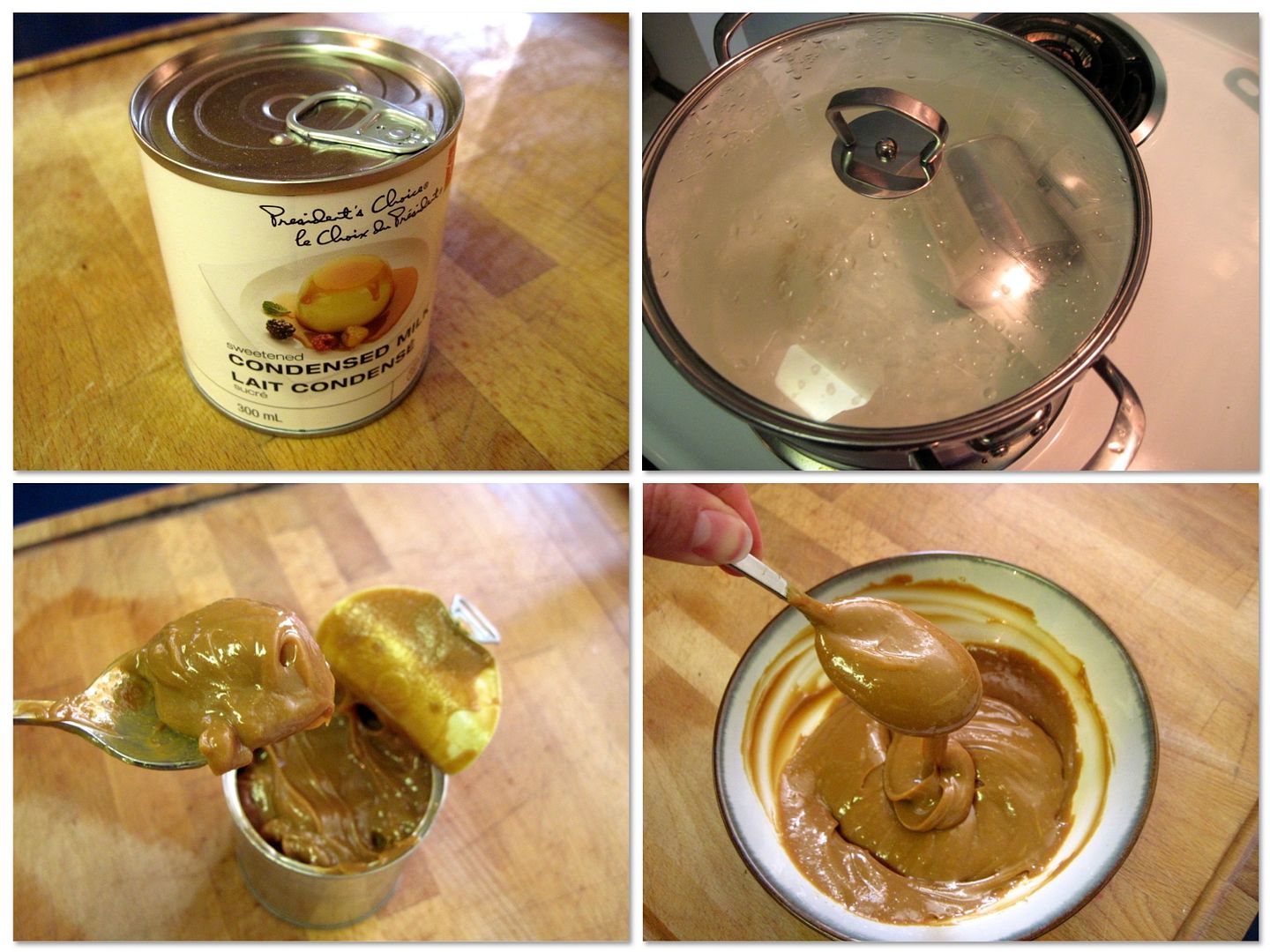 Chocolate Cake
Follow the recipe for Ultimate Chocolate Cupcakes, but divide the batter between two 6″ round cake pans than have been greased, lined with parchment paper, and dusted with cocoa powder. Wrap each pan with a strip of damp towel (this will help the cakes bake into flat, even layers) and bake at 350˚F for 25 – 35 minutes, until a toothpick inserted in the middle comes out with a few moist crumbs sticking to it. Invert the cakes onto a cooling rack, peel off the parchment paper, and allow to cool completely.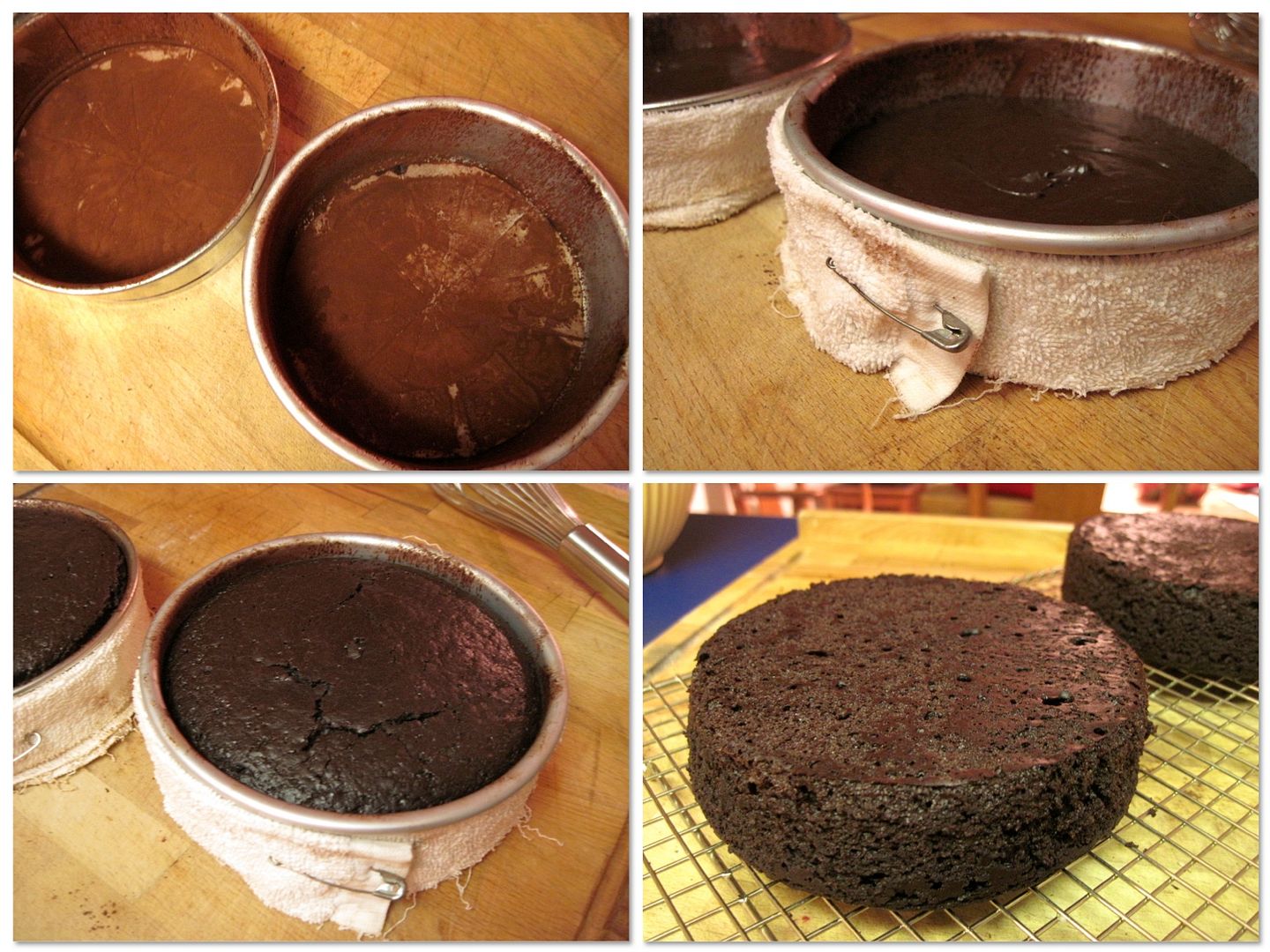 Candied Bacon
Coat 6 slices of thick-cut, double-smoked bacon in about 6 tbsp of brown sugar, pressing it thickly onto both sides of the bacon. Place the bacon on a rack on a foil-lined baking sheet (otherwise, like me, you will have a mess of burnt-on sugar and bacon fat to scrape off your baking sheet) and bake at 350˚F for about 15 minutes, then flip, sprinkle with a little bit more sugar, and bake for another 15 – 20 minutes, until deeply caramelized. Let cool on the rack (the bacon with get crispy as it cools).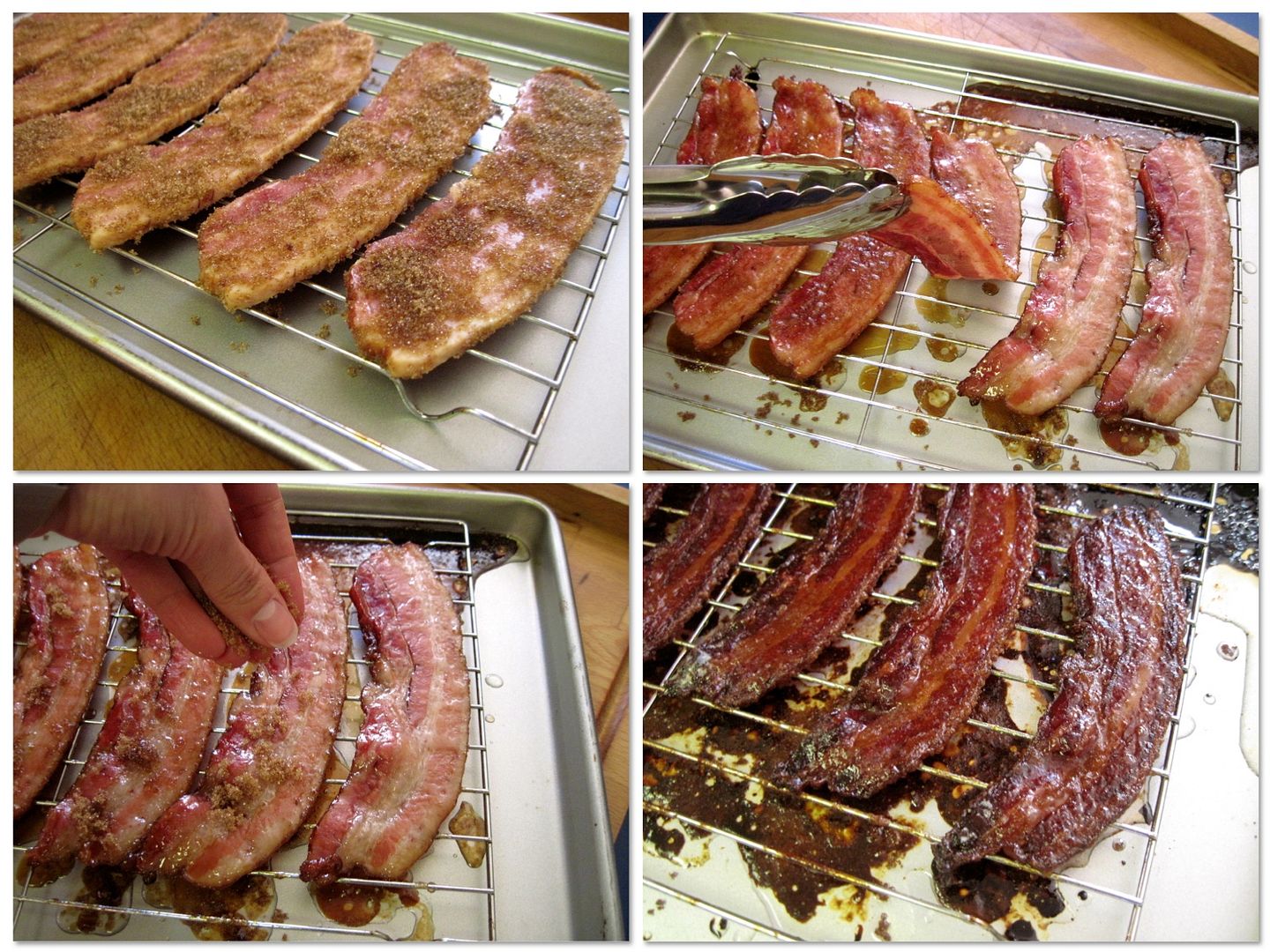 Once cool, chop 3 slices into small pieces. Cut the remaining 3 slices into larger pieces and dip them in 50 grams of melted dark chocolate. Place them on waxed paper to dry.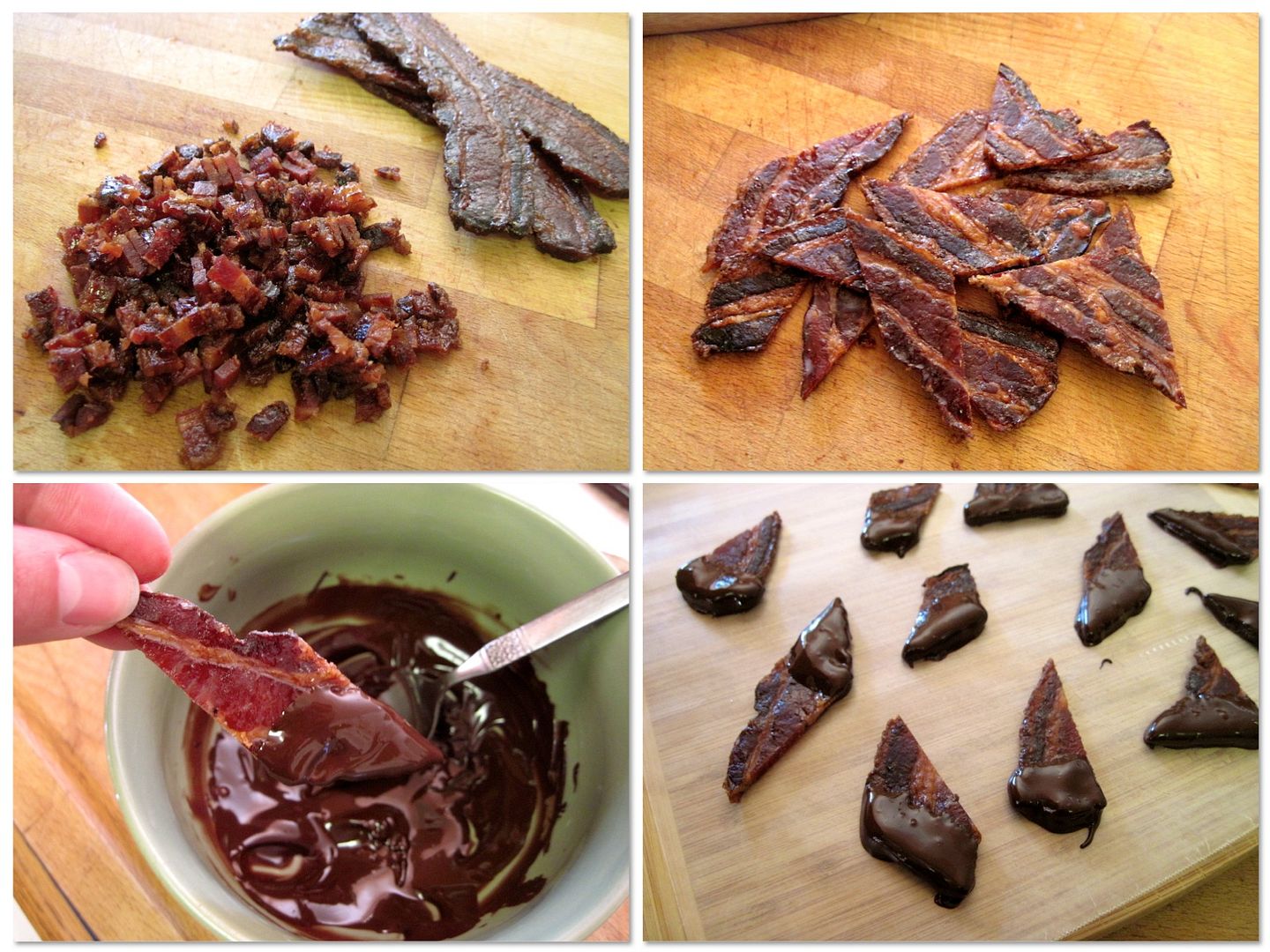 Chocolate Frosting
From Martha Stewart
Melt 250 grams of dark chocolate and set aside to cool.
In a small bowl, combine:
3 tbsp Dutch processed cocoa powder
3 tbsp hot water
Mix thoroughly and set aside to cool.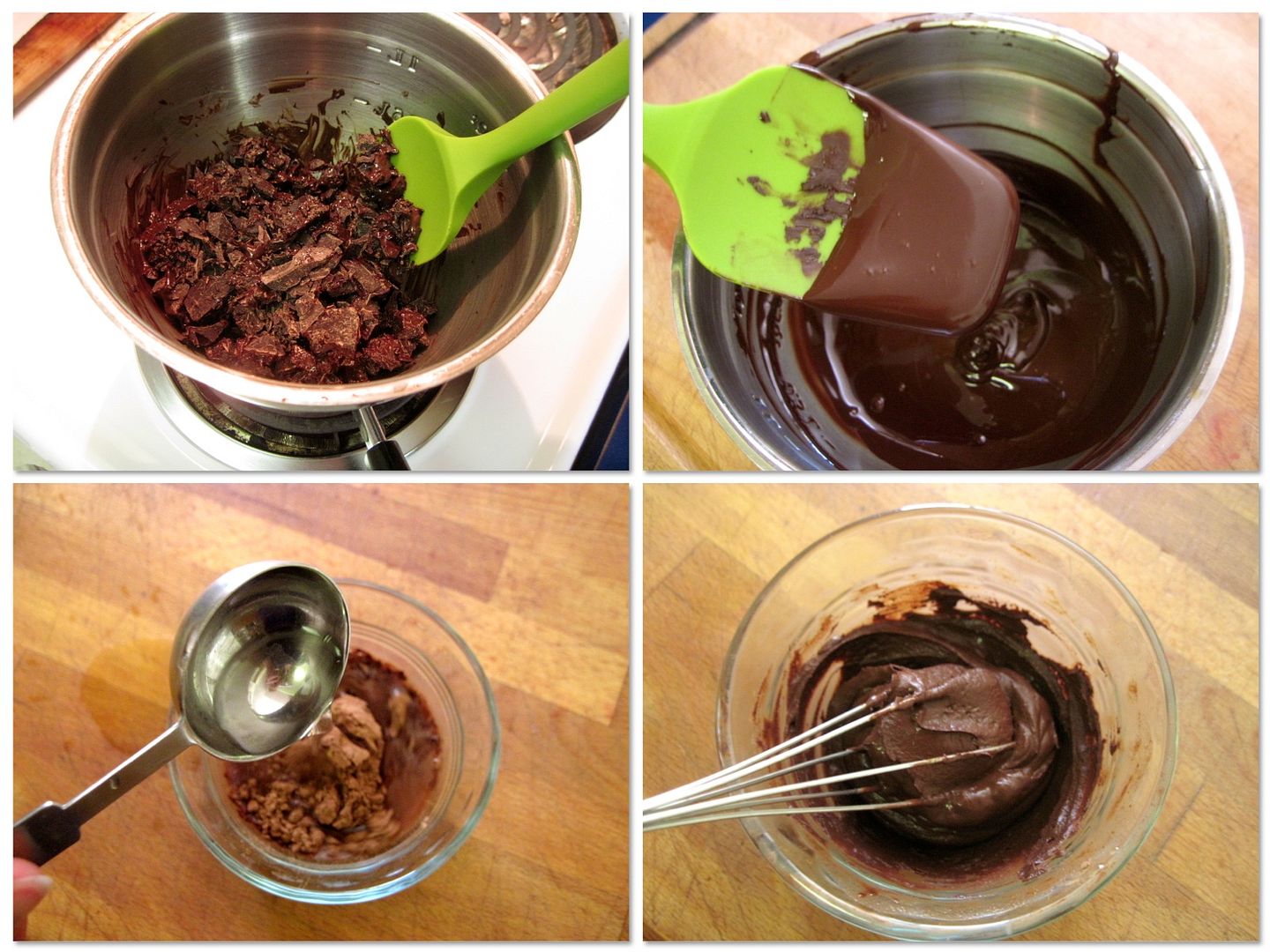 In the bowl of a stand mixer with the paddle attachment (a better idea than the whisk, as I discovered), beat on medium speed until very light and fluffy:
1/2 cup unsalted butter, soft
1/4 cup icing sugar
a good pinch of sea salt
Beat in the cooled melted chocolate, then the cocoa powder mixture. Beat until thoroughly combined, then set aside for 30 minutes at room temperature before frosting the cake (don't refrigerate it or it will be impossible to spread over the cake).
Assembly
Cut each cake horizontally into 2 layers, for 4 layers total. Place one layer on a cake base and spread it with about 2 tbsp of dulce de leche. Sprinkle it with a little pinch of sea salt, then with 1/4 of the chopped bacon pieces. Repeat with the second and third cake layers and top with the fourth, pressing down firmly to stick them together. Set aside the remaining chopped bacon pieces and dulce de leche.
Frost the top and sides of the cake evenly with the chocolate frosting using an offset spatula (you can do a crumb coat if you wish, but I found it wasn't necessary). Run the spatula under hot water and wipe it dry, then use it to smooth out the frosting. Chill the cake until the frosting is set, then spread the top with about 2 tbsp of the remaining dulce de leche and sprinkle it with the remaining chopped candied bacon.
Decorate with the chocolate-covered bacon and chill to set everything, then bring to room temperature before serving.