Natalia of Gatti Fili e Farina challenges us to make a traditional Savarin, complete with soaking syrup and cream filling! We were to follow the Savarin recipe but were allowed to be creative with the soaking syrup and filling, allowing us to come up with some very delicious cakes!
Before this month, I had of course heard of the great epicure and gastronome Brillat-Savarin, but not of this cake by the same name – which is quite unlike any other cake I've ever made. It starts with a rich brioche dough baked in a ring pan (there are special Savarin pans, but a bundt or angel food cake pan works too). The baked cake is soaked in a flavoured syrup, which it soaks up like a thirsty sponge, and then the hole in the middle is filled with pastry cream and topped with fruit. Savarin is very similar to baba au rhum, which is soaked in rum syrup and usually made into individual cakes, and both baba and Savarin are somehow related to Polish babka (sort of like this babka – it's all one big extended brioche family).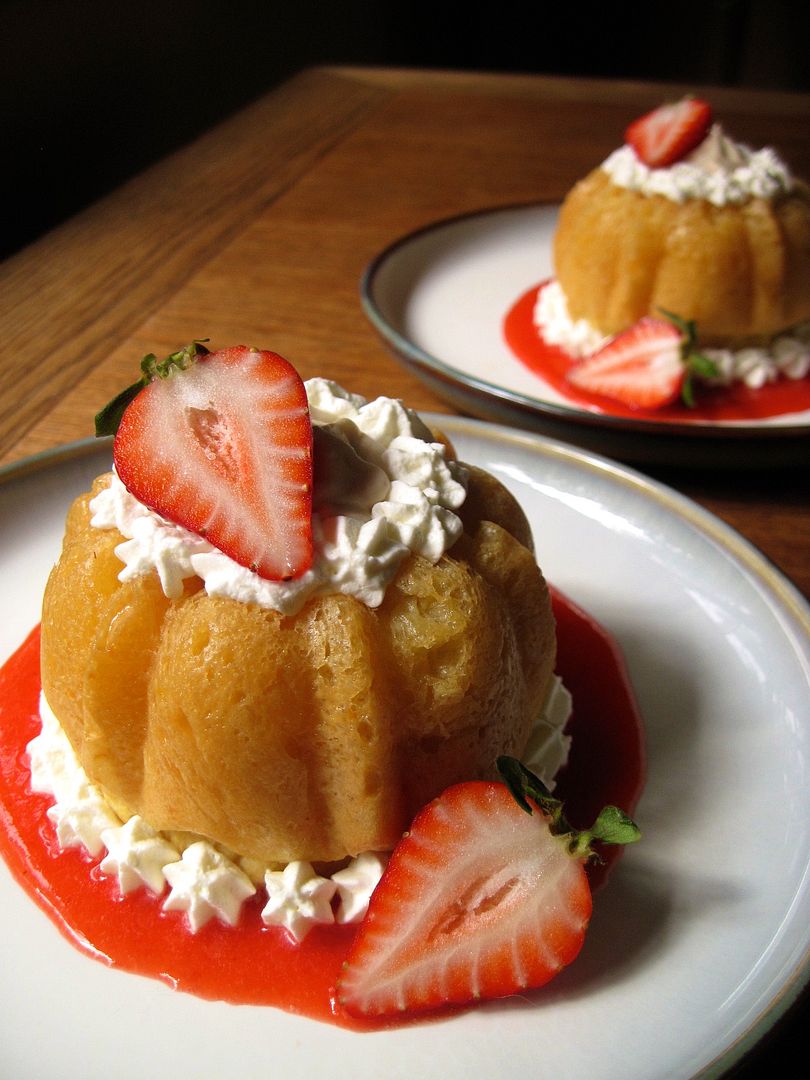 The recipe Natalia provided makes a huge cake, but seeing as there are only the two of us, I cut it down to one third and still ended up with six mini Savarins (or are they babas?). I put some lemon and orange rind in the dough (which smelled amazing when it was baking) and soaked it in an orange-lemon-Grand Marnier syrup. Then I made a strawberry purée, some of which I folded into the pastry cream, and the rest of which I served underneath the Savarins.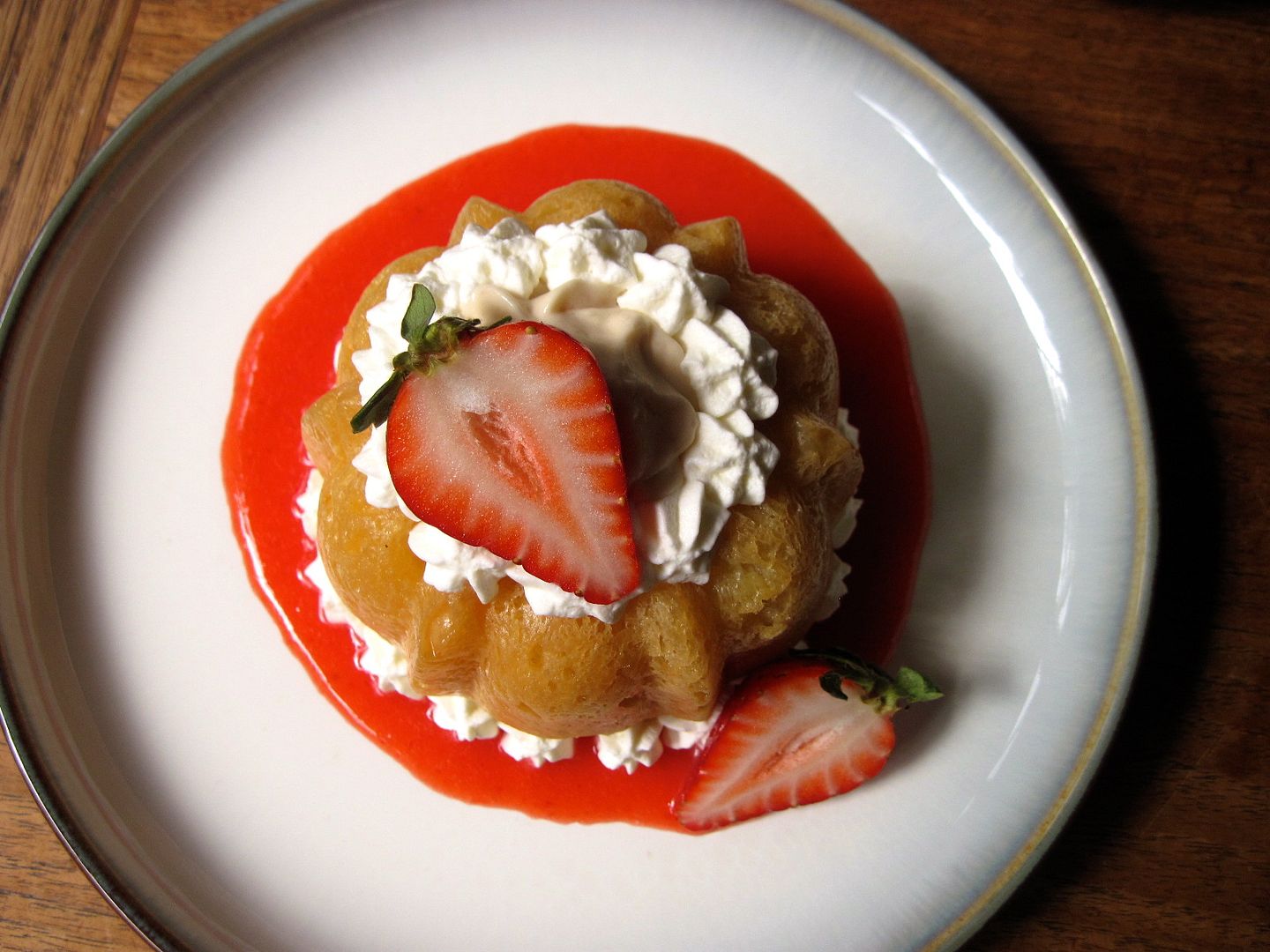 The soaking syrup makes the final cake super moist – almost juicy – yet it manages to maintain its structural integrity and be springy rather than soggy, thanks to the highly-developed gluten in the dough. Bread flour is used to insure that gluten development, which can be inhibited by the fat from the egg yolks and butter in the dough. This is compensated for by the order in which the ingredients for the dough are mixed: flour and egg whites first to get a head start on the gluten development, and then the yolks and butter later. This results in an incredibly elastic and stretchy dough that rises very well, however because it is an enriched dough, it does need a warm place to rise – ie, the oven with just the light turned on.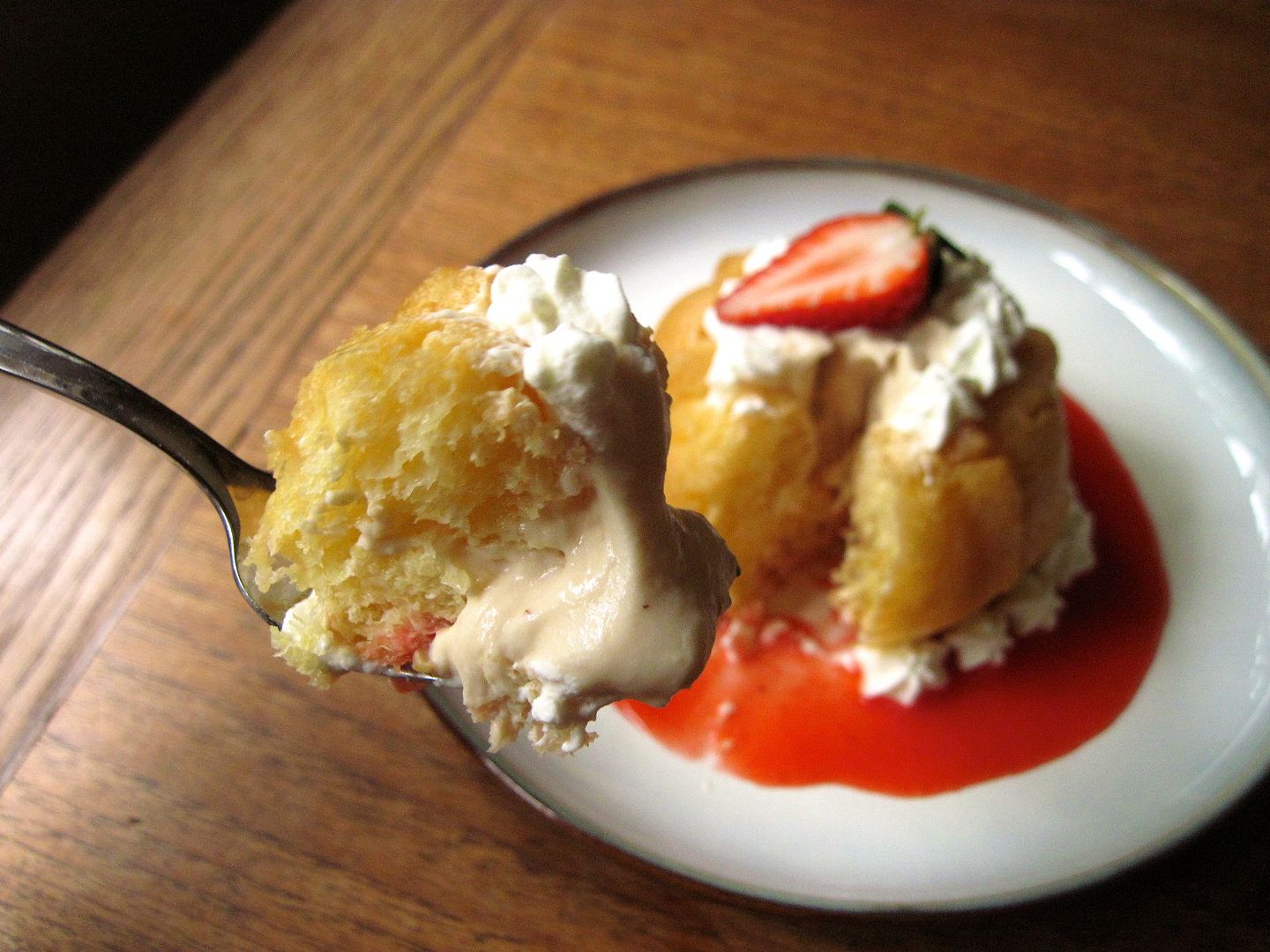 There were lots of components to this dessert – cake, syrup, pastry cream, sauce – but with a little planning it came together pretty easily. The cake is best if it soaks in the syrup at least overnight (it gains more flavour the longer it soaks), and the pastry cream needs to be chilled for several hours, so give yourself two days to make this. I made it over a weekend and woke up super early on Sunday morning, so I decided to make the pastry cream and get ahead of schedule – only to knock it out of the fridge a few hours later, shattering the bowl and spattering pastry cream all over the floor (there may have been some swearing). Luckily this is a pretty simple pastry cream, so I whipped up another batch in no time, and I remembered a good trick: instead of putting the pastry cream in a bowl to chill, spread it out on a plate and it will cool much faster.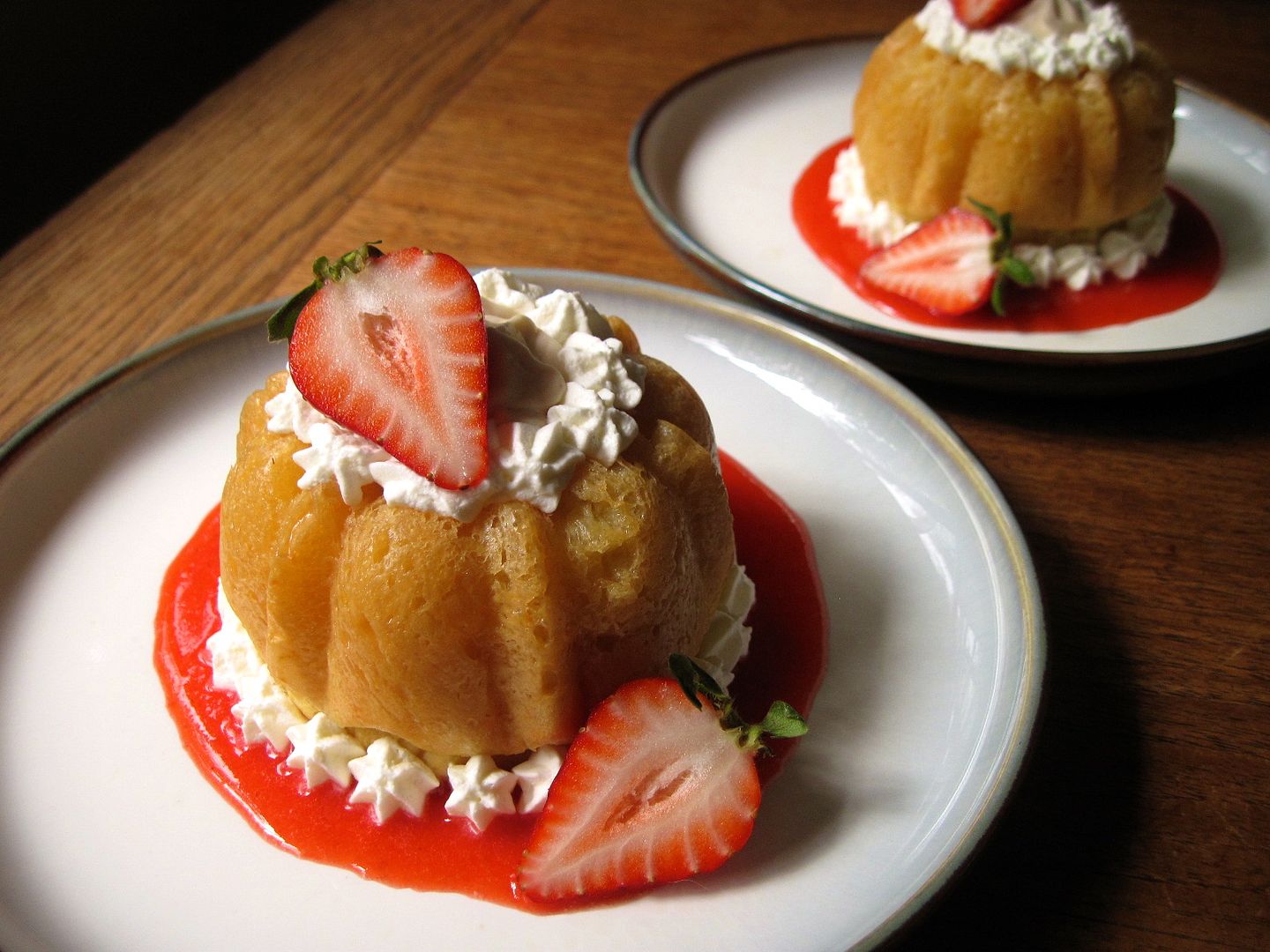 This is a very versatile dessert, what with all the possible flavour combinations for soaking syrup and pastry cream. For a sampling of the Savarin variations offered up by the Daring Bakers this month, check out the Daring Kitchen. Thanks for hosting this challenge Natalia, and for introducing me to this new recipe!
Mini Strawberry Savarins
Adapted from the April 2013 Daring Bakers' challenge recipe. Makes 6 small Savarins.
Savarin Dough
In a very small bowl, mix together the sponge:
8 grams bread flour
1/2 tsp instant yeast
10 ml (2 tsp) lukewarm water
Cover with plastic wrap and place in a warm place to rise for 60 minutes.

After 30 minutes, begin mixing the dough. In the bowl of a mixer, combine:
2 egg whites, at room temperature (reserve the 2 yolks for later)
90 grams bread flour
Mix with the paddle attachment on medium-low speed to make a soft sticky dough, then continue mixing until it comes together.

Cover with plastic wrap and let rest for 30 minutes, but which time the sponge should be ready. Measure out 19 grams of bread flour and set aside.
Add the sponge to the egg white-flour mixture along with:
1/4 of the reserved bread flour
1/2 tsp each grated orange and lemon zest
Mix at low speed until combined, then add:
1 of the reserved egg yolks
1/4 more of the reserved bread flour
Mix again at low speed, then when it starts pulling away from the sides of the bowl, add:
the 2nd reserved egg yolk
1/4 more of the reserved bread flour
scant 1/2 tsp salt
7 grams granulated white sugar
Increase the mixer speed a little bit and mix until the dough is elastic and starts stringing threads from the paddle to the sides of the bowl. Add:
20 grams unsalted butter, at room temperature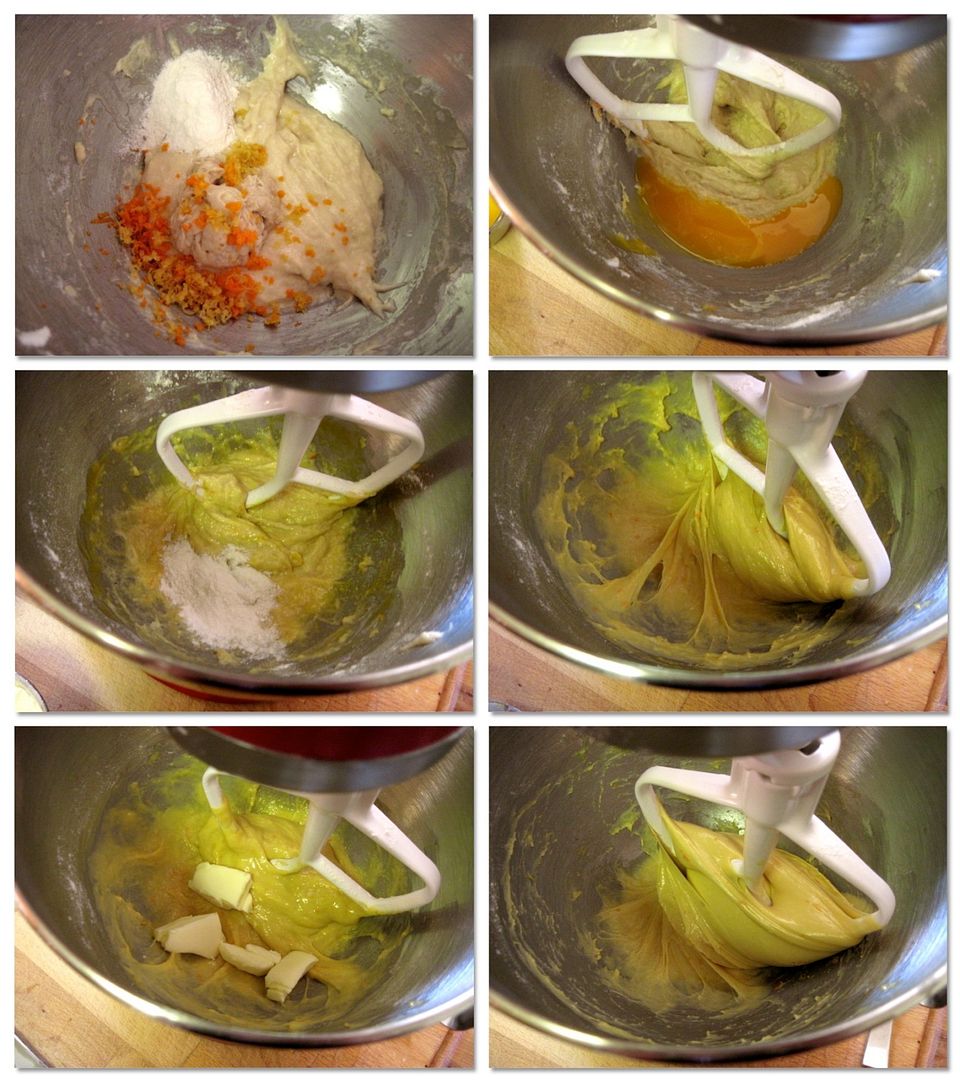 As soon as the butter is absorbed into the dough, add the remaining 1/4 of the reserved bread flour. Continue mixing the dough until it is elastic and stretchy enough to pass the window pane test – that is, you can stretch it into a transparent membrane without it tearing.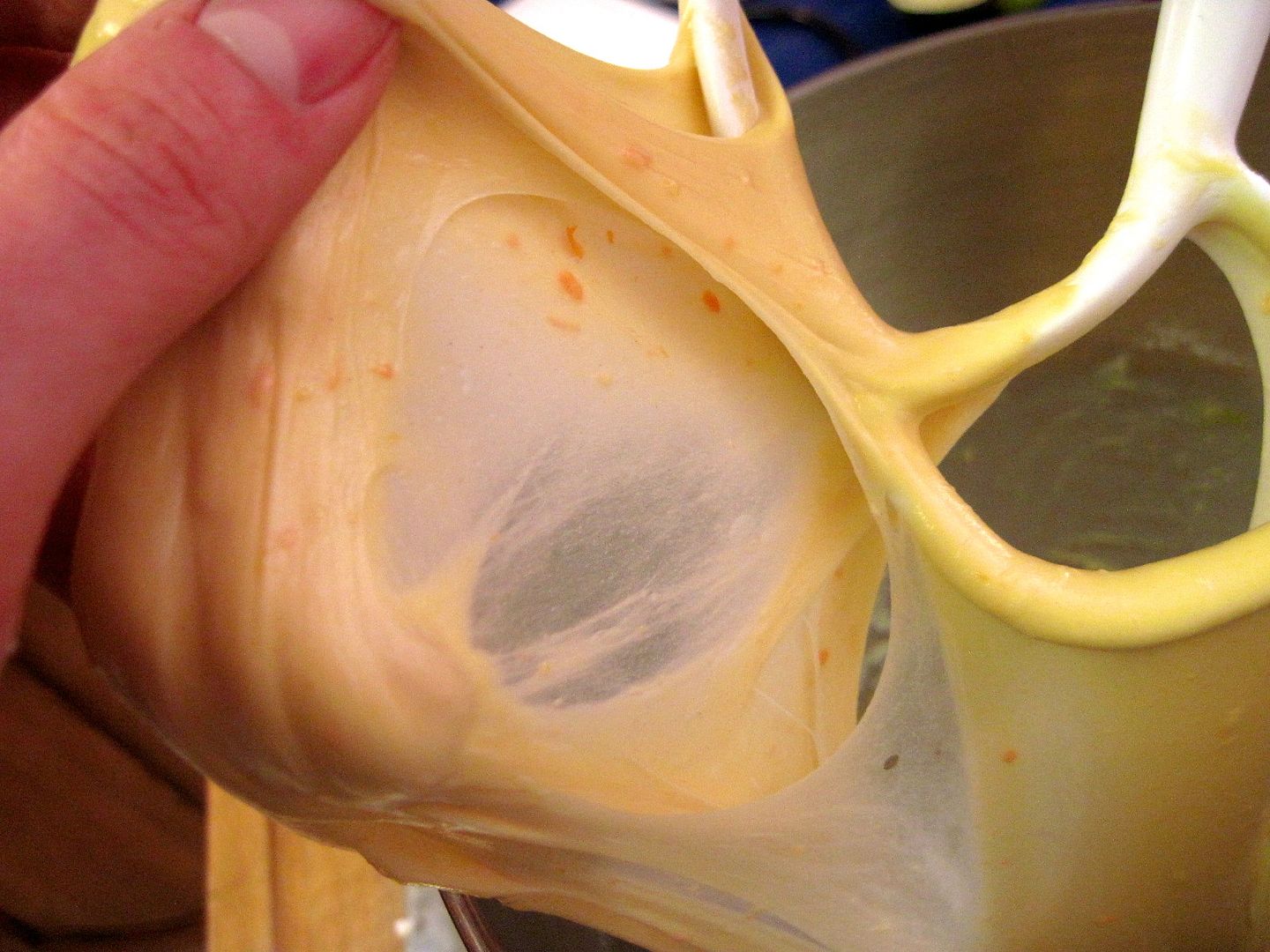 Once it gets to this stage, cover the bowl with plastic wrap and put the dough in a warm place to rise until tripled in volume, 2 – 3 hours.

Place the risen dough on a buttered surface, and with buttered hands and a buttered dough scraper (or a buttered pie server!) stretch and fold the dough from the edge into the middle, 4 or 5 folds in total. Cover the dough with the upturned bowl and rest 15 minutes, then repeat the stretching and folding. Again, cover and rest for 15 minutes.

While the dough rests, butter 6 mini bundt pans, making sure that each little nook and cranny is greased but without leaving too much excess butter in the pan.
Divide the rested dough into 6 equal pieces and with buttered fingers, shape each one into a ball and then poke a hole in the middle to make a doughnut shape. Place each doughnut in the prepared mini bundt pans, then cover with plastic wrap and let rise in a warm place until almost level with the top of the pan, about 1 hour. While the dough rises, preheat the oven to 350˚F.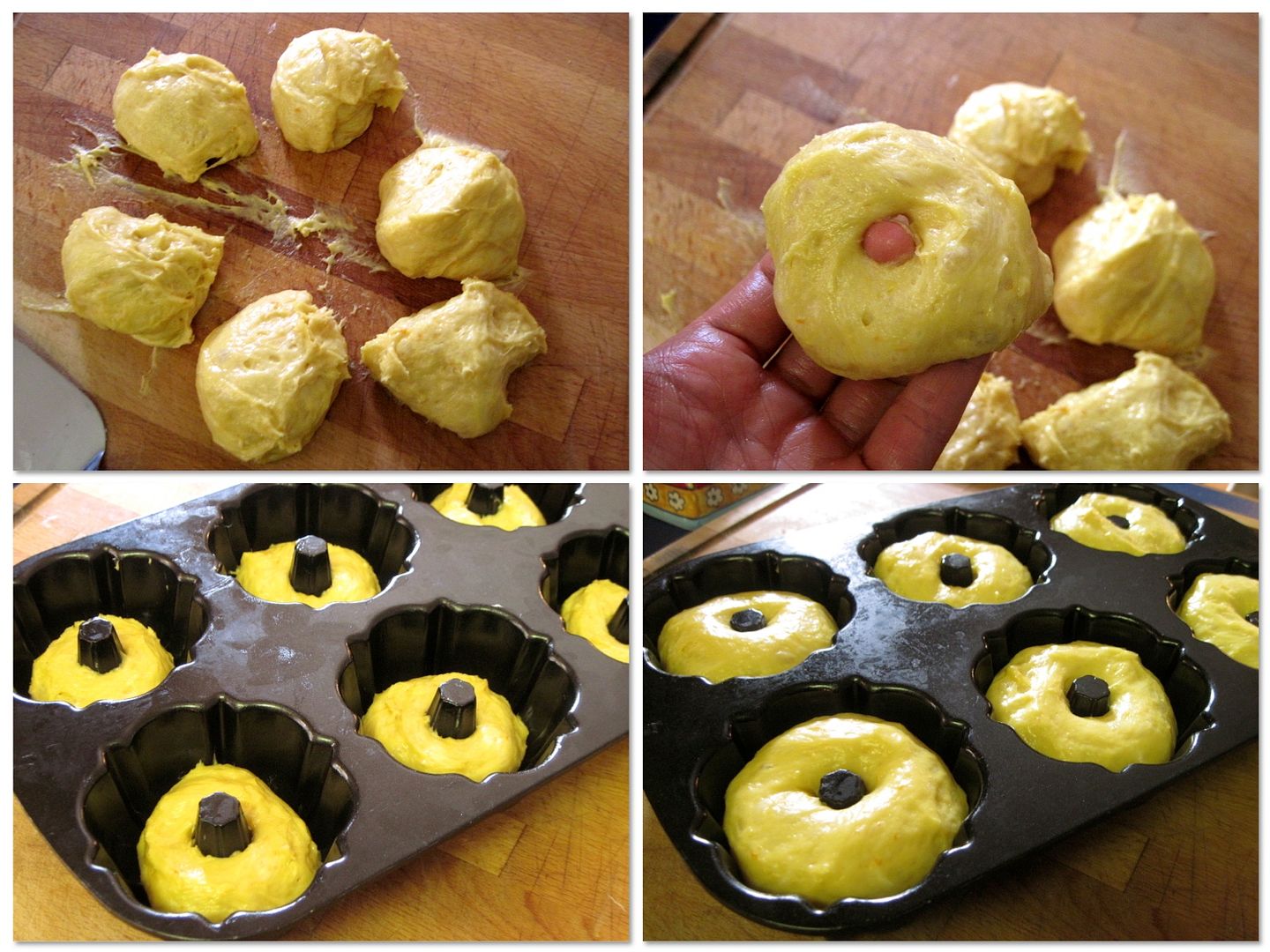 Bake the risen Savarins in the 350˚F oven for 20 – 30 minutes, until golden brown. Remove from the oven and let cool in the pan, then remove them, just to make sure that you are actually able to get them out (this might take a little bit of tugging – don't worry, they are fairly sturdy). You can soak the cakes in syrup as soon as they are cool, or let them dry out a little bit so they soak up even more syrup (this shouldn't be a problem even if they are fresh though!)

Lemon-Orange-Grand Marnier Syrup
In a small saucepan, combine:
175 ml water
100 grams granulated white sugar
Bring to a boil over medium heat and simmer until the sugar dissolved completely. Remove from the heat and allow to cool for a few minutes, then add:
65 ml each (130 ml total) freshly squeezed lemon and orange juice
50 ml Grand Marnier or other orange liqueur
Stir to combine.

To soak the cakes, place them back in the bundt pan and with a long skewer, poke several holes in the top of each cake. Ladle spoonfuls of the warm syrup evenly over the cakes, which should soak it up readily. Add all the syrup, or enough that you start to see it pooling around each cake. Cover lightly with plastic wrap and let soak at a cool room temperature overnight or up to 2 days.

Strawberry Pastry Cream
In a medium bowl, whisk together until well combined:
1 egg
12 grams cornstarch
40 grams granulated white sugar
Set aside.
In a medium saucepan, heat just until boiling:
167 ml milk
As soon as the milk reaches a boil, pour it very slowly into the egg mixture, whisking constantly. Pour the egg-milk mixture back into the saucepan and cook over medium heat, whisking constantly, until it just comes to a boil and thickens. It might start to look curdled but just whisk like crazy and it will smooth out.

Remove from the heat and stir in:
1 tsp unsalted butter
1/2 tsp vanilla extract
Pour the pastry cream into a medium-sized bowl and press plastic wrap directly onto the cream to prevent a skin from forming. Chill until completely cool.

Hull and halve 1 lb of strawberries, reserving 6 perfect berries for garnish. Place the berries in a bowl along with 1 heaping tsp granulated white sugar and let them macerate for about 15 minutes, until the berries start releasing some juice. Put the berries and their juices in the bowl of a food processor and purée until completely smooth. Press through a sieve to remove the seeds and add a squeeze of lemon juice and more sugar to taste, if needed.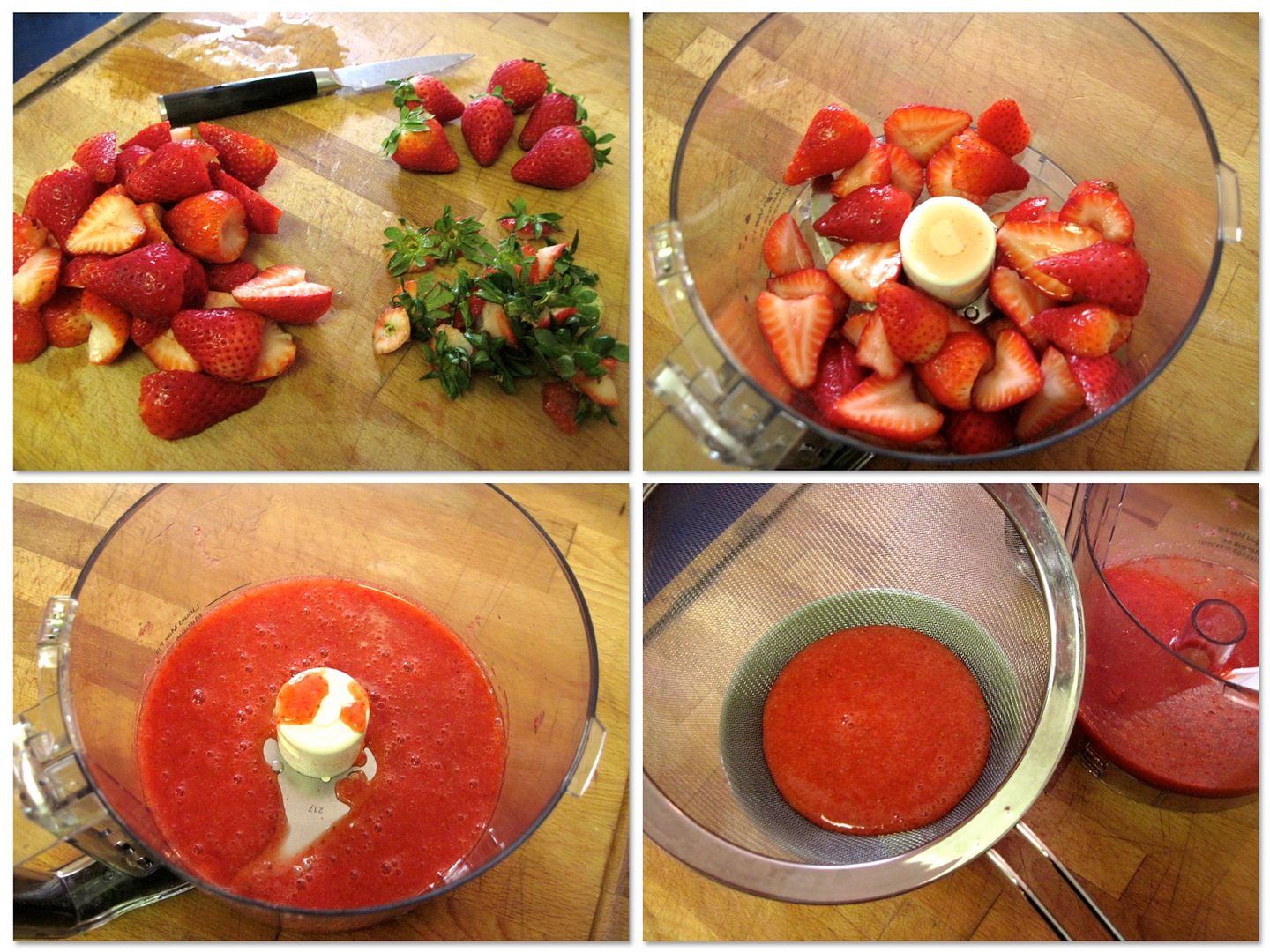 Whip 1/3 cup heavy cream until stiff peaks form. Set aside half the whipped cream to garnish the Savarins. Fold the other half into the chilled pastry cream, then fold in 3 – 4 tbsp strawberry sauce (reserve the rest for serving). Can be used immediately or chilled to thicken if necessary.

Assembly
With a serrated knife, trim the soaked Savarins so they will sit level.
(If desired, you can make a glaze for the Savarins so they are nice and shiny (I didn't do this): mix together 1 tbsp apricot jam and 1 tbsp boiling water, then press through a sieve to remove any lumps. Brush the glaze over the outside of each Savarin.)
Spoon a puddle of strawberry sauce on each plate and place a Savarin in the middle. Pipe the strawberry pastry cream into the hole in the middle, then pipe the reserved whipped cream decoratively around the top and bottom of the Savarin. Garnish with a halved strawberry and serve immediately.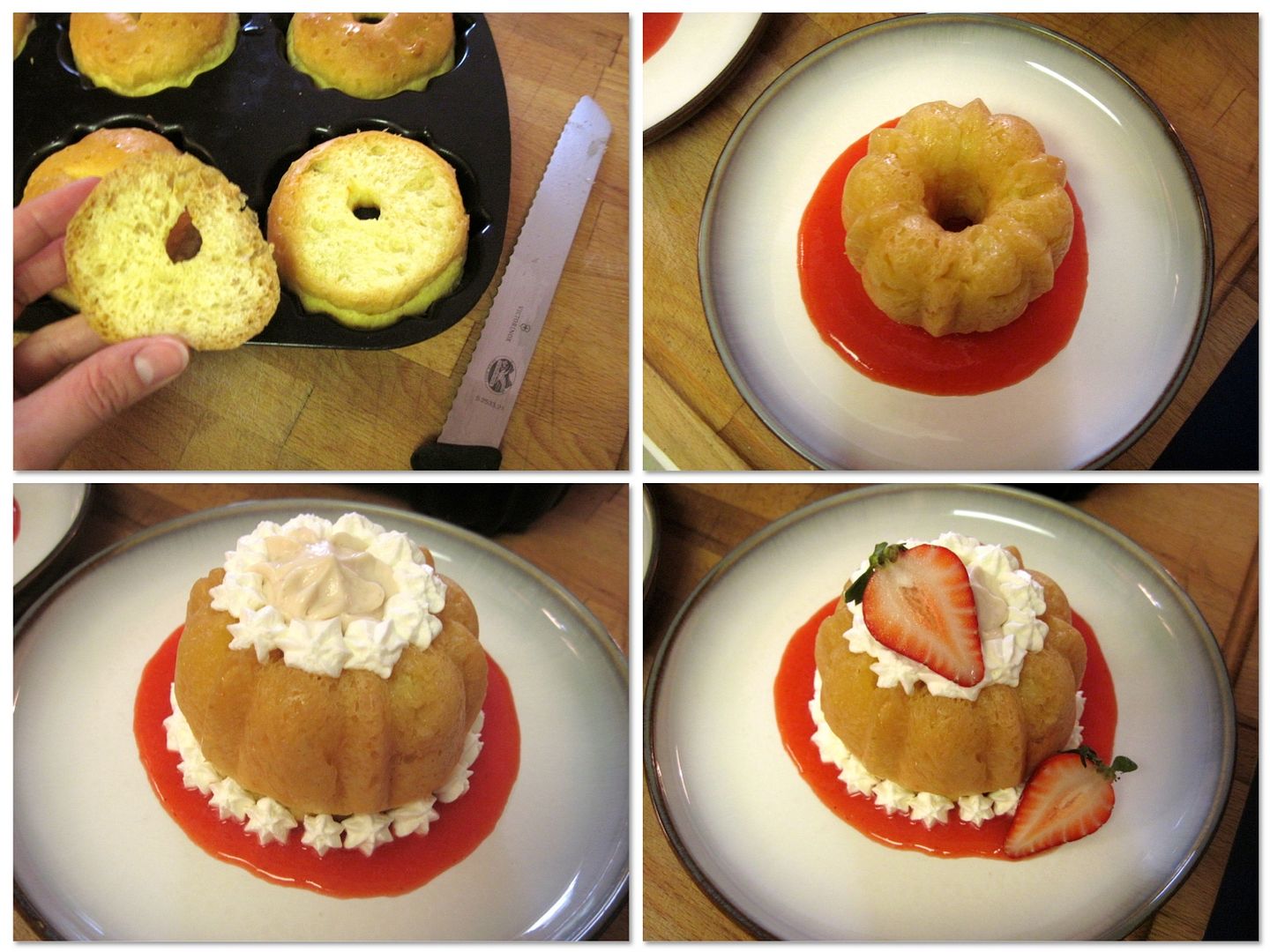 This post has been YeastSpotted and submitted to Panissimo (hosted by Barbara and Sandra).