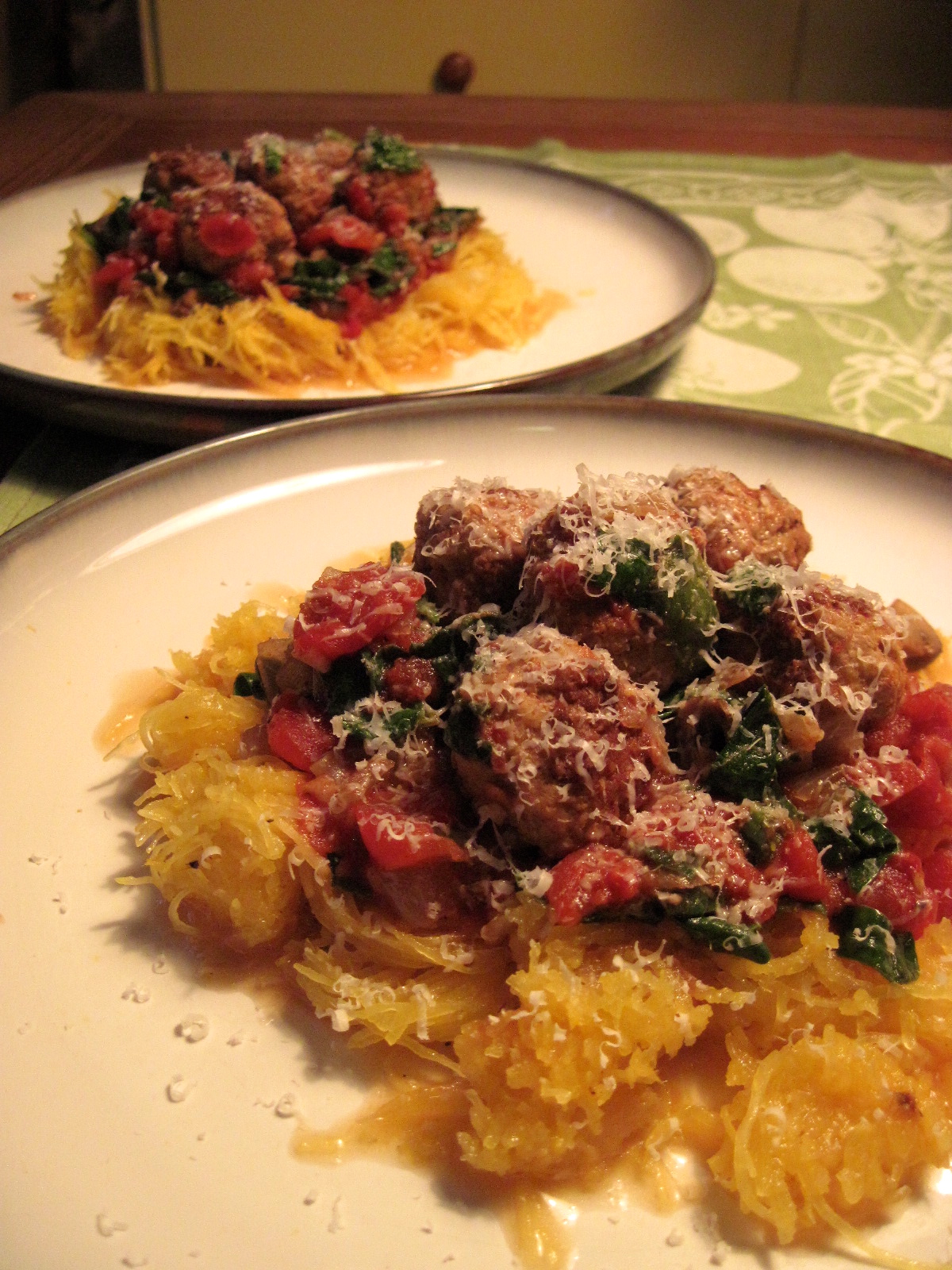 We didn't eat spaghetti and meatballs in my house when I was growing up – we ate lots of spaghetti with meat sauce, but not with meatballs. I didn't make my first batch of meatballs until I was well into my twenties, and since then it seems I've been making up for lost time, because I could quite happily eat spaghetti and meatballs almost every day. In my recent quest to cut down on the amount of processed white flour in our diet, I looked for an alternative to the pasta part so that I could still get my fill of meatballs, and spaghetti squash seemed like the most obvious choice.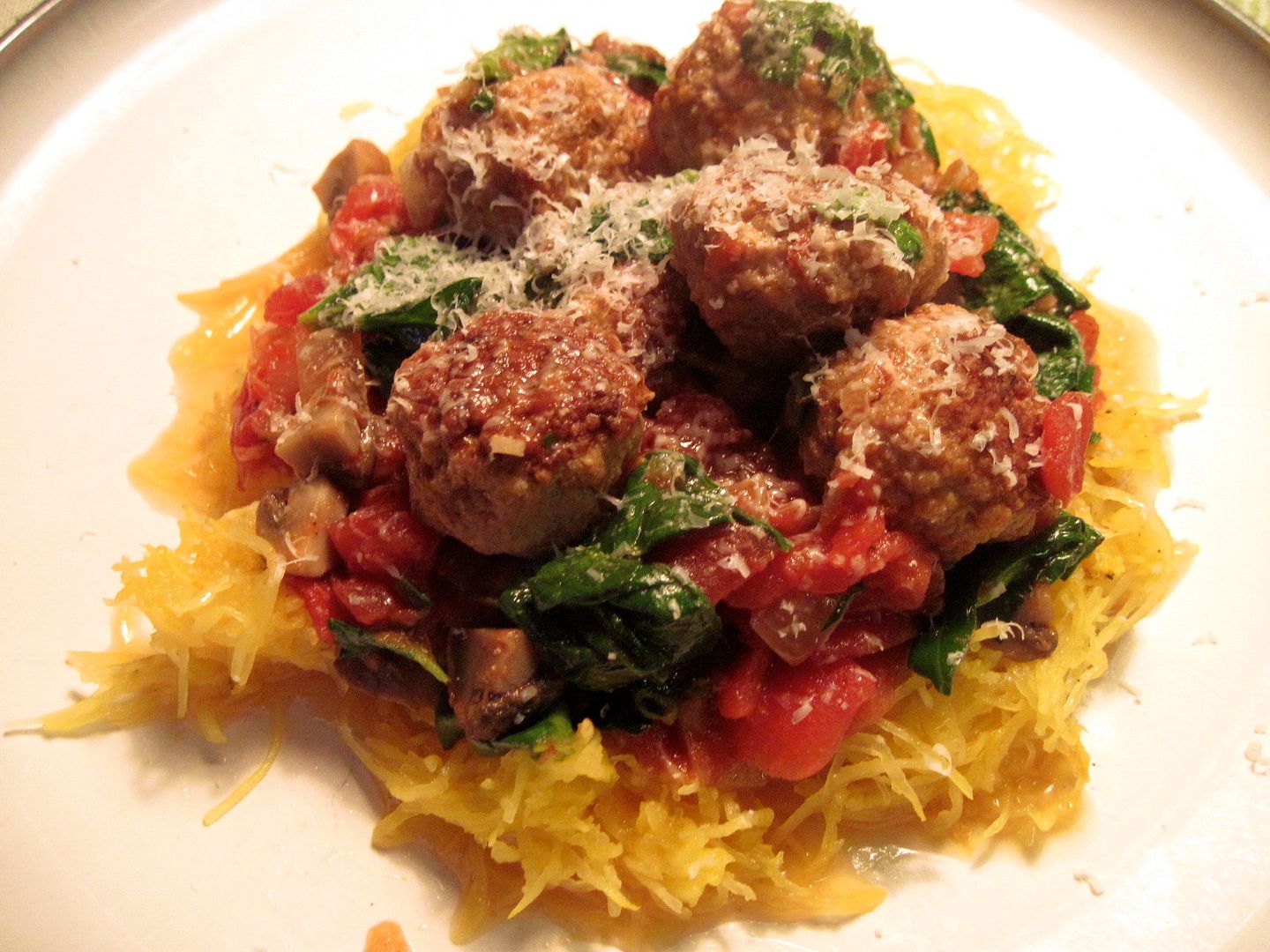 This was the first time I'd cooked spaghetti squash and it couldn't have been easier – almost as easy as boiling pasta. Simply hack the squash in half, scoop out the seeds, drizzle with olive oil, salt, and pepper, and bake until tender. The fun part is using a fork to scrape it into noodle-like ribbons. While I wouldn't consider it a replacement for pasta by any means, it was a nice alternative. As with most squash, it has a slight sweetness to it, and I've been trying to think of other ways to to use it as "pasta" that would play off that flavour.
As for the meatballs, these ones are inspired by the homemade Italian sausage recipe I got from my Mum. Ground pork, spices, an egg, and a handful of breadcrumbs are mixed and then rolled into small balls, browned in a heavy skillet and simmered with tomatoes, onions, garlic, and a pat of butter for a little richness. I prefer my tomato-based pasta sauces to be a little bit brothy, so I use diced tomatoes rather than tomato sauce or adding tomato paste. I also added some chunky sautéed mushrooms and stirred in some spinach at the last minute to make one of my favorite "pasta" sauces to date. I've made this sauce twice so far and each time I have that satisfied feeling of having just eaten exactly what I was craving. I hope it makes you feel the same!
Spaghetti Squash and Meatballs
The squash I used was a little on the small side and yielded just enough "pasta" for two, whereas the meatballs and sauce could probably feed 3 or 4. I've suggested a larger squash to even out the yields for 3 – 4 servings.
Preheat the oven to 375˚F. Cut 1 medium-large spaghetti squash in half lengthwise and scoop out the seeds with a spoon.
Place the squash cut-side-up in a baking tray and brush the exposed flesh with olive oil. Sprinkle with salt and pepper and bake in the oven for 45 – 50 minutes, until the flesh is easily pierced with a fork.
While the squash bakes, prepare the meatballs. In a bowl, mix together:
3/4 lb ground pork
1 tsp coarse kosher salt
a good amount of freshly ground black pepper
a big pinch of chili flakes
a big pinch of anise seeds
a big pinch of fennel seeds
2 – 3 garlic cloves, minced
1 egg
a good handful of breadcrumbs (I use panko)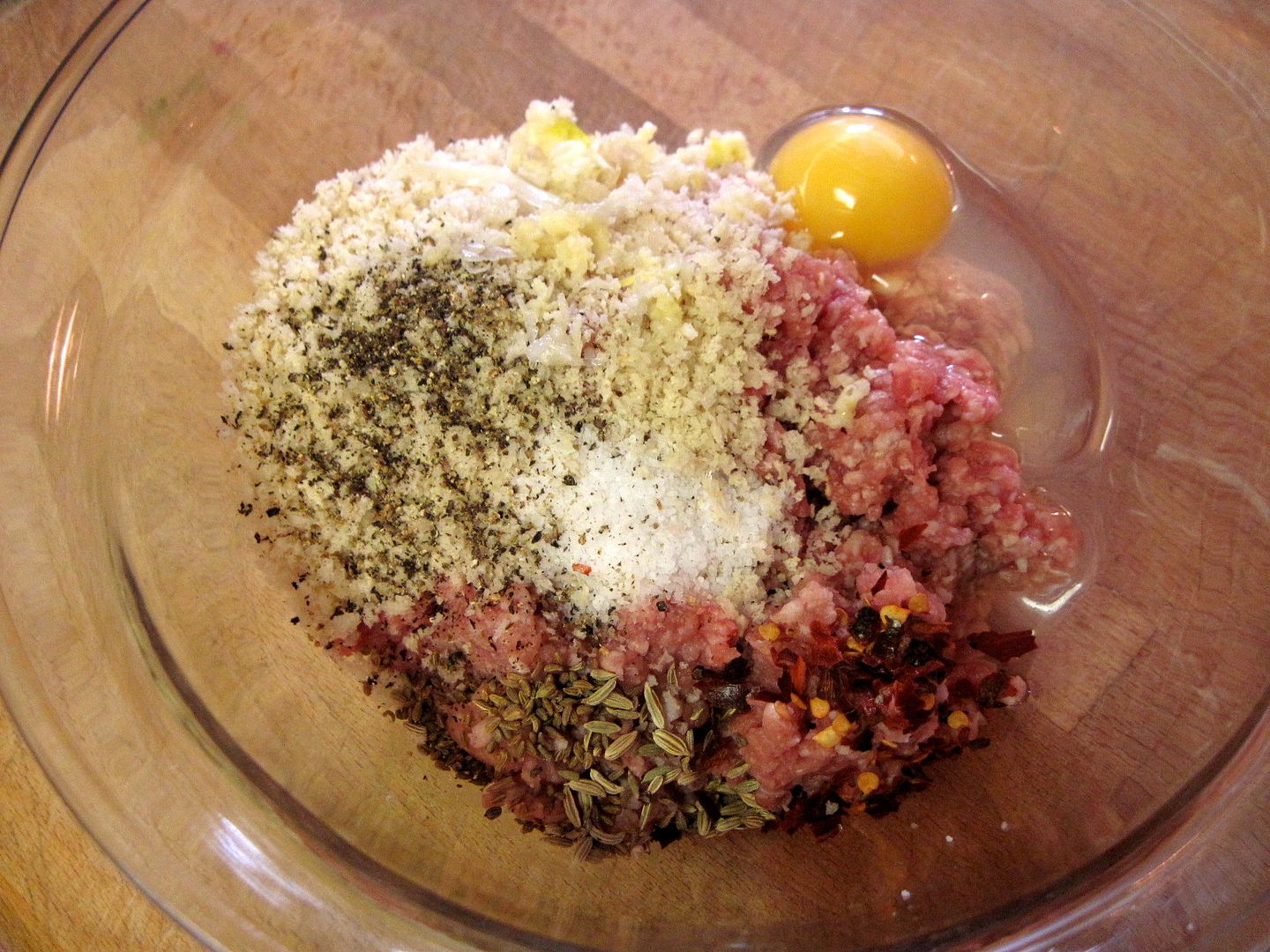 Combine the mixture with your hands, then roll it by tablespoons into small balls. Place them on a plate and refrigerate for about 10 – 15 minutes to firm up.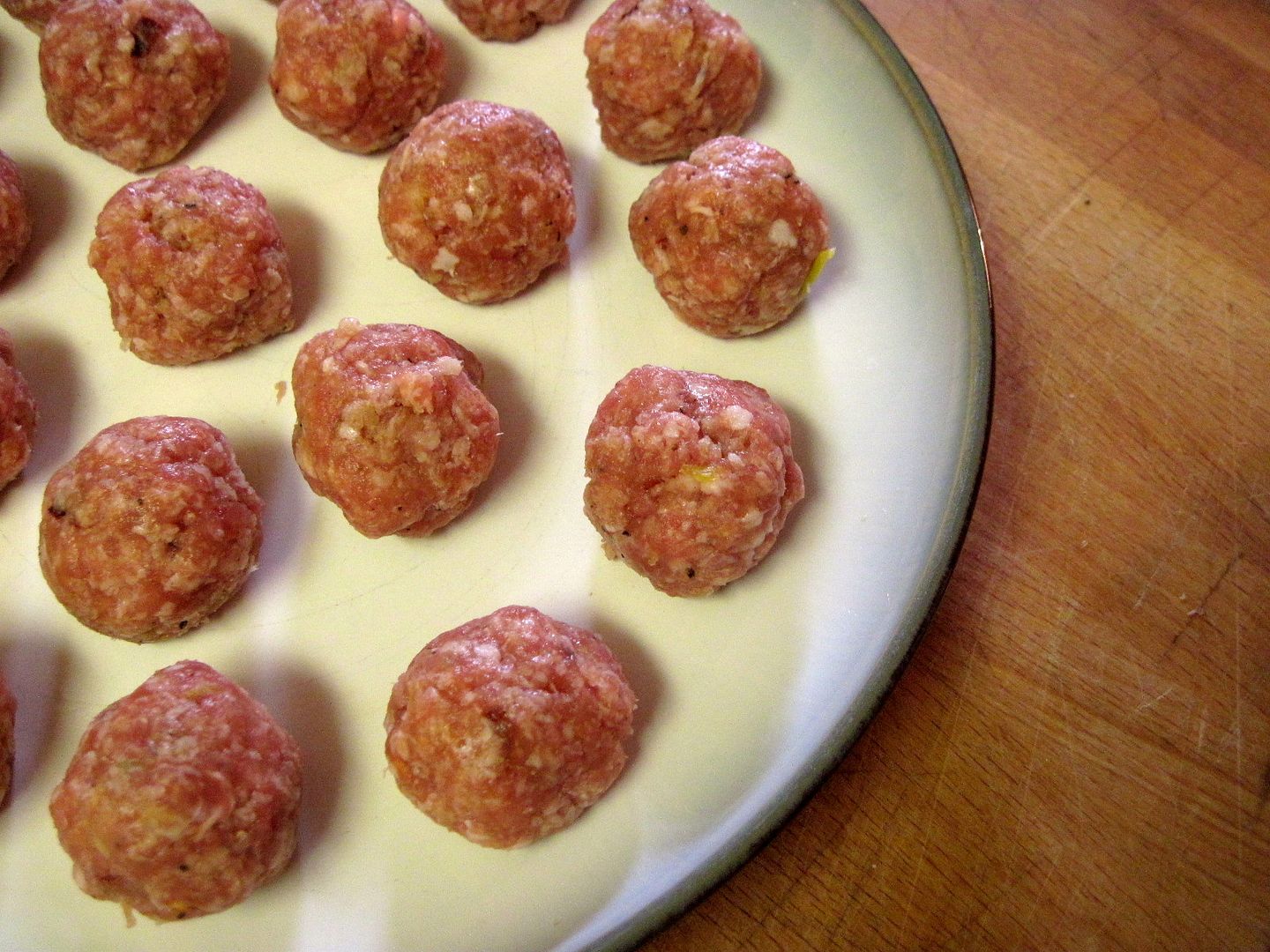 While the meatballs are chilling, prepare:
1 medium onion, diced
a handful of mushrooms, quartered
2 – 3 garlic cloves, minced (I like a lot of garlic, obviously!)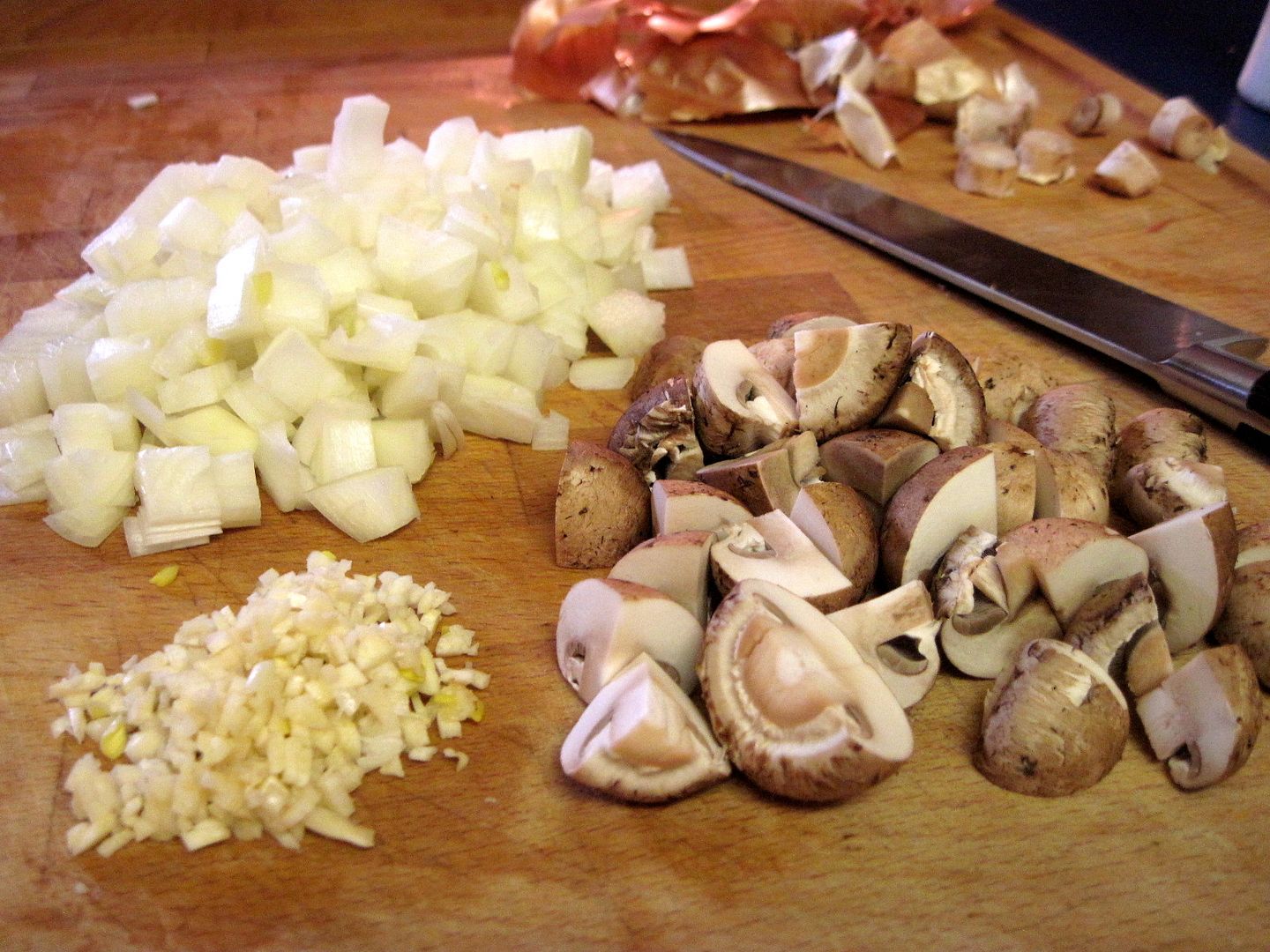 To cook the meatballs, place a large heavy skillet over medium heat and add about 1 tbsp olive oil. When the oil shimmers, add the meatballs to the pan in a single layer.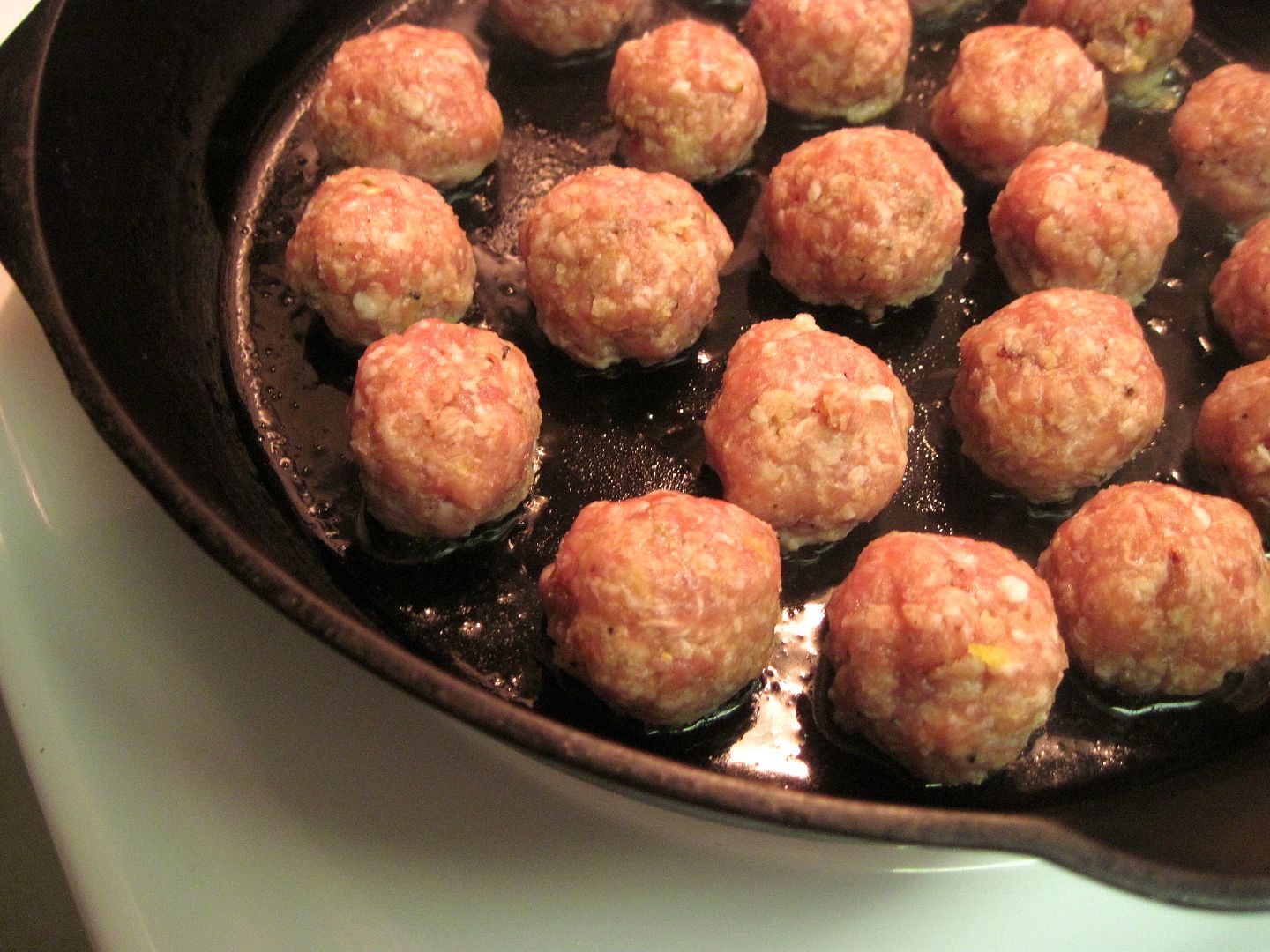 Cook on one side until browned, then give the pan a few good shakes to turn the meatballs over. If they are sufficiently browned and ready to turn, they will dislodge themselves. I find shaking the pan much easier than turning each meatball with tongs, and they tend to cook more evenly this way.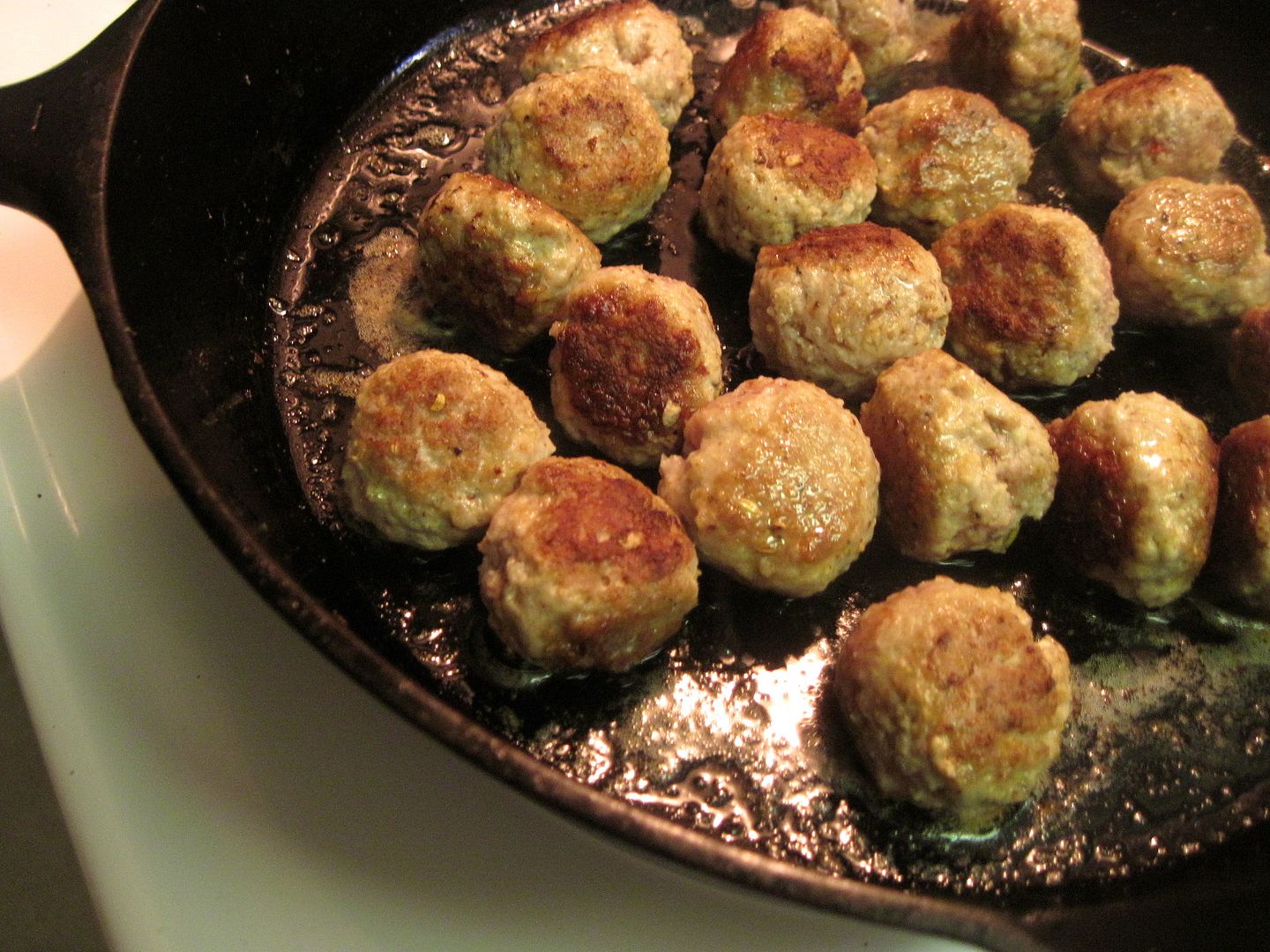 When the meatballs are looking browned on all sides, add the diced onion and cook for a few minutes, stirring, until softened and just beginning to colour. Add the garlic and cook for a few more minutes.
Push everything to the sides of the pan, add the mushrooms, and stir to brown on all sides. Mix everything together and season with salt and pepper.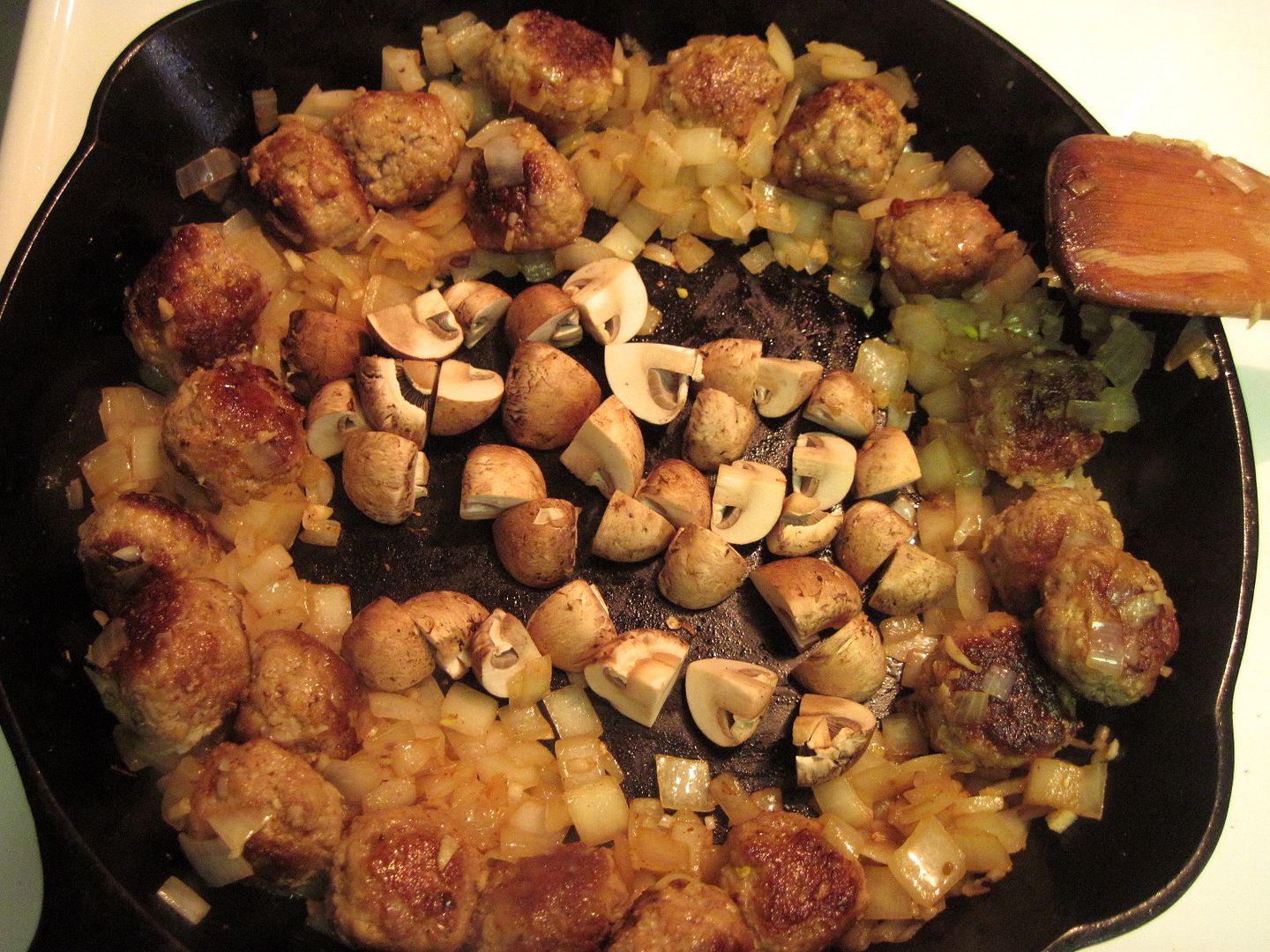 Add a 14 (oops!) 28 oz can of diced tomatoes and a pat of butter. Bring to a boil, cover, and simmer on medium-low heat for 15 – 20 minutes, until the meatballs are cooked through. Remove the lid and simmer to thicken the sauce a bit.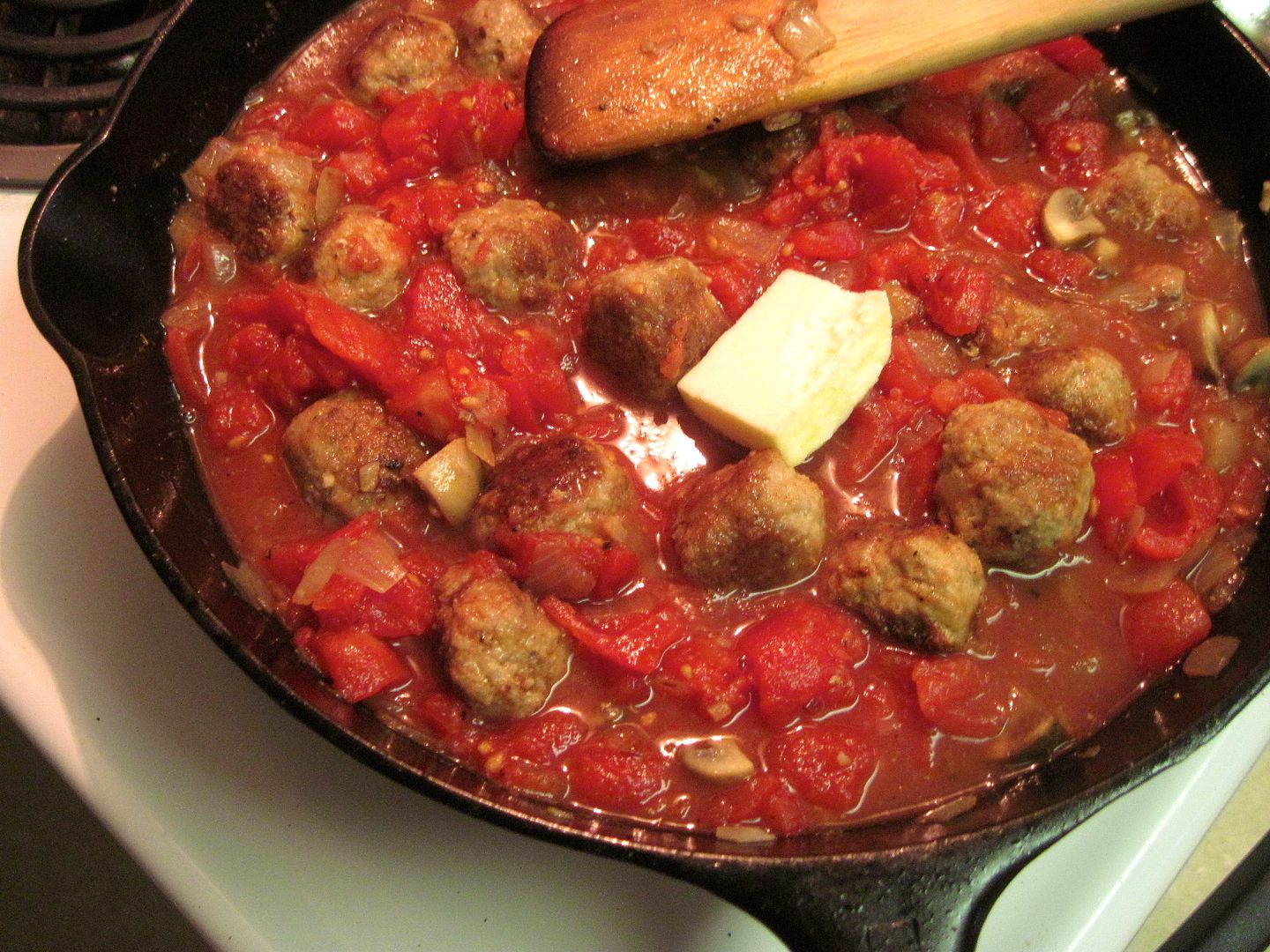 By now the squash should be ready, ie: fork tender. Pull it out of the oven and let it sit for a few minutes to cool a bit. While the squash cools, roughly chop a few big handfuls of spinach and add it to the meatballs and tomato sauce.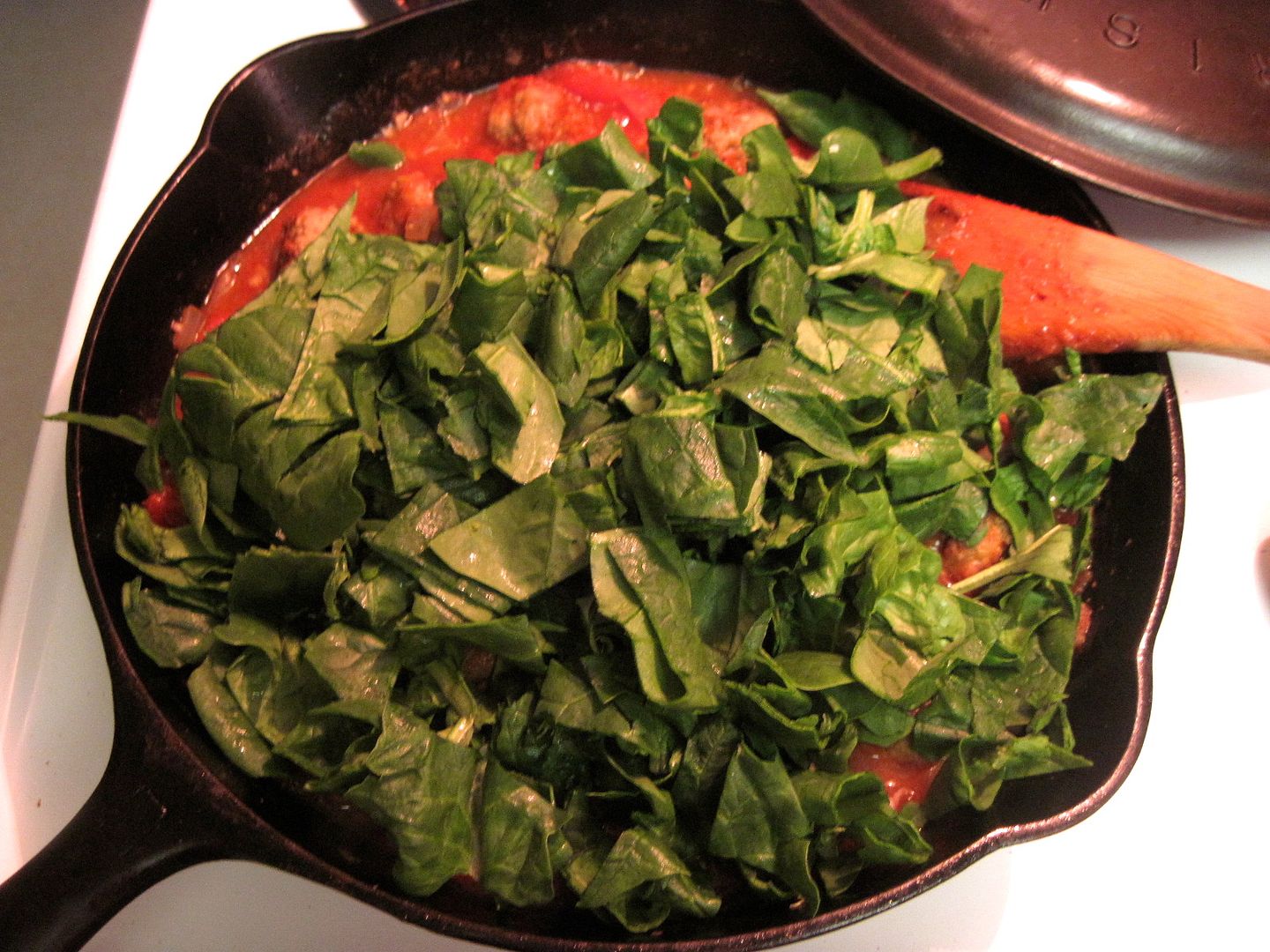 Let the spinach wilt while you scrape the squash flesh out of the skin with a fork and divide it between your serving plates.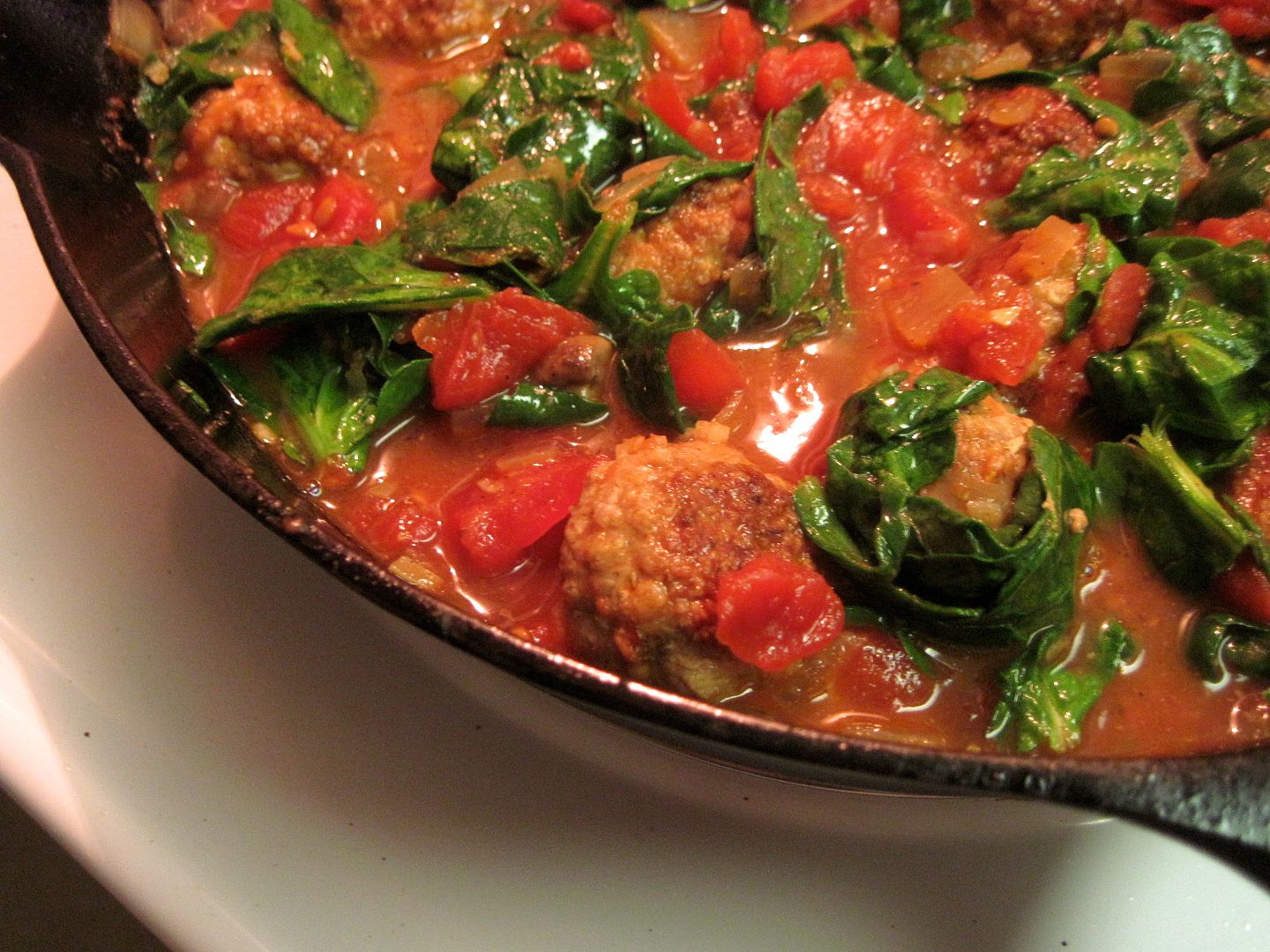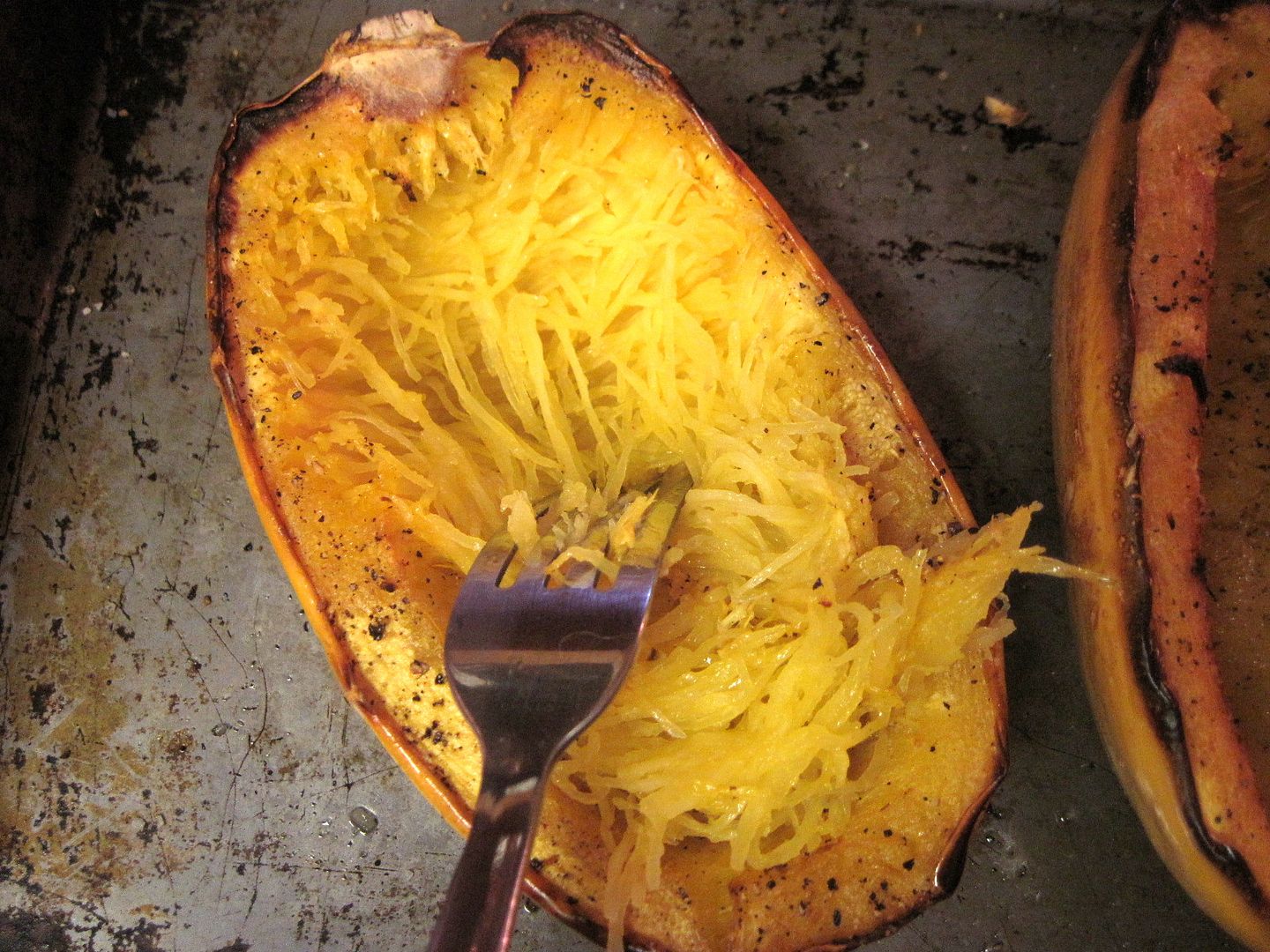 Top the squash with the meatballs and sauce and finish with grated parmesan cheese.