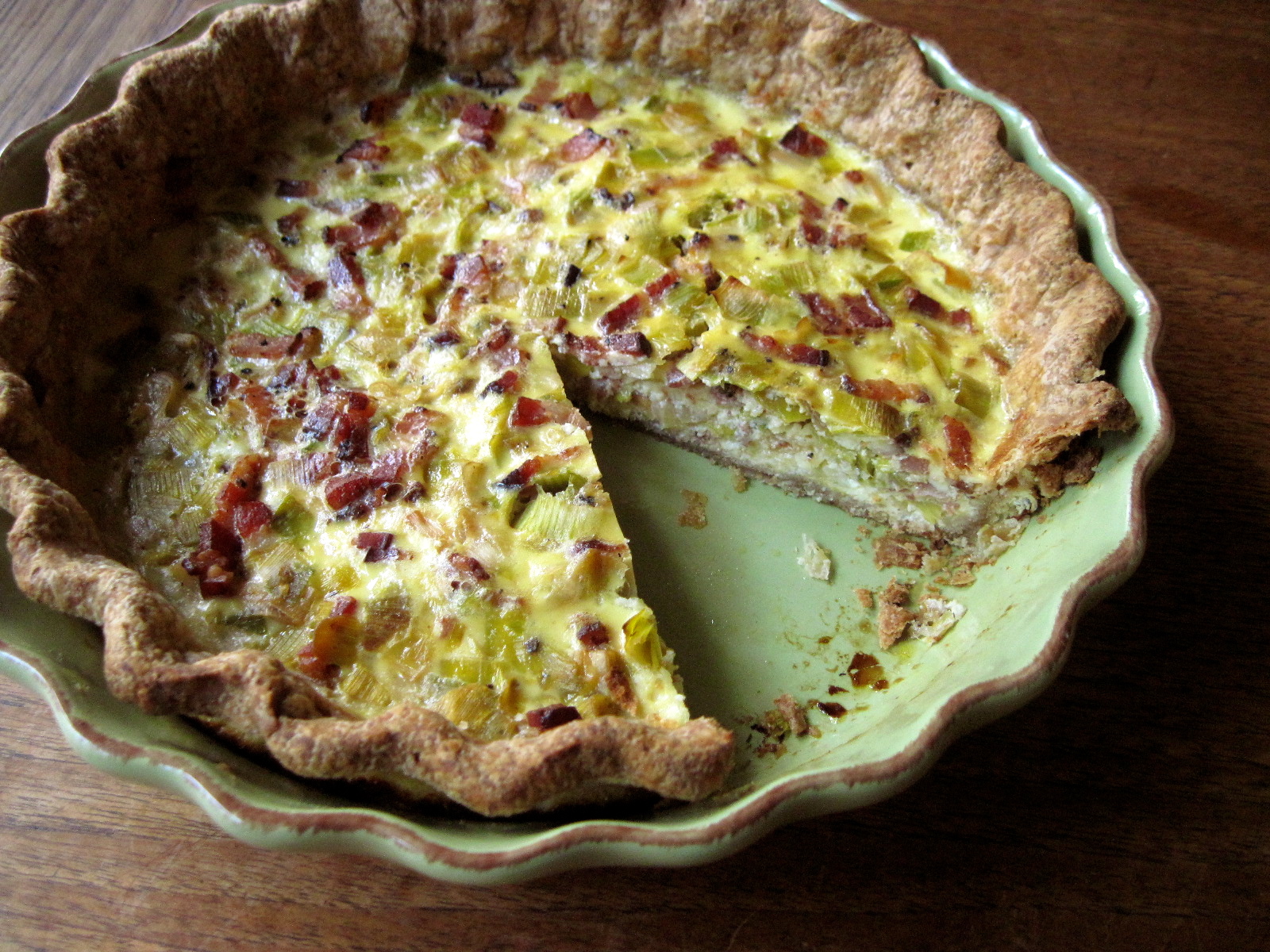 Nate and I had a pretty quiet Easter weekend at home, so instead of a big Easter Sunday dinner, I made a quiche with leek and bacon, a dish of scalloped potatoes, and a green salad (and dessert, of course – that post is coming!). I was lucky enough to have dinner with my parents on Salt Spring on Good Friday, which included not only the traditional baked ham but also a huge pile of fresh crab, caught by a family friend. It was amazing, but after all that food I was quite happy to keep it lighter for the rest of the weekend.
You may have noticed that last month in particular there was a veritable orgy of flour, butter, and sugar on this blog. (Four cake posts! Yikes!) While I don't actually have a problem with this (heck, they were all homemade and I know exactly what went in them), I do want to strike a better balance between said cake and more wholesome foods, especially when there is so much inspiration out there for delicious treats that can make you feel as good as they taste. This also makes those indulgences even better, because they are just that: indulgences, rather than everyday occurrences. So my goal this month is to bake fewer cakes (heh), eat more veggies, and branch out with other whole grains. Of course, this doesn't mean that there won't still be a whole lot of flour, butter, and sugar here – but everything in moderation, right? 😉
For this leek and bacon quiche, I made a whole grain crust of light and whole spelt, whole wheat, and rye flours. Spelt works particularly well in pastry because it contains very delicate gluten, which makes for a light and tender crust. As an experiment, I swapped out half of the butter in the pastry for solid coconut oil, which sort of worked but didn't really incorporate into the dough as I'd hoped – it stayed in little clumps, which melted in the oven and created holes in the pastry. Not exactly ideal.
I anticipated this as I rolled it out and tried to patch it up a bit, but I couldn't get all the holes and as a result, some of the custard filling leaked out. I think coconut oil has potential though, I just need to figure out the best way to work with it! So if you're feeling adventurous, use some coconut oil – otherwise, use all butter. All things considered, the crust turned out pretty well, and it didn't shrink at all when I blind baked it, which is kind of miraculous! I'm not sure if it was the recipe itself, or if I'm just getting better with my blind baking method (outlined below).
I thought the quiche could have used more custard (I always find this with quiche recipes) so I've increased the amount below, but otherwise it was really good – lots of smoky bacon, melt-in-your-mouth leeks, and savoury Gruyère cheese. The trick is cooking the bacon slowly so it renders out most of the fat, and then cooking the leeks in a little bit of the bacon fat equally slowly, so they soften and caramelize a bit. We ate the quiche at room temperature, but it would be great warm from the oven and I loved eating it cold the next day, too.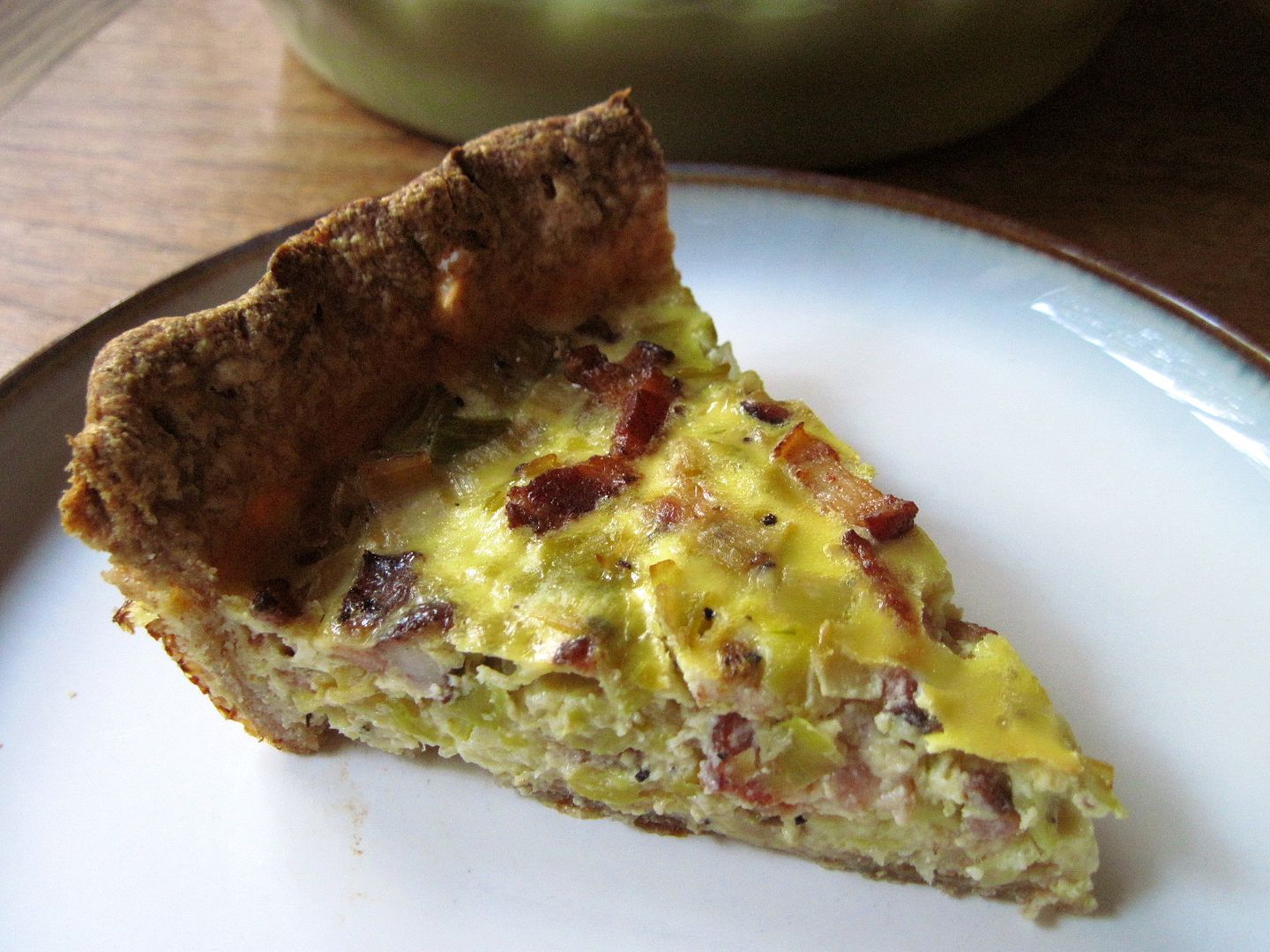 Leek and Bacon Quiche with Wholegrain Pastry
Adapted quite a bit from Canadian Living. Makes one 9-inch quiche.
Wholegrain Pastry
In a bowl, stir together:
1/2 cup light spelt flour
1/2 whole spelt flour
1/2 cup whole wheat flour
1/4 cup rye flour
1/4 tsp salt
Add:
1/2 cup cold unsalted butter, cubed (or 1/4 cup butter and 1/4 cup solid coconut oil)
Cut in with a pastry cutter until the butter resembles coarse crumbs with a few larger, pea-sized pieces.
In a liquid measuring cup, mix together:
1 egg
1 tsp vinegar
Add enough ice cold water to make just over 1/3 cup.
Pour the egg mixture over the flour and toss with a fork to combine, stirring just until it starts to clump together. Add a few more drops of cold water if there is still lots of loose flour in the bottom of the bowl.

Gather the dough together with your hands and place it on a floured surface in a loose rectangle. Frissage the dough by smearing it away from you with the heel of your hand, starting with the end farthest from you. The idea is to squash and smear the butter into thin sheets within the dough. Once all the dough is frissage'd, gather it up by folding it in thirds to make a rectangle, then repeat the frissage process. Fold it up again in thirds, then fold the resulting rectangle in half to make a square. Shape the dough into a round disc, wrap it in plastic, and chill in the fridge for at least 30 minutes.

After 30 minutes, roll the dough out about 1/4″ thick on a floured surface. Fit it into your pie plate, pressing it right into the corners of the pan, and trim the edge with about 1″ overhang. Tuck the edge inside the rim of the pie plate and flute the edge between your fingers. Prick the pastry all over with a fork and chill it in the fridge for 30 minutes.

While the pastry chills, preheat the oven to 400˚F with the rack in the bottom third of the oven. Line the chilled pastry with foil and fill it completely with pie weights (such as dried beans). Press the pie weights right up against the sides of the pastry, which will prevent it from sliding down the sides of the pan as it cooks.
Bake for 15 minutes, then remove the pie weights and foil and bake another 10 – 15 minutes, until the bottom and sides of the pastry are set. Remove from the oven, then lower the oven temperature to 350˚F and continue with the recipe as directed below.

Leek and Bacon Filling
Cut 6 thick pieces of bacon into lardons, which is a fancy word for about 1/4″ wide slices. Fry it slowly in a large frying pan over medium-low heat until lots of the fat has rendered out and the bacon is crisp. Drain on paper towels. Pour most of the fat out of the pan, reserving about 1 tbsp for cooking the leeks.

Clean and chop 3 medium leeks (the white and light green parts only). If your leeks are very dirty (mine were, even after washing), chop them first, then put them in a strainer and rinse them under cold water to remove the dirt and grit. Shake them well to remove excess water. Sauté the leeks in the reserved bacon fat over medium-low heat. Season with salt and pepper and cook until the leeks are soft and starting to brown around the edges. Remove from the heat and set aside to cool.
In a bowl, whisk together:
6 eggs
3/4 cup buttermilk (or plain milk, but I was still trying to use up that carton of buttermilk!)
1/3 cup half and half cream
To assemble, brush the bottom of the par-baked crust with a spoonful of Dijon mustard. Sprinkle over 3/4 cup grated Gruyère cheese. Add the leeks and bacon to the egg mixture, then pour it into over the cheese.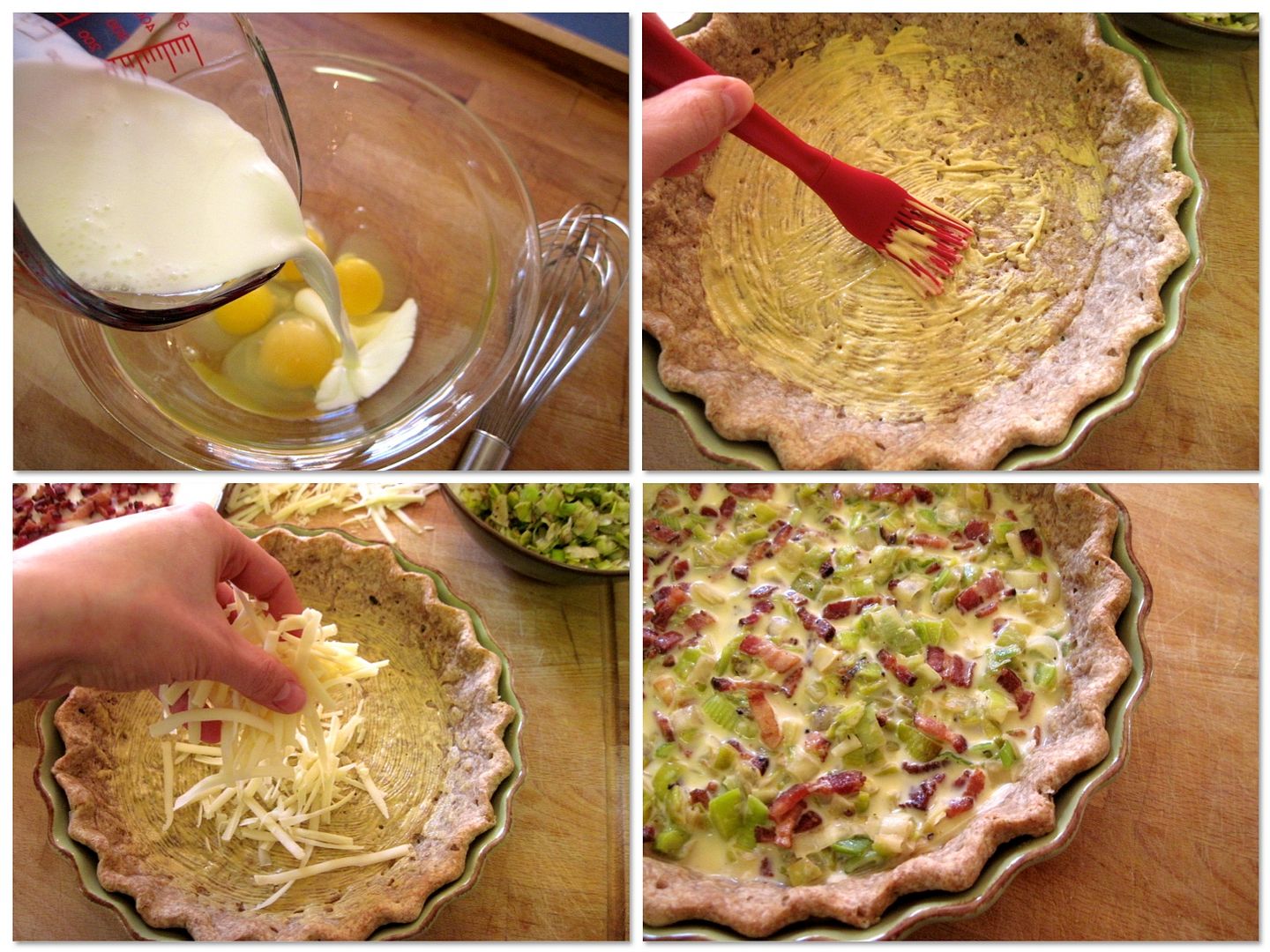 Spread the filling out evenly and bake in the 350˚F oven for about 35 – 40 minutes, until just set in the middle. Cool on a rack for at least 10 minutes and serve warm, or cool to room temperature, or serve chilled.