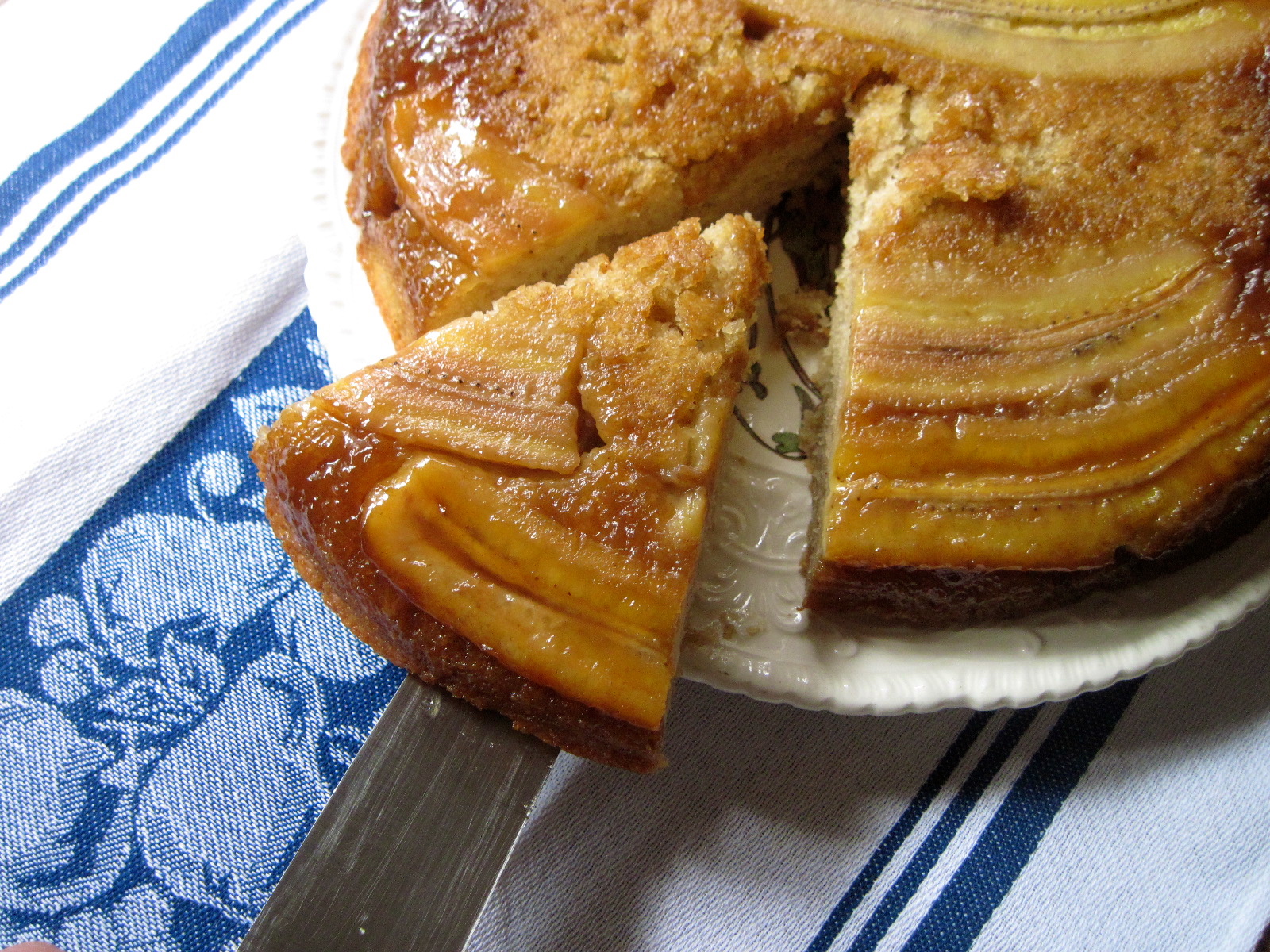 This might be the most unattractive cake I've ever made, which is both disappointing and hilarious.
Disappointing because the pictures from the recipe I based it on are quite pretty, but somehow it didn't translate (more on that later).
Hilarious because, as my darling Nate pointed out when he went to cut himself a piece, the bananas look like penises (yup, I just said that).
What he actually said was, "For future reference, bananas cut this way look really unappealing." Then as he lifted off the plastic wrap covering the cake, "Where's the chocolate? I don't even want any of this – all wangs and no chocolate!"
I laughed so hard I thought I might pass out. Thinking about it still gives me the giggles. 😉
Luckily, nothing else I have ever made has elicited this kind of reaction from him, so we're OK!
Anyway. This cake is my contribution to March's Sourdough Surprises project, which is sourdough cake. I wanted to make a cake that used sourdough as a functional part of the recipe, rather than just as an add-in to a regular cake recipe. Not that I'm knocking that approach, but I wanted to make a sourdough cake, not a cake with some sourdough in it. See the difference?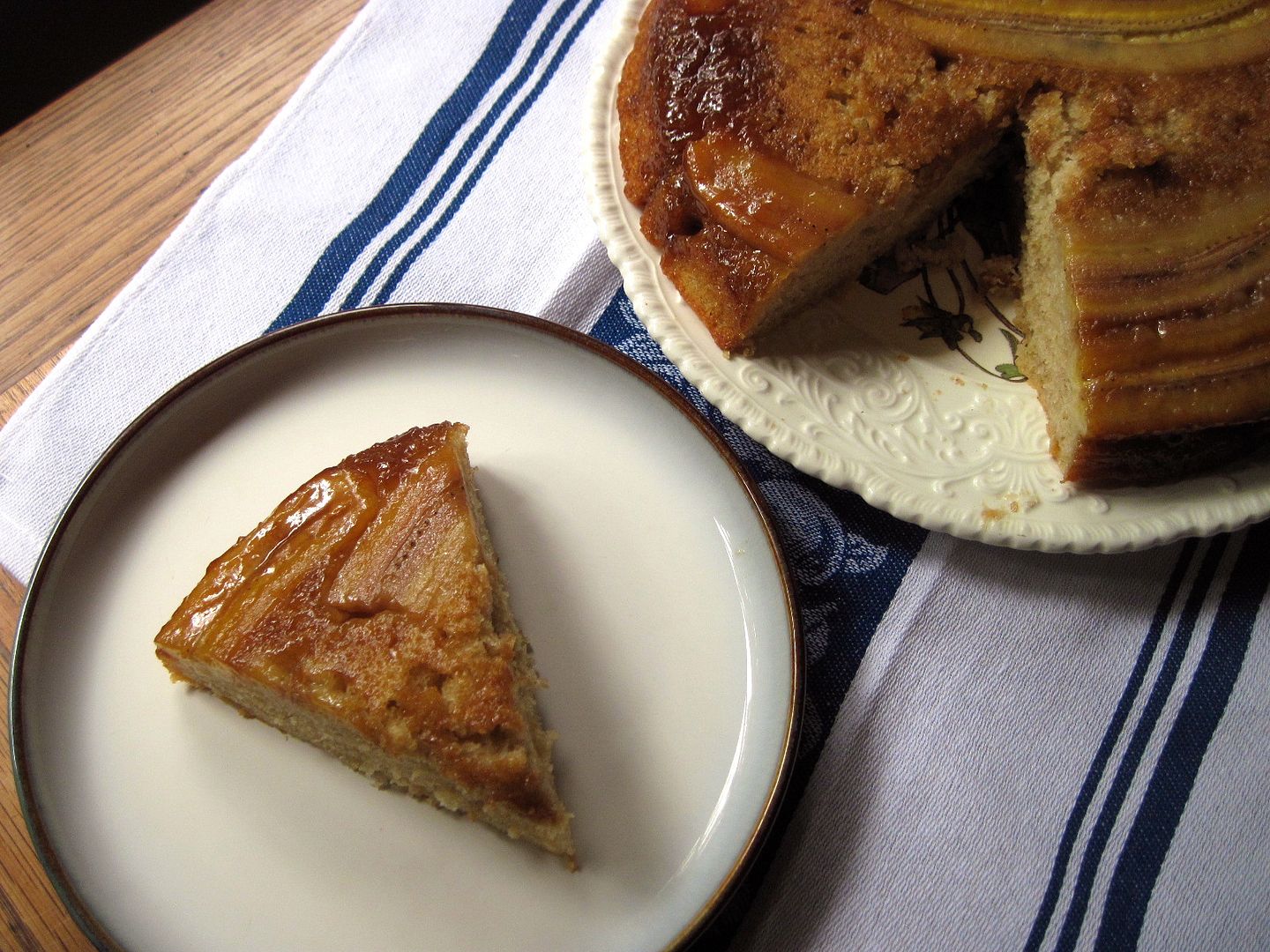 Most of the recipes I saw were for chocolate sourdough cakes, or for cakes with fruit in them, but I wanted to figure out how to make a plain sponge cake with sourdough, to use in the banana bourbon upside down cake recipe I'd found.
I found this helpful article from King Arthur Flour which suggested that sourdough starter can be used as a replacement for buttermilk or yogurt in recipes, because the acidity of the starter mimics the acidity of the buttermilk or yogurt (older, discard starter is perfect for this). Starter is just flour and water, so when you add it to a recipe, you need to reduce the flour and liquid in that recipe by an appropriate amount. The same helpful article went on to say that 1 cup of starter containing equal amounts of flour and water by weight contains by volume approximately 1 cup of flour and 1/2 cup of water, so if you are adding 1 cup of starter to a recipe, just reduce the flour and liquid in the recipe by 1 cup and 1/2 cup, respectively. Now, I've never claimed to be very good at math, but that can't be right, can it? Because the last time I checked, 1 cup + 1/2 cup = 1 1/2 cups (please tell me I'm right, otherwise I might seriously be in trouble!) Anyway, I took their volume ratio of 2 parts flour:1 part water to mean that 1 cup of starter contained 2/3 cup flour and 1/3 cup water, and went from there.
Using a yogurt cake recipe for reference, I came up with a recipe for a sourdough cake. Basically, you proceed as you would any normal butter cake, adding the liquid starter to the creamed butter-sugar-egg mixture before folding in the dry ingredients and yogurt. The batter was very thick, and when I spread it out over the caramel and bananas in the skillet, it ended up pushing the bananas to the side, which, when baked and inverted, resulted in this sort of haphazard placement of banana-wangs. The original yogurt cake recipe called for oil rather than butter, which probably would have made the batter less thick and easier to spread.
But regardless of how it looks, this is actually a pretty tasty cake. It is light and springy and the banana-bourbon-caramel topping is delicious, especially where it got kind of crunchy and extra dark at the edges. The cake is not too sweet and goes very nicely with the sugary caramel. I couldn't really taste any discernible sourdough flavour, but I think it contributed to the texture of the cake. So don't judge a book by its cover (or a cake by its wangs) – perhaps cut the bananas differently, and dollop the batter into the pan rather than spreading it out from the middle. No matter how it looks, it will taste good!
Check out the link-up below for some more (much prettier!) sourdough cakes. 🙂


Sourdough Banana Bourbon Upside Down Cake
Adapted from A Cozy Kitchen and Chocolate & Zucchini. Makes one large 10 to 12 inch cake.
Preheat the oven to 350˚F. In a mixer bowl, combine:
1/2 cup unsalted butter, room temperature
1/2 cup granulated white sugar (I used unrefined cane sugar)
Cream together with the paddle attachment until light and creamy. One at a time, beat in:
2 eggs, room temperature (this is important – otherwise the cold eggs will cause the soft butter to harden and curdle)
Add:
1 cup unfed, overly ripe sourdough starter (discard starter is perfect)
1 tsp vanilla
Beat until combined.
In a bowl, whisk together:
1 1/3 cup all purpose flour
1 1/2 tsp baking powder
1/2 tsp baking soda
pinch of salt
1/2 tsp cinnamon
Add this to the creamed mixture alternately with:
2/3 cup plain yogurt
(Make two additions of flour and one of yogurt.) Stir until just combined. The batter will be quite thick. Set aside while you prepare the caramel topping.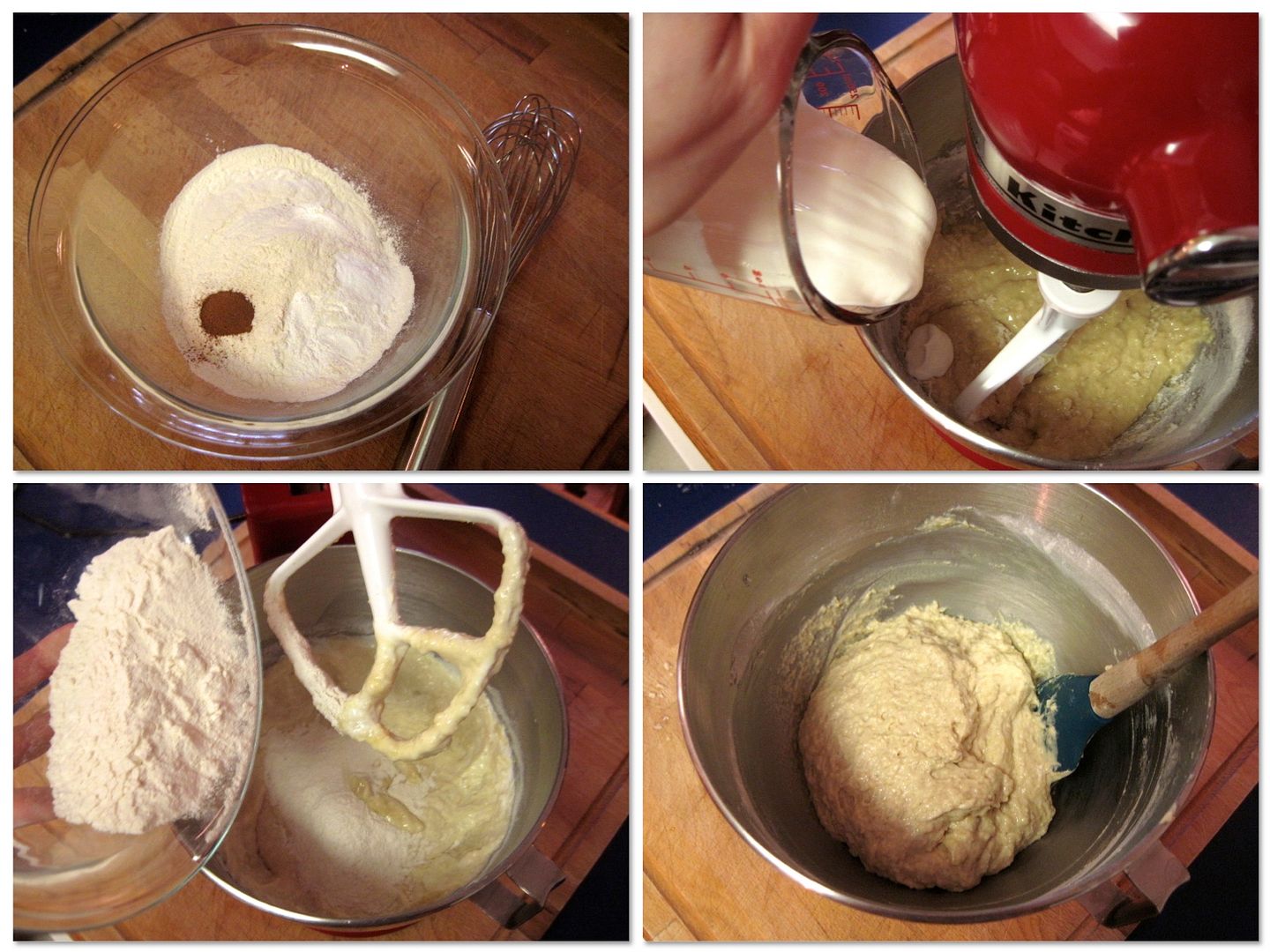 In a 10 – 12 inch cast iron skillet (mine is 11 inches) over medium heat, melt 4 tbsp unsalted butter until foamy. Add:
1/2 cup dark brown sugar
1/4 tsp fine grain sea salt
Stir  and cook until bubbly, then add:
3 tbsp bourbon or whiskey
Do this carefully as the caramel will bubble and steam pretty violently. Stir to combine and cook for another minute or so, then remove the pan from the heat and let the caramel cool slightly, until it stops bubbling.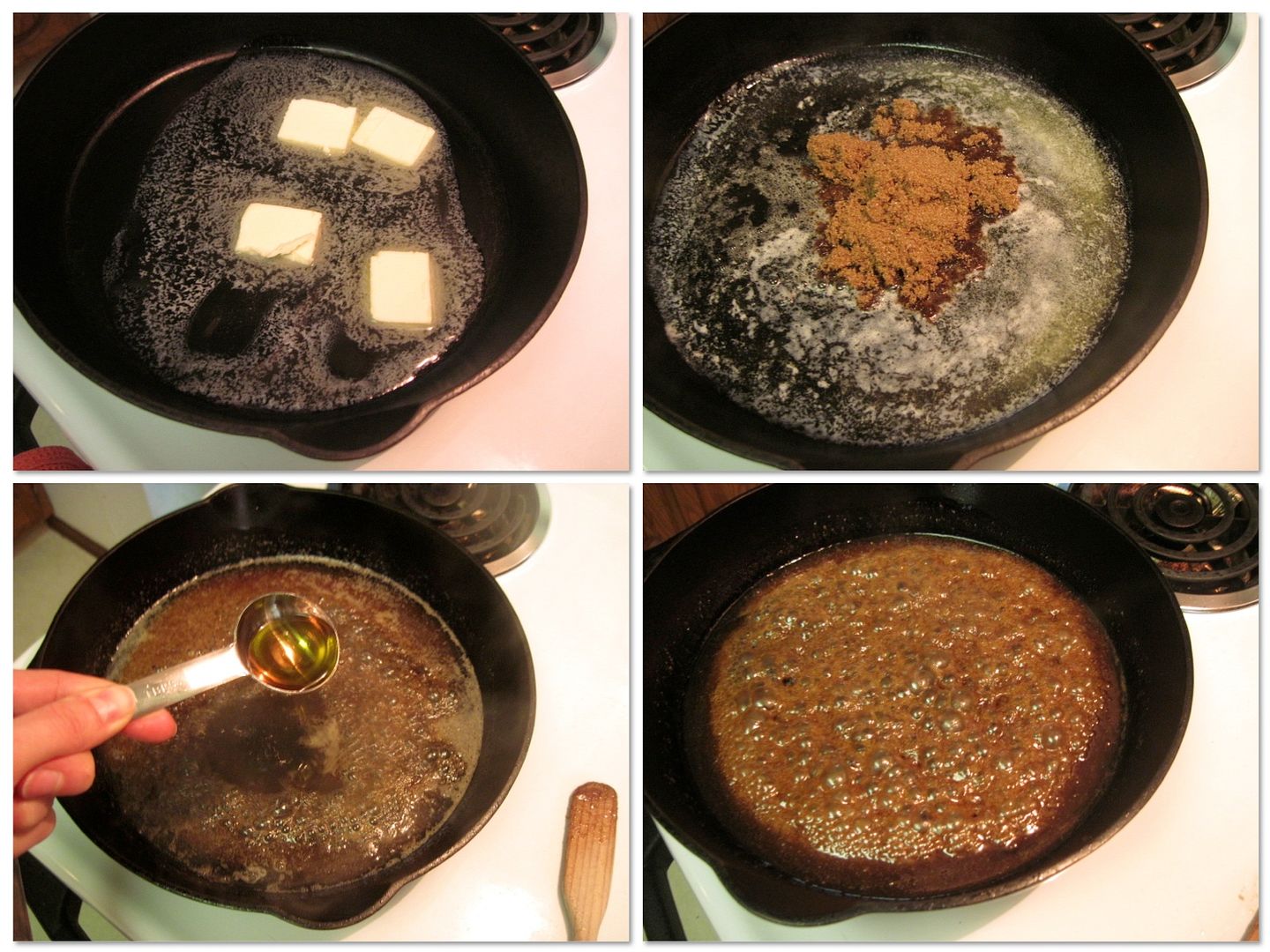 Meanwhile, peel and slice:
2 – 4 bananas (I only used two bananas and could definitely have used at least one more. I'll leave it up to you how you want to slice them. ;))
Arrange the sliced bananas over the caramel and then spread the cake batter evenly over top. To prevent the banana slices from getting pushed out to the sides of the skillet, I suggest dropping the batter in dollops evenly over the bottom of the pan, rather than dumping it all in the middle and spreading it to the edges like I did. Bake the cake in the preheated 350˚F oven for 30-40 minutes, until golden brown and a toothpick inserted in the middle comes out with a few moist crumbs sticking to it.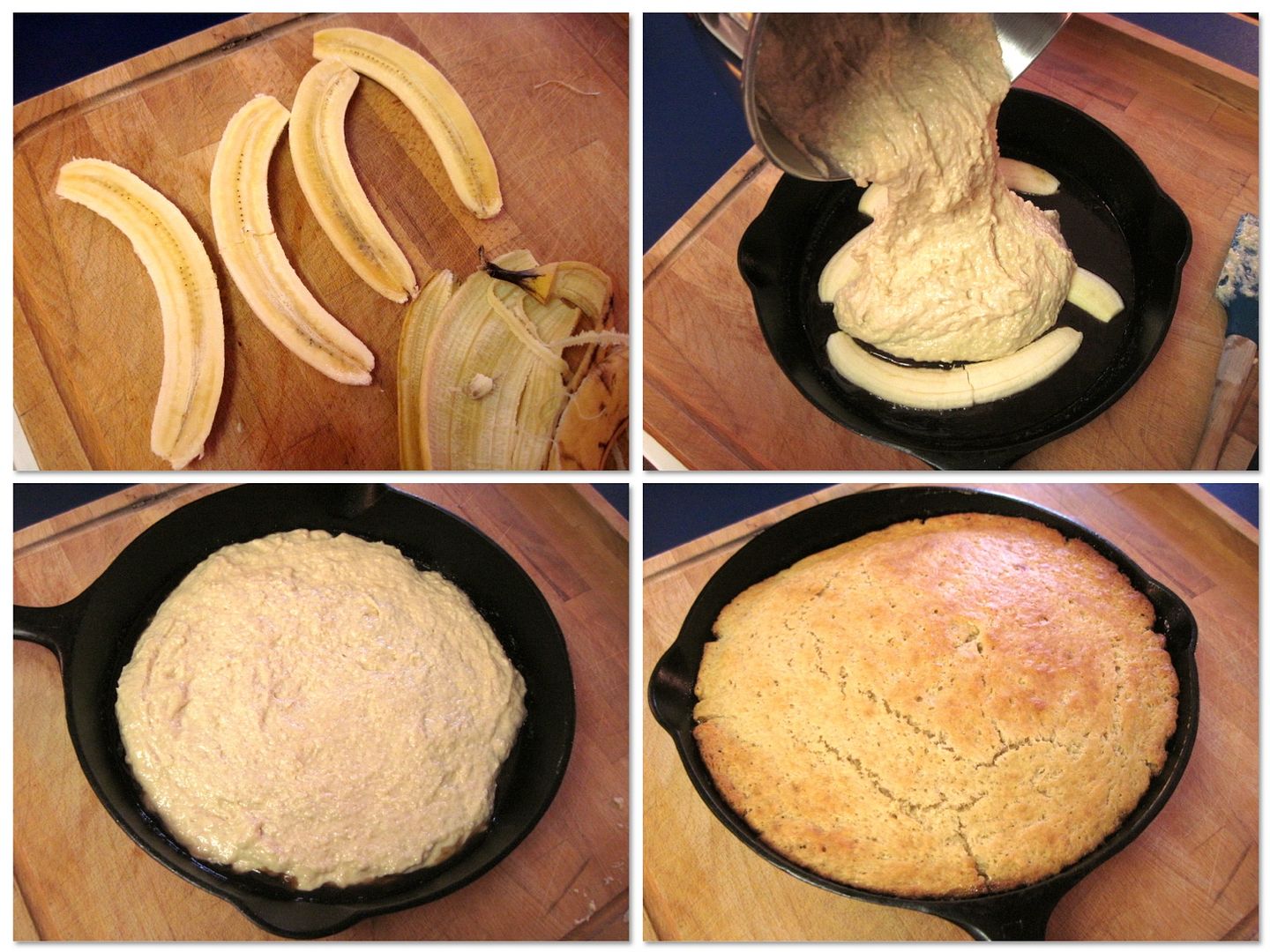 Allow the cake to cool in the skillet for 5 to 10 minutes, then place a large serving platter upside down on top of the cake. Using oven mitts, carefully invert the cake onto the platter and lift off the skillet – the cake should come out pretty easily if your skillet is well-seasoned. Allow to cool a bit more and serve the cake slightly warm. Store any leftovers in the fridge, if keeping for more than a few days.
This post has been YeastSpotted!