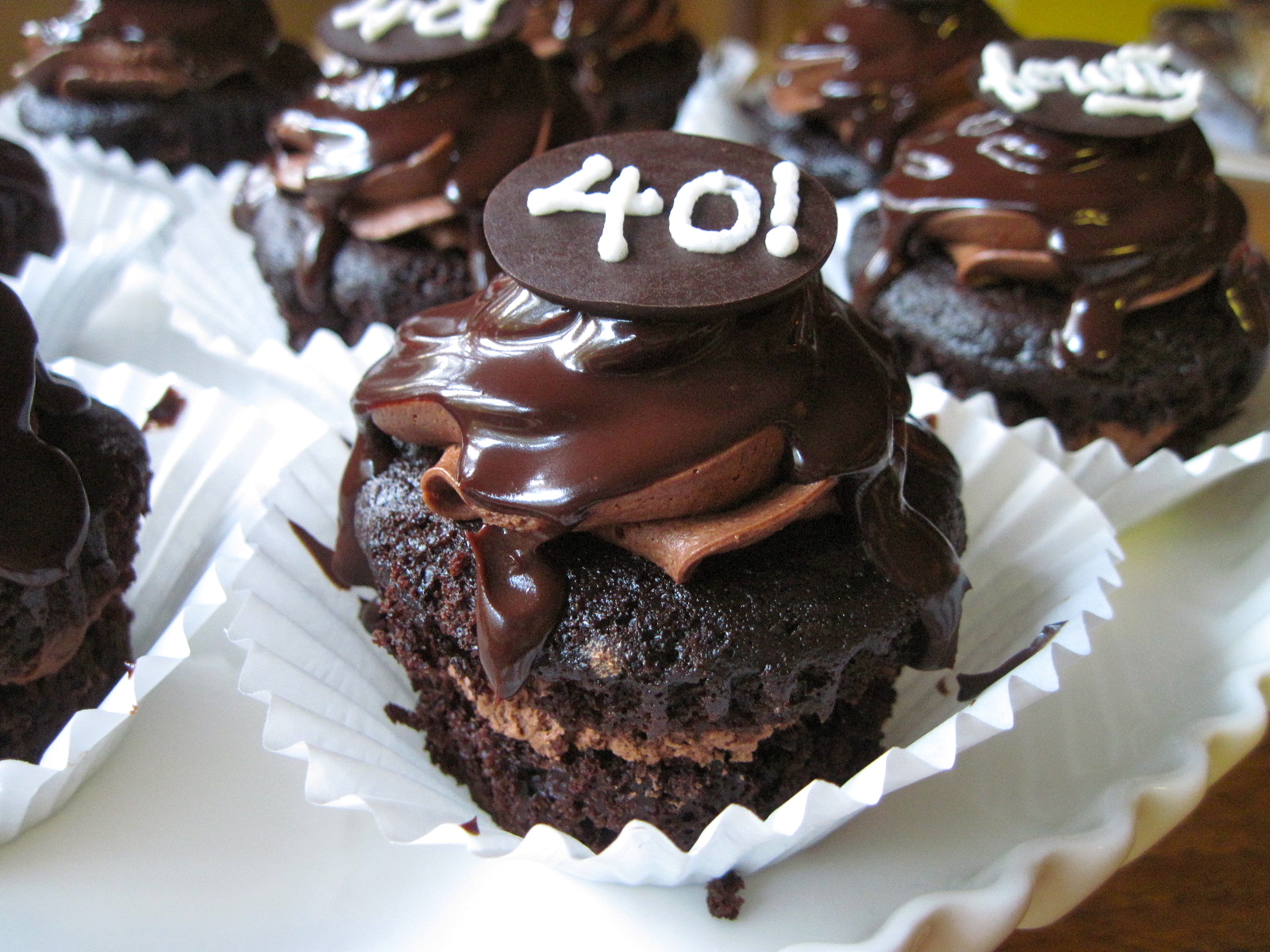 A good friend of ours had a milestone birthday this week, and to celebrate we got together with a bunch of good people for some Neapolitan style pizza at Pizzeria Prima Strada last weekend. I offered to make Aaron a cake, but unfortunately you can't take a homemade cake into a restaurant… so instead I made cupcakes that we devoured in the parking lot after dinner.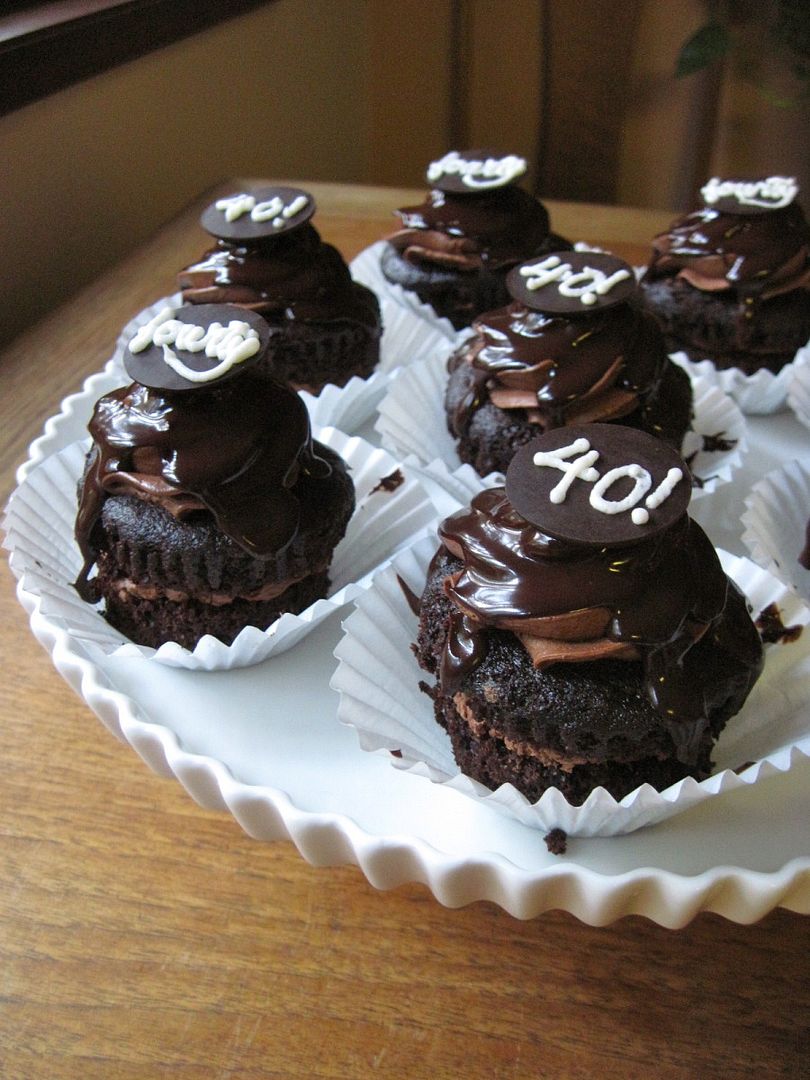 When I asked him what kind of cake he wanted, Aaron requested "chocolate with chocolate in the middle and chocolate on top. With chocolate." I immediately knew that the Rebar Chocolate Cake was the perfect basis for these cupcakes: deep, dark chocolate cake, chocolate cream cheese filling and frosting, and dark chocolate ganache drizzled over the top.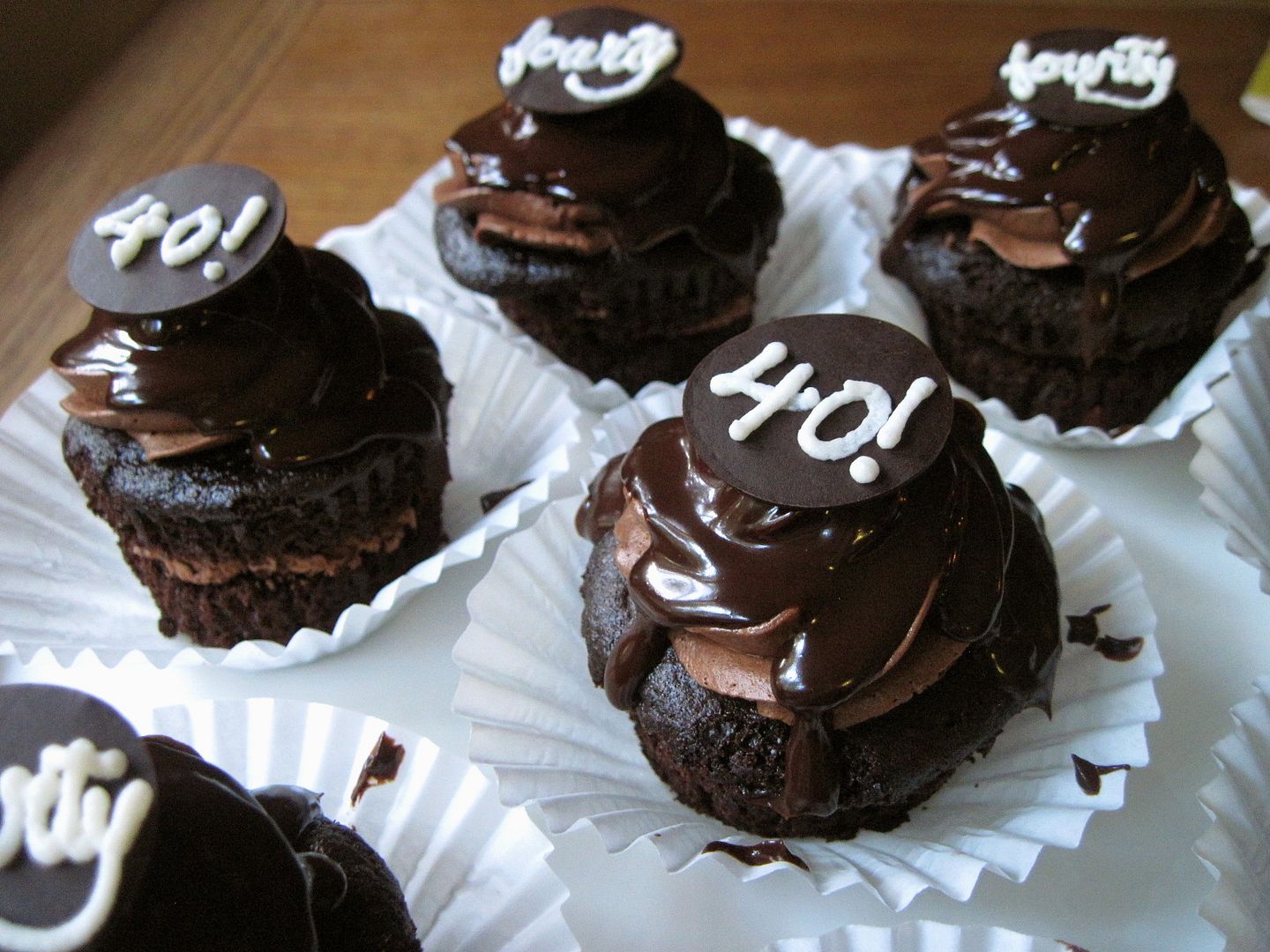 These cupcakes were the equivalent of being hit by a chocolate-covered semi-truck, but to take them even more over the top, I wish I had used the Cooks Illustrated Ultimate Chocolate Cupcake recipe for the cake part, because frankly, it really is the ULTIMATE chocolate cake (go figure, right?!). But I'm glad I got the chance to compare it with the Rebar cake, because now I know for sure. 😉
I topped each cupcake with a tempered chocolate button with the milestone number piped on it, and as I was practicing my piping skills, I thought, "that doesn't look right."
So I changed my spelling and congratulated myself on avoiding a near Cake Wreck.
And then as I was typing up this post, those squiggly little red lines showed up under "fourty". D'oh!! Apparently it's a common misspelling though, so maybe I don't feel quite so foolish about posting it on the internet. 😉
Chocolate Bomb Cupcakes
Adapted from the Rebar Modern Food cookbook. Makes about 20 – 24 cupcakes, depending on their size and which cake recipe you use.
Chocolate Cupcakes
Make the Rebar chocolate cake batter – or better yet, the Ultimate Chocolate Cupcakes (you'll have to double this recipe) – and portion the batter into paper-lined muffin cups, filling each about 2/3 full of batter. Bake for 17 – 19 minutes at 350˚F until the tops are slightly springy. Cool completely on a rack.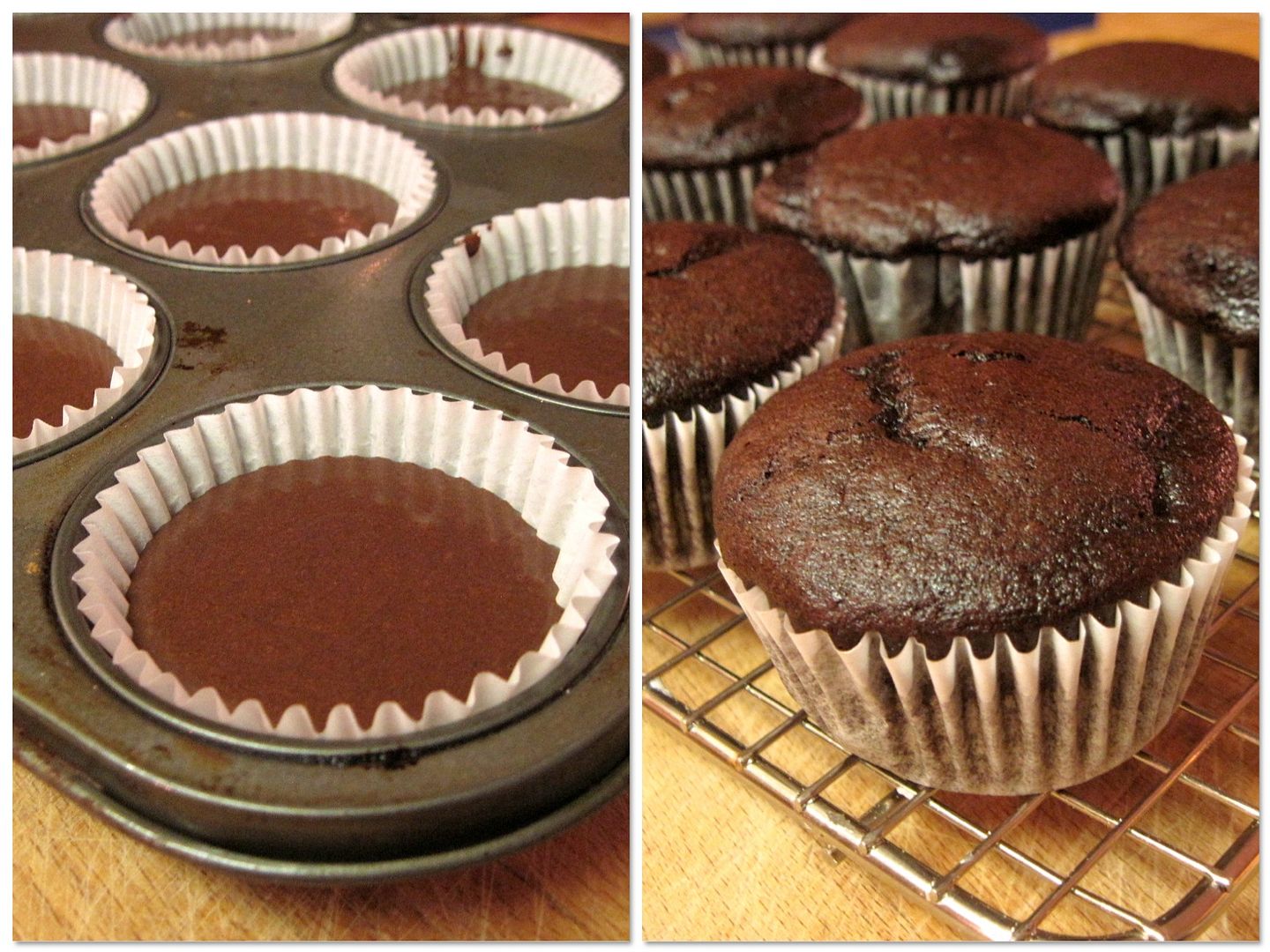 Chocolate Cream Cheese Filling and Frosting
Follow the filling recipe in this post.
Chocolate Ganache
In a small saucepan, bring just to a simmer:
3/4 cup heavy cream
1 tbsp unsalted butter
Pour it over:
5 oz chopped dark chocolate
Let it sit for a few minutes to melt the chocolate, then stir gently until very smooth. Let it cool until it is no longer warm at all but still of a pourable consistency.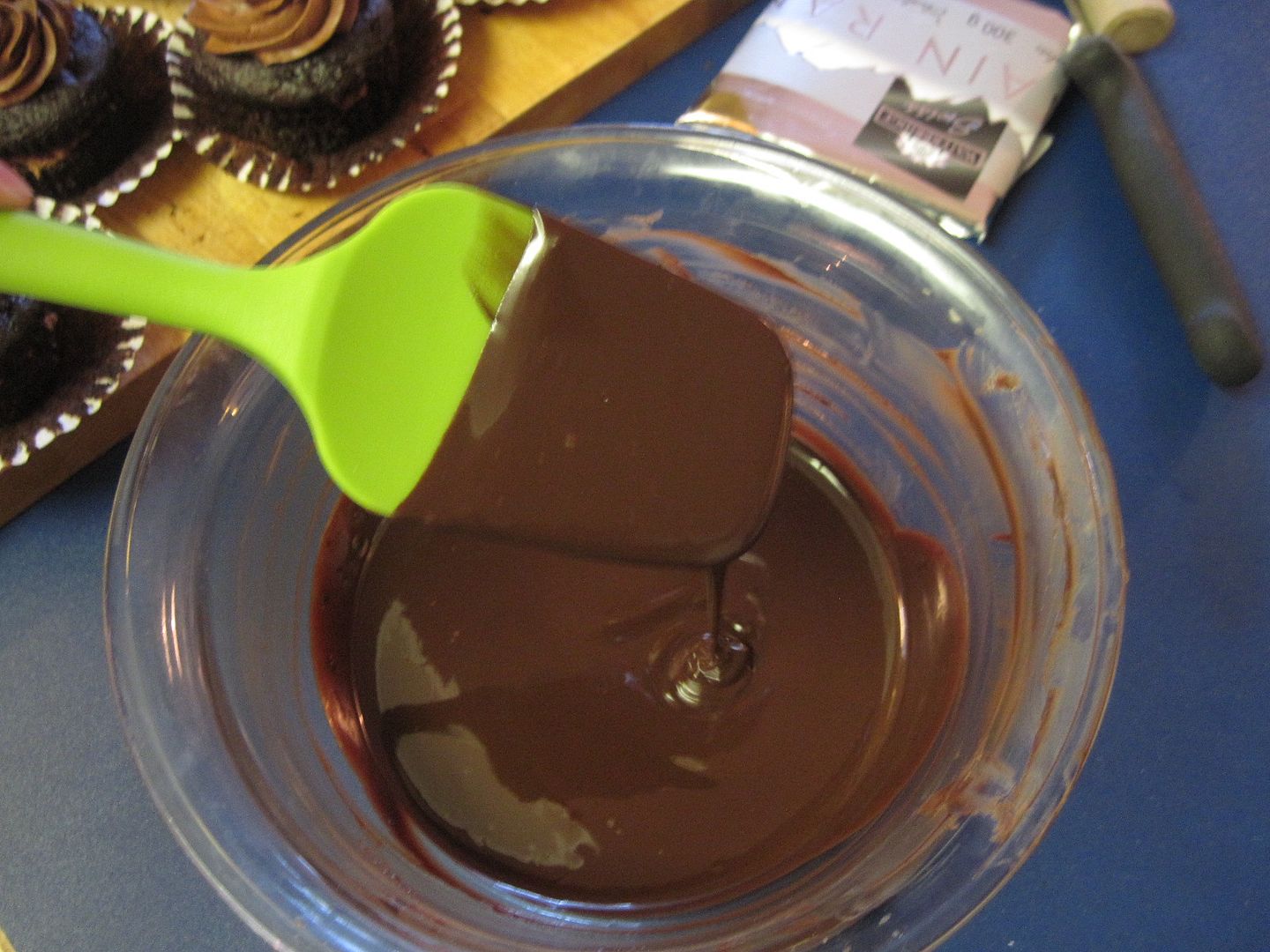 Tempered Dark Chocolate Buttons
Tempering the chocolate will ensure that it remains smooth and shiny when set. For best results, use dark chocolate with at least 70% cocoa solids, and temper at least 8 oz of chocolate at a time, which gives you more than you will need for this project, but is an appropriate amount to work with for controlling the temperature.
Chop at least 8 oz of dark chocolate. Place 2/3 of the chocolate in a metal bowl (not glass or ceramic) and reserve the remaining third. Place the metal bowl over a pot of gently simmering water and heat the chocolate, stirring with a spatula, until it melts and reaches 115˚F. Immediately remove it from the heat and add the reserved chopped chocolate. Stir gently until the chocolate is smooth and the temperature is just below 90˚F (I had to place it back over the simmering water for a few minutes to melt the additional chocolate). Keep the chocolate at this temperature while you are working with it.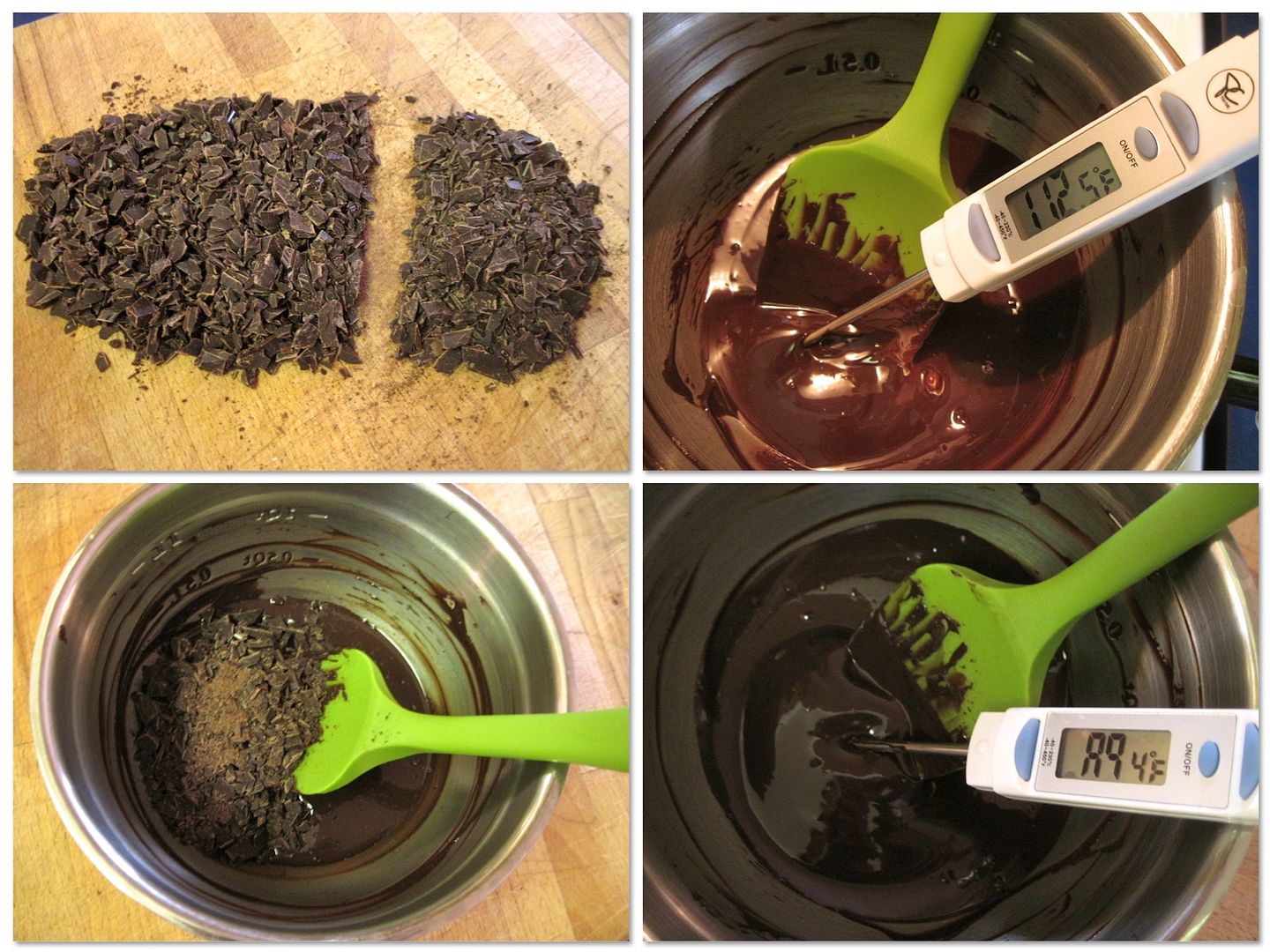 Trace some circles (about 1″ in diameter) on a piece of parchment paper (I traced around the bottom of a shot glass) then turn the paper over so the unmarked side faces up and you can see the lines through the paper. Place the paper on a baking sheet.
Put the melted chocolate in a piping bag fitted with a medium-sized round tip and pipe rounds onto the parchment paper, using the circles you traced as a guide. Let the chocolate set somewhere cool until completely dry. Any excess chocolate can be left to set and dry, and can be used again to temper or otherwise.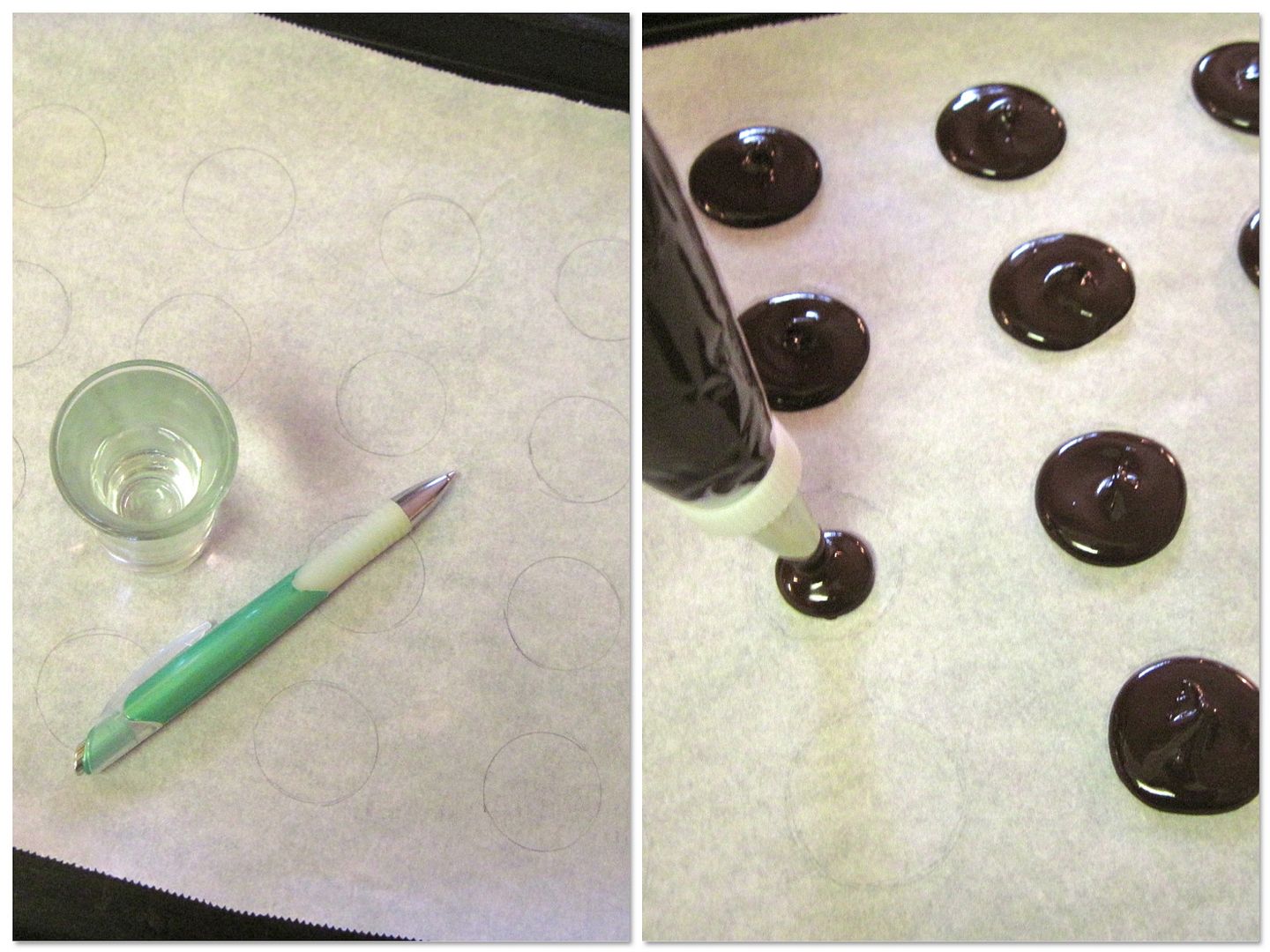 While the chocolate sets, whip up a quick pipeable frosting of:
1/4 cup unsalted butter, softened
1 cup icing sugar
a dash of vanilla extract
Add a few teaspoons of heavy cream, enough to make the frosting creamy and easily pipeable.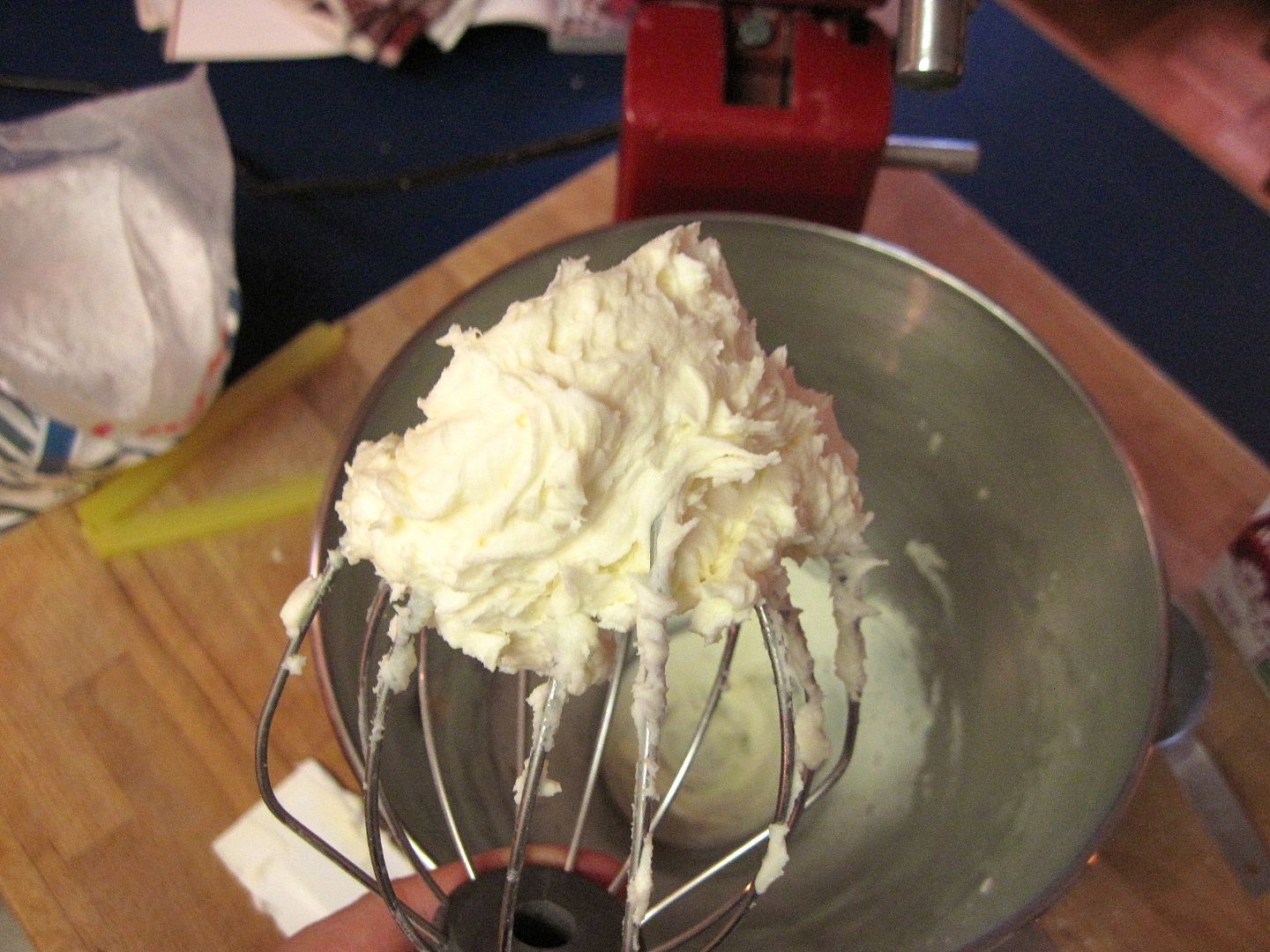 Once the chocolate buttons are set, peel them off the parchment paper. Spoon the piping frosting into a piping bag fitted with a small round tip and pipe your message in frosting on the smooth side of the chocolate buttons. Do a practice run on parchment paper and check your spelling! Let the frosting set for a while before handling the buttons.
To Assemble the Chocolate Bombs
Peel the papers off the cupcakes and cut each one in half horizontally. Portion out 1/3 of the chocolate cream cheese filling/frosting and use that to fill each cupcake. Place the tops of the cupcakes back on the filling. Put the remaining filling/frosting in a piping bag fitted with a large star tip and pipe a swirl on top of each cupcake. Chill the cupcakes until the frosting is firm, then drizzle each cupcake with a big spoonful of the cooled ganache.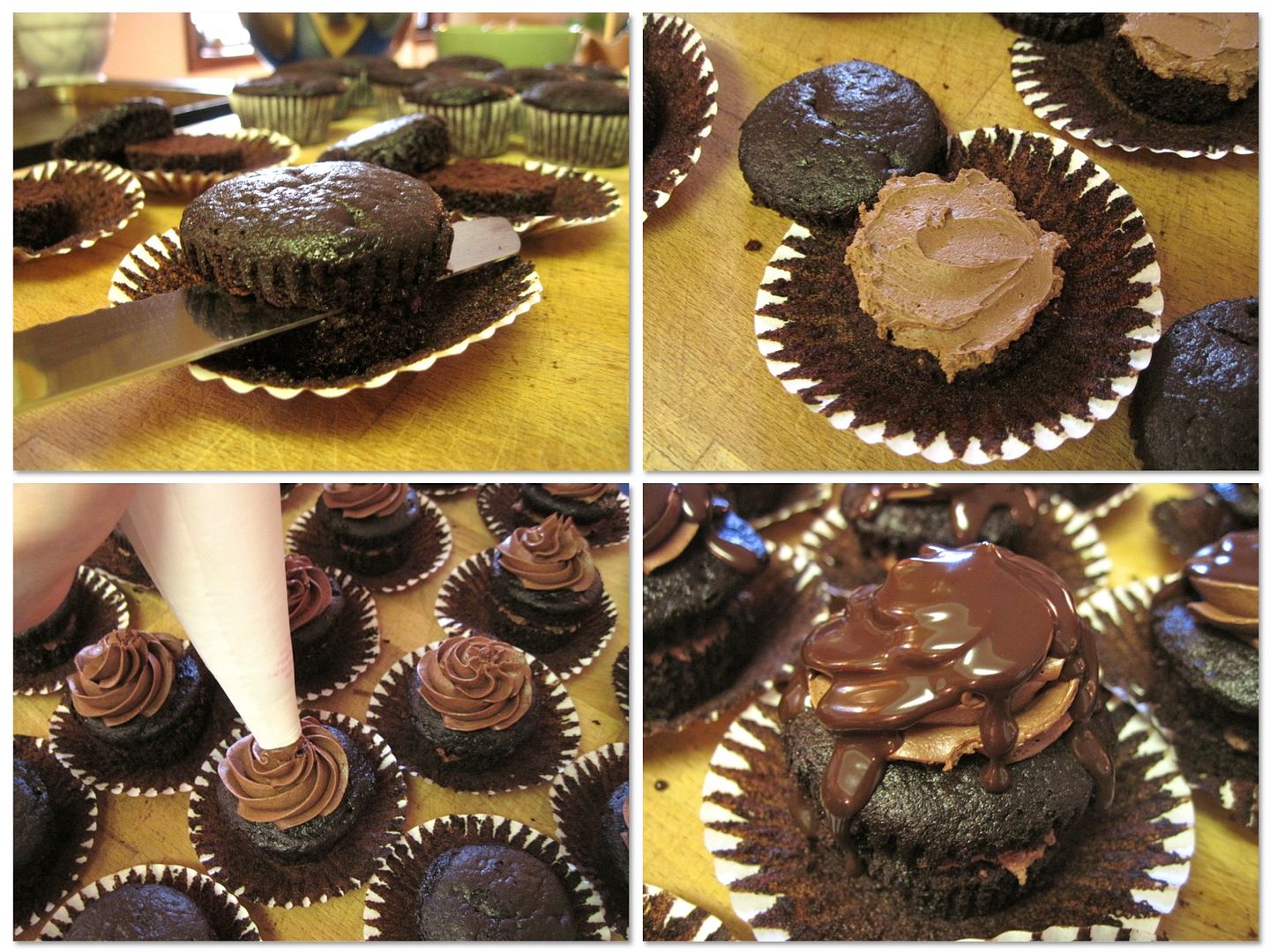 Top with a chocolate button and transfer each cupcake to a large, clean cupcake liner. Store in an airtight container at cool room temperature.