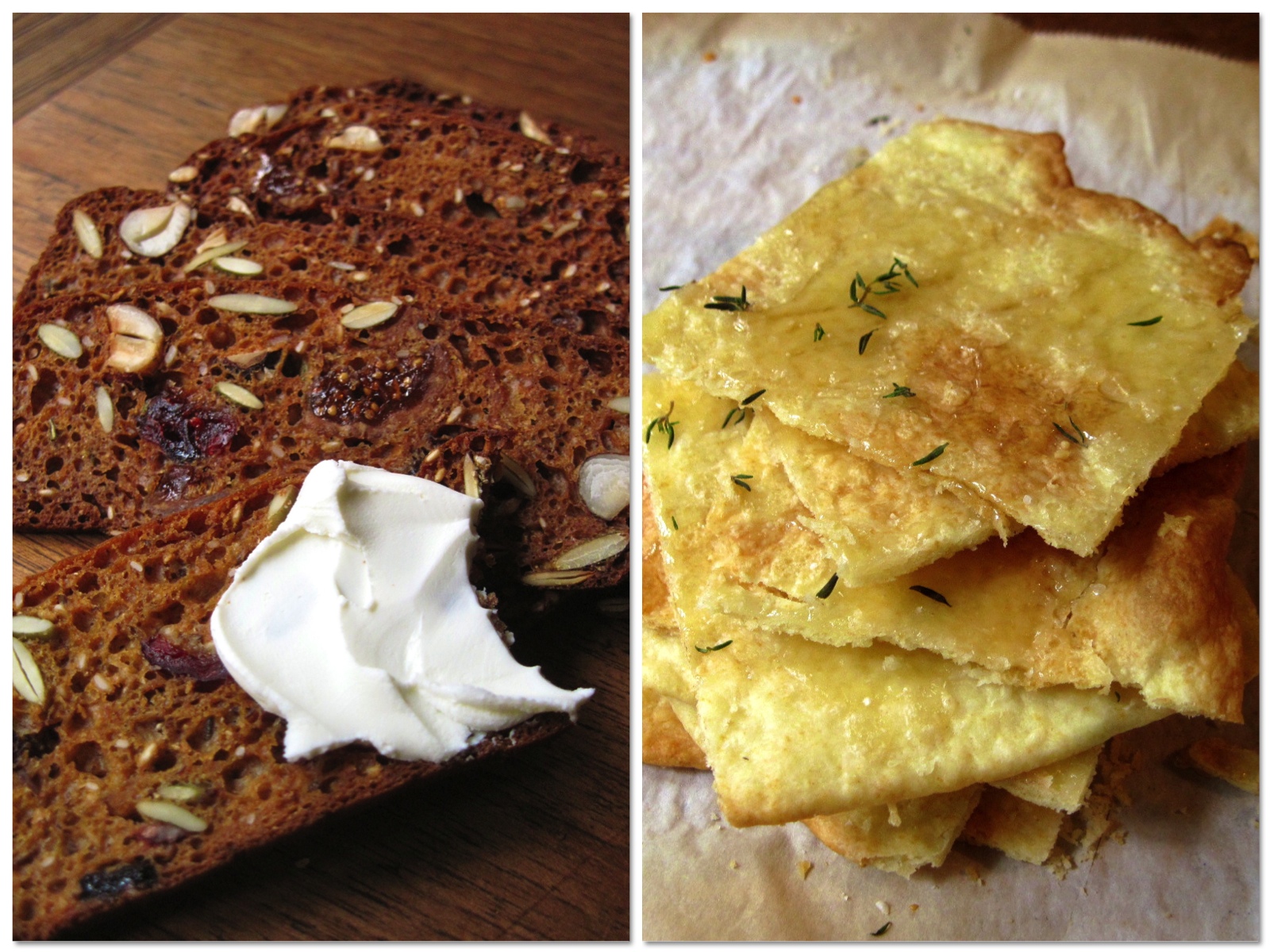 Sarah from All Our Fingers in the Pie was our February 2013 Daring Bakers' host and she challenges us to use our creativity in making our own Crisp Flatbreads and Crackers!
I had some trouble getting into this month's challenge. I don't eat a lot of crackers in the first place, so the desire to make them myself isn't that strong, I guess. I kind of feel like I phoned this one in, which sucks because I also know how much work our host, Sarah, put into choosing, testing, and presenting the challenge recipes. So please don't judge this challenge by my lack of enthusiasm. Instead, check out the amazing assortment of crispy, crunchy snacks the other Daring Bakers made this month.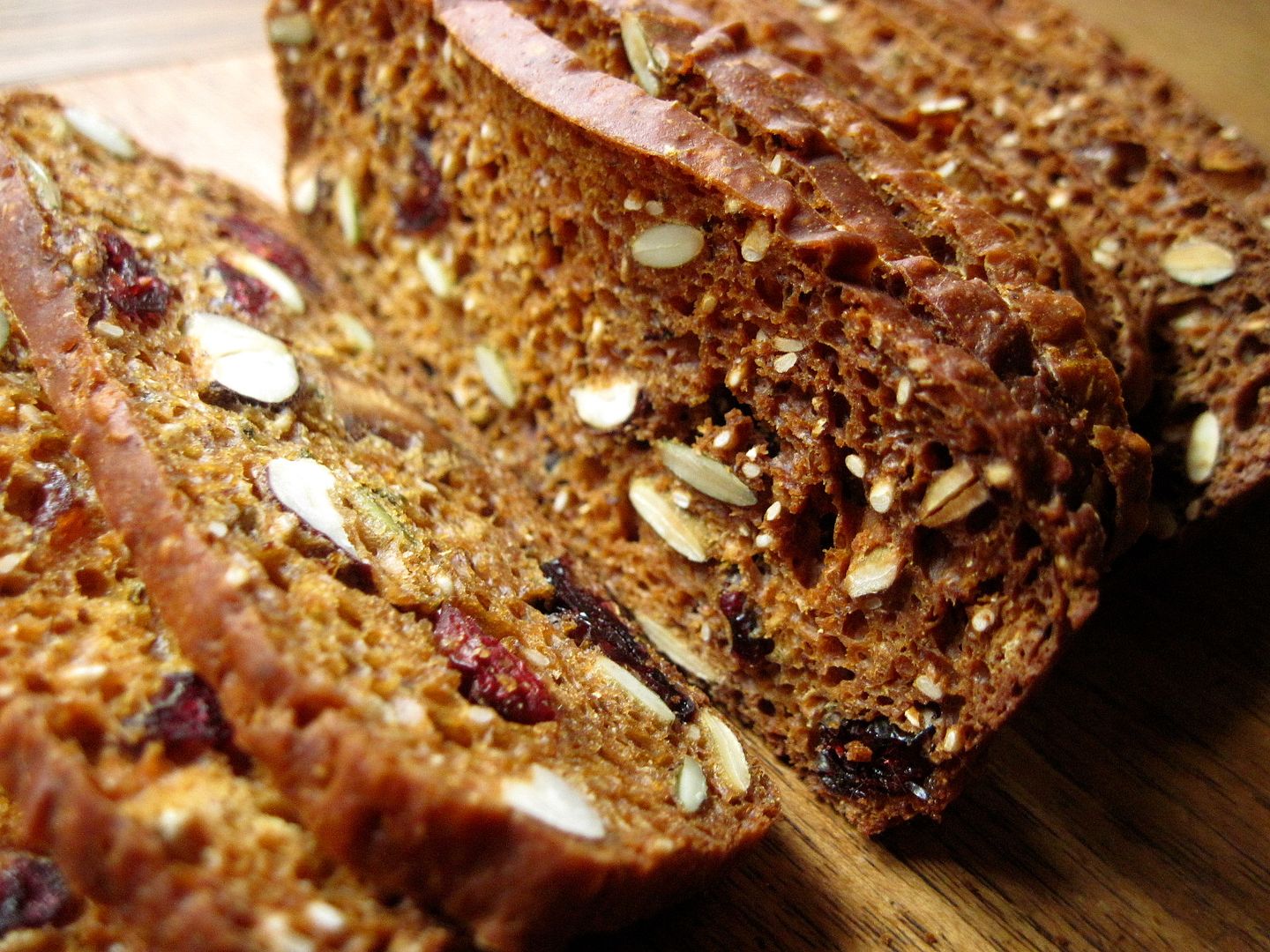 One of the recipes provided was the Rosemary Raisin Pecan Crisps that I've made before and are one cracker that I do absolutely love, so I made some of those inspired by similar recipe, switching it up to use hazelnuts, cranberries, and figs. But I figured that didn't really cont because I'd made them before. Someone posted a flatbread from Smitten Kitchen on the Daring Bakers members forum, and seeing as I have no chance of ever passing up anything on that website, I made it as well. It had lots of potential: crisp flatbread covered with nutty melted cheese, drizzled with honey and sprinkled with sea salt and thyme leaves.
The flatbread is best eaten warm, straight out of the oven, so it lost some of its charm while I was taking pictures, and it could have used a little more cheese. But all in all, a tasty snack! So thank you Sarah for this month's challenge and the impetus to try this recipe. 😉
Hazelnut, Cranberry and Fig Crisps
Adapted from Simple Bites and Dinner with Julie. Makes lots, but you can freeze the loaves and cut off slices as desired.
Preheat the oven to 350˚F. Grease two 9″ x 5″ loaf pans and set aside.
In a large bowl, mix together with a whisk:
1 cup whole wheat flour
1 cup all purpose flour
2 tsp baking soda
1/2 tsp salt
In a measuring cup, combine:
2 cups buttermilk
1/4 cup cane sugar (or brown sugar)
1/4 cup honey
Pour the buttermilk mixture into the flour mixture and fold with a spatula until just combined (a few floury lumps are OK).

Add:
1/2 cup raw pumpkin seeds
1/4 cup sesame seeds
1/4 cup ground flax seeds
1/2 cup dried cranberries
1/2 cup dried figs, roughly chopped
1/2 cup hazelnuts, roughly chopped
1 tbsp chopped fresh rosemary
Gently fold in the seeds/fruit/nuts until combined.

Scrape the batter in to the two prepared pans and bake in the 350˚F oven for about 35 minutes, until golden brown and springy to the touch. Turn the loaves out of the pans and cool on a rack. I like to put the loaves in the freezer – they cool faster and are easier to slice if partially frozen.

When the loaves are cool, slice them as thinly as possible (about 1/8″ thick is a good goal). Place the slices in a single layer on a parchment paper-lined baking sheet and bake in a 300˚F oven for about 12 minutes, then flip and bake for another 12 minutes, until browned and crisp.

Cool completely on a rack before storing in an airtight container, where they are likely to be eaten long before you have to worry about them getting stale.

Cheesy Flatbreads with Honey and Thyme
Adapted from Smitten Kitchen. Makes 2 large flatbreads (16 pieces). This is half the original recipe, as I was just making them for myself and they are supposed to be eaten immediately. That said, there were leftovers, so they next day I grated some extra cheese over the top and popped them back into the oven for a few minutes – delicious. I used an aged Swiss style cheese called Herrgård because it was described as being "nutty", which was a recommended attribute in the original recipe, but I imagine parmesan or Gryuère would be good too.
Preheat the oven to 450˚F with a pizza stone or heavy baking sheet on the middle rack. In a bowl, mix together:
1 cup + 2 tbsp all purpose flour
1/2 tsp baking powder
3/8 tsp sea salt
Make a well in the center and pour in:
1/4 cup water
1/6 cup olive oil
Mix until it comes together into a rough dough, then turn out and knead 4 or 5 times on an unfloured surface. Divide the dough in half.

Roll one half of the dough out on a rectangle of parchment paper. It will seem rather oily and rolling it out might be quite frustrating – it wanted to stick to both the parchment and the rolling pin – but persevere and eventually it will work itself out. Aim for a thin rectangular shape about 12″ x 6″.

Place the rolled out dough (including parchment paper) in the oven directly on the pizza stone or baking sheet and bake for about 5 minutes, until lightly golden. Remove it from the oven (leave the oven on) and sprinkle it with:
1 oz grated cheese (see notes about what kind to use – you will need 2 oz in total)
Return the flatbread to the oven for 3 – 4 minutes, until golden brown around the edges and in the thin spots. Immediately drizzle it with 1 – 2 tbsp honey and sprinkle with a good pinch of flaky sea salt and a scattering of fresh thyme leaves. Cut into 8 pieces and eat warm. Repeat with the remaining dough.