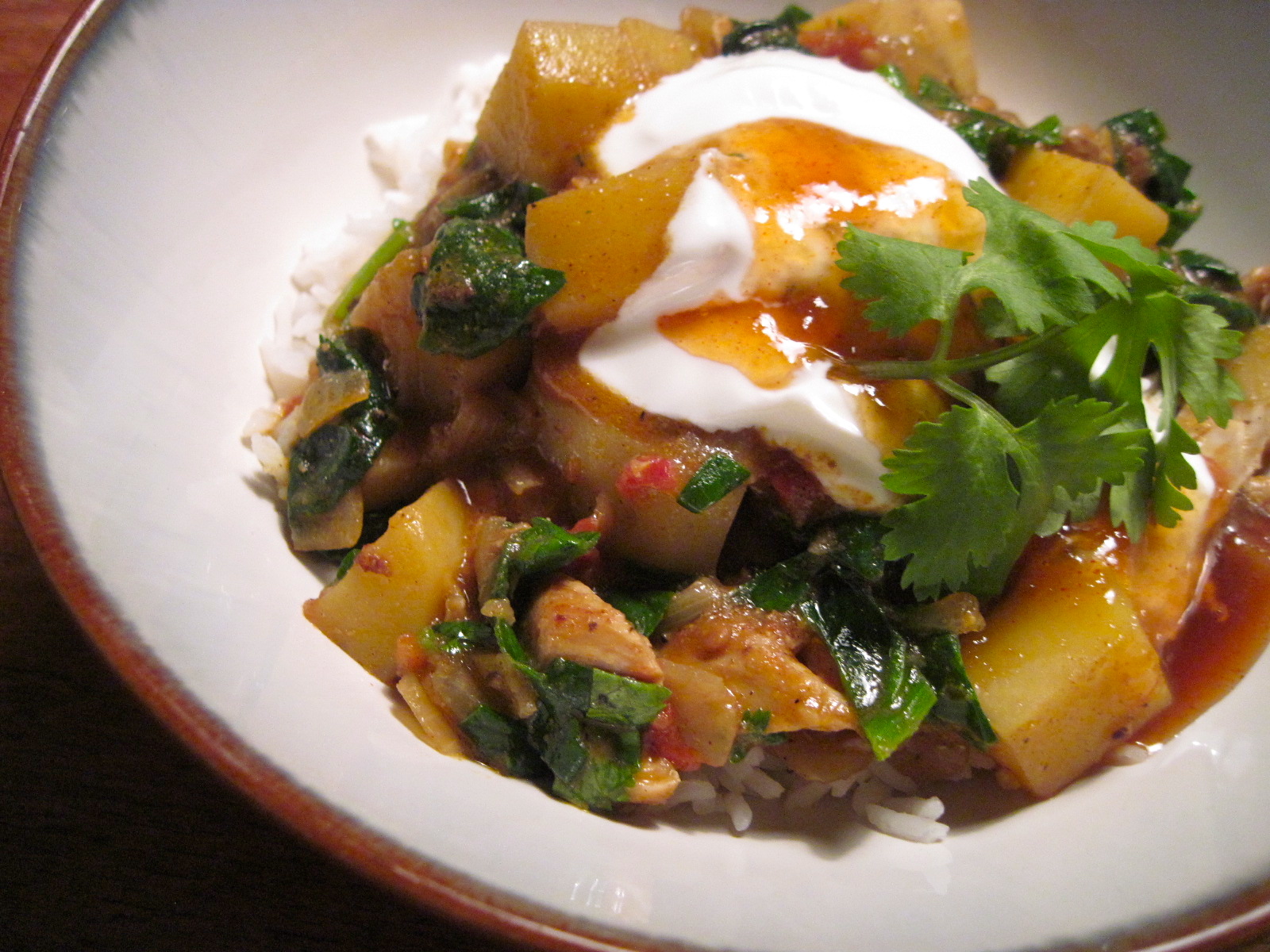 Don't you hate it when you are in the middle of making something delicious and you reach into the pantry to grab that one last (rather important) ingredient, only to discover that you are, in fact, out of chickpeas for your chicken, potato, and chickpea curry? Yeah, I hate it when that happens. (Also, I'm terrible at mis-en-place.)
Luckily, this curry is still plenty good chickpea-less, although they are kind of my favorite part. I love them and could eat then straight out of the can. Nate, on the other hand, actually preferred this dish without chickpeas, and thinks that it should be made with either potato or chickpeas but not both. However this is my blog so I'm going to suggest that you make it with both – chickpeas in particular.
I'm not sure how authentic the combination of chicken, potatoes, and chickpeas is to begin with, but it got stuck in my head one day and is now one of my favorite dinners. I based it on the chicken curry recipe from "Vij's Elegant and Inspired Indian Cuisine", which is where this amazing lentil dal came from, so it should be no surprise that it is incredibly delicious: super flavourful and very easy to make. Just make sure you have all the necessary ingredients before you start!
Chicken, Potato, and Chickpea Curry
Adapted from Vij's Elegant and Inspired Indian Cuisine. The recipe calls for bone-in, skinless chicken legs or things, but feel free to use boneless thighs (cut into bite-sized pieces) and skip the part where you shred the meat off the bones. Serves 2 – 3.
In a Dutch oven, heat 1/4 cup vegetable oil over medium heat for about 1 minute. Add:
1 large onion, chopped
1 cinnamon stick
Sauté over medium heat until the onion is golden, then add:
2 cloves garlic, minced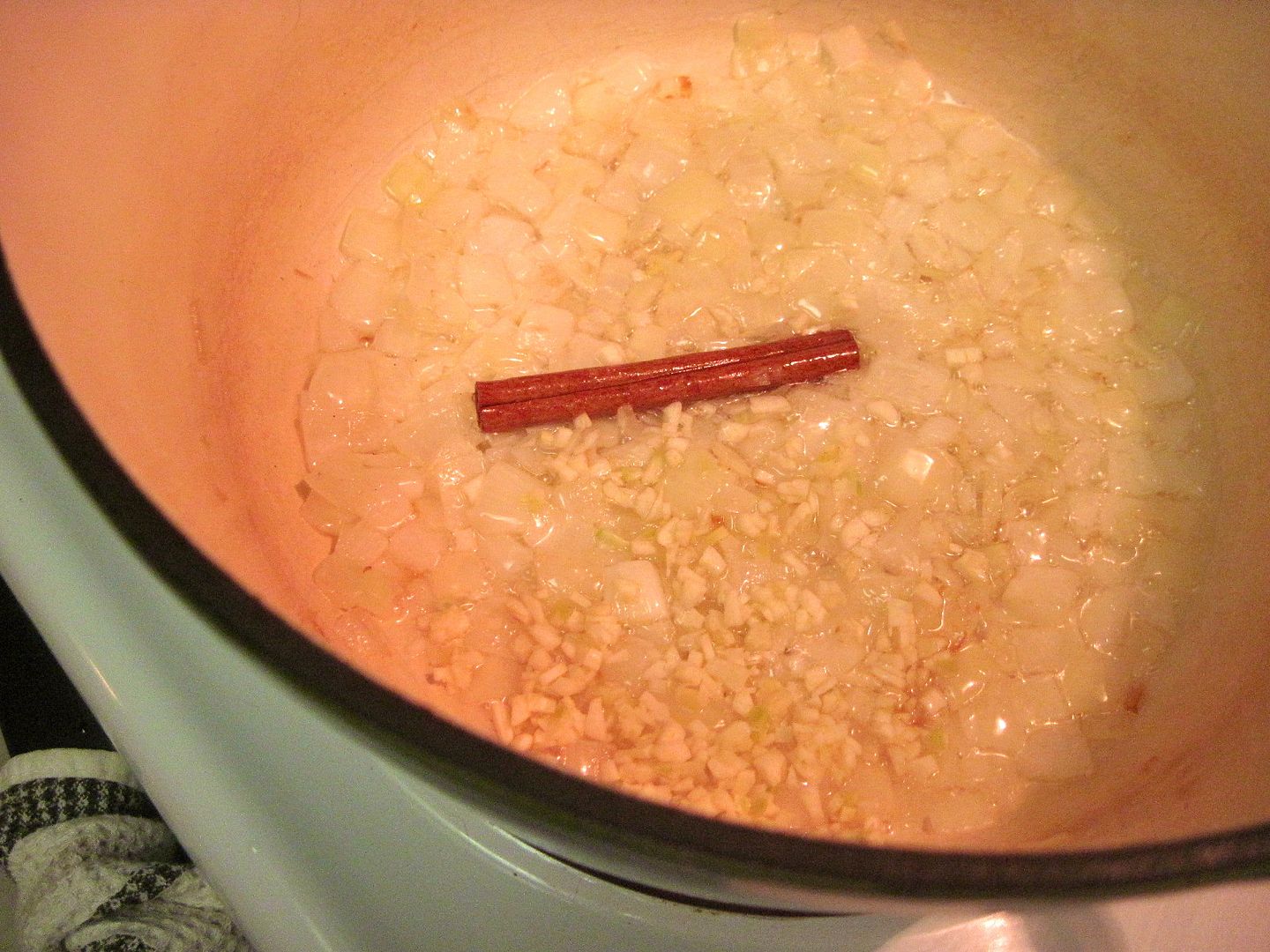 Cook for 2 minutes, then add:
1 1/2 cups chopped tomatoes (fresh, or I usually used canned + a bit of juice)
1 inch of minced ginger
1 1/2 tsp salt
1 1/2 tsp cumin
1 1/2 tsp coriander
1 1/2 tsp garam masala
1/2 tsp turmeric
1/4 tsp cayenne
pepper
Cook, stirring, for several minutes, until the oil begins to separate out of the masala mixture.
Add to the pot:
4 bone-in, skinless chicken legs or thighs (or a combination – dark meat works best here because it stays moist)
Cook the chicken in the masala, turning a few times, until the outside looks cooked, about  5 minutes.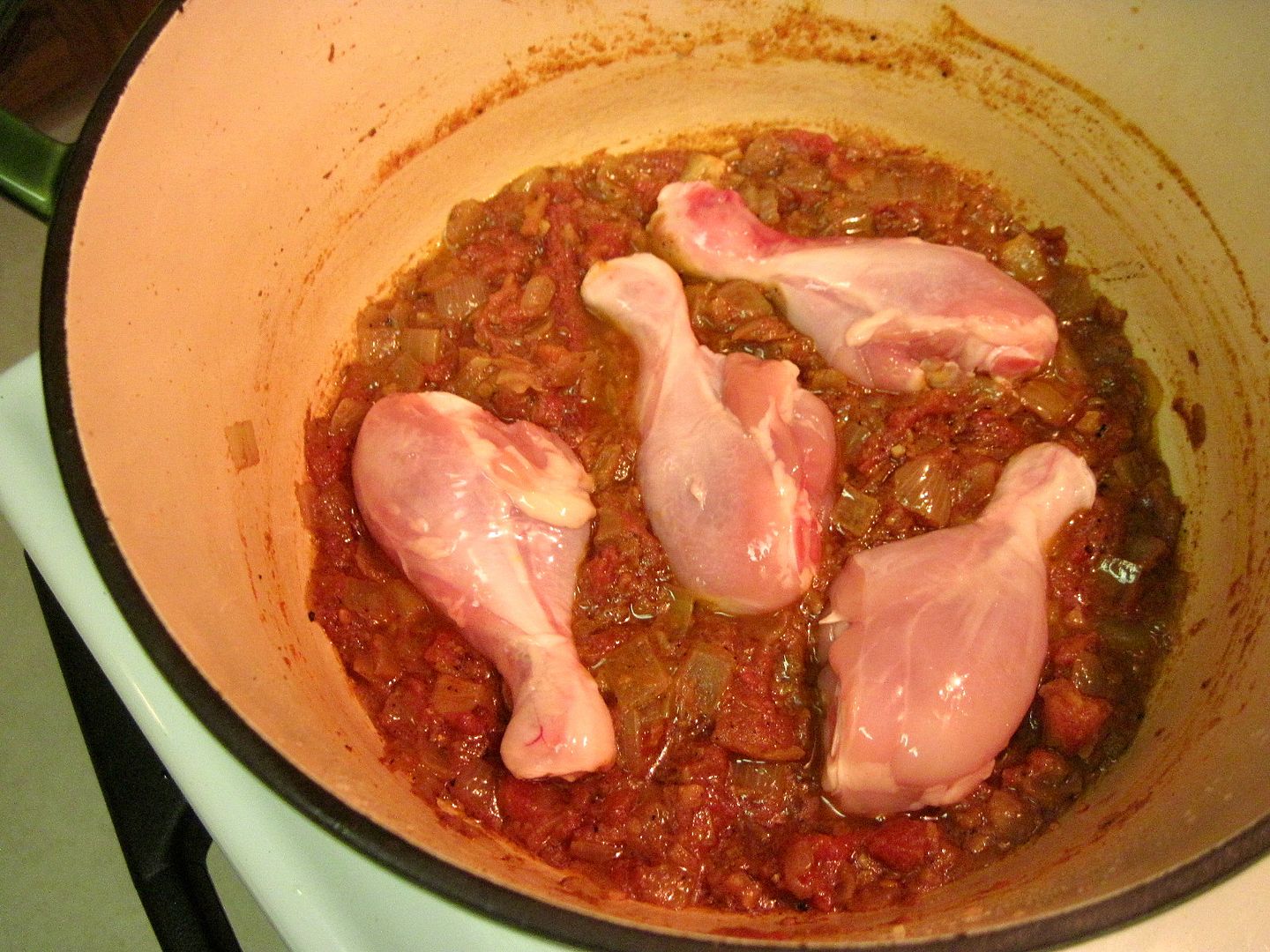 Add:
1 can of drained and rinsed chickpeas

2 medium potatoes, peeled and diced
1 cup water
1/2 a can of coconut milk
Bring to a simmer then cover and reduce heat. Simmer gently, giving it a few stirs, until the chicken is cooked, about 20 minutes. Remove the chicken pieces and let them cool for about 15 minutes, then shred the meat off the bones and return it to the pot.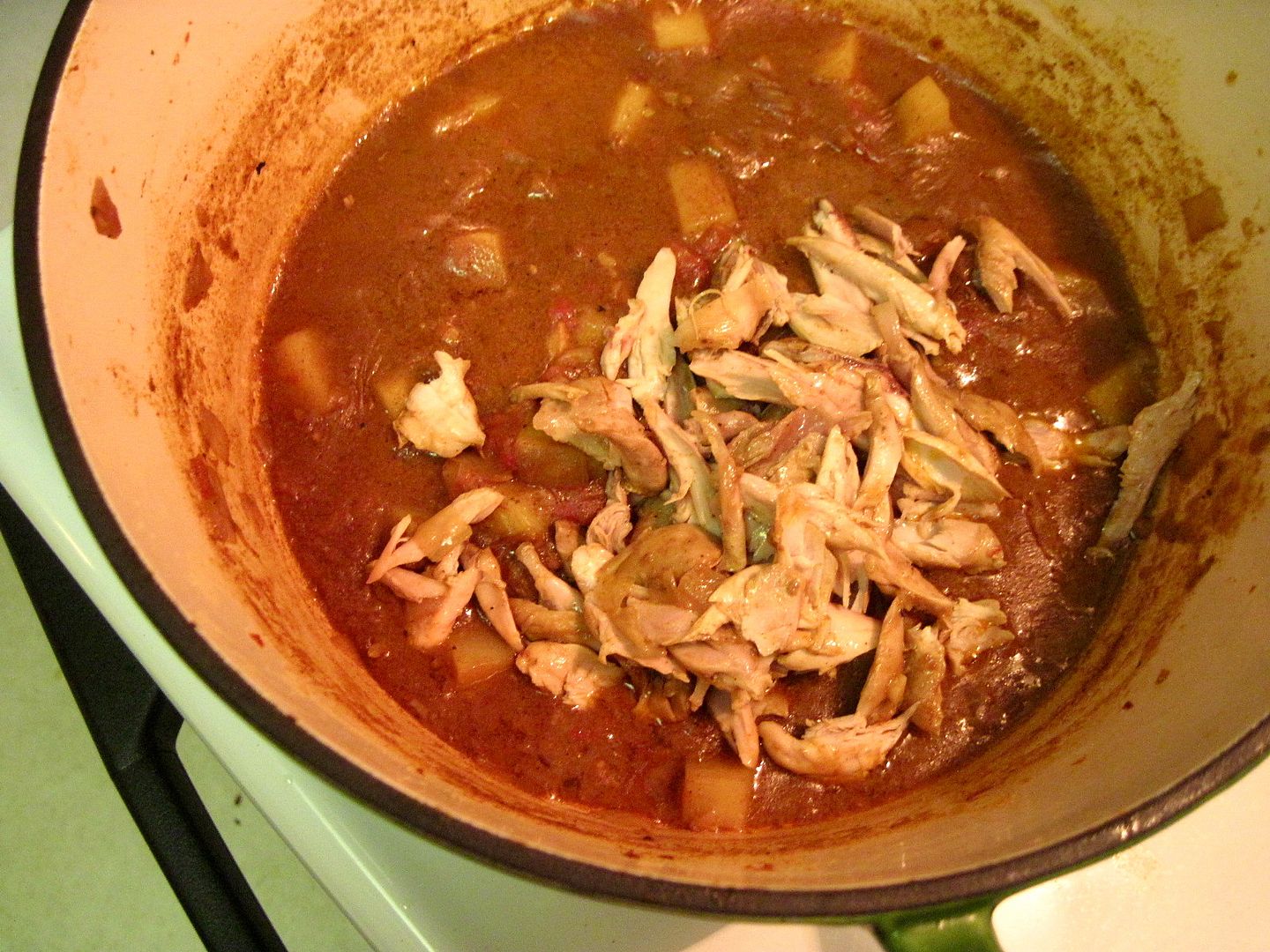 Remove the cinnamon stick and add:
2 good handfuls of chopped spinach
1 handful of chopped cilantro
Heat through and serve over rice with yogurt and mango chutney.