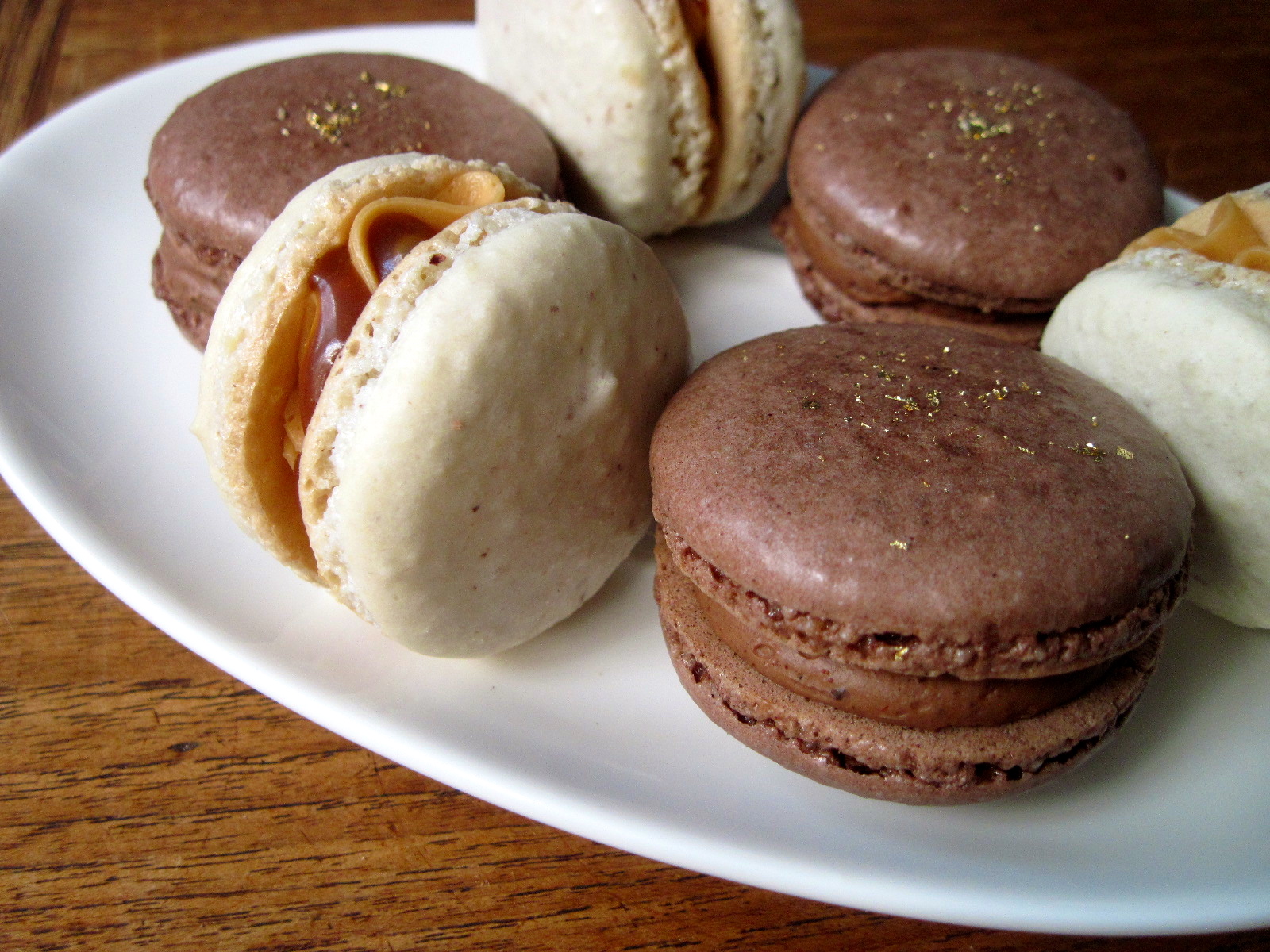 Macarons are definitely my current favorite thing to make: somewhat finicky, infinitely variable flavours, and SO TASTY and worth every minute of trouble. I made two kinds this Christmas: salted caramel and Mexican chocolate. Since making a salted butter caramel apple strudel not so long ago, I haven't been able to stop thinking about the caramel sauce, and the resulting macaron was probably the biggest hit of Christmas Baking 2012. Deeply caramelly, crunchy-buttery-sweet, and just so, so good!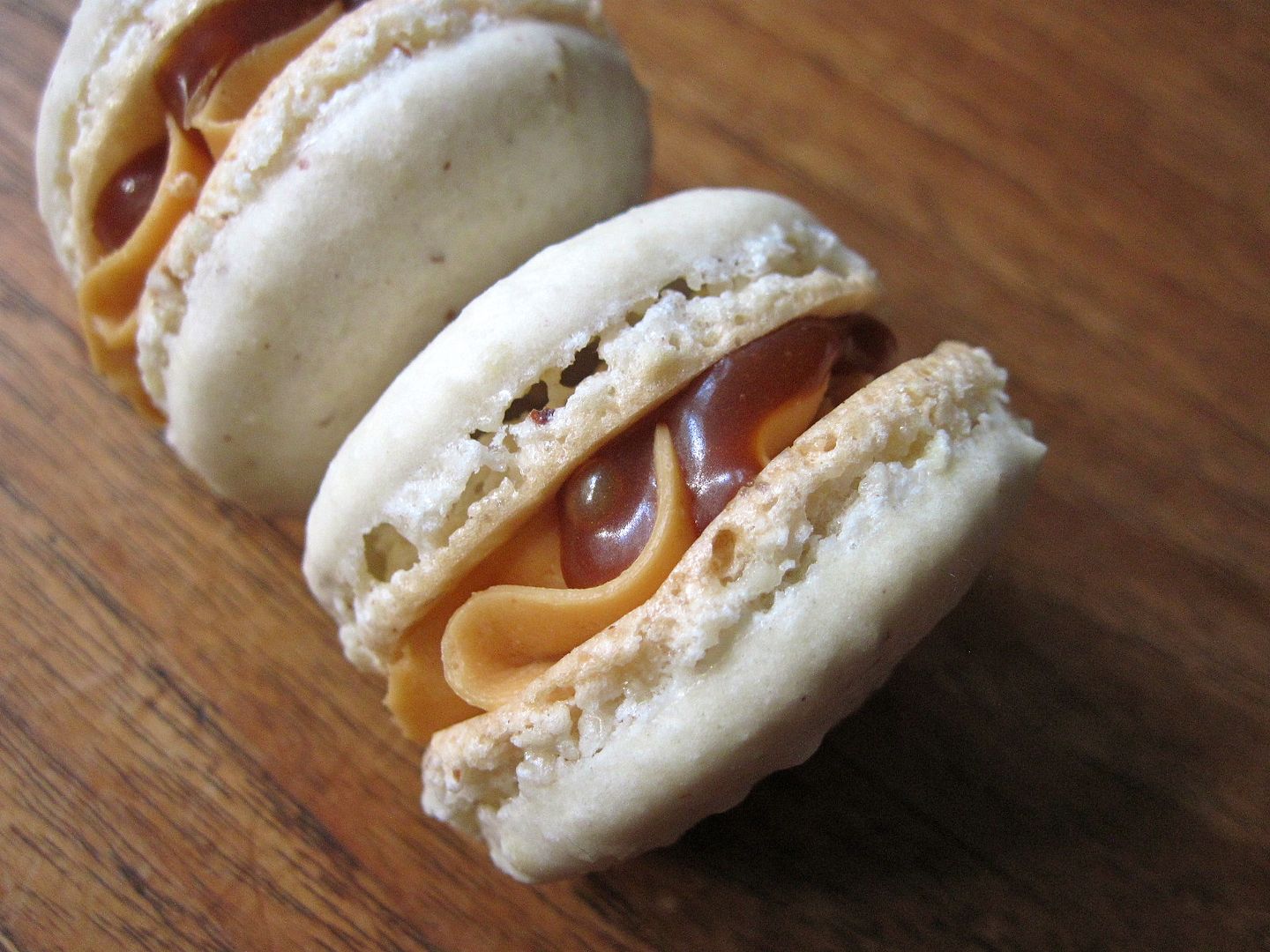 The Mexican chocolate macarons were inspired by this cake, which is inspired by Mexican hot chocolate. One thing I like just about as much as plain chocolate is chocolate with a bit of a kick. I was really happy with how the chile-chocolate buttercream turned out, but the chocolate macaron shells were challenging.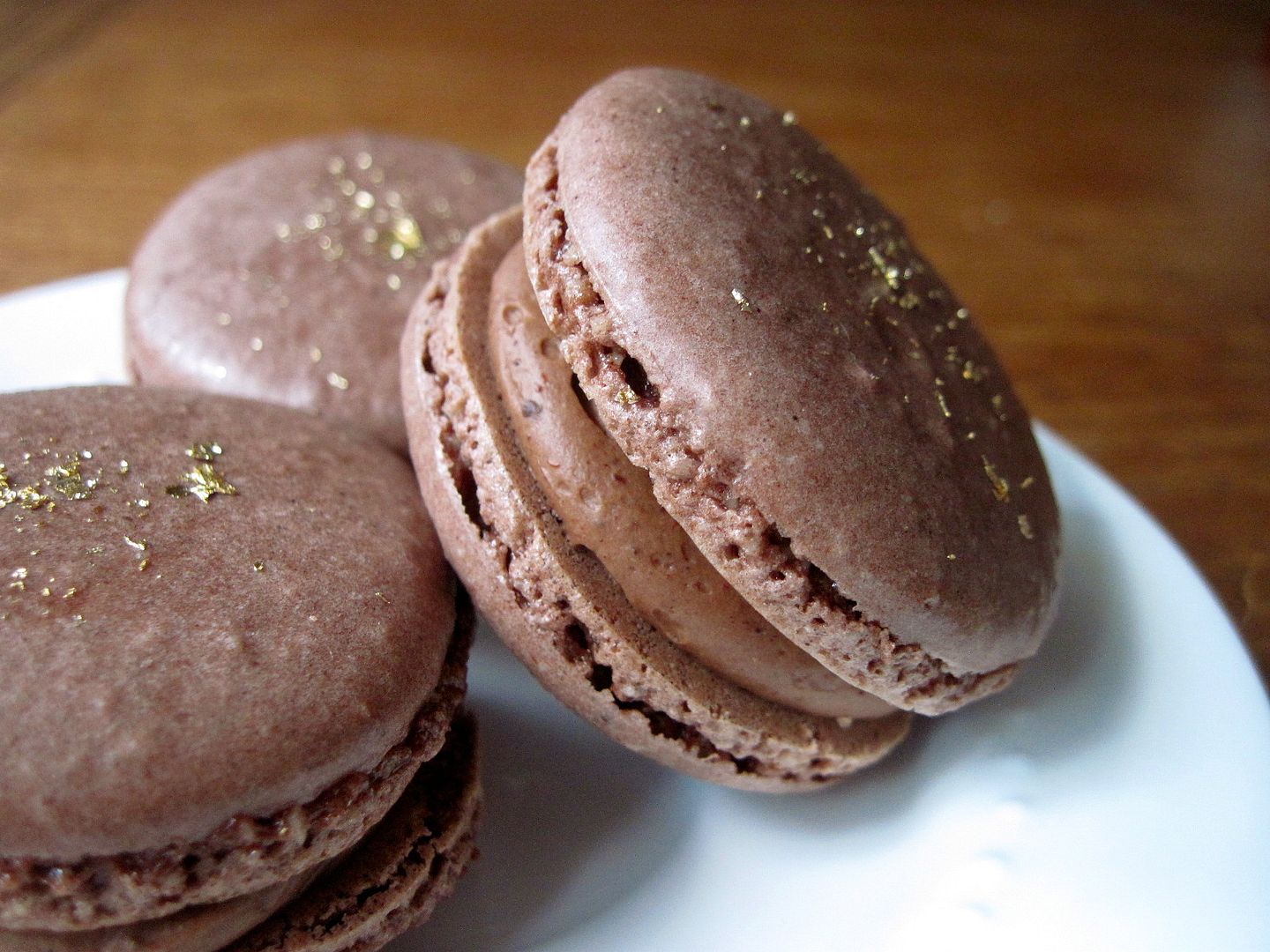 The plain shells that I made for the caramel version were as perfect as I could hope for, but about a third of the chocolate shells cracked. Chocolate macaron shells are notoriously difficult to make because when you add cocoa powder to the whipped egg whites, icing sugar, and ground almonds, it can change the consistency of the batter *just enough* to cause the macarons not to turn out as hoped. I replaced 3 tbsp of icing sugar with 3 tbsp of cocoa powder to keep the wet:dry ingredient ratio intact, so I think the cracked shells were due to under-mixing the batter. Not a big deal, because I could just pair them up with a nicer-looking shell, but something to improve upon for next time. Luckily a cracked macaron tastes just as good as a perfect one. 😉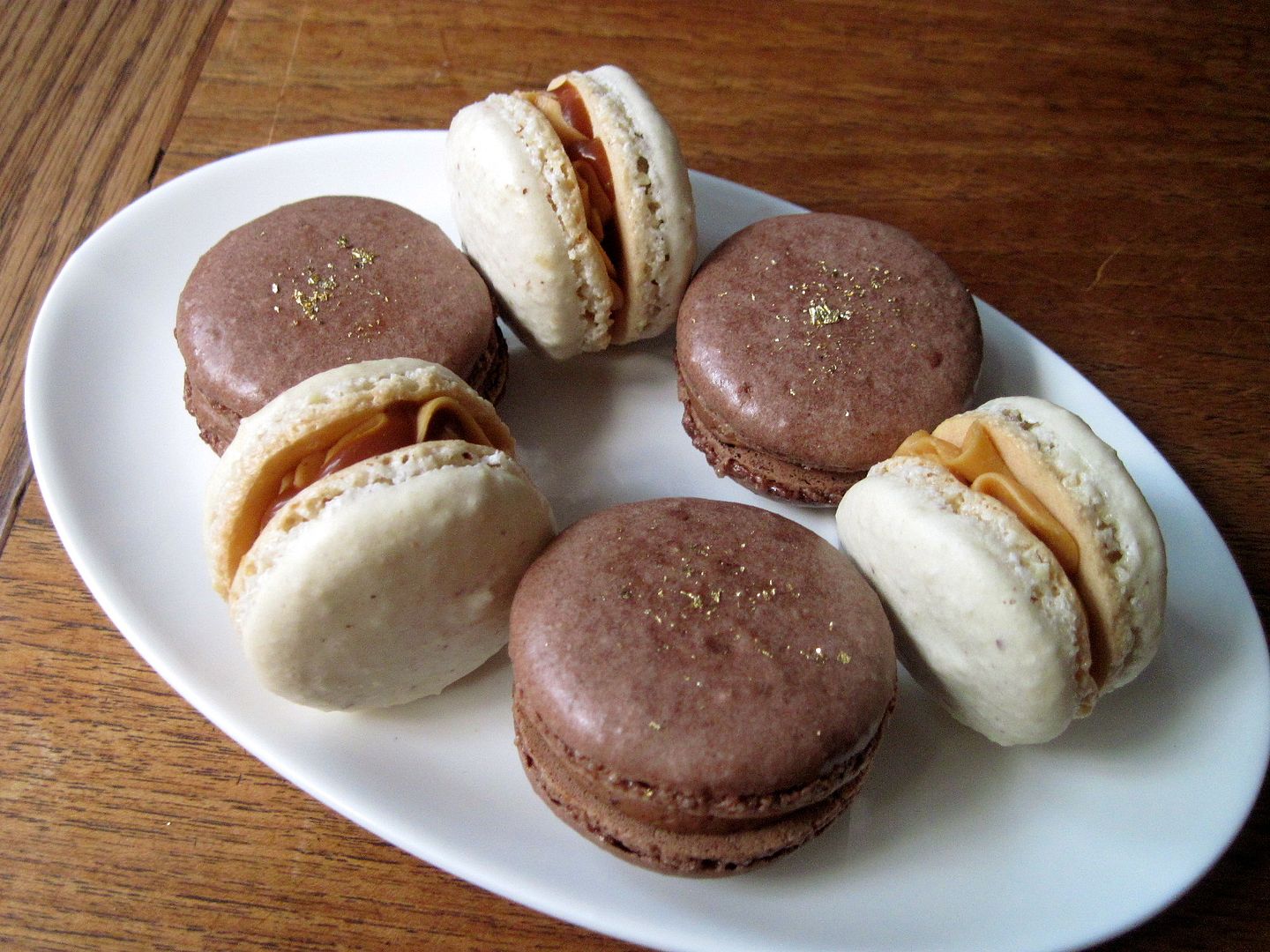 Salted Caramel Macarons
Basic formula adapted from Tartelette. Check out her macaron tutorial here. Be sure to use egg whites that have aged in the fridge for at least a few days, which will make the resulting meringue and batter more stable. This Macaron Troublshooting Guide is also a great resource for macaron-making.

Plain Macaron Shells
Makes 48 shells, or 24 filled macarons.
Measure 300 g confectioner's sugar. In the bowl of a food processor, combine:
165 g blanched, slivered almonds (or ground almonds)
half the confectioner's sugar
Pulse until the almonds are finely ground, then add the remaining confectioner's sugar and pulse to combine thoroughly. Set aside.
In the bowl of a mixer fitted with the whisk attachment, place:
135 g egg whites (aged at least a few days)

Beat on medium-high speed until foamy, then gradually add:
38 g granulated white sugar
Continue beating on medium-high until stiff peaks form, but do not over-beat: you don't want the egg whites to appear dry or chunky.
Pour the ground almond mixture into the egg whites and fold it together with a spatula, vigorously at first to break up the meringue, then slow down to judge the consistency. The more you fold, the runnier the batter will be. You want to stop when the batter forms a thick ribbon and then flattens out on itself, which should take no more than about 50 strokes.
Spoon the batter into a piping bag fitted with a large, plain, round tip (I just used the coupler) and pipe rounds onto parchment paper-lined baking sheets, about 1 inch in diameter (I had better results using parchment paper rather than a silicon baking mat). Once piped, rap the baking sheets on the counter to dislodge any large air bubbles, and let the macarons dry for about an hour, until they are no longer sticky to the touch.
Preheat the oven to 300˚F, then bake the macarons for 8 – 10 minutes, until dry on top and hopefully their frilly little feet have emerged. Cool on the parchment paper for about 5 minutes, then remove to a rack to cool completely.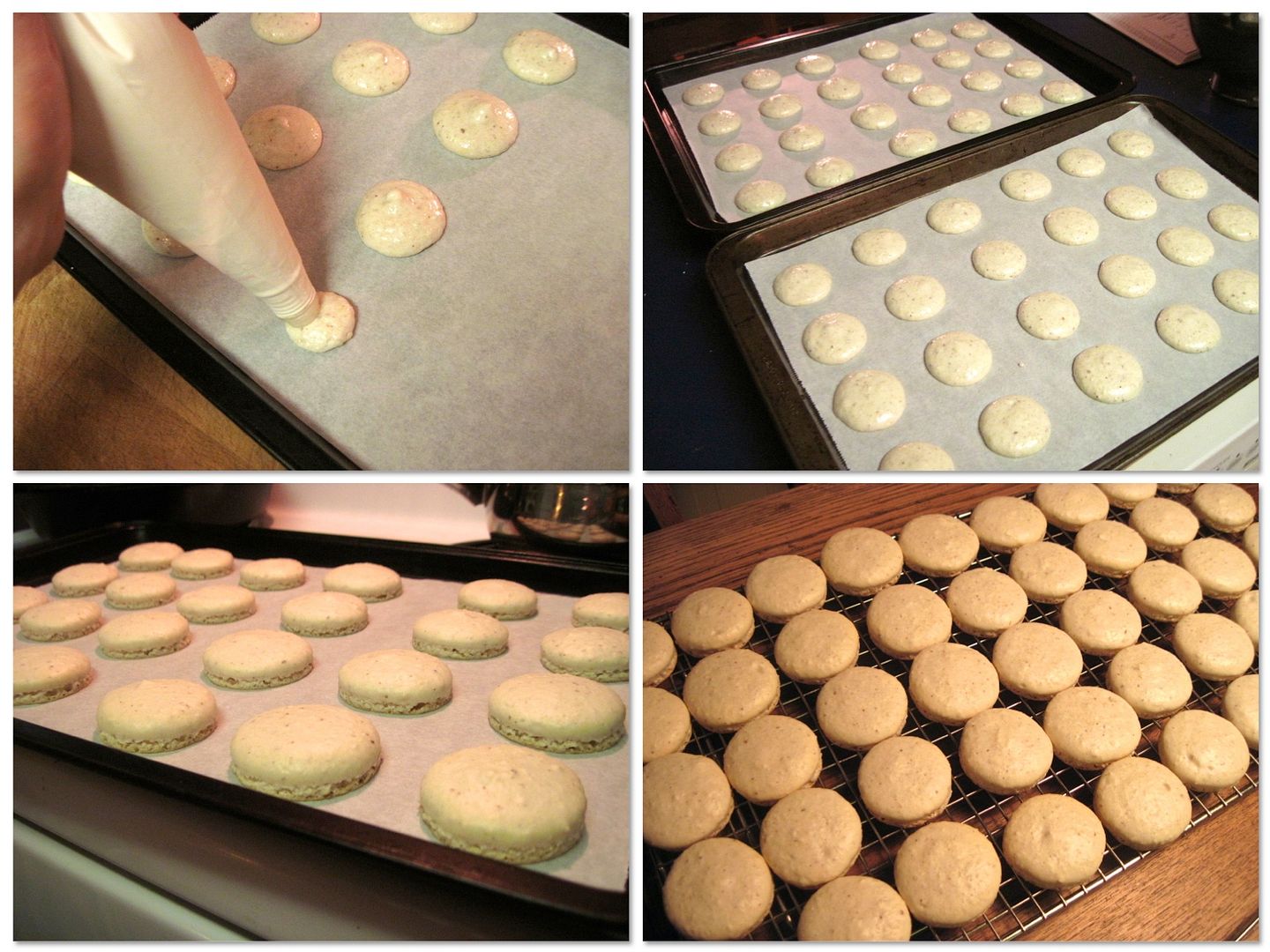 The cooled shells can be stored in an airtight container (layered between waxed paper) for several days at room temperature, or frozen for up to 4 or 5 months.
Salted Caramel Buttercream Filling
Makes enough for one batch of 24 filled macarons.
In a mixer bowl, combine:
90 g egg whites
150 g granulated white sugar
Place the bowl over a pot of gently simmering water à la bain marie and whisk until the sugar is dissolved and the egg white mixture is hot to the touch.
Attach the bowl to the mixer and beat the egg whites on medium high with the whisk attachment until stiff peaks form. If the meringue is not completely cool by this point, continue stirring on low speed until it is.
While the meringue is beating, bring to room temperature:
7/8 cups (14 tbsp, or 1 cup less 2 tbsp) unsalted butter, cut in 1 inch cubes
Once the meringue is completely cool and the butter is soft, switch the whisk attachment for the paddle and being to stir the butter into the meringue on low speed, one cube at a time. The meringue will fall, then begin to look curdled and weird, and eventually, after a lot of stirring, it will come together into a smooth, thick, silky buttercream.
Beat in:
2/3  of a batch of salted butter caramel sauce, completely cooled (I made it with unsalted butter and added a few pinches of flaky sea salt)
Fill the plain macaron shells with a swirl of caramel buttercream topped with a little dollop of the remaining salted caramel sauce.
The filled macarons will keep in an airtight container in the fridge for 4 – 5 days (bring to room temperature before serving).
Mexican Chocolate Macarons
Chocolate Macaron Shells
Follow the recipe above for Plain Macaron Shells, but replace 3 tbsp of the confectioner's sugar with 3 tbsp cocoa powder and grind it with the almonds in the food processor. Mix, pipe, and dry as above, but bake for 10 – 12 minutes, until dry on top and their feet have emerged. Continue as above. (Note: the shells baked on parchment paper rather than the silicon baking mat turned out much better!)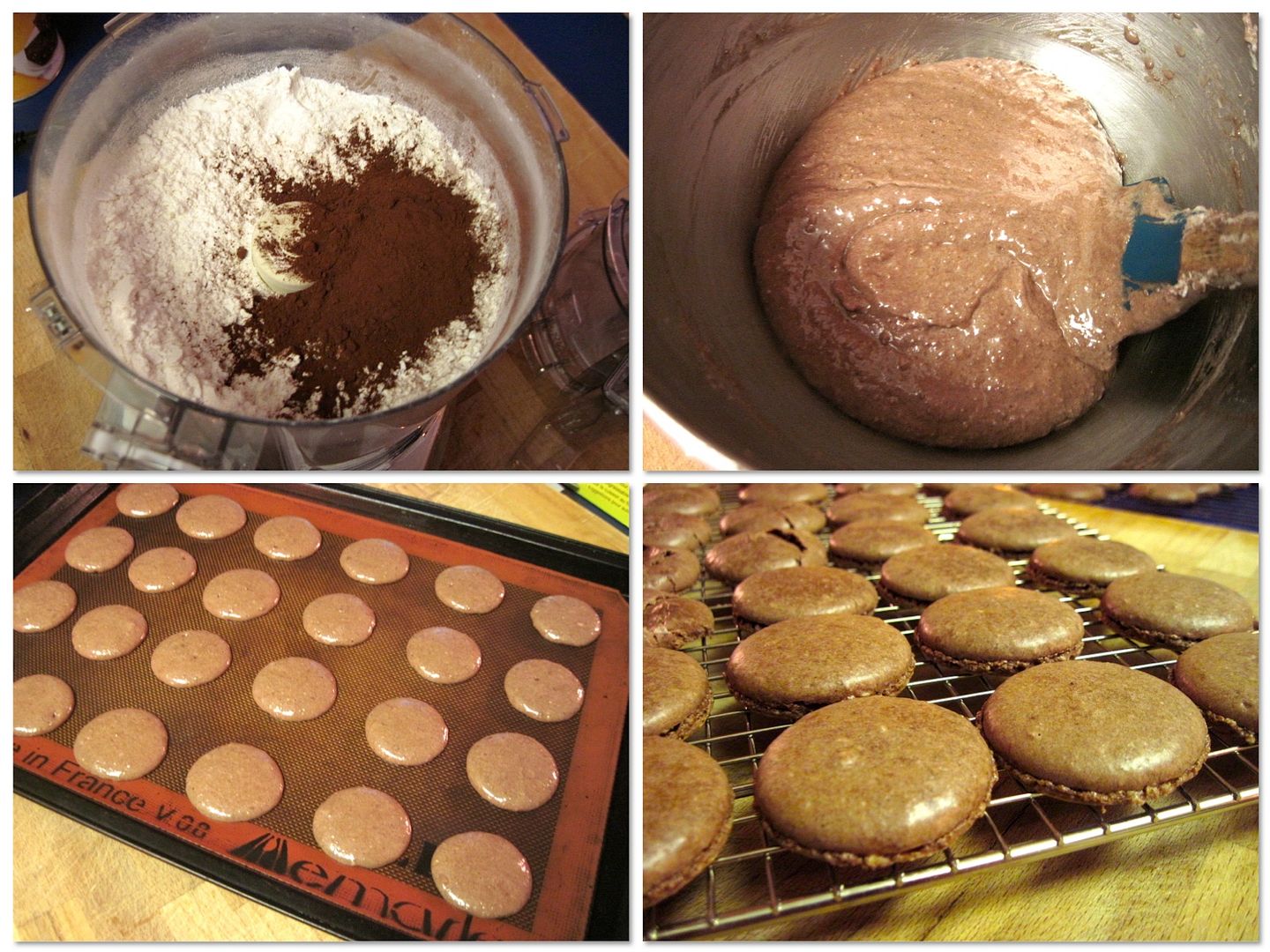 Mexican Chocolate Buttercream
Follow the recipe for the Buttercream Filling above, but replace the caramel sauce with:
1/2 tsp vanilla extract
3/4 tsp cinnamon
3/4 tsp ancho chile powder (NOT Mexican chili powder for making chili!)
1/4 tsp cayenne pepper
pinch salt
2 oz melted and cooled bittersweet chocolate
2 oz melted and cooled white chocolate
Fill the chocolate macaron shells with the Mexican chocolate buttercream. If you're feeling fancy, very *very* lightly moisten the top of the macaron sandwich and sprinkle with edible gold flakes.