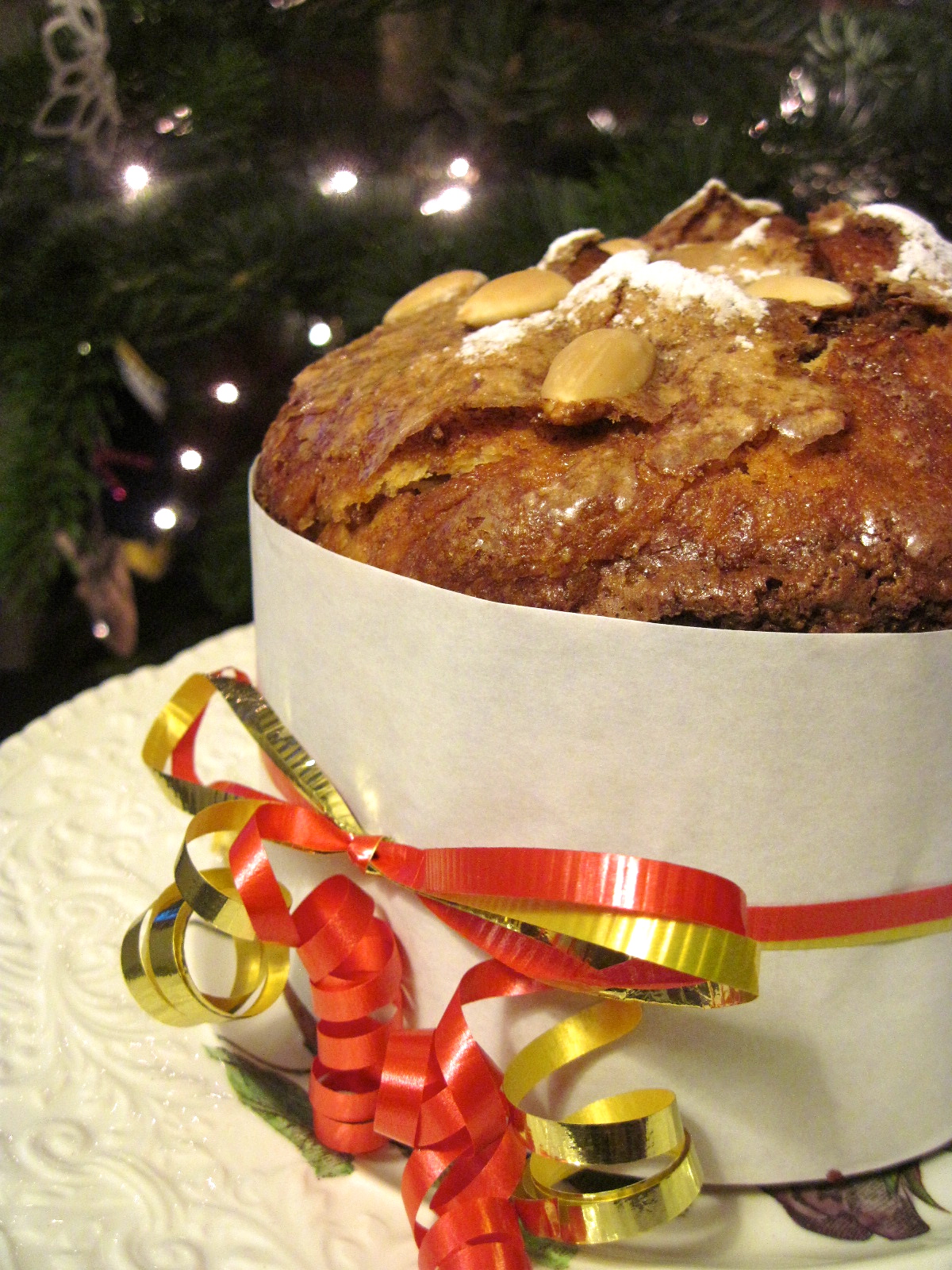 The December 2012 Daring Bakers' challenge was hosted by the talented Marcellina of Marcellina in Cucina. Marcellina challenged us to create our own custom Panettone, a traditional Italian holiday bread!
Happy post-Christmas, everyone. I hope you ate a lot of good food and were surrounded by the people you love. I still have a bunch of Christmas baking recipes to post, so here we go…
I had just added panettone to this year's Christmas baking list and was looking for recipes when this month's Daring Bakers pannetone challenge was announced. Perfect timing/serendipity/coincidence, once again. I really wanted to try a sourdough version (which is apparently the traditional way of making panettone) but holy cow is the process ever involved, and when I looked at my calendar I realized that I just didn't have enough time. So I went with the recipe provided by Marcellina instead, switching out the raisins and candied citrus for chocolate and candied orange. The final product tastes like a Terry's Chocolate Orange and is terribly addicting. Nate and I ate almost half a loaf in one sitting (actually we were standing in the kitchen, tearing veraciously at the panettone, but that's just a technicality).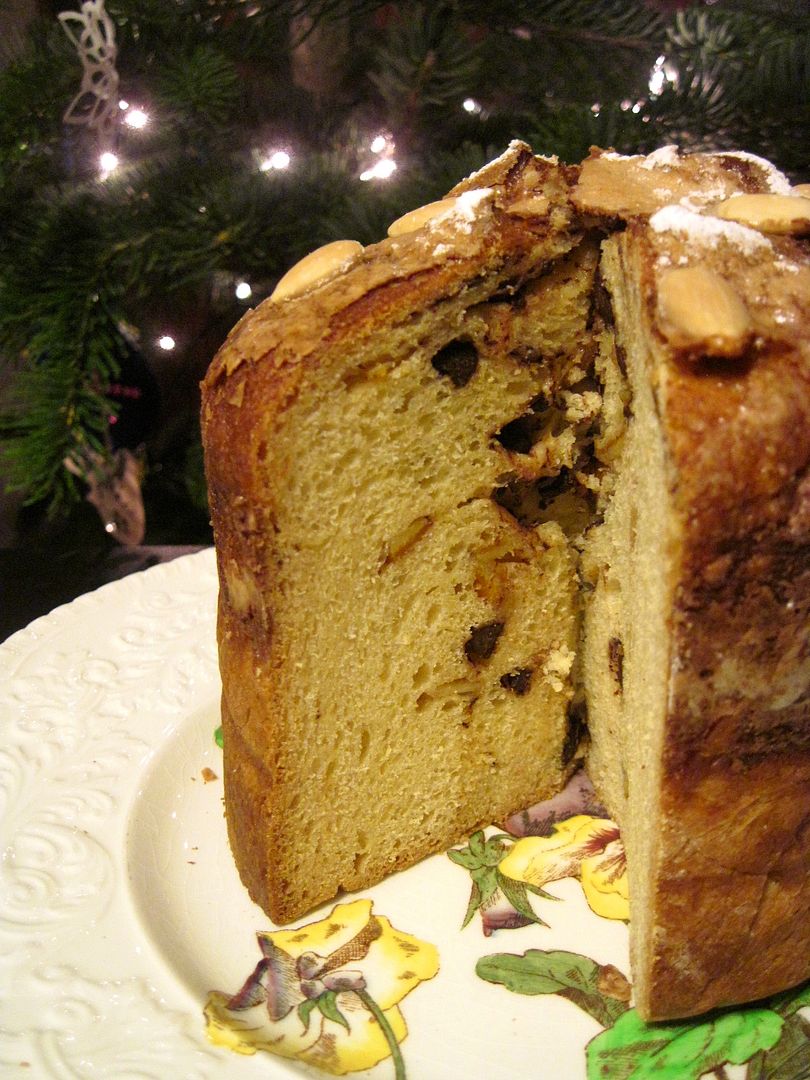 I'm not going to lie – this was not the smoothest baking project I've ever undertaken. I refrigerated the dough overnight for its second rise as per the recipe, and it literally took half a day of being in a VERY warm place for it to wake up again so I could proceed with the next step. The whole time I was convinced that it was never going to rise and that I'd just wasted all those ingredients, but it all eventually worked out in the end and now I know for next time to just keep it at cool room temperature overnight rather than in the fridge (unless I want to devote an extra day to the process), and then to put it somewhere very warm to rise. Patience is a virtue, Korena.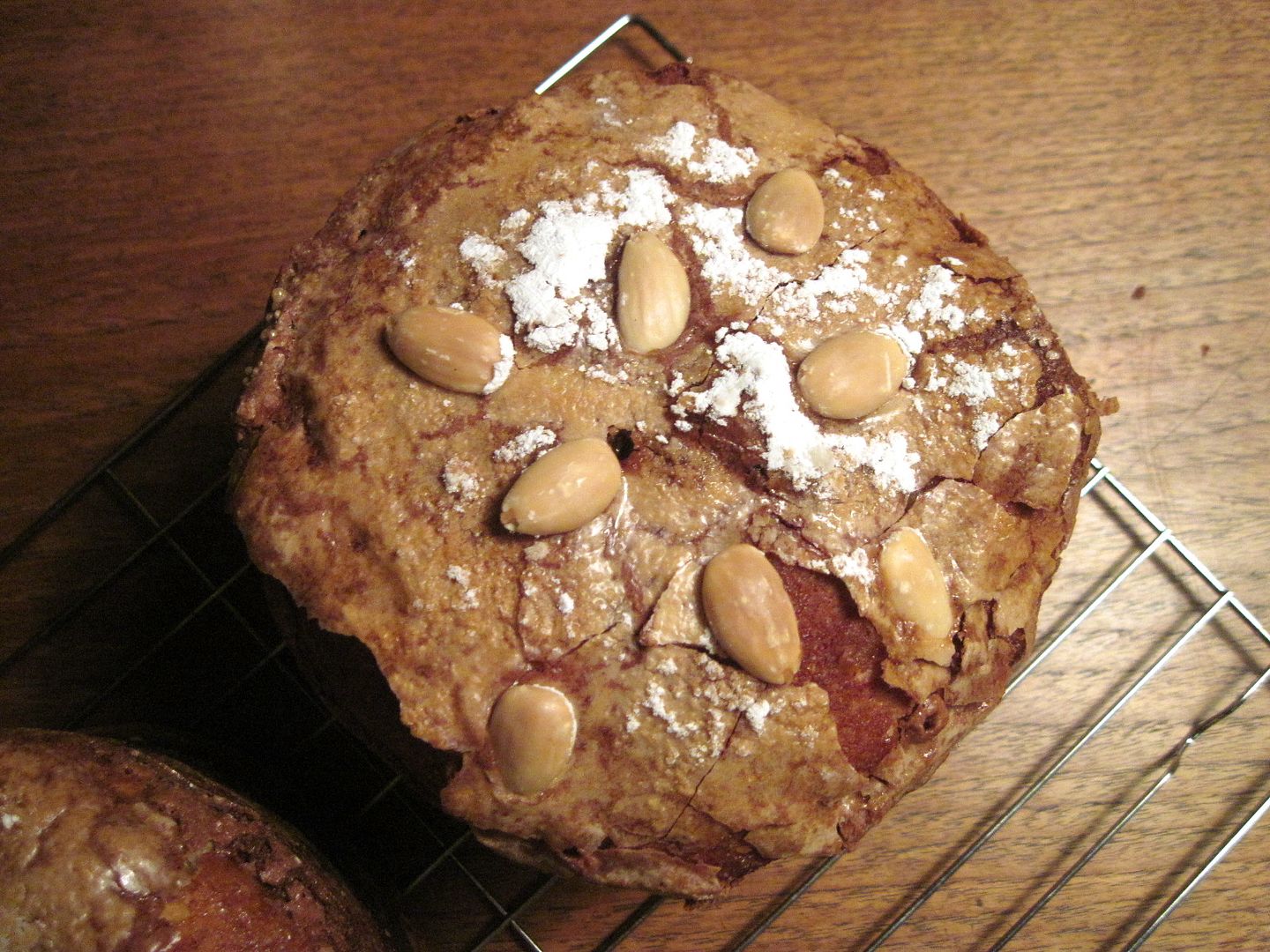 An optional step in the process is to make candied orange peel from scratch. It's not hard, it just takes a while, and I meant to do this on the first day so that it was all ready to go for panettone assembly the next morning. But then I totally forgot about it and ended up having to make it the next day, which worked out OK because the dough was taking forever to warm up, but still. Planning fail on my part.
Anyway, despite the hiccups, I'm pretty pleased with how my panettoni turned out. I baked them in giant coffee cans lined with parchment paper, which worked perfectly, and although they did not rise appreciably at all during their 3 hour proof, they rose almost double in the oven, which was a relief! I let them cool completely overnight, all the while eagerly anticipating cutting into one to taste it – and when I finally did, it was totally worth all the effort: a cross between bread and cake, rich with eggs and butter, scented with orange and swirled with chocolate.
Marcellina, thank you for this challenge! I definitely found it… challenging… but the end result was delicious, and now that I'm a bit wiser, I'll have the process down pat for next year. 🙂 Check out the Daring Kitchen for the original challenge recipe as well as all the other delicious pannetoni made by my fellow Daring Bakers this month.
Chocolate Orange Panettone
Adapted from Marcellina's recipe. Makes 2 panettoni.
Sponge
In a small bowl, mix together:
1 satchel (2 1/4 teaspoons) (7 gm) active dry yeast
1/3 cup (80 ml) warm water
Let the yeast sit until foamy, then stir in:
1/2 cup (70 gm) unbleached all purpose flour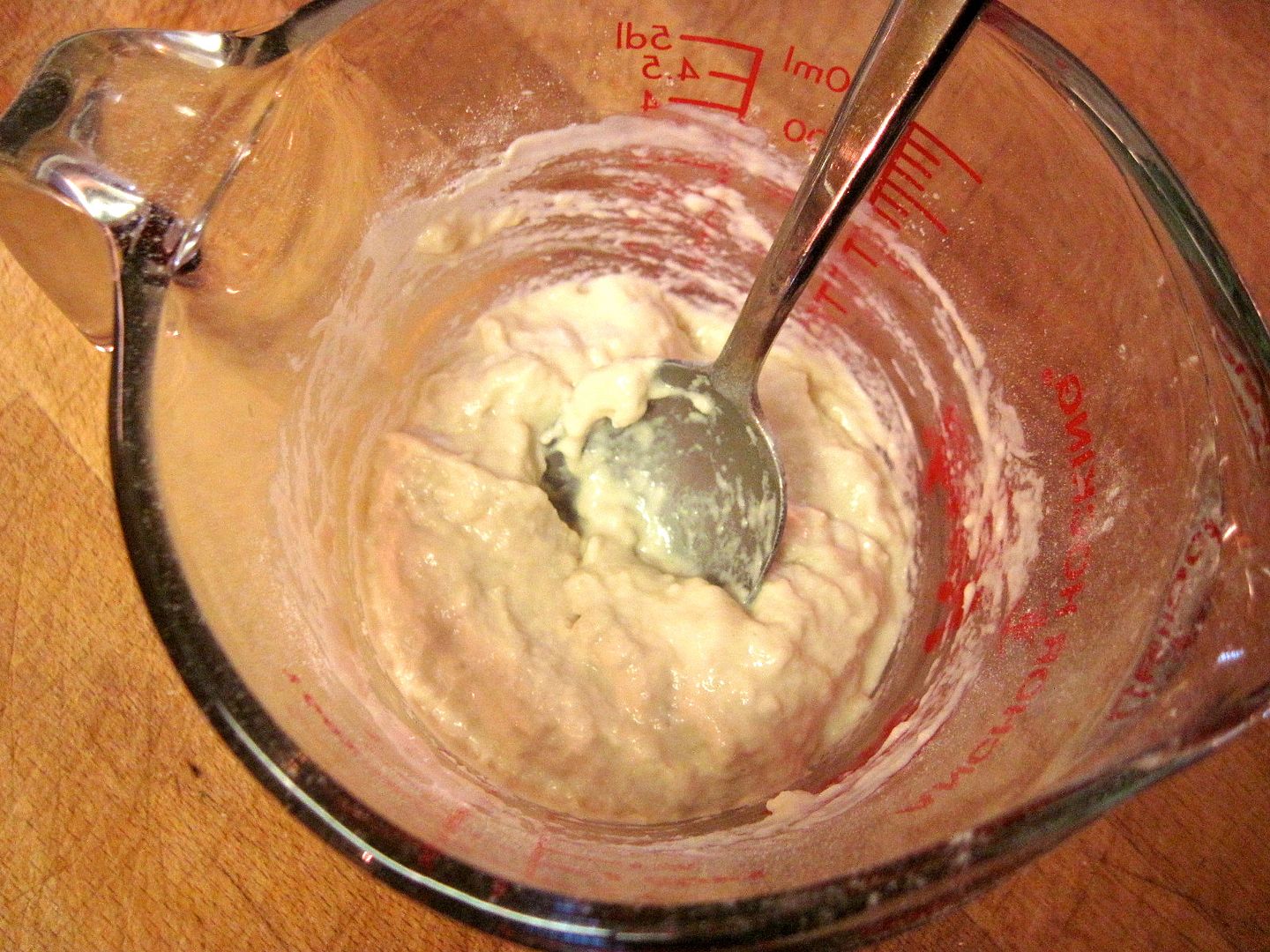 Cover the bowl with plastic and leave it for 20 – 30 minutes, until doubled in size and bubbly.
First Dough
In a mixer bowl, combine and let foam:
1 satchel (2 1/4 teaspoons) (7 gm) active dry yeast
3 tablespoons (45 ml) warm water
With the paddle attachment, mix in:
2 large eggs, at room temp
1 1/4 cup (175 gm) unbleached all-purpose (plain) flour
1/4 cup (55 gm) (2 oz) sugar
the risen sponge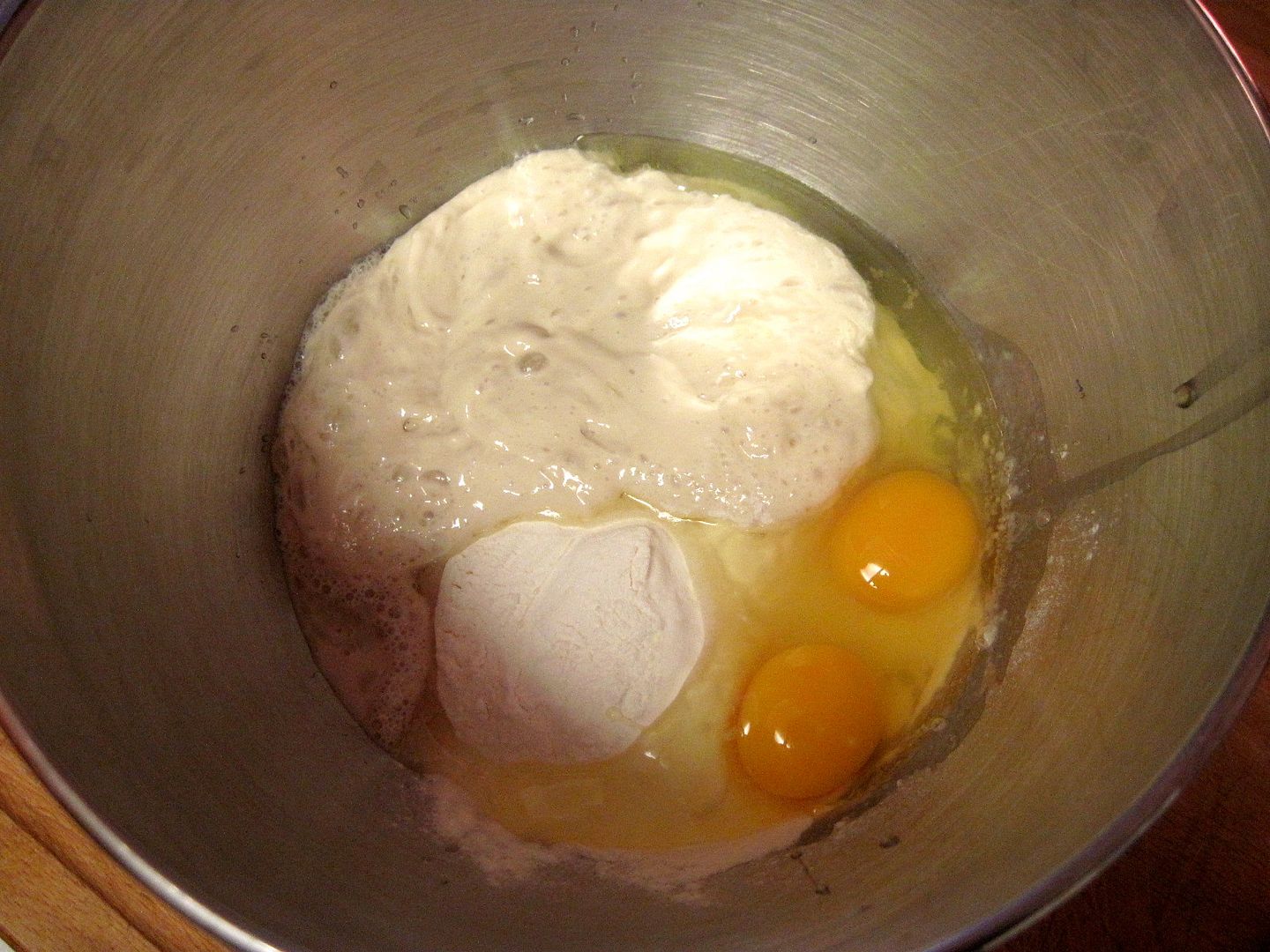 Once combined, stir in:
1/2 cup (1 stick) (115 gm) unsalted butter, at room temp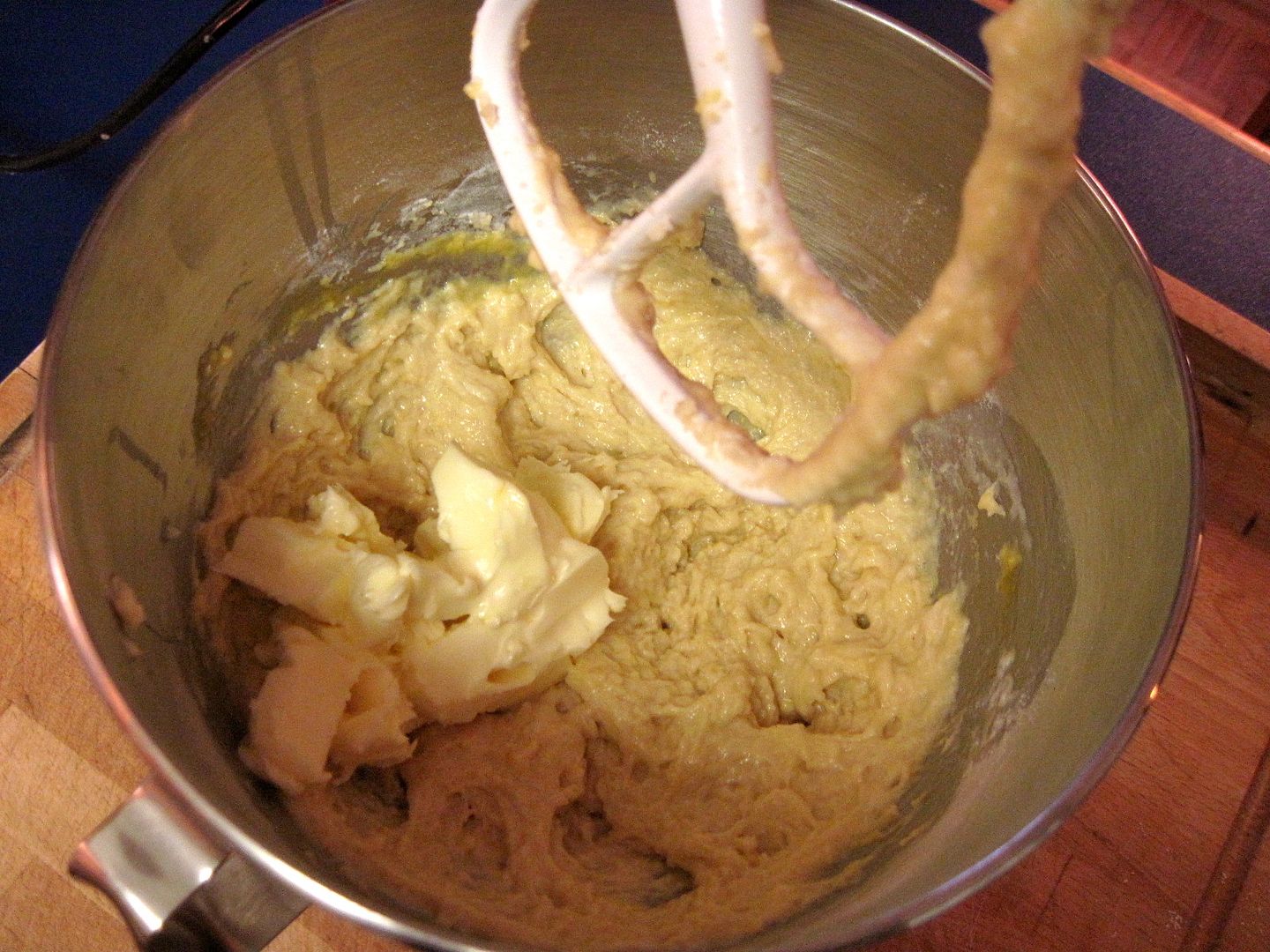 Mix for 3 minutes until smooth and even, then cover with plastic wrap and let rise somewhere warm until doubled in size, about 1 – 1 1/4 hours.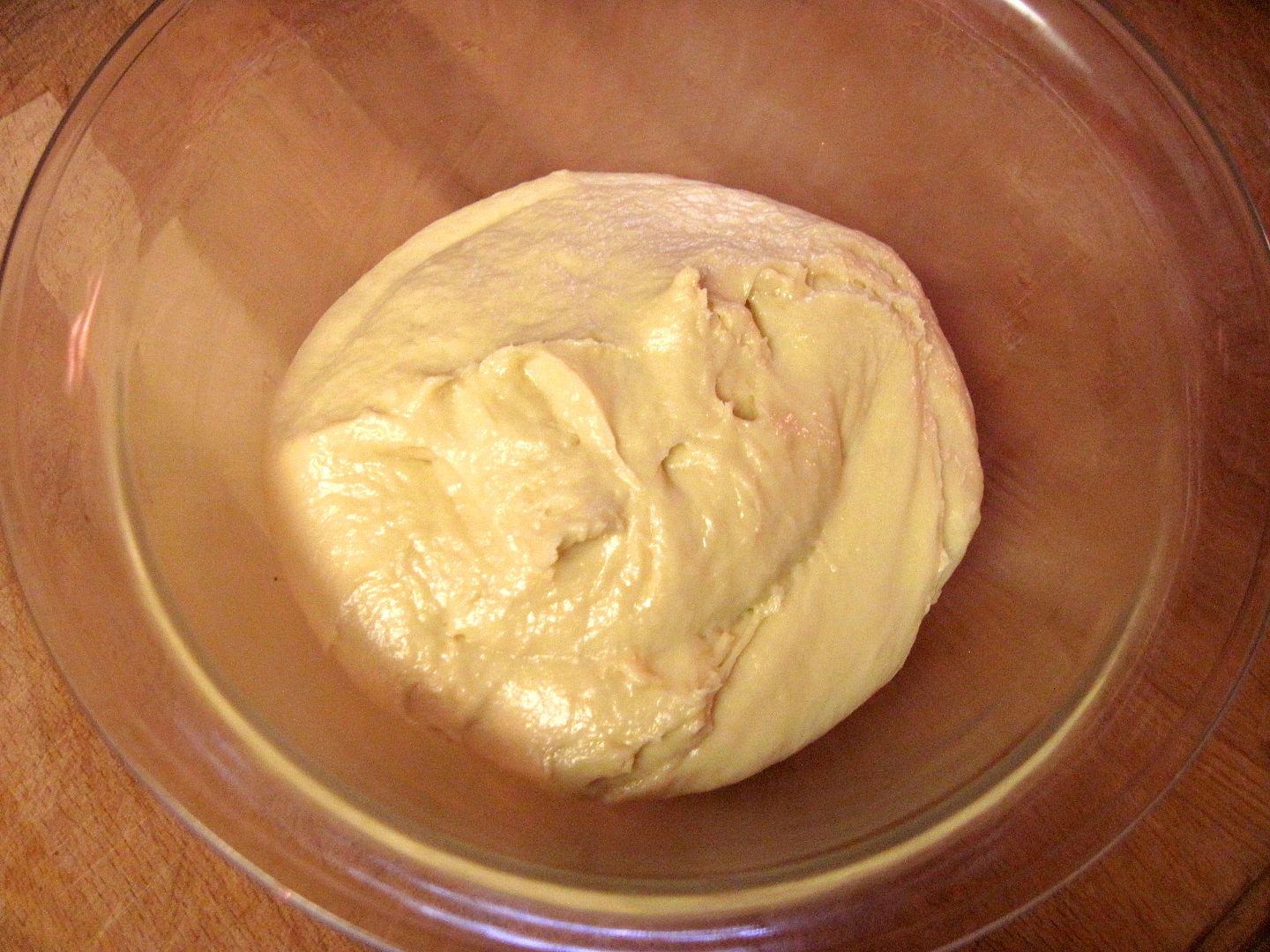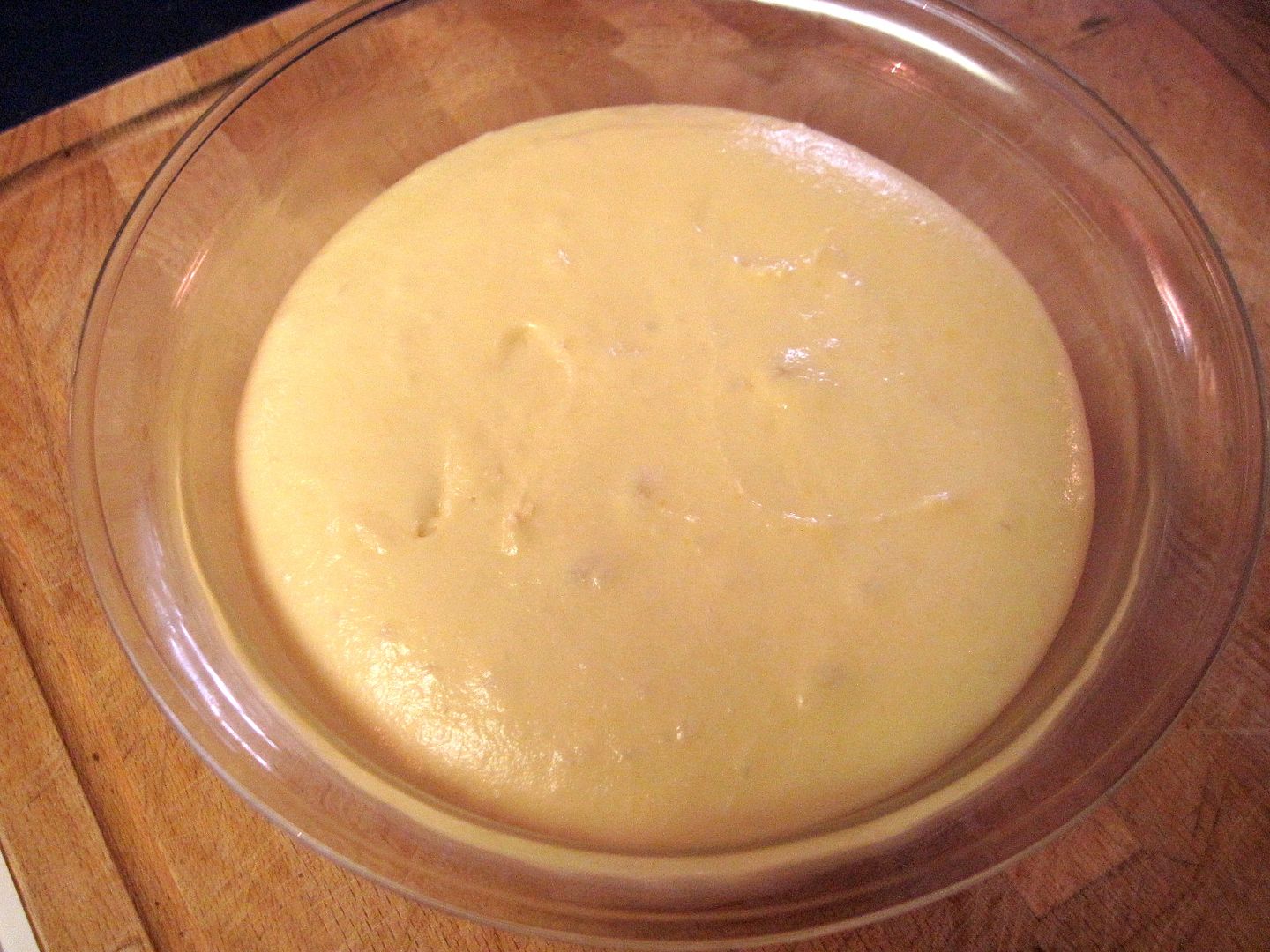 Final Dough
To the risen first dough, add:
2 large eggs
3 large egg yolks
2/3 cup (150 gm) (5 2/3 oz) sugar
3 tablespoons (45 ml) honey
1 tablespoon (15 ml) vanilla extract
1 tablespoon (15 ml) Grand Marnier
1 teaspoon (5 ml) (6 gm) salt
Mix in with the paddle attachment, then stir in:
1 cup (2 sticks) (225 gm) unsalted butter, at room temp
Mix until smooth, then add:
3 cups (420 gm) (15 oz) unbleached all-purpose (plain) flour
Stir in on low speed (cover the mixer with a towel to avoid a flour explosion).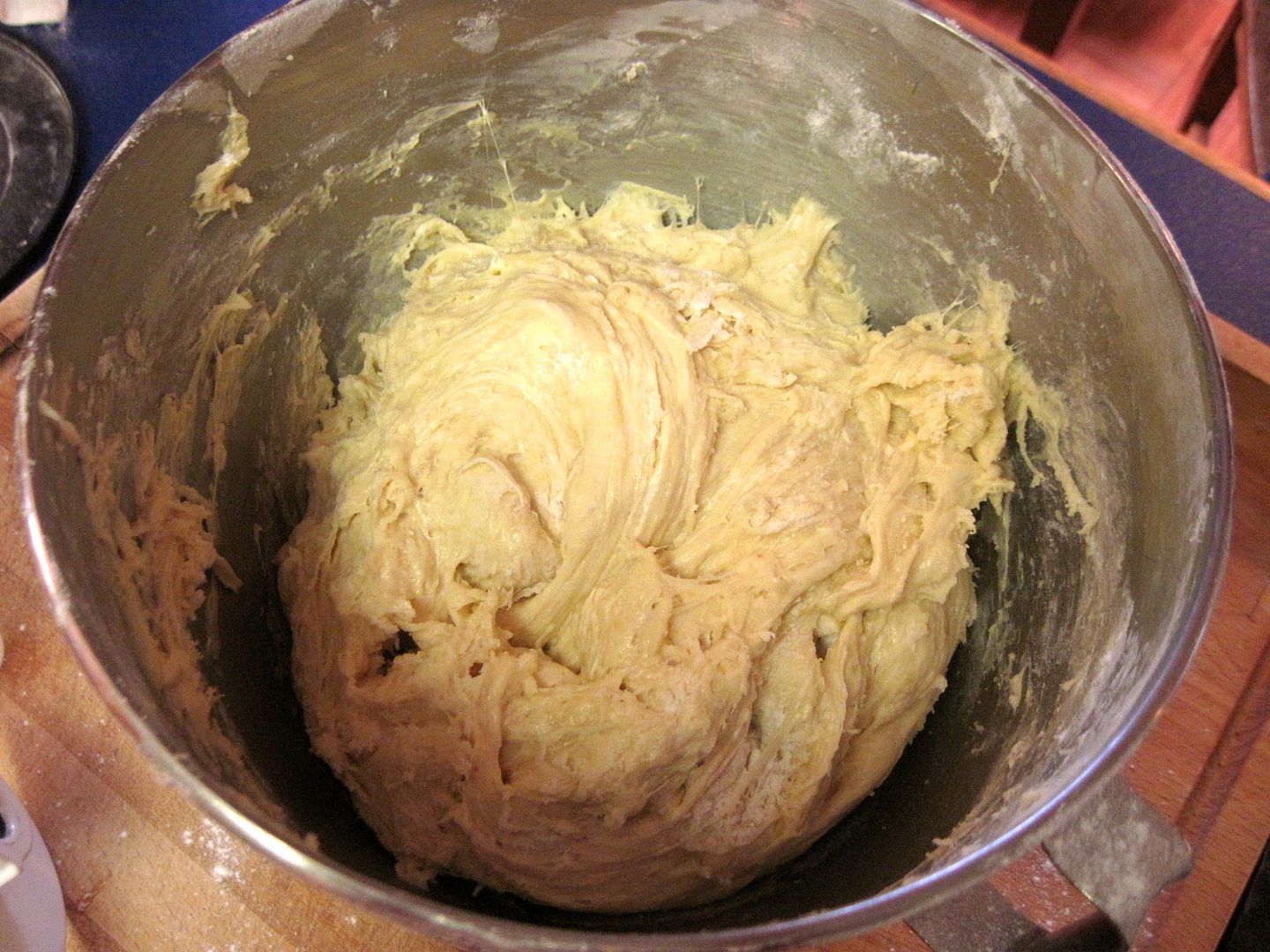 Switch to the dough hook and knead for about 2 minutes. The dough will be soft and sticky – try to resist adding more flour, as that will be detrimental to the final product.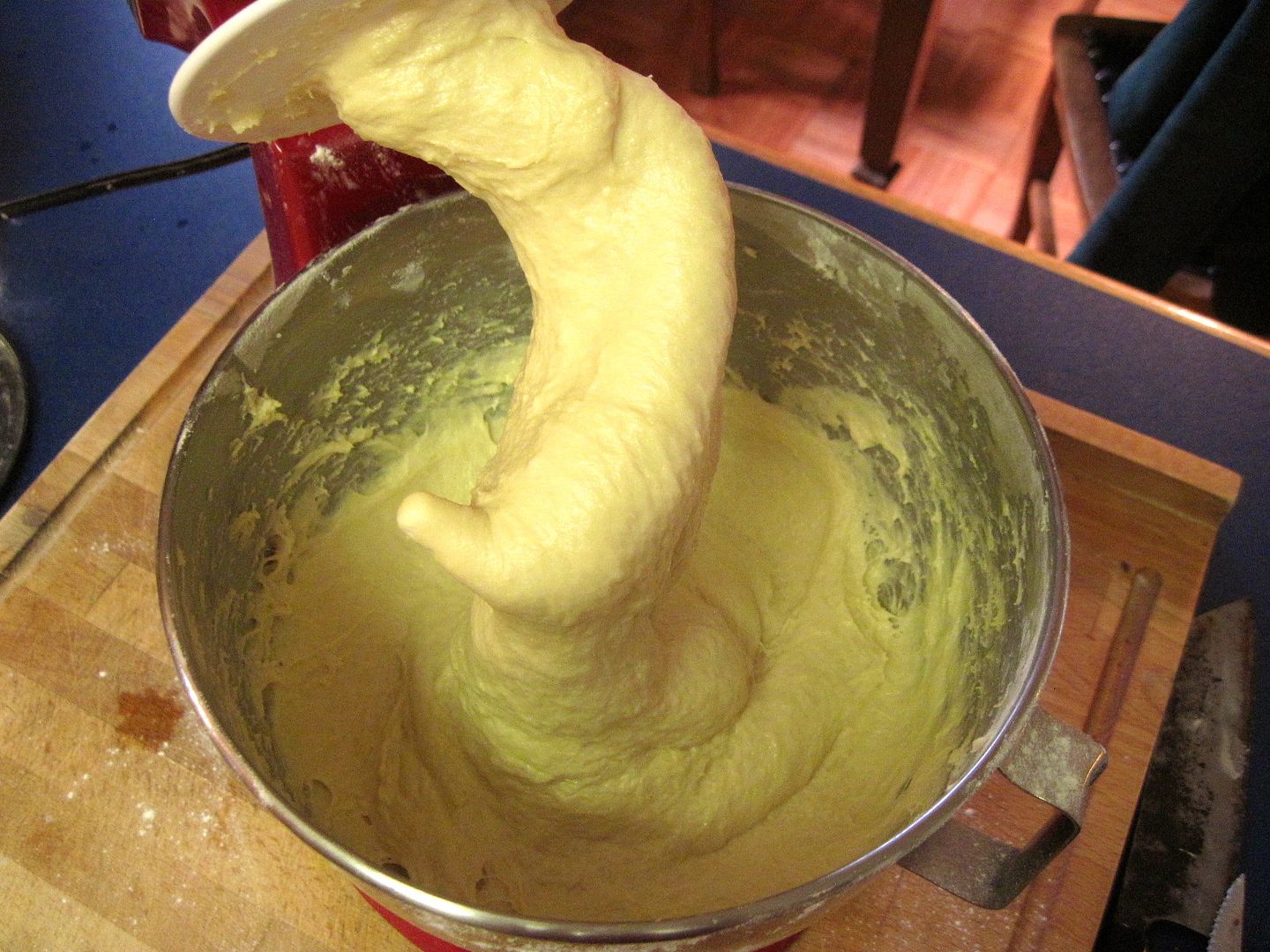 Turn the dough out onto a floured surface and knead gently until it holds its shape, adding up to 2/3 cup more flour if necessary. (I found this to be more of a folding action than a kneading action.)
Place the dough in a large, buttered bowl, cover with plastic, and let it sit for its first rise until tripled in size. You can either leave it in a very warm place (ie, the oven with just the light on and a bowl of hot water in it) for 2 – 4 hours, or leave it out overnight in a cool place. My kitchen at night would be plenty cool enough for this, but if you live in a very warm place, chill it in the fridge overnight and then put it somewhere warm for a few hours to warm up and come back to life the next morning.
Once the dough has tripled in size, you are ready to fill and shape it.
Filling and Shaping
In a small bowl, combine:
250 gm chopped chocolate
150 gm candied orange peel, finely chopped (see recipe below)
grated zest of 1 orange and 1 lemon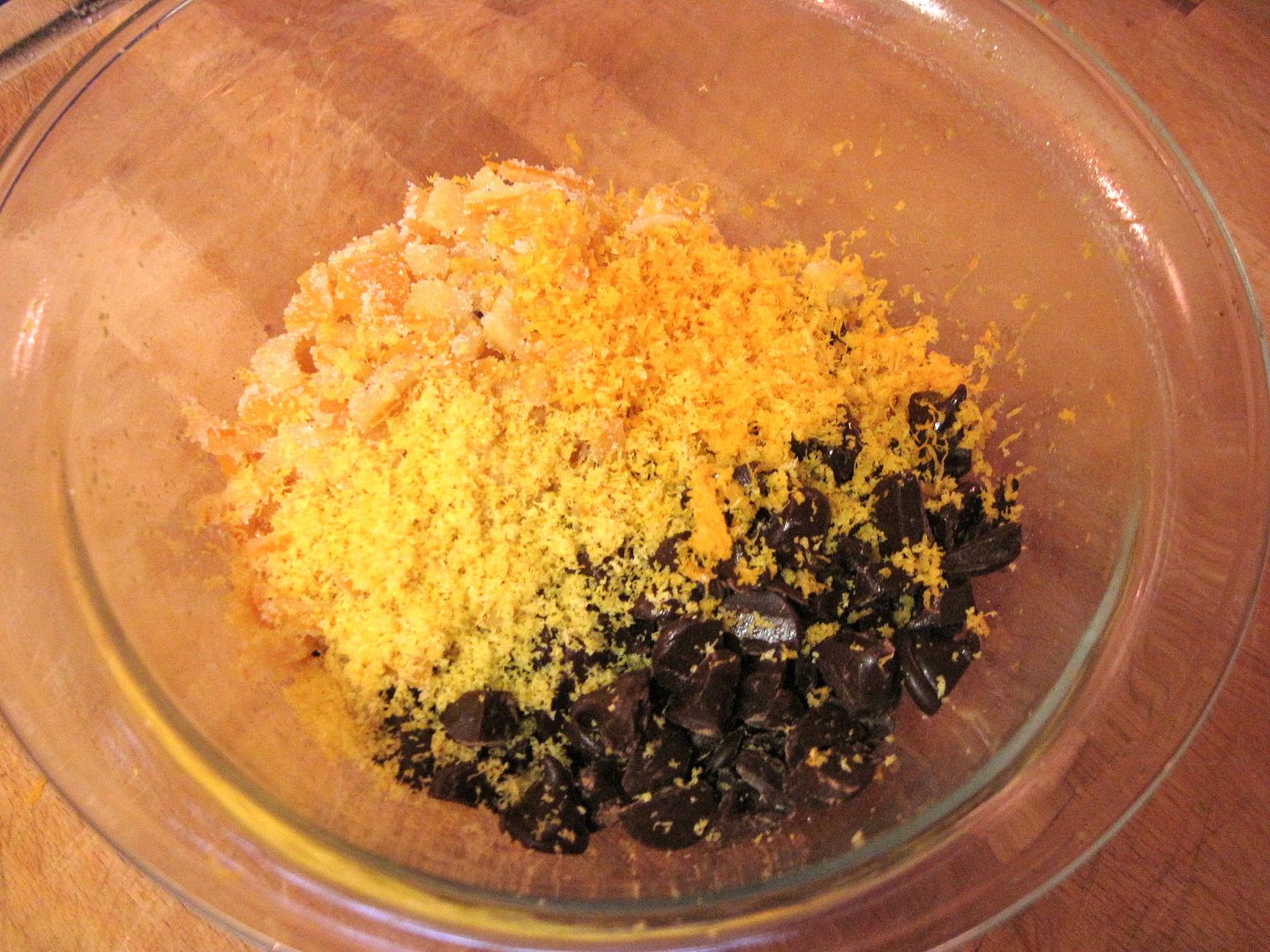 Line two 6-inch coffee cans (the big ones that hold about 1 kilo of coffee) with a circle of parchment paper on the bottom and a strip around the sides.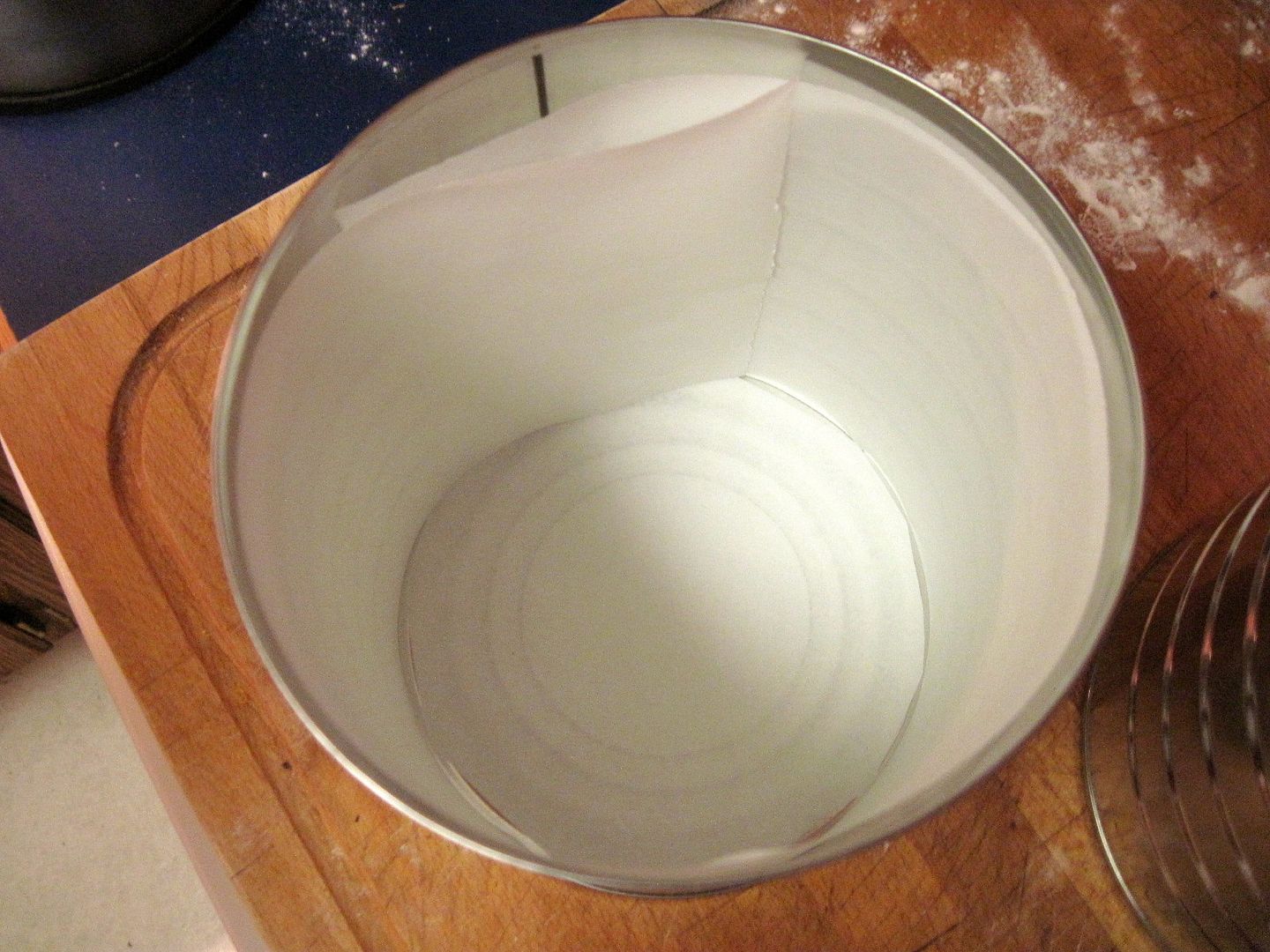 Place the triple-risen dough on a lightly floured surface and divide in two. Gently press one half into a rectangle and sprinkle one quarter of the chocolate-orange filling over it. Roll it up, then press into a rectangle again, sprinkle with another one quarter of the filling, and roll up into a log.
Shape it into a ball and place it in the bottom of one of the lined coffee cans. Repeat with the second half of the dough. With kitchen shears, cut an X into the top of each ball of dough.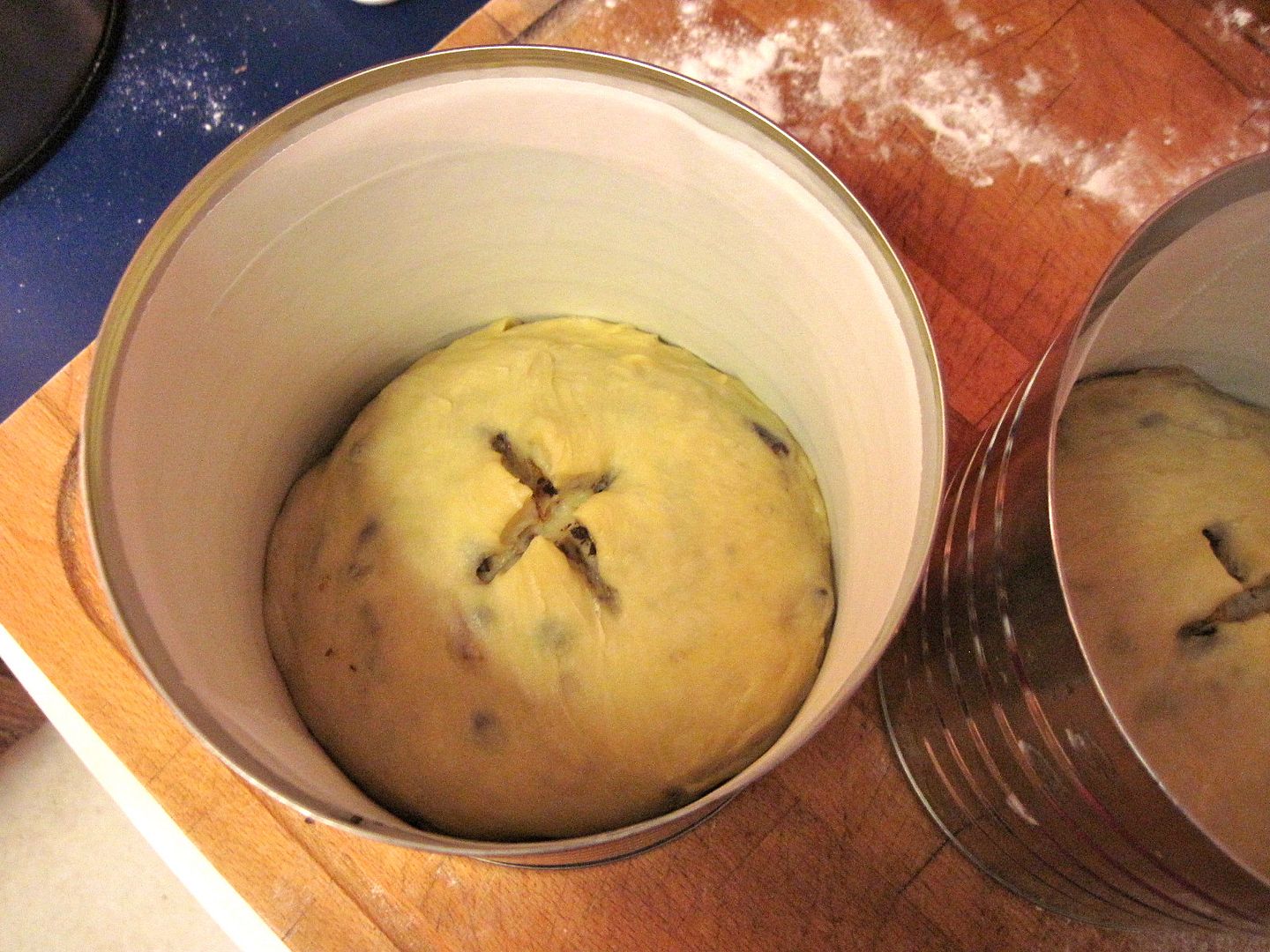 Cover each tin with plastic and place them in a very warm place (ie, the oven with the oven light on and a bowl of hot water in it) until doubled in size. While the panettoni are rising, mix together the glaze and preheat the oven to 400˚F with the rack in the bottom third of the oven.
Glaze
From Wild Yeast
In a small bowl, mix together:
55 gm granulated sugar
3 gm ground almonds (or almond flour)
4 gm vegetable oil
4 gm corn flour (not corn starch or corn meal)
4 gm cocoa powder
30 gm egg whites
scraped seeds from 1/5 of a vanilla bean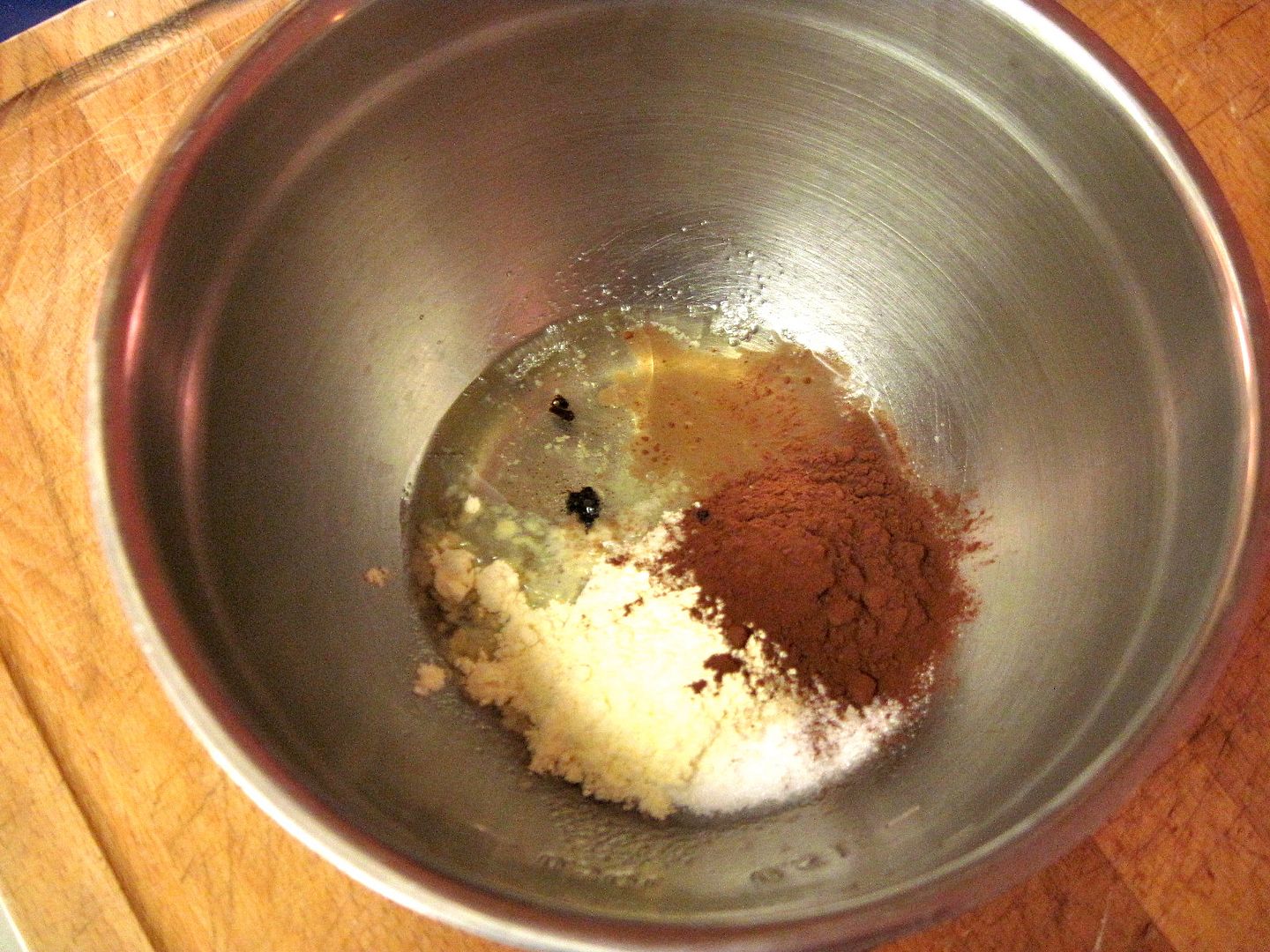 Pour the glaze on top of the double-risen panettoni and use a pastry brush to very gently spread it to the edges of the can.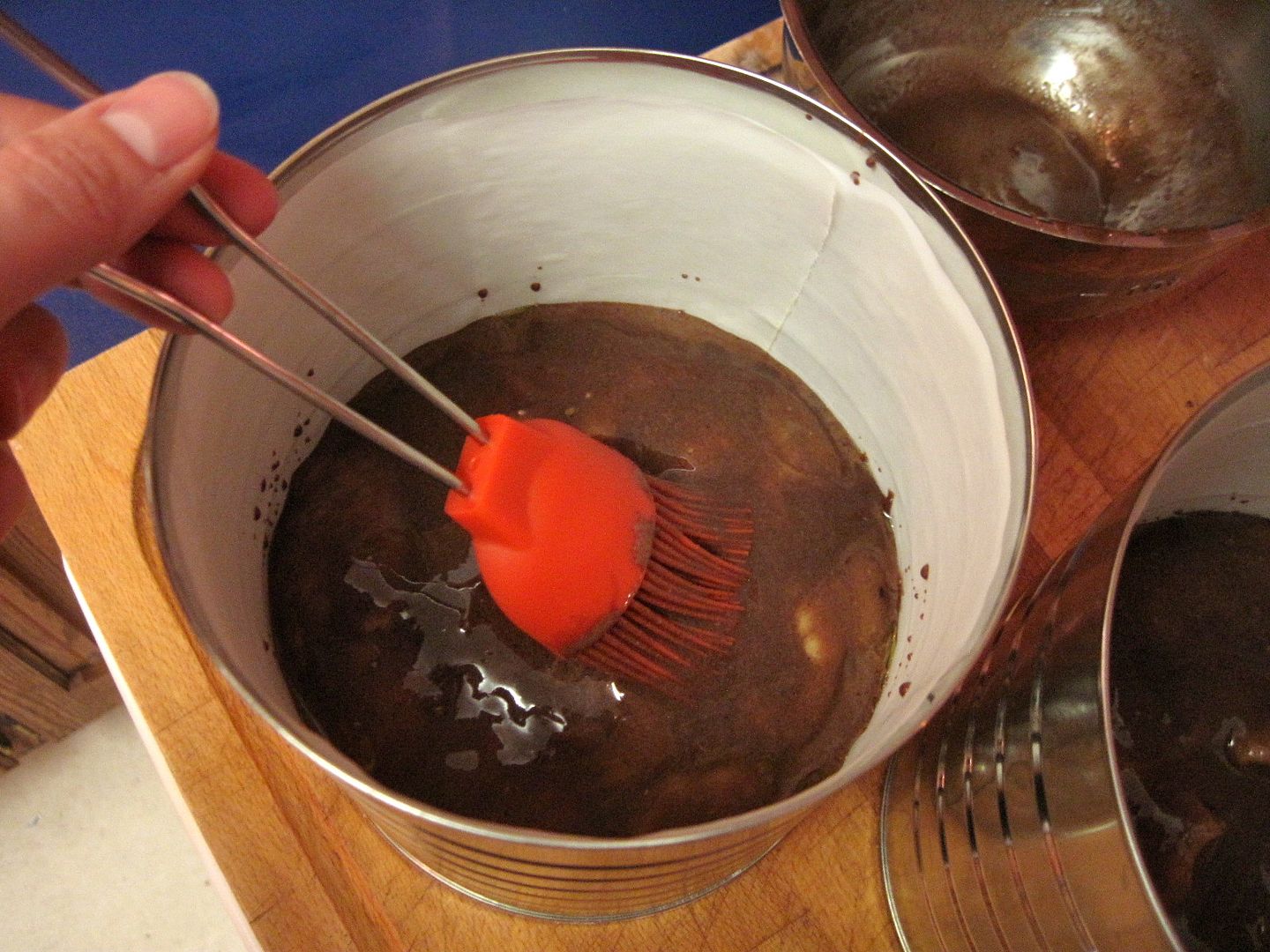 Dust the glaze thickly with confectioner's sugar and decorate with a few blanched almonds.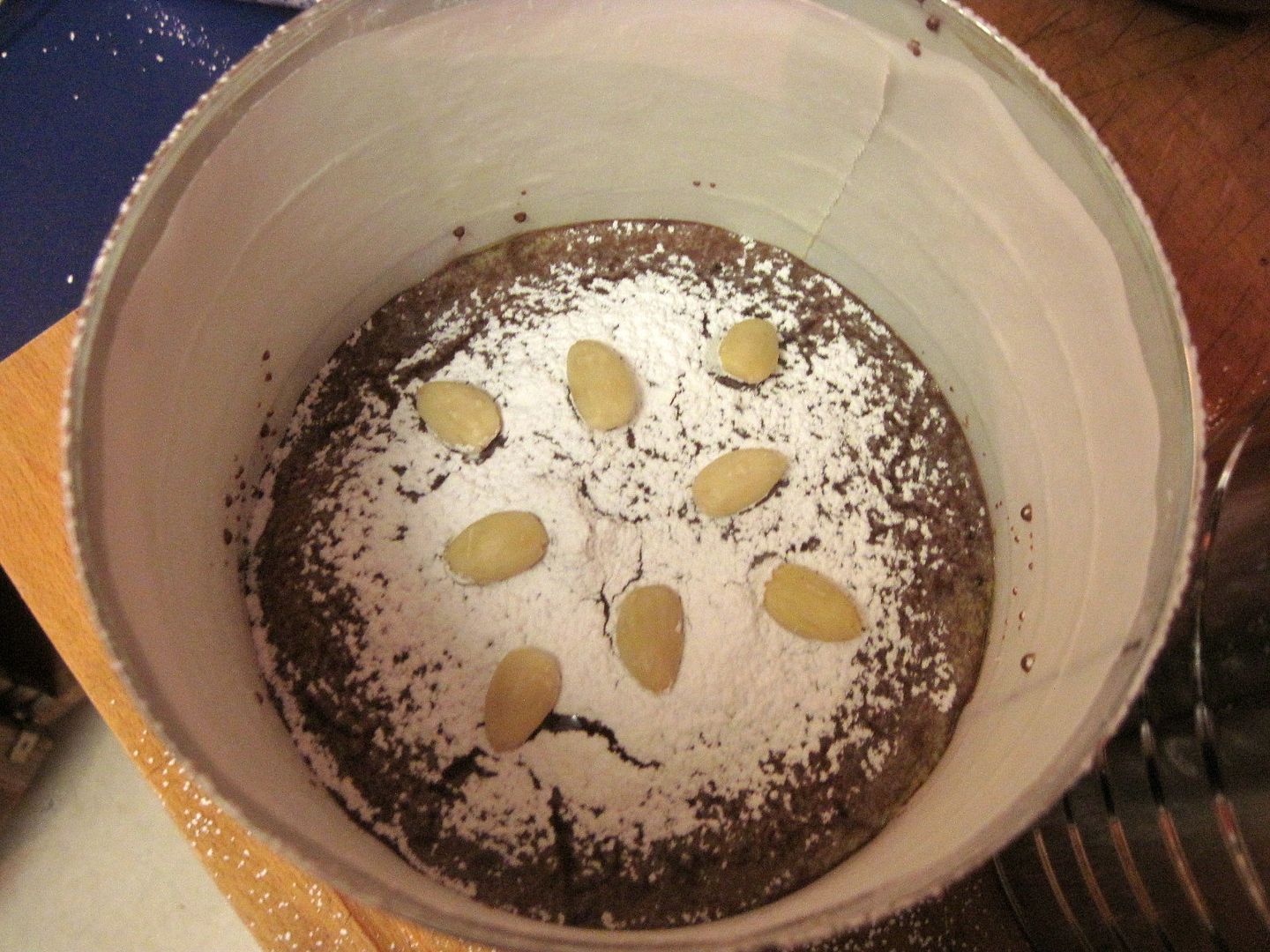 Put the panettoni in the preheated 400˚F oven and bake for 10 minutes. Reduce the oven to 350˚F and bake another 10 minutes, then reduce to 325˚F and bake for 30 minutes, or until browned on top and a skewer inserted in the middle comes out clean.
Cool the panettoni in the cans on their sides for 30 minutes, then remove from the cans and continue cooling on their sides, supported by kitchen towels, turning them every few minutes until cool.
Candied Orange Peel
Makes LOTS. Adapted from Marcellina's recipe and David Lebovitz.
Cut 9 thin-skinned oranges in half, then each half in 5 – 6 pieces. With a sharp paring knife, cut off the rind, leaving behind as much of the white pith as possible.
Place the orange peels in a large pot and cover them with at least 1 inch of cold water. Bring to a boil, then simmer very very gently for 40 – 60 minutes until the peels are tender.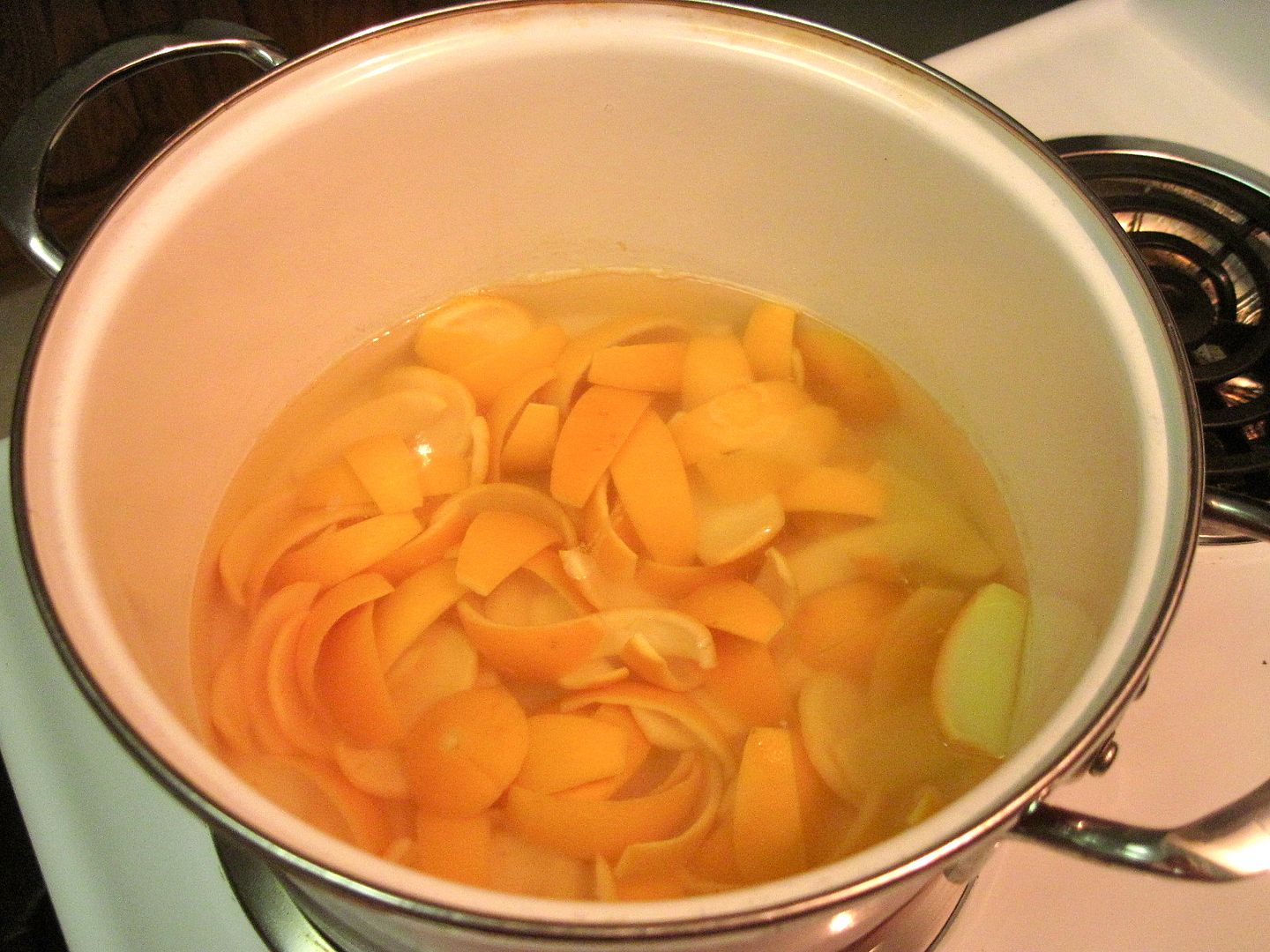 Drain and rinse the peels, then add:
2 cups water
3 cups sugar
1/4 cup corn syrup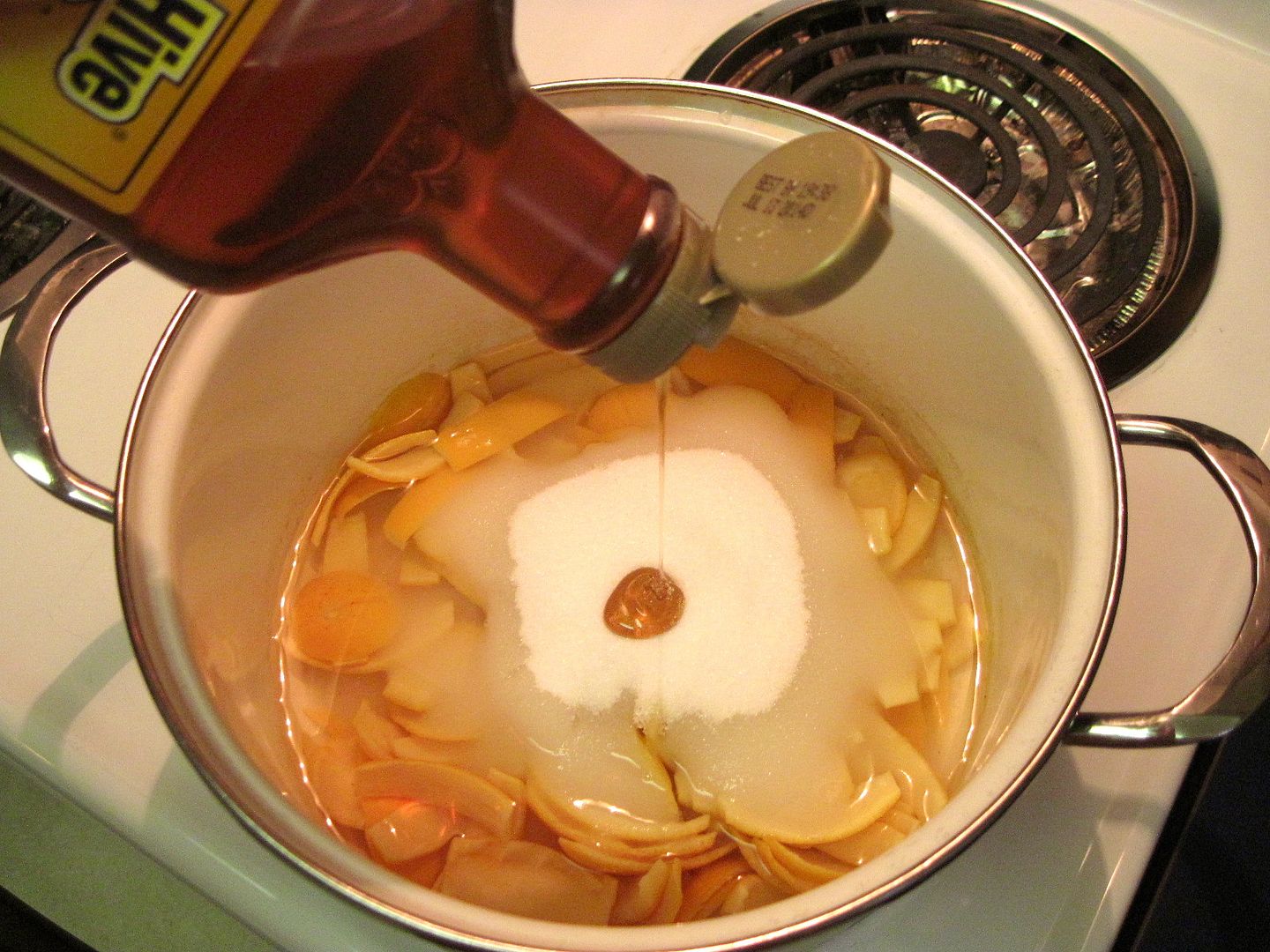 Bring to a gentle simmer again, attach a candy thermometer to the side of the pot, and maintain the temperature at 230˚F for 2 hours.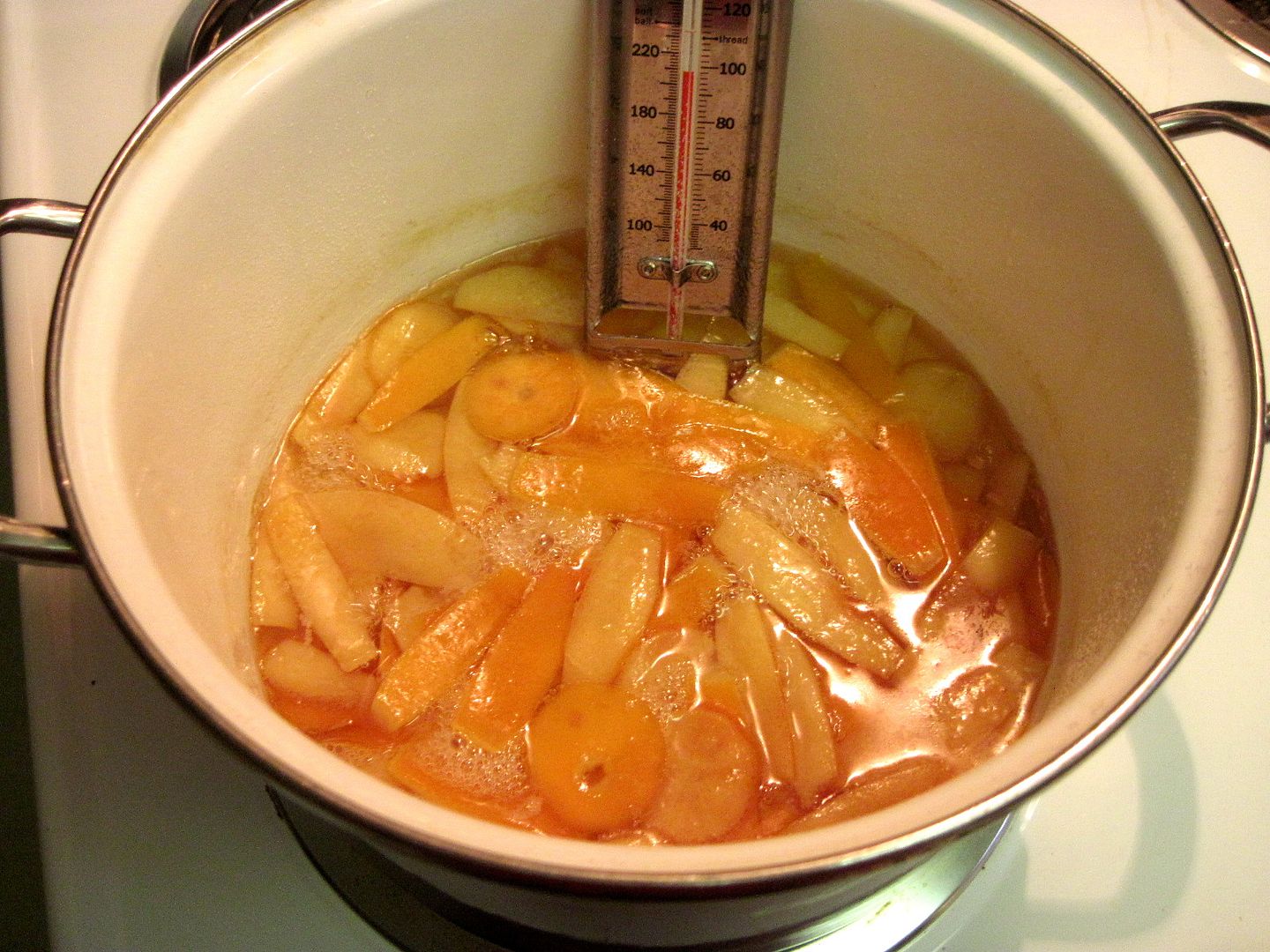 Remove from the heat and let the peels cool in the syrup for 1 hour, then remove them to a rack to dry.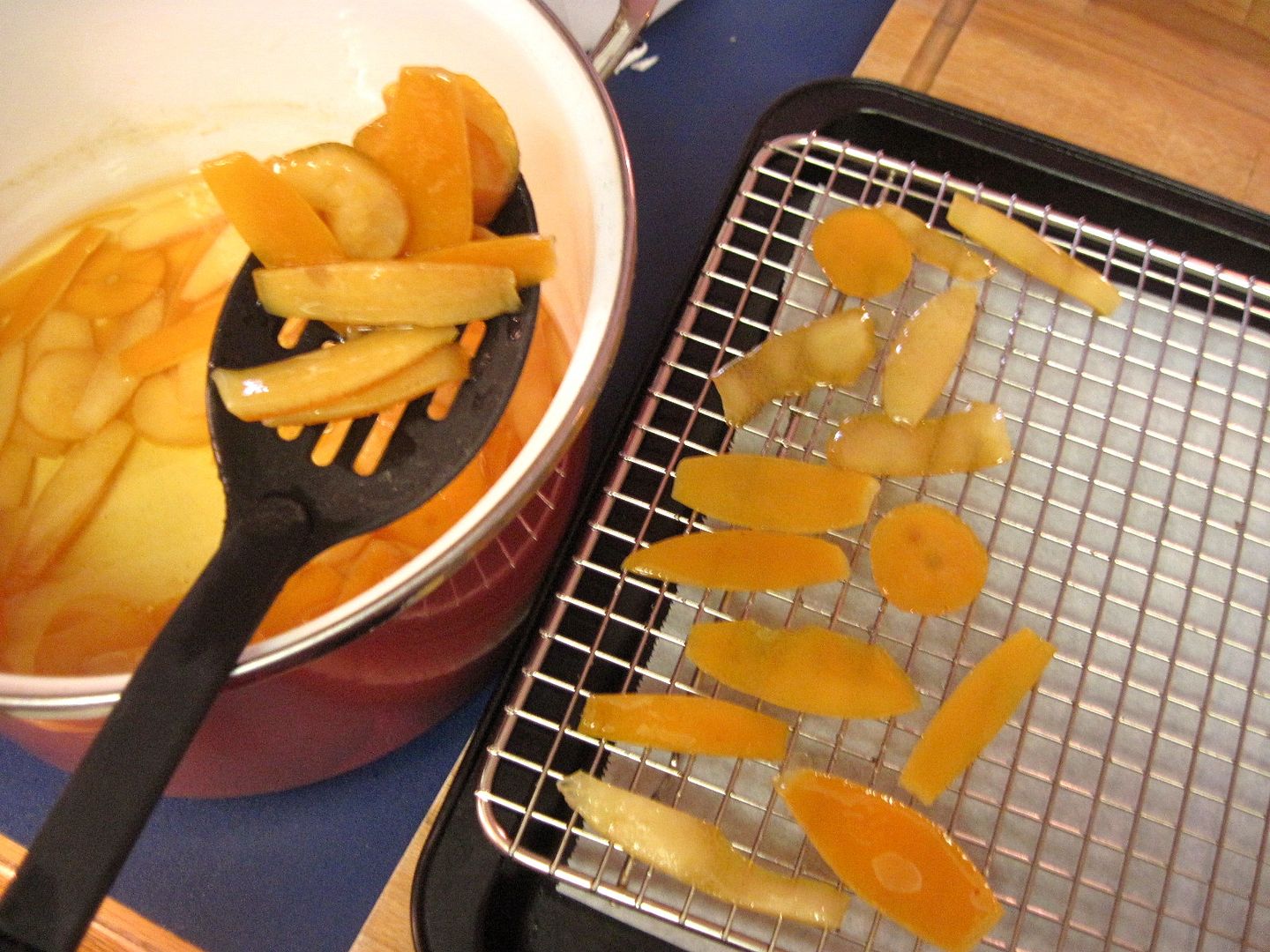 Once dry (about 1 hour), toss them in granulated white sugar and keep in a glass jar in the fridge for a few months, or Ziplock bag in the freezer for longer.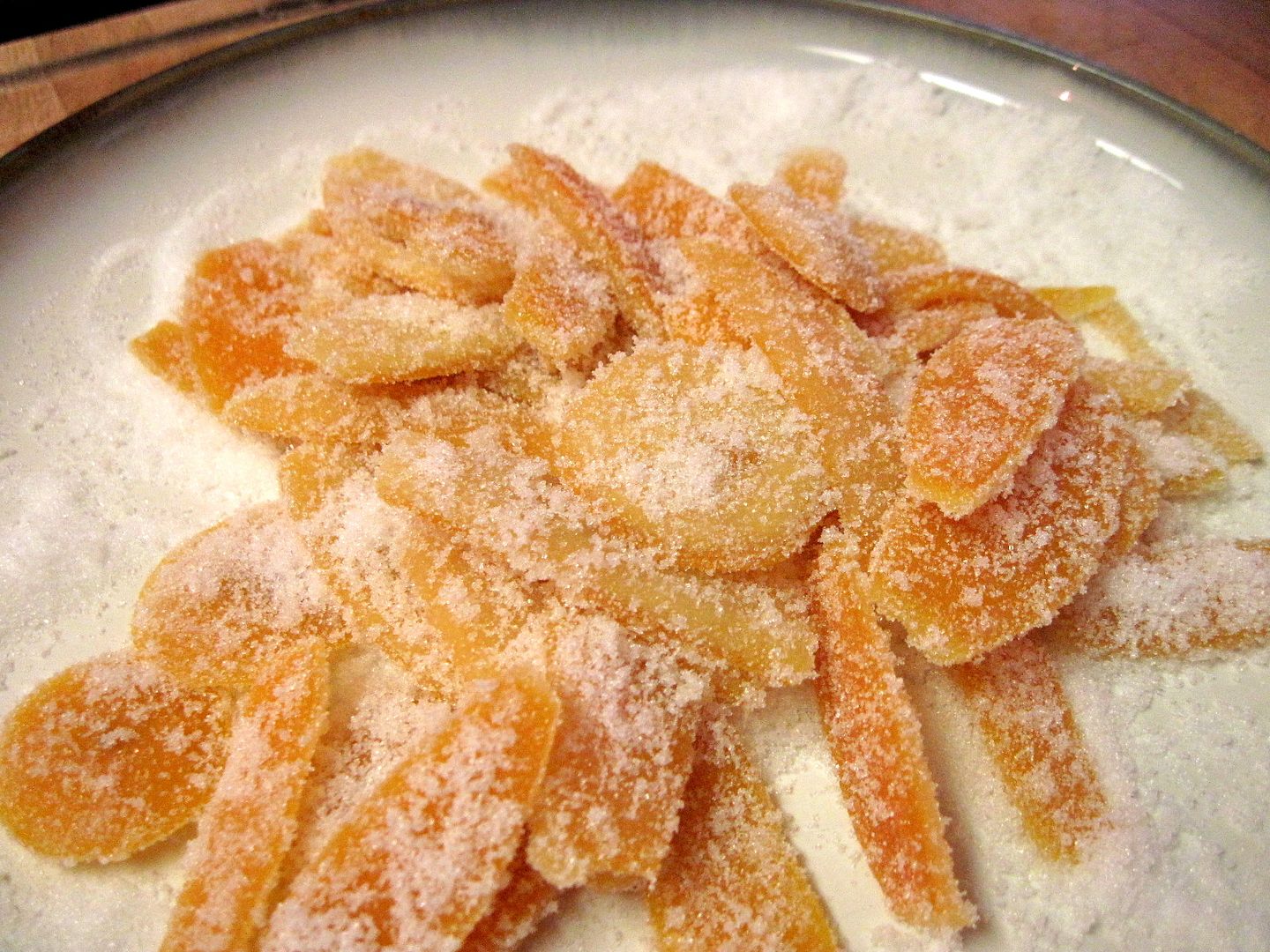 This post has been YeastSpotted!