A good friend of ours celebrated a birthday last weekend, and after some not-so-subtle inquiring, Nate and I discerned that his favorite cake is black forest. Which made me happy because I have been looking for an excuse to make this fantastic version with Grand Marnier soaked cherries, espresso whipped cream, and chocolate ganache. It may not be the most photogenic (or maybe it's just because I was photographing at night, which is no fun) but it is SERIOUSLY good.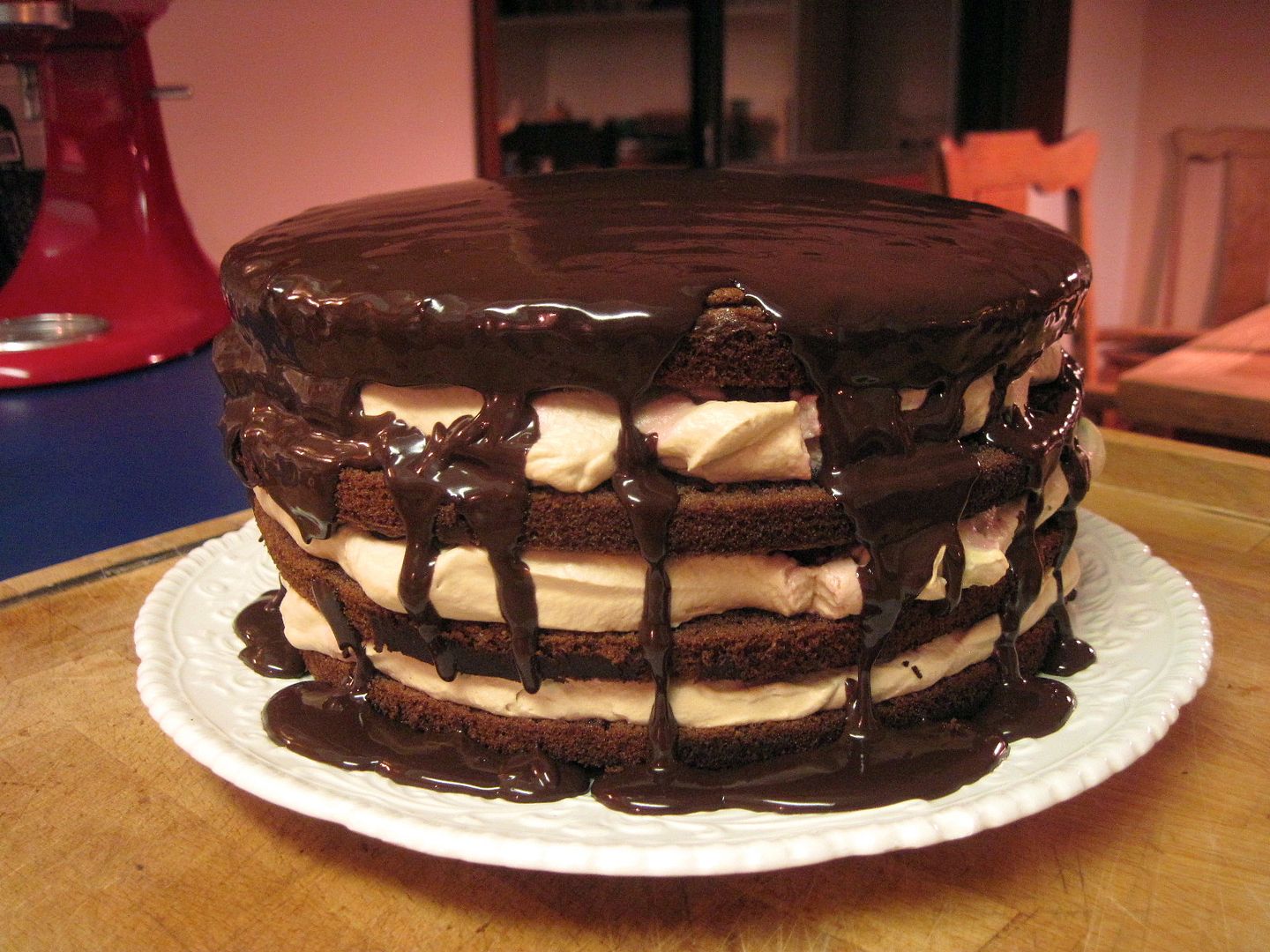 A quick scan of the ingredients list – ten eggs (OK, four of them are yolks only), lots of heavy cream, good quality chocolate and booze – reveal that this cake is definitely for special occasions only, but luckily a birthday is just such an occasion. The base of the cake is a genoise, which is light and airy but requires being soaked with a good amount of syrup to moisten it. I prefer making this cake using fresh cherries, but try finding fresh cherries (or even frozen cherries!) in the Northern hemisphere in December! I guess that means I have a good reason to make this cake again during cherry season… 😉 (A jar of sour cherries worked out just fine though.)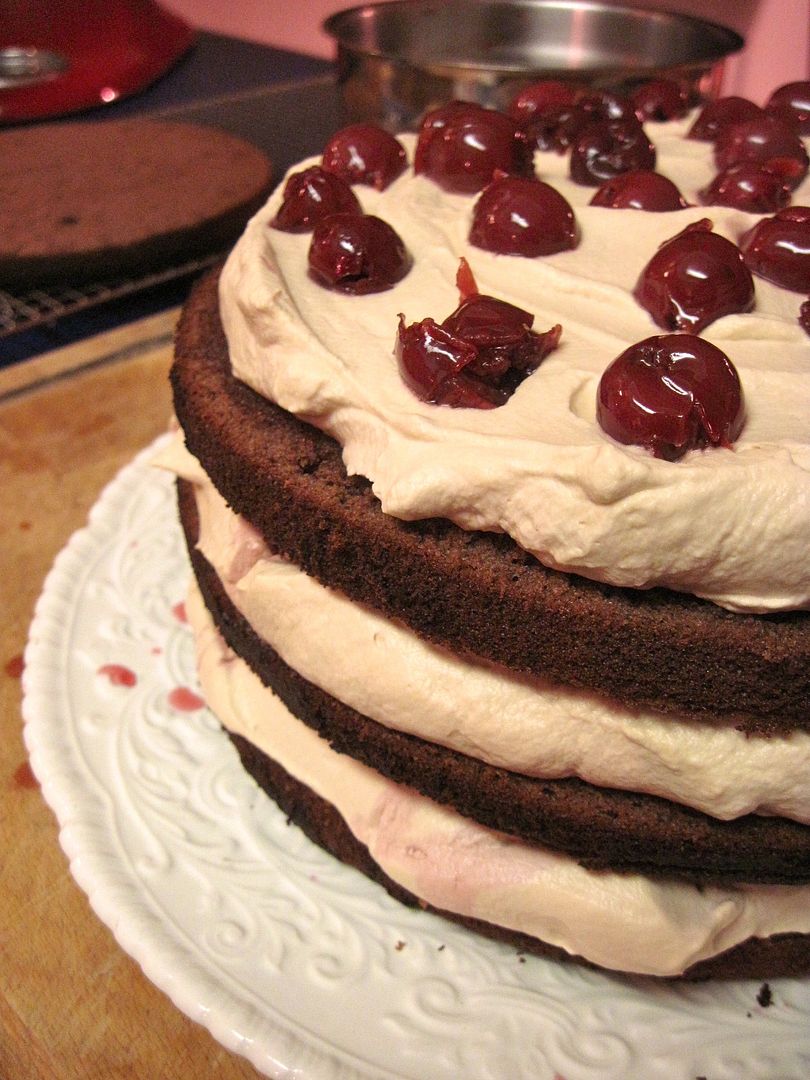 When I was growing up, we had a family friend who shared the same birthday as my Dad, and our families often celebrated together. Their birthday cake was always black forest, and there was always a bottle of Grand Marnier present, which inspired the Grand Marnier cherries. I remember one year, the friend's adult daughter made a black forest cake from scratch, complete with whipped cream frosting and chocolate shavings, and minutes after she finished assembling it, her young son managed to pour dishwater all over one side of it…
The moral of the story here is obviously not to let anyone do the dishes anywhere near this cake.
PS: Christmas cookies are coming!
Black Forest Torte with Espresso Whipped Cream & Grand Marnier Cherries
Adapted from Martha Stewart. Makes one 9″ round cake to serve 10 – 12.
Chocolate Genoise
Preheat the oven to 400˚F. Spray two 9″ round cake pans with cooking spray, line the bottoms with parchment paper, then spray them again. Dust the insides of the pan with cocoa powder, shaking out the excess, then set the pans aside.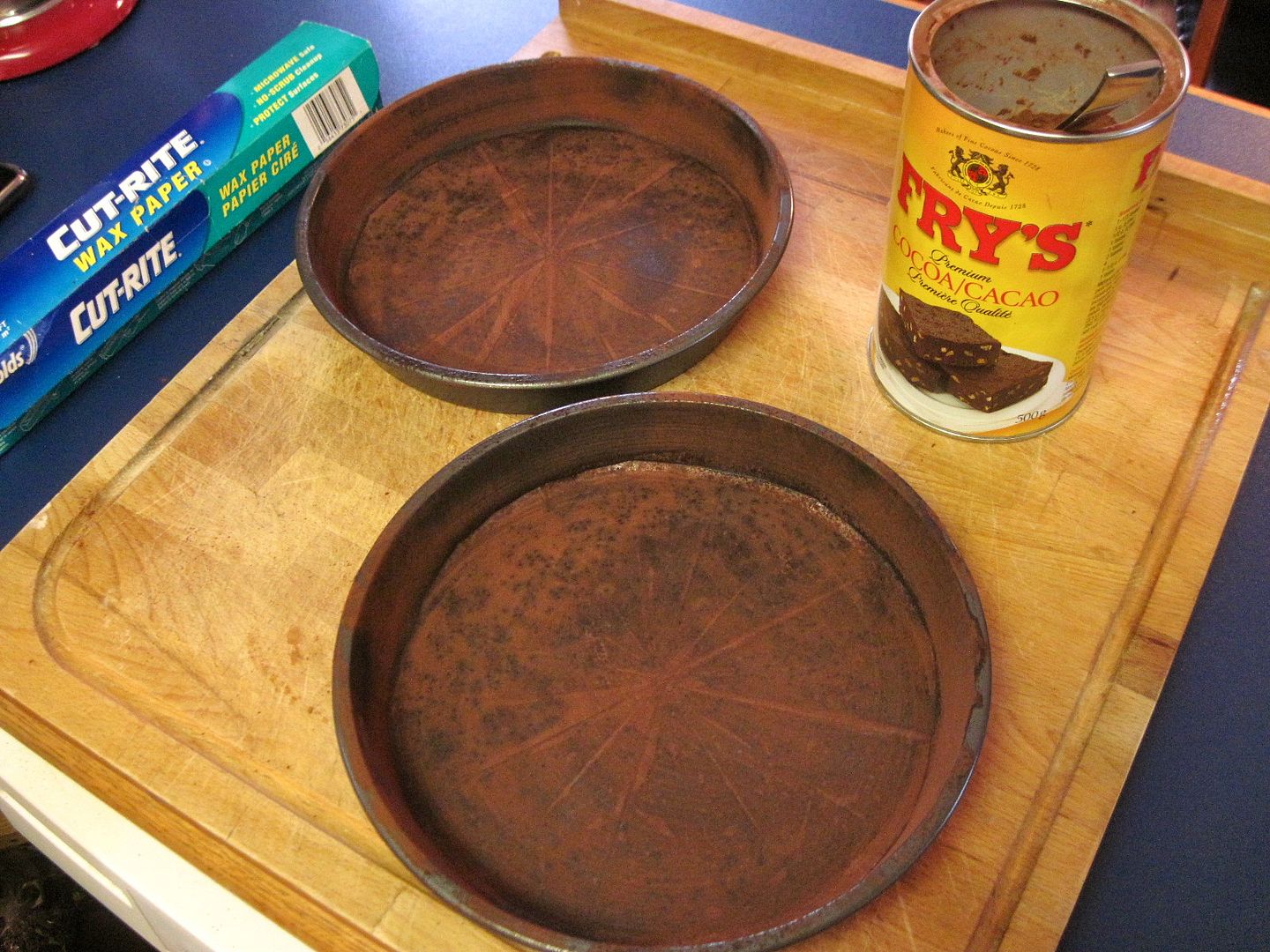 In the heatproof bowl of an electric mixer, place:
6 large eggs
4 egg yolks
1 cup granulated white sugar
Put the bowl over a pan of simmering water and whisk until the sugar is completely dissolved and the eggs are warm to the touch.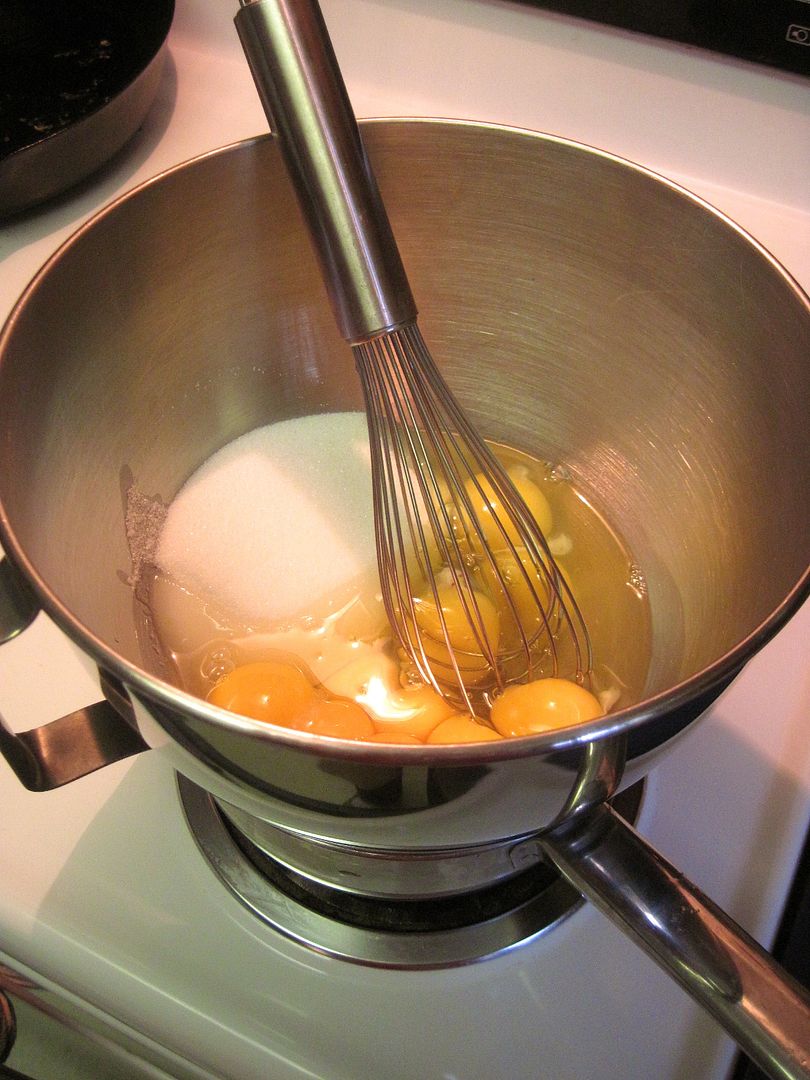 Attach the bowl to the mixer and beat the eggs on medium-high with the whisk attachment for about 2 minutes, then increase to high for about 4 minutes, until very pale, thick, and fluffy.
In a bowl, whisk together:
1 1/3 cups sifted cake flour (this means you sift it before measuring)
1/3 cup cocoa powder, sifted to remove lumps
a pinch of salt
Sift the flour-cocoa mixture over the beaten eggs.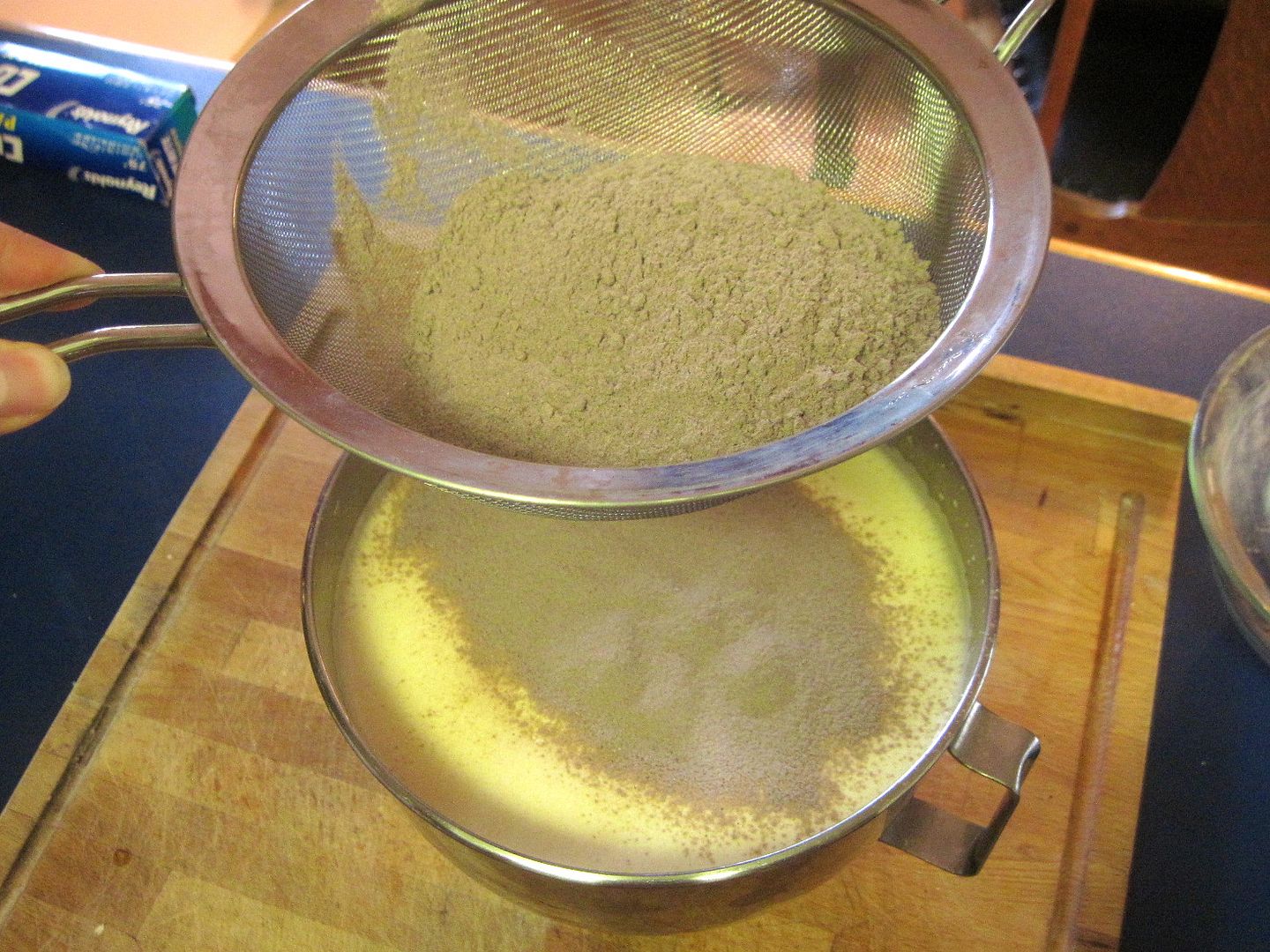 Fold gently using a large spatula or balloon whisk. When almost combined, add by pouring down the side of the bowl:
1/2 cup melted butter, quite warm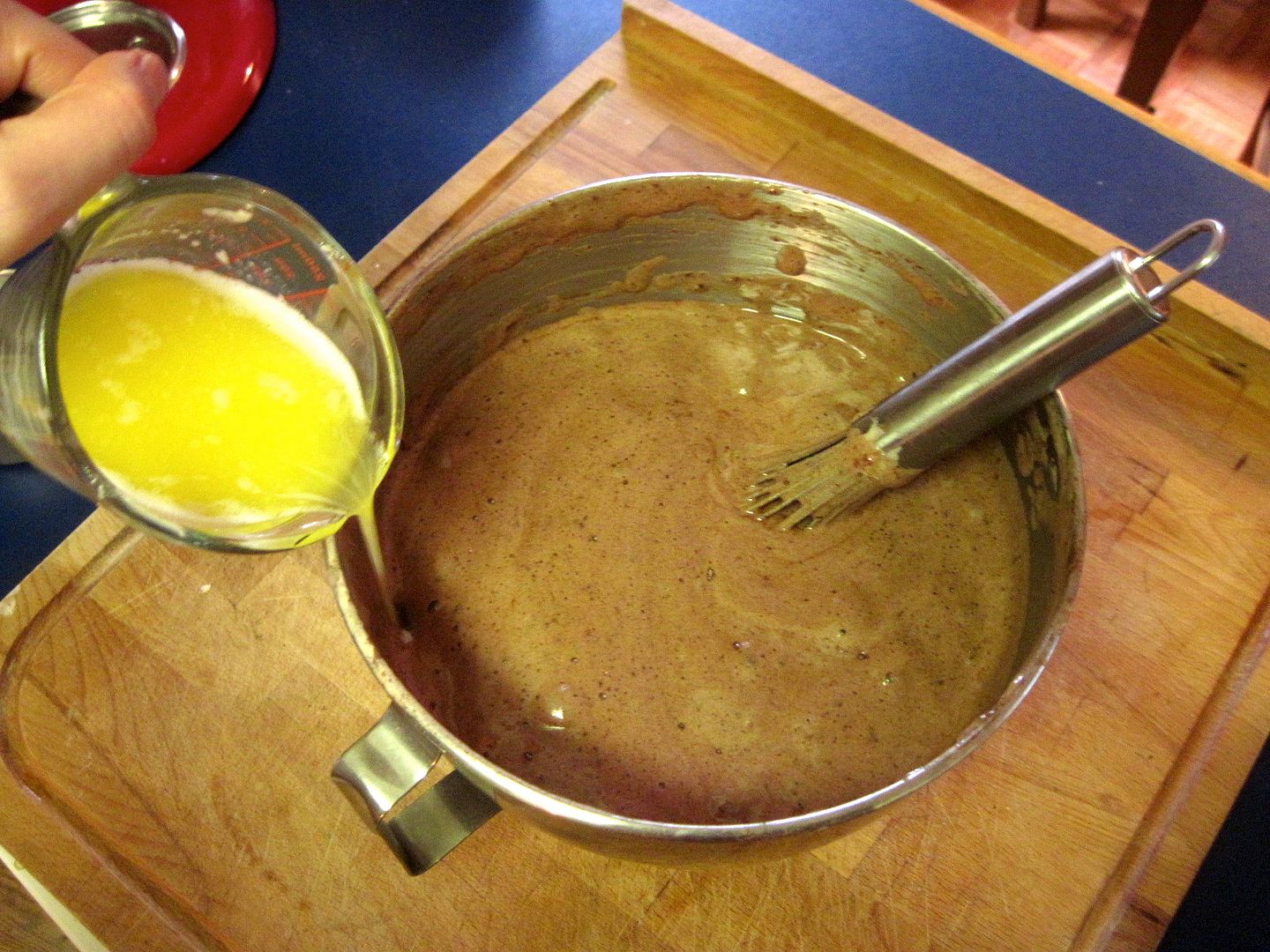 Fold gently but thoroughly to incorporate, trying not to deflate the batter as much as possible.
Divide the batter between the two prepared pans and spread evenly.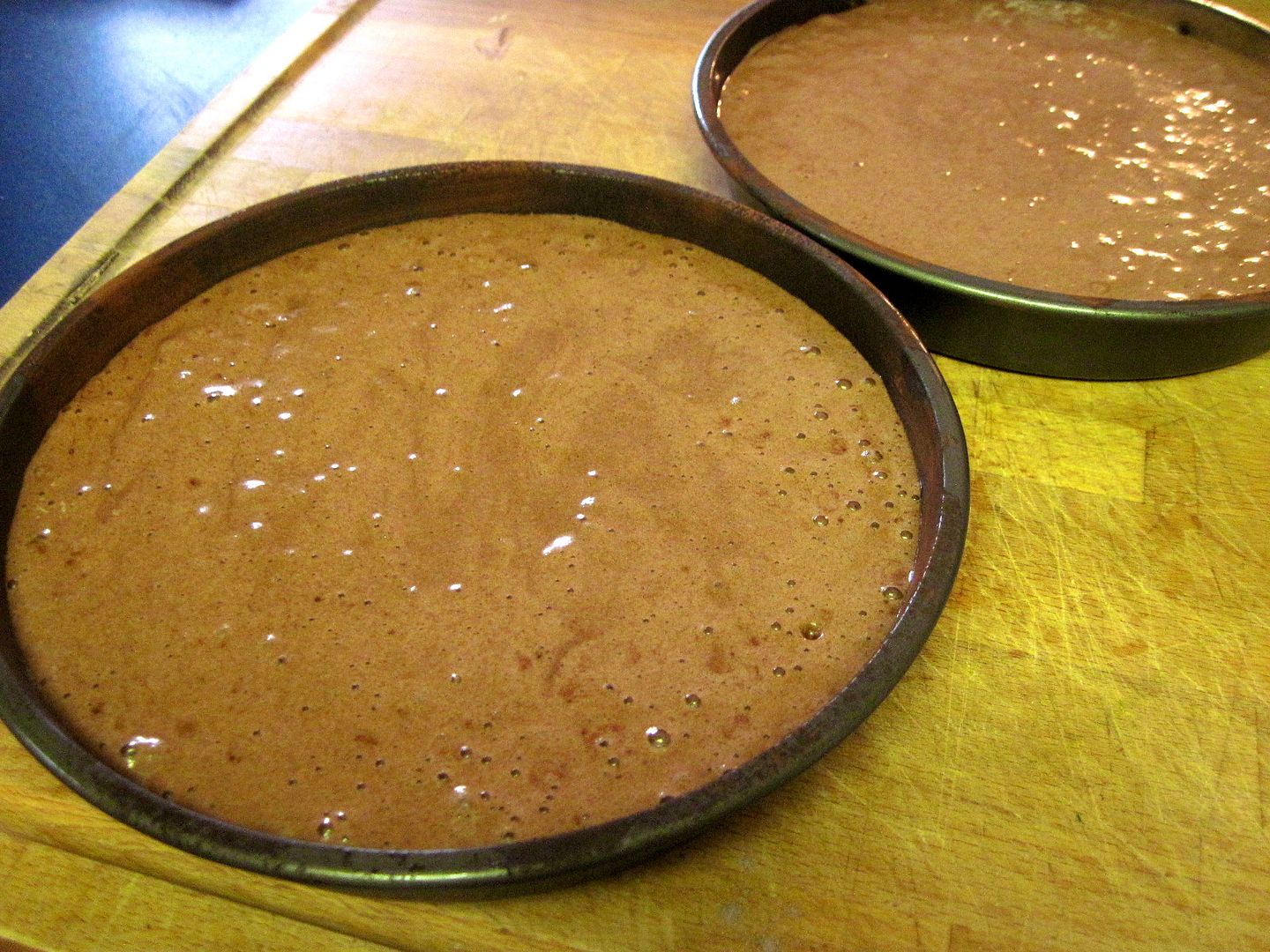 Bake in the preheated 400˚F oven for about 15 minutes, until springy to the touch. Let cool in the pans for 5 minutes, then run a knife around the edges and turn the cakes out onto a cooling rack. Peel off the parchment paper and cool completely before assembling the cake.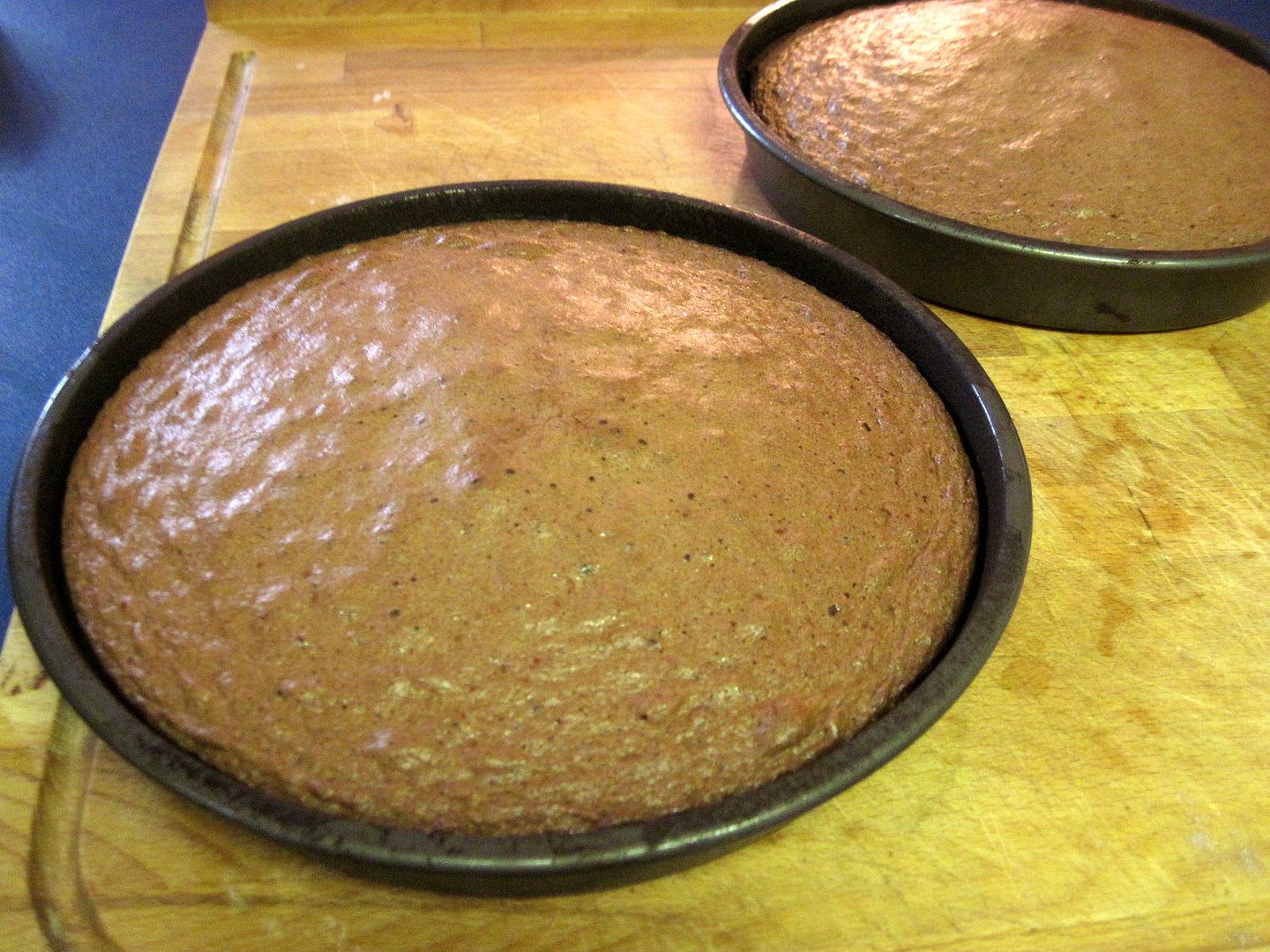 Grand Marnier Cherries
Drain a 540 ml/19 fl oz jar of pitted sour cherries in light syrup, reserving 1 cup of the juice (you should have about 2 cups of  cherries). Set the cherries aside.
In a small saucepan, combine:
the reserved cherry juice
1 cup granulated white sugar
Bring to a boil over medium heat and simmer for about 10 minutes.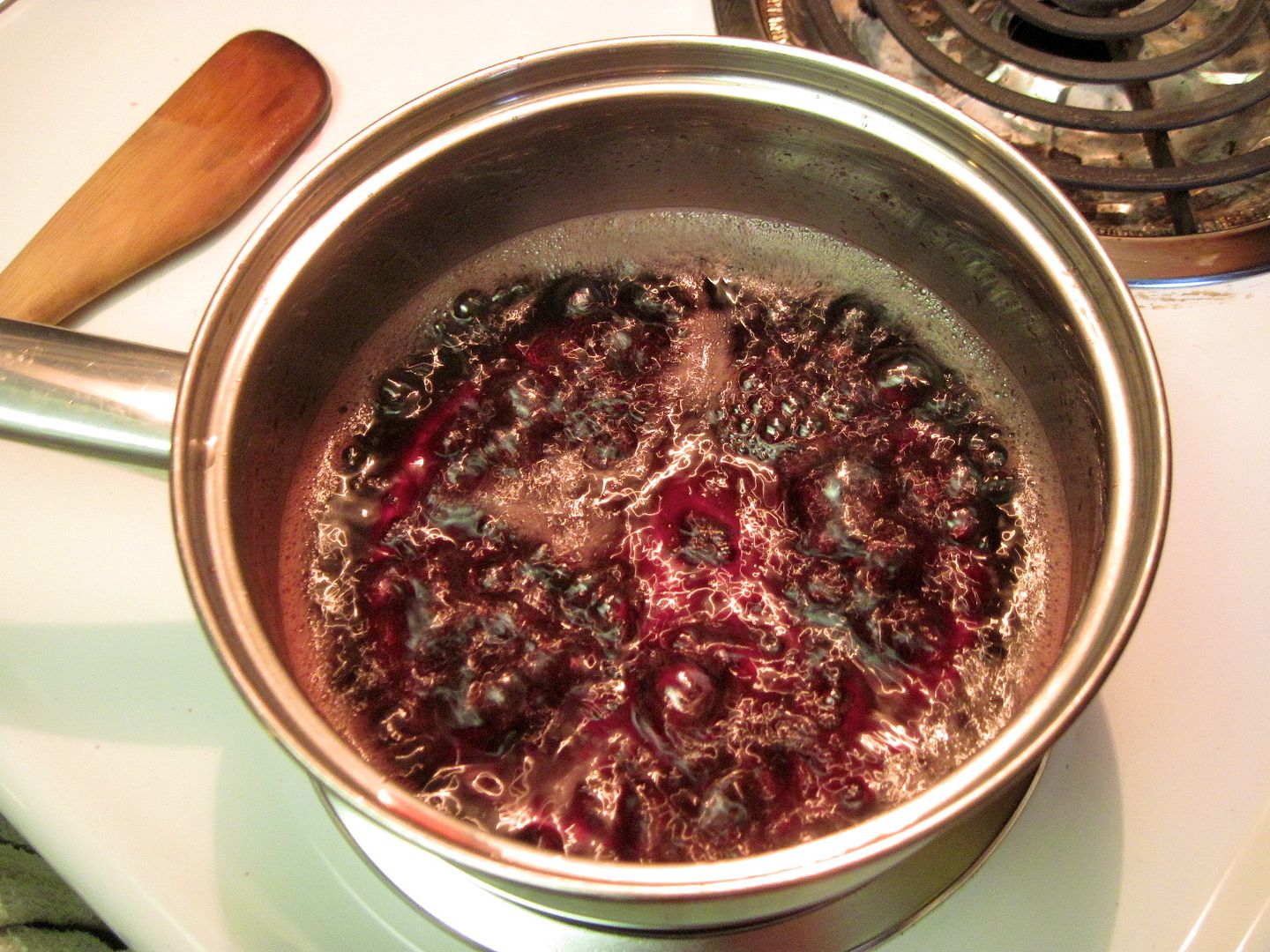 Remove from the heat and add 1/3 cup Grand Marnier liqueur.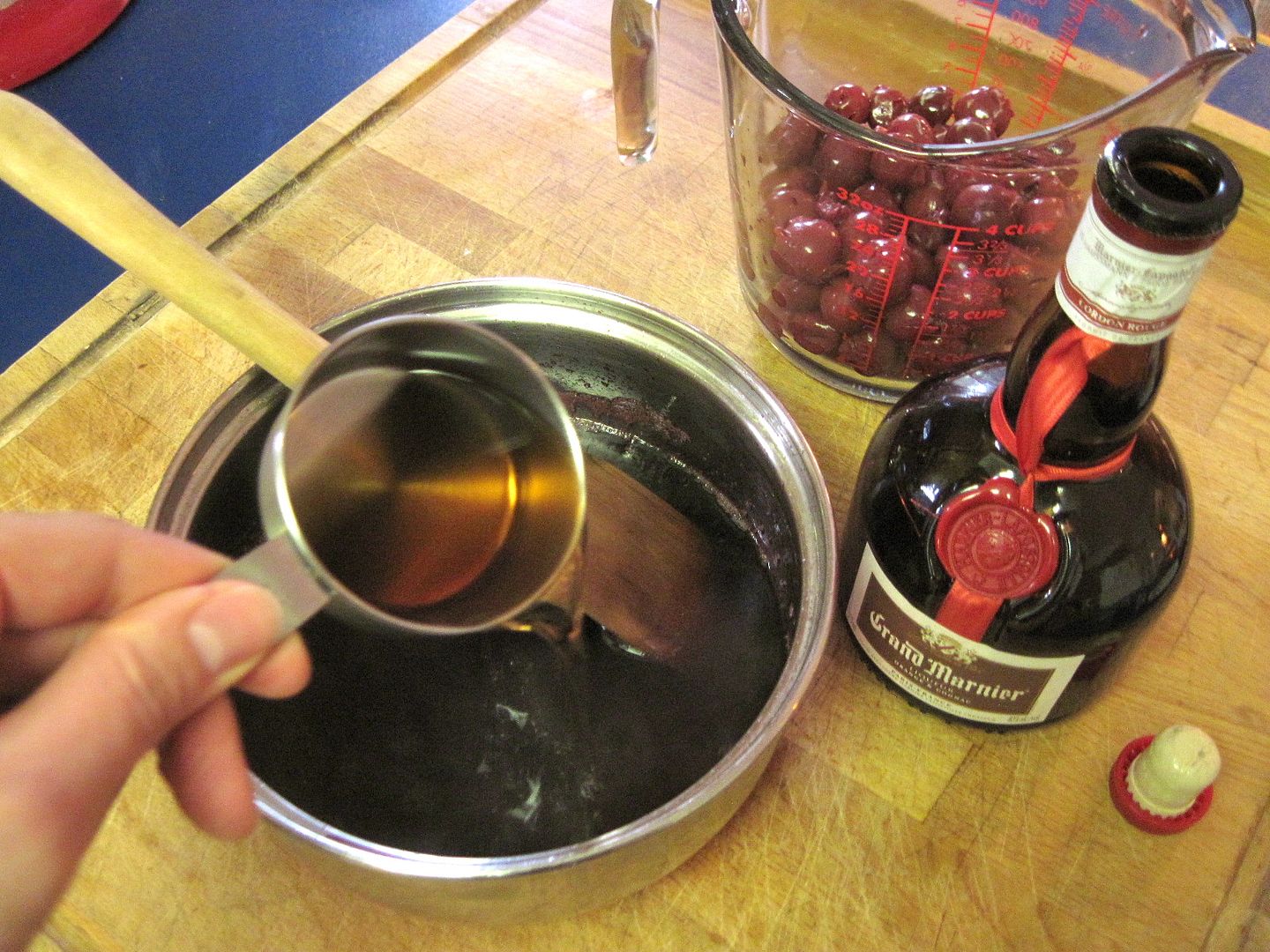 Pour the syrup over the reserved cherries and let the whole thing cool in the fridge before assembling the cake.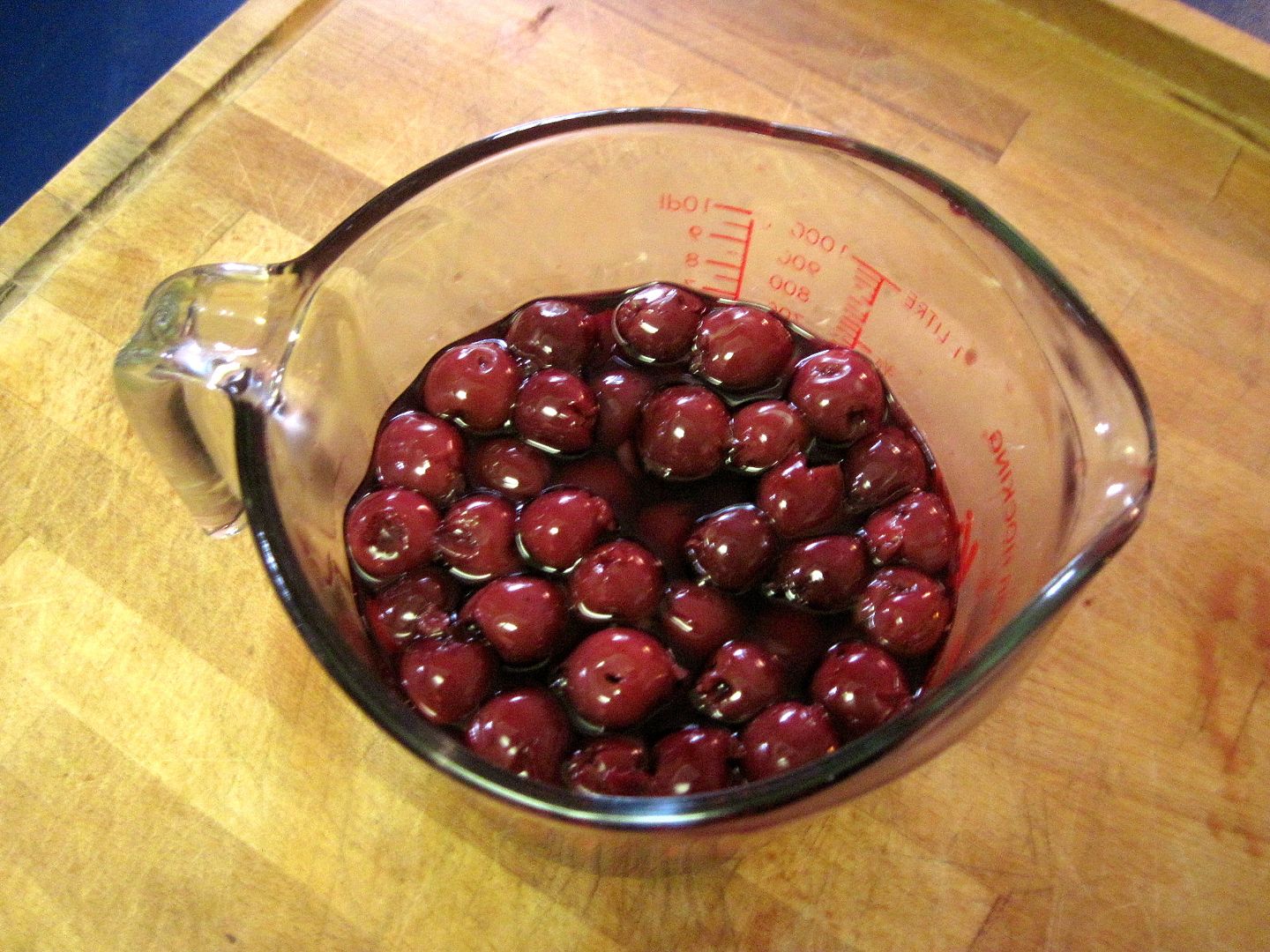 Espresso Whipped Cream
In the bowl of an electric mixer fitted with the whisk attachment, whip to soft peaks:
3 cups heavy whipping cream
Add:
1/2 cup icing sugar
2 tbsp instant espresso powder dissolved in 2 tsp water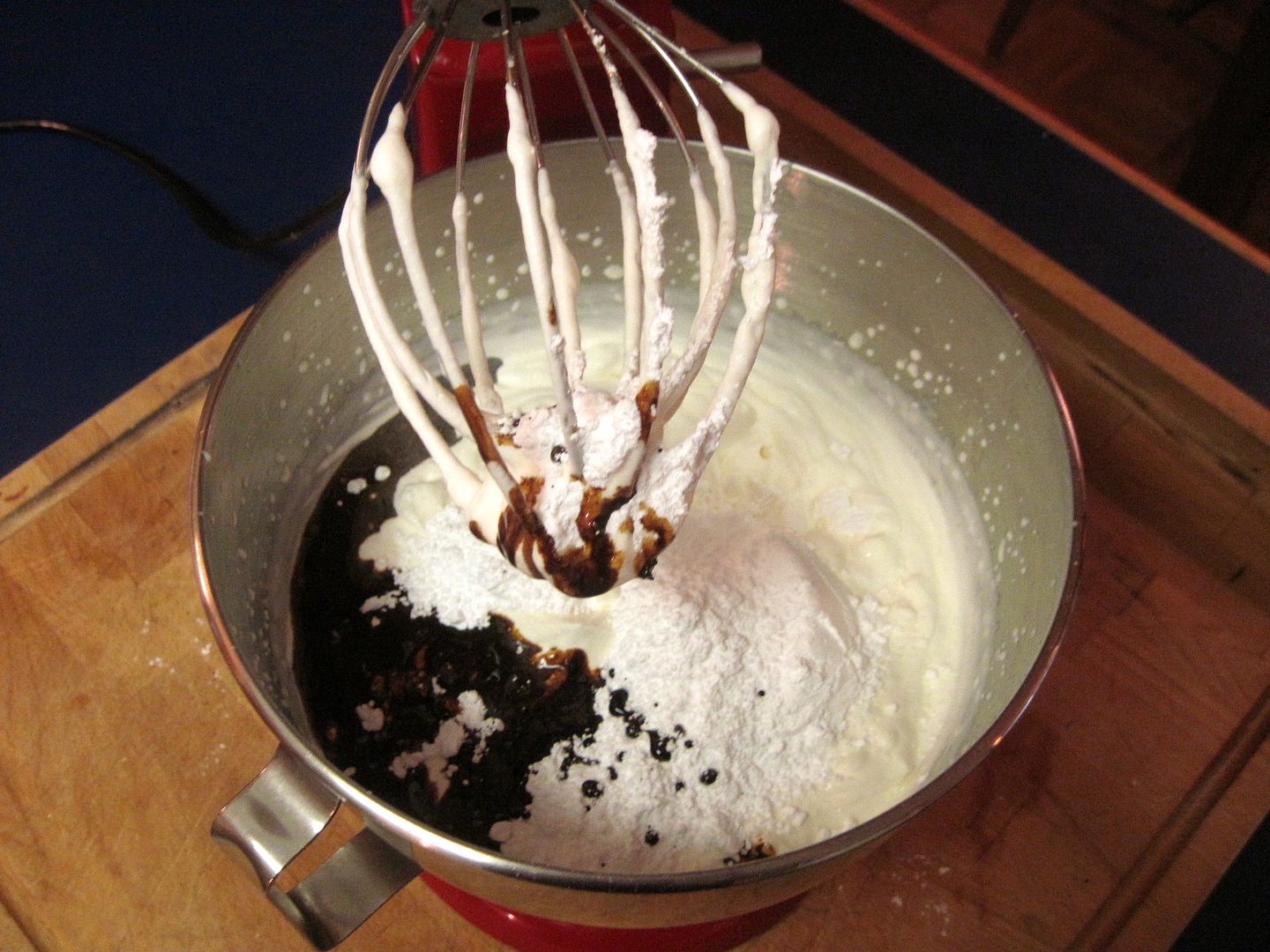 Whip to combine, until soft peaks form again. Chill until ready to assemble the cake.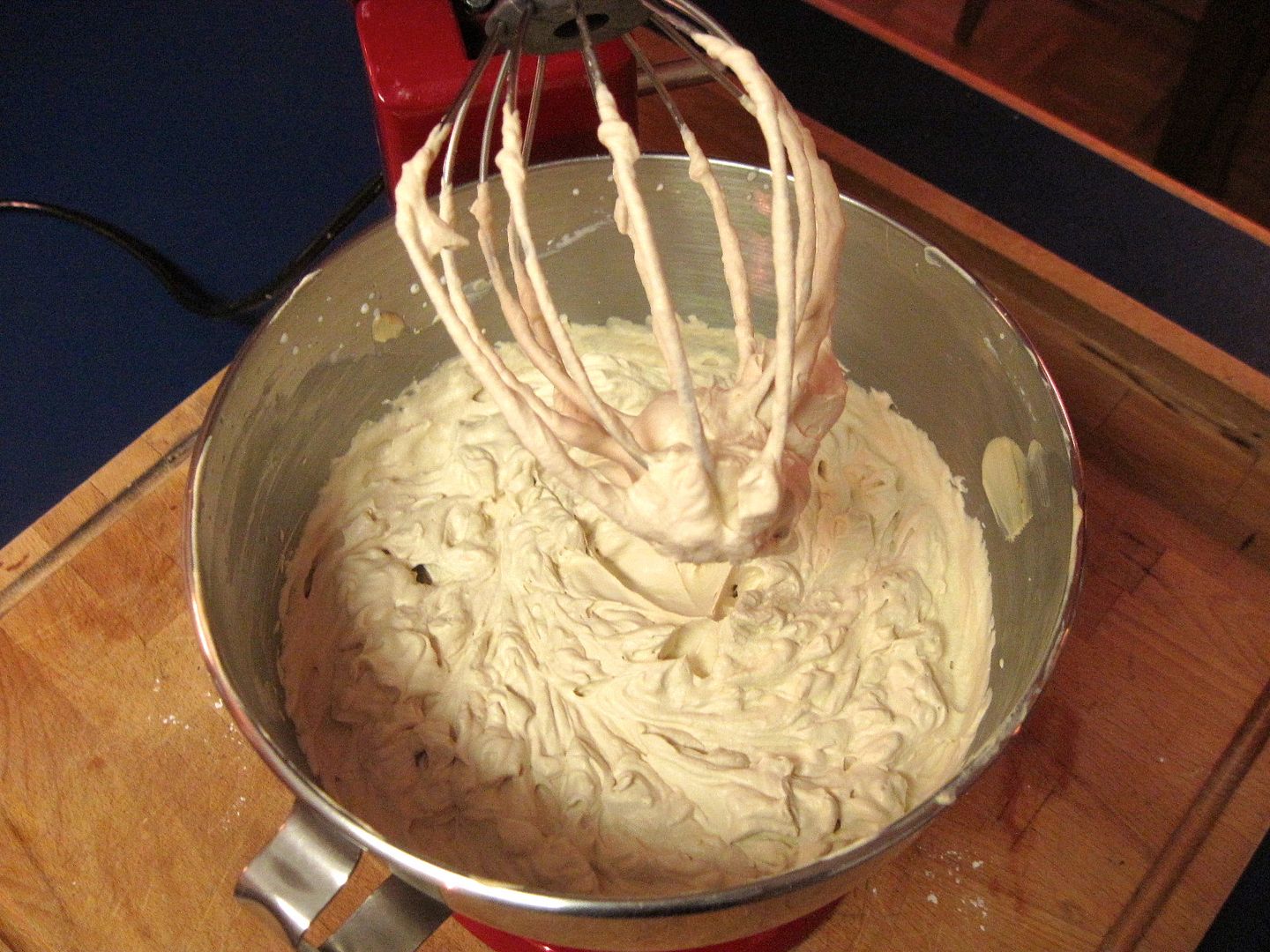 Assembly
Strain the cherries from the syrup, reserving both.
Split each of the cooled cakes in half horizontally with a serrated knife. Place one cake round on a serving plate, cut side up. Brush the cake with a generous 1/4 cup of the cherry syrup (don't skimp – the cake will soak it all up).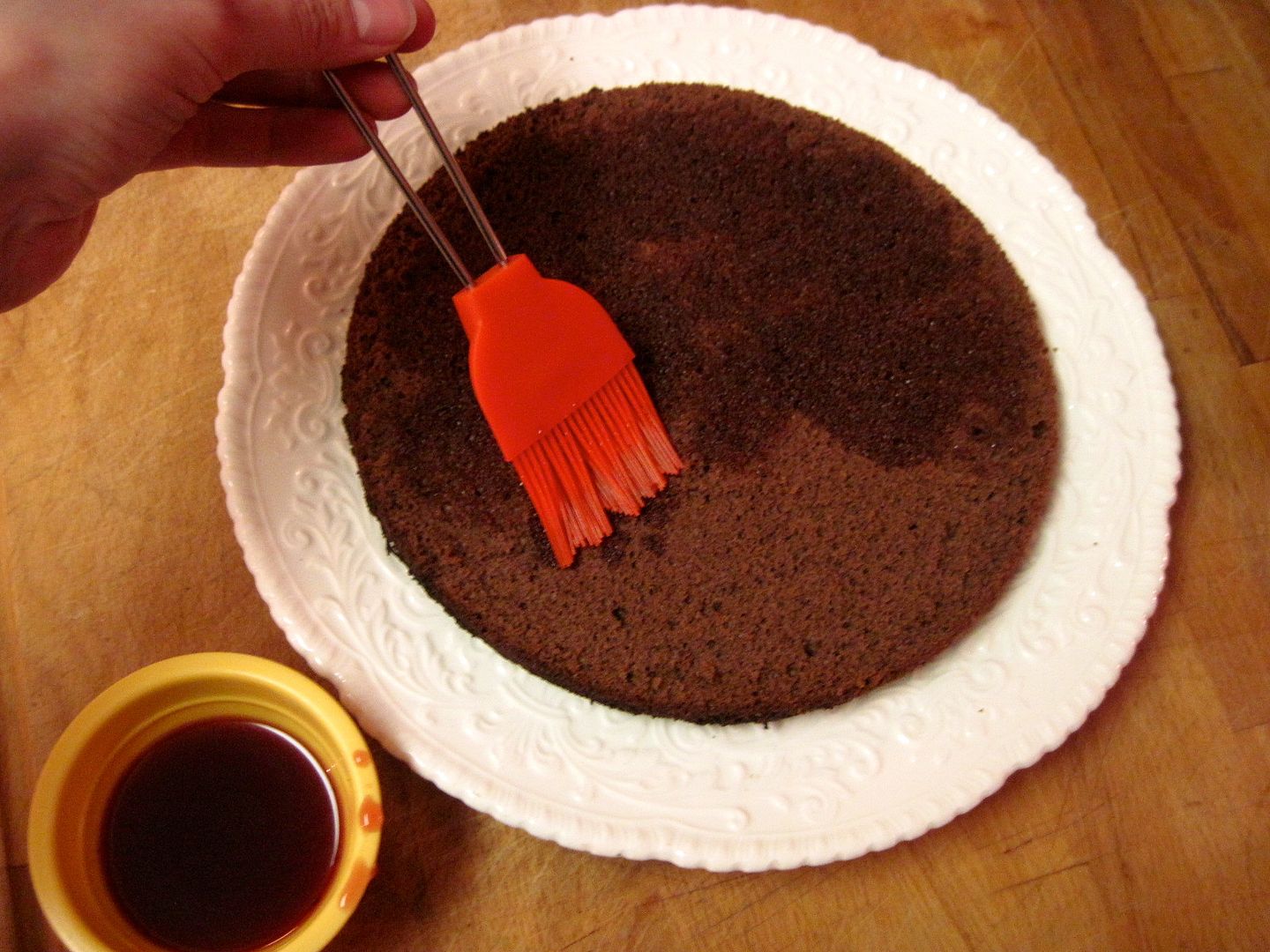 Top it with 2 cups of the espresso whipped cream and spread it over the cake, leaving a half inch border around the edge. Scatter 1/3 of the cherries over top and drizzle with about 1 tbsp of cherry syrup.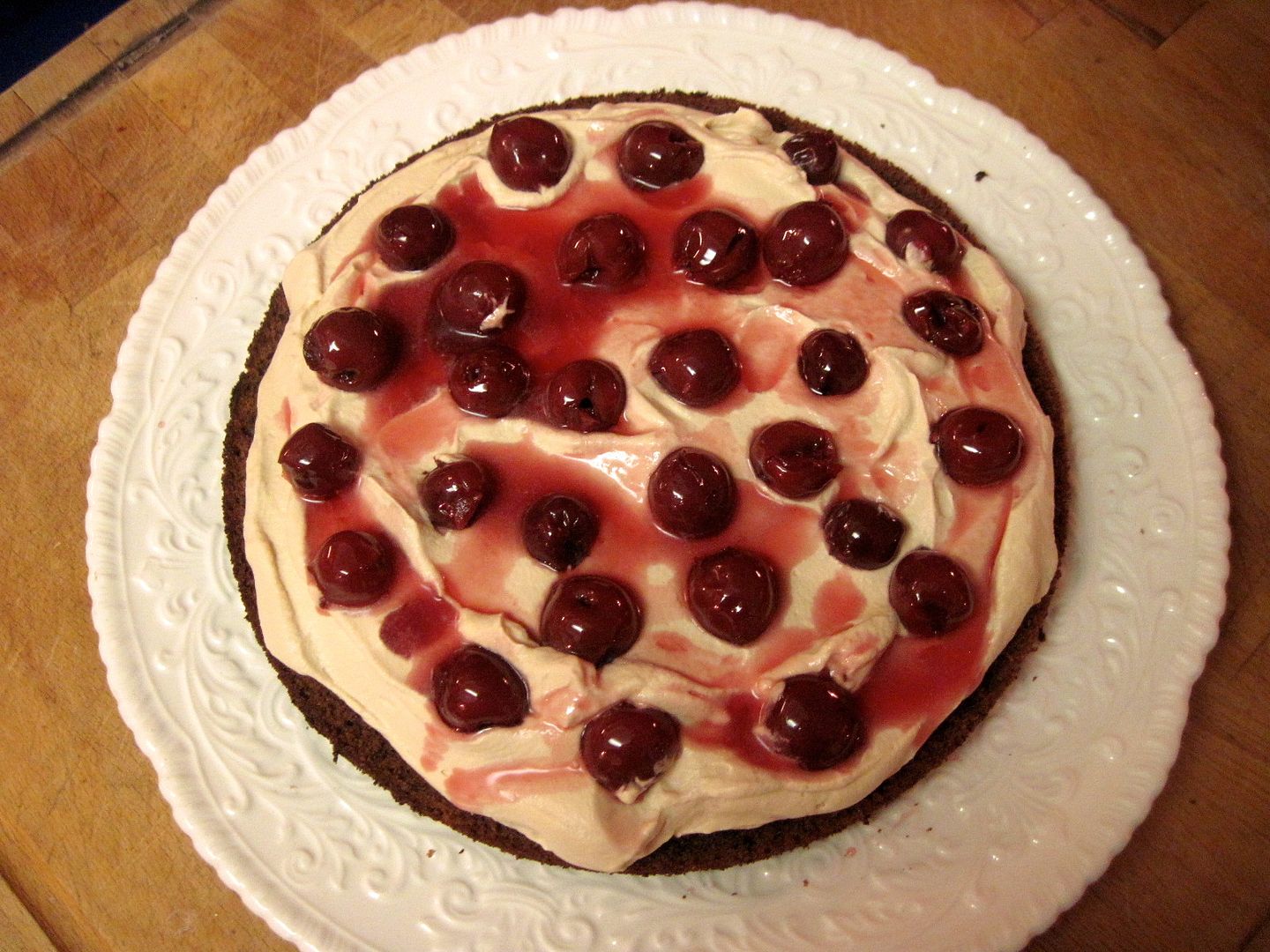 Repeat for cake layers #2 and #3.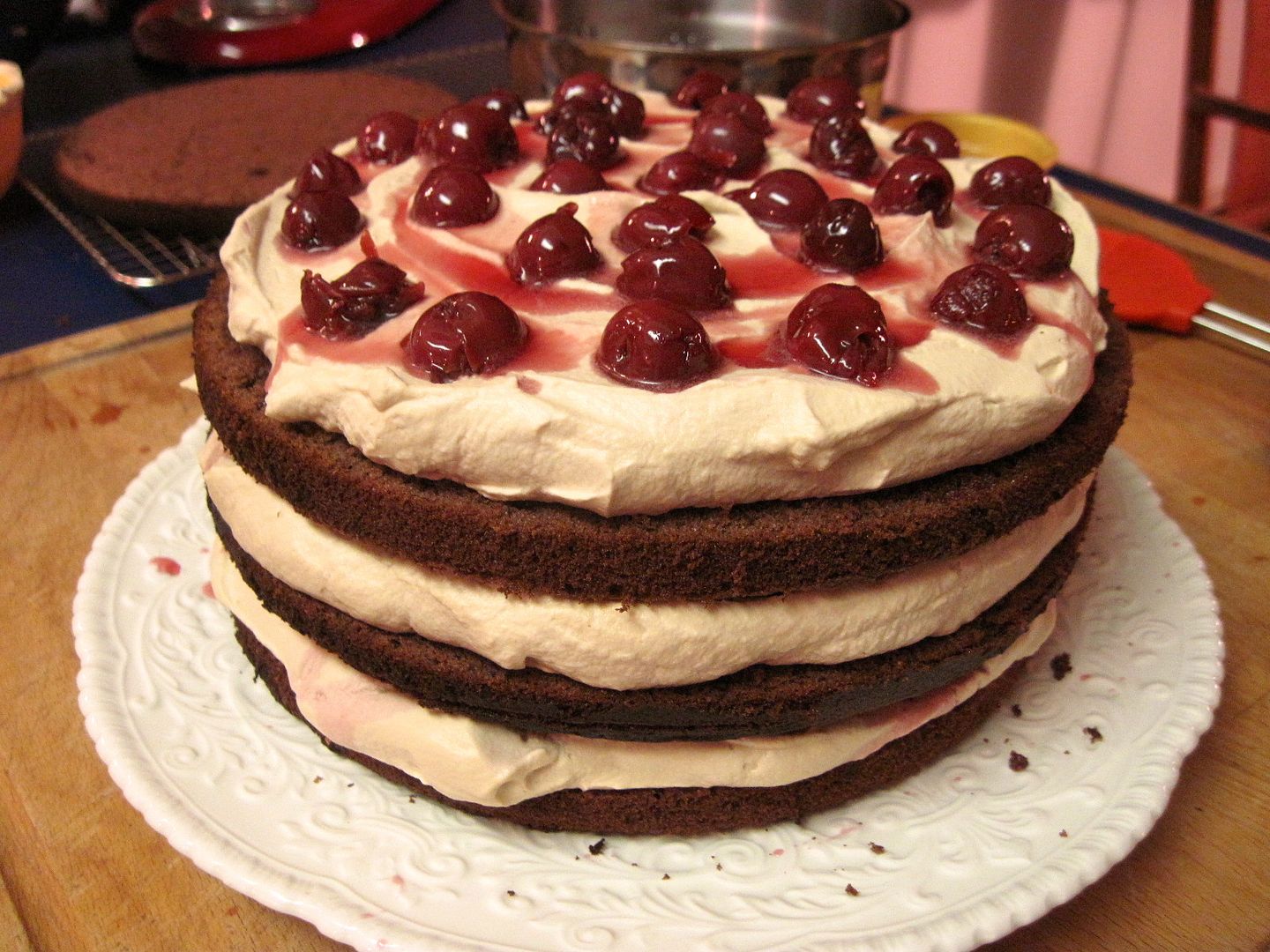 Brush the cut side of cake layer #4 with about 1/4 cup of cherry syrup and let it soak in for a few minutes. Place the layer, cut side down, on top of the cake. Chill the cake while you make the chocolate ganache.
Chocolate Ganache
Heat 1/2 cup heavy whipping cream until just boiling. Pour it over 3 oz finely chopped dark chocolate (at least 70% cocoa) and let it sit for a minute or two to melt.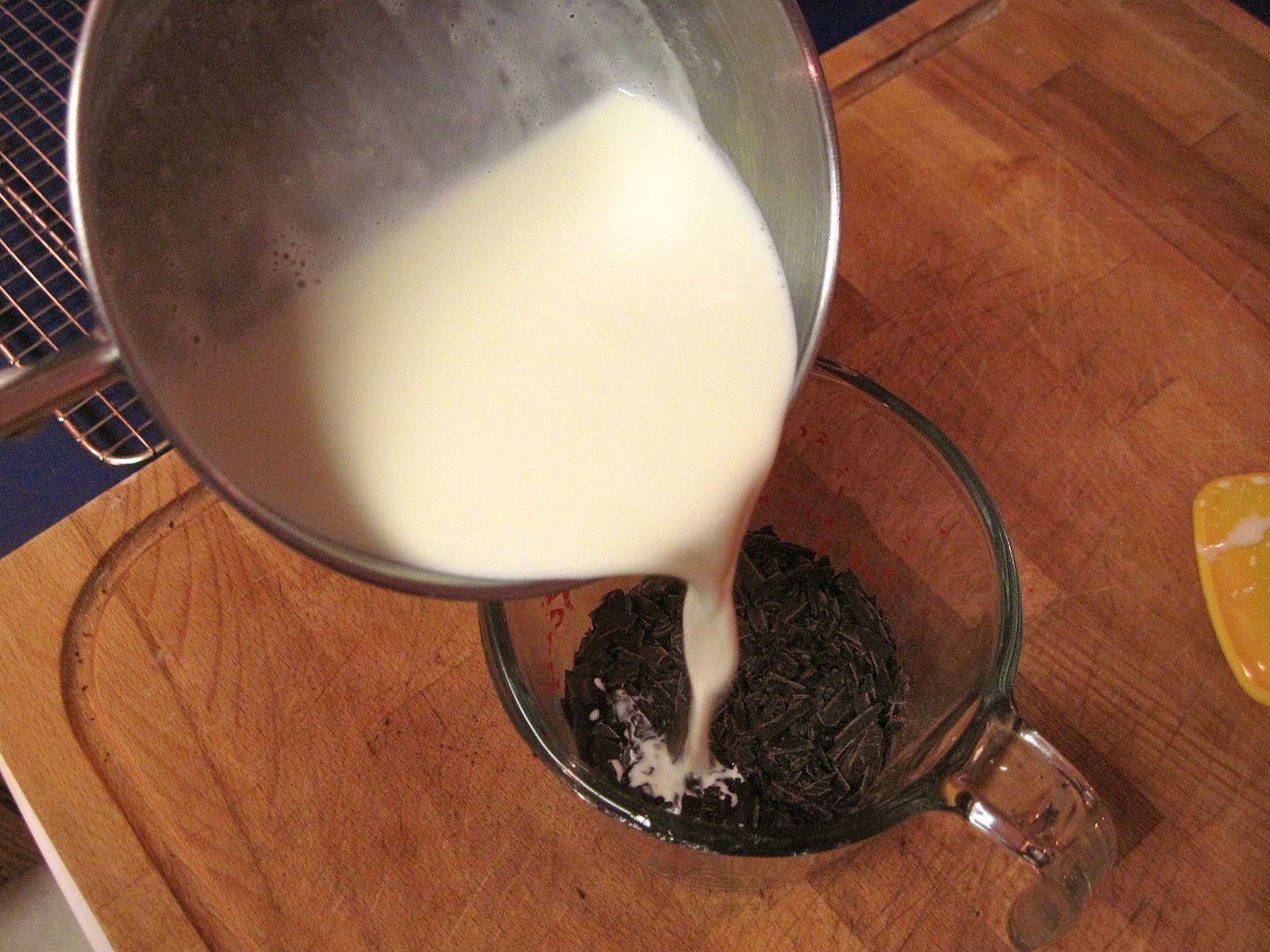 Stir until smooth and glossy, then pour the warm ganache over the top of the cake, letting it drip down the sides.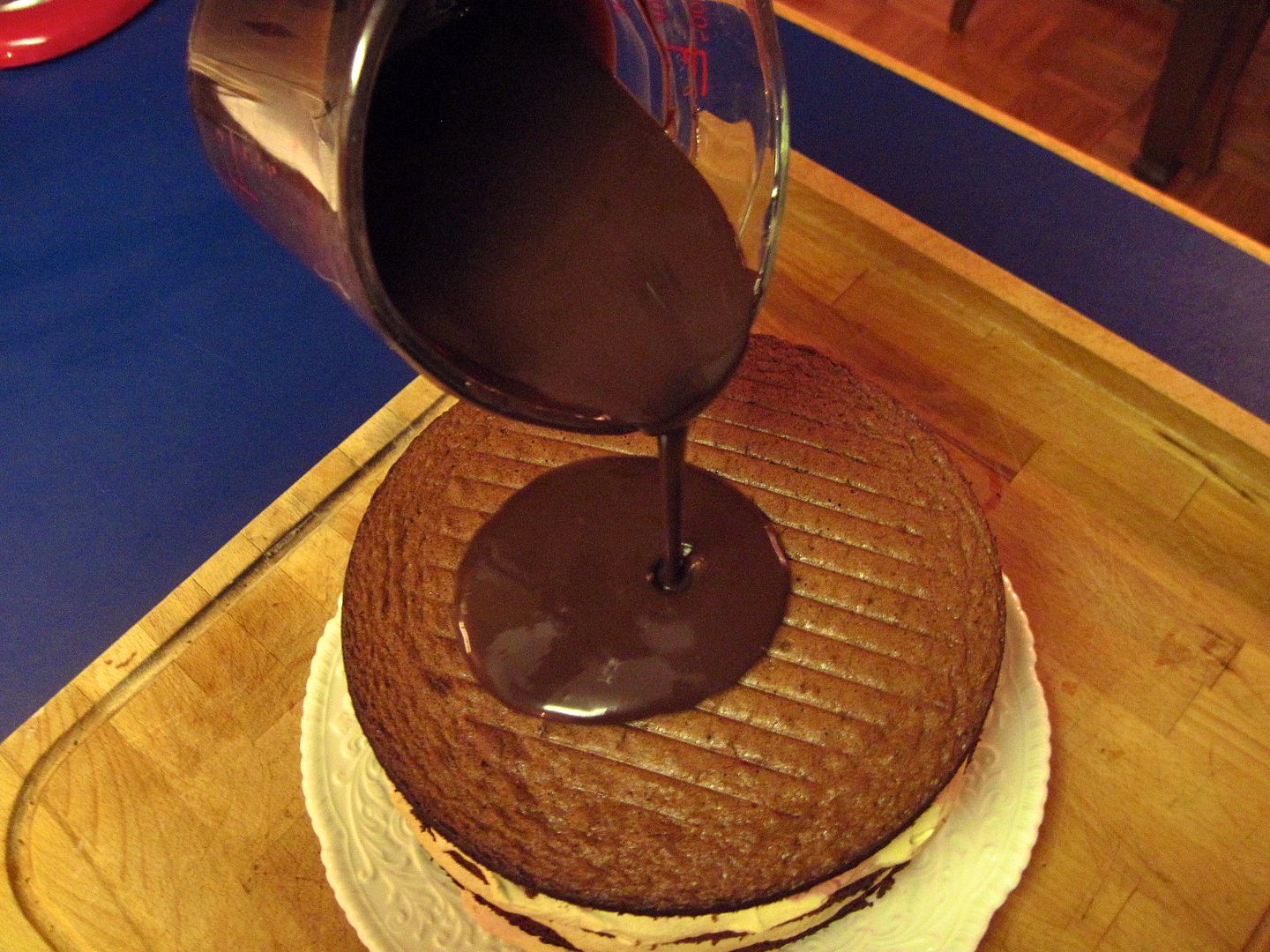 Can be served immediately or chilled for a few hours before serving (best to let it sit at room temperature for about an hour before cutting it).