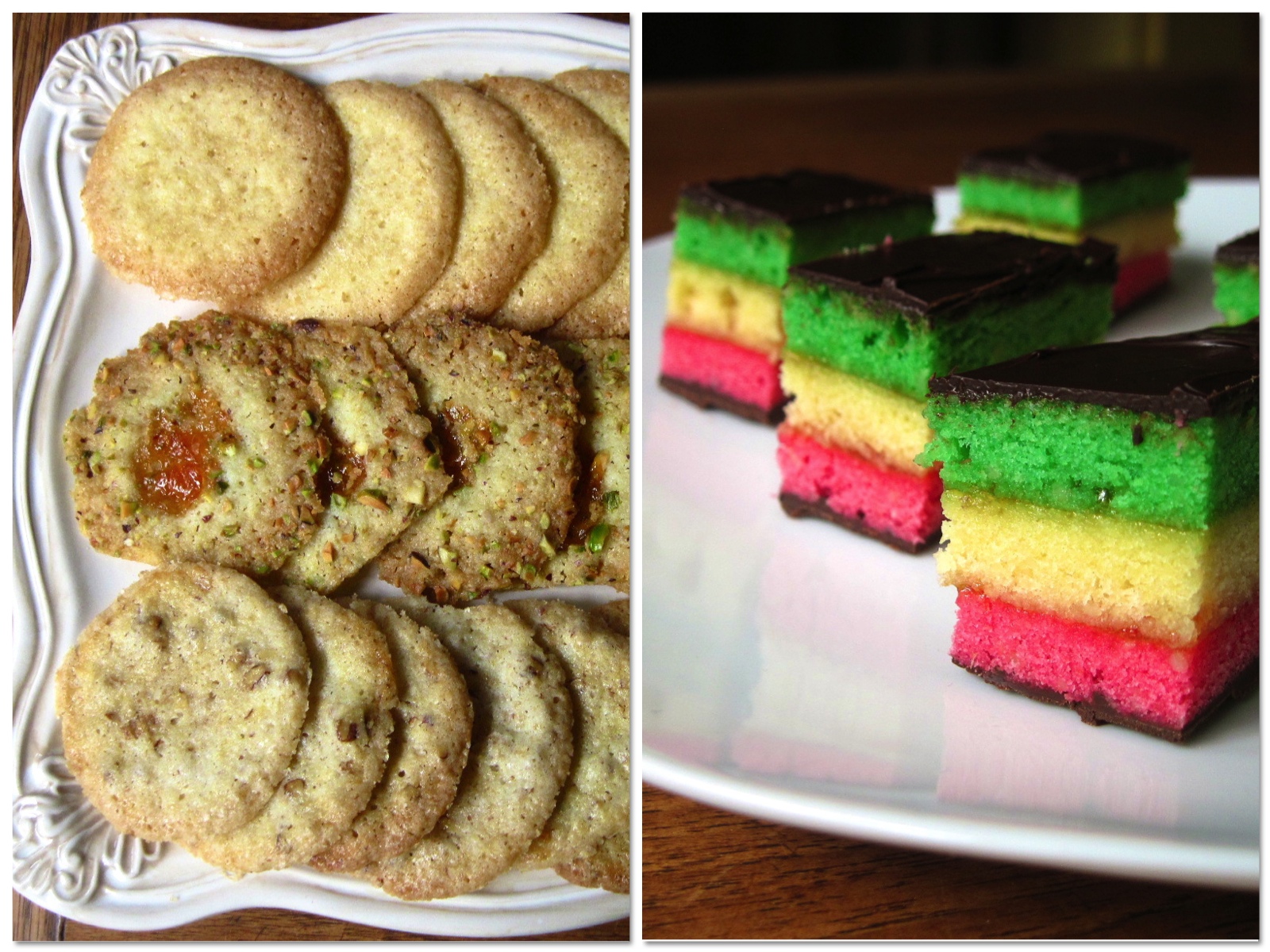 Holiday season is the time for sharing and Peta of Peta Eats is sharing a dozen cookies, some classics and some of her own, from all over the world with us.
Christmas cookies have a very special place in my heart. I've written about this before, but suffice to say that the Christmas season starts with me buying the latest Canadian Living Holiday Cookie magazine, making list after list to refine my exact cookie offering, baking and baking and baking until I have stacks of Tupperware containers full of cookies, and then finally, packaging the cookies into tins and boxes to give away to family and friends. This month's Daring Bakers challenge, which was all about Christmas cookies, fed right into my obsession!
Peta challenged us to try one of the twelve (yes, twelve! Incredible!) cookie recipes she provided, and to make our own favorite Christmas cookie as well. It was hard to choose from her delicious cookies (which included two kinds of shortbread, German lebkuchen, and chocolate hazelnut crinkle cookies), but I eventually settled on the Seven Layer Cookies, which are more like petit fours than cookies, actually: red, white, and green layers of thin almond cake sandwiched with apricot jam and covered in chocolate.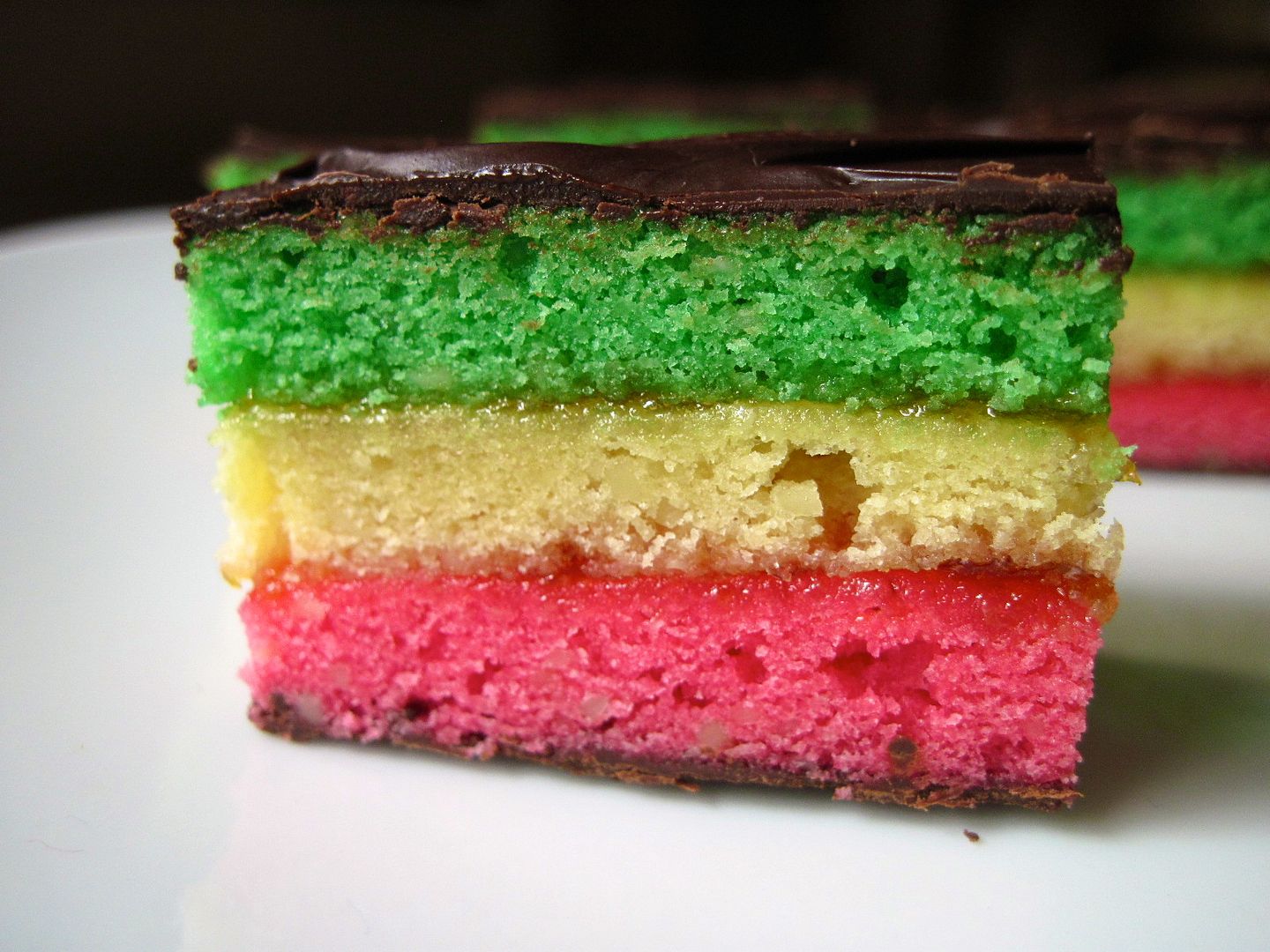 Peta's recipe is a variation of a Smitten Kitchen recipe, and I have no immunity against Smitten Kitchen. These cookies were fun to make and taste amazing. I'm always a bit hesitant to bake with almonds because I'm afraid it will come out tasting like fake almond (just like the fear I have of fake lemon, ugh!), but these have a real almond flavour that I can imagine will get even better as they age a bit. I only cut up a few squares to use for pictures and have the rest in my freezer waiting for Christmas – but I'm already contemplating taking them out early!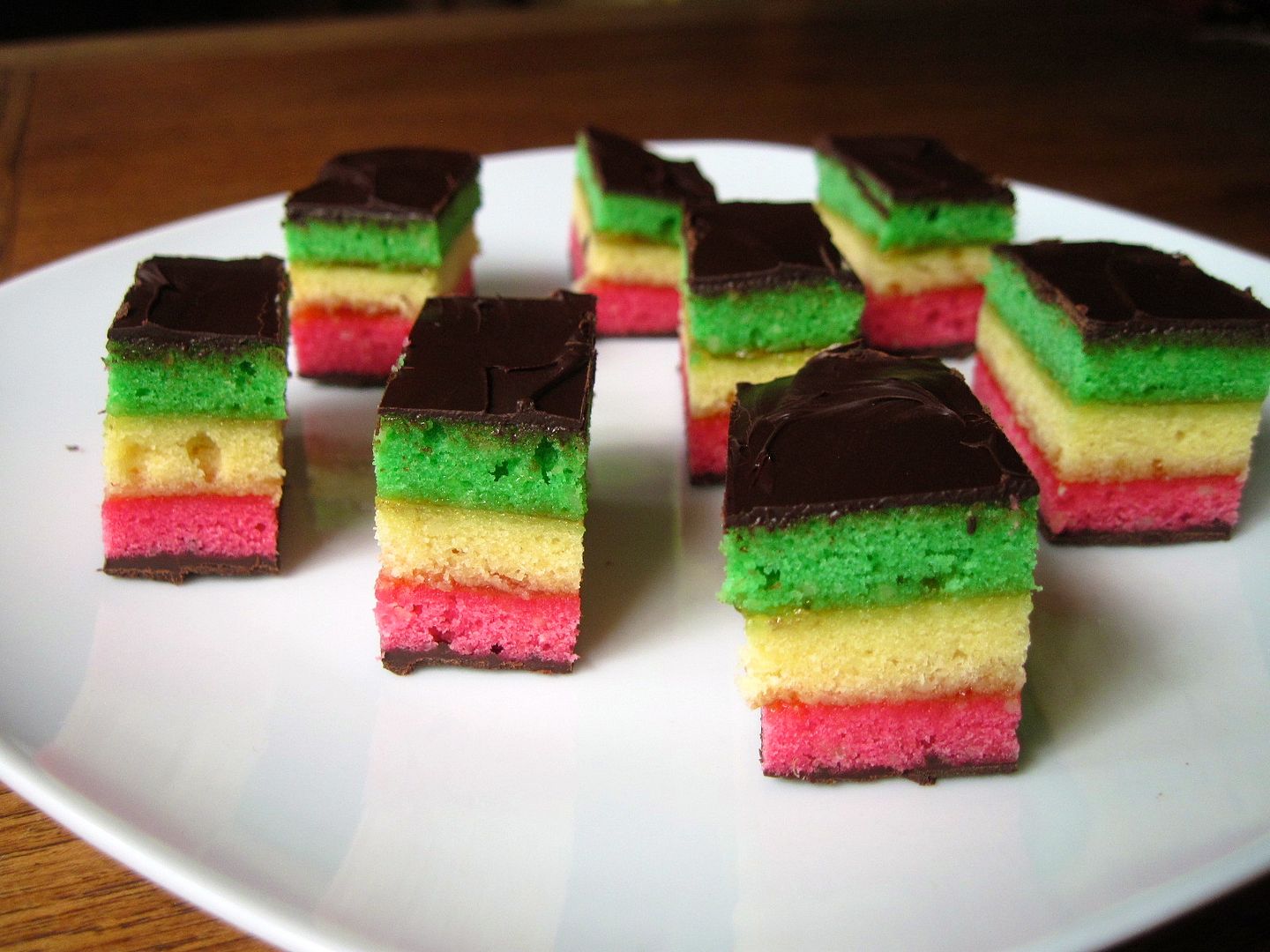 For my second cookie, rather than an old favorite, I decided to try something else totally new. You know those cookie recipes that give a bunch of different kinds of cookies from one single master dough? I've wanted to make these for years, so I thought this would be the perfect opportunity. I wanted them to be like those big blue tins of Danish butter cookies that always seem to pop up during the holidays, so I found a butter cookie recipe to use as the master dough.
It appears that what makes a Danish butter cookie is the use of actual Danish butter, which is a specific kind of cultured butter (the Lurpak brand is commonly available outside of Denmark, apparently). The closest I could find was this "Swiss flavour" cultured butter, so these probably don't count as real Danish butter cookies…
If you're curious about what differentiates a butter cookie from any other cookie also made with butter, I have the answer: it's the amount of butter. These are called butter cookies because butter is the main ingredient, and because of it, they taste amazing and have a very delicate, crisp, melt-in-your-mouth and crumble-in-your-hands texture. But unfortunately, it also caused my plan for making jam thumbprints, pretzel twists, and sandwich cookies to fail miserably: as it turns out, these cookies have absolutely ZERO capacity to hold a shape in the oven. I made jam thumbprints first, and when they came out of the oven as basically one big, flat cookie, I had to change my approach to "slice-and-bake" instead of "fancy-shape". Which turned out fine, just not quite the result I was hoping for!
Thank you Peta for all your hard work in preparing and hosting this challenge! For some major Christmas cookie inspiration, check out the original challenge recipes, as well as what all the other Daring Bakers made this month. 🙂
Seven Layer Cookies
Recipe provided by Peta, adapted from Smitten Kitchen. Makes about 48 cookies.
Preheat the oven to 350˚F. Line a 9″ x 13″ pan with parchment paper, leaving an overhang around the sides.
In the bowl of a mixer, place:
4 egg whites (save the yolks for later)
Beat on medium speed with the whisk attachment until they just hold soft peaks, then increase the speed to medium-high and slowly add:
1/4 cup granulated white sugar
Continue beating until the eggs whites hold stiff peaks. Transfer the whites to another bowl and set aside.

In the mixer bowl, combine:
1 cup ground almonds
1 1/4 cups unsalted butter, softened
1 1/4 cups granulated white sugar
Beat with the paddle attachment until light and fluffy. Add:
4 egg yolks (saved from earlier)
1 tsp vanilla extract
1 tsp almond extract
1/2 tsp salt
Beat until well combined. Add:
2 cups all purpose flour
Stir on low speed until just combined. Great tip from Peta: put a towel over the mixer bowl to prevent the flour from flying out as you mix!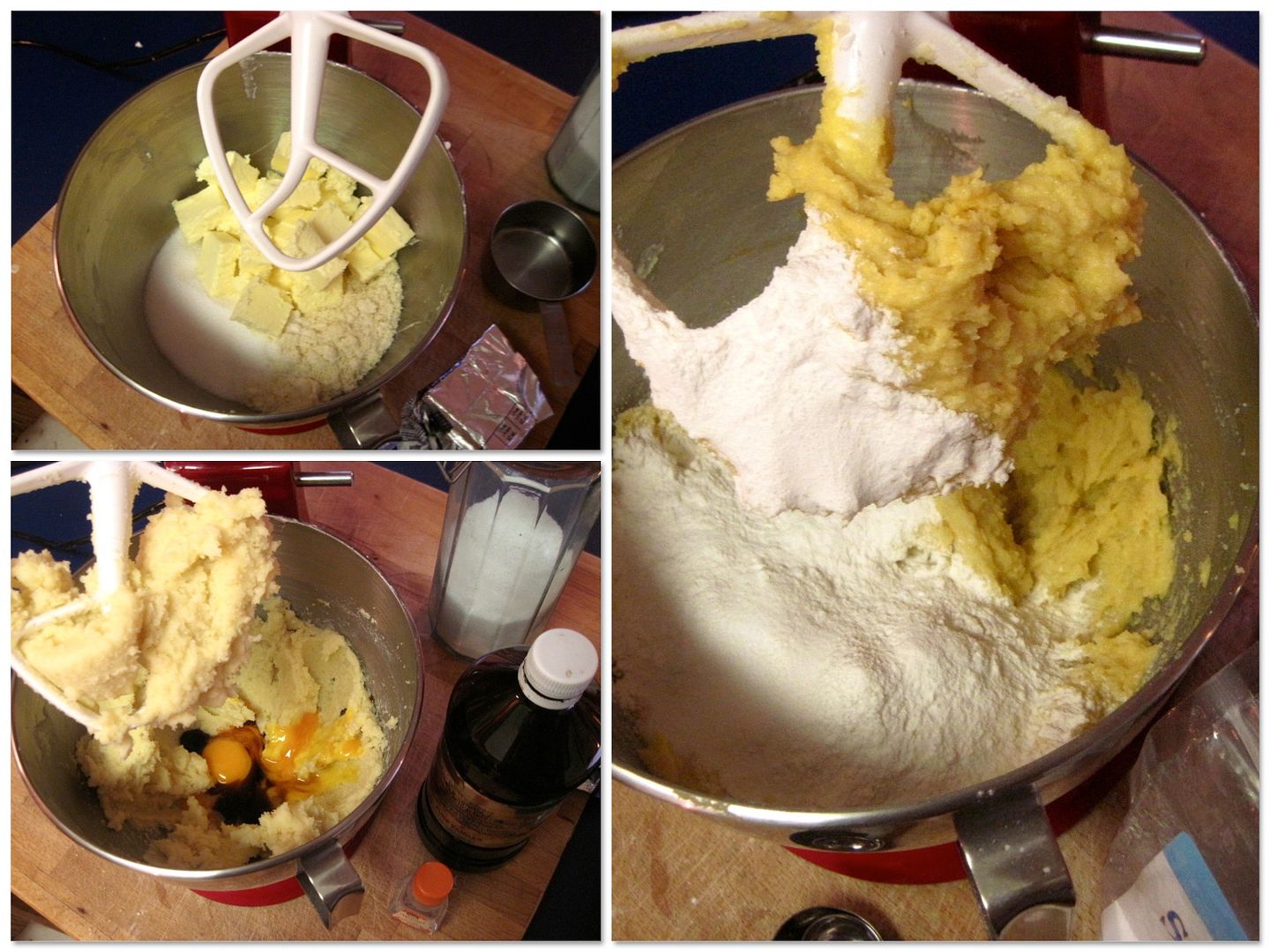 Add 1/3 of the beaten egg whites to the almond mixture and stir to combine (this will lighten the batter somewhat). Remove the bowl from the mixer and fold in the remaining egg whites by hand.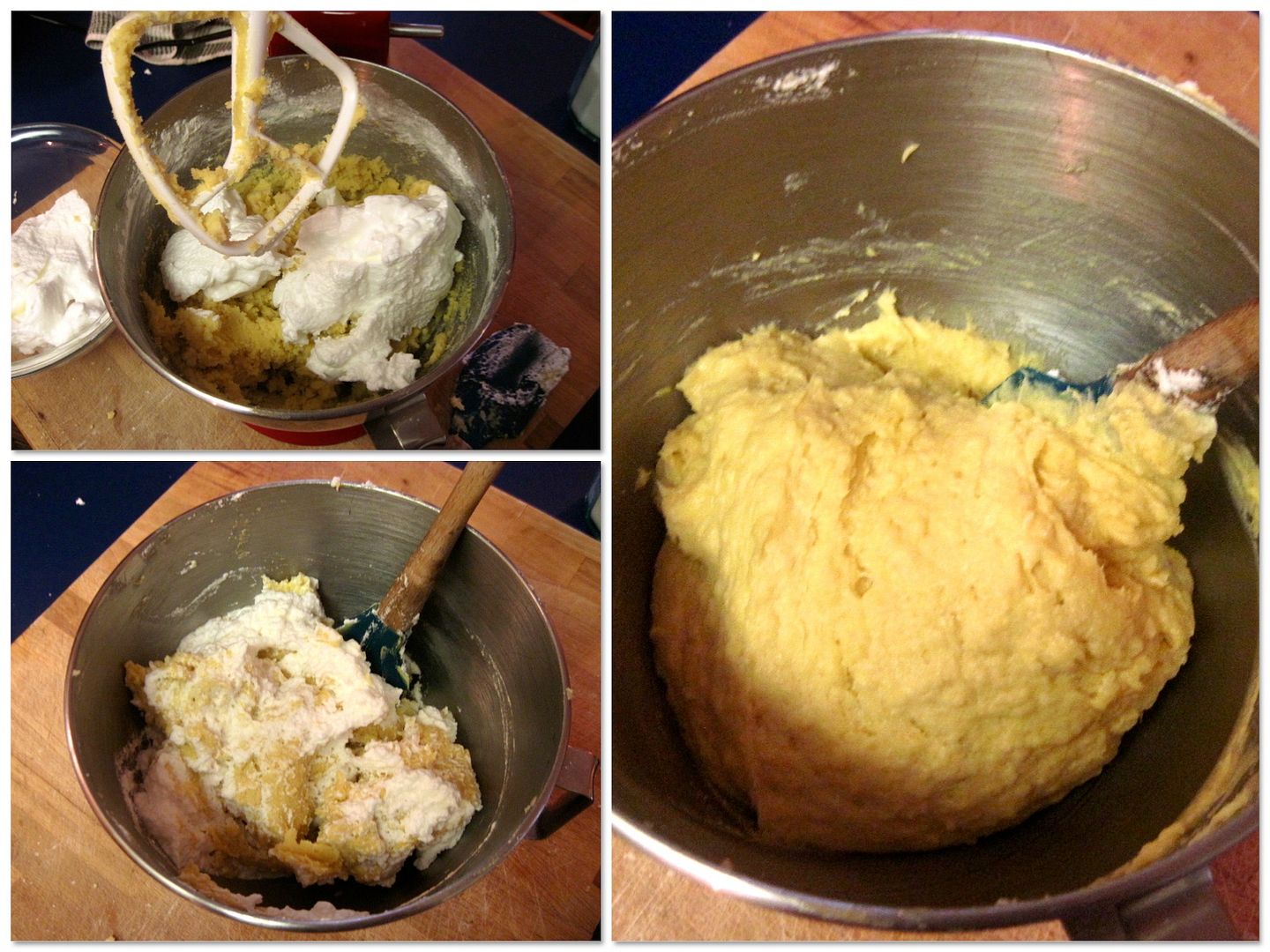 Divide the batter evenly between three bowls. To one bowl, stir in 20 drops of red food colouring; to another bowl, stir in 20 drops of green food colouring.
Put the green batter in the fridge. Spread the red batter evenly into your prepared pan (this was actually the most difficult part of the whole recipe, I found!), making sure it gets into the corners. It will only be about 1/4-inch thick. Bake in the preheated 350˚F oven for 8 – 10 minutes, until the entire surface is just set and no longer wet-looking. It probably won't look "done", but a cake tester will come out clean. Don't over bake it!
Remove the red layer form the pan using the parchment paper overhang and place it on a rack to cool (keep it on the parchment paper). Line the pan with a clean sheet of parchment and repeat with the white batter. Take the green batter out of the fridge to come to room temperature while the white layer bakes, then repeat once more with the green batter. Let all the layers cool completely before continuing (do not stack them).
While the layers are cooling, heat a heaping 2/3 cup of apricot jam and then press it through a sieve to remove any chunky bits. Set aside.
When the layers are cool, invert the green layer onto a cookie sheet lined with plastic wrap. Peel the parchment paper from the cake, then spread it with half the sieved apricot jam. Invert the white layer on top of the jam, peel off the paper, and spread with the remaining jam. Finally invert the red layer on top of the white layer and peel off the paper. Press gently to stick it all together.
Wrap the layers tightly with plastic wrap. Place a second cookie sheet on top and weight it down with several cans. Put the whole thing in the fridge to chill for at least 8 hours or overnight.
When you are ready to continue, remove the weighted cookie sheet and let the layers come to room temperature.
Meanwhile, chop:
200 grams good quality dark chocolate
Melt half the chocolate plus 1 tsp butter in a double boiler. Remove the bowl from the heat and stir in the remaining chocolate until smooth.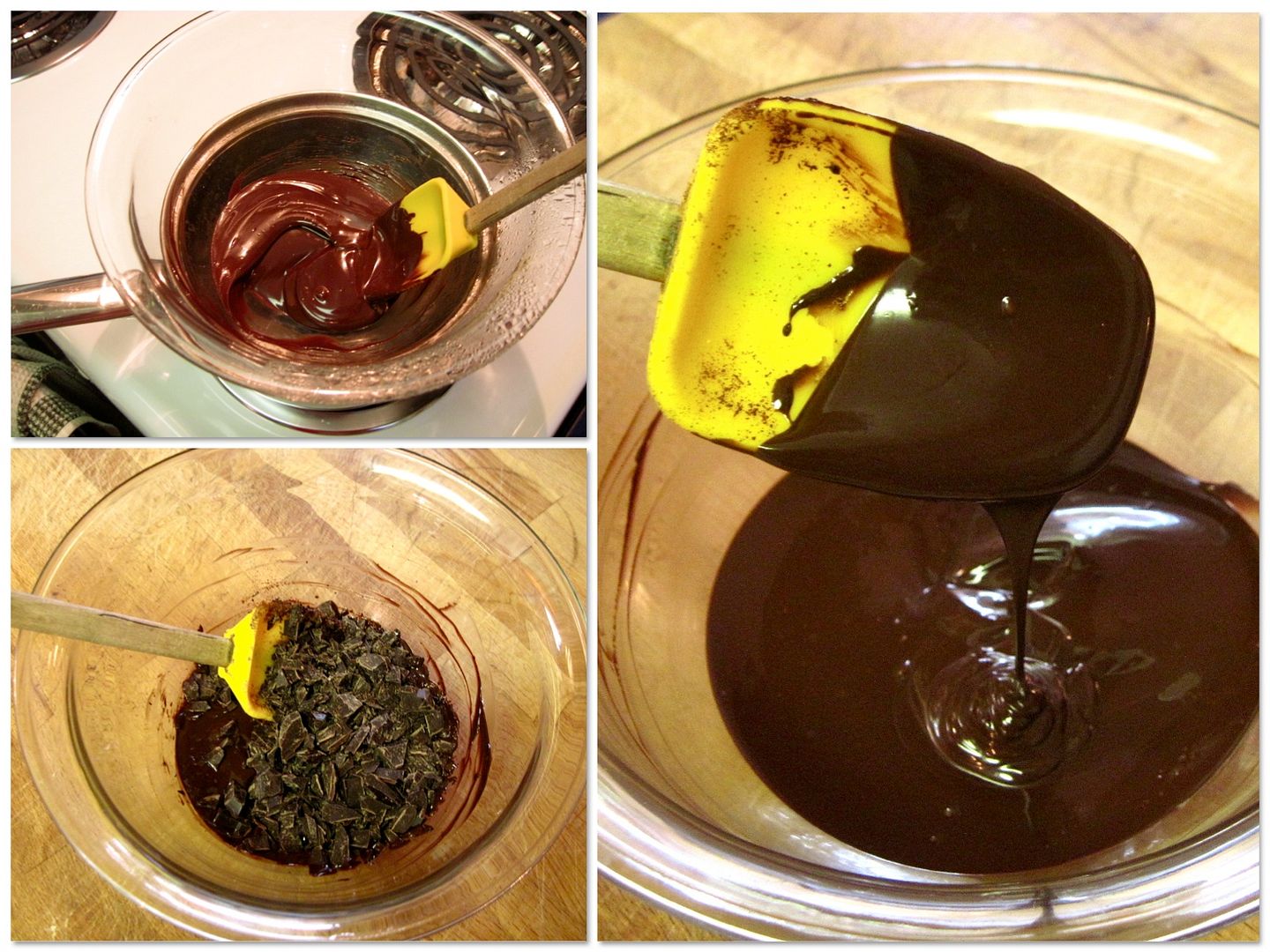 Unwrap the coloured layers and spread the top evenly with half the melted chocolate. Chill in the fridge to set, about 15 minutes. Place a sheet of waxed paper on top of the chocolate, top it with a cookie sheet, and invert the whole thing so that the chocolate is on the bottom and the green layer is on top. Spread the remaining chocolate over the green layer. Do this quickly, as the chocolate will want to set on the recently-chilled cake. Return to the fridge until the chocolate is set.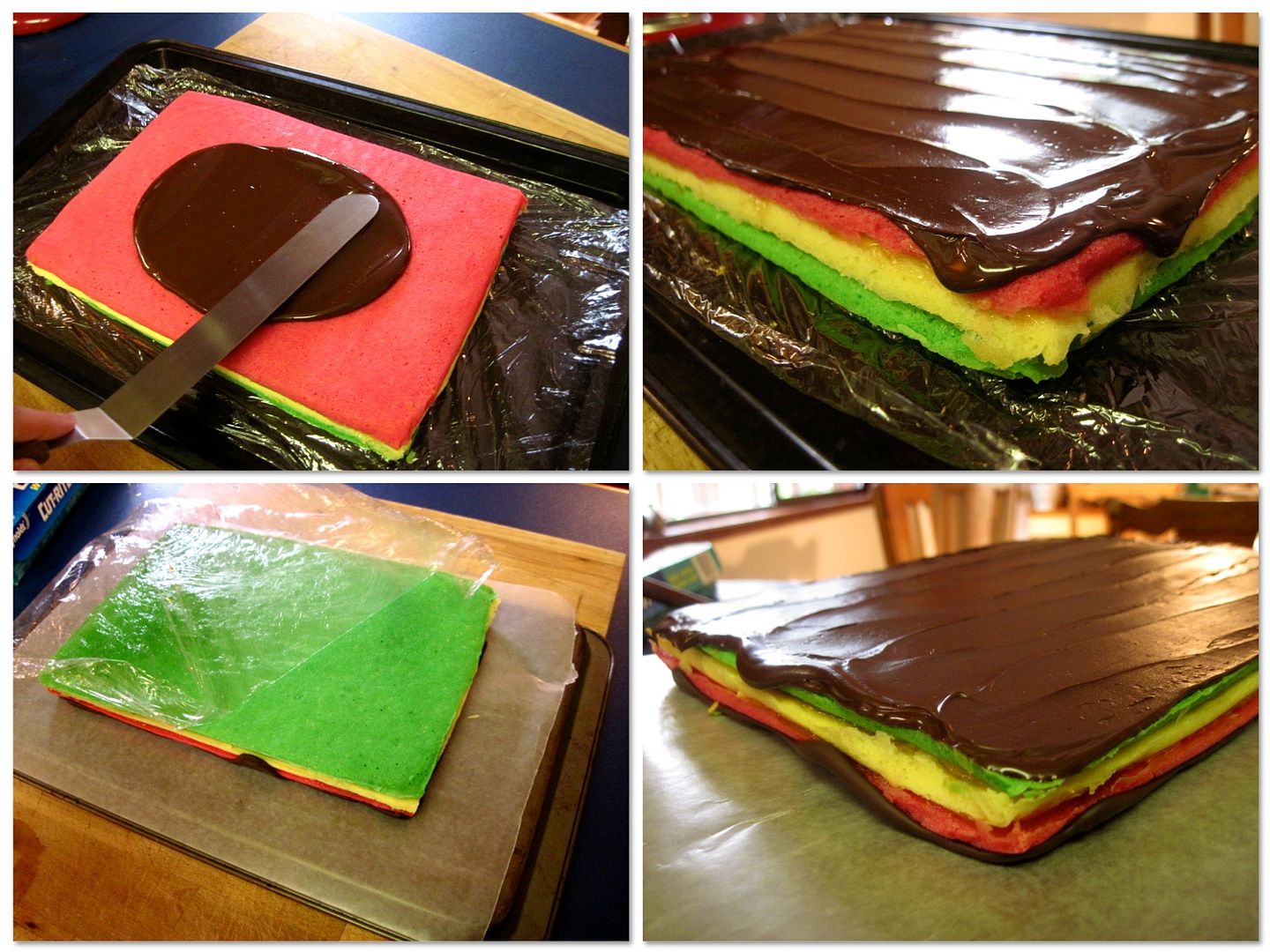 To slice, run the blade of a large chef's knife under hot water, Dry it off and use the warm knife to trim the edges of the layers, then score and cut the cake lengthwise into 6 slices. Cut each slice into about 8 small rectangles.
The cookies will keep up to two weeks at room temperature, layered between waxed paper in an airtight container, or even longer, well-wrapped, in the freezer.
Danish Butter Cookies
Adapted from Epicurious. As mentioned above, these are only really "Danish" if you use Danish butter. Any cultured butter could be used if Danish is unavailable, and to be quite honest, I couldn't taste a difference in the baked cookies – so really, any good quality butter would be fine to use! Makes lots, depending on the size.
In a mixer bowl with the paddle attachment, cream:
1 lb unsalted butter, softened
Beat until very very light and fluffy, then add:
3/4 cup granulated white sugar
Beat until well combined.

In a bowl, whisk together:
2 cups all purpose flour
1 tsp baking soda
a pinch of salt
Add the flour to the butter-sugar mixture and stir by hand until just combined.

Divide the dough in half and scrape each half onto a piece of plastic wrap, shaping it into a log-shape with a spatula. Use the plastic wrap to form a log of cookie dough about 1 1/2″  in diameter. Chill in the fridge until completely firm.
Preheat the oven to 325˚F. Slice the log of dough into slices about 1/8″ thick and place then 1″ apart on a parchment paper-lined baking sheet. Return any extra unbaked dough to the fridge until you are ready to bake it. Brush the cookies lightly with an egg wash (1 egg + 1 tbsp water) and sprinkle them with coarse sugar.
Bake for about 15 minutes, until pale golden around the edges. Cool on the baking sheet for about 5 minutes, then slide the cookies (still on the parchment paper) onto a rack to cool completely. Remove from the parchment paper with a thin, flexible spatula. Best eaten the day they are baked, but will keep in an airtight container for a few days.

Pecan Butter Cookies
Add 1 cup chopped, toasted pecans to the cookie dough and proceed as above.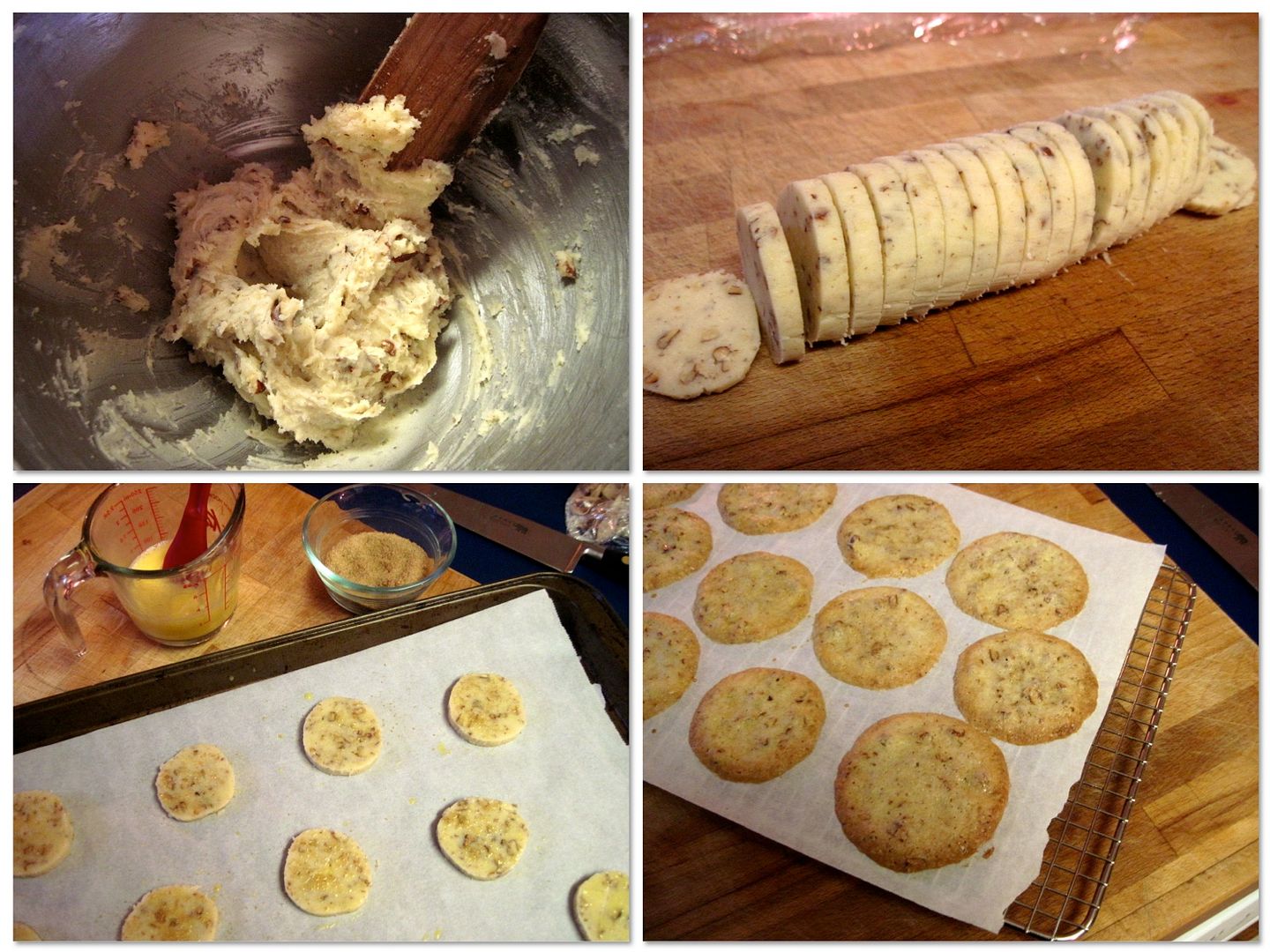 Jam Thumprint Butter Cookies
Use a different recipe! 😉