Almost every fall, I end up with a whole bunch of apples from my Mum (usually from the tree of a friend of hers), and more often than not, those apples end up in one of my very favorite things to make: apple pie. For me, fall is not complete without an apple pie or two.
But sometimes it's good to change things up. My friend Sibella feels the same way about apple strudel as I do about apple pie, and when I saw her recipe – complete with homemade strudel dough that you stretch and stretch until it is see-through-thin and big enough to cover your entire kitchen counter – I changed my tune from apple pie to apple strudel.
Of course, being fall, there are a billion recipes featuring apples in the food blogosphere, but the other one that caught my eye was a salted caramel apple tart from Smitten Kitchen (not surprising because I pretty much want to make EVERYTHING on that blog). Using the tart as inspiration, I made a deeply flavoured caramel sauce using salted butter, tossed it with a bunch of apples, and used it to fill the strudel.
Topped with a little whipped cream and some extra caramel (I need to keep a vat of this stuff in the fridge, seriously), it is every bit as good as I was hoping – a nice change from apple pie, but still with that cozy, familiar feeling. Despite the fact that it's full of caramel, it's not too sweet, and the dark caramel lends a surprising amount of flavour complexity. And as much as I love the apple and cinnamon combination, it's nice to have a change from that, too!
Salted Butter Caramel Apple Strudel
Makes 1 large strudel, 8 – 10 servings.
Salted Butter Caramel Sauce
Adapted from Smitten Kitchen. Makes about 1 1/3 cups. Recommended reading: David Lebovitz's excellent tips on how to make perfect caramel, here and here.
Have ready:
6 tbsp salted butter
1/2 cup + 2 tbsp heavy cream
Put these beside the stove so you have them at your fingertips exactly when you need them (as the caramel can go from perfect to over-done quickly).
In a large, heavy bottomed pot (larger than you think you will need – things will bubble up a lot when you add the butter and cream), sprinkle:
1 cup granulated white sugar
Place the pot over medium heat and melt the sugar. As the sugar begins to melt and darken, gently move it around with a spatula so that it continues to melt evenly. If you find that you have over-stirred and the mixture becomes clumpy and non-melty, turn the heat to very low and let it melt, stirring as little as possible. Once the sugar melts, it will start to darken quickly, so pay attention. Cook until it turns a dark copper colour and smells like one of those candy stores that makes caramel apples.
Add the butter all at once and stir it in to stop the cooking, then turn off the heat and pour in the cream. The sauce will bubble up very vigorously so watch out! This stuff is molten hot and will burn your skin instantly – whatever you do, no matter how delicious it smells, don't be tempted to stick your finger in there!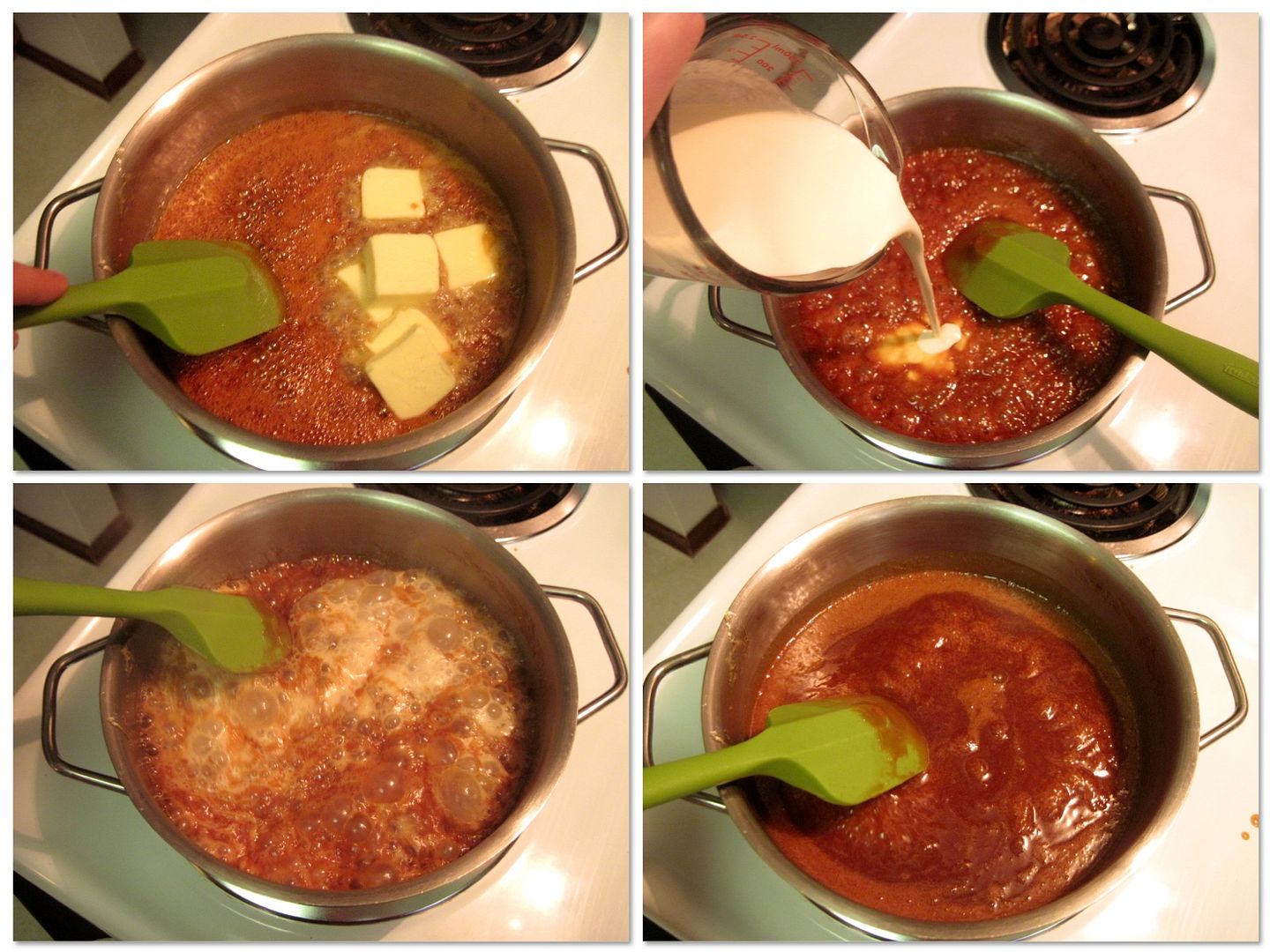 Stir until you have a smooth caramel (you may need to use a whisk), then pour it into a glass jar or bowl to cool. Once cool, you can use it in the strudel recipe (or you can make the caramel in advance and refrigerate it to use later – it will thicken as it cools so warm it in the microwave for 30 seconds so it becomes pourable).
Strudel Dough
Adapted from Baking with Sibella
In a mixer bowl, combine:
2 cups all purpose flour
1 egg
2 tbsp vegetable oil
1 tbsp white wine (yes, wine)
a pinch of salt
Begin stirring on low speed with the dough hook attachment and gradually pour in:
1/2 cup + 2 tbsp warm milk
Turn the speed up to medium and mix until the dough is smooth and elastic. It will be quite soft and sticky, but shouldn't be overly wet (I had to add a few extra tablespoons of flour). Sprinkle the dough with a little bit of flour and knead with your hands to form a ball. Place the dough in an oiled bowl, cover with plastic, and let rest for at least 2 hours (mine rested for about 4 hours).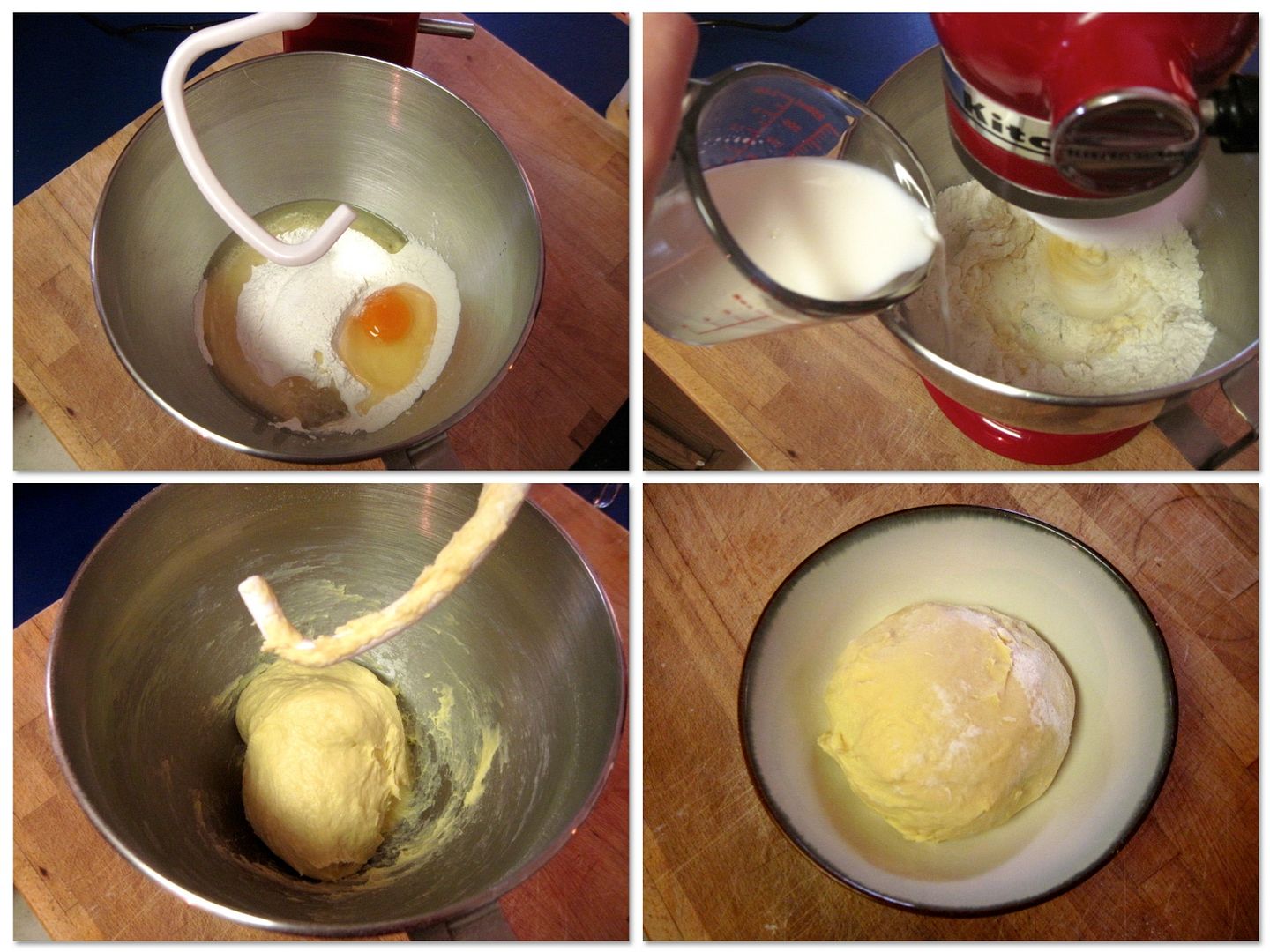 Filling
In a saucepan over low heat, melt:
3 1/2 tbsp unsalted butter
Add:
1 cup breadcrumbs
1/4 cup granulated white sugar
Cook, stirring, until the breadcrumbs are toasty brown. Set aside.

In a large bowl, combine:
3 cups peeled, thinly sliced apples
juice of 1 lemon
1/2 cup salted butter caramel
Stir to coat the apples, then set aside.
Assembly
Preheat the oven to 400˚F with a rack in the lower third.
Place the rested dough on a floured surface, sprinkle it with flour, and roll it out into a large square. Transfer the dough to a large kitchen towel (or a clean bed sheet!) dusted with flour. I used two tea towels, which worked reasonably well. Put your hands underneath the dough and gently begin stretching it from the middle towards the edges. When the dough is thin and transparent and very large (mine was about 24″ x 32″), cut off the thick edges.
Brush the whole thing with 3 1/2 tbsp melted unsalted butter (keep a little bit for the top of the rolled strudel). Sprinkle it with the toasted breadcrumbs, leaving a 2-inch border around the edges, then top with the caramel apples, spreading them out evenly. Fold over three of the edges (two shorter and one long).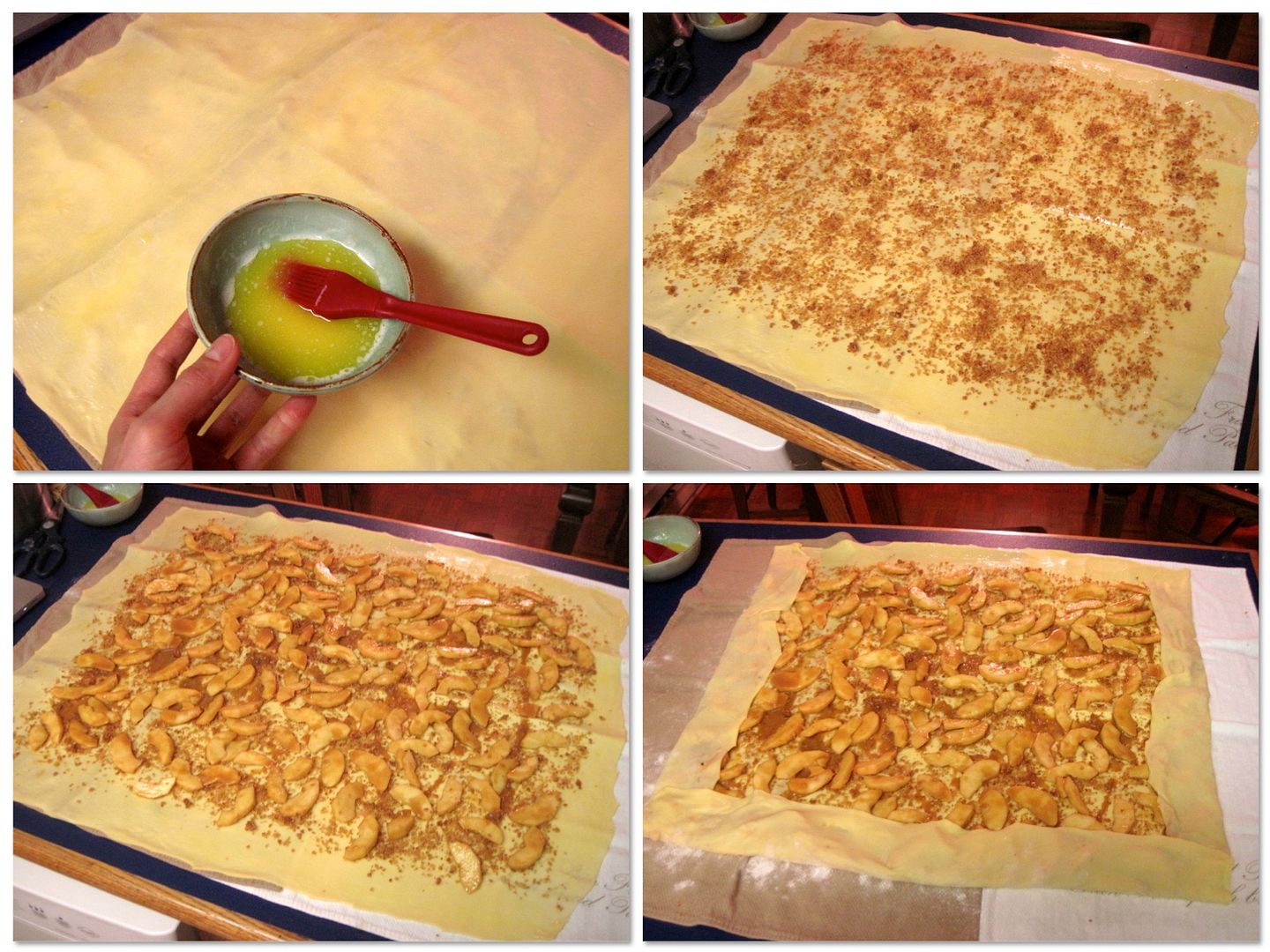 Lift the kitchen towel and use it to roll up the strudel from the unfolded edge.

Use the towel to transfer the strudel to a parchment paper-lined baking sheet (I had to scrunch my strudel up a bit to make it fit on the sheet – you can also cut it in half if it's too big). Brush with the remaining melted butter, then bake in the lower third of the preheated 400˚F oven for 20 – 30 minutes, until golden brown. Let it sit for a few minutes, then sprinkle it with icing sugar, cut it into slices, and serve warm with a drizzle of caramel sauce and a dollop of whipped cream.