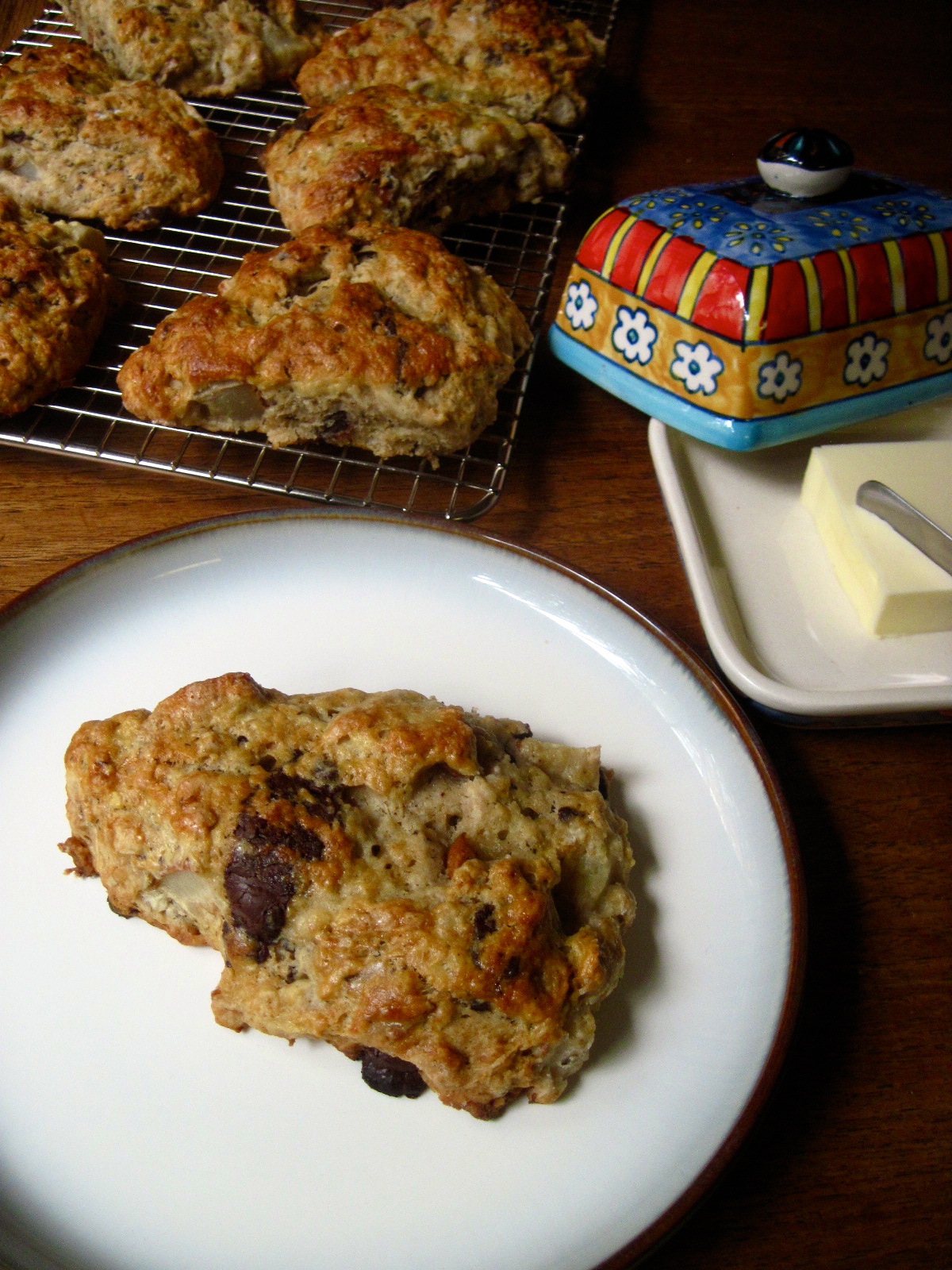 Coincidence (noun): a striking occurrence of two or more events at one time apparently by mere chance.
Serendipity (noun): good fortune; luck; the faculty or phenomenon of finding valuable or agreeable things not sought for.
Was it a coincidence or serendipity that just days after bookmarking these roasted pear and chocolate chunk scones, I discovered that the Sourdough Surprises project for this month was sourdough scones?
Whatever it was, the resulting pear and chocolate chunk sourdough scones were amazing. These are not the flaky, dainty, tea time scones I usually make. These are much more the type of scone you would find in a coffee shop or bakery: giant, full of chunks of fruit and chocolate, moist and substantial without being heavy, and perfect with a cup of coffee. And the best part is that, unlike most scones, these ones were still pretty good to eat one or two days later. In fact, the sourdough taste, which was quite subtle at first, became more pronounced with time. However, if you make these for a crowd, you probably won't find this out for yourself, because I'm pretty sure that if there had been more than just the two of us to eat eight gigantic scones, they would have been gone almost instantly.
I mean really, who can say no to a big hunk of pear and chocolate?
Some recipe notes:
This dough, adapted from Susan at Wild Yeast, is quite wet, and I now understand why Susan's method includes packing the dough into a round cake tin, freezing it and then cutting it – rather than trying to shape it into a circle, cut it in wedges, and then transfer the wedges to a baking sheet. It is possible, but they would almost make better drop scones. So I'm including lots of options below.
Make sure your starter is at room temperature and slightly past its prime – this will make it more liquid and easier to mix into the rest of the ingredients. It's not actually contributing much to the rise of the scones, just enhancing their flavour.
Check the Sourdough Surprises blog for more delicious sourdough scones. 🙂
Pear and Chocolate Chunk Sourdough Scones
Adapted from Wild Yeast and Smitten Kitchen. Makes 8 big scones.
Preheat the oven to 375˚F. Cut in half:
3 firm-ish pears
Use a melon baller or teaspoon to scoop out the core, then cut the pears into 1-inch chunks. Place them on a parchment paper-lined baking sheet and roast in the 375˚F oven for about 20 minutes, until they are just golden on the bottom and looking dry on their cut edges. Turn the oven up to 400˚F and set the pears aside to cool while you make the scone dough.
In a bowl, whisk together:
100 grams all purpose flour
80 grams whole wheat flour
1 1/2 tsp baking powder
1/2 tsp baking soda
heaping 1/2 tsp salt
50 grams brown sugar
Add:
113 grams (1/2 cup) cold unsalted butter, cubed

Cut in the butter with a pastry cutter until the largest pieces are in pea-sized bits. Stir in:
40 grams rolled oats

Add:
100 grams roughly chopped dark chocolate
the cooled roasted pears
Toss lightly to combine.
Mix together:
50 grams milk
244 grams mature 100% hydration starter, at room temperature
Pour over the pear/chocolate/flour mixture and fold gently with a spatula to combine, until it is just evenly moistened and there are a few little pockets of flour left.
At this point, you can: 1) drop the batter by large spoonfuls into 8 rounds on a silicon mat or parchment paper-lined baking sheet; 2) follow Susan's instructions for freezing and cutting the scones; or 3) do what I did, which was to turn the dough out onto a well floured surface, sprinkle it with flour, and fold it over on itself a few times, sprinkling it with flour after each fold. Shape it into a circle and cut it into 8 wedges. Using a pie server, transfer each wedge to a baking sheet lined with a silicon mat or parchment paper.
Regardless of which option you chose, beat together an egg wash of 1 egg + 1 tbsp water + a pinch of salt and brush it over the tops of the scones. Sprinkle them with sugar – the coarser, the better (all I had was granulated). Bake in the preheated 400˚F oven for about 30 minutes, until golden brown. Cool on a rack. If you manage to have leftovers, they will keep for up to two days in a sealed container.
This post has been YeastSpotted!