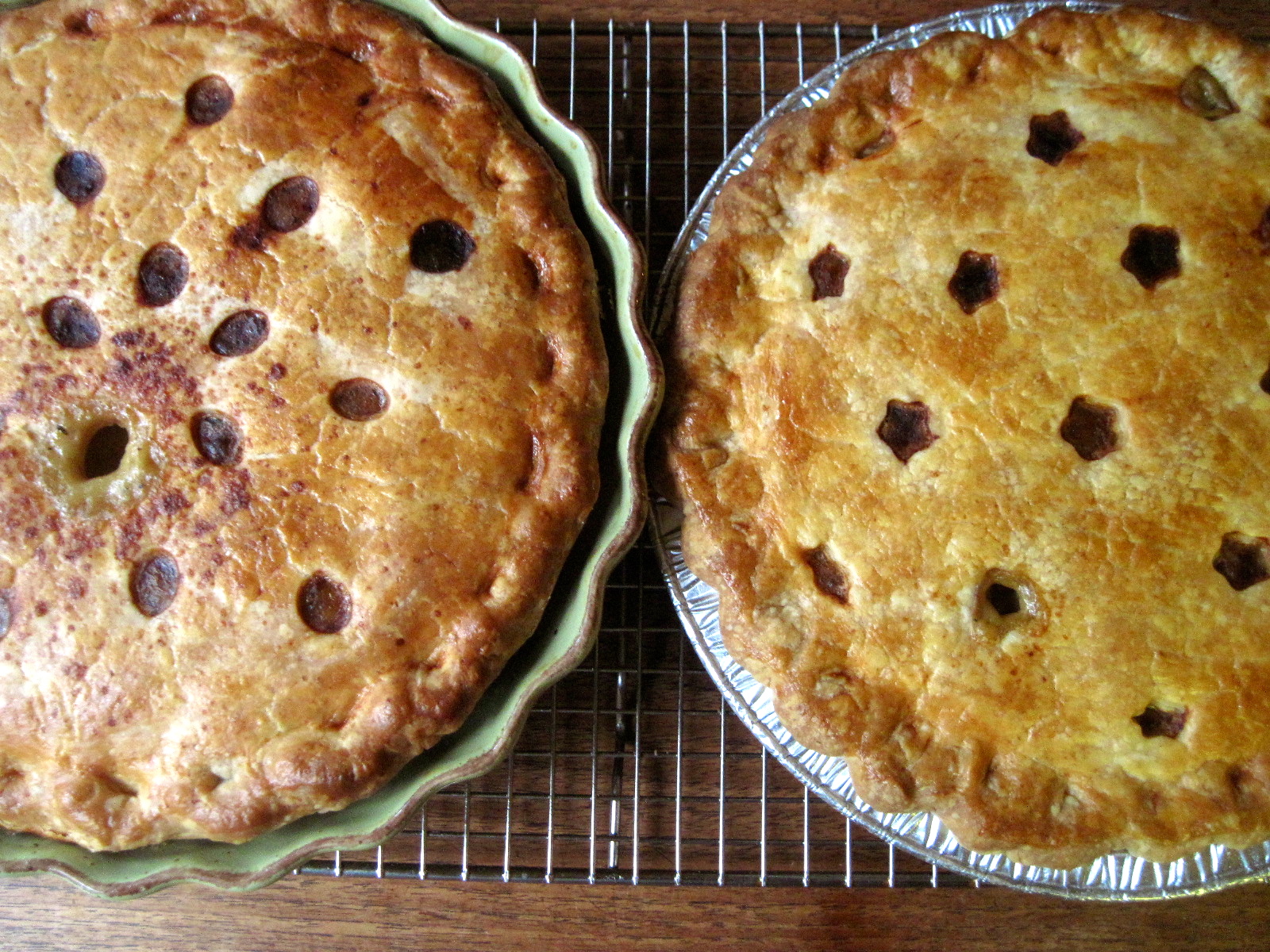 Last weekend I made two chicken, leek and mushroom pies: one for me and Nate, and one to give to some good friends who just recently had a sweet baby boy (I also made them some Perfect Peanut Butter Chocolate Chip Cookies). They appreciated it very much, but so did I – because, while I obviously love to cook and bake, what I really love is sharing what I've made with people and seeing them enjoy it (or in this case, hearing about it). It's pretty fulfilling to create something that makes other people happy, be it a piece of art, some words on a page, or a slice of chicken pie and a peanut butter cookie.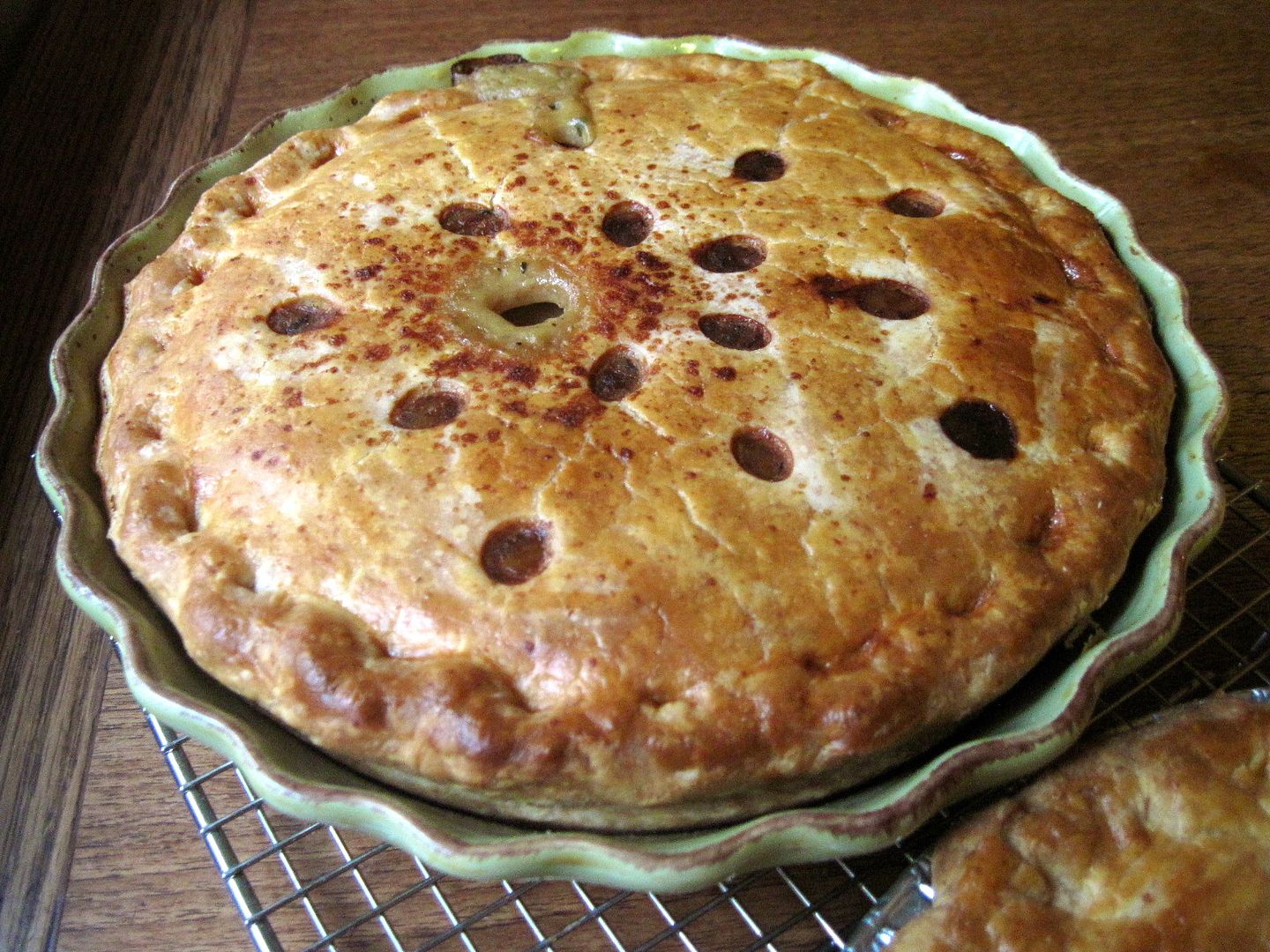 I didn't get a photo of the inside of the pie, because by the time we ate ours, it was dark and I was done with photography for the day. Just imagine lots of creamy, leek-infused gravy smothering tender, savoury pieces of chicken and mushrooms, all enclosed in flaky, light pastry. It was incredibly good, and made great left-overs for lunch the next day, too.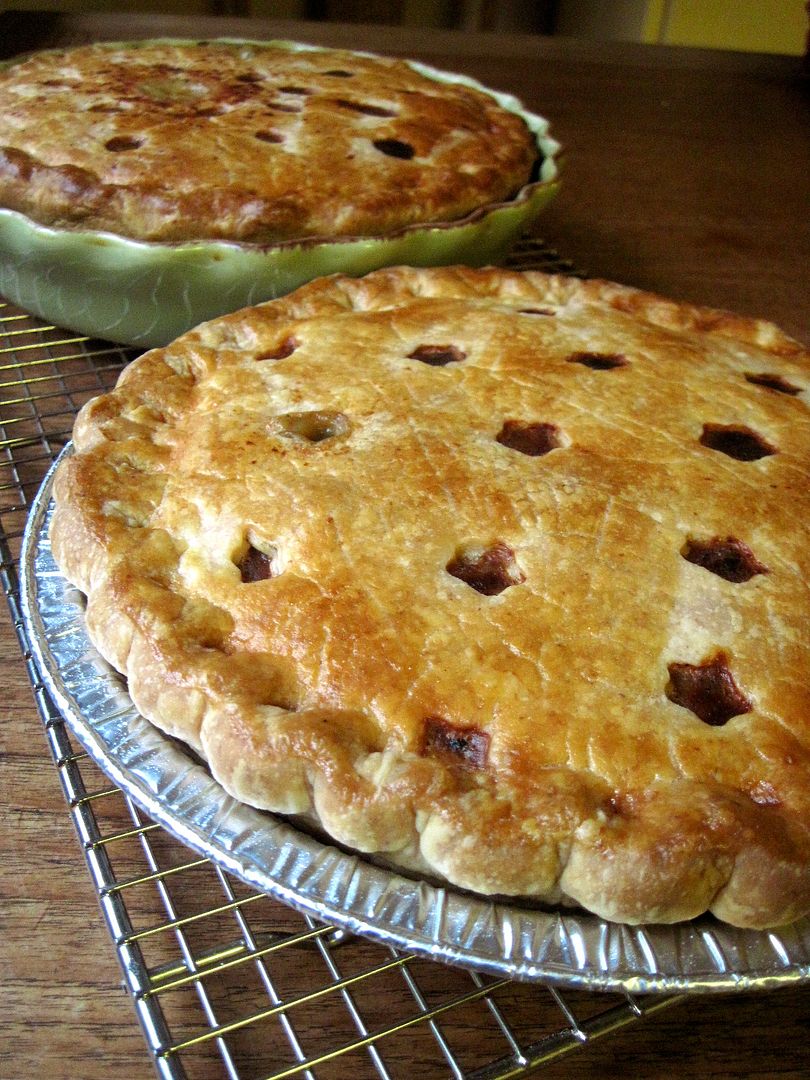 This recipe makes two pies, one for you and one to share. Enjoy 🙂
Chicken, Leek & Mushroom Pie
Heavily adapted from "Modern Classics, Book 1" by Donna Hay. Makes two 9-inch pies.
You will need a double batch of your favorite double-crust pastry recipe (I used this one), divided into four portions and chilled.
Chicken Stew Filling
In a Dutch oven, heat over medium-high:
1 tbsp olive oil
1 tbsp butter
When the butter stops foaming, add:
4 cups leeks, chopped and well-rinsed (I used some dainty farmer's market leeks, then supplemented them with a giant supermarket leek that was almost as thick as my arm. Hmmm.)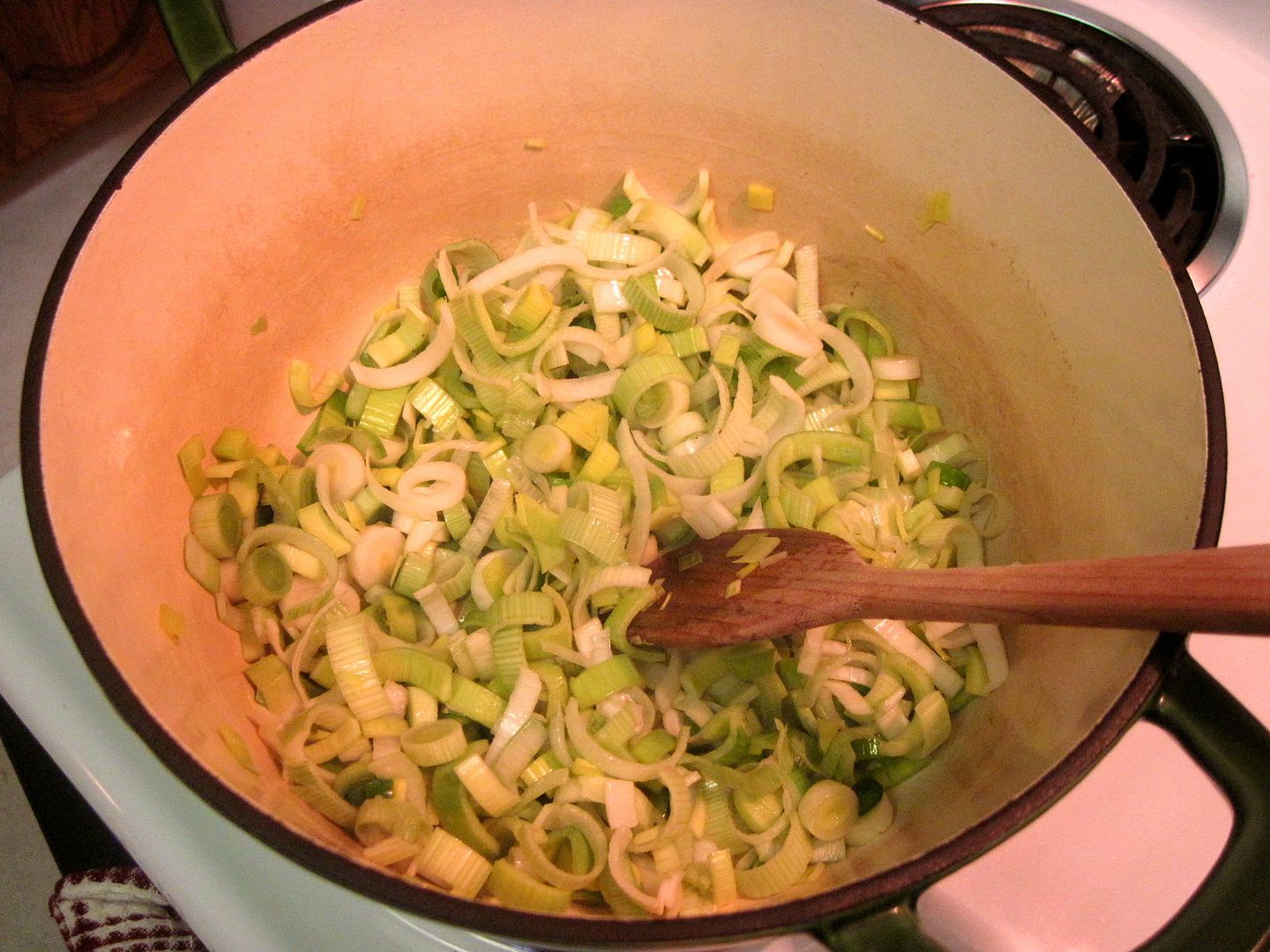 Sauté the leeks until softened, then add:
2 1/4 lbs boneless, skinless chicken thighs, cut into 1-inch pieces (this was about 9 medium size thighs)

4 cups chicken stock
2 bay leaves
1/2 tsp each dried thyme and sage
cracked black pepper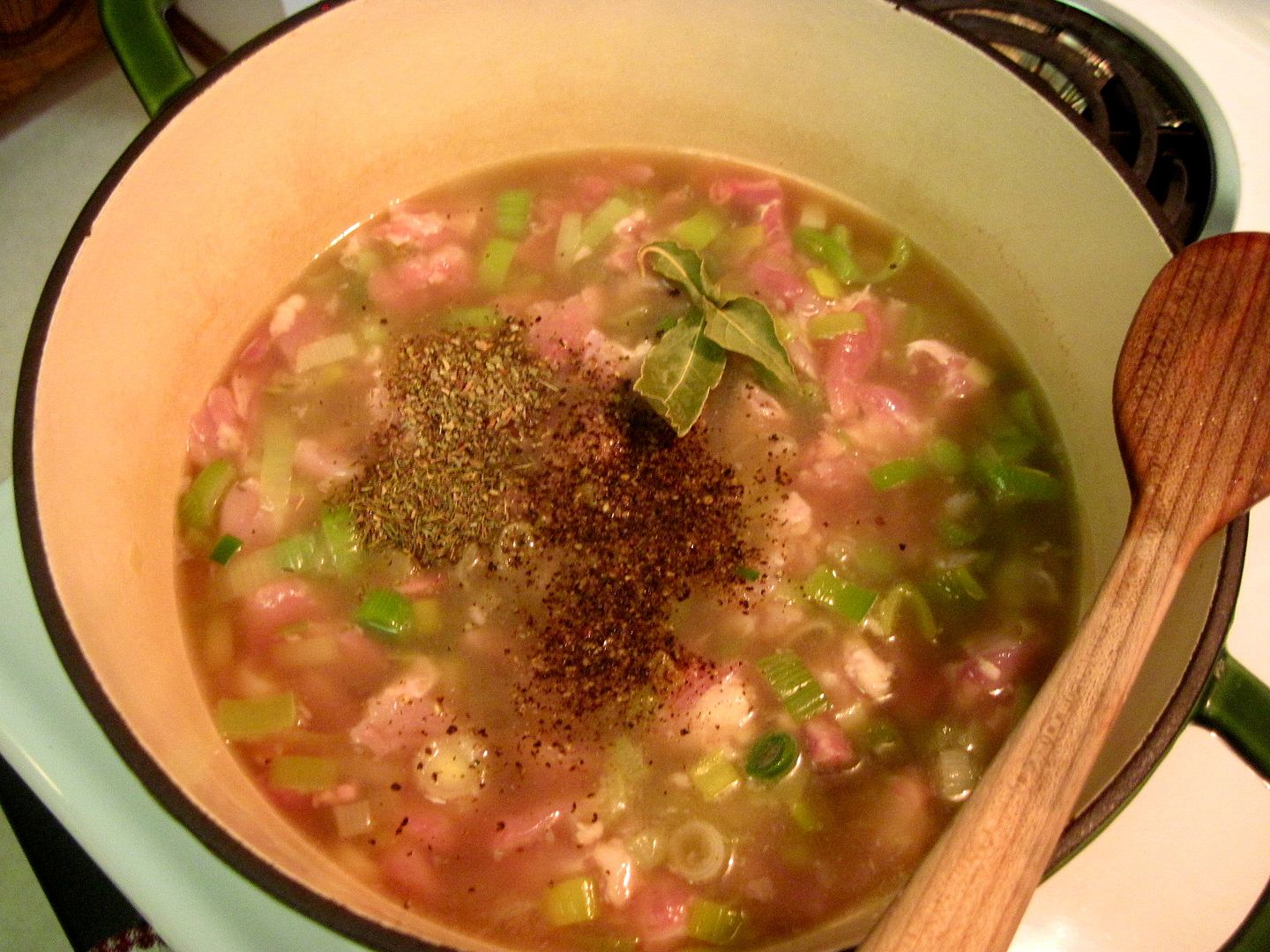 Bring to a boil then reduce the heat and simmer gently, uncovered, for about 45 minutes, until the chicken is tender. Add:
1/2 lb button mushrooms, cut in large pieces
a good handful of chopped Italian flat leaf parsley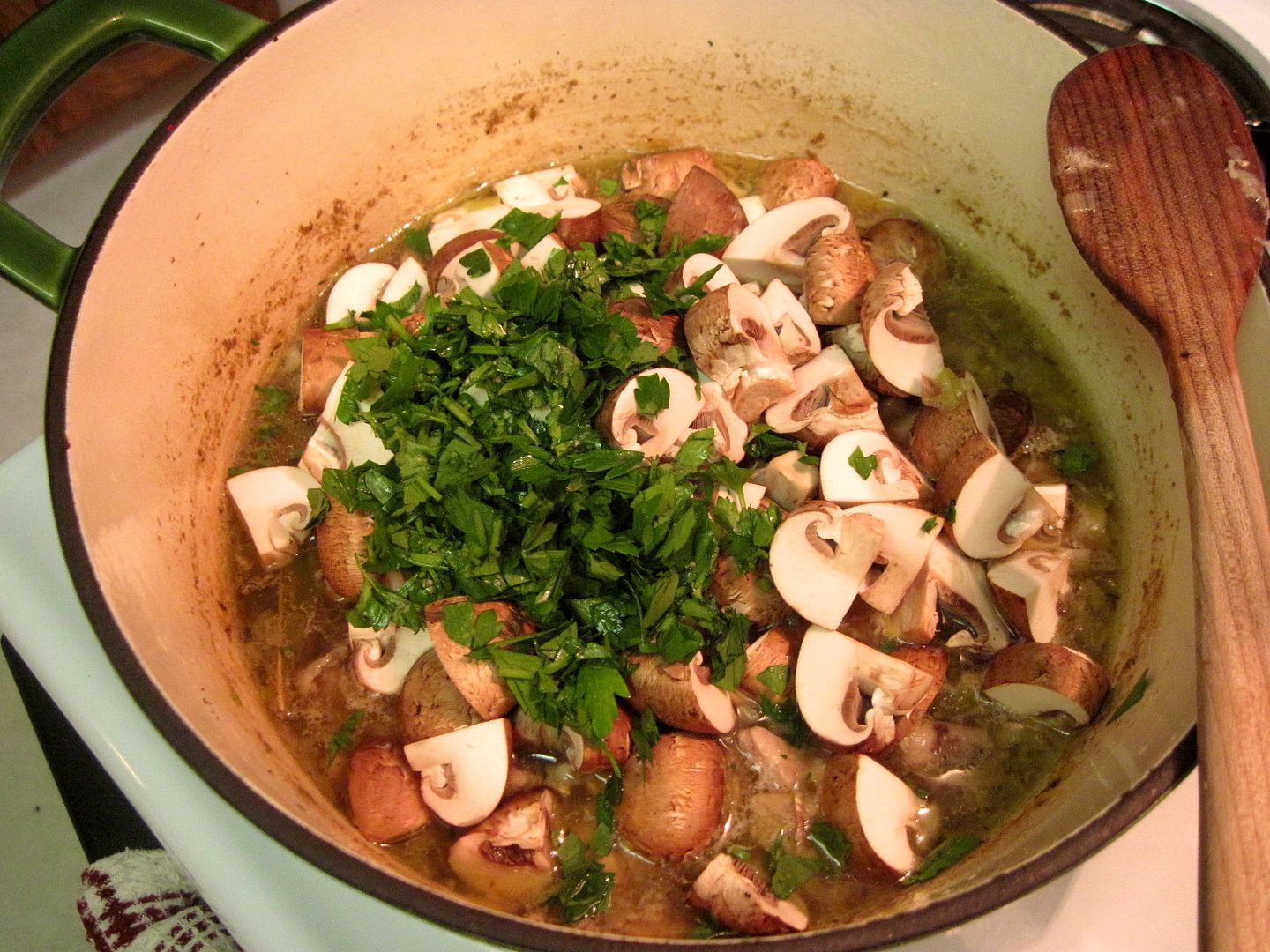 Cook for about 5 minutes.
Meanwhile, combine:
2/3 cup half and half cream
2 1/2 tbsp corn starch
Pour the cream mixture into the chicken stew and cook, stirring, until the mixture reaches a boil and thickens.
Remove from the heat and season with salt, pepper, and Worchestershire sauce. Remove the bay leaves. Set aside to cool.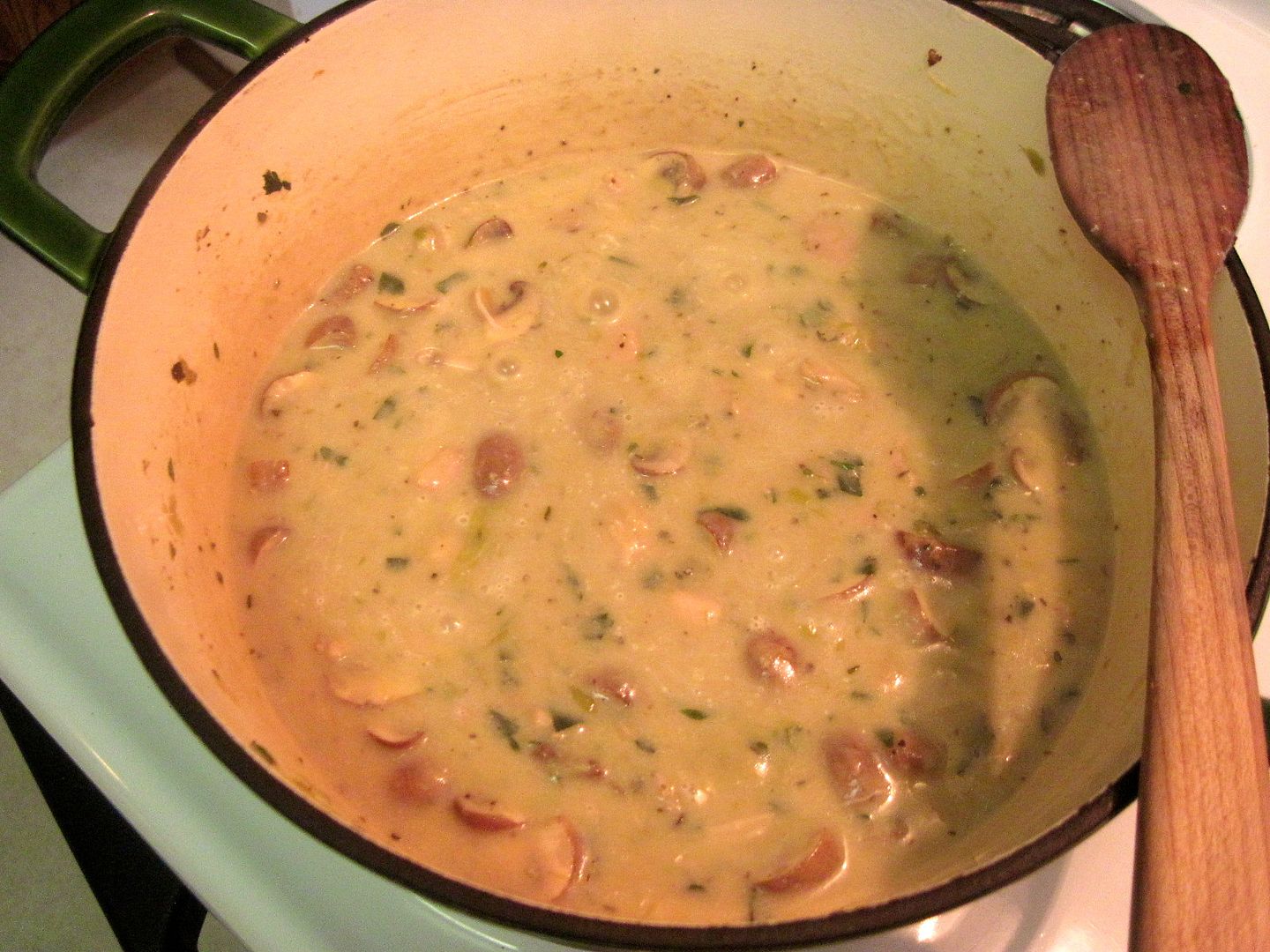 Preheat the oven to 425˚F. On a floured surface, roll out two portions of pastry to line two 9-inch pie plates. Fill each with half of the chicken stew mixture (best if the stew is not piping hot). Brush the edges of the pastry with water.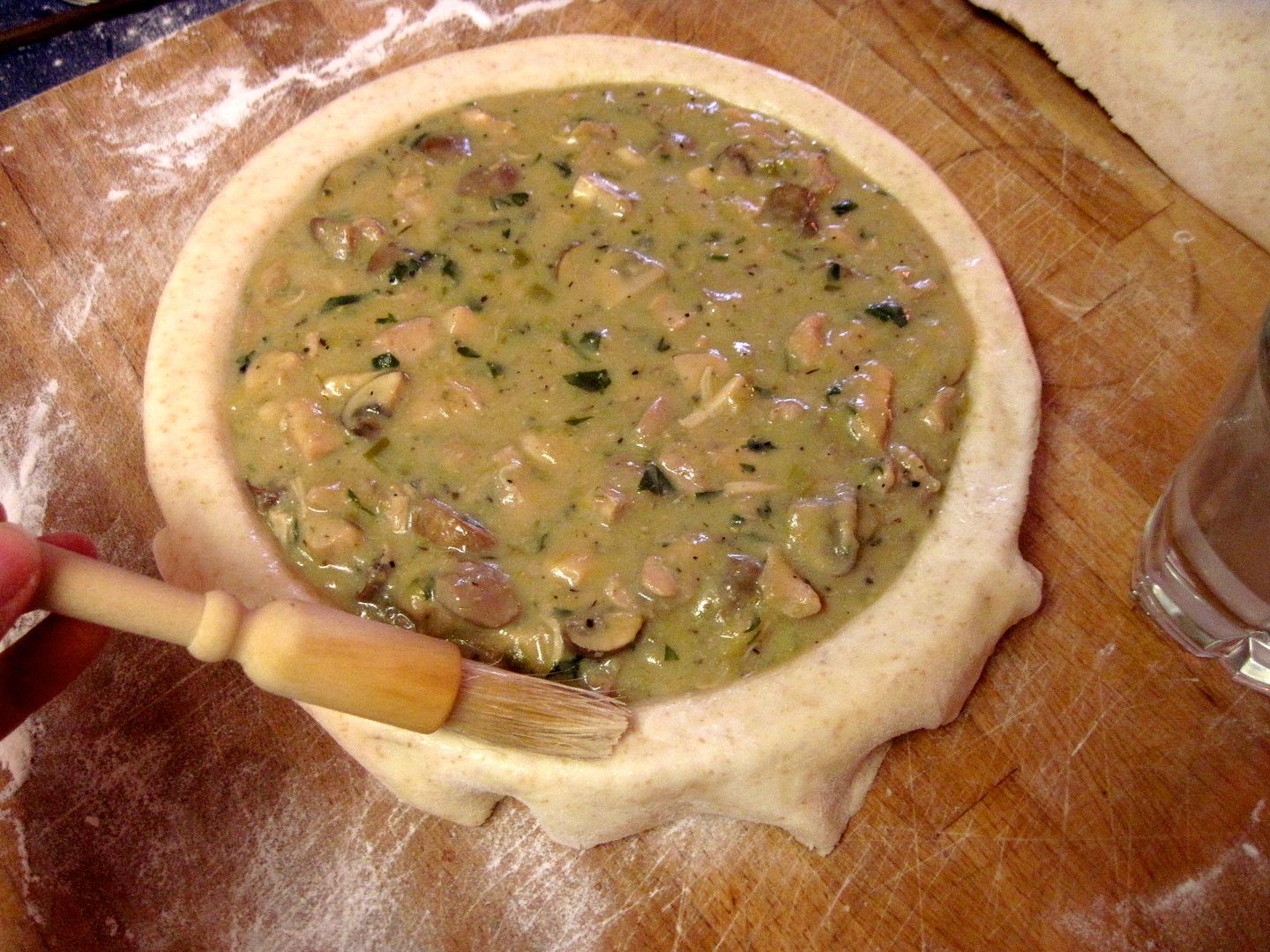 Roll out the other two pastry portions and use an aspic cutter or small cookie cutter to make decorative steam holes.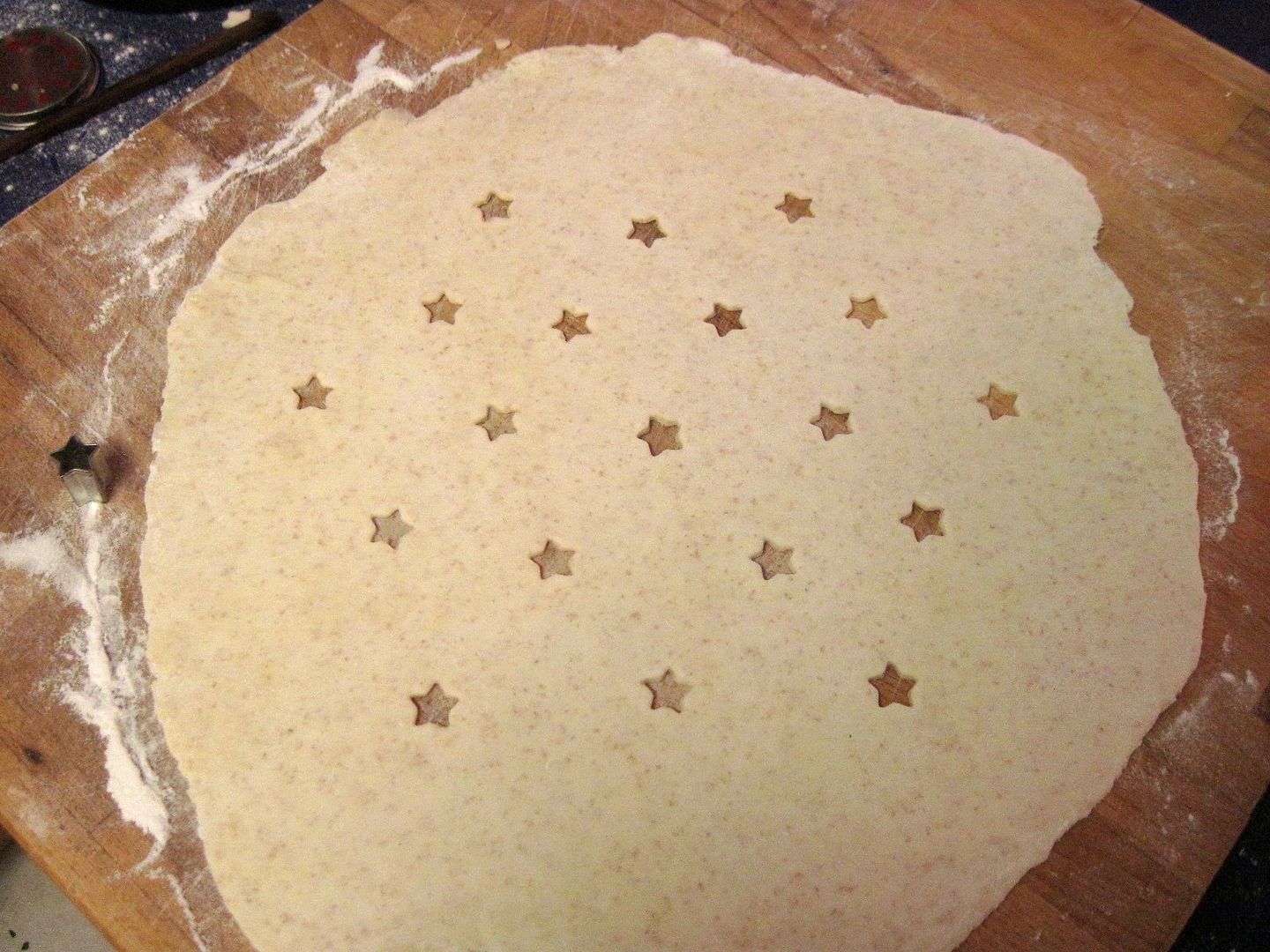 Place on top of the filling and press firmly around the edges to seal the pastry together. Use kitchen shears to trim the excess pastry, leaving about 1/2-inch overhang. Tuck the overhang under itself and flute the edge of the pastry with your fingers.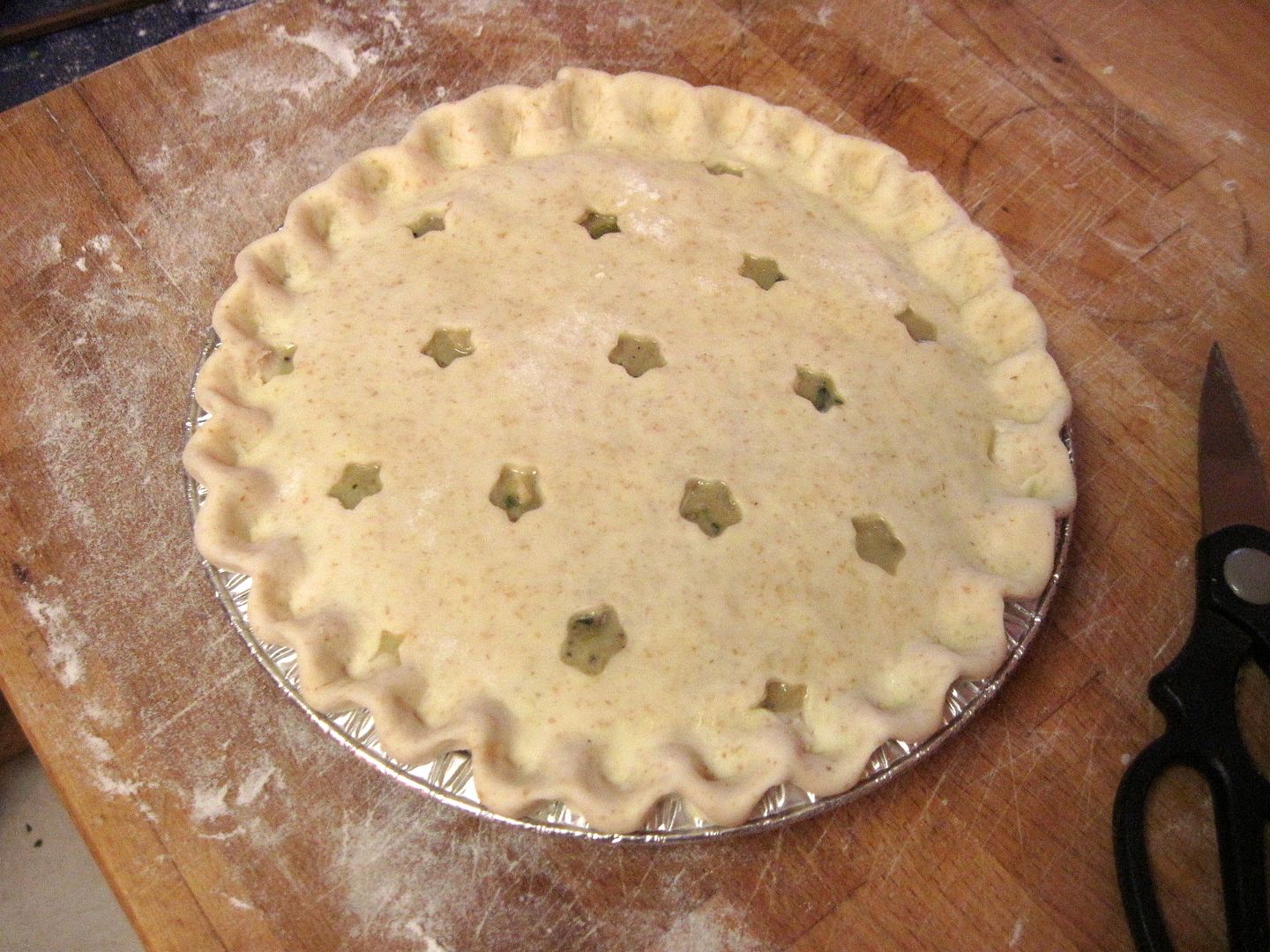 Brush the top of each pie with an egg wash (1 egg + 1 tbsp water).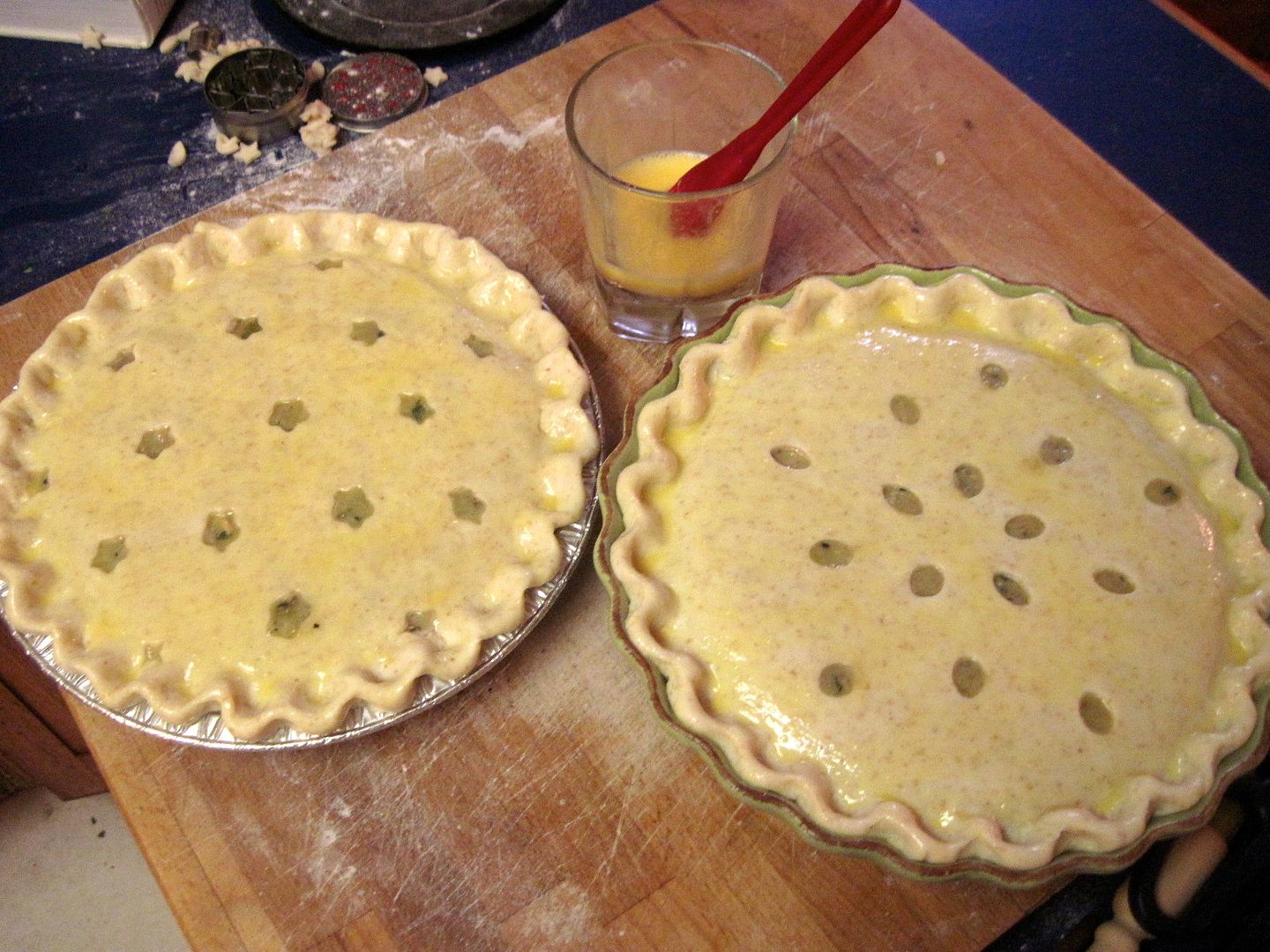 Bake in the preheated 425˚F oven for 15 minutes, then reduce the heat to 350˚F and bake for about 40 minutes longer, until brown on top and bubbling. Let stand for a few minutes before serving, or, if you are delivering one of these pies to a friend, it can be cooled completely (and refrigerated if necessary) and then reheated at 350˚F until warm.