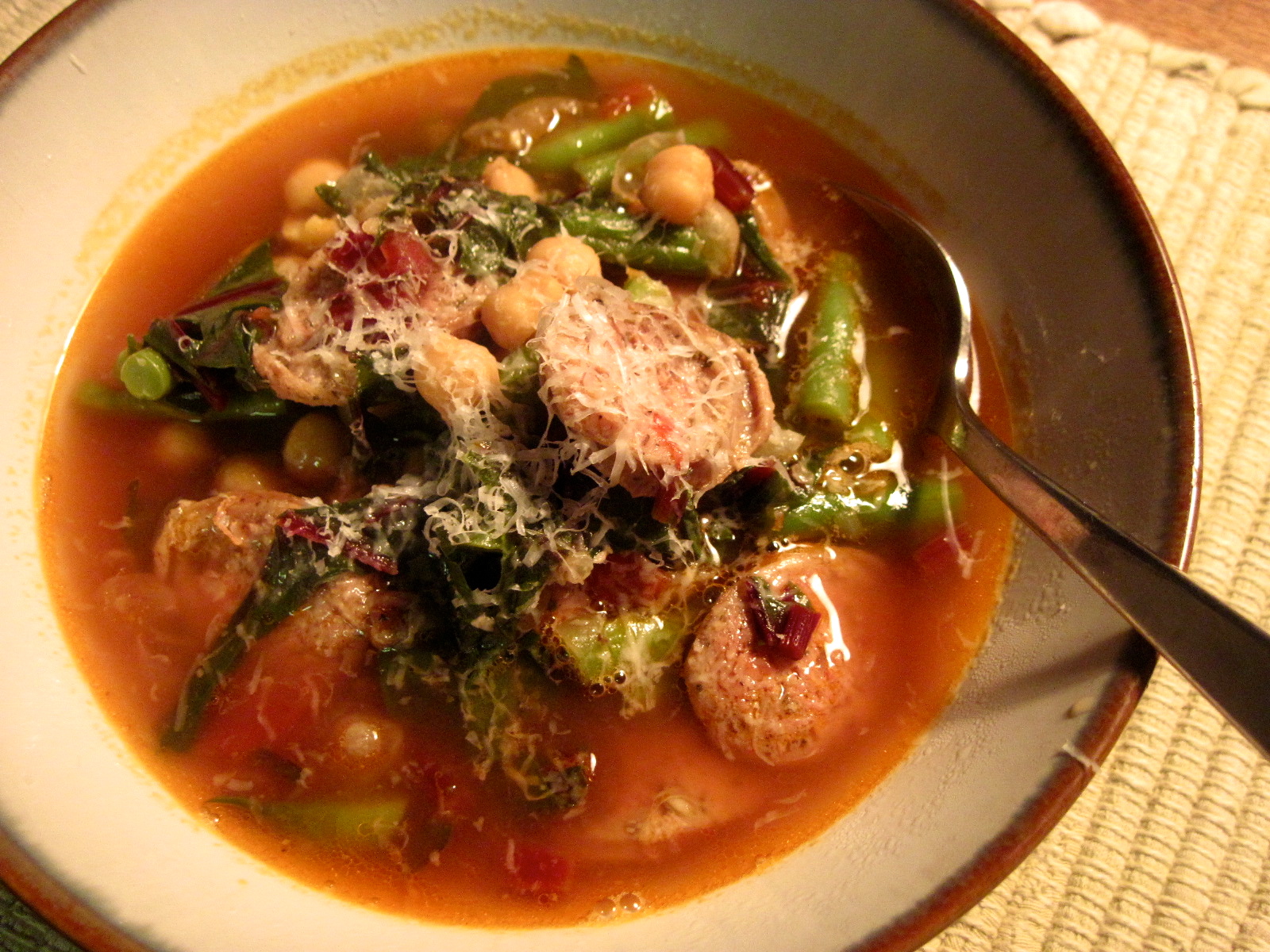 One side benefit of cooking a turkey is that you can get some great stock out of the deal. Our Thanksgiving turkey was big enough that I divided the bones for stock between my slow cooker and Dutch oven, and I managed to get 3 liters of beautiful, thick stock out of it. And where there's stock, there's soup.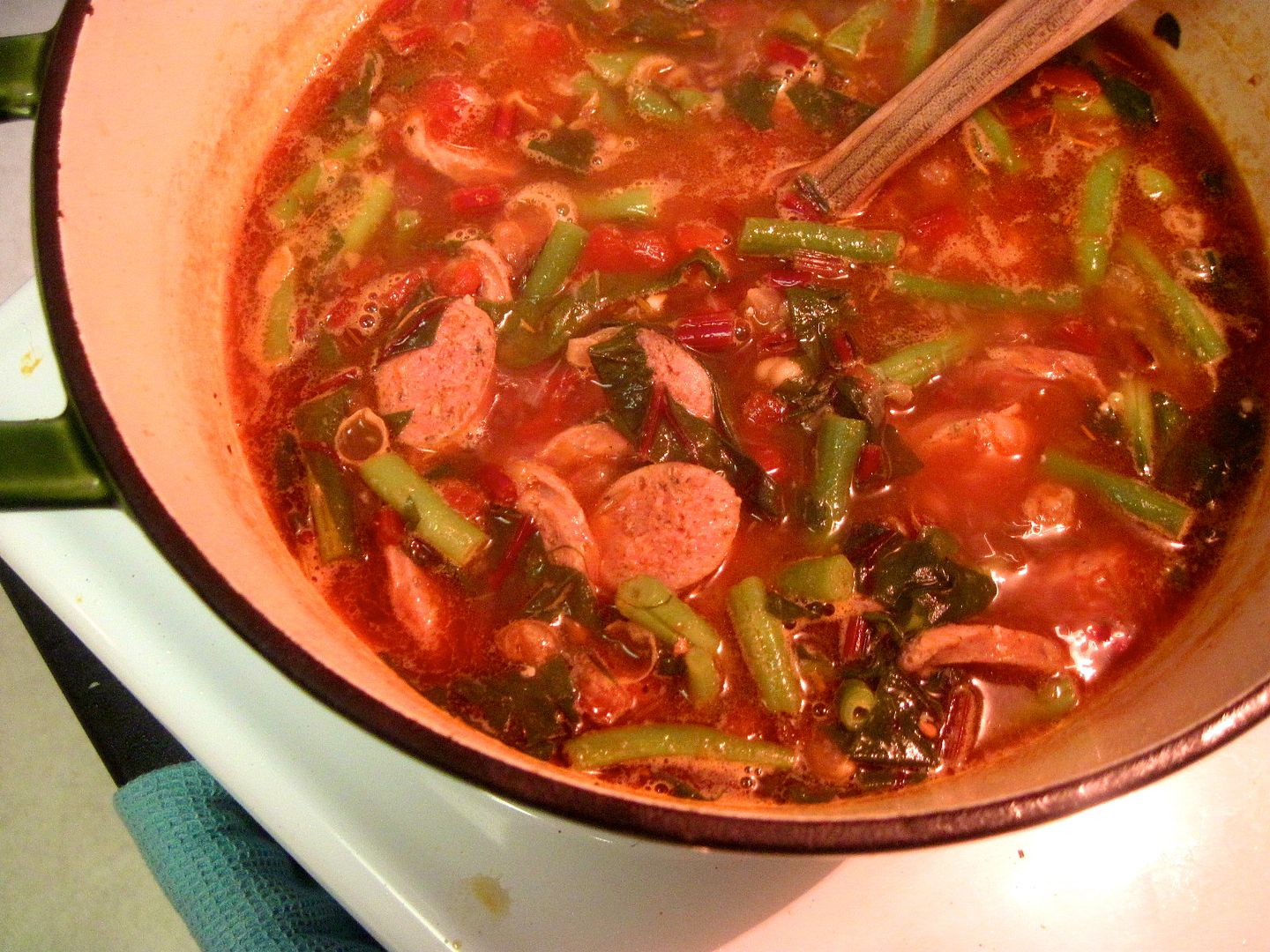 This soup is a riff on one of my very favorite soups from the Rebar Cookbook. The original version is a Tuscan white bean soup with kale, and it is so flavourful and delicious that I would happily eat it by the bucketful. A few weeks ago, I made a variation that included chorizo sausage, green beans, and hot smoked paprika, and OHMYGOSH was it ever good! However when I went to make it again, the only greens in the store were beet greens, the beans in the cupboard were garbanzo, and the sausage in the freezer was Italian. Luckily it turned out just as delicious as the first version, so I'm pretty sure that any kind of sausage, bean, and leafy green would work just fine in this soup.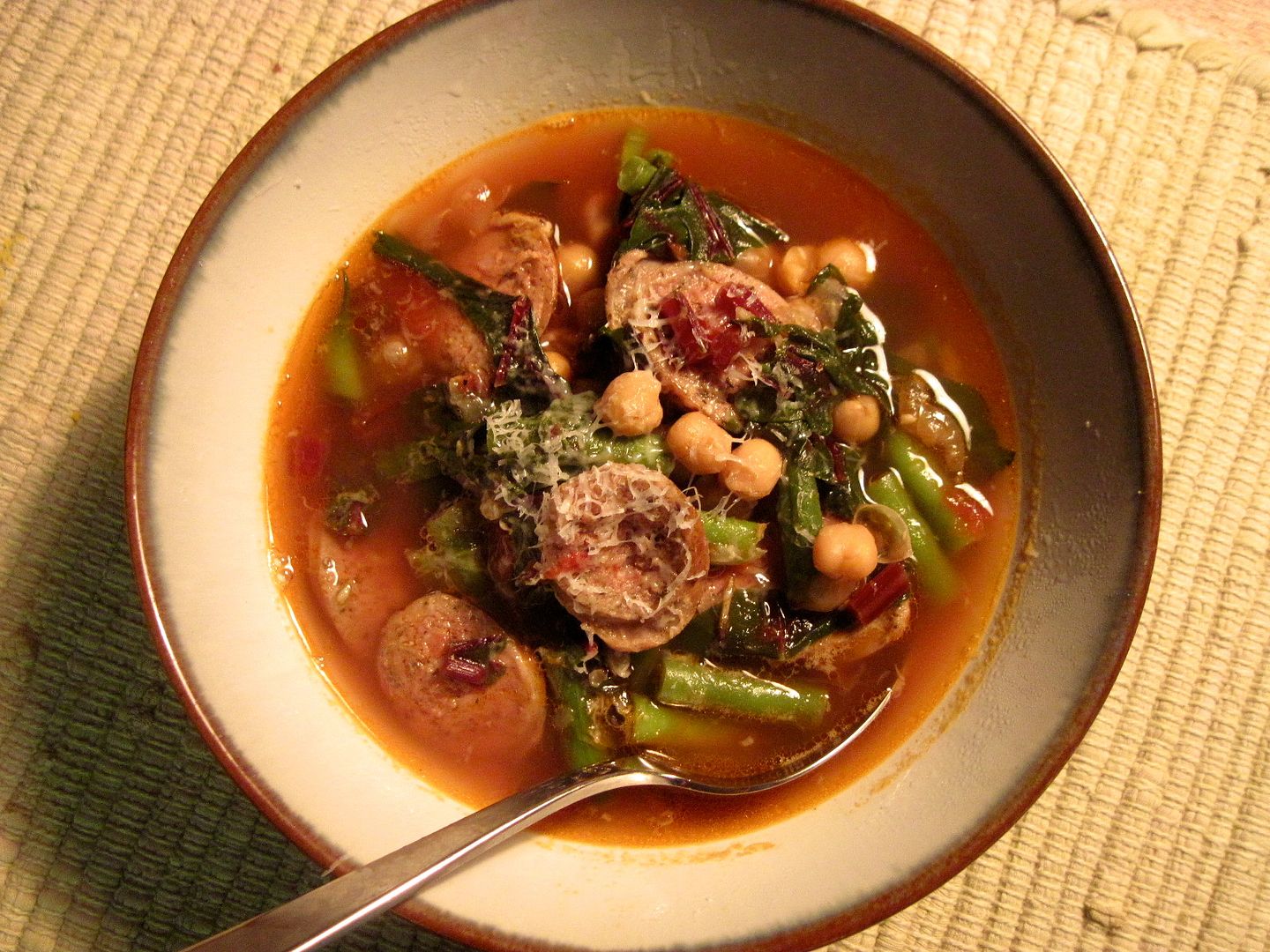 I know this is going to be a heavy player in the meal rotation this winter – so hearty and filling!
Beans, Greens & Sausage Soup
Adapted from the Rebar Cookbook. Serves 4.
Heat a little olive oil in a Dutch oven over medium heat. Add:
2 – 3 sausages (chorizo, Italian, whatever you want)
Brown the sausages, then remove to a plate (don't worry if they're not cooked through). Allow them to cool slightly, then slice into rounds. Set aside.

To the Dutch oven, add:
1 chopped onion
1/2 tsp salt
1/4 tsp hot smoked paprika or crushed red pepper flakes (or more to taste)
Cook until browned, then add:
2 – 3 cloves minced garlic
3/4 tsp dried rosemary (2 tsp fresh)

Cook several minutes, then add:
5 cups good quality stock (chicken, turkey, or vegetable – homemade if you have it)
1 can / 2 cups cooked beans, drained and rinsed (garbanzo beans or any kind of white beans are good)
2 bay leaves

Bring to a simmer, then add:
2 – 3 chopped roma tomatoes, fresh or canned
the sliced sausage
rind of parmesan cheese (optional – adds great flavour)

Cover the pot and simmer for 20 minutes. Just before serving, remove the bay leaves and parmesan rind and add:
a small bunch of greens, chopped (kale, spinach, chard, beet greens… you can include the chopped stems, too)
a handful of trimmed green beans, cut into 1″ lengths (optional but good if you have them)

Cook until the greens are wilted, then season the soup with, salt, pepper, and about 1 tbsp balsamic vinegar. Ladle into bowls and serve with a sprinkle of parmesan and some crusty bread. Like most soups, this is even better the next day.