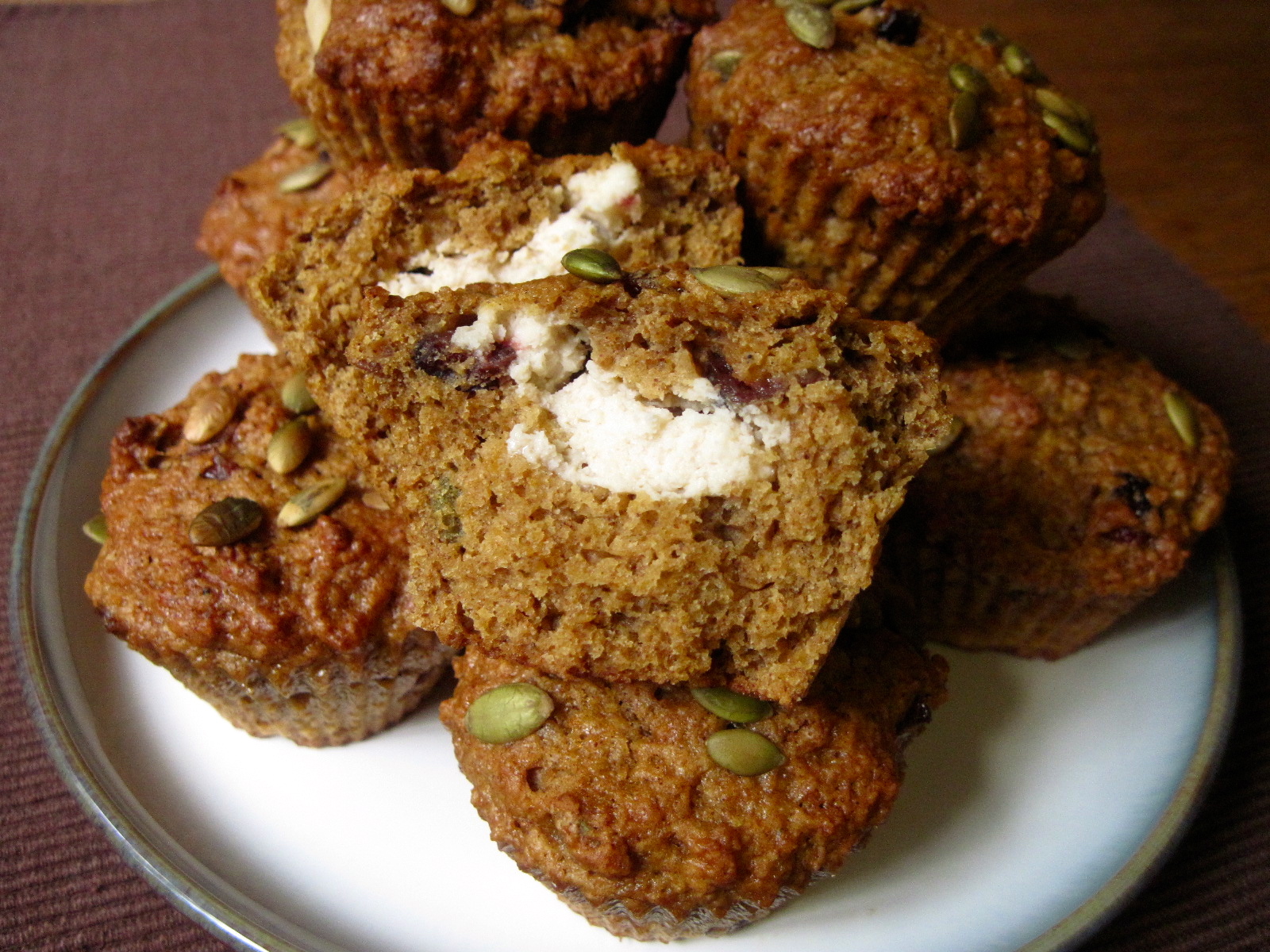 Pumpkin spice muffins are one of those things that seem to spring up in every coffee shop and bakery on the very first day of fall. The ones I've had the most are the Starbucks version – not because they are the best, but because they are everywhere. The Starbucks pumpkin spice muffin is more like a pumpkin cupcake and has a cream cheese filling inside, which, while a good idea, has sort of an odd, gelatinous texture. My ideal pumpkin spice muffin – which I have been on the hunt for – is denser, warmly spiced, and has a cream cheese filling with a much more cream cheesey texture. I tried to create such a muffin last year and failed miserably, so I'm happy to say that this recipe pretty much nailed it.
I actually used red kuri squash puree (I made my own following these directions) rather than the traditional jack-o-lantern pumpkin, so technically I should call them Squash Spice Cream Cheese Muffins, but it just doesn't have the same ring to it. 😉 I added some dried cranberries to the batter and put a dollop of maple-flavoured cream cheese in the middle of each muffin, and whether you want to call them pumpkin muffins or squash muffins, they are GOOD! I looked forward to eating one every day after lunch, and now I'm very glad to have a bunch of squash puree in the freezer so I can make another batch soon.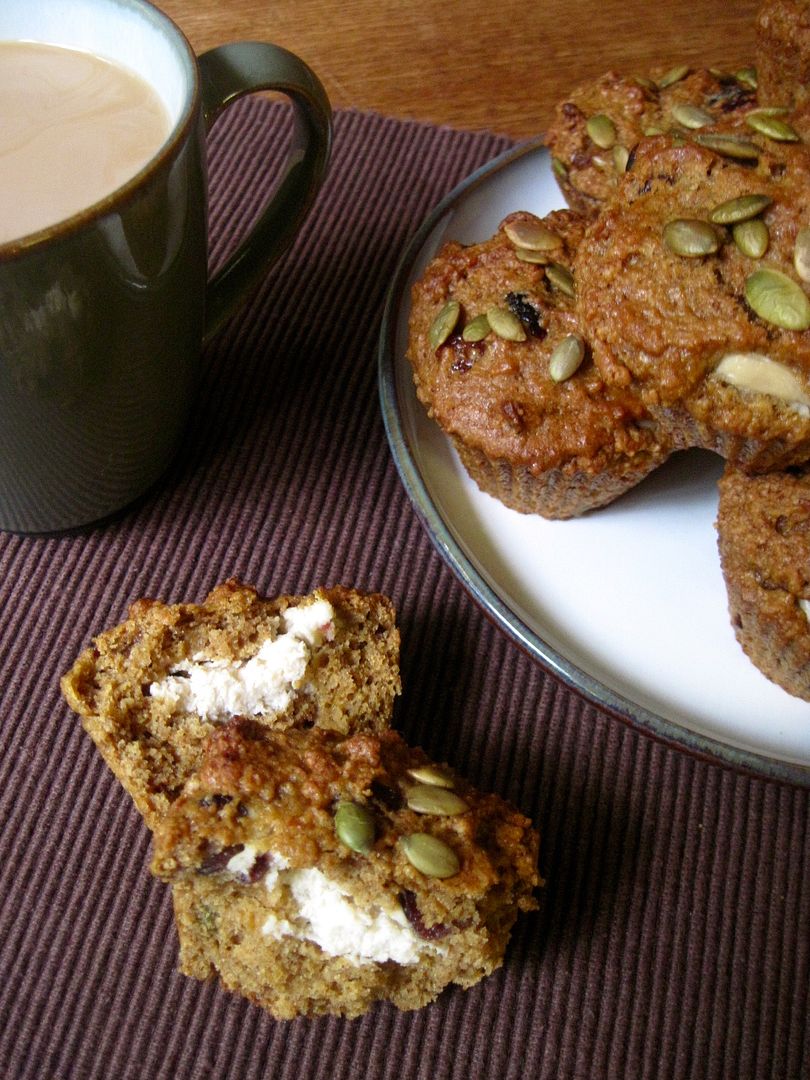 Pumpkin Spice Cream Cheese Muffins
Adapted from Canadian Living. Makes 12 muffins.
Preheat oven to 375˚ F. Place 1/2 cup dried cranberries in a small bowl and cover with boiling water. Allow them to soak, then drain.

For the cream cheese filling, cream together in a bowl until smooth:
1/2 package (8 oz) cream cheese, at room temperature
1 tbsp icing sugar
1 tbsp maple syrup
1/4 tsp vanilla
Set aside.

For the muffin batter, whisk together in a large bowl:
1 1/4 cup all purpose flour
1/2 cup whole spelt flour (or whole wheat or all purpose)
3/4 cup brown sugar
2 tbsp (or more) roasted pepitas (pumpkin seeds)
1 1/2 tsp baking powder
1/2 tsp baking soda
1/2 tsp salt
1 tsp cinnamon
1/2 tsp ground ginger
1/4 tsp ground cloves
1/4 tsp nutmeg

In a separate bowl, whisk together:
2 eggs
1 cup pumpkin or squash puree (not pumpkin pie filling), canned or homemade
1/4 cup melted coconut oil or vegetable oil
1 tsp vanilla
the (soaked and drained) dried cranberries

Make a well in the dry ingredients and pour in the wet ingredients. Fold with a spatula until just combined – a few small flour pockets are OK, whereas over-mixing the batter will give you tough muffins.

Line a muffin tin with liners (I have these cool reusable silicon liners) or grease the cups well, then fill each cup about halfway with batter. Make a little hollow in the middle of each, and fill with about 1 tsp of the cream cheese filling. Divide the remaining batter evenly between the muffins to cover the cream cheese. Sprinkle the muffins with an additional 2 tbsp of pepitas.

Bake in the preheated 375˚ F oven for 20 – 25 minutes, until the tops are firm. Remove from the muffin tin and cool on a rack. Store in an airtight container for up to 3 days.