On Friday when a co-worker asked me if I had any plans for the "Halloweekend" (ie, this past weekend, the one when presumably everyone was going to Hallowe'en parties), I gave her a look so blank and uncomprehending that I'm sure I almost offended her. Honestly, Hallowe'en wasn't even on my radar, other than handing out candy to trick-or-treaters. None of our friends were having parties (they were (almost literally) having babies instead!) and we live pretty far out of town, so "going out" wasn't happening either.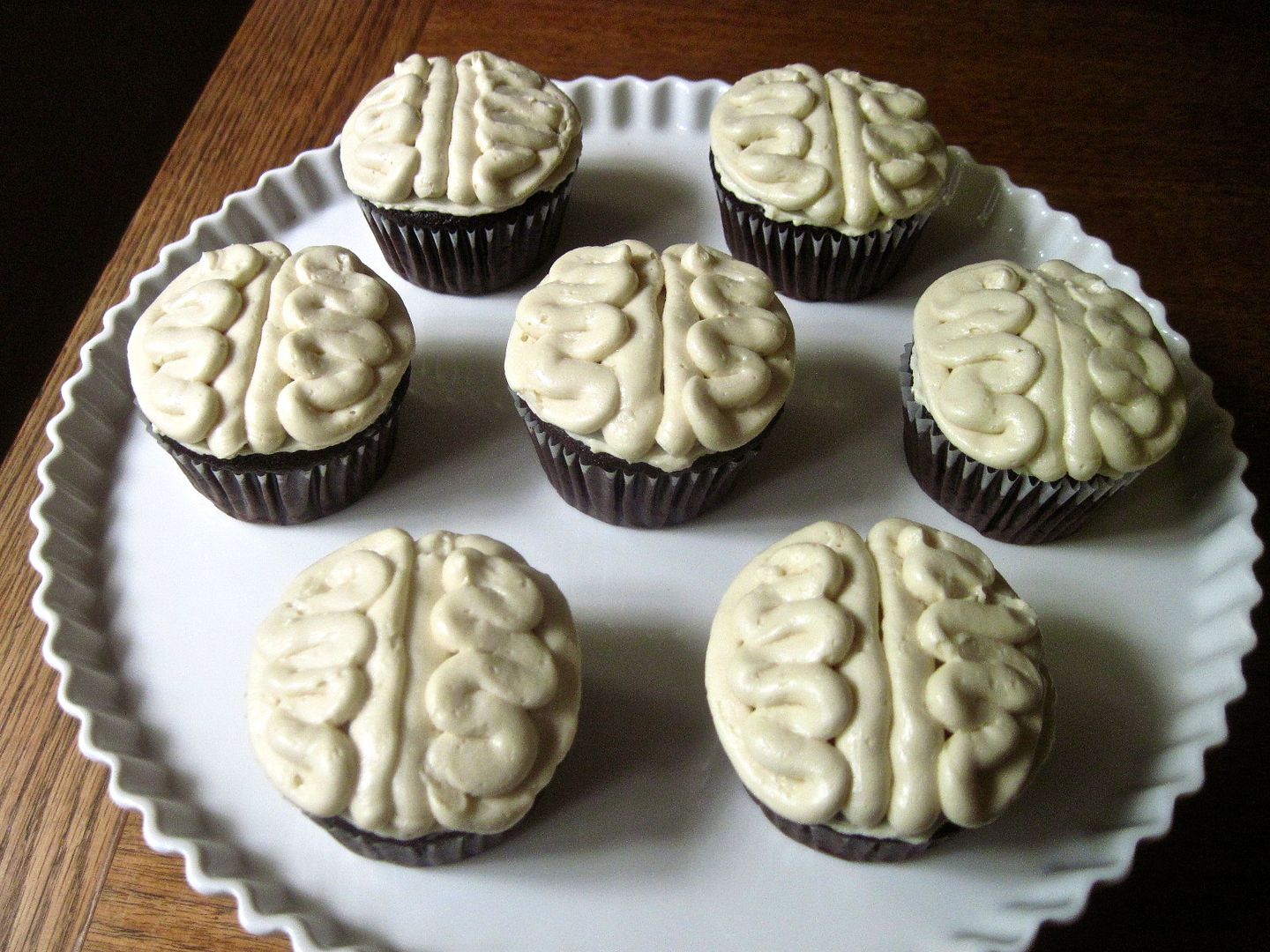 As it turned out, both Nate and I spent our Halloweekend sick on the couch, surrounded by crumpled up Kleenex and blister packs of cold medication. Pretty spooky. But it meant I spent an awful lot of time on the internet, and I came across these chocolate cupcakes decorated as brains. Which got me craving chocolate cupcakes. And I'm not one to say no to a craving when I'm sick!
These are the "Ultimate Chocolate Cupcakes" recipe from Cooks Illustrated, which were specifically engineered to be as chocolatey as possible. And man oh man are they ever fantastic! Seriously chocolatey, they are also moist, not too sweet, and have a great, not-too-crumbly texture. I'm going to go so far as to say they are the best chocolate cupcakes I've ever had. The frosting is vanilla Swiss meringue buttercream, the lightness of which pairs brilliantly with the chocolate. If you have any zombies knocking on your door tonight, these will keep them (and anyone else) very, very happy.
I ran out of frosting on the last cupcake, so it got a much less sinister decoration:
Brain Cupcakes
Inspired by Martha Stewart. Cupcakes and frosting adapted from Cooks Illustrated.
Ultimate Chocolate Cupcakes
Makes 12 cupcakes. Bread flour is used for its high protein content, which is necessary to balance out the large amount of cocoa powder and chocolate and still result in a good-textured cupcake.
Preheat the oven to 350˚F. Line a standard muffin tin with paper liners and set aside.
In a large bowl, place:
3 oz bittersweet chocolate, finely chopped
1/3 cup Dutch process cocoa powder
Pour over:
3/4 cup hot coffee
Cover the bowl and let it sit for about 5 minutes to melt the chocolate. Whisk until smooth, then chill until the mixture is cold, about 20 minutes.

In a smaller bowl, whisk together:
3/4 cup bread flour
3/4 cup granulated white sugar
1/2 tsp salt
1/2 tsp baking soda
Set aside.
When the chocolate mixture has cooled, add:
2 eggs
6 tbsp vegetable oil (I used coconut oil)
2 tsp white vinegar
1 tsp vanilla extract
Whisk until smooth, then add the flour mixture and whisk until smooth.
Spoon the batter into the prepared muffin tin and bake in the preheated 350˚F oven for 17 – 19 minutes, until set and the tops are just firm to the touch. Remove from the oven and cool in the tin for about 10 minutes, then remove each cupcake to a rack to cool completely before frosting, about 1 hour.
Vanilla Swiss Meringue Buttercream
I definitely could have used more frosting, so I've increased the amounts here.
Cut into cubes:
1 cup + 2 tbsp of unsalted butter
Place it on the counter to soften.
In the bowl of a stand mixer, combine:
3/4 cup granulated white sugar
3 egg whites (about 90 grams)
pinch of salt
Place the bowl over a pan of gently simmering water à la double boiler. Using the whisk attachment (or a regular hand whisk), stir the egg whites and sugar until the mixture reaches 160˚F (if you don't have a thermometer, the mixture should be hot to the touch and the sugar completely dissolved – there should be no graininess if you rub it between your fingers).

Attach the bowl to the mixer and beat with the whisk attachment on medium speed until it look foamy like shaving cream, then increase the speed to medium-high and beat until stiff peaks form (for some reason, mine never got to stiff peaks, but the frosting still worked). Keep stirring the meringue mixture on low speed until it is cool to the touch, then switch the whisk for the paddle attachment.
By this time, the butter you put out to soften should be of a spreadable consistency. With the mixer on low speed, add the softened butter one piece at a time, letting it incorporate after each. The meringue will fall and as you add more butter, it will start to look curdled. Don't worry – just keep stirring.
When all the butter is incorporated, add:
1 1/2 tsp vanilla extract
Increase the mixer speed to medium and keep stirring until the curdled mixture becomes a smooth and silky buttercream.
See Sweetapolita's post for troubleshooting if it's not working for you.
To Decorate
Spread the cooled cupcakes with about 2 tsp of buttercream, mounding it up in the center (I didn't have enough to do this, so I just covered the tops with a light layer). Place the remaining buttercream in a piping bag fitted with a medium round tip (#12 is perfect).
To make the brains, pipe a line down the middle of the cupcake, slightly off-center, then pipe around the edge of the cupcake to make a half-circle or the letter "D". Fill the space in the middle with brain-like squiggles. (Ideally you want to do all of this in one smooth motion, without stopping or lifting the piping tip.) Repeat in mirror-image on the other side, making it as symmetrical as possible.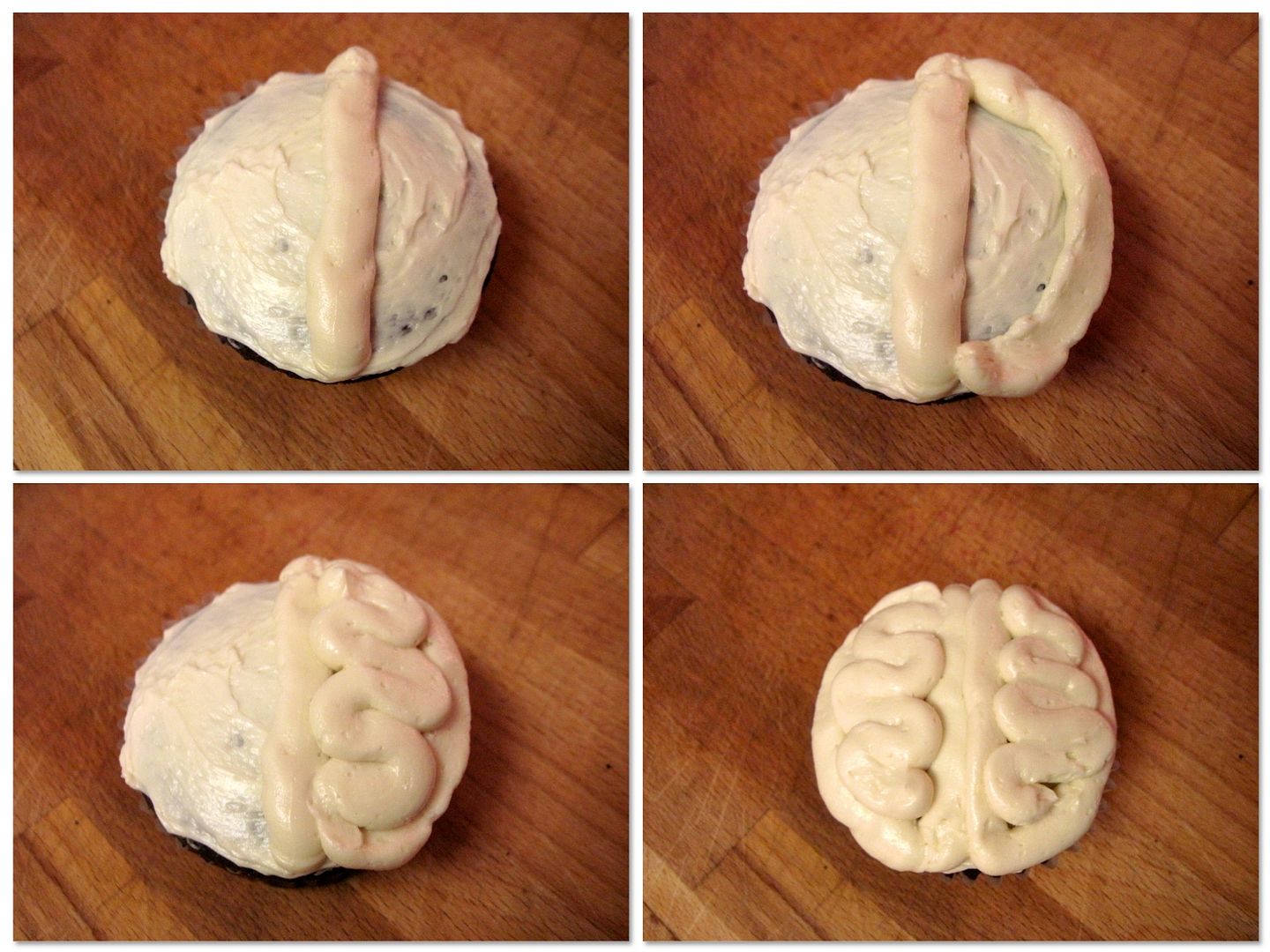 Store frosted cupcakes in an airtight container in the fridge for up to 2 days, although I kept mine at a cool room temperature and they were fine – your choice. For optimal texture of cake and frosting, serve at room temperature.