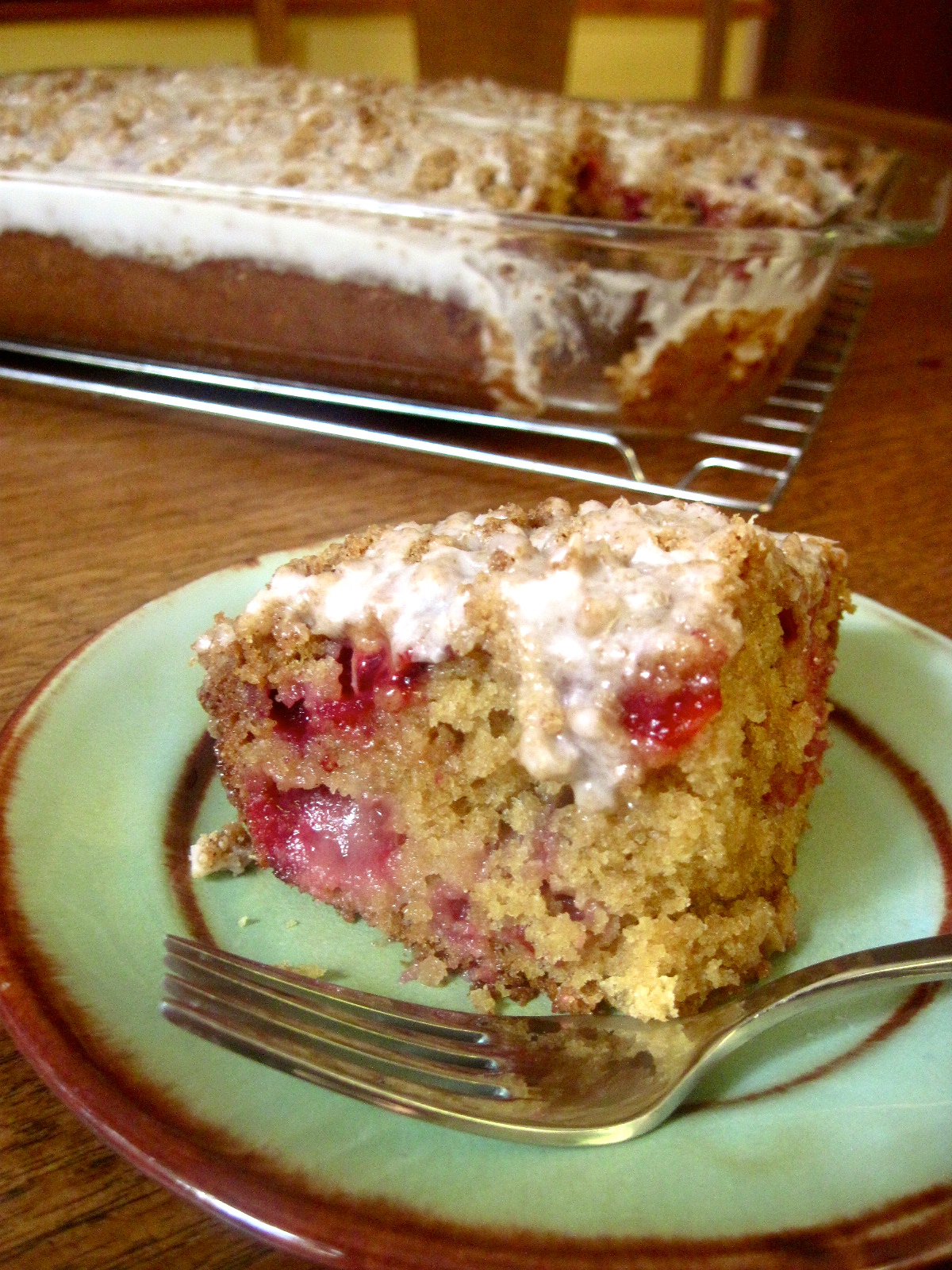 When late summer/early fall hits and I start seeing dark purple plums showing up in the grocery store and at the farmers' markets, all I want to do is make plum coffee cake – which, contrary to the name, doesn't actually have any coffee in it. Instead, it contains plums (of course) and a cinnamon struesel topping, the combination of which is much more than just the sum of its parts.
My Nana had a recipe for a great plum coffee cake, but unfortunately neither my Mum nor I could find it anywhere. Luckily I found a pretty similar recipe on the internet, and it came out exactly the way I was hoping: moist, deep cake studded with jammy puddles of plum, topped with crumbly struesel and finished off with a drizzle of lemony glaze. So good as a mid-morning pick-me-up, or mid-afternoon snack, or dessert, or pre-bedtime nibble…
We had our first "fall" day a few days ago, and while I made this cake while it was still warm and sunny, it is definitely an appropriately cozy treat for cool, crisp weather. This makes a large amount of cake, but Nate and I weren't complaining. Plus it meant I had some to take to my co-workers, who weren't complaining either…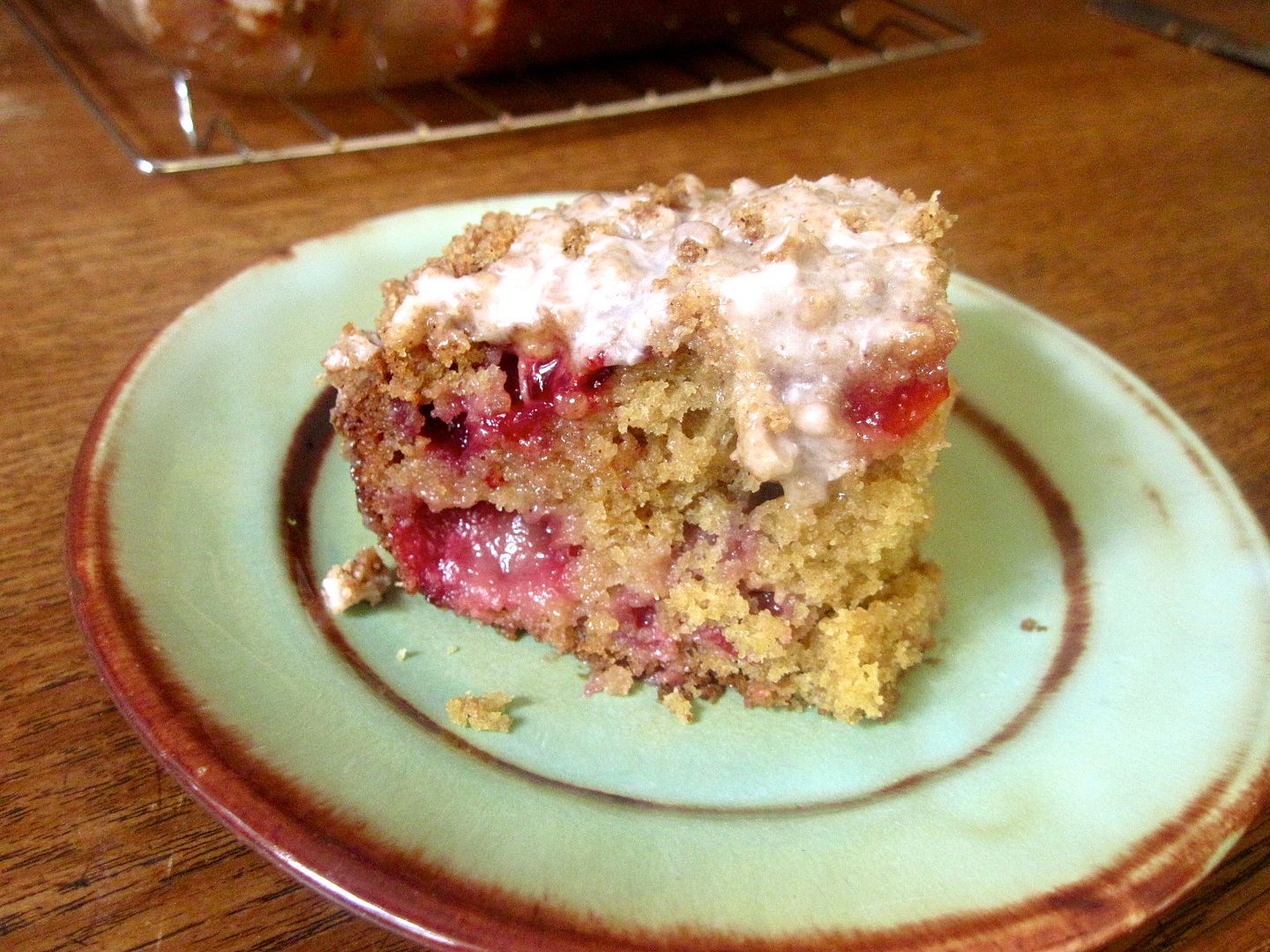 Plum Coffee Cake with Cinnamon Struesel
Adapted from The Kitchn. Makes a 9″ x 13″ cake. I used tiny purple Damson plums, but use any kind you want – we had an Italian prune plum tree growing in our yard when I was a kid and they made excellent coffee cake. Also, I used frozen leftover struesel from making muffins to top the cake, so the final product according to the recipe as written might look slightly different than mine.
Preheat oven to 350˚F. Grease a 9″ x 13″ baking pan and set aside.
Depending on how big they are, pit and cut into quarters or sixths:
about 20 small, ripe plums (or equivalent – the more, the better, in my opinion!)
Set aside.

In a large bowl, cream together:
3/4 cup soft, unsalted butter
1 1/2 cups brown sugar
One at a time, beat in:
3 eggs

Stir in:
1 1/2 cups plain yogurt
1 tsp vanilla
In a smaller bowl, mix together:
3 cups all purpose flour (I used 2 cups all purpose and 1 cup whole spelt)
1/2 tsp salt
1/2 tsp nutmeg
1 1/2 tsp baking soda
1 1/2 tsp baking powder
Sift the flour mixture over the wet ingredients and fold with a spatula to combine thoroughly.

Spread half the batter in the prepared pan and top it with half the plums, cut side up. Gently spread the other half of the batter on top and cover it with the remaining plums.

For the struesel topping, combine in a small bowl:
1/2 cup melted unsalted butter
1 tsp cinnamon
1/2 cup brown sugar
3/4 cup all purpose flour
Mix until crumbly, then sprinkle evenly over the top of the cake. Bake in the preheated 350˚F oven for about 60 minutes, until a toothpick inserted in the middle comes out with a few moist crumbs sticking to it. Let cool for about 15 minutes.

In a glass measuring cup, combine:
1 1/2 cups icing sugar
1 tbsp lemon juice
Stir in enough milk to make a not-too-runny glaze, and drizzle it over the baked coffeecake. Serve warm or at room temperature. It will keep, covered in plastic wrap at room temperature, for a few days.