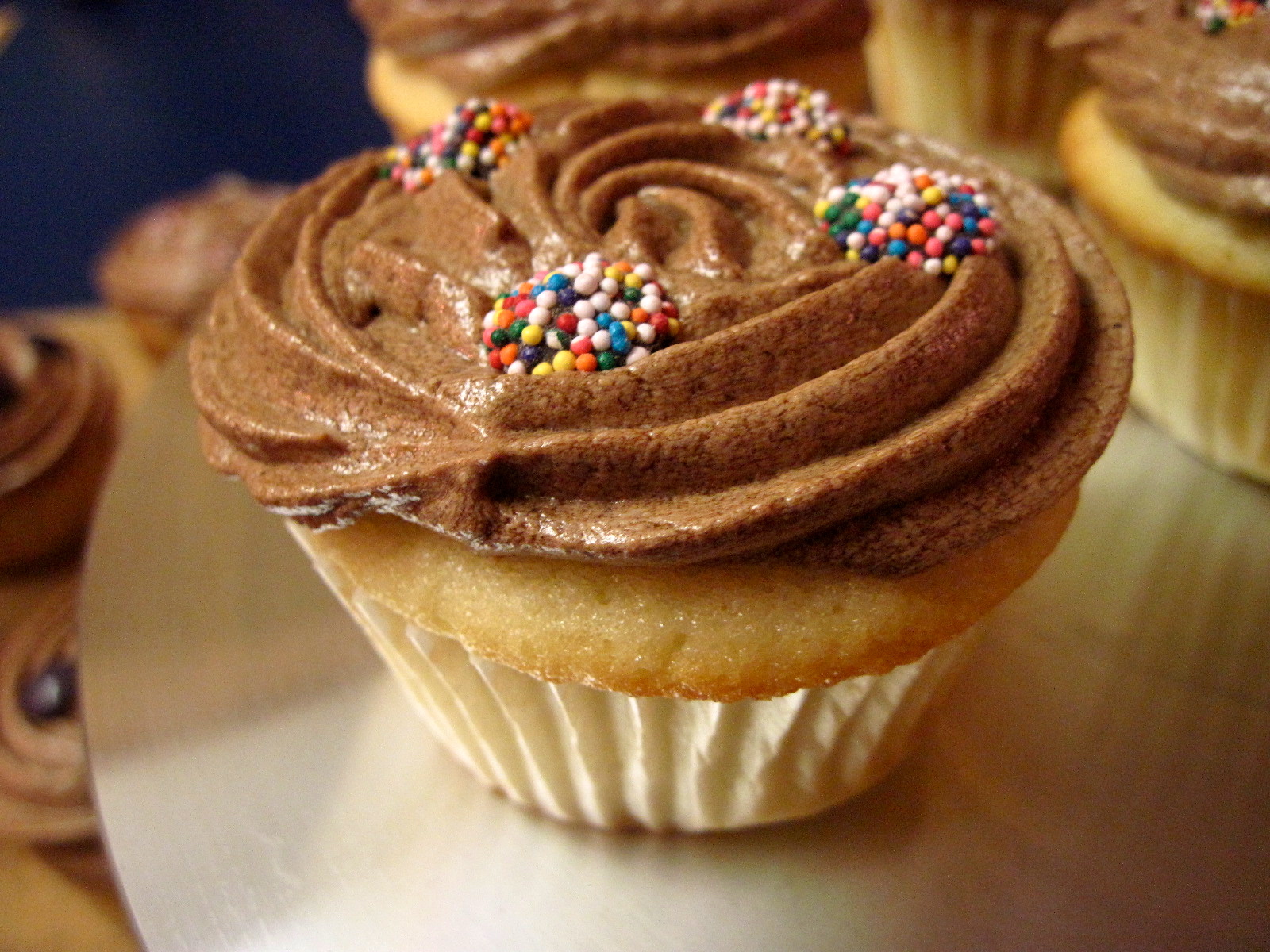 I made these a little while ago for a fundraising bake sale at work. This kind of thing is right up my alley: baking cute, individually portioned things that other people get to eat (someone's gotta save me from eating them all myself!). Cupcakes are usually a pretty big hit at bake sales, and I've been wanting to make some for while, so I decided to use my favorite vanilla-flavoured yellow cake batter and then set about looking for a good frosting. I really really dislike tooth-achingly sweet powdered sugar buttercream, and Swiss meringue buttercream can be finicky to make and gets kind of expensive with all those egg whites and copious amounts of butter (plus, what to do with all the leftover egg yolks? Baking is so hard! 😉 ).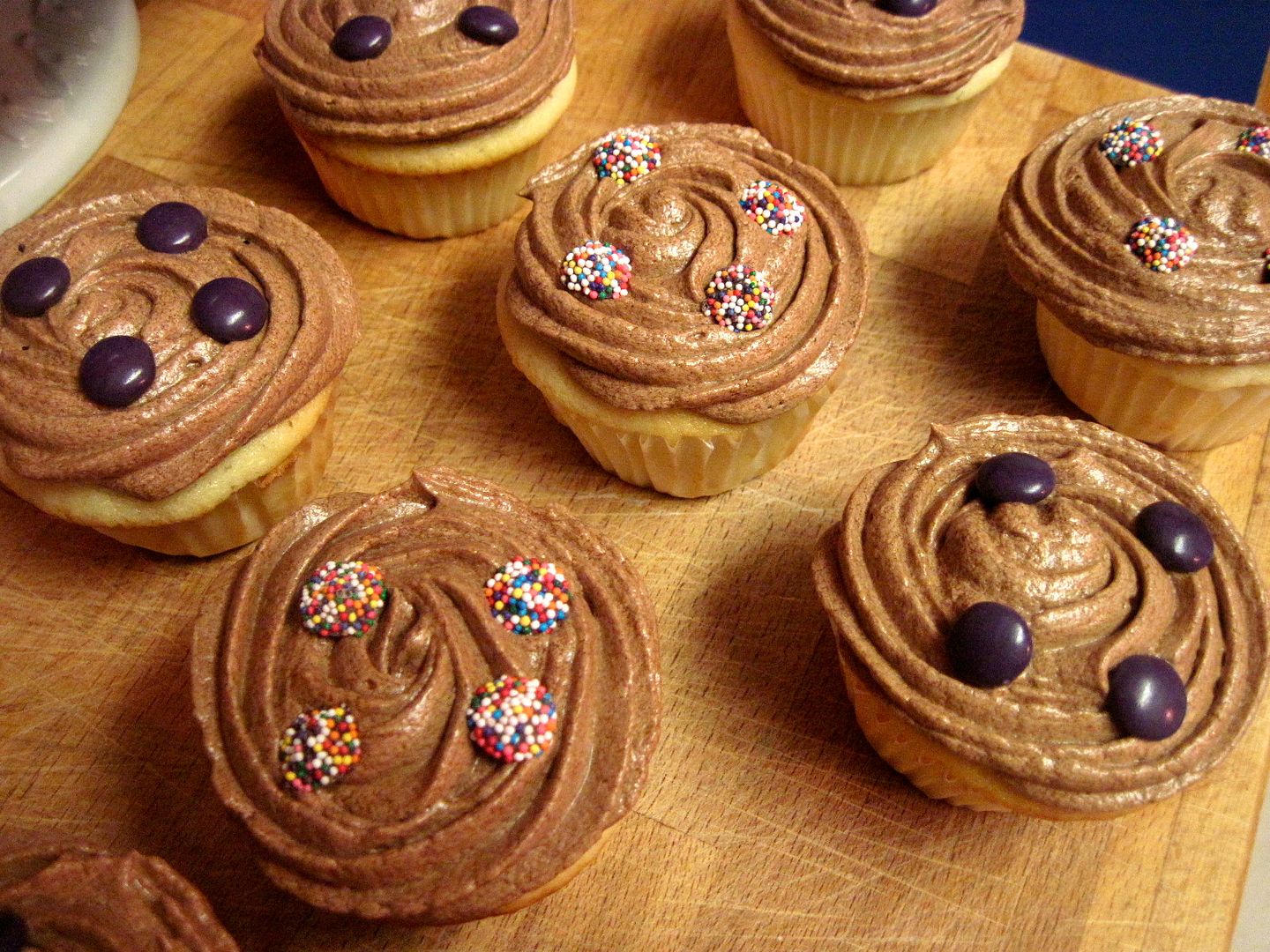 Enter ermine buttercream frosting. This is a not-too-sweet, totally delicious buttercream made with a base of milk and flour cooked into a roux. I know, it sounds really weird, but OH MY GOSH is it ever good! Basically you beat together butter, sugar, and the cooled roux and end up with the lightest, creamiest frosting imaginable – and it won't make your teeth hurt, I promise. And although it requires the extra step of cooking and cooling the roux, it's not any harder to make than an ordinary powdered sugar frosting. (The frosting on this cake is an ermine frosting, too.)
There are a couple tricks to getting the perfect ermine frosting, however. The first is to whisk together the milk and flour (and cocoa powder, in this case) and strain it to remove any lumps. Then, cook over low heat, whisking constantly, so that the starchy taste of the flour cooks out and the mixture thickens gradually without any lumps. You also want to beat the butter until very light and fluffy before adding the completely cooled roux by the spoonful. And then you add powdered sugar. I know, I just said I hate powdered sugar icing – but this is totally unlike any powdered sugar icing you've ever had (for one thing, you're only adding about a cup of it, rather than the 4 – 6 cups you see in most frosting recipes). You could substitute the same amount of granulated white sugar and cream it in with the butter (I've made it this way before), but the powdered sugar practically dissolves into the buttercream with no grainy texture and I think it helped the frosting set up better, too.
I was really happy with how these cupcakes turned out, and they got great reviews from those who ate them. The cake part was moist, flavourful, and fluffy, and I added coffee and chocolate to the amazing frosting for a mocha taste. Man, was it good. Seriously, you need to make this frosting. I may never make any other kind again. Okay, that's a lie. But I certainly won't be making any powdered sugar buttercream again!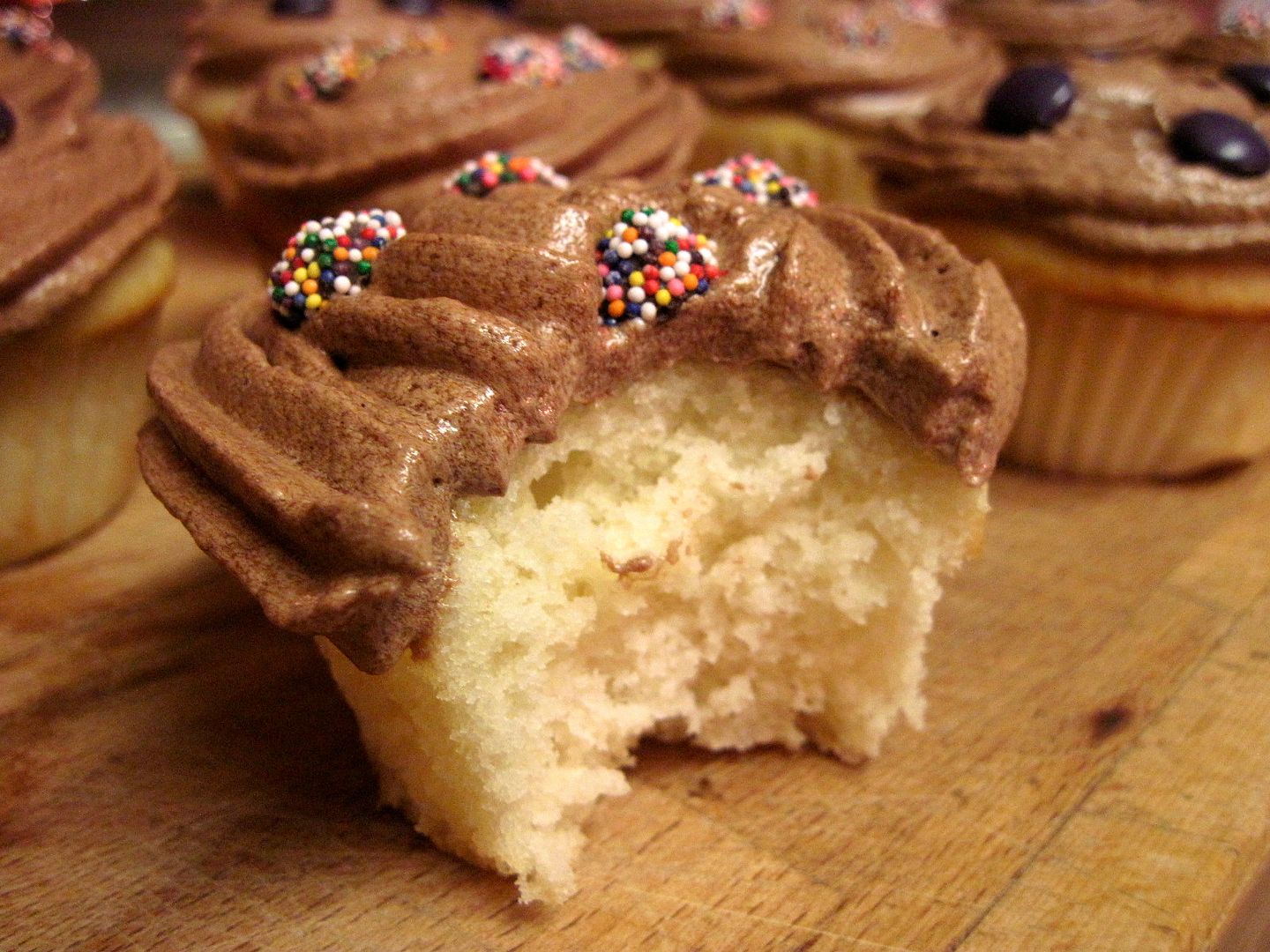 Vanilla Cupcakes with Mocha Ermine Frosting
Vanilla Cupcakes
Makes 22 – 24 cupcakes.
Follow the recipe in this post, preheating the oven to 350˚F. Spoon the batter into paper-lined muffin cups – each cup should be about two-thirds to three-quarters full, which will give you nice tall cupcakes with a round dome on top.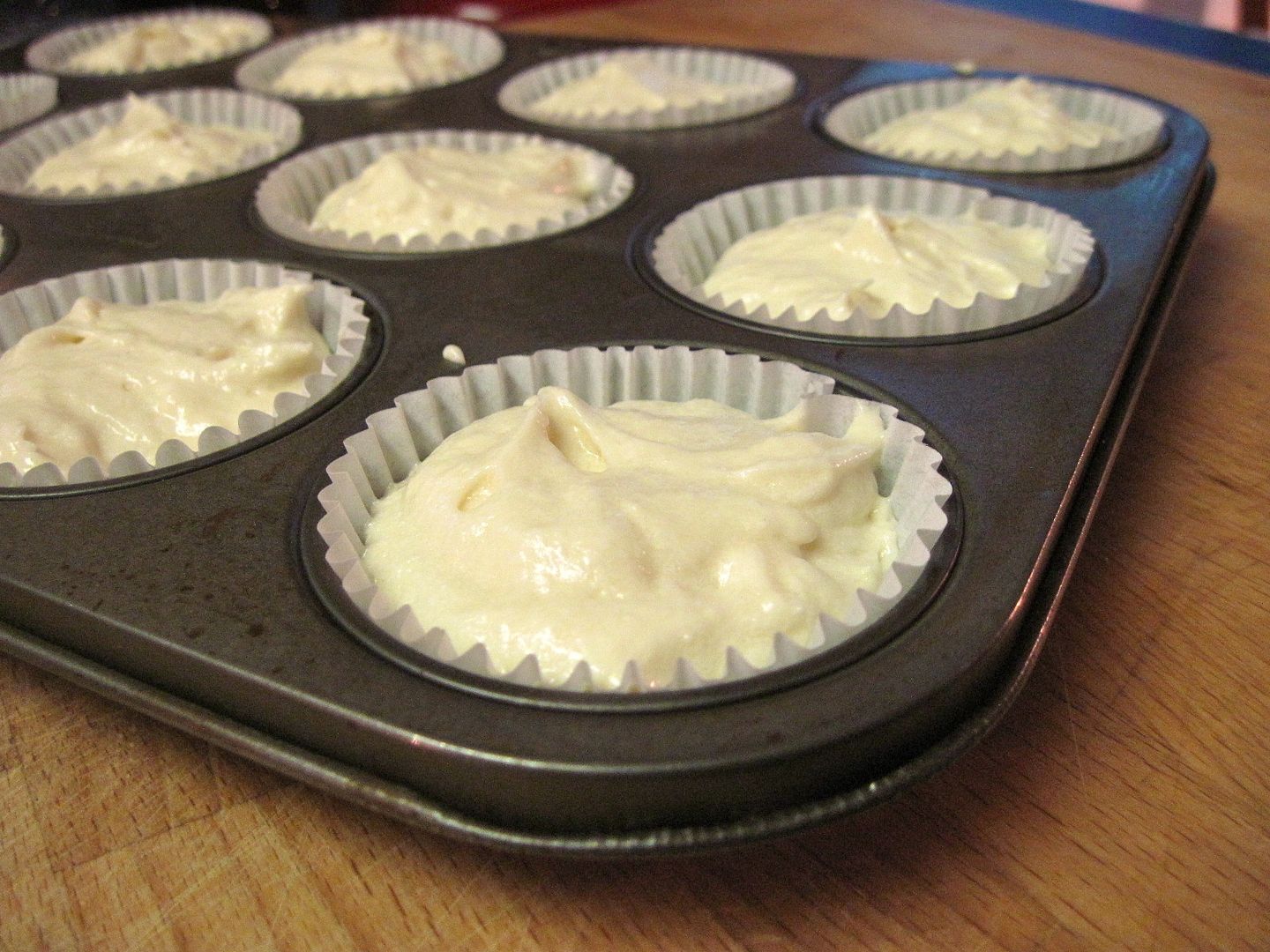 Bake in a preheated 350˚F oven for 20-25 minutes, until the tops are springy and the edges are lightly golden. Let cool completely on a rack before frosting.
Mocha Ermine Frosting
Adapted from The Fresh Loaf and The Changeable Table. Makes enough to generously frost 24 cupcakes, or fill and frost a 9-inch layer cake. To make a plain vanilla frosting, omit the cocoa powder, chocolate, and coffee (adding the contents of a scraped vanilla bean would be a nice touch). This is best made with whole milk for the extra creaminess, but you can enrich 2% or skim milk with a heavy cream or sour cream, which is what I did. Just put 2 – 3 tbsp cream in a measuring cup, add enough milk to measure 1 cup, and proceed with the recipe.
In a medium bowl or measuring cup, whisk together:
1 cup whole milk (or see alternative above)
1/4 cup all purpose flour
2 tbsp coca powder
Strain the mixture through a fine sieve into a medium saucepan.
Set the saucepan over low heat and cook, stirring constantly with a whisk, until it becomes as thick as pudding and just comes to a boil. This will take a while (10 minutes or so) but it's worth it for a smooth, creamy, lump-free frosting.
Pour the cooked roux into a bowl and press plastic wrap directly on the surface to prevent a skin from forming. Refrigerate until completely cool (this is a good time to bake the cupcakes), then take it out of the fridge and let it sit at room temperature to take some of the chill off while you proceed with the next step.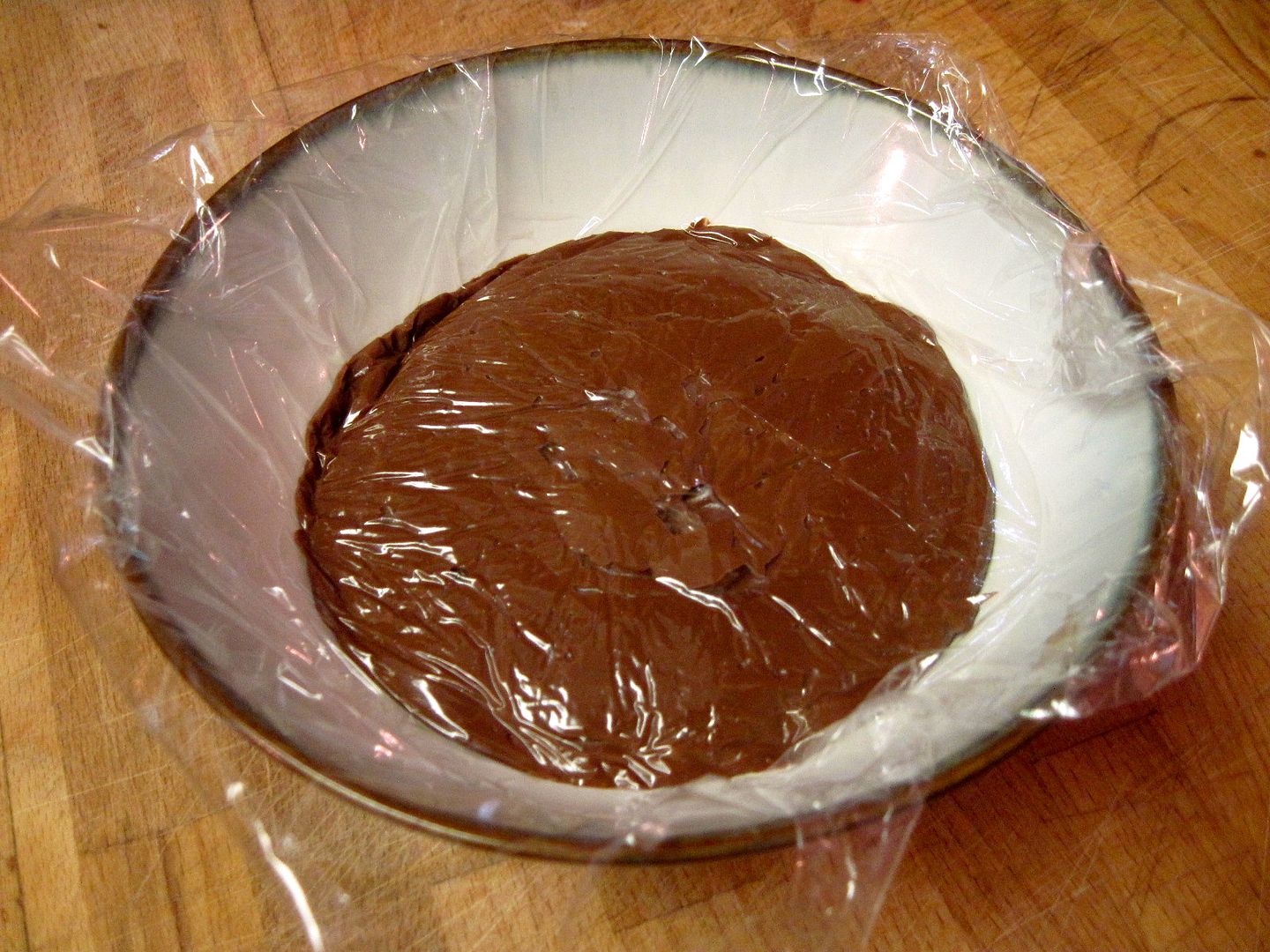 In a mixer bowl with the whisk attachment, beat on high until VERY light and fluffy:
1 cup unsalted butter, at room temperature
The butter should seem to increase in volume with all the air you've whipped into it. This is good!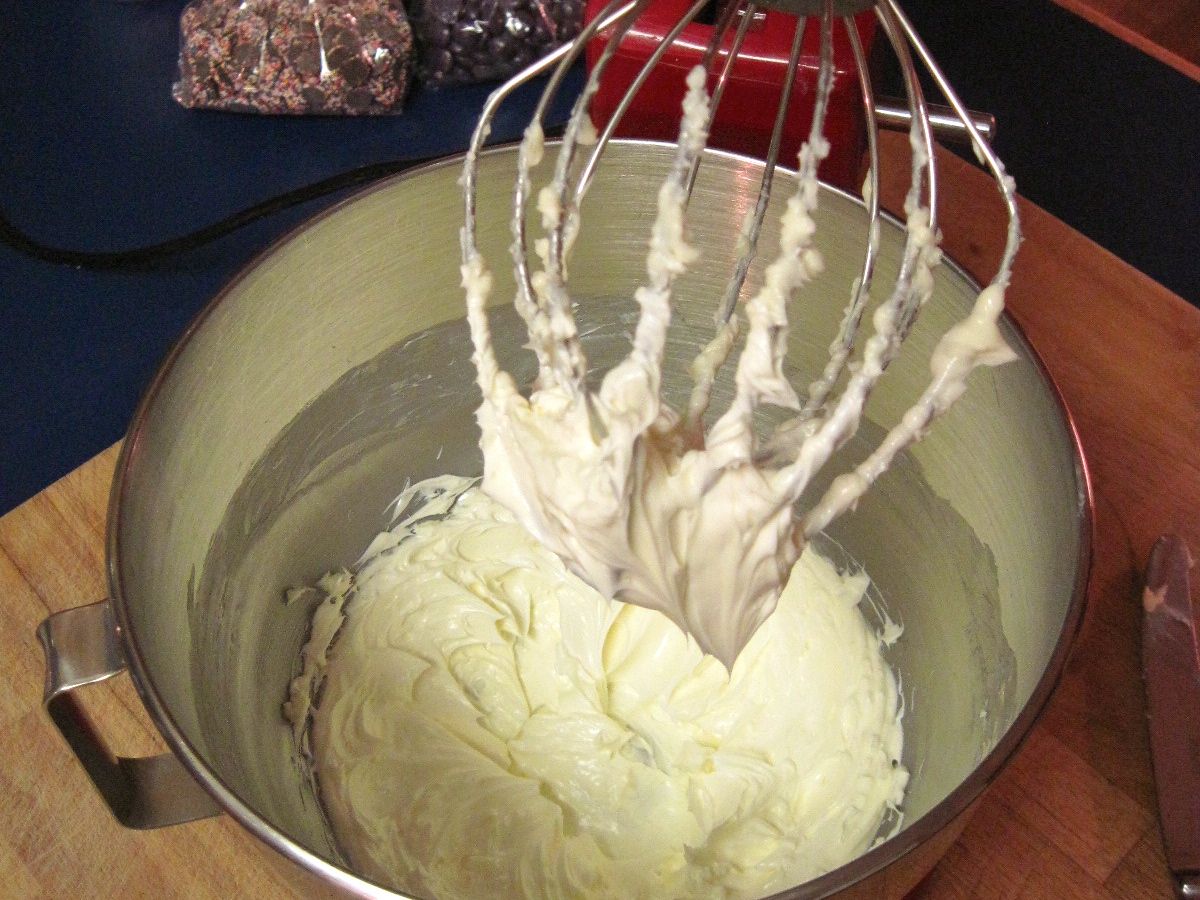 Beat in the cooled roux, one spoonful at a time, scraping the sides of the bowl with a spatula as necessary.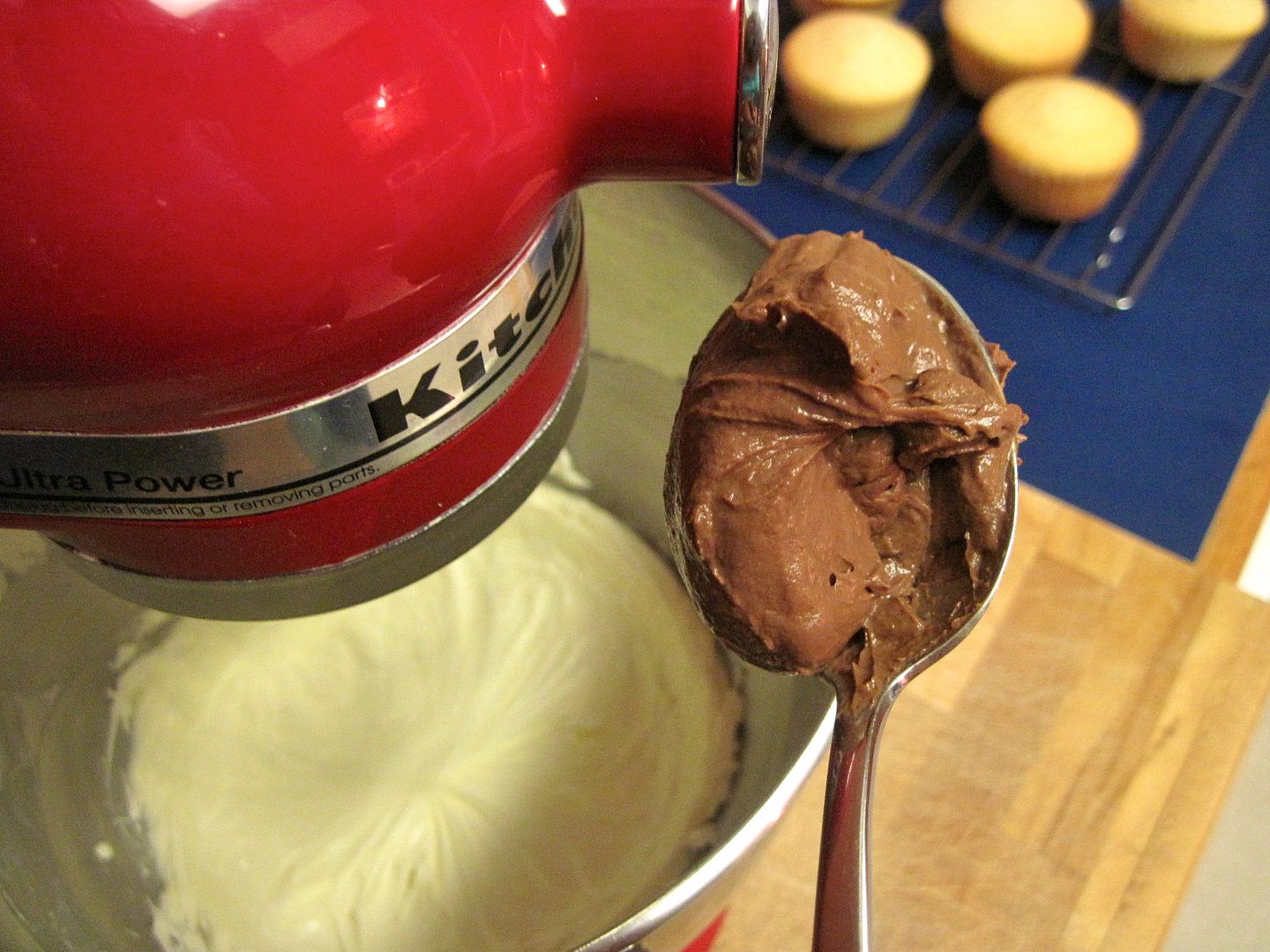 When the roux is fully incorporated, beat in:
1 cup powdered sugar, sifted (you don't want any lumps)
a pinch of salt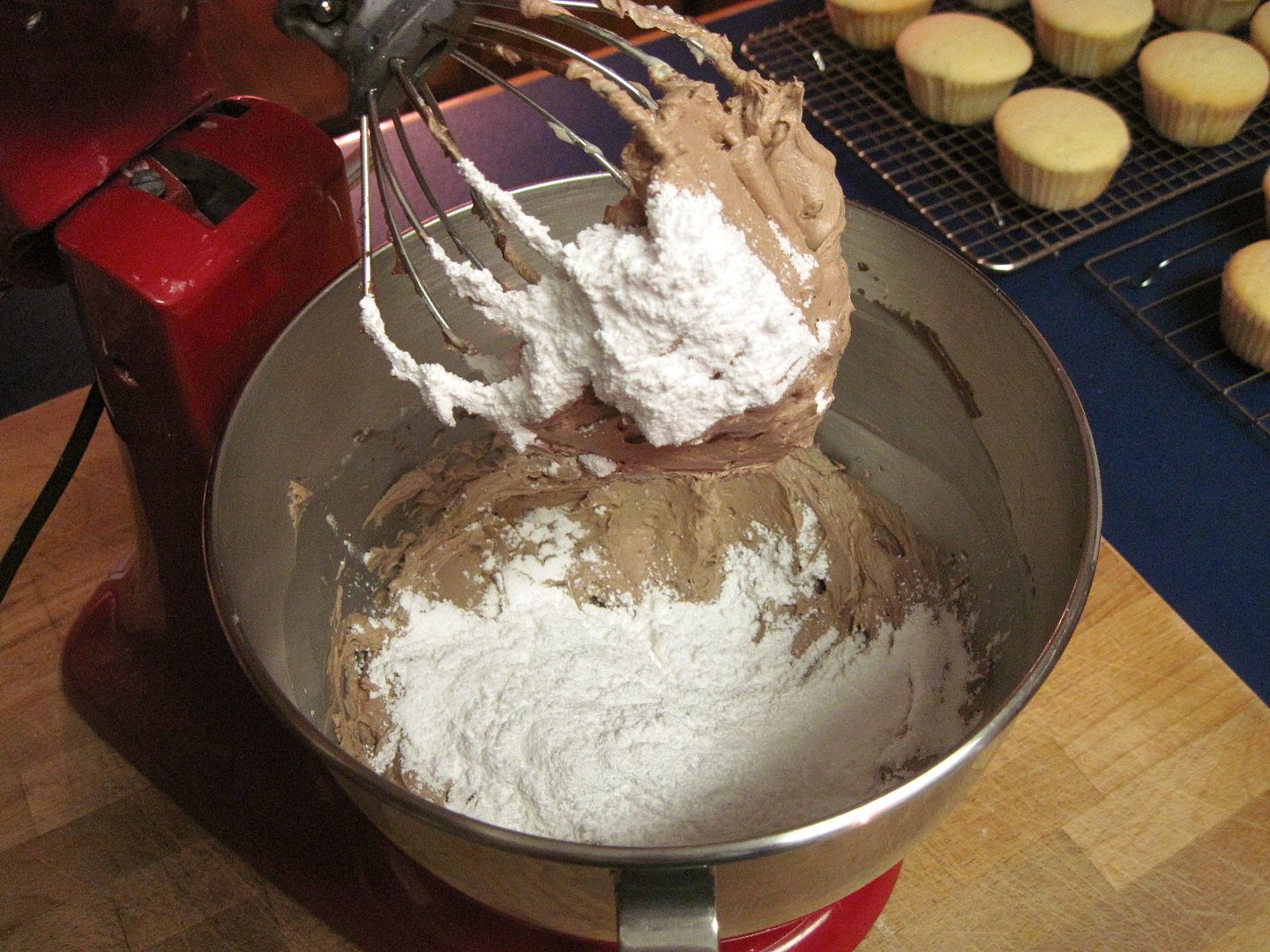 In a small bowl, mix together:
2 1/2 tsp instant coffee granules
1 1/2 tsp vanilla extract
Add to the frosting, along with:
3 oz semi-sweet chocolate, melted and cooled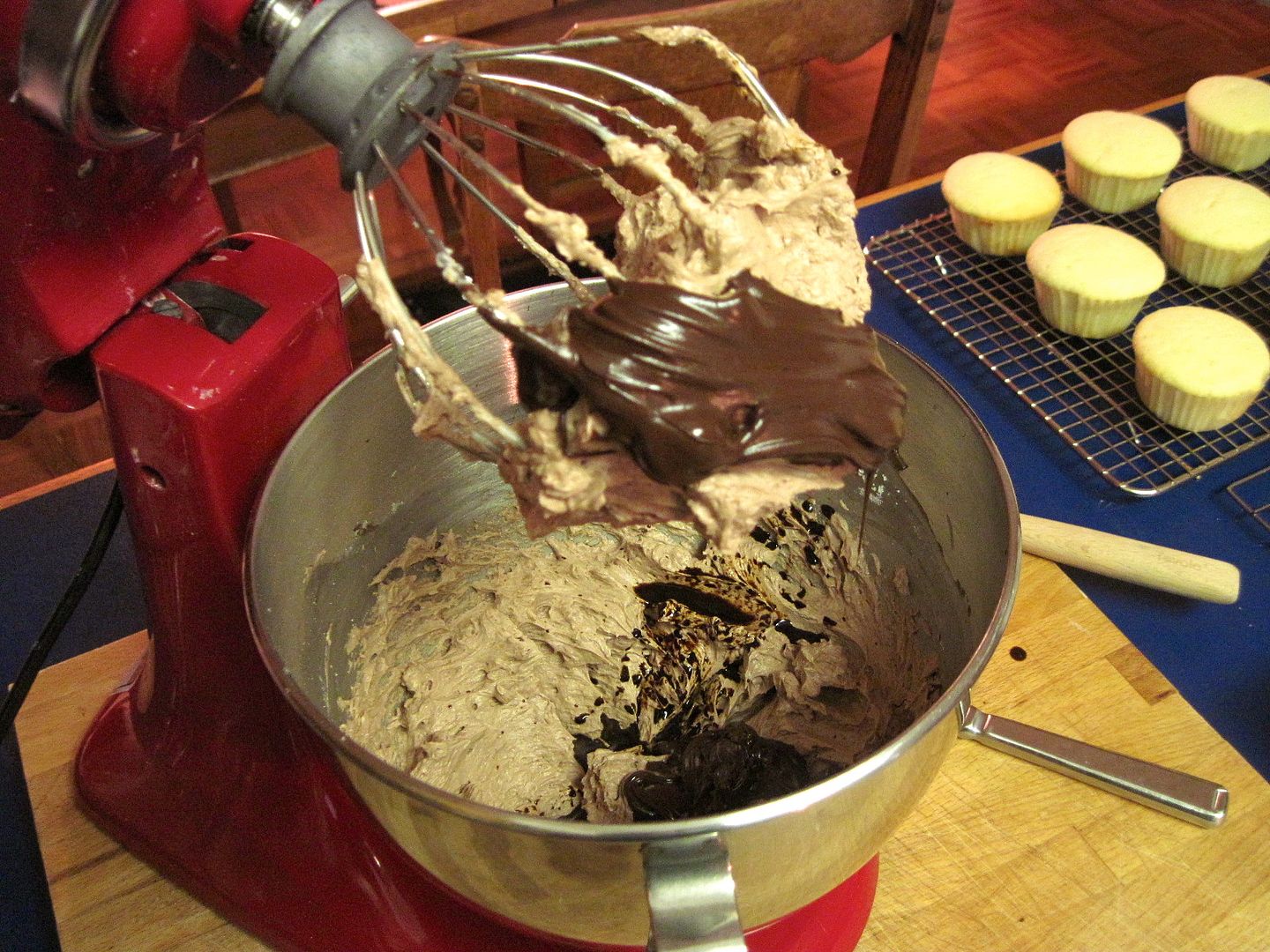 Beat until combined. If the buttercream is not light and fluffy and cohesive, just keep beating it. Taste it for sweetness and add up to another 1/2 cup of sifted powdered sugar if desired, depending on your sweetness preference (I added 1/2 cup but I think 1/4 cup would be about perfect).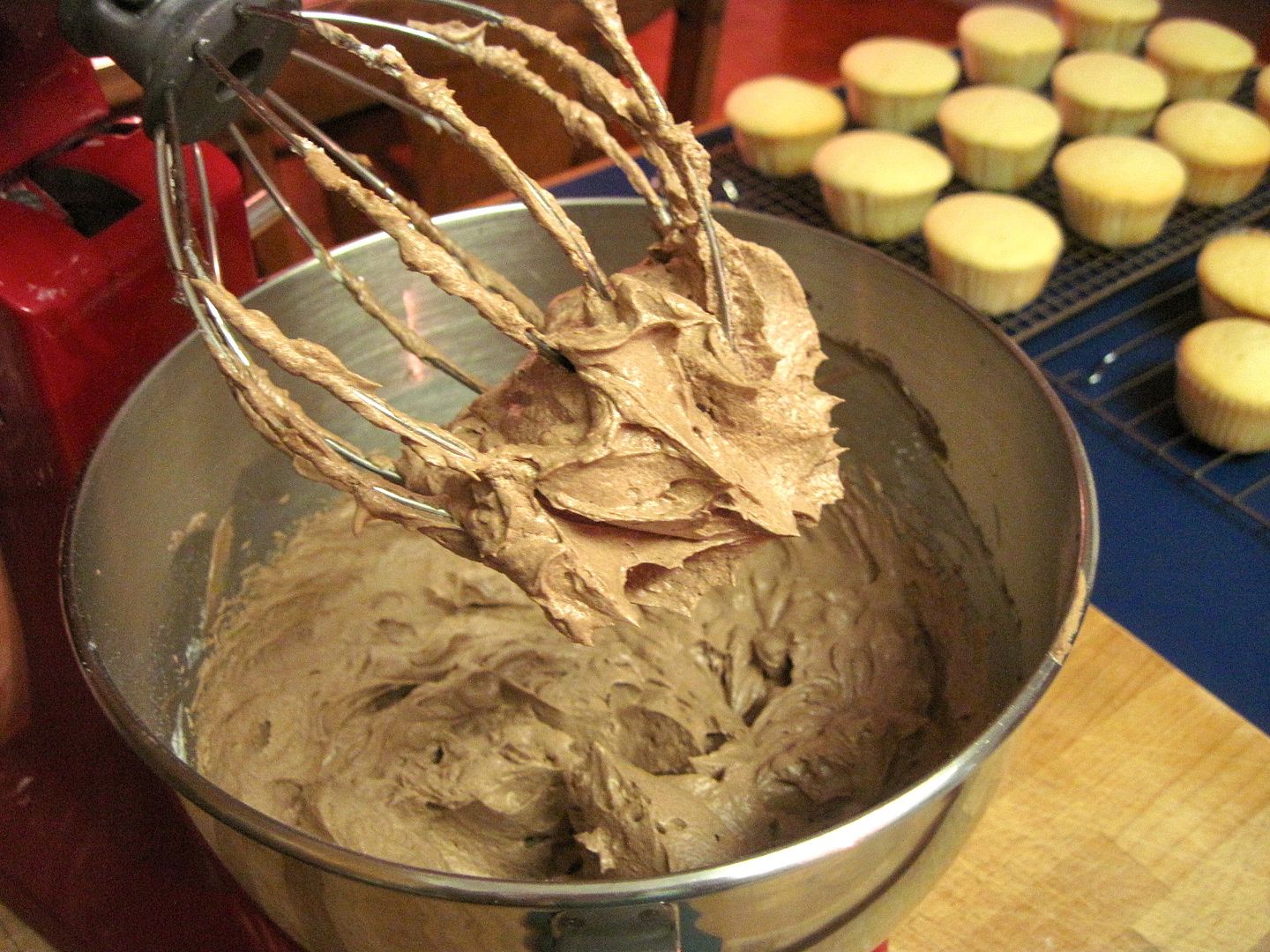 If the frosting seems a bit loose, chill it to stiffen up, then beat it again before frosting the cupcakes. This frosting is fairly soft but still pipeable (but maybe not great for things that require a stiffer texture, like roses).