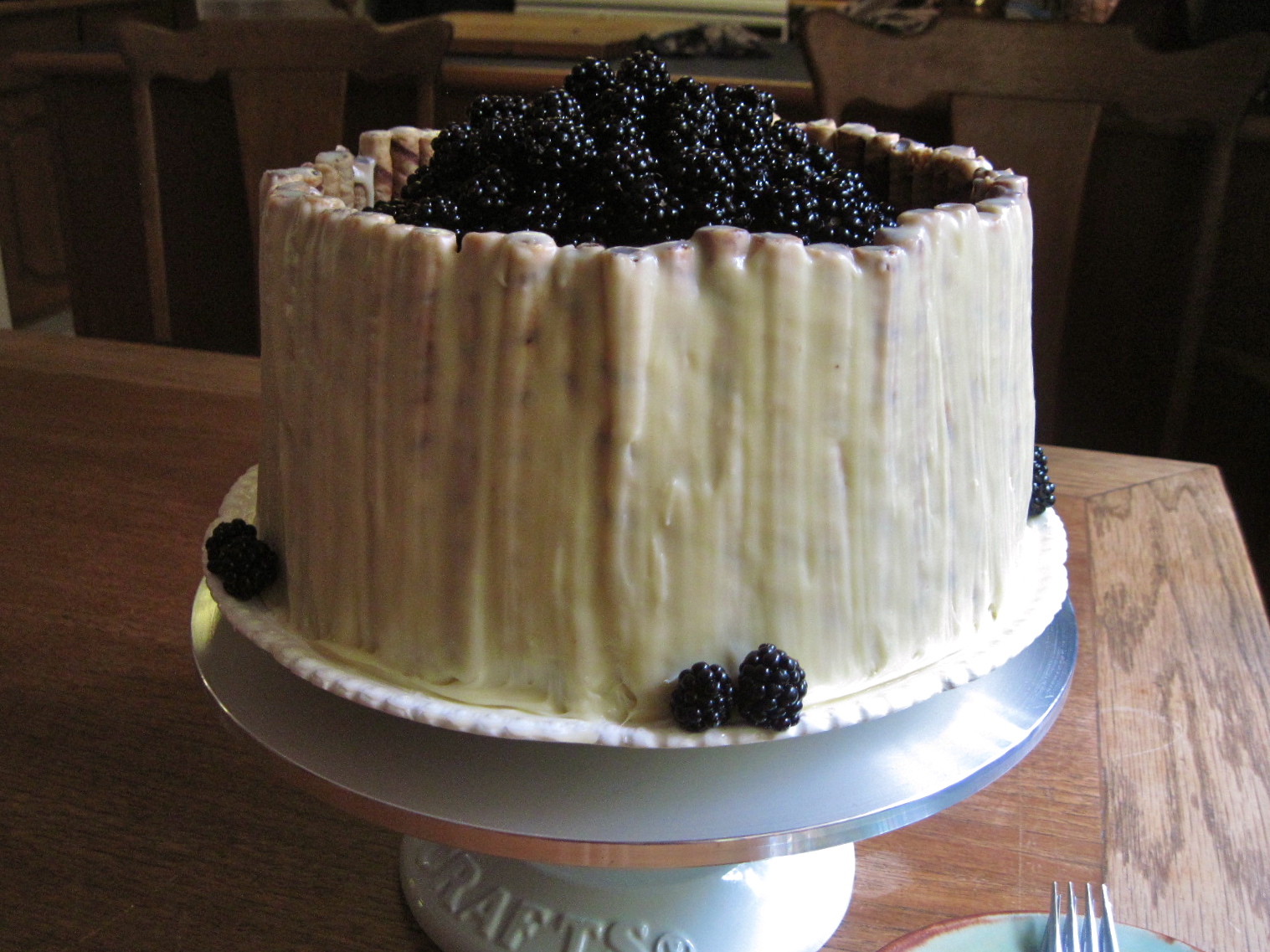 Last weekend we went to Nate's parents' house for lunch to mark his mum's and (now) 4-year-old nephew's birthdays. Of course, two birthdays call for two cakes. Gunnar, the 4-year old, got a fantastic Mr. Bean cake, and I offered to make Kathryn, Nate's mum, a cake. She requested a lemon cake (my nemesis!) but I was stoked to try to get it right finally – third time's a charm, right?
The last time I made a lemon cake, I promised myself that in the future I would just follow one dang recipe, so I wanted to find a good one. I was really happy when I found this gorgeous blackberry-lemon-white chocolate number: layers of lemon cake, blackberry jam, lemony white chocolate frosting, ringed on the outside with white chocolate-coated rolled wafer cookies, and topped with a big pile of blackberries (which are absolutely bursting off the brambles right now). I also added some lemon curd to the blackberry jam layer, because apparently even when I make a promise I can't just stick to a recipe as written.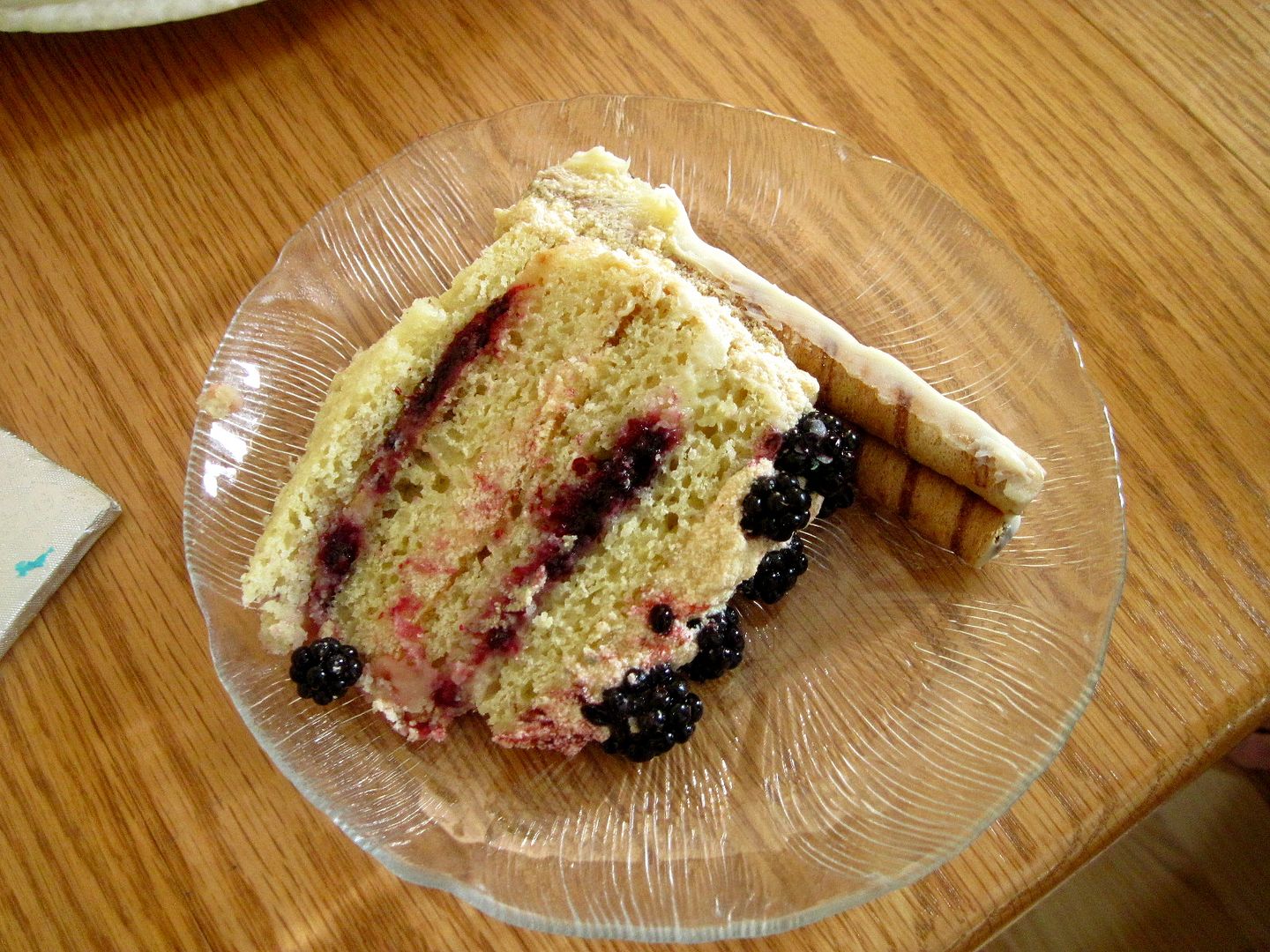 It came out looking pretty amazing and tasting pretty good, but I would definitely do some things differently next time. First, it was really sweet, so less sugar all around. Second, I had trouble with the frosting. This particular one is a variation of ermine frosting – a concoction of flour and milk cooked into a paste (a roux), cooled, and then beaten with butter and sugar into a light, creamy, delicious frosting. The recipe called for a whole bunch of lemon juice and a whole bunch of sugar to be boiled and reduced to 1/3 of a cup, and then added to the roux. However, instead of reducing, the lemon juice-sugar mixture turned into a thick lemon caramel, which just got darker and thicker the longer I boiled it. I ended up with 1 cup of lemon caramel that I added to the frosting, which significantly changed the consistency and, while still very tasty, gave it a much different flavour than the bright, fresh lemon I was hoping for. I've amended the recipe below to reflect how I would make it in the future, and I think with these changes that this would finally be the lemon cake I've been hoping for! 🙂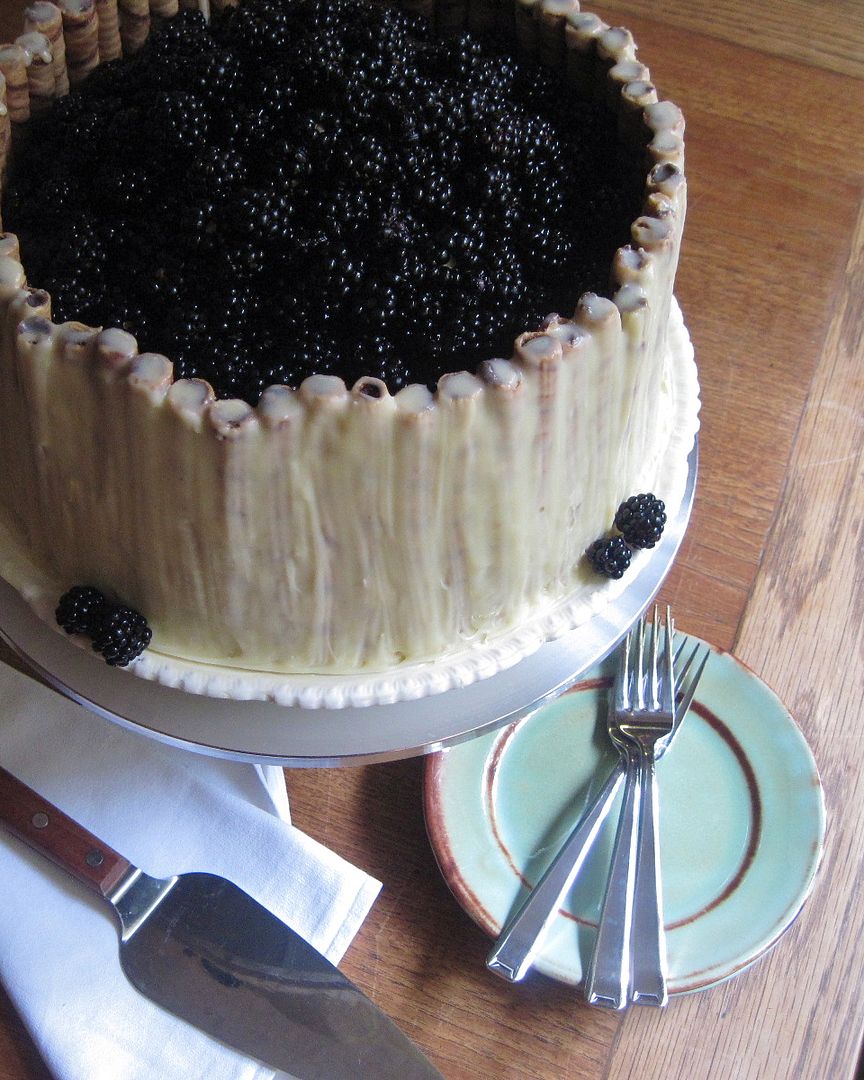 Blackberry, Lemon & White Chocolate Cake
Adapted from Serious Eats. Makes one 9″ round layer cake (10 – 12 servings). Also be warned: this cake takes a while to make, so plan ahead (I spread it out over about two and a half days).

Lemon Cake
Preheat the oven to 350˚F. Grease two 9″ round cake pans, line the bottoms with parchment paper (here's how to make a perfectly sized parchment circle), and grease the paper. Set aside.
In the bowl of a food processor, combine:
2 cups granulated white sugar
3 tbsp grated lemon zest (from about 2 large lemons)
Pulse until the zest is completely pulverized. Set aside 1 cup of lemon sugar for the cake and 1 cup for the frosting.
In a medium bowl, whisk together:
2 1/4 cups all purpose flour
2 tsp baking powder
1 tsp baking soda
Set aside.
In a measuring cup, combine:
1/4 cup lemon juice (from 2 – 3 large lemons)
3/4 cups milk
1 tsp vanilla extract
It might curdle but that's OK. Set aside.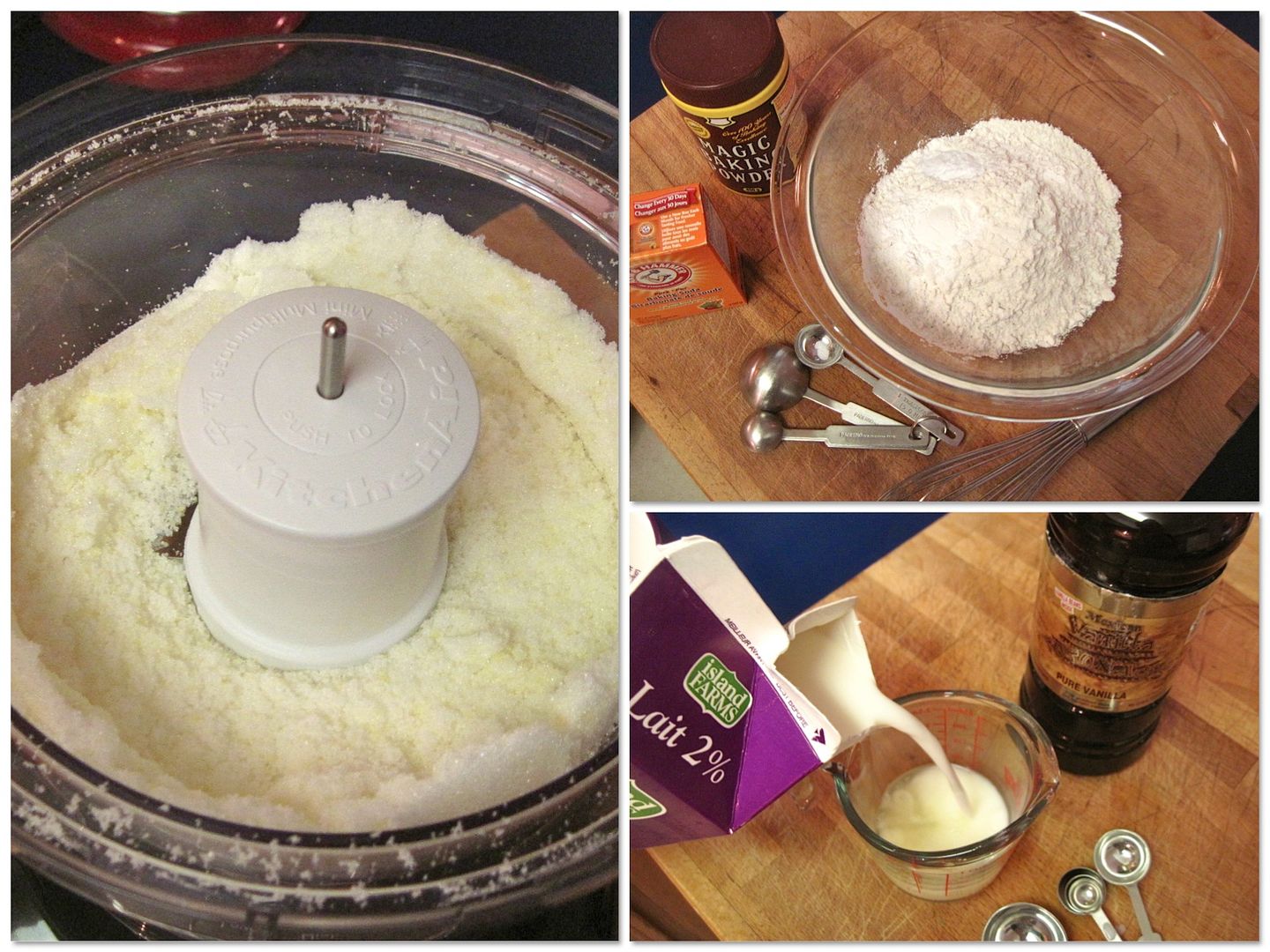 In the bowl of a stand mixer, place:
4 egg whites (reserve the yolks for later)
1 tsp salt
Whip with the whisk attachment on medium speed until soft peaks form, then gradually add:
1/4 cup granulated white sugar
Continue beating until stiff, glossy peaks form. Scoop the whites into another bowl and set aside.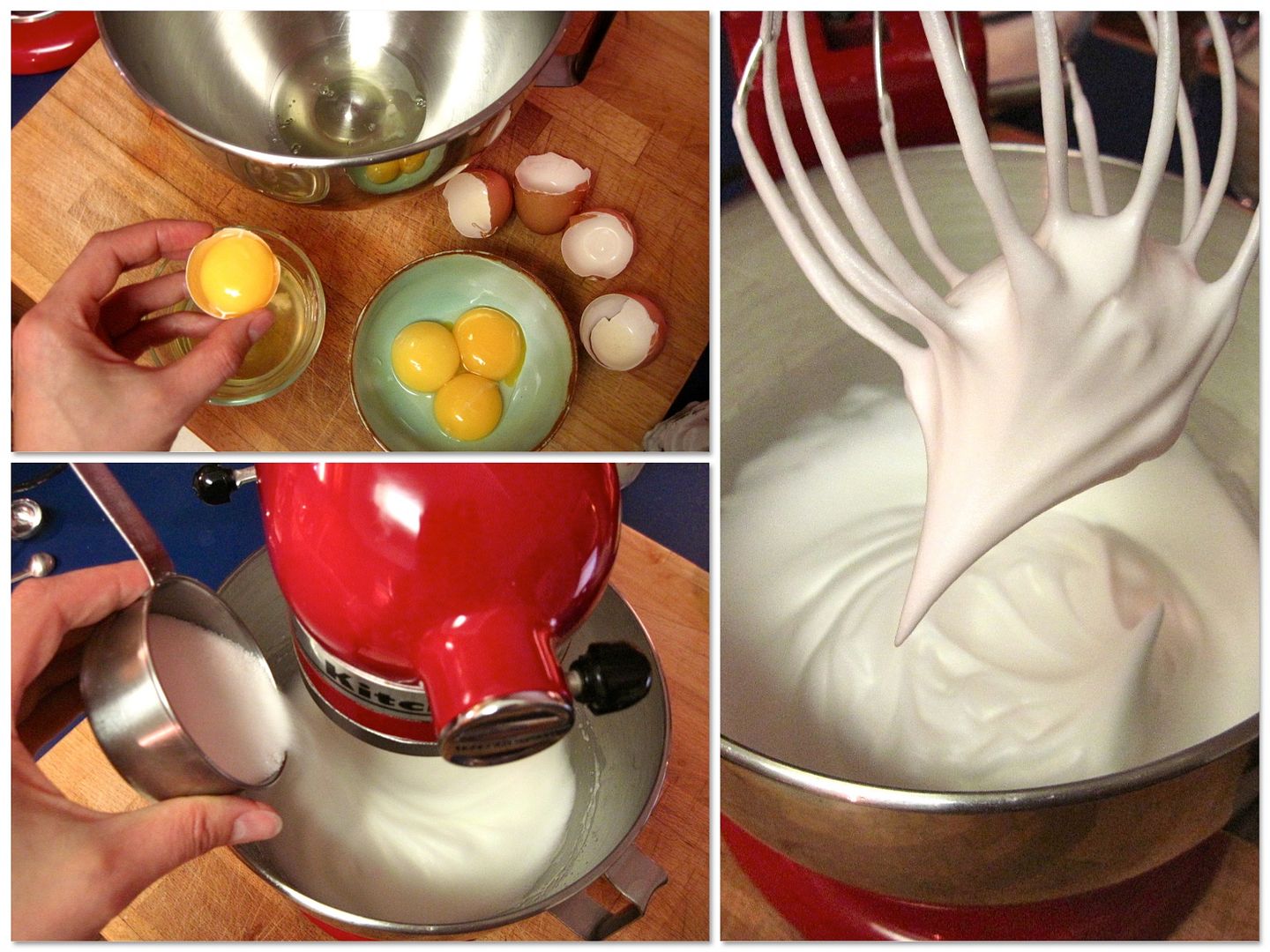 In the mixer bowl, combine:
1 cup unsalted butter, room temperature
1 cup lemon sugar, reserved from earlier
Beat on medium speed with the paddle attachment until light and fluffy. One at a time, beat in:
4 egg yolks

On low speed, add the flour mixture in three additions, alternating with the milk-lemon juice mixture. You should end up with a thick, fluffy batter.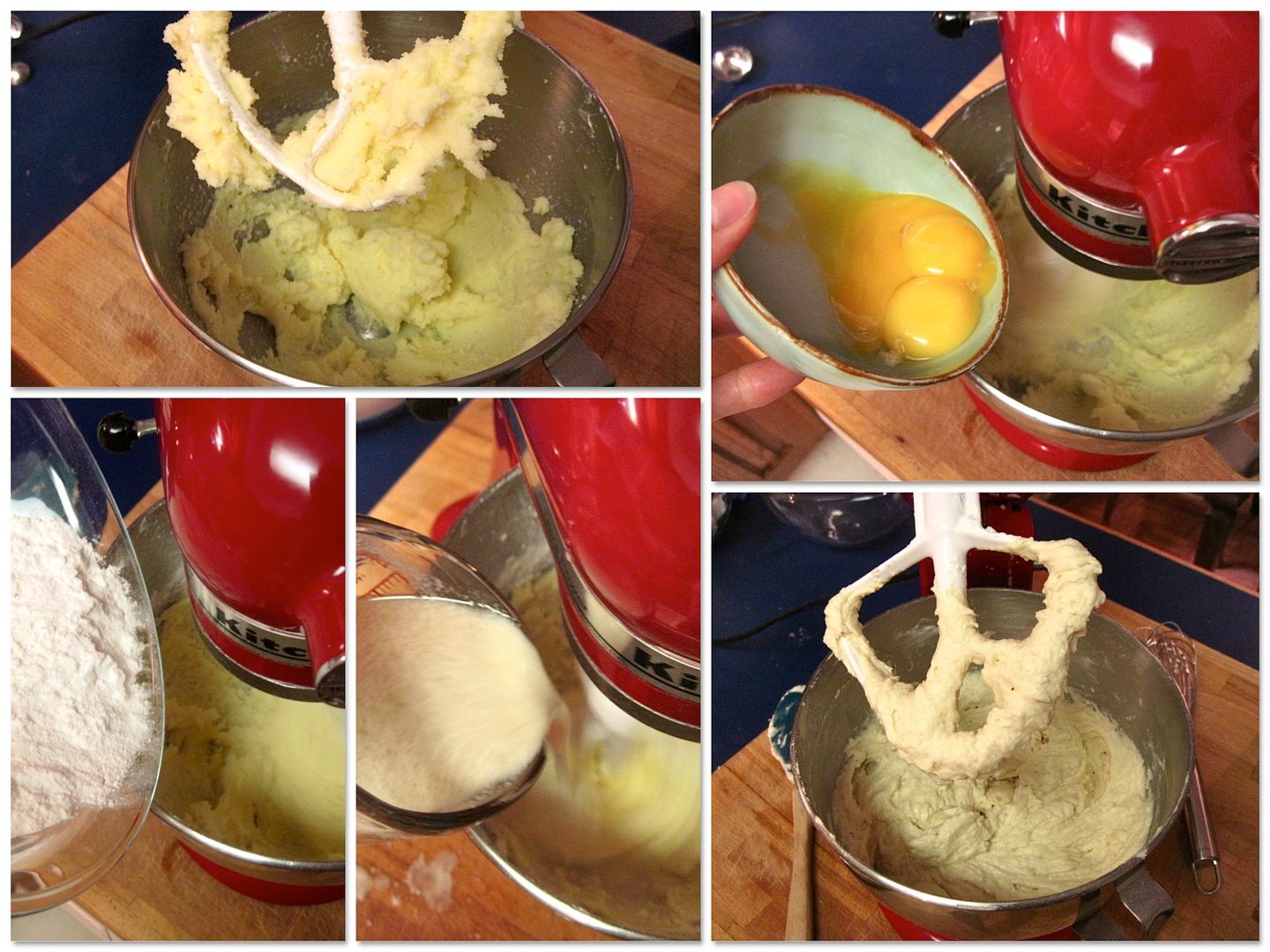 Fold in one third of the beaten egg whites to lighten the batter, then gently fold in the rest (I started folding with a spatula and ended with a balloon whisk to incorporate all the little pockets of egg whites).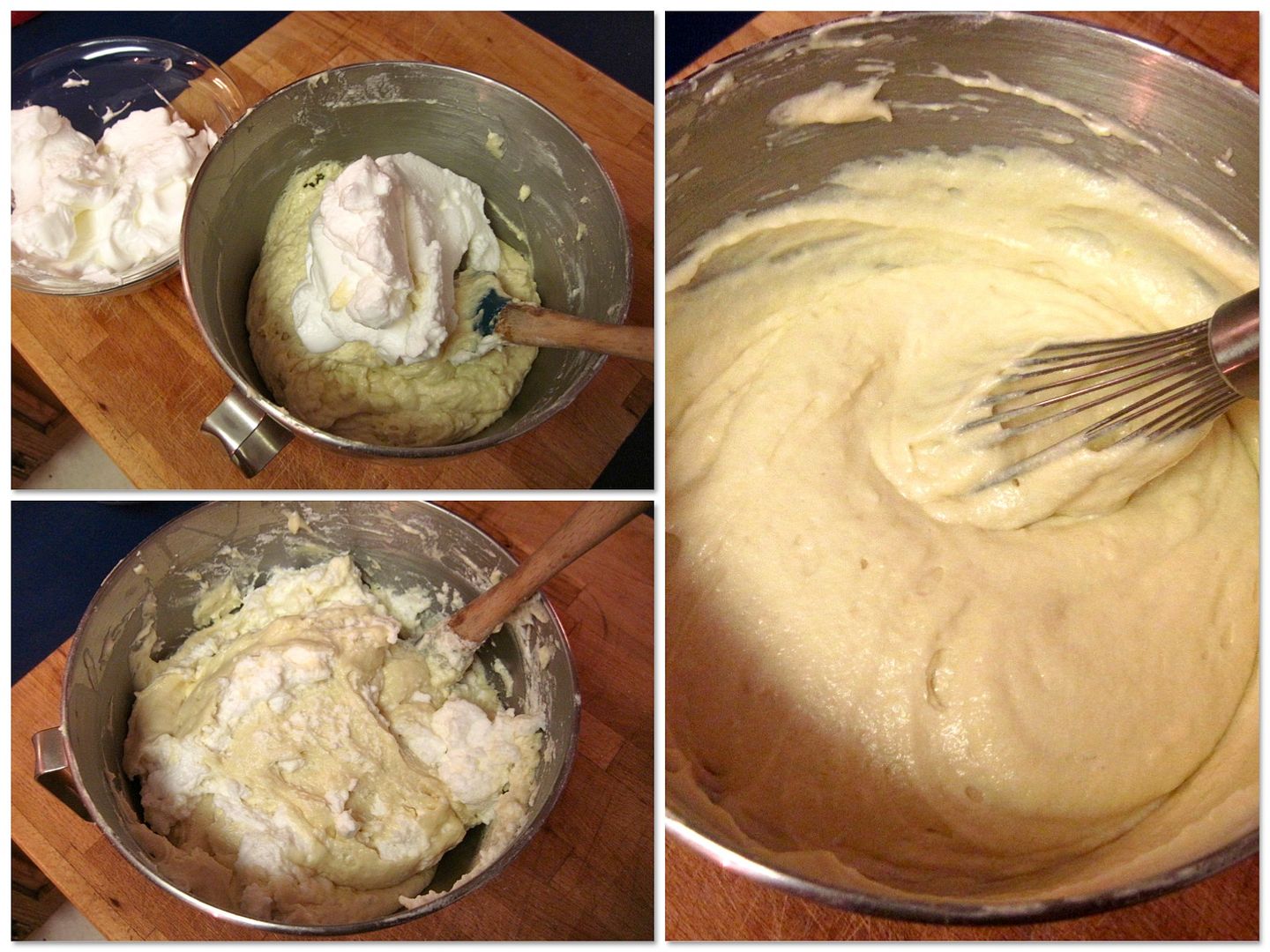 Divide the batter evenly between the two prepared cake pans, wrap them with a strip of damp towel, and bake in the middle of the preheated 350˚F oven for 20 – 30 minutes, until a toothpick in the middle comes out clean. Let the cakes rest in the pan for about 10 minutes, then invert into a cooling rack, peel off the parchment paper, and cool completely. Chill the cakes for a few hours or overnight, well-wrapped, to make them easier to work with.
Lemon Curd
Adapted from Epicurious. Makes about 1 1/3 cups, which is more than you need but leftover lemon curd is a good thing.
In a medium saucepan, combine:
3 whole eggs
1/2 cup granulated white sugar
1/2 cup fresh lemon juice (from 4 – 5 large lemons)
2 tsp finely grated lemon zest
a pinch of salt
Beat thoroughly with a whisk to combine, then add:
6 tbsp unsalted butter, cut into little bits

Cook over moderately low heat, stirring constantly with the whisk, until the curd thickens enough to see the tracks of the whisk and the first few bubbles come to the surface. Pour the curd through a strainer into a bowl, pressing it through with a spatula, to remove any bits of cooked egg whites and lemon zest. Press a piece of plastic wrap directly to the surface of the lemon curd to prevent a skin from forming, and chill it in the fridge until completely cool.
White Chocolate-Lemon Frosting
No pictures because this is the way I would make it next time…
In a medium bowl, whisk together:
1/4 cup all purpose flour
1/4 cup cornstarch
1/2 tsp salt
1 1/2 cups whole milk
Strain the mixture through a sieve into a medium saucepan. Cook over low heat, whisking constantly, until the mixture comes to a boil and becomes very thick. This will take a little while but it will be worth it – smooth, creamy, lump-free, and the starchy taste of the flour will cook out. Let roux cool to room temperature (or you can chill it to speed things up).
In a clean mixer bowl with the whisk attachment, cream together until very light and fluffy:
1 cup unsalted butter, room temperature
1 cup lemon sugar, reserved from earlier
Beat in the cooled roux by the spoonful, then add:
10 oz white chocolate, melted and cooled
2 tsp vanilla extract
1/8 tsp salt
Whip on high speed until the frosting comes together – it should have the consistency of whipped cream. Taste, and if desired, add a few teaspoons of fresh lemon juice.
To Assemble the Cake:
You will need:
 2 Lemon Cakes, each cut in half horizontally to make 4 layers
about 3/4 cup Lemon Curd
about 3/4 cup blackberry jam
White Chocolate-Lemon Frosting
55 rolled wafer cookies (I used chocolate-filled ones)
White Chocolate Ganache Coating (recipe follows)
6 cups blackberries
Place one cake layer on a serving place and dollop with half the blackberry jam and half the lemon curd. Swirl with a knife. Top with another cake layer, and spread with about 3/4 cup of frosting. Repeat with another layer of cake, blackberry jam and lemon curd, and the final layer of cake.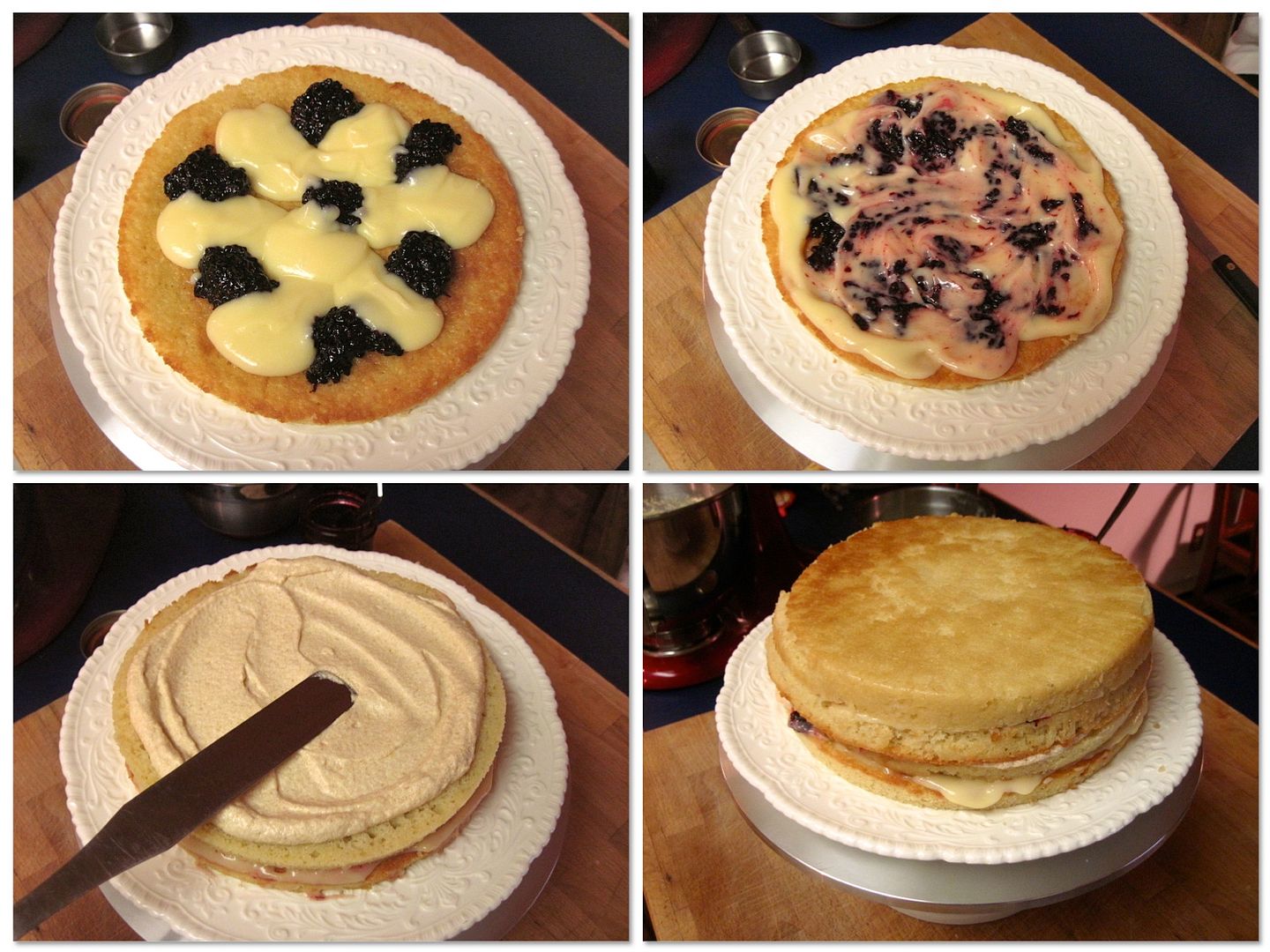 Spread the top and sides with the remaining frosting – don't worry about it being too neat because it will be totally covered. Press the wafer cookies into the sides of the cake and chill for about 30 minutes to set.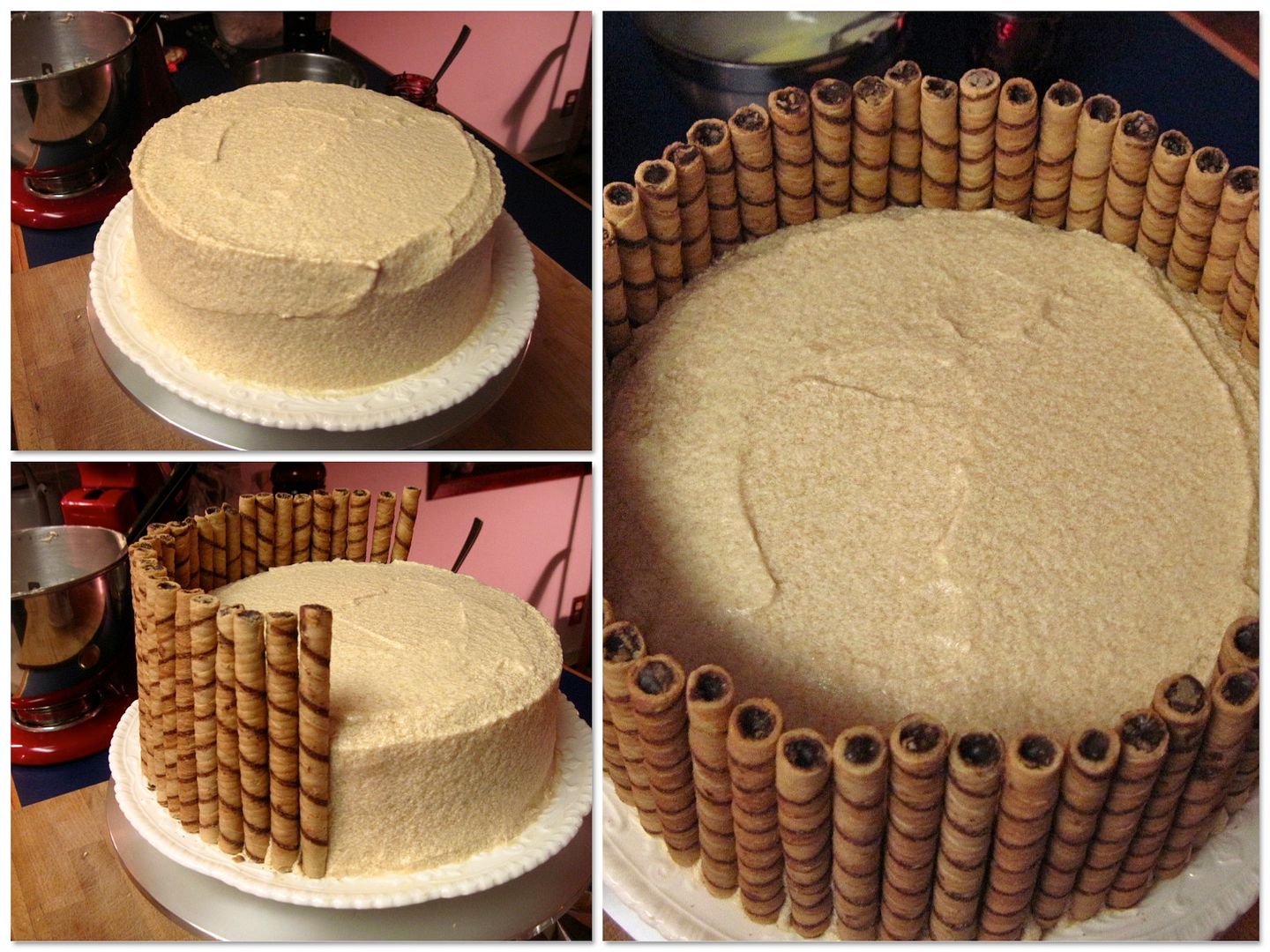 While you are waiting, prepare the White Chocolate Ganache Coating for the cookies:
In a small sauce pan, bring to a simmer:
1/2 cup heavy cream
2 tbsp vegetable shortening
a pinch of salt
Pour the hot cream over:
10 oz finely chopped white chocolate (or white chocolate chips)
Let it sit for a few minutes to melt, then whisk until completely smooth. Paint the ganache onto the outside of the cookies with a pastry brush, concentrating the ganache on the top half of the cookies, as it will drip down to the bottom. Once all the cookies are coated, repeat until you use up all the ganache. Chill for about 20 – 30 minutes until set. To serve, top the cake with a big mound of blackberries.