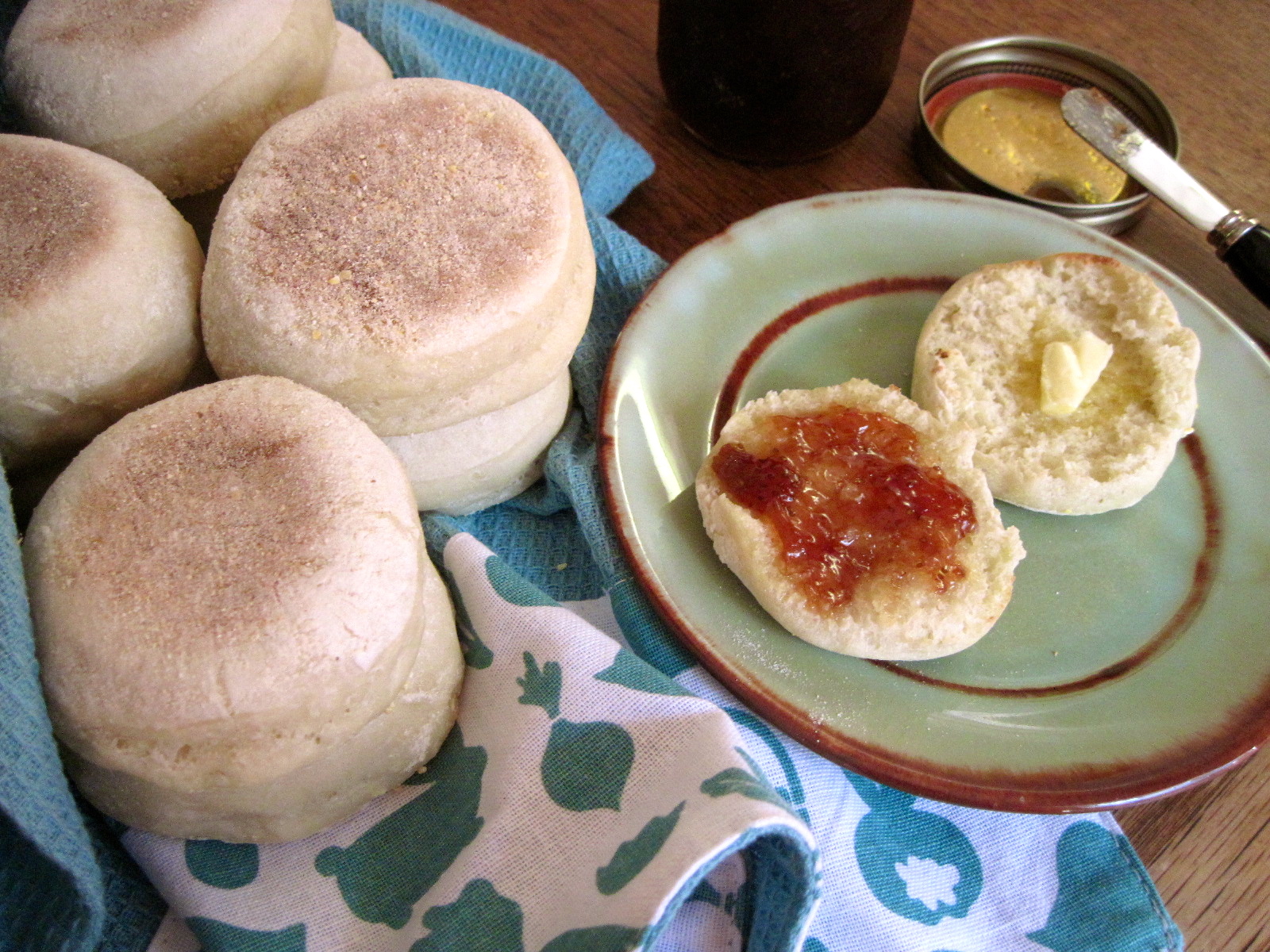 English muffins just happen to be one of my favorite breakfast foods (only partly because they form the base for eggs benedict) and they are one of those things that I keep meaning to make but never get around to doing. Enter Sourdough Surprises. This is the third time since I started baking with the group that the monthly project has coincided with something on my "to make" list! Perfect!
As always, I am kind of awe-struck that a bubbly mess of flour and water can so easily be turned into something like this: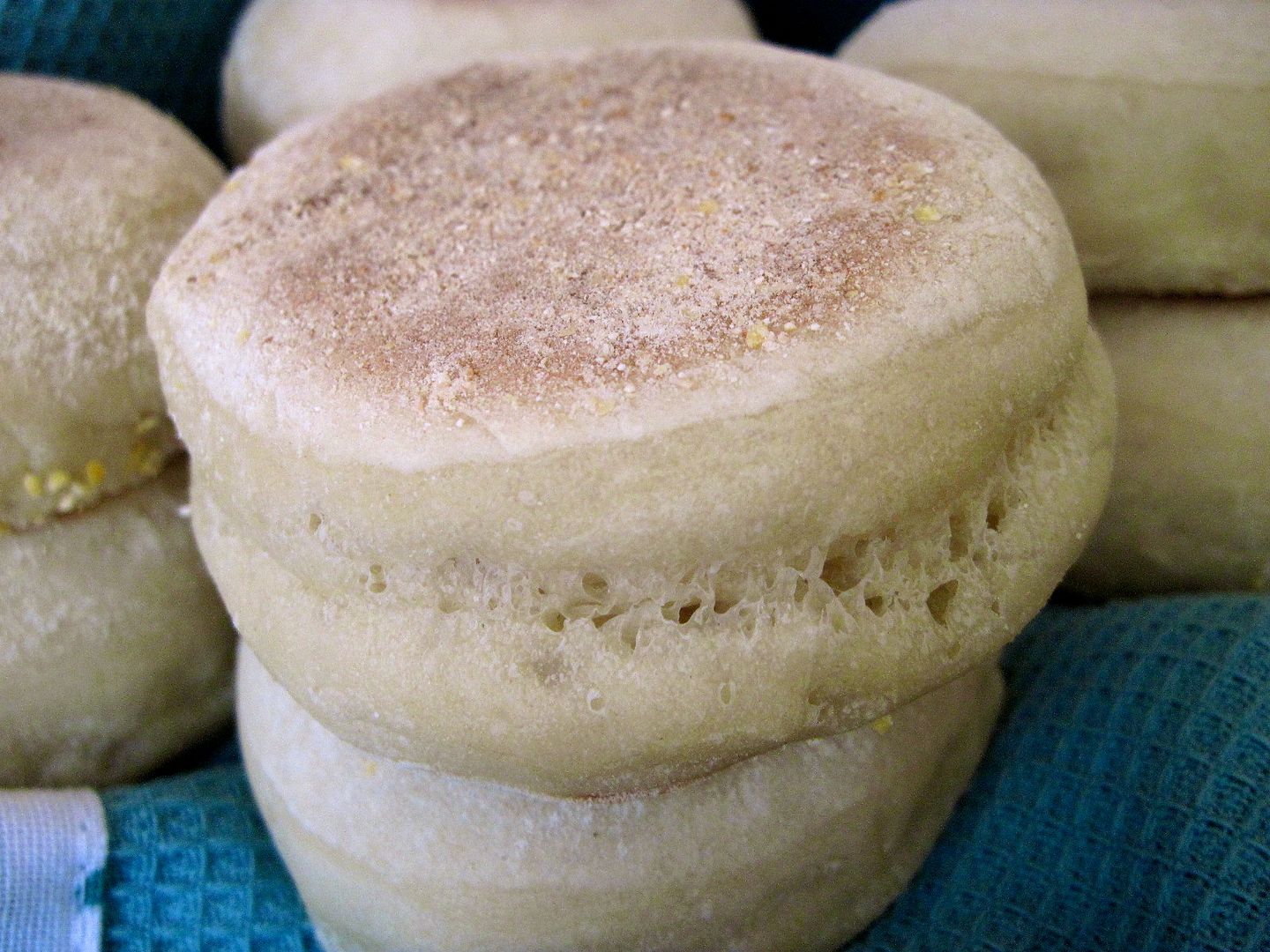 These were a snap to make. Mix up the sourdough levain in the evening, let it burble away over night, then in the morning add baking soda, salt, sugar, and more flour. Roll out the dough, stamp out rounds, let them rest for a bit covered in cornmeal, and then cook them in a skillet until they are golden brown on both sides. You know how store-bought English muffin packages say "fork split"? Once cool, instead of using a knife to cut the English muffin in half, use the tines of a fork to perforate it through the middle, then gently tear it open with your hands. This gives you the craggy surface that is oh-so-crucial in a proper English muffin.
The muffins are a bit doughy inside immediately after cooking, but once they are cool, a quick trip through the toaster crisps them up and makes them the perfect vehicle for butter and jam. Look at all those little nooks and crannies!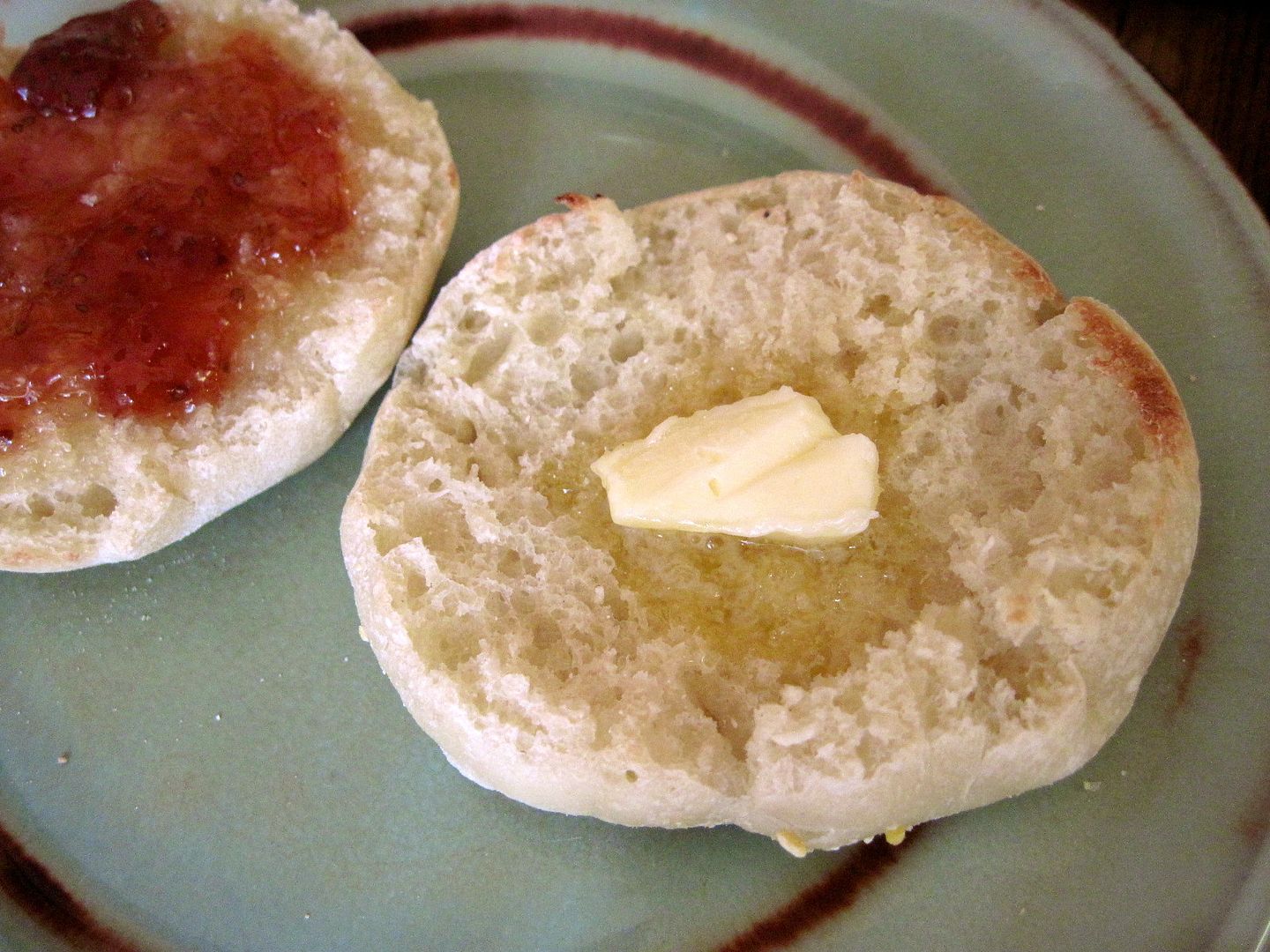 I ended up with thirteen English muffins, which is more than I will be able to eat before they get stale, so I froze half of them. I'll let you know how well they hold up in the freezer (I suspect they will be fine). In the meantime, I'll be going through a lot of butter and jam. 😉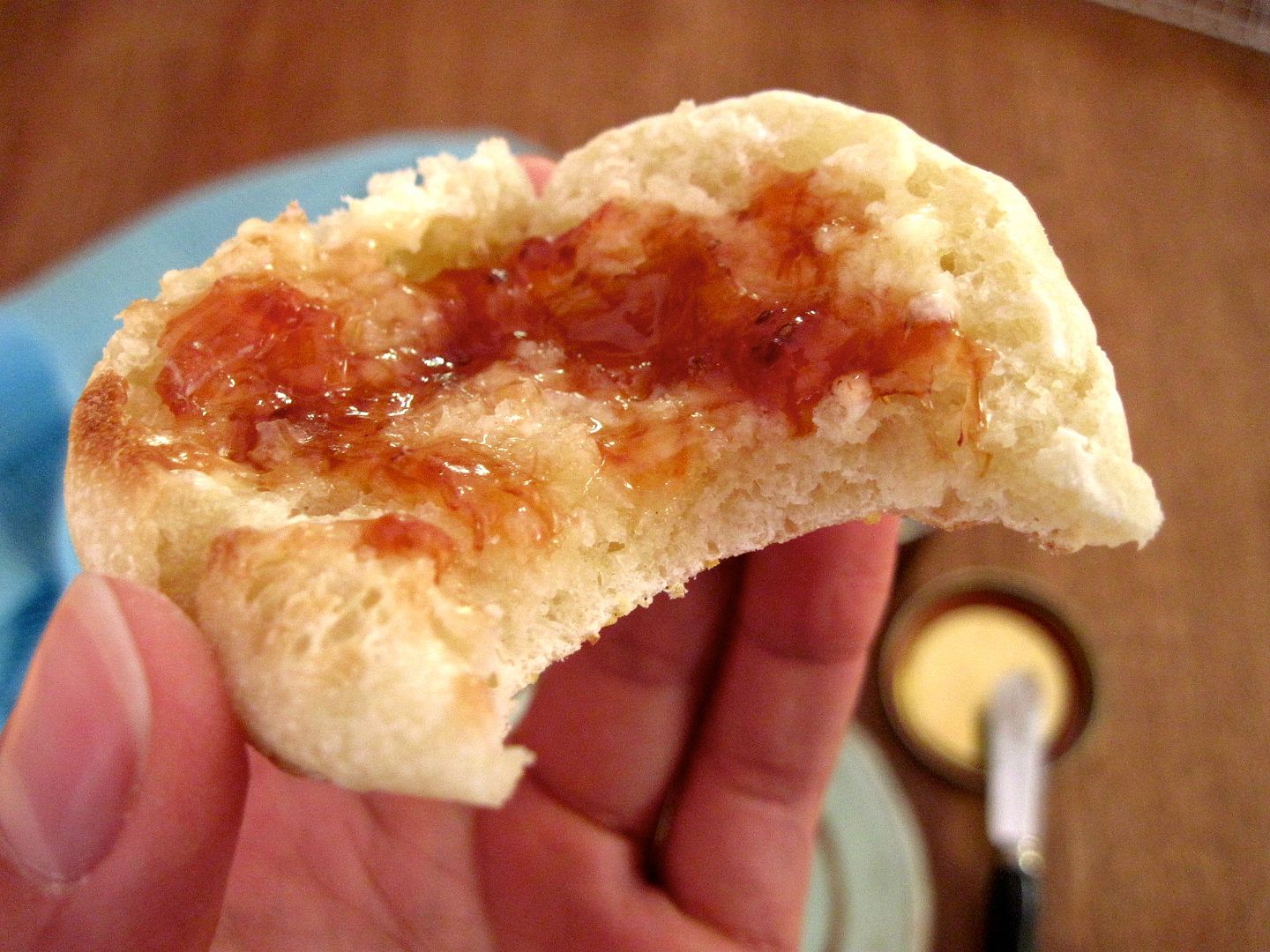 Check out the Sourdough Surprises blog to see what everyone else did with their English muffins this month. 🙂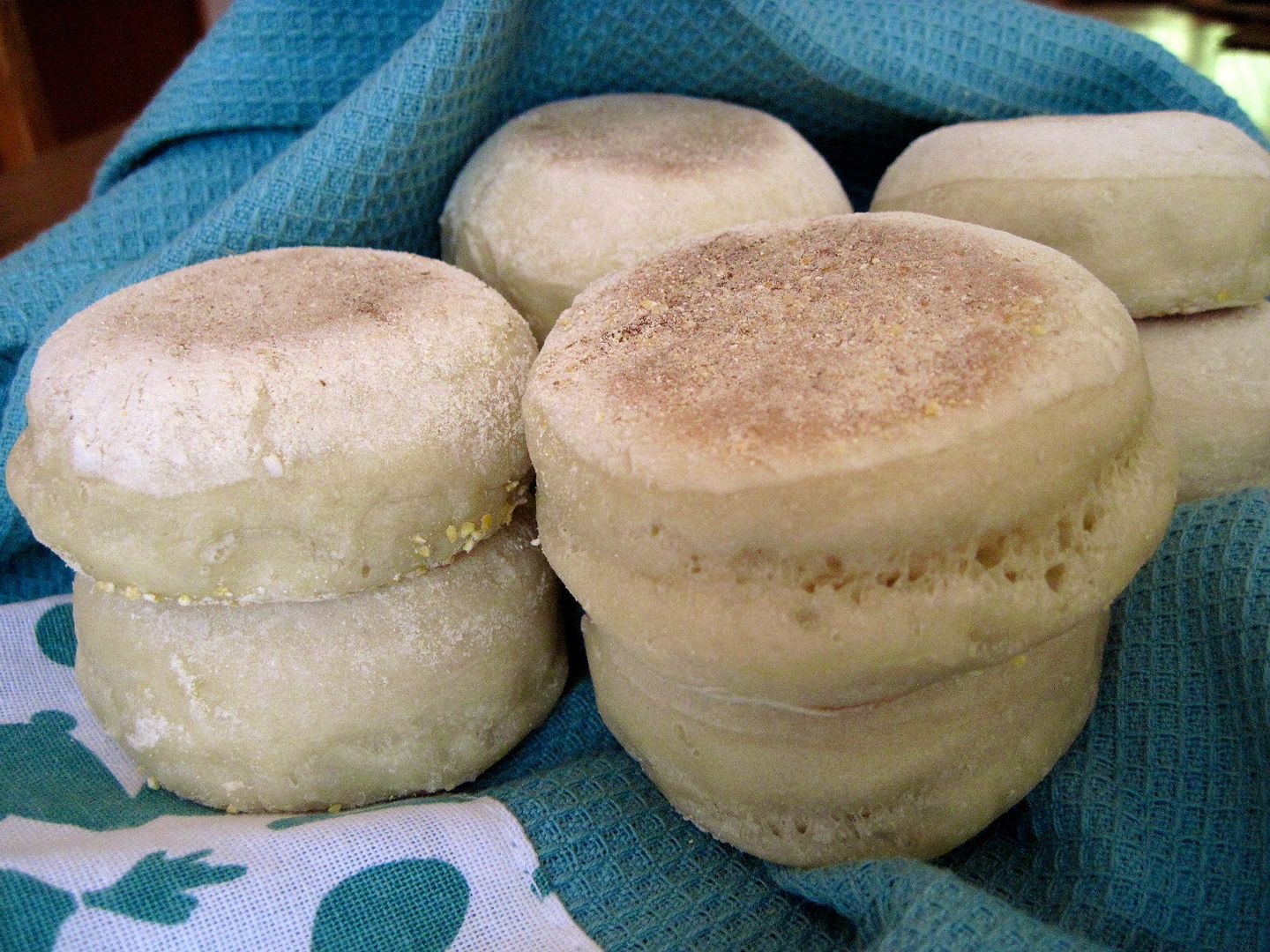 (PS, I only just realized that the posting date is supposed to be the 20th and I'm posting two days late… I don't know what happened there! 😉 )
Sourdough English Muffins
Recipe adapted from The Pancake Handbook, via Baking Bites
The night before you want to bake, mix together:
1/2 cup active 100% hydration starter, recently fed and very bubbly
1 cup water

Once the started is dissolved in the water, stir in:
2 cups all purpose flour
Cover and let sit overnight (7 – 10 hours).
The next morning, the stuff in the bowl should be very bubbly and stretchy. Stir in:
1/2 tsp baking soda
1/2 tsp salt
2 tbsp granulated white sugar

Use a sturdy spoon to stir vigorously – it will be difficult (it's a good workout!).
About 2 tbsp at a time, gradually stir in:
1 cup all purpose flour
Incorporate the flour until the dough loses its stickiness.

Turn it out onto a floured surface, roll it out to about 1/2″ thick, and cut into rounds with a floured cutter.
Transfer each round to a baking sheet covered in cornmeal immediately after cutting it out, otherwise the edges of the cut dough will stick back together again. Sprinkle the rounds with more cornmeal, cover with a tea towel, and let rest for about 45 minutes, until they are puffy.

Preheat a non-stick frying pan over medium-high heat until very hot, then reduce the heat to about medium. Cook the English muffins on one side for about 5 minutes, until they are look tightly puffy, dry around the edges, and medium golden brown on the bottom. Flip and cook for another 5 minutes or so, until browned. When they are done, they should sound hollow if you tap them with your finger.
Cool completely on a rack before storing in an airtight container. To serve, split with a fork and toast lightly.

This post has been YeastSpotted!