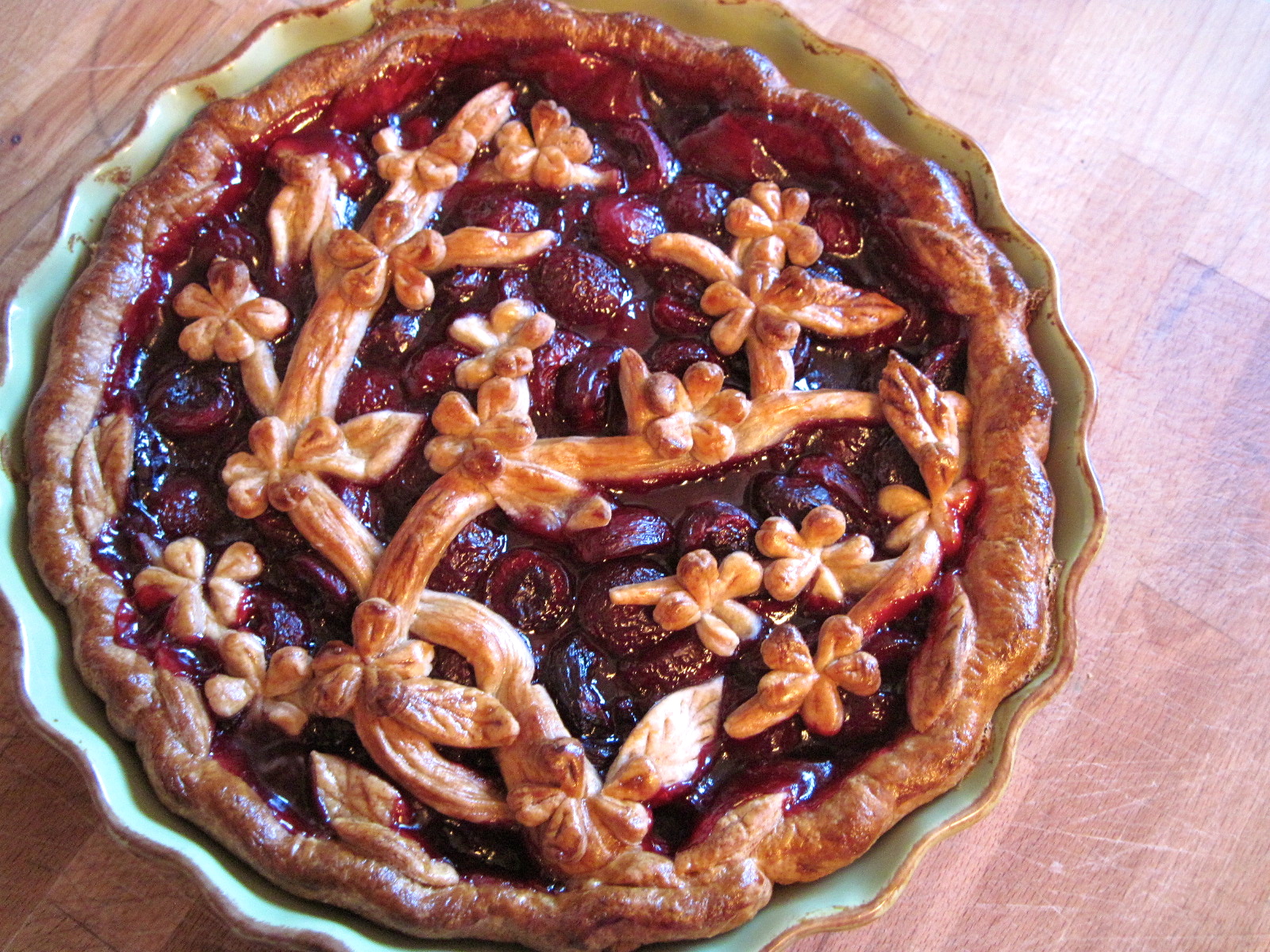 When I saw that this month's Sourdough Surprises project was pie dough, I got very excited. So excited that I actually made this pie back at the end of July because I just couldn't contain myself. Fruit pies are one of my very favorite things to bake and I was stoked to see a recipe for a pie crust using sourdough starter. And after making and eating this pie crust, I can officially say that my favorite way to use my sourdough starter is in sweet pastries, such as pie or danishes. The starter gives such a richness and complex flavour to pastries that for some reason I don't taste as much in other applications, and the smell of it baking in the oven is mouthwatering.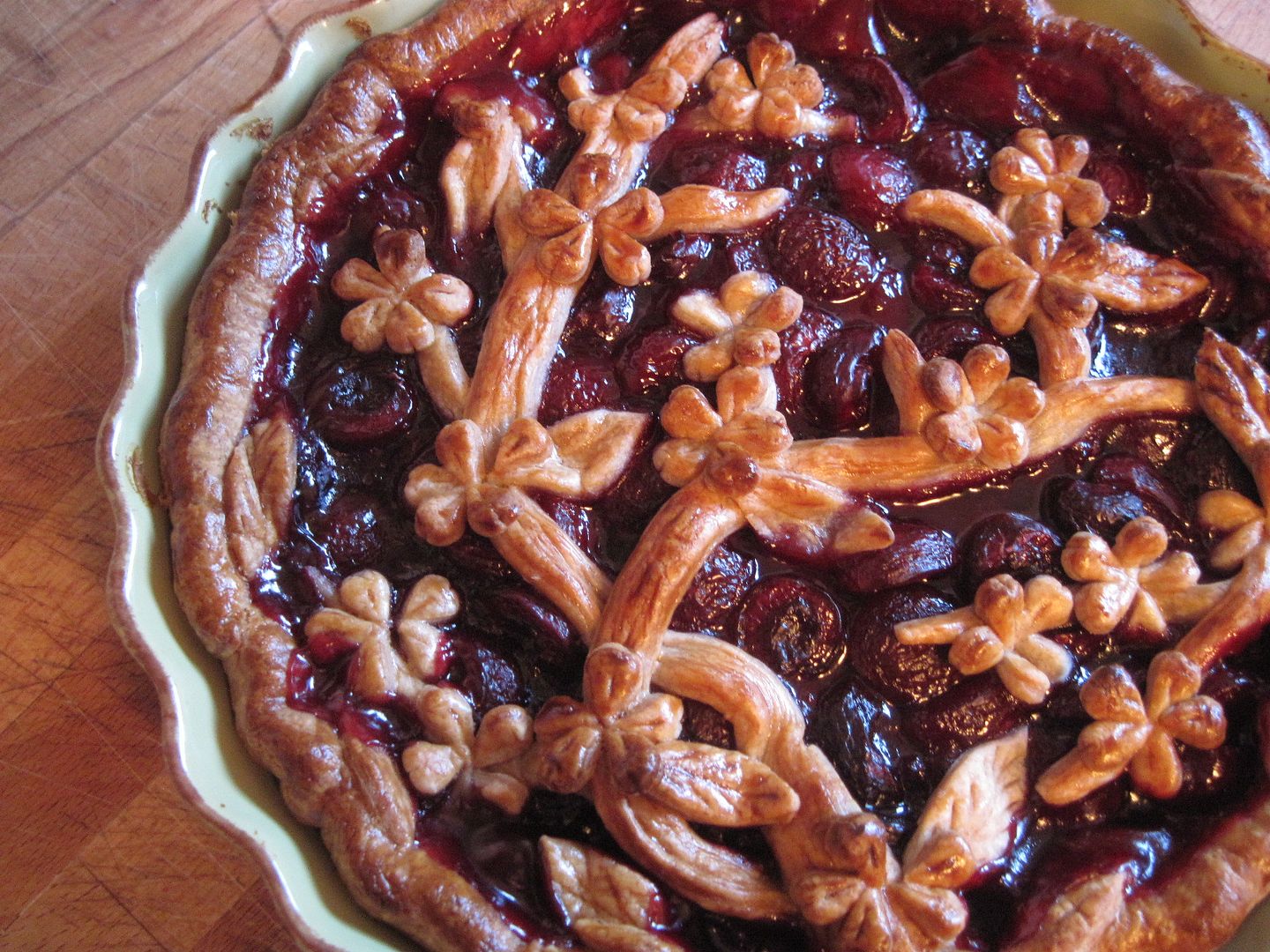 It's full-on cherry season, so I wanted to make a cherry pie, which somehow I had never made before. Apparently sour cherries are most commonly used in cherry pie, but this recipe called for sweet, which is the only type I've ever seen in the grocery store anyway. If the words "cherry pie" make you think of neon red, gloopy, canned cherry pie filling, don't let that cloud your judgement: this pie is nothing like those pies. The cherries are fresh (so fresh that you're going to pit them yourself) and the filling, accented by almond extract, turns out not too sweet and a beautiful purple colour. No neon red fake cherries here.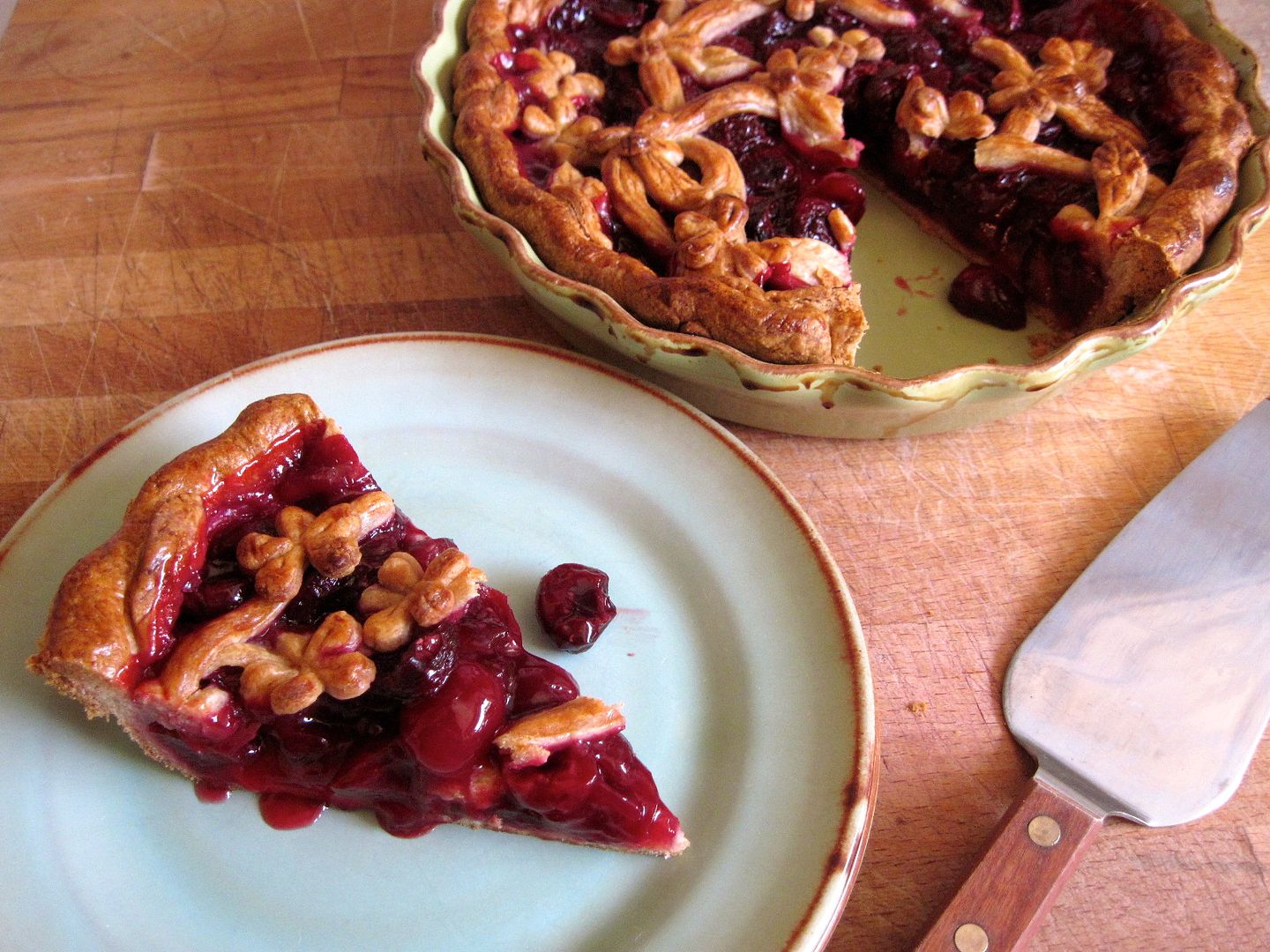 Just after I found out that we were making pie this month, I saw this gorgeous pie on Pinterest, and knew that I wanted to make a pie like that. But for my cherry pie, instead of the vine motif, I went for cherry blossoms. I spent a good hour browsing through pictures of cherry blossoms on Google images, doodling on Post-Its and trying to find an easy-to-recreate-in-pastry image, until I found this one to use as inspiration. And then I started neurotically planning in my head exactly how I would go about decorating this pie, so much so that the night before I made it, I literally couldn't sleep because my head was so full of thoughts about cherry blossoms and pie. (Sometimes I think to myself, "I need another hobby," but I would probably be just as obsessive about anything else. Sigh.)
Even though the pastry decoration was a lot of work, I enjoyed doing it and the pie turned out really well. If cutting out tiny shapes of pastry and placing them carefully sounds tedious to you (it's totally my kind of thing, but I can understand why it might not be yours), a lattice crust or plain top crust would be just fine on this pie.
This crust recipe uses the frisage technique, which means you leave large chunks of butter in the dough and then smear it across your work surface with the heel of your hand, creating long, thin layers of butter within in the dough. Baking causes these layers to separate, giving you flaky pastry – the same concept as puff pastry but with much less effort. I need to work on my frisage because the crust wasn't as flaky as it could have been, but it was very buttery and tender due to the addition of spelt flour and apparently the acidity of the sourdough starter. I will definitely be making it again!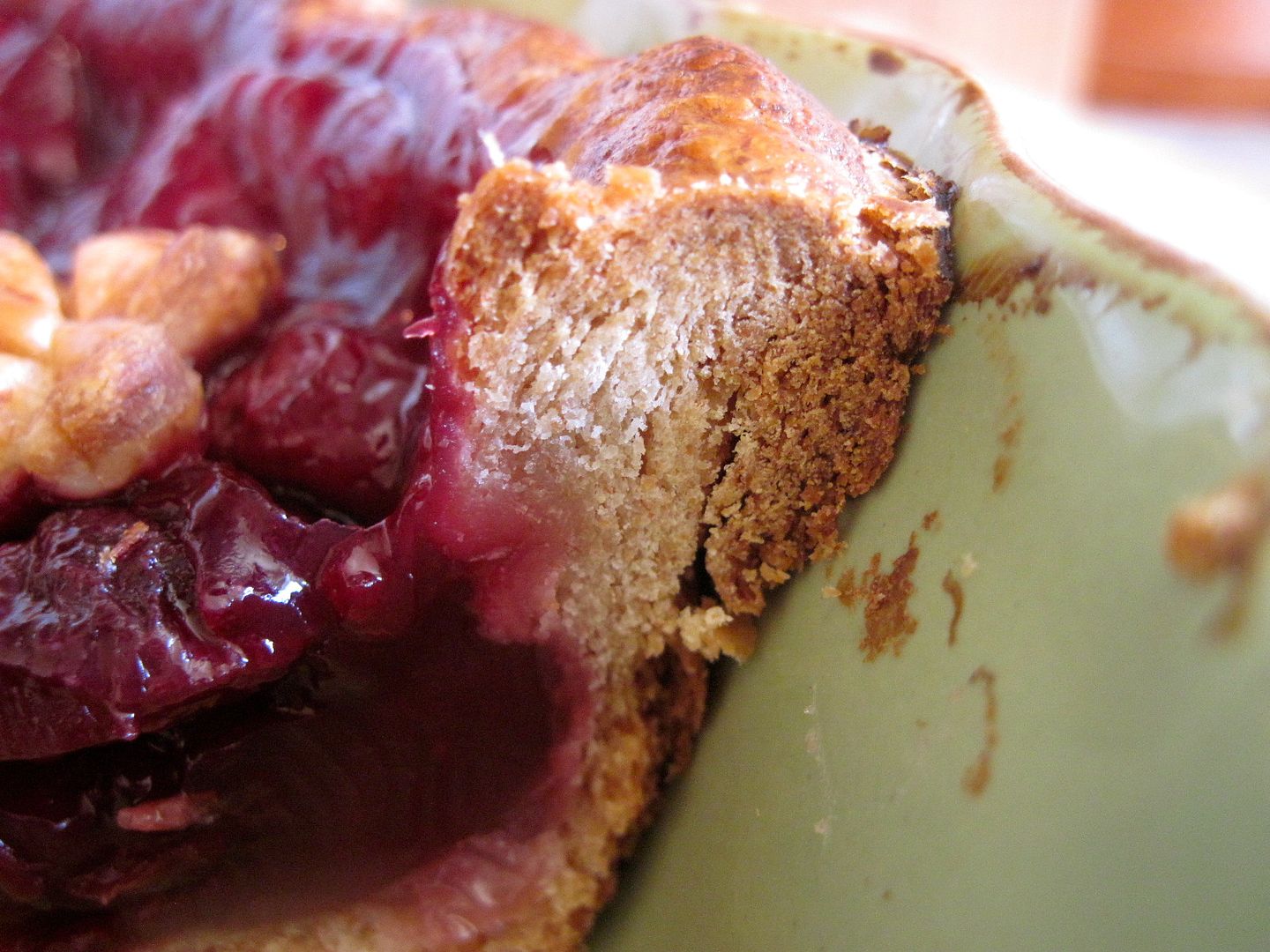 So go forth, my friends, and make a cherry pie with a sourdough crust. You will be very glad about it. I certainly was. And check out the Sourdough Surprises blog for some more beautiful pies!
Sourdough Pâté Brisée
From The Bojon Gourmet. Makes pastry for a 9″ or 10″ double crust pie.
In a large bowl, whisk together:
1 cup all purpose flour
1 cup whole spelt flour (or substitute all purpose or whole wheat)
1 tablespoon granulated white sugar
1 tsp salt
Add:
1 cup cold unsalted butter, cut into 1/2″ chunks
With your hands or a pastry cutter, rub or cut in the butter until the mixture looks like gravel, with some of the butter worked into the flour and some in 1/4″ pieces. With your hands or a spatula, fold in:
1 cup liquid sourdough starter, at room temperature (starter doesn't have to be active)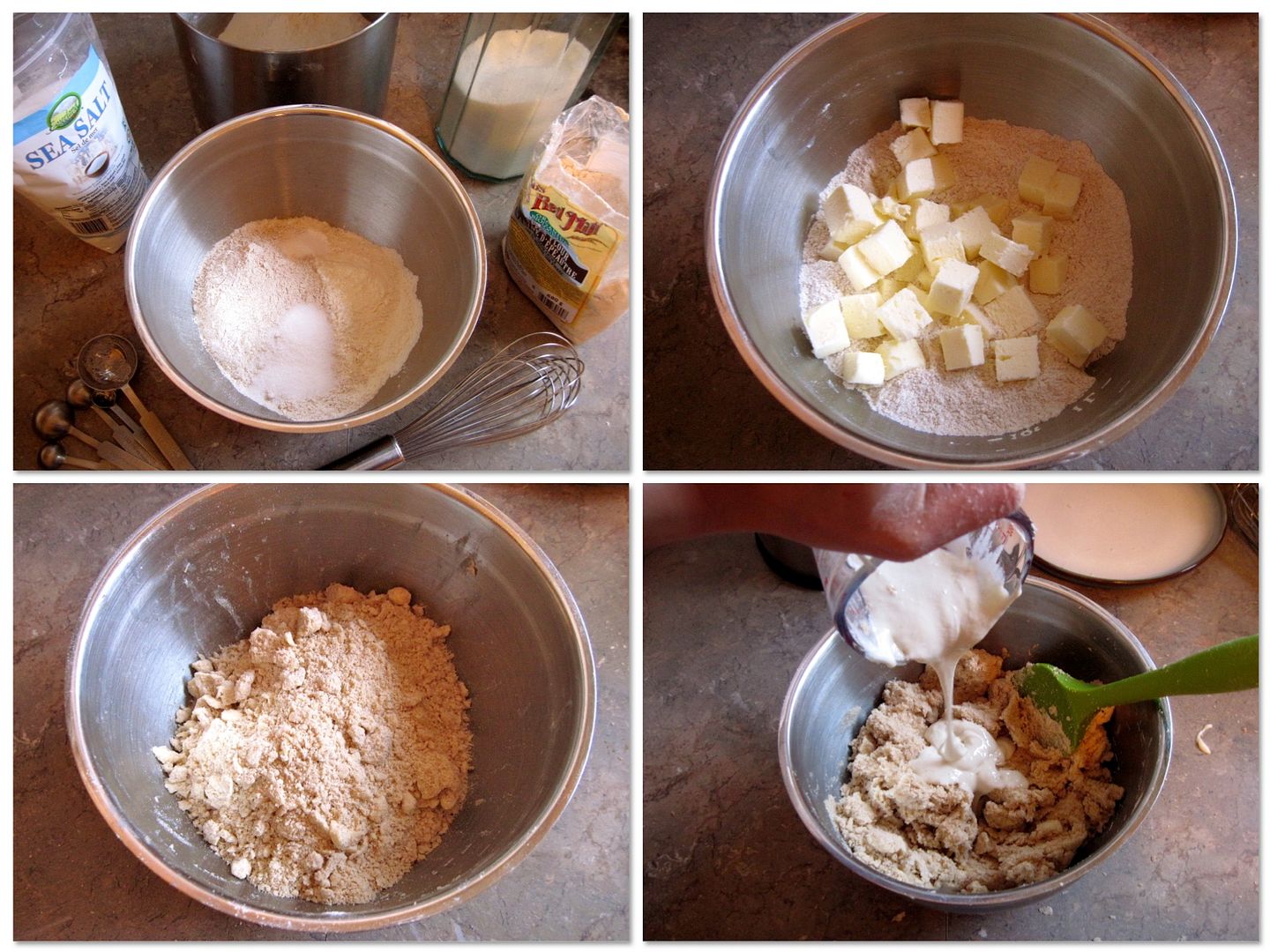 Mix until the dough just starts to come together in clumps, then turn it out onto a lightly floured surface. Divide it into 8 pieces, and using the heel of your hand, smear a piece of dough across the floured surface to create long stripes of butter within the dough (make sure your hands are cool so they don't melt the butter into the dough). Scrape the smeared dough up with a bench scraper or spatula, and repeat with the remaining dough. Gather the smeared dough into two discs, wrap them in plastic, and chill for at least 30 minutes or up to a few days (can be frozen for longer storage).
Cherry Blossom Pie
Decoration inspired by this pie.
First, roll out one disc of chilled pastry on a floured surface until large enough to line a 9″ pie plate. Transfer the dough to the pie plate and press it into the bottom. Trim the edges, leaving about an inch of overhang, and put it in the fridge to chill.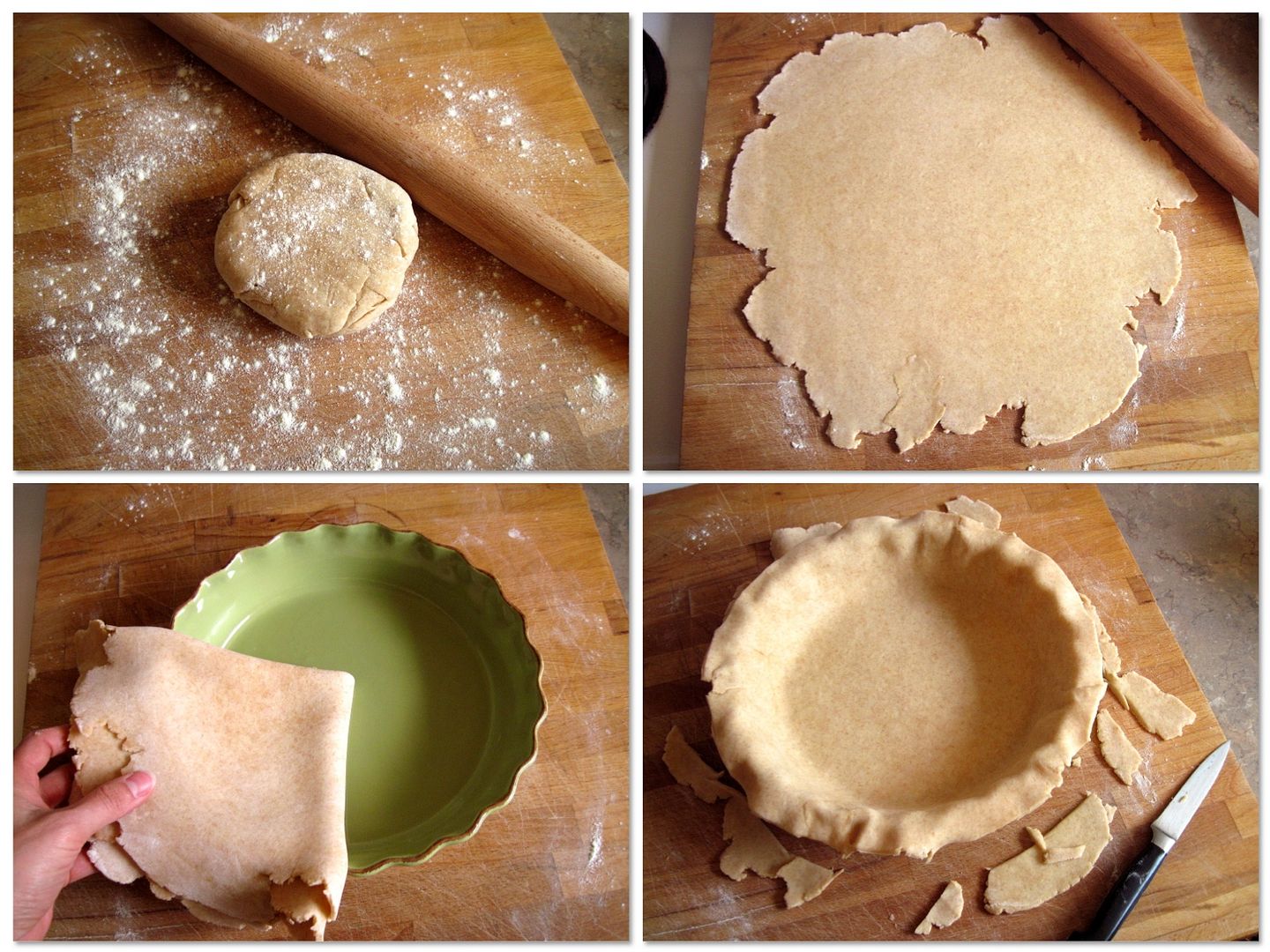 Roll out the second pastry disc to a similar size. With a sharp paring knife, cut 5 or 6 long strips, about 3/4″ wide and tapered at one end, plus a few skinnier ones. These will be the cherry branches. Pinch the edges of the strips with your fingertips to make them look a bit gnarled and place then on a cookie sheet.

Next, cut out about 15 cherry blossoms. I don't have an appropriate cookie cutter (cherry blossoms have 5 petals, just FYI), so I used a tiny teardrop-shaped aspic cutter to cut out 5 petals and then pressed them together with my finger. Obviously a cookie cutter would be much easier. With the dull edge of a knife, press an indent into the rounded outside edge of each petal, then score the middle of each petal. Place the blossoms on the cookie sheet.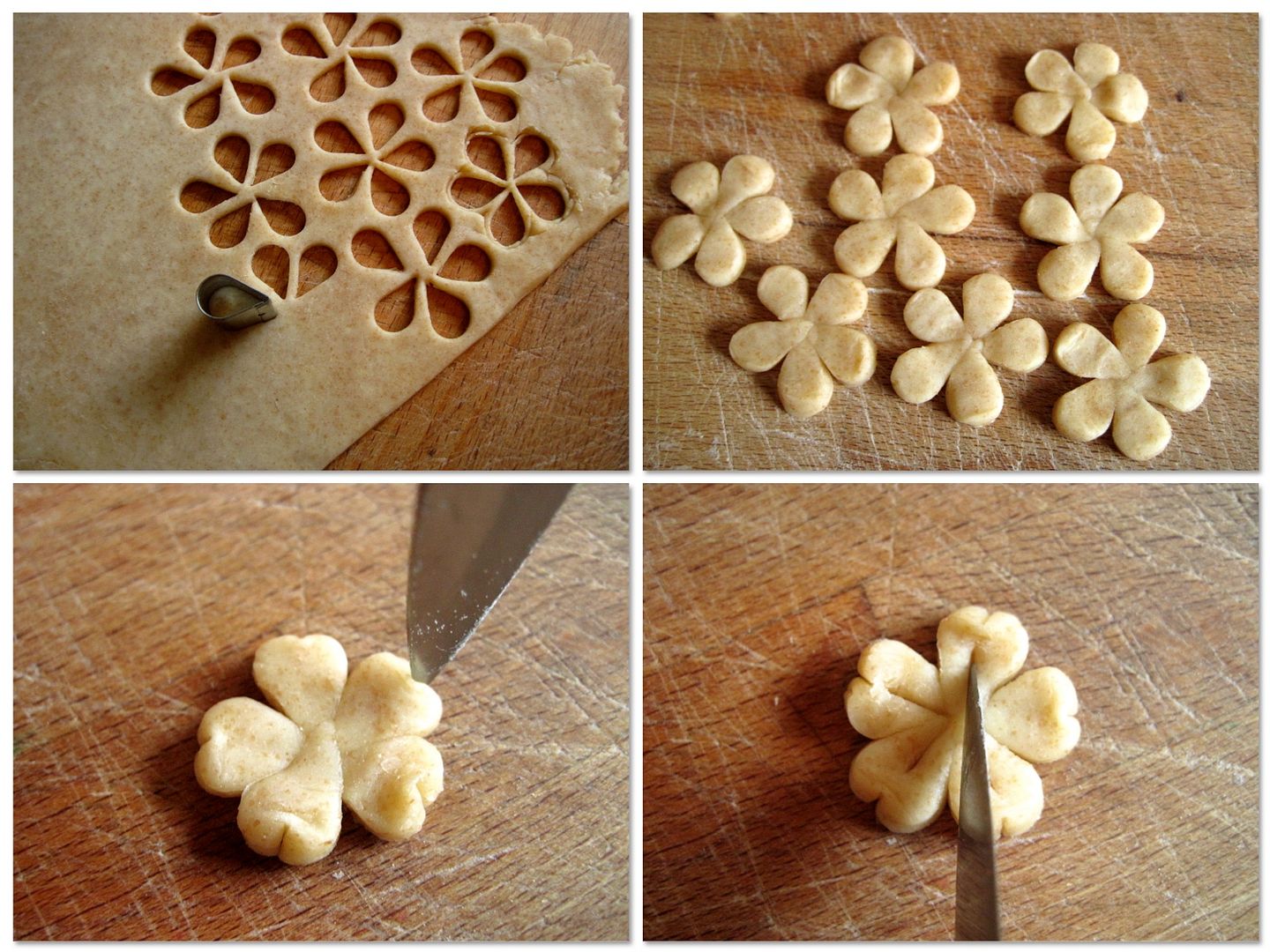 Cut out a bunch of leaf shapes from the rest of the dough, either free-hand with a paring knife or a with a leaf-shaped cookie cutter. Use the dull edge of a knife to score lines on each one in a leaf-like fashion. Place the leaves on the cookie sheet and put it in the fridge while you make the cherry filling.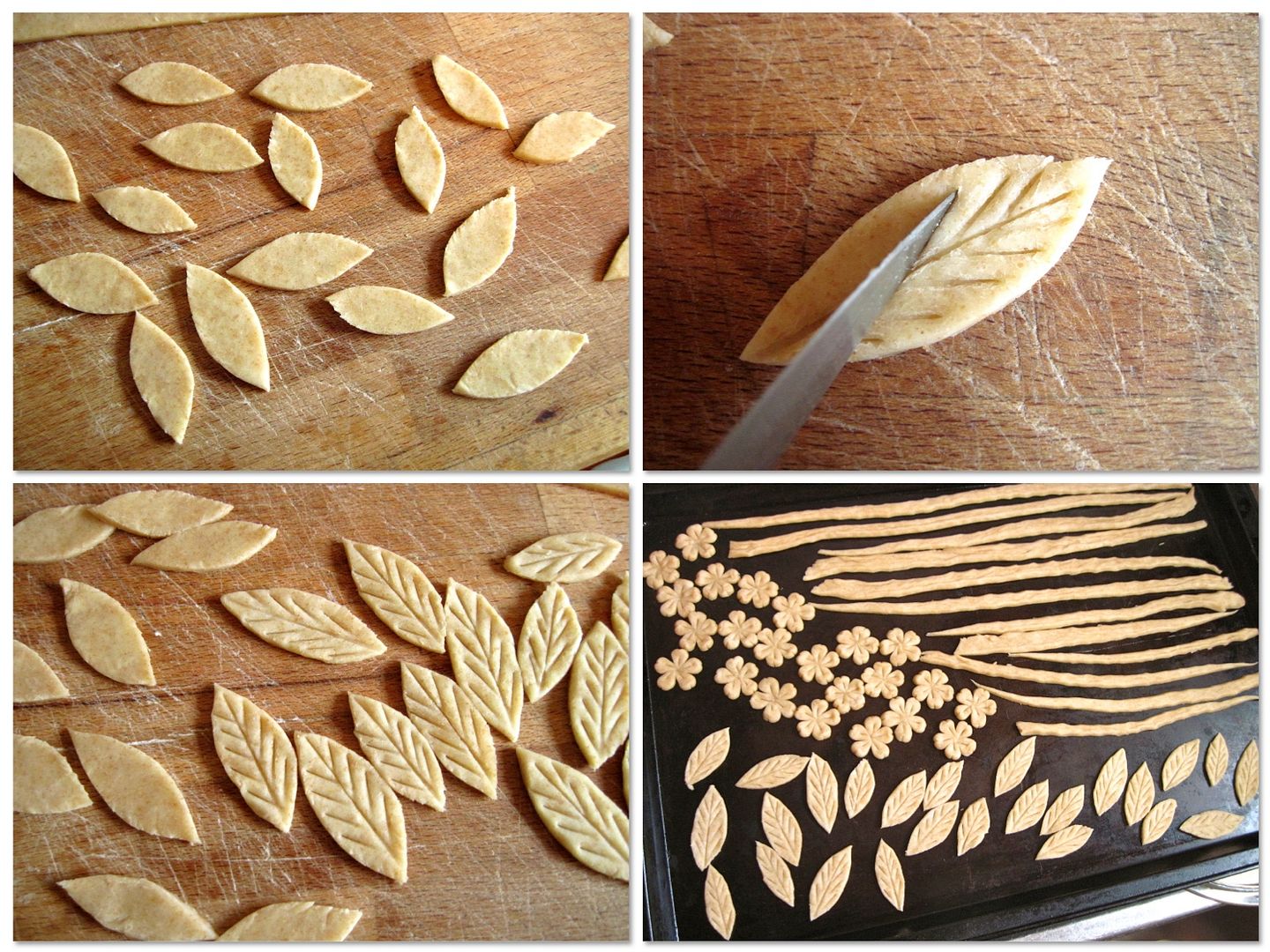 Sweet Cherry Pie Filling
From Smitten Kitchen. To pit cherries, I run a paring knife around the middle of the cherry (like you would an apricot or peach), twist the halves apart, then use the tip of the knife to pry out the pit. If you have a cherry pitter, lucky you!
In a large bowl, combine:
4 cups pitted cherries (slightly less than 2 1/2 lbs whole cherries)
2/3 – 3/4 cup granulated white sugar, depending on the sweetness of your cherries
4 tbsp corn starch
1/4 tsp almond extract (next time I might use a dash of amaretto liqueur instead)
1/8 tsp salt
juice of half a lemon
Mix it all together well, then scrape the cherries into the chilled pie crust and spread them out level. Now you are ready to decorate!
First, preheat the oven to 425˚F. Whisk together an egg wash of 1 egg yolk and 1 tbsp of milk. Set aside.
Place the chilled pastry branches over the filling in a cherry-blossom-branch-like way, trying to arrange them so that the filling is covered somewhat evenly. Press the pastry together with your fingers at any joint, the brush the egg wash lightly over the branches. Place the cherry blossoms along the branches and egg wash them. Place a few leaves among the blossoms and egg wash them. Flute the edge of the pastry, stick a few more leaves decoratively around the edge, and egg wash.
I forgot to do this, but if you want, you can dot the cherry filling with:
1 tbsp unsalted butter, cut into tiny bits
Bake the pie in the preheated 425˚F oven for 20 minutes, then reduce the heat to 350˚F and bake for 25 – 35 more minutes, until the pastry is nicely browned and the filling is bubbling in the middle. The juices in the filling must to come to a boil for the cornstarch to thicken properly, so if the pastry is getting too brown before this happens, cover the pie lightly with aluminum foil. Cool for a few hours before cutting into slices.