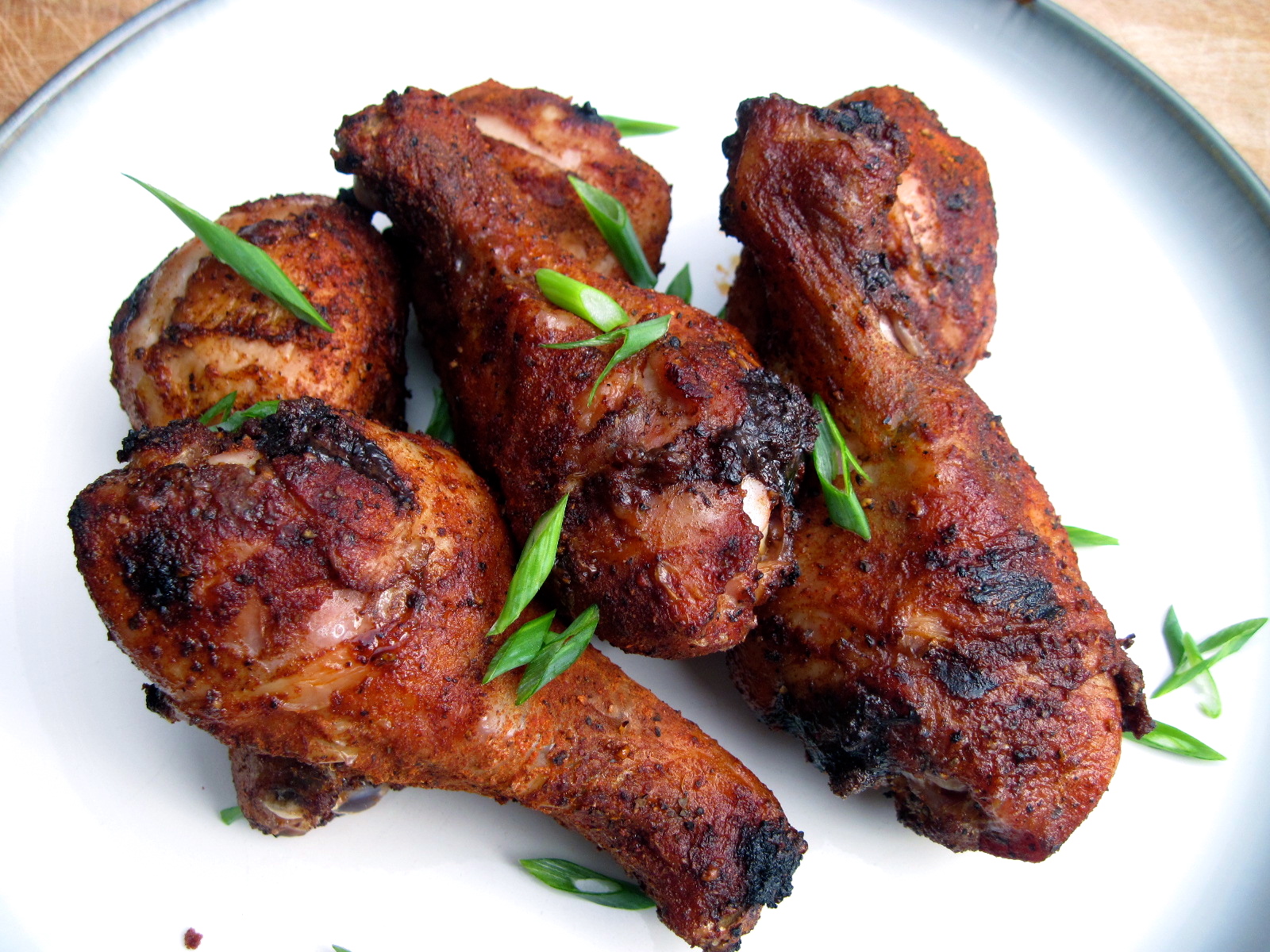 Last year sometime, I went to a homemade calamari feast at my friend Katheryn's house. (I brought dessert, and also helped disembowel about 300 little squid. My kind of dinner party!) One of her other guests, who was from the Szechuan province of China, concocted a delicious Szechuan spice mix for dipping our calamari: a combination of sugar, salt, black pepper, Chinese 5 spice powder, and hot paprika.
I took note of the ingredients so I could recreate it (I still have plans of making Szechuan-dusted calamari at some point) because what kept running through my mind was that the Szechuan spice mix resembled nothing so much as a dry rub for grilling, and my favorite thing to grill right now is chicken. The obvious conclusion here is Szechuan grilled chicken.
Now that I have finally learned how to properly grill chicken (ie, cook it all the way through without charring it to bits), I can share the secret, which is to cook the chicken with indirect, medium-ish heat. The indirect cooking method prevents the chicken drippings from falling into the flames and causing flare-ups, which blacken the chicken and make it taste like charcoal. It also allows the chicken to cook all the way through without burning and renders out the fat under the skin, leaving the chicken with a nice, crispy finish. This is how I set up for indirect cooking on my four-burner propane barbeque:
You have to babysit the chicken a bit and turn it every 10 or so minutes, but the result is well worth it: tender, crispy-skinned chicken with a mouthwatering salty-spicy-sweet combination of Szechuan flavours. One day I will get around to making that Szechuan calamari, but in the meantime I will be making a lot of this!
Szechuan Dry Rub
In a bowl, combine:
1 tbsp granulated white sugar
2 tsp each fine sea salt, Chinese 5 spice powder, hot paprika (I used the smoked variety) and freshly ground black pepper (I eyeballed the pepper)
Stir it all together and adjust to your personal taste as necessary.
This makes enough for probably about 10 – 12 pieces of bone-in, skin-on chicken. As long as you don't contaminate the dry rub with raw chicken, any excess can be stored in an airtight container for next time.
To Prepare the Chicken
Place the bone-in, skin-on chicken pieces on a plate and pat them dry with paper towel. Sprinkle each piece generously with the spice mixture on both sides, then rub it in with your hands. Cover the chicken with plastic and let it sit for an hour or longer in the fridge.
When you are ready to cook, preheat the grill to medium heat in an indirect cooking arrangement (ie, flame on the sides, cooking in the middle). Place the chicken, skin side down, on the grill (not directly over any flame), close the lid, and cook for about 10 – 15 minutes, until it starts looking slightly crisp and browned. Turn and cook for another 10 minutes. Continue cooking, turning every 5 or so minutes, until the chicken is done – crispy, browned, and registering 180˚F on a thermometer.