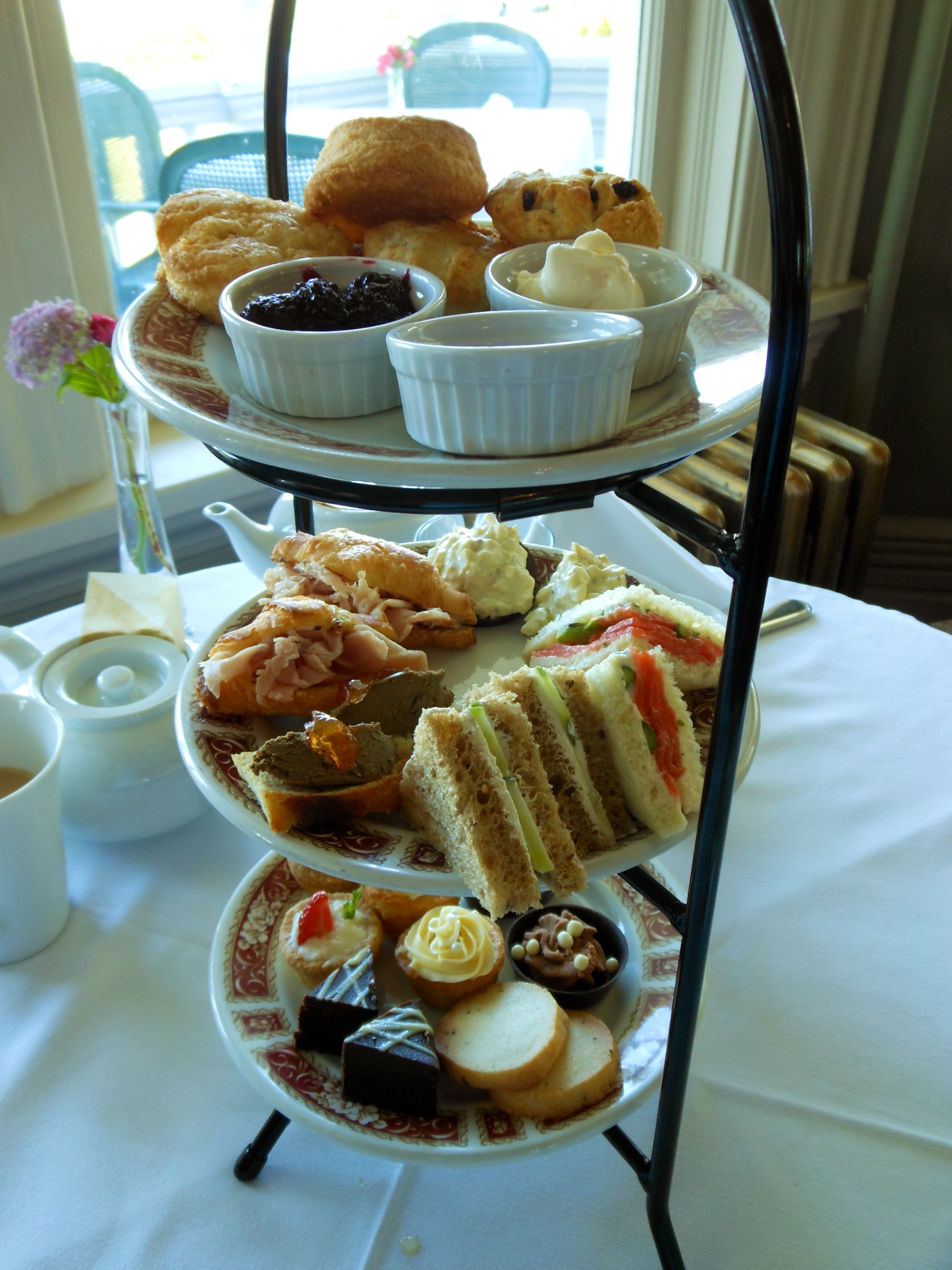 Last year, Lynette and I had a memorable afternoon tea experience at the Gatsby Mansion – unfortunately, memorable only in how bad it was. However, after seeing several very positive reviews about their new menu and new chef, we decided to give the Gatsby another chance. I am very happy to report that the difference between this visit and our last was like night and day, and that the afternoon tea at the Gatsby is now quite lovely and totally worth checking out.
Last time the food was awful. This time, simply reading the menu gave me high hopes that it was going to be better, and I was happily surprised by just how much better it was (I love it when that happens!). We chose from a selection of loose leaf teas from Silk Road Tea Company (I chose the Darjeeling, Lynette the Earl Grey) and then the tea service began with strawberries and blueberries macerated in elderflower syrup and mint. The berries were perfectly ripe and complimented by the elderflower, and I suspect the strawberries were local, as they definitely didn't taste like they'd been shipped from California.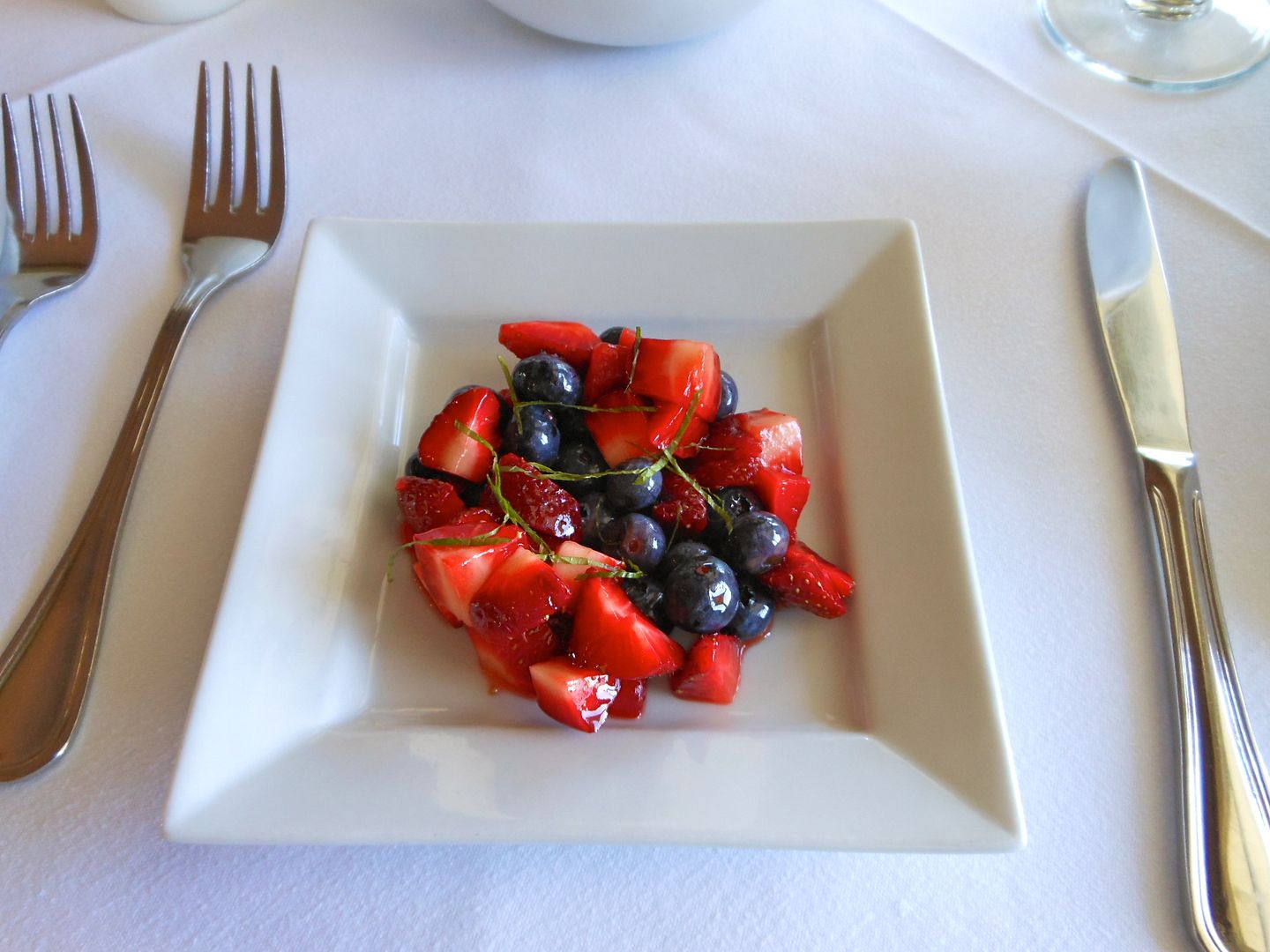 Then came the tower of goodies: two types of scones, several varieties of tea sandwiches, and a whole plate of tiny desserts. The scones were very good and served with homemade-looking blackberry preserves, local honey from Sooke, and Devonshire cream. I particularly liked the white cornmeal scone, which was very crumbly but also very tasty.
The sandwiches were fresh, dainty, and savoury, and a huge improvement on our last visit. There was smoked salmon and grilled asparagus, tiny croissants stuffed with baked ham and grainy mustard, creamy egg salad on mini pumpernickel rounds, the traditional cucumber and cream cheese (much more refined than previously), and chicken liver pâté with rosehip jelly – the only one I wasn't a fan of, but I'm not fond of either chicken liver or pâté so it was to be expected (Lynette enjoyed it though).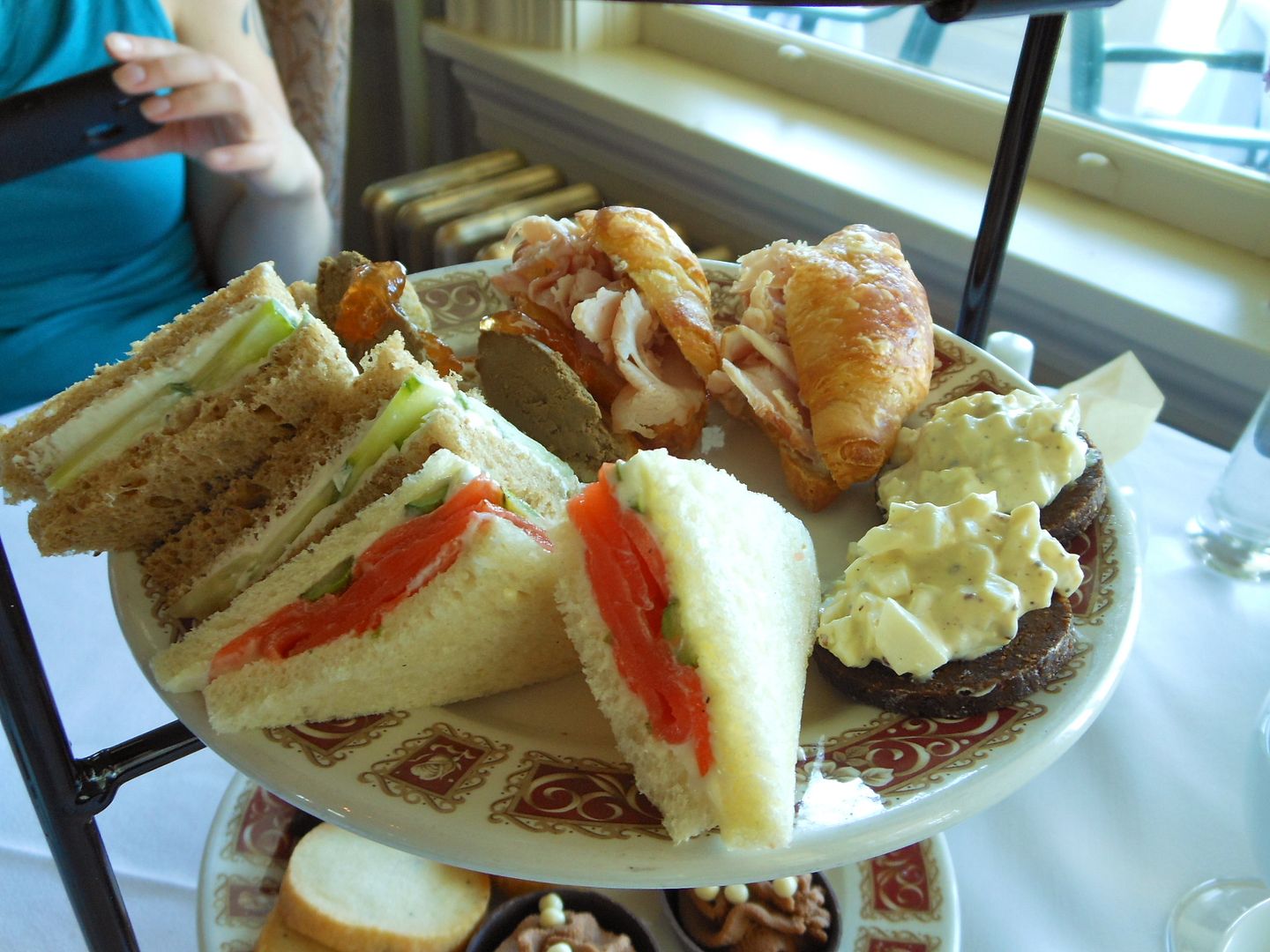 And to finish, the desserts: all looked to be house-made, and all tasted quite delicious. We had lavender shortbread, tiny strawberry chartreuse tarts (I always thought chartreuse was a colour, not a flavour?), triangles of flourless chocolate torte, Earl Grey-flavoured chocolate mousse (I couldn't taste the Earl Grey, but it was light years better than the chocolate mousse from a powder that we had last time), and miniature cupcakes topped with a beautiful, silky rosewater buttercream.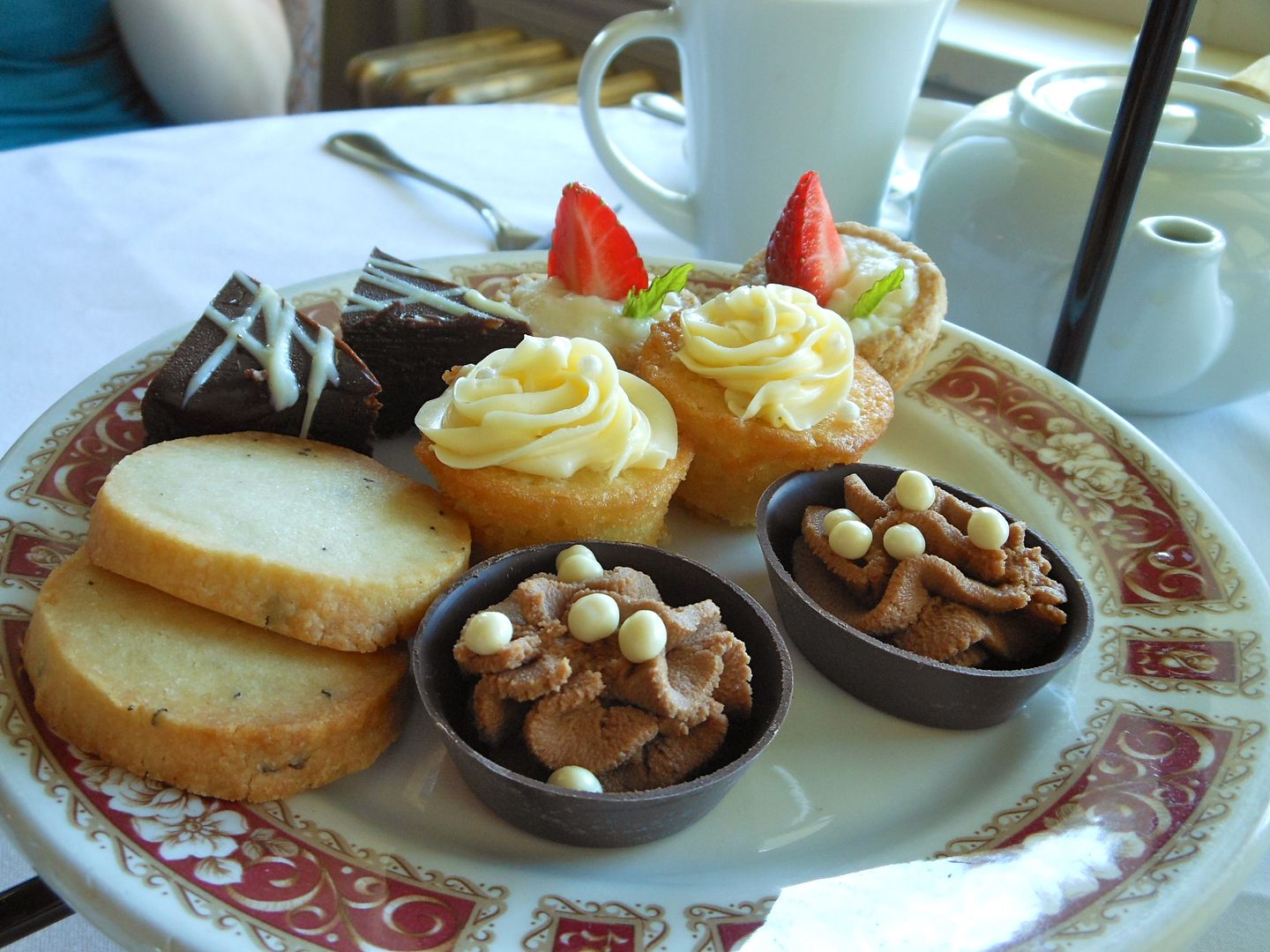 This was the first time I've ever been to tea with Lynette where she's managed to finish her entire portion. I have a substantially larger appetite than she does, but I found the amount of food to be just perfect, actually – not as much food as the Big Muckle Giant Tea at the White Heather Tea Room, but definitely enough. At $32 each, however, I would have to say that the White Heather is still the best deal in town (about $45 for two people), but at the Gatsby the price includes the awesome location: a beautiful old mansion right downtown with a view of Victoria's Inner Harbour. The only criticisms we had were that Lynette's tea was weak (either a characteristic of Silk Road's Earl Grey or not enough loose tea in the pot) and the teacups were more like coffee cups – large and tall with no saucer.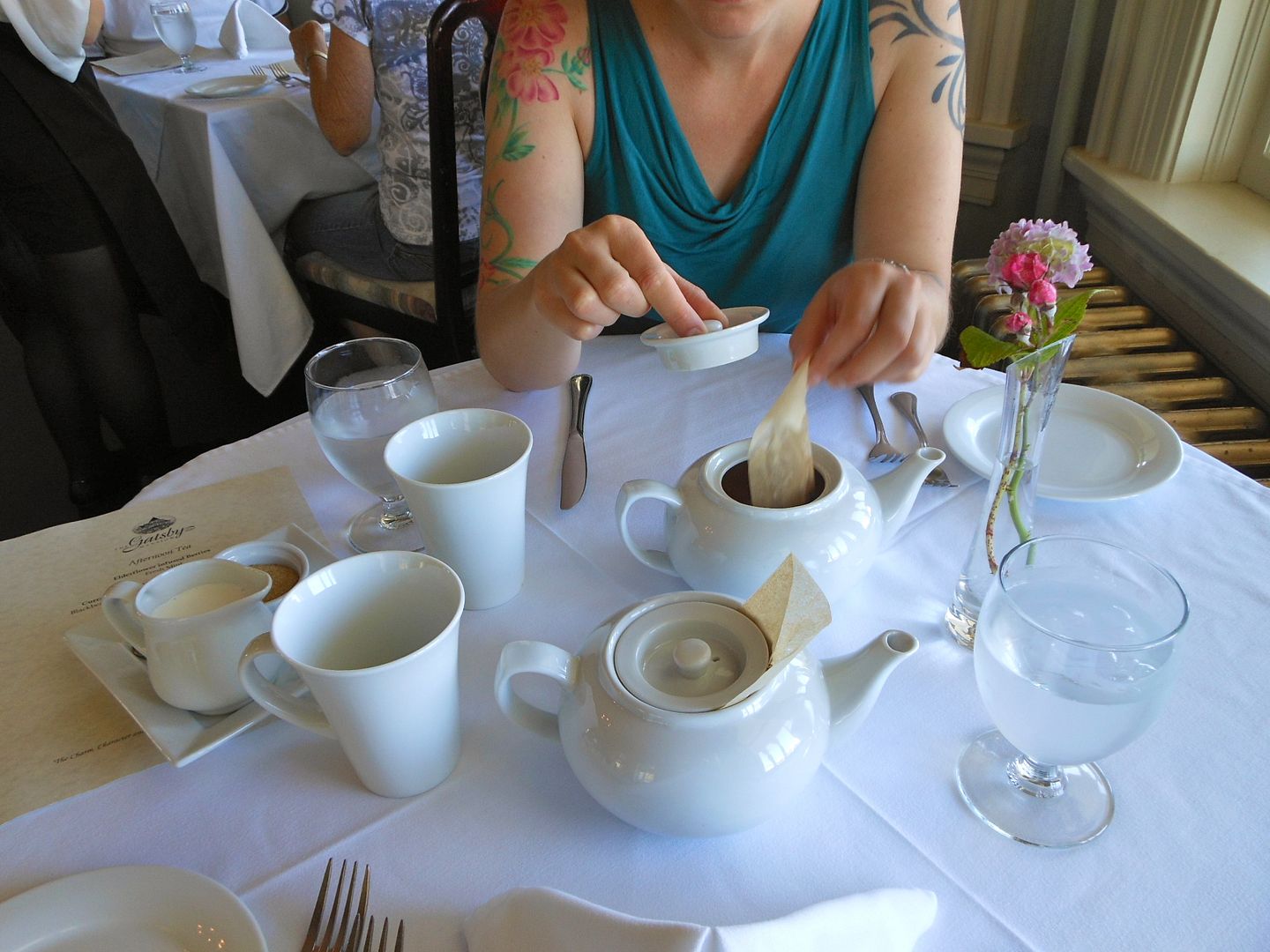 But everything else (including the service) was incredibly pleasant. The food was beautifully presented, thoughtfully prepared, and tasted great, and I appreciate the nod to local ingredients. I'm pleased to say that the experience was memorable for entirely good reasons, and I'm sure we will go back!
All in all, for food, experience, and price, I'd give the Gatsby's new afternoon tea four-and-a-half teaspoons out of five (a serious improvement on the one-out-of-five rating I gave last time!). Definitely a lovely way to spend an afternoon.

PS – Nate and I have since eaten dinner at the Gatsby Mansion, and we thoroughly enjoyed it. The menu is seasonally inspired and features several locally-sourced ingredients, and the same care and thoughtfulness in preparation and presentation was evident. We started with an appetizer of creamy morel mushrooms over brioche, then Nate had a fantastic bison steak and I had venison over some amazing mashed potatoes. For dessert Nate had a flourless chocolate torte with maple walnut gelato (wow) and I had a subtly-flavoured lemon verbena crème brûlée, cool and creamy and topped with a shatteringly crisp layer of caramelized sugar. I was absolutely stuffed by the end but it was all really good. We will probably save our next visit to the Gatsby for a special occasion, as the entrées run around $30, but it will be well worth it!