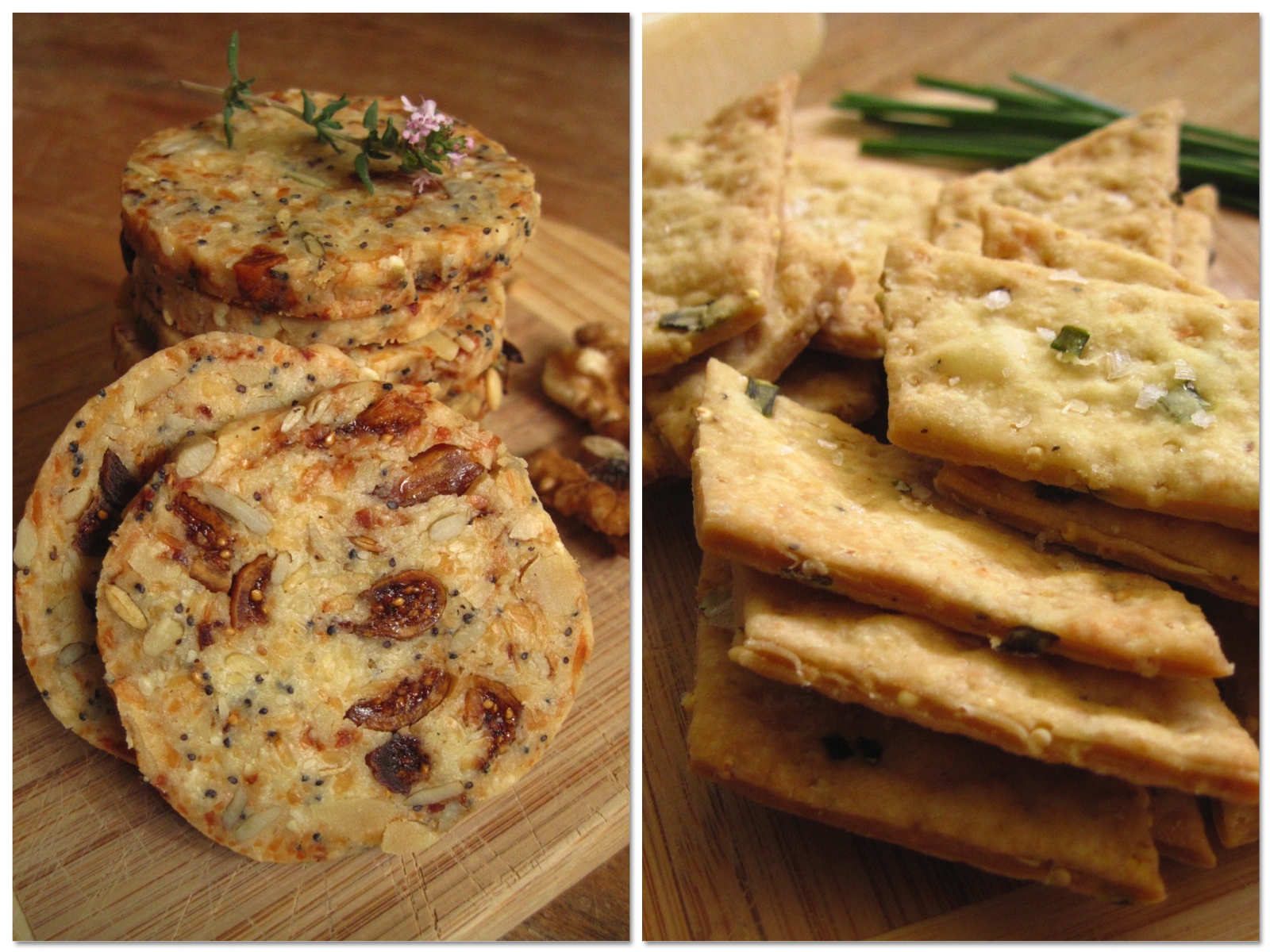 Our July 2012 Daring Bakers' Host was Dana McFarland and she challenged us to make homemade crackers! Dana showed us some techniques for making crackers and encouraged to use our creativity to make each cracker our own by using ingredients we love.
Homemade crackers are one of those things I've seen recipes for and thought, "I should make those!" but never got around to actually doing it. Maybe because they're not loaded with sugar or chocolate? (That seems to be what attracts me these days…) Or maybe because I don't eat a lot of crackers on a regular basis? Whatever the reason, it's now moot, because Dana's challenge was to make not one, but two kinds of crackers, by two different methods: rolled by hand, by pasta machine, or by the slice-and-bake/icebox method.
For my first try, I made Alana's Naked Crackers. I trust her because she's written an entire book on making homemade versions of things that you'd normally buy in the store (crackers, butter, ketchup, pop-tarts, etc), so I figured she would know a thing or two about making crackers. These ones have millet in them for crunch, and I added some parmesan cheese, chives, and black pepper. When I first bit into one, I have to admit I wasn't too impressed, but then I had a few more and I was hooked. That first one I ate was a little over-baked (I'm still figuring out the oven at our new place) and these crackers are definitely best when they are just barely golden brown, otherwise they get kind of bitter tasting. But they are crisp, savoury, and really quite addictive. If they had a bit of whole wheat flour in them, they would be sort of like stoned wheat thins.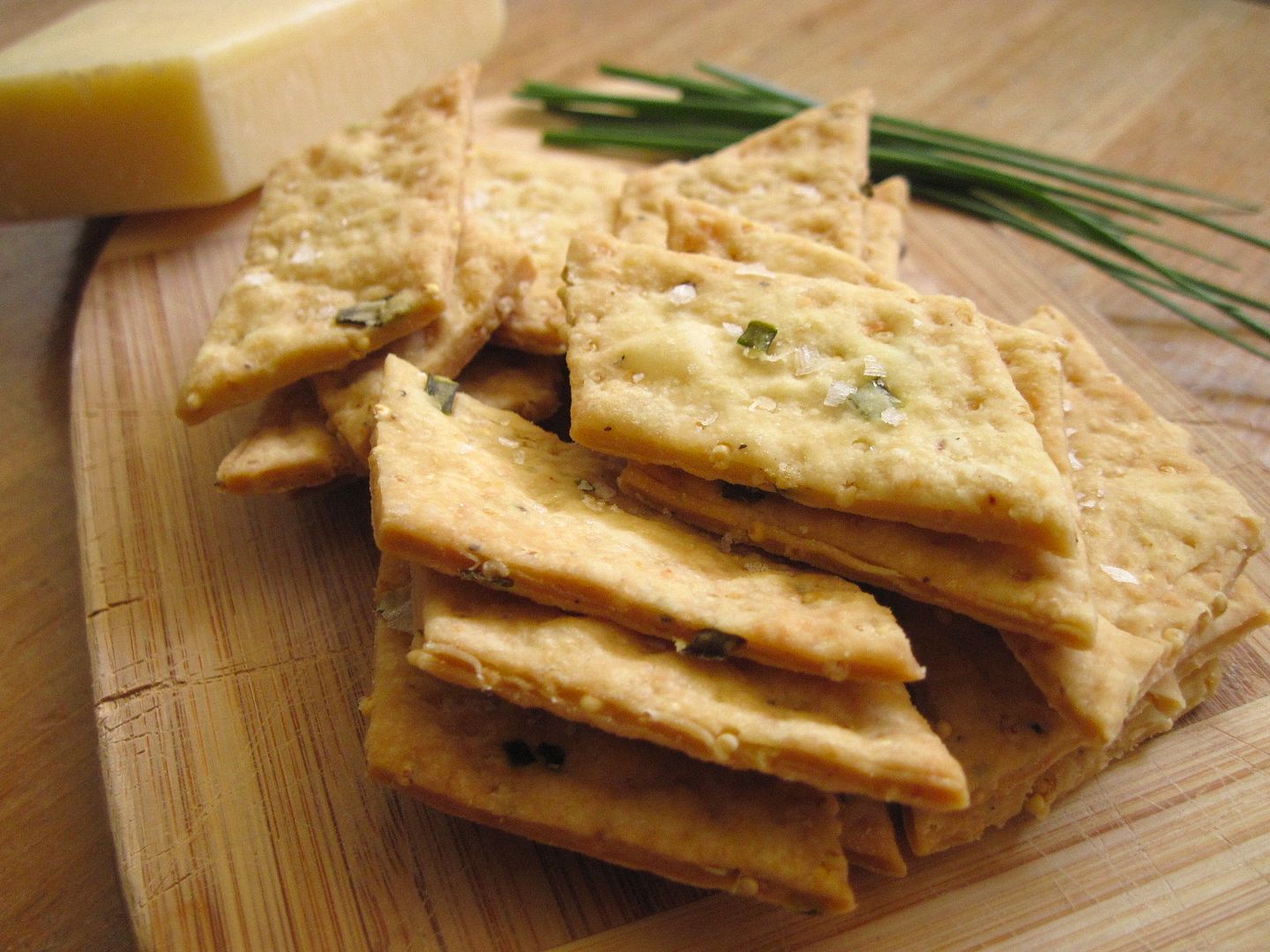 My second batch of crackers would be more accurately described as savoury shortbread. I used one of the recipes provided in the challenge to make these Romano, fig, and walnut crackers with seeds using the slice-and-bake/icebox method. Like shortbread cookies, these crackers are really tasty and I had to stop myself from eating them by the handful. Crisp and crumbly, they have a good bite from the Romano cheese, a little sweetness and chewiness from the figs, and lots of texture and crunch from the walnuts and seeds. They were incredibly easy to make and you could use any kind of cheese or other add-in to make infinite variations. I will definitely be making these again.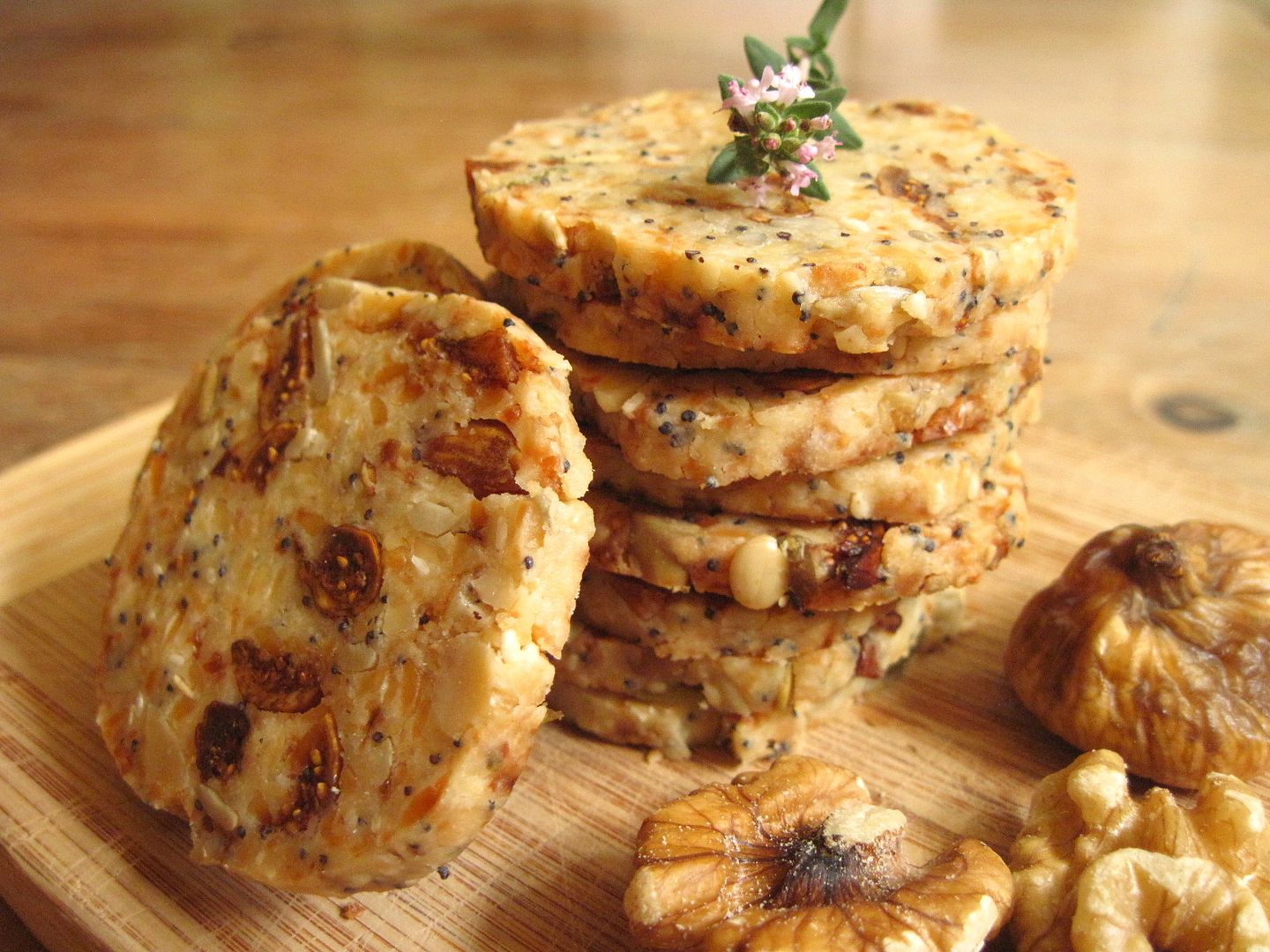 Thanks Dana for the push I needed to finally make crackers! Check out the Daring Kitchen for all the other delicious crackers made this month. 🙂
Not-So-Naked Crackers
Adapted from Eating from the Ground Up. I used cheap parmesan in these and couldn't really taste it, so I've increased the amount and recommend using the good stuff (Parmigiano Reggiano or Grana Padano) because it has better flavour (or another strongly flavoured cheese). I tried rolling these out with my pasta machine but it absolutely did not work, so hand-rolling it is!
In a bowl, combine:
2 1/2 cups all purpose flour
1/3 cup raw millet
1/2 tsp fine salt or 3/4 tsp coarse salt
1/2 tsp baking powder
Whisk the dry ingredients together, then add:
1 cup grated good quality parmesan cheese
1 heaping tbsp snipped chives
1/4 tsp freshly ground black pepper
a few dashes cayenne
Whisk to combine. With a fork, stir in:
1/2 cup olive oil
Stir to combine. It should come together as a crumbly dough.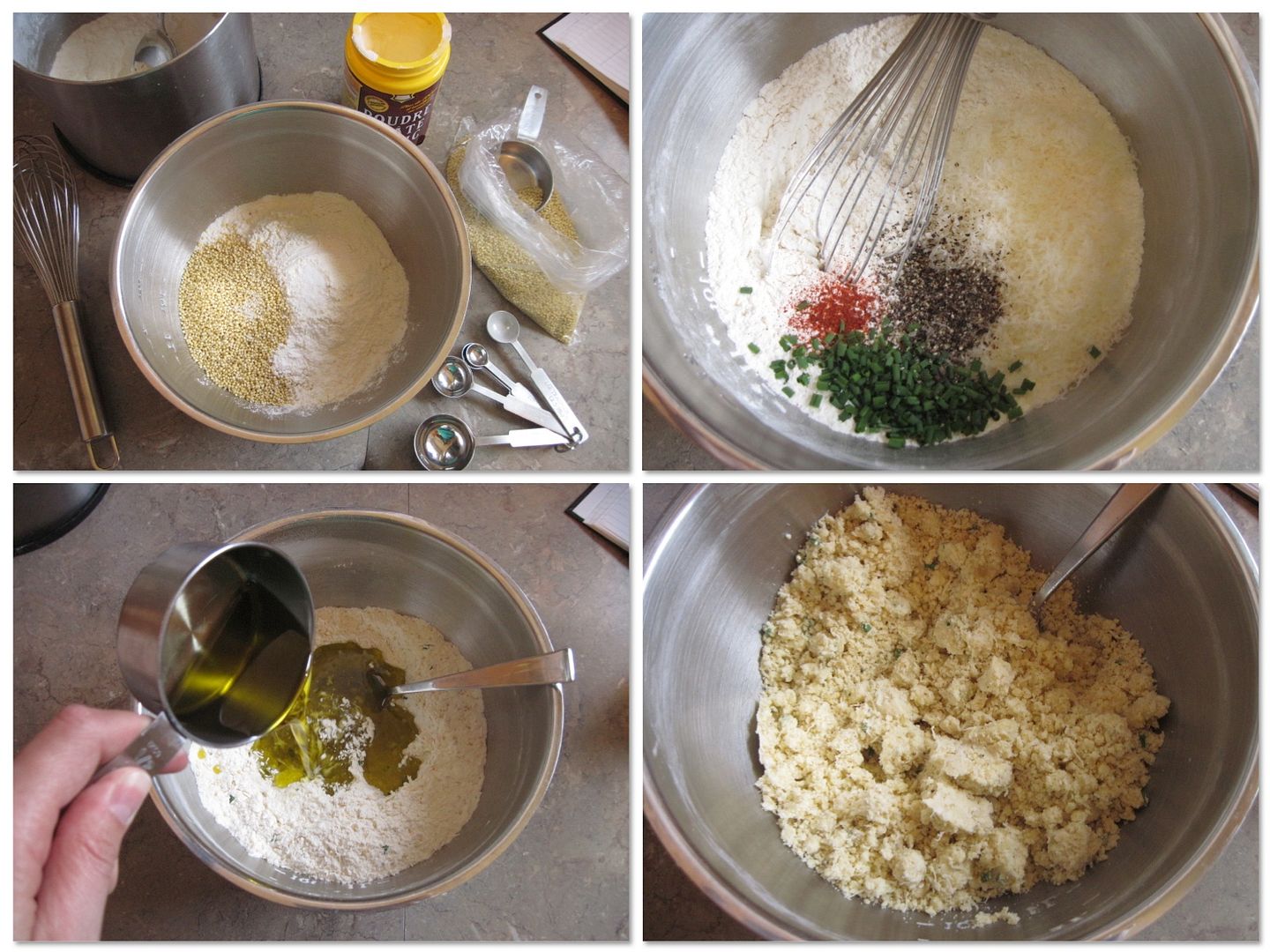 Knead the dough with your hands while slowly adding (a few drops at a time):
1/2 cup water
Knead the dough for about 2 minutes, until it is smooth and elastic (it will seem sticky at first but don't add any more flour). Divide the dough in half, roll out each half on a floured surface to about 1/8" thick, and cut it into shapes (whatever size you want) with a knife or cookie cutters. Place the crackers on an ungreased baking sheet about 1/2" apart and sprinkle them with coarse salt (I finally remembered about this fancy little tin of Maldon sea salt!).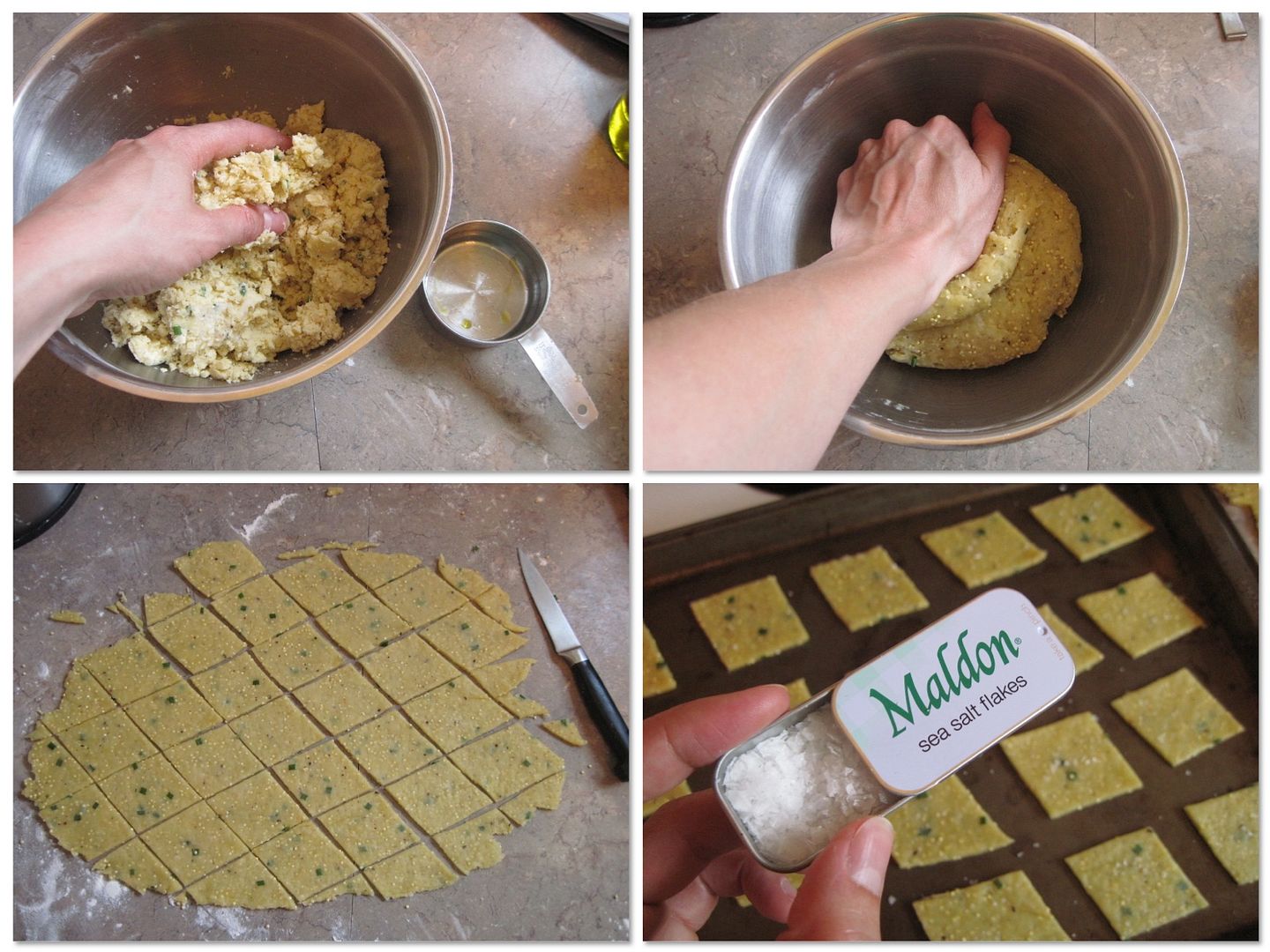 Bake in the preheated 350˚F oven for 10 minutes, then rotate the baking sheet and bake another 10 – 15 minutes, or until the crackers are just barely golden brown (don't over-bake them!). Let cool on a rack, then store in an airtight container for up to 10 days.
Romano, Fig & Walnut Seedy Shortbread Crackers
Recipe adapted from "Garde Manger: The Art and Craft of the Cold Kitchen" by the American Culinary Institute. Makes about 4 dozen. Romano cheese is quite strongly flavoured, so feel free to use a milder cheese if you prefer, as well as any kinds of seeds, nuts, or dried fruit. The cheese plays a starring role in these crackers, so the better the cheese, the better the cracker.
In the bowl of a stand mixer fitted with the paddle attachment, combine:
1/2 cup unsalted butter, soft
2 1/4 cups grated Romano cheese
Mix together on medium-high speed until well combined and fluffy. Add:
1 cup + 3 tbsp all purpose flour
1 tsp salt
Mix on medium speed until you get a crumbly dough.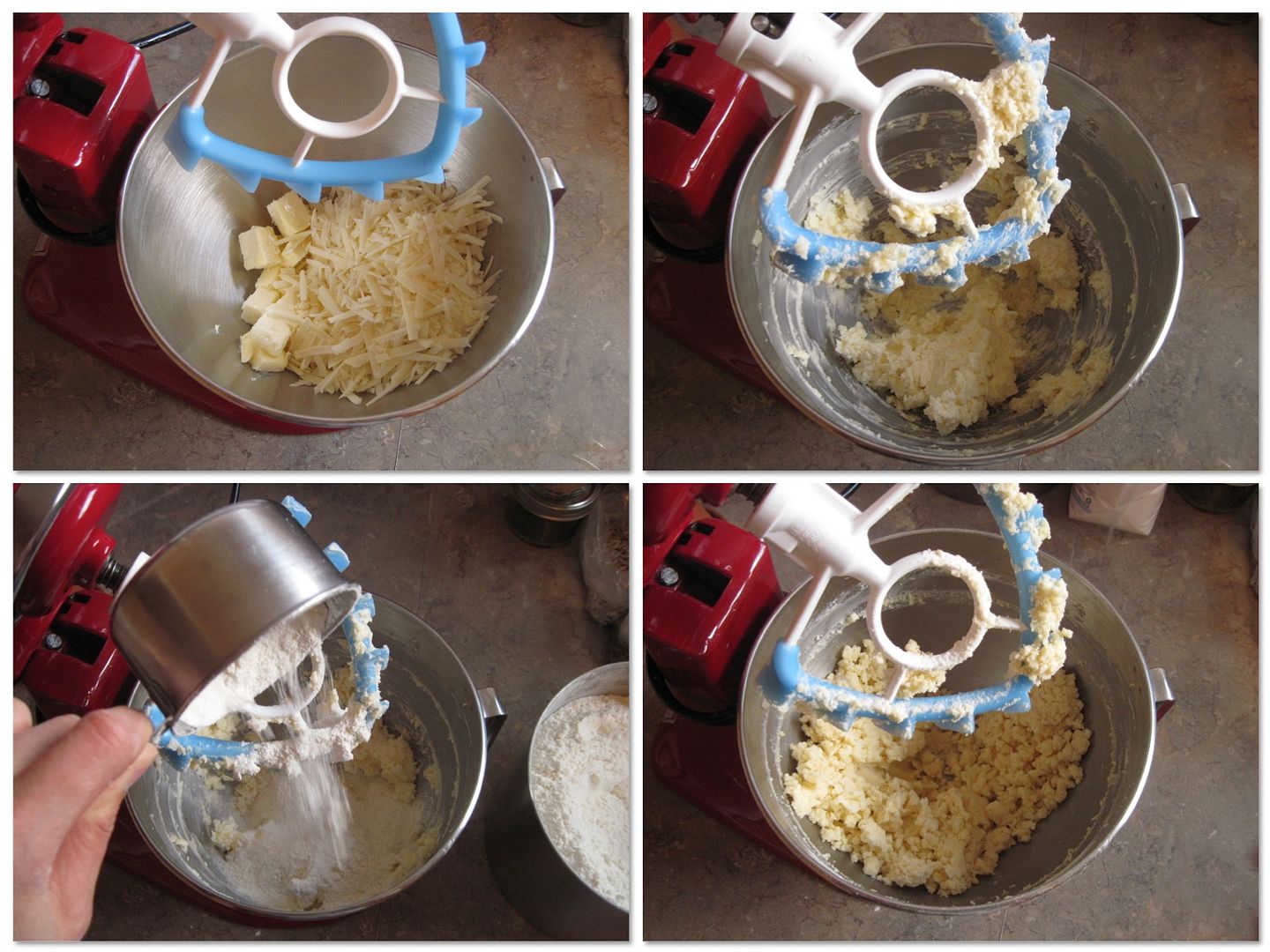 Add:
1/2 cup each chopped walnut and diced dried figs
1/4 cup each sunflower seeds and pumpkin seeds
2 tbsp each sesame seeds and poppy seeds
Mix again on medium speed until everything is well-combined. The dough should be crumbly but soft. Turn the dough out onto a lightly floured surface and press it into two logs. This might take some patience – you want the logs to be as tightly packed as possible, otherwise the crackers will fall apart when you slice them. Wrap the two logs in tightly in plastic wrap and use the plastic wrap to help you make the logs into an even, tight shape. Chill the dough in the fridge for at least an hour or overnight.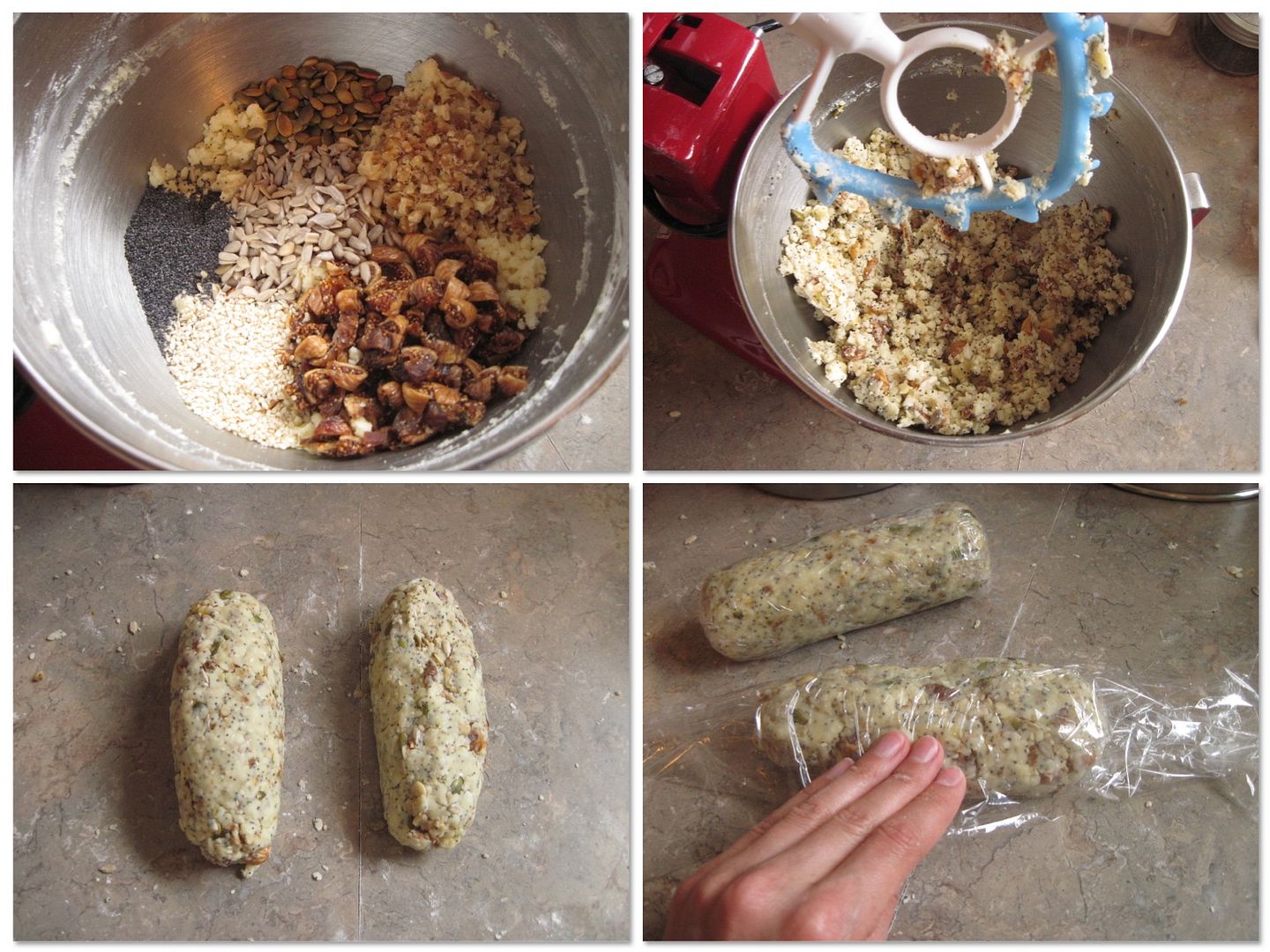 When you are ready to bake, preheat the oven to 325˚F. With a large sharp knife, cut the chilled dough into slightly thinner than 1/4″ slices. Place them on a baking sheet lined with a silicon mat or parchment paper and bake for about 10-12 minutes, until lightly golden brown (the ones around the edges baked faster, so I took them out a few minutes before the rest). Let the crackers cool on a rack and then store in an airtight container for up to 3 days.