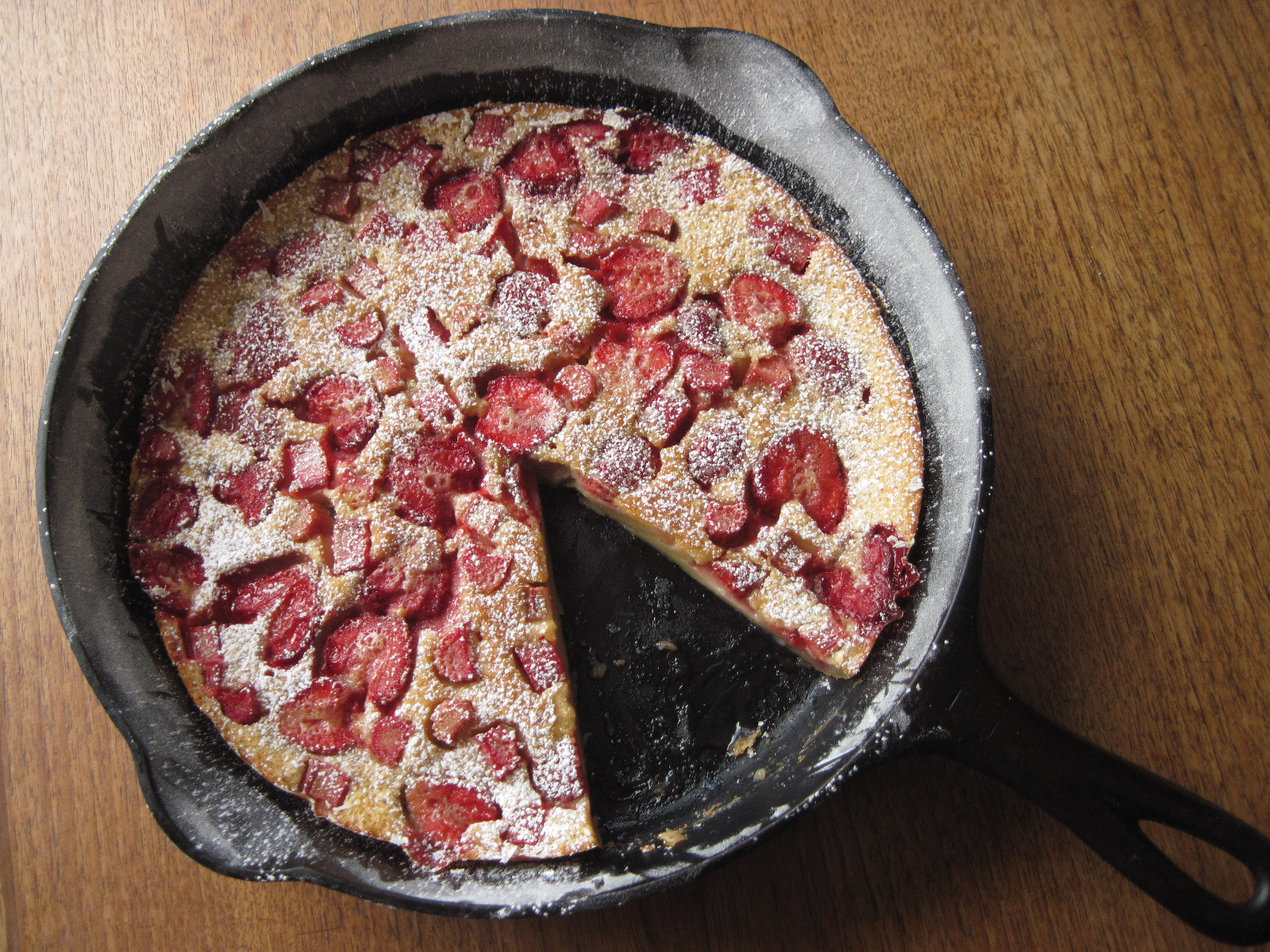 The move is over and we have settled into our temporary new home – temporary because (fingers crossed!) we have plans in the works for bigger, better things. I have not really taken the new kitchen for a spin yet, but I'm looking forward to it. It's bigger and better laid-out than the kitchen in our last place, which was a galley-style layout that could only accommodate one person and had barely any usable counter space:
Not that I'm knocking small kitchens – I know you can do a lot in them and I've survived in an even smaller one – but a little extra space is so nice. One thing I will miss about our old kitchen, however, is the dishwasher: a girl's best friend, especially if you are a girl who loves to cook and hates to wash dishes. I will also miss the great light that came through the big window in our eating area at one end of the kitchen – wonderful for pictures.
Our new place is a basement suite, and while it is very nice for a basement suite, it has small windows and the kitchen is a bit dim without overhead lighting – we'll see how wonderful or not that turns out to be for pictures!
During these last few weeks leading up to moving, I had to restrain myself from baking up a storm. At one point when I was surrounded by boxes and piles of belongings and cleaning supplies, I had the greatest urge to "whip up" a batch of notoriously-finicky French macarons, which is a supremely silly thing to contemplate doing in the middle of a move. This strawberry rhubarb skillet clafoutis is the last blog-worthy thing I made in the old kitchen, inspired by Frugal Feeding's strawberry and Pimms clafoutis. Sometimes a dish just jumps out and screams, "MAKE ME!", and this was one of those inspiring dishes that also happened to be so simple and easy that I lifted the baking ban to make it (totally worth it!).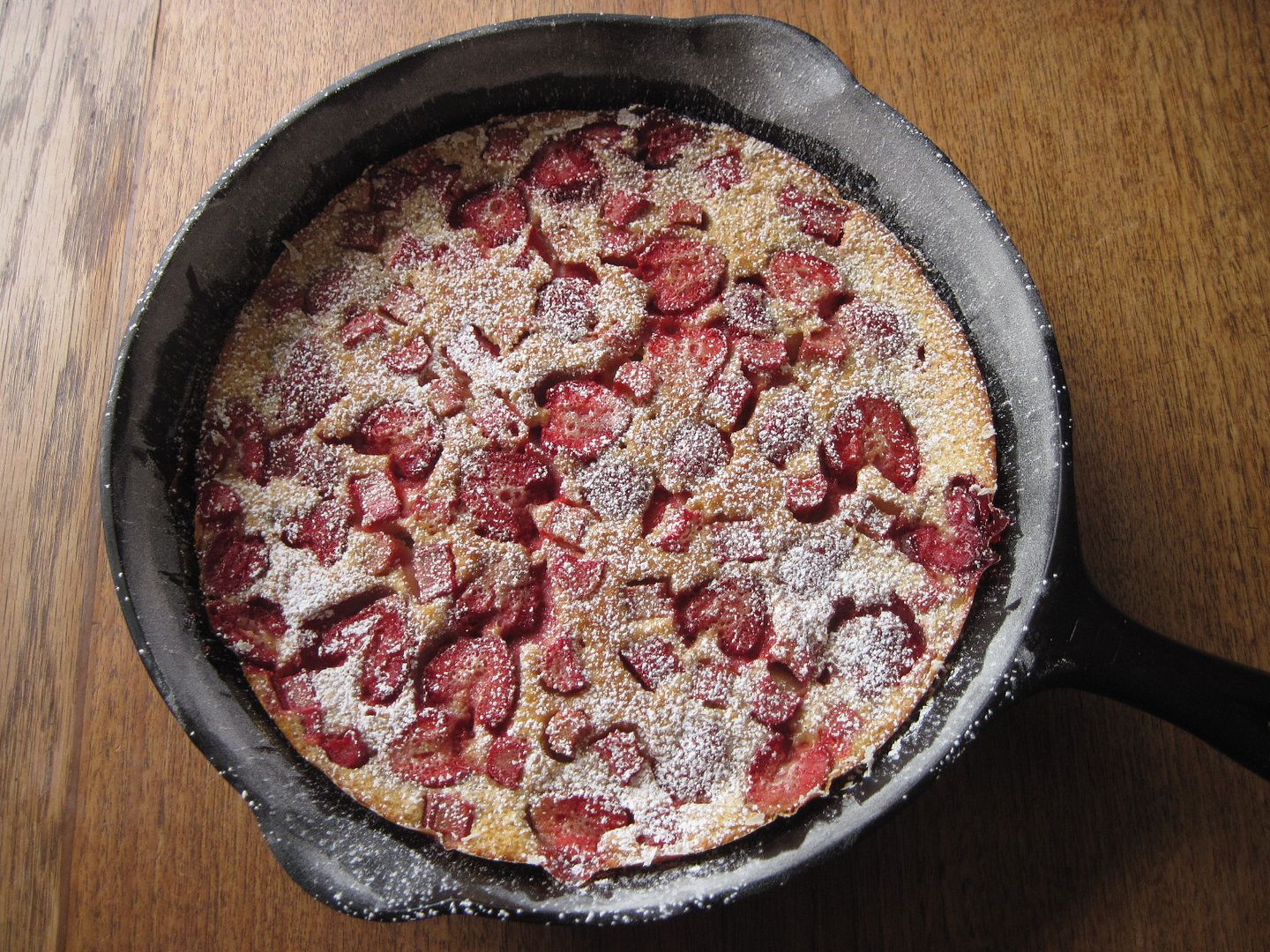 The strawberries and rhubarb came from a local farm stand. I've been reading about local strawberries on so many other food blogs lately that I was beginning to think our strawberry season would never hit, thanks to this Juneuary that we just had, but finally, summer is here and the local strawberry harvest has begun!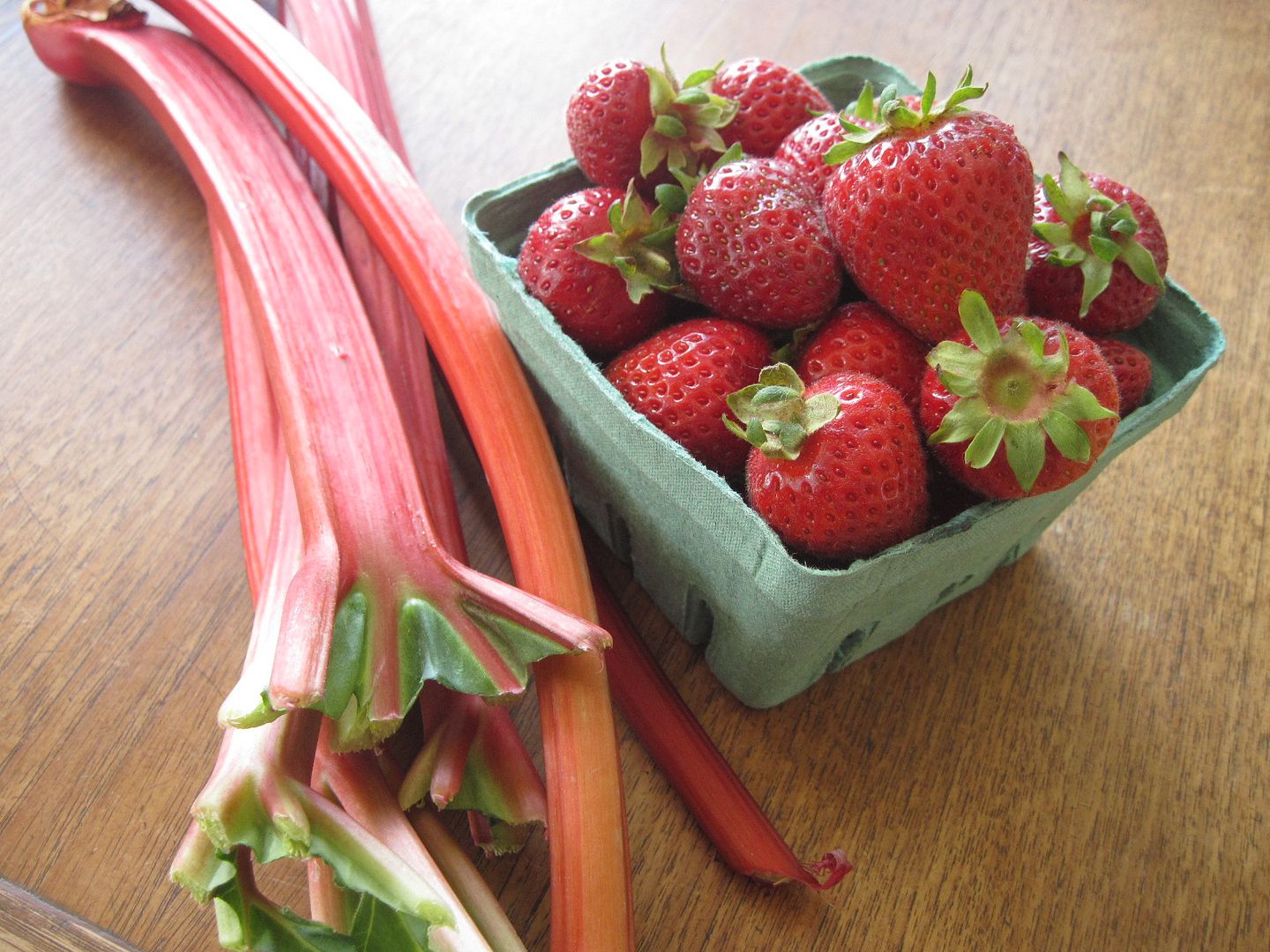 These berries were perfectly ripe and a clafoutis was a great use for them: a crispy-edged, custardy cake studded with jewels of rhubarb and strawberry – a perfect casual summer dessert, and a nice treat for breakfast the next day if there happens to be left-overs!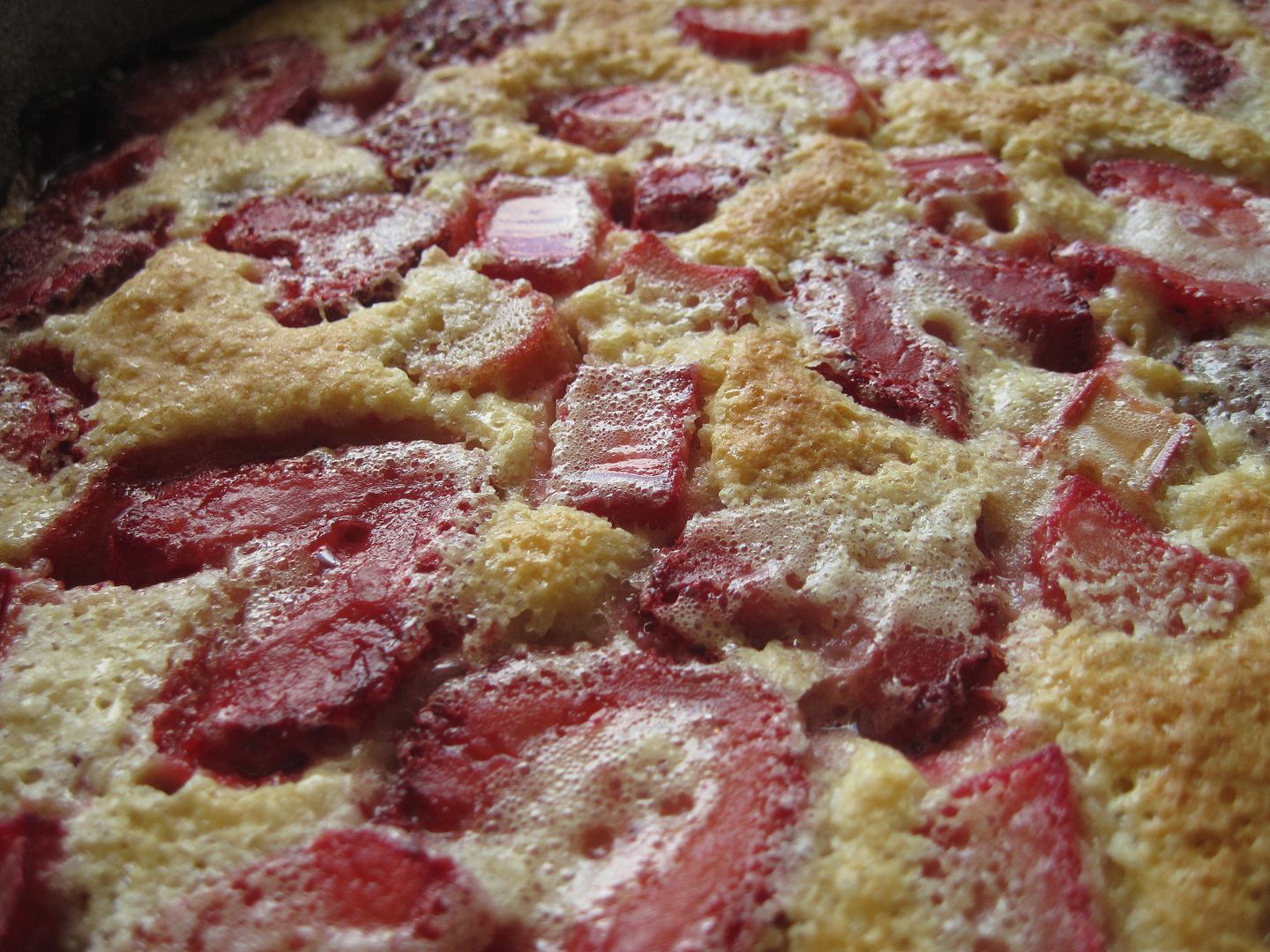 PS, here's a tip I picked up from the Pioneer Woman: a teaspoon makes a great strawberry huller!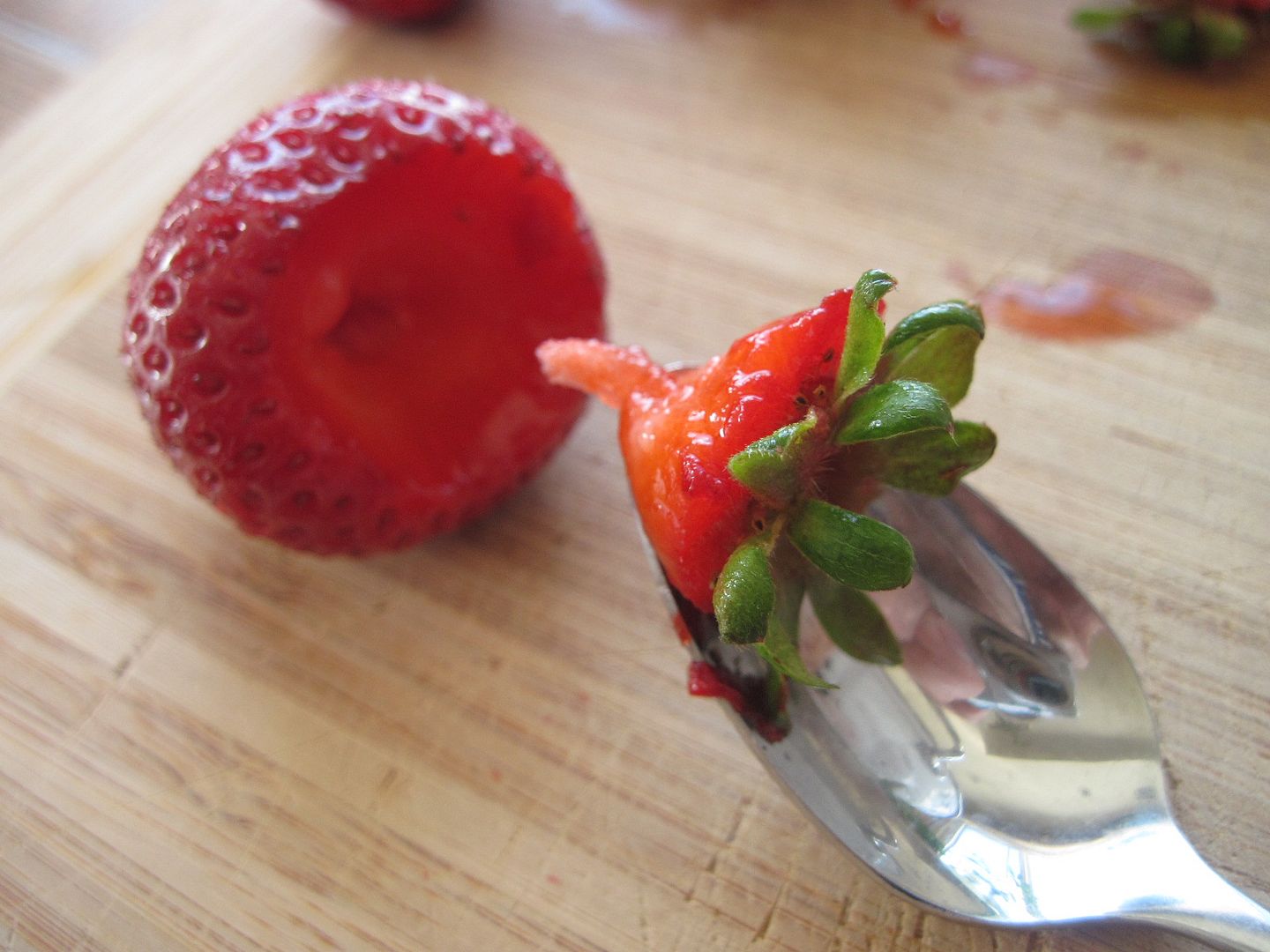 PPS, we don't have a proper internet connection at the moment, so things will continue to be kind of sporadic around here for the next little while…
Strawberry Rhubarb Skillet Clafoutis
Adapted from Simply Recipes and Frugal Feeding

Preheat the oven to 350˚F.
In a medium bowl, mix together:
1 1/4 cup hulled and halved strawberries (~1/2 pint)
3/4 cup chopped rhubarb (~2 medium stalks)
1/4 cup granulated white sugar
2 tbsp liqueur of your choice (I used brandy but would recommend an orange liqueur like Grand Marnier)
Let the fruit macerate with the sugar and liqueur while you prepare the batter.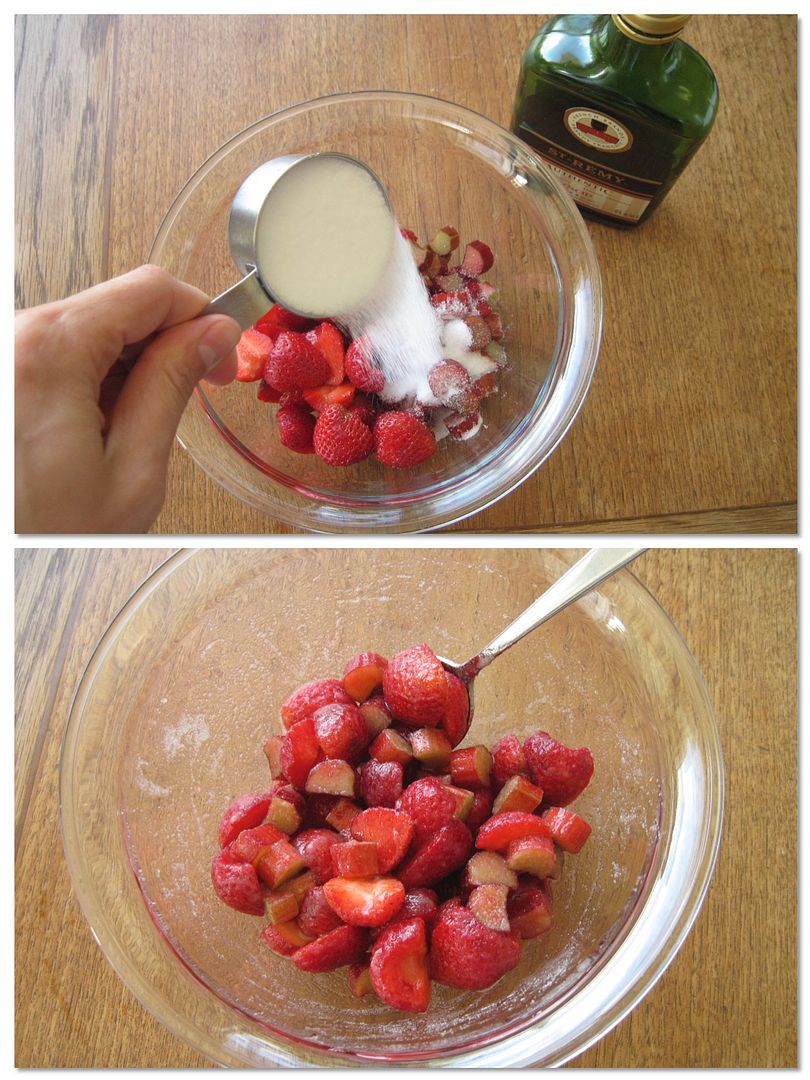 In a large bowl, combine:
3/4 cup granulated white sugar
1 tbsp brown sugar
1/2 cup all purpose flour, sifted
1/8 tsp salt
3 eggs
Whisk together until smooth, then add:
1 cup milk (or 1/2 cup milk + 1/2 cup heavy whipping cream)
1 1/2 tsp vanilla
Mix until smooth. Set aside.
Butter and flour the inside of a 9" cast iron skillet (or 9" x 13" inch pan or casserole dish). Place the fruit and any accumulated juices in the bottom of the pan, then pour the batter evenly over top.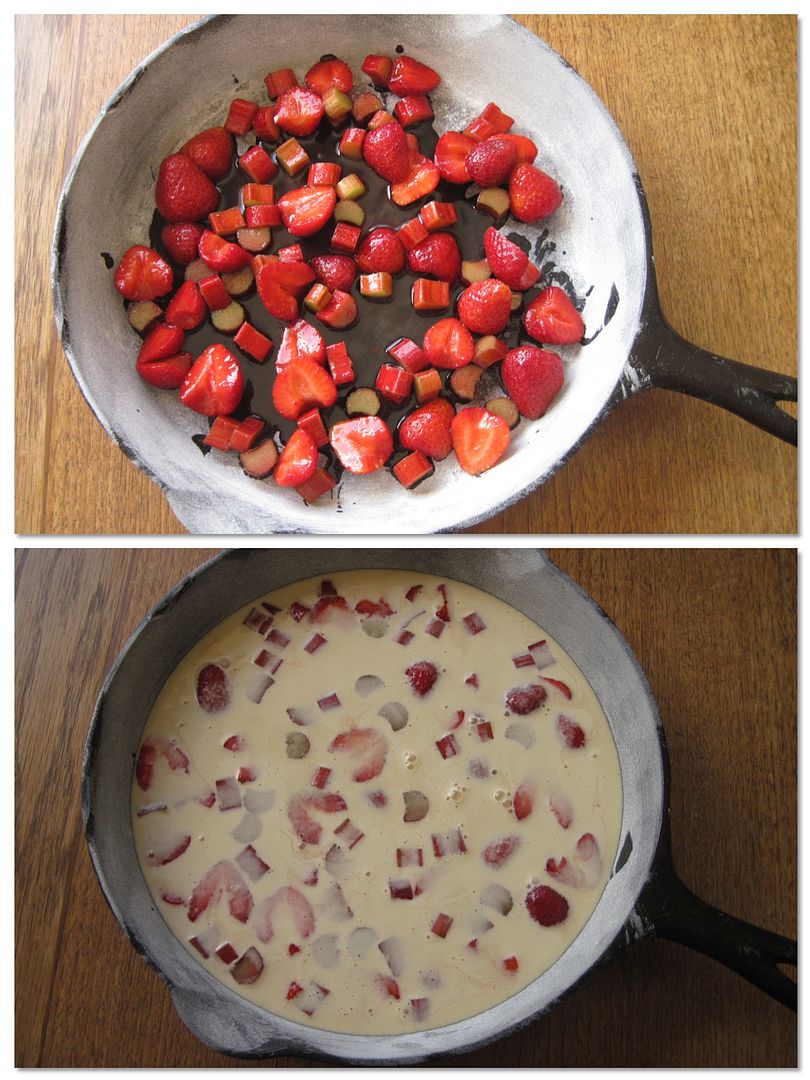 Bake in the preheated 350˚F oven for 40-50 minutes, until just set in the middle and the whole clafoutis is slightly puffed-up. Serve warm or at room temperature with a dusting of icing sugar.