When I was a kid, roast chicken and gravy was my family's favorite comfort food (I think it's safe to say it still is) and it was always up to me to make the gravy. I don't know how or where he got the idea, but on one occasion my Dad convinced me to put a handful of cured, salted Chinese black beans in the gravy. This was another case of a strange flavour combination working out much better than expected, because surprisingly, the gravy didn't taste like Chinese take-out – it tasted like delicious chicken gravy with a good dose of salty umani flavour thanks to the black beans. After that successful case, almost any kind of gravy was subject to the addition of black beans, including Christmas turkey gravy (although my Mum was somewhat less enthusiastic about this than my Dad and I).
I've upped the black bean quotient here to make the flavour stand out a little more, but rest assured that this is not chicken in black bean sauce. This is still definitely a traditional roast chicken and gravy, but with a bit of a twist. One thing to note is that the black beans are quite salty, so if you are using store bought stock for the gravy, make sure it has low or no salt (this shouldn't be a problem with homemade stock, which usually contains no extra salt). Please enjoy!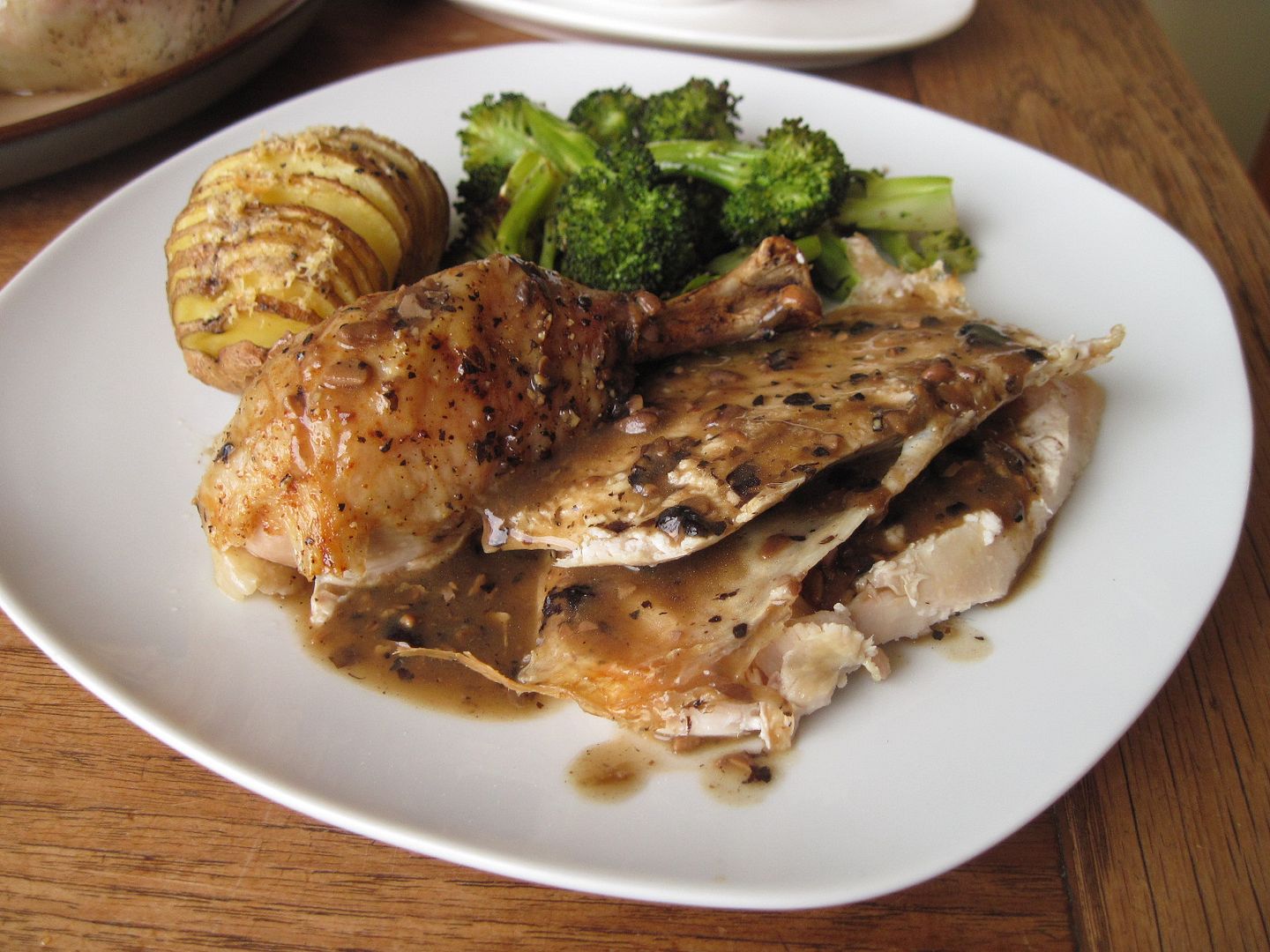 Roast Chicken with Black Bean Gravy
Makes about 4 servings
Roast Chicken
Preheat the oven to 400˚F while you prepare the chicken.
1 whole roasting chicken, 4 – 5 lbs
Rinse the chicken inside and out and pat dry with paper towels. Stuff the cavity with:
1 medium onion, cut in half
a handful of fresh herb sprigs (I used rosemary, sage, and parsley)
Rub the outside of the chicken with a few glugs of olive oil and season with:
salt
pepper
garlic powder
Place the bird breast-side up on a rack in a roasting pan – my favorite way to do this is on a circular rack in my 9″ cast iron frying pan, which I then use to make gravy in without scraping the pan juices and drippings into another pot. Place the chicken in the preheated oven and turn the heat down to 350˚F. Roast for 2 – 2 1/2 hours, until the juices run clear and a thermometer inserted at the junction of the thigh and breast reads 180˚F.
Remove the chicken from the pan and place it on a plate. Reserve the pan juices for the gravy. Tent the chicken with foil and let it rest while you make the gravy.
Black Bean Gravy
Let the pan juices settle for a few minutes – they should separate into a layer of flavourful chicken juices on the bottom and a layer of fat on top. With a spoon, try to scoop out some of the fat, leaving about 2 tbsp of fat in the pan along with the juices. If you used a roasting pan, scrape the chicken drippings and pan juices into a large, shallow pot. Place the pot over medium heat and when things start to sizzle, sprinkle in:
2 heaping tbsp all purpose flour
Mix with a whisk to form a roux and cook, stirring, for a few minutes. While still stirring, very slowly pour in:
2 – 2 1/2 cups of chicken stock (homemade or low/no salt store bought)
Whisk constantly to avoid lumps while you add the stock.
The gravy will be quite thin and watery at first, but as it comes to a simmer it will thicken up (you can turn up the heat a bit if you want). Add:
2 – 3 tbsp of chopped cured and salted Chinese black beans
a dash of Worchestershire sauce
Let this simmer for a few minutes to disperse the flavour, then taste the gravy and season as needed with:
soy sauce, to taste (for salt and darker colour – you may not need any if your stock was salted to begin with)
1/2 tsp Marmite (optional – for flavour and darker colour)
black pepper
Continue to simmer, adding more stock if needed to adjust the consistency – it should coat the back of a spoon and be about the thickness of heavy cream.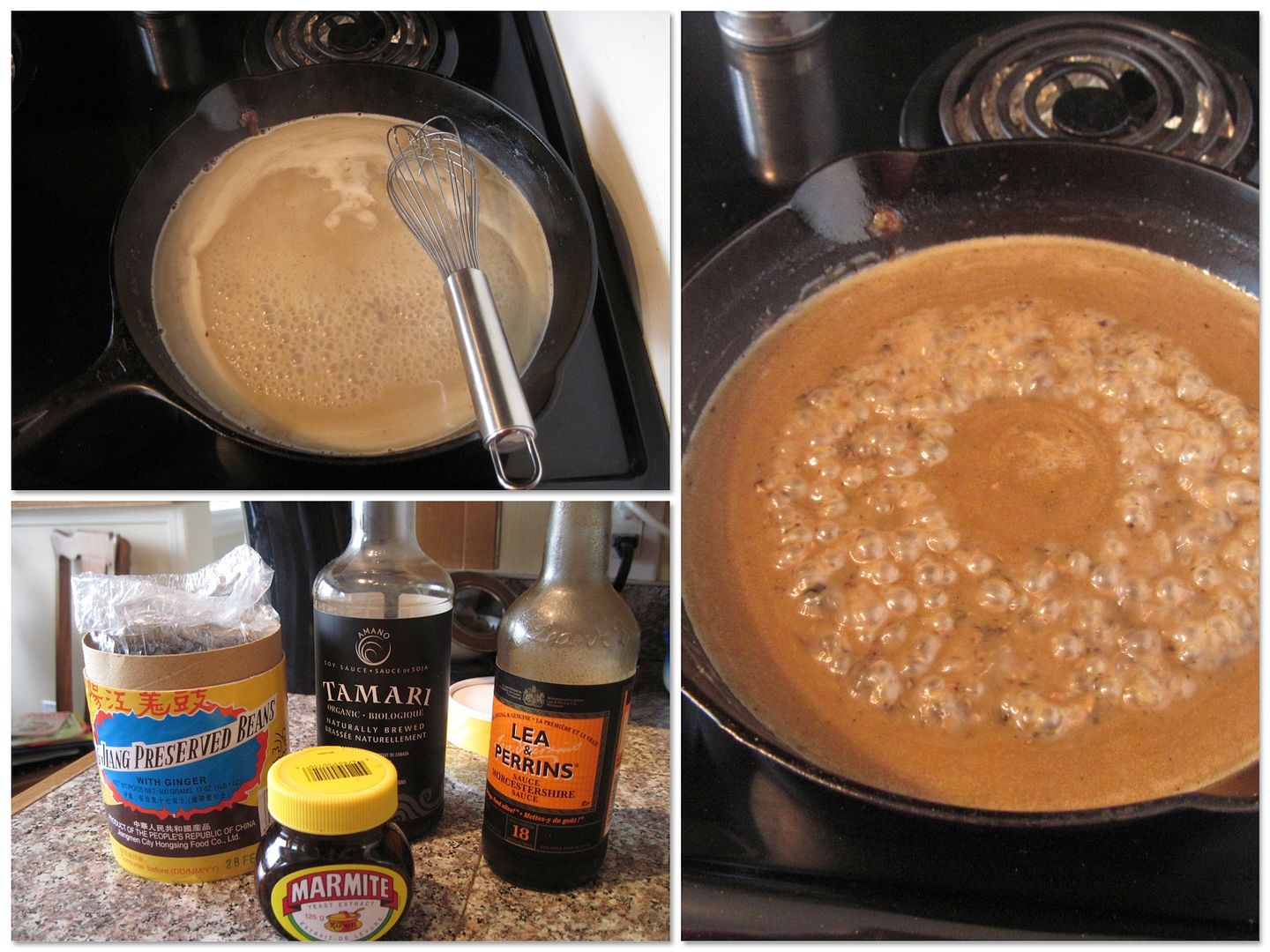 Carve the chicken and add any juices to the gravy. Ladle the gravy liberally over slices of roast chicken. Enjoy!